A comprehensive vegan picnic ideas guide covering everything from hosting, packing, recipes and tips for the best picnic ever! Make eating outdoors easy and fun.
This collection of my favorite picnic foods will help ensure your vegan picnic is absolutely delicious. This is all you need for a smooth and stress free experience!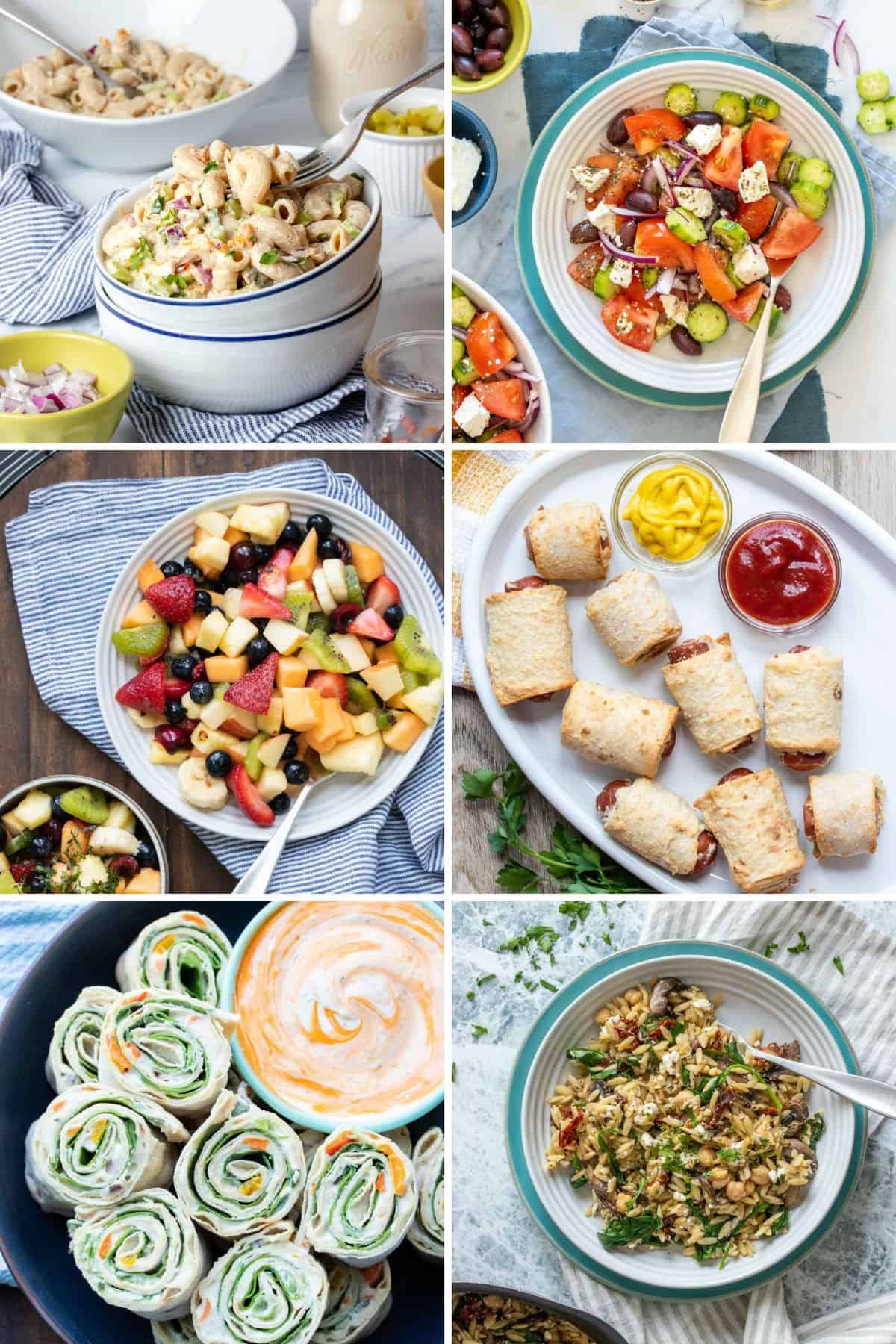 This post was originally published on April 27, 2020.
When we are bored of the same old meal indoors, we take it outside. Picnics are like fun meal parties outdoors! Planning a vegan picnic is much like planning a vegan dinner party...except outside!
When you decide you want to host a picnic there are many things to consider such as location, timing, potential theme, invite list, etc. But of course, the most important part of a picnic is the food!
Vegan Picnic Food
These vegan picnic recipes include a wide variety to meet everyone's individual tastes. No one will go home hungry!
Vegan Picnic Appetizers and Snacks
Vegan Picnic Finger Food
Vegan Picnic Sides
Vegan Picnic Salads
Vegan Picnic Sandwiches
Vegan Picnic Desserts
Planning a Picnic
When it comes to picnics, anything really goes. All you really need is good food and yummy drinks! Good company matters too, but I am good on my own with yummy food!
If you want to invite company and make your next picnic a social event, there are definitely fun ways to do so. Your guests can be friends or even just your family!
Here are some of my best tips:
Go the extra mile and send a fun invite. Even a digital version makes it fun, texts and ecards are great. If you're just including your at home family, printing out a sign and posting it keeps family life exciting!
Pick a place and time, keeping the weather and sun in mind. Having a picnic at high noon on a hot day may not be as desirable.
Gather important things like tables to put the food on, blankets, pillows to sit on, etc.
Make sure to pack your food in containers that are easy to transport.
Don't forget ice! Keeping beverages cool is important on a warm day.
Make sure your picnic spot has shade.
Keep the menu simple yet delicious. Make sure you have something everyone likes.
Tips for Packing a Picnic
When it comes to packing a picnic, it's important to get the foods right. You definitely want delicious food. But you don't want it to be too hard to prep and pack. Here are some go to tips for your next picnic:
Stick to foods you can prep ahead and that taste as good the next day as they do fresh.
Avoid super stinky food.
If it doesn't travel well, don't bring it.
Bring plenty of water. The heat dehydrates you.
Separate ingredients that could make food soggy. Mason jars or plastic containers are great for this.
If you can use biodegradable plates and serving utensils, do it. That way in case something blew away you won't feel so bad.
Make sure your food travels well. While some apps are amazing, if they fall apart during travel, or you can't easily put it together at your destination, then ditch the idea.
Make a good variety of food. It's fun to taste lots of different things!
Finger foods are great choices.
Keep it to foods that serve great at room temperature.
Lastly, don't forget a cozy blanket and your fave beverage!
How to Keep Picnic Food Safe
They key with food, whether you are at a picnic or not, is to keep it cool so that bacteria doesn't form.
Because all of these recipes are vegan and therefore free of dairy and meat, there isn't as much of a worry. But safe practices are still important.
Keep food in a cooler if possible. This helps because a cooler is more of a controlled environment.
If it's hot out, find a shady spot for your food. You don't want the sun beating on it.
Keep flies and bugs away by keeping food covered. Whether it's tin foil, plastic wrap or a netted like covering.
Keep ice for food and ice for beverages separate. You don't want cross contamination.
Common Questions