These gluten-free corn tortillas are easy to make and taste so good! They are made with wholesome ingredients and have the perfect texture.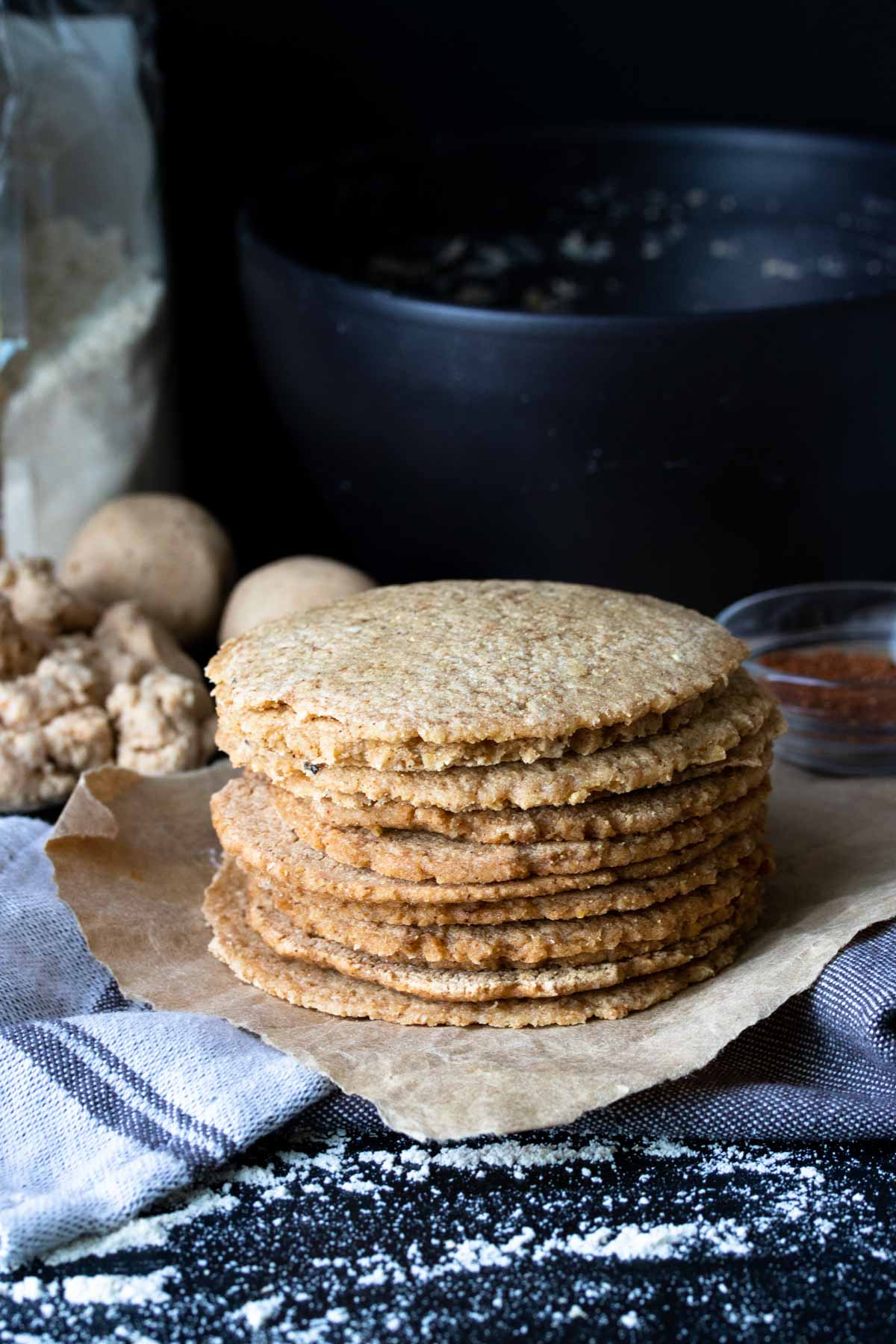 This post was originally published on April 3, 2019.
This is a cookbook review written by me on behalf of Chad and Derek Sarna, for which I received a free copy of the book. All the opinions and text are my own.
While you can easily buy corn tortillas at the store, making them at home tastes so much better. I love topping them with a little bit of butter and salsa!
Both flour and corn tortillas are used for so many recipes. The main difference in the two is simple the base ingredients. Are you using flour to make them or a corn base?
There are also texture and flavor differences. Corn tortillas will have that corn undertone, well because that's the main ingredient! Flour tortillas are more neutral.
As far as texture, the flour tortillas are chewier and fluffier while the corn can be softer and more melt in your mouth.
Ingredients
When making corn tortillas from scratch, there are the main ingredients. All very basic and simple!
Masa harina corn flour
Salt
Water
If you can'd find masa harina, you can use finely ground cornmeal. However the flavor won't be as good since masa harina has a distinct corn flavor due to how it is processed.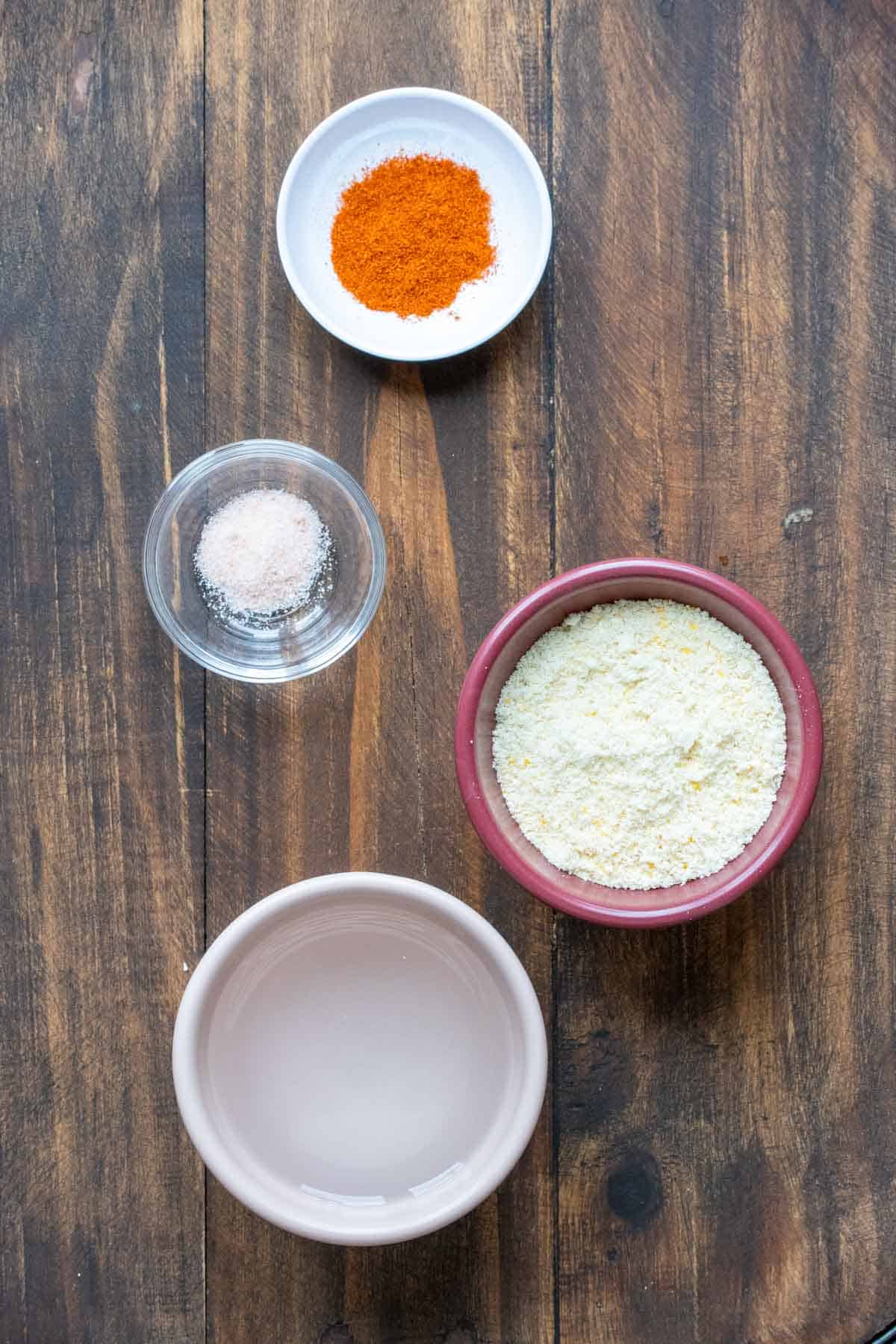 How to Make Corn Tortillas From Scratch
The process is much easier than you would think! Here are the steps:
Combine everything into a bowl and mix.
Roll dough into balls and press.
Cook and serve!
How to press
This recipe comes from the cookbook Wicked Healthy. There are so many resources, tips, ideas, you will have more information that you ever could have hoped for. One being, how to press tortillas without a tortilla press!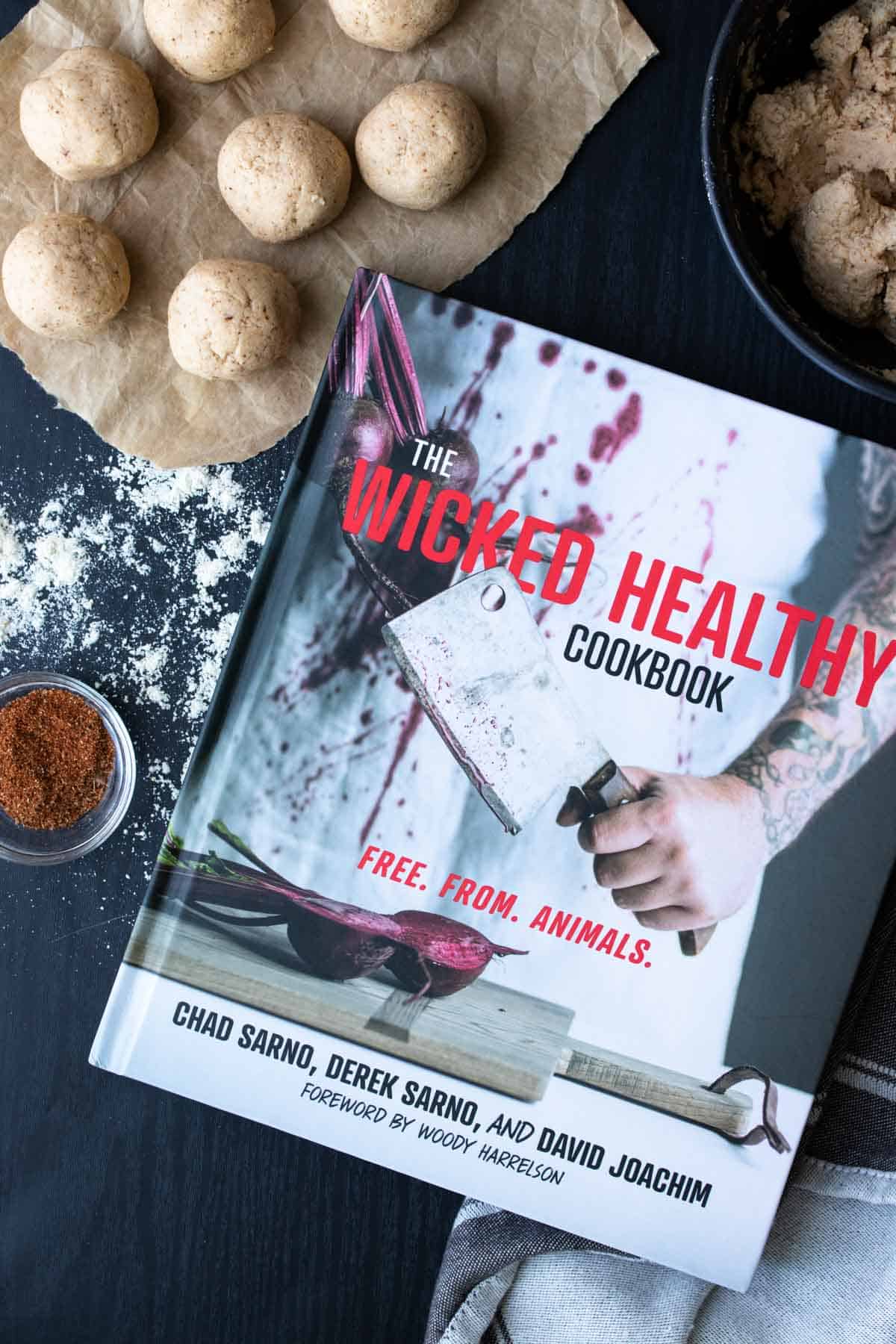 First, roll the dough into equal sized balls.
If you have a tortilla press, use that to flatten out the balls into a flat circle.
If you don't have a tortilla press, you can use a gallon sized plastic ziplock bag. All you need to do is cut the ziplock top off, then cut down the sides creating two slits. You are left with the bottom crease. You just open it up, place the ball in the middle of the plastic, then use a heavy book or your palm to press down.
How to heat
To heat the tortillas, simply prepare a pan with a drizzle of oil, then wipe it down to spread the oil out. If you are using a non stick pan you may not need the oil.
Then heat the pan to medium and put the pressed tortilla onto the heated pan. Cook for 30 seconds on each side, flipping the tortilla with a spatula until it's slightly browned on both sides.
How to store
Once the tortilla is cooked, you want to store in a tortilla warmer or clean kitchen towel until ready to serve. This will gently steam them assuring they don't crack when you eat them.
To keep them in the fridge to eat at a later date, add 1 ½ teaspoons of cornstarch to the dough so that they won't dry out and crack. Store in an airtight container, then gently warm them back up on the pan when ready to eat.
A few tips to make things go smoothly:
Read the directions a few times, you want to know exactly what you need to do ahead of time.
Get out all you need and make the plastic bag press ahead of time.
Before you get started with the final tortillas, take some dough and practice; it takes a few tries to get down the exact pressure you need to press them so that they are the right thickness.
When you peel the tortillas off of the plastic, don't pull up but more sideways and pull slowly holding the peeled side flat in your hand when you go to side two.
Add a layer of vegan butter to warm tortillas because OMG it's amazing.
Common Questions
How do you make corn tortillas taste better?
The notes in the recipe has some flavor ideas from the original cookbook, but I added my homemade taco seasoning and it really amped them up! Also, like I said in the post using masa harina helps with flavor versus cornmeal.
How do you make homemade tortillas thinner?
It takes practice to get the perfect pressure for the right thickness in the tortillas, however homemade corn tortillas will be a little thicker than the store bought kind mainly because you aren't using a machine to make them. The thickness only adds amazing texture though and I think makes them better!
What can I use if I don't have a tortilla press?
Like I said above, you can use a gallon sized plastic ziplock that you cut into a folder like sheet!
Why do my homemade corn tortillas crack?
There are multiple reasons that they may crack, mainly if you don't let them steam a bit after you cook them. Store them in a tortilla warmer or clean kitchen towel right from the pan. The steam will soften them helping to prevent cracking.

Also, add some corn starch to the dough if you won't eat them right away. This helps prevent cracking as well.
Vegan Taco Recipes
Now that you know how to make corn tortillas from scratch, you need to fill them up! Here are some of our favorite plant based taco recipes: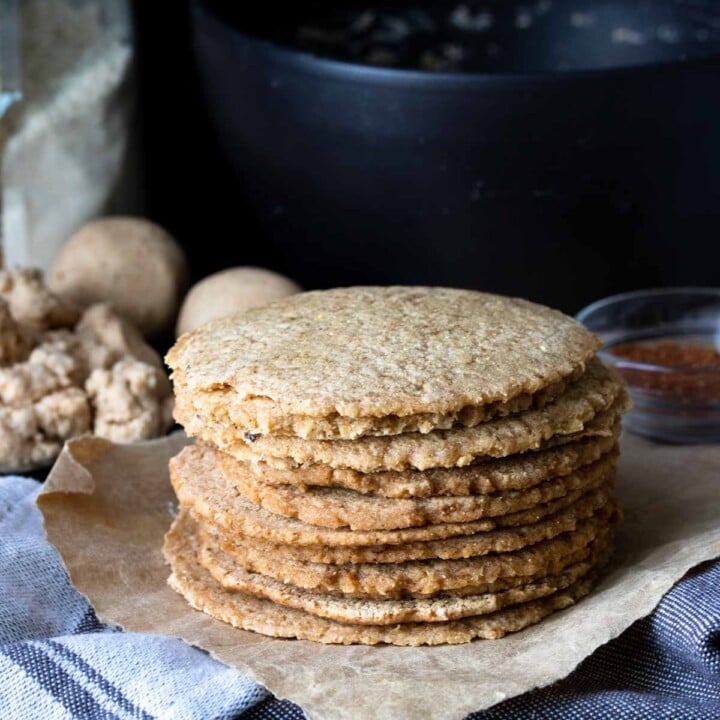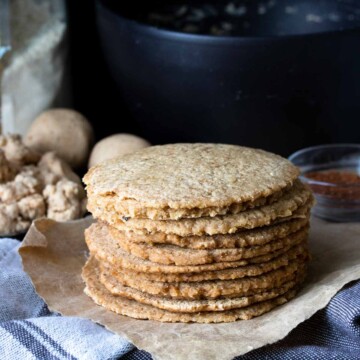 Homemade Gluten-Free Corn Tortillas
These gluten-free corn tortillas are easy to make and taste so good! They are made with wholesome ingredients and have the perfect texture.
Ingredients
1 cup fine white masa harina flour (such as from Gold Mine or Maseca)
½ teaspoon sea salt , preferably flake salt for crunch
1 cup warm water
Spray oil , optional for the pan (see note)
½-1 tablespoon Homemade Taco Seasoning (optional add in I used)
Instructions
Mix the flour and salt (and taco seasoning if using) by hand in a mixing bowl. Drizzle in the warm water in ¼-cup increments, mixing well. (Warm water hydrates the dough faster than cold water and helps you get the right moistness.) The dough should feel soft and a little grainy, like slightly wet Play-Doh. When you roll the finished dough between your palms, you should see a light speckle of masa grains on your skin. Add just enough water to get to that consistency. If adding wet ingredients (see the Options in notes below), such as vegetable purees, herbs, or liquid extracts, you won't need quite as much water. If adding dry ingredients such as spices, other flours, or seeds, you'll need a little extra water.

Gather the dough into a ball and place in a zipper-lock bag. Let it rest for 15 to 20 minutes to hydrate the masa. You can also refrigerate the dough ball in a zipper-lock bag for a few days (see Pro Tip in notes below).

Get a new gallon-size zipper-lock bag and cut off the zipper top. Cut down the two opposite sides, so you are left with a folded piece of plastic with a crease. This is your nonstick surface for pressing tortillas.

Roll the dough into balls the size of Ping-Pong balls, about 1½ inches in diameter.

Place a ball on one half of the plastic, cover with the other half, and flatten slightly with your palm. Place on a tortilla press, and press gently. Tortilla presses vary in width, so rotate the tortilla a few times, pressing the dough to about an ⅛-inch thickness. You can also do this with a heavy flat book.

When you're ready to cook some tortillas, heat a heavy pan over medium heat. (I like to use a large cast-iron griddle over two burners so I can cook 3 or 4 tortillas at a time.) Spray or coat the pan with oil, then wipe with a paper towel to leave only a thin film of oil on the pan. If you use a non-stick pan you may not need the oil.

Gently peel off the plastic, place the tortilla on the hot pan, and cook for about 30 seconds. Be patient and resist the temptation to touch it. When the edges look slightly dry and splintered with teeny cracks, after about 30 seconds or 1 minute, use a spatula to flip the tortilla; cook for 20 seconds more. Repeat one or two more times to get a little bit of color on your tortilla.

Transfer to a tortilla warmer or clean kitchen towel, allowing the tortilla to steam and soften for 10 minutes or so. Gentle steaming is important. If you use fresh tortillas right away without steaming, they're more likely to crack.

Keep pressing, cooking, and stacking/steaming tortillas, re-using the zipper-lock bag. Use immediately or keep covered at room temperature for a few hours.
Notes
PRO TIP:
To keep the tortillas for a couple of days in the fridge, add 1½ teaspoons cornstarch to the dough. Cornstarch will make the tortillas more pliable so they're less likely to crack when chilled.
OPTIONS CORN KERNEL TORTILLAS:
Blanch ¼ cup fresh corn kernels in boiling water for 30 seconds, then drain and cool under cold water. Chop, crush, or pulse the corn in a food processor and add it to the dough. Fresh corn adds great flavor but also some moisture, so dial back the water by a tablespoon or two.
HEMP TORTILLAS:
Add ¼ cup raw hemp hearts (shelled seeds) along with the flour. The little bit of extra fat makes the tortillas more pliable and chewy. If you happen to have a beautiful fresh hemp leaf, you could press that into the tortillas as well.
TOMATO TORTILLAS:
Add ½ tablespoon tomato powder.
CILANTRO TORTILLAS:
Puree 2 tablespoons fresh cilantro leaves and ½ teaspoon chopped jalapeño and add to the tortilla mixture.
Recipe by Veggies Don't Bite, visit our site for more great plant-based recipes.
Nutrition
Calories: 52kcalCarbohydrates: 10gProtein: 1gFat: 0gSaturated Fat: 0gPolyunsaturated Fat: 0gMonounsaturated Fat: 0gTrans Fat: 0gCholesterol: 0mgSodium: 132mgPotassium: 37mgFiber: 0gSugar: 0gVitamin A: 30IUVitamin C: 0mgCalcium: 19mgIron: 1.1mg
Nutrition and metric information should be considered an estimate.
Never miss a recipe!
Sign up here and get a FREE quick and easy meal guide!