Use this amazing homemade taco seasoning for perfectly flavored tacos and so much more. You'll never guess the secret ingredient that adds unreal flavor!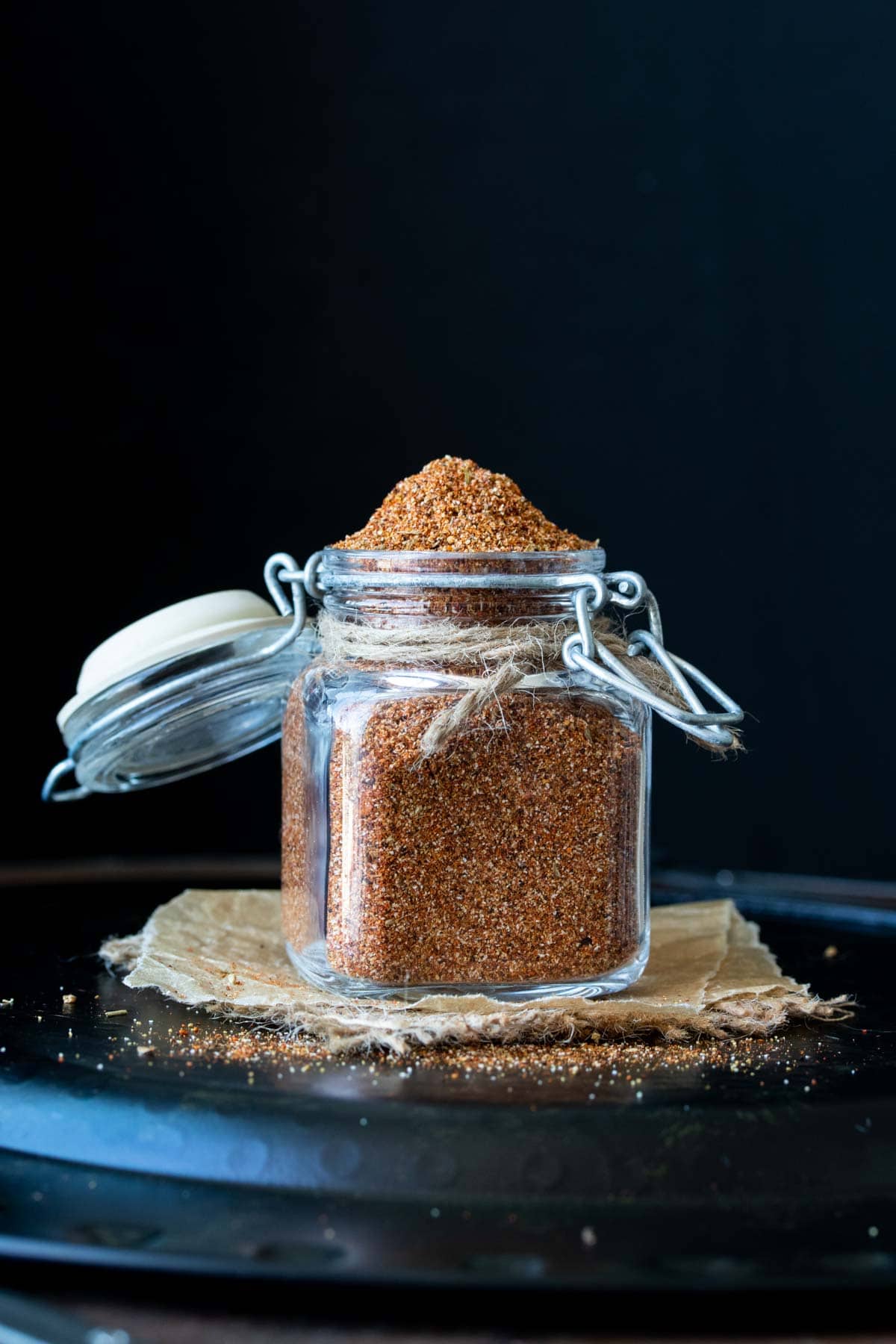 This post was originally published on April 27, 2018.
This homemade taco seasoning is great to make ahead and keep on hand in your spice cabinet. It's super flavorful and the perfect add in for taco filling, and even roasting veggies or sautéeing!
Homemade Taco Seasoning
Tacos are a staple in our house, and up until now, taco seasoning was either from a packet or a "throw in a little of this and little of that" kind of creation. The problem with this is it never turned out the same.
I also prefer the fresh spices only list of ingredients without the preservatives so homemade is where it's at.
Ingredients
Taco seasoning tends to have similar ingredients across the board when it comes to recipes. Both store bought and homemade have a similar flavor base. Here are some of the most common:
chili powder
paprika of some sort
cumin
garlic powder
onion powder
oregano
some kind of spicy seasoning (I love crushed red pepper but cayenne or chipotle are awesome too)
This recipe has a combination of these plus a little extra secret to really bring out the flavor. This is when I thought about the one ingredient I have had in traditional Mexican and Spanish foods before that you wouldn't think of in a savory dish. Cocoa powder.
Cocoa powder does not give your savory foods a chocolate flavor when used in small amounts. All it really does is bring some depth into the flavor profile and gives that extra oomph of deliciousness.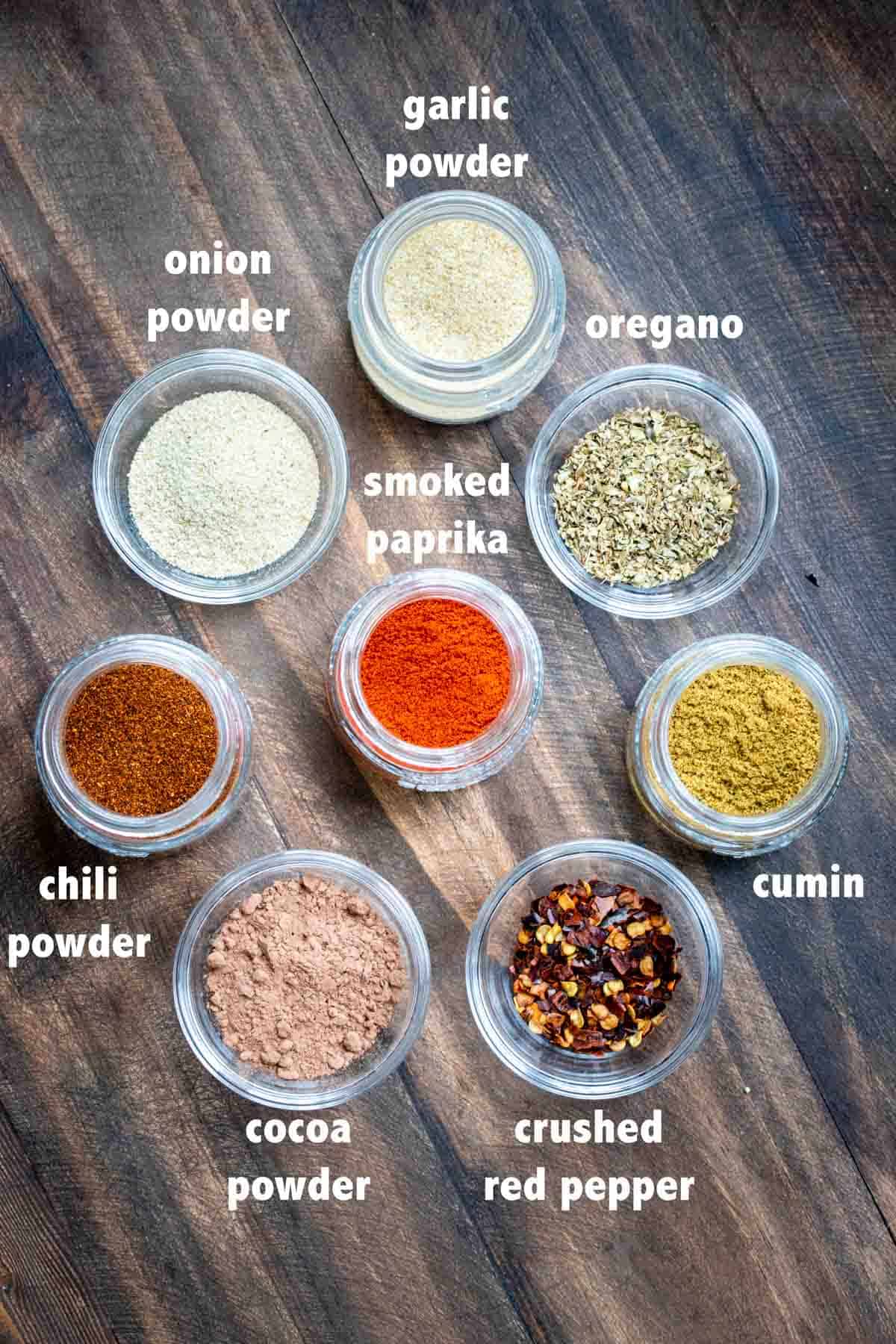 What are the ingredients in Old El Paso taco seasoning?
Old El Paso is the OG of taco seasoning brands. It's super common, but like other store bought brands, while convenient, it includes a lot of things you don't need or use when making it fresh at home.
The ingredients in Old El Paso are Chili Pepper, Maltodextrin, Salt, Onion Powder, Spice, Corn Starch, Sea Salt. Contains 2% Or Less Of: Vegetable Oil, Corn Flour, Silicon Dioxide , Citric Acid, Sugar, Natural Flavor.
Cumin substitutes
My parents are cumin haters. I'm not sure if that's because Greek cuisine doesn't use it, or if they have a weird taste gene. Either way, I have learned to sub it out when I cook for them.
Usually I just throw in some extra smoked paprika or chili powder but there are other great subs out there:
Ground coriander
caraway seeds
chili powder
curry powder
Where to buy spices
There are many options when it comes to buying spices. Because freshness makes a difference in the end flavor, I recommend knowing the source. Buying at a grocery store tends to be safer with expired spices.
But one of the best places to buy spices is actually at your local spice shop. You can also buy them online but depending on where you buy them, you may not know how long they have been sitting around.
Substitutes for taco seasoning
If you're looking to keep it simple and don't want to invest in a bunch of spices quite yet, then it's actually pretty easy to simple use chili powder in place of taco seasoning.
Chili powder actually mainly ground chilis mixed with some of the ingredients in taco seasoning, such as cumin, onion and garlic powder.
Storing tips
I like to make this in a big batch and store it in an airtight container for easy use. I do not use any flour or cornstarch because we use it up pretty fast, however if you do plan on keeping it a while, adding either of those two will help it so it doesn't clump.
Having a good airtight container is important for storage. Air will not only reduce the flavor but will also allow in moisture and therefore clumps. Here are some of my favorite containers:
How To Make Homemade Taco Seasoning
Mix all spices together.
Store in an airtight container.
Enjoy in all the things!
Some recipes for homemade taco seasoning call for toasting whole spices, then grinding them down. While this will definitely up the flavor a bit, I'm well…lazy. So I tend to take the easy road when I feel the flavor is still amazing. Which in this case, it is!
But if you want to toast, go for it! Get yourself some amazing whole seeds and toast away. Then use a spice grinder to grind them down.
Where to use taco seasoning
This seasoning is perfect for so many things! From just adding it to taco filling to using it in sauces and dips. Here are some of my favorite recipes that you can use this is.
Keep in mind that in most of these, you are subbing this seasoning for the seasoning in the recipe already or adding it in on top of the flavor already there.
If you are making a recipe that calls for one packet of taco seasoning and want to use this instead, you simply use 2 tablespoons of this since one packet of taco seasoning equates to 2 tablespoons.
This recipe makes about half a cup of taco seasoning, so you essentially get 4 packets here. A much more economical choice!!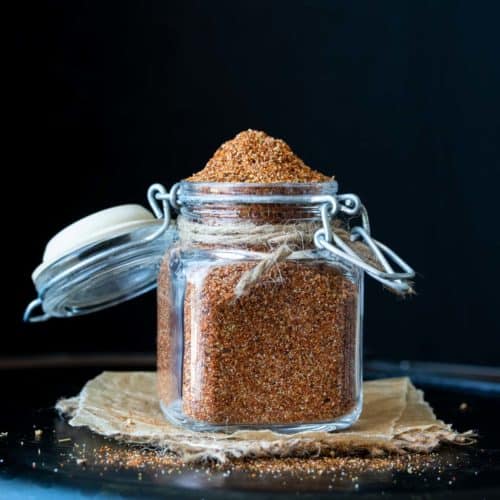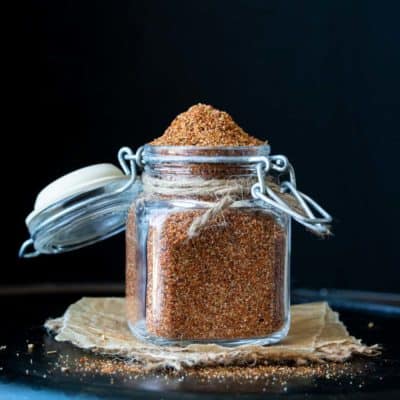 Easy Homemade Taco Seasoning Recipe
Use this amazing homemade taco seasoning for perfectly flavored tacos and so much more. You'll never guess the secret ingredient that adds unreal flavor!
Instructions
Mix everything together and store in an airtight container. You can also mix it by shaking the container well after you put the lid on.

Note that if you plan to store it for a long period of time, you may want to add a tablespoon of cornstarch to prevent clumping. I did not add anything but typically use my stash up within a month, then make more.
Notes
This recipe makes about 1/2 cup, serving size for nutrition is 1 tablespoon.
I used dutch processed cocoa as it is a touch less bitter, but either kind works as long as it is unsweetened.
I love the flavor of crushed red pepper but I also tried this with chipotle seasoning and cayenne pepper, which turned out great as well. Add between 1 and 3 teaspoons depending on how spicy you want it.
Recipe by Veggies Don't Bite, visit our site for more great plant-based recipes.
Nutrition
Calories:
19
kcal
Carbohydrates:
3
g
Protein:
0
g
Fat:
0
g
Saturated Fat:
0
g
Cholesterol:
0
mg
Sodium:
0
mg
Potassium:
107
mg
Fiber:
1
g
Sugar:
0
g
Vitamin A:
1405
IU
Vitamin C:
0.2
mg
Calcium:
25
mg
Iron:
1.3
mg
Nutrition and metric information should be considered an estimate.
Never miss a recipe!
Sign up here and get a FREE quick and easy meal guide!