This is hands down the best pineapple salsa recipe! It is absolutely delicious plus there's a bonus creamy sauce you can make with the leftover juices!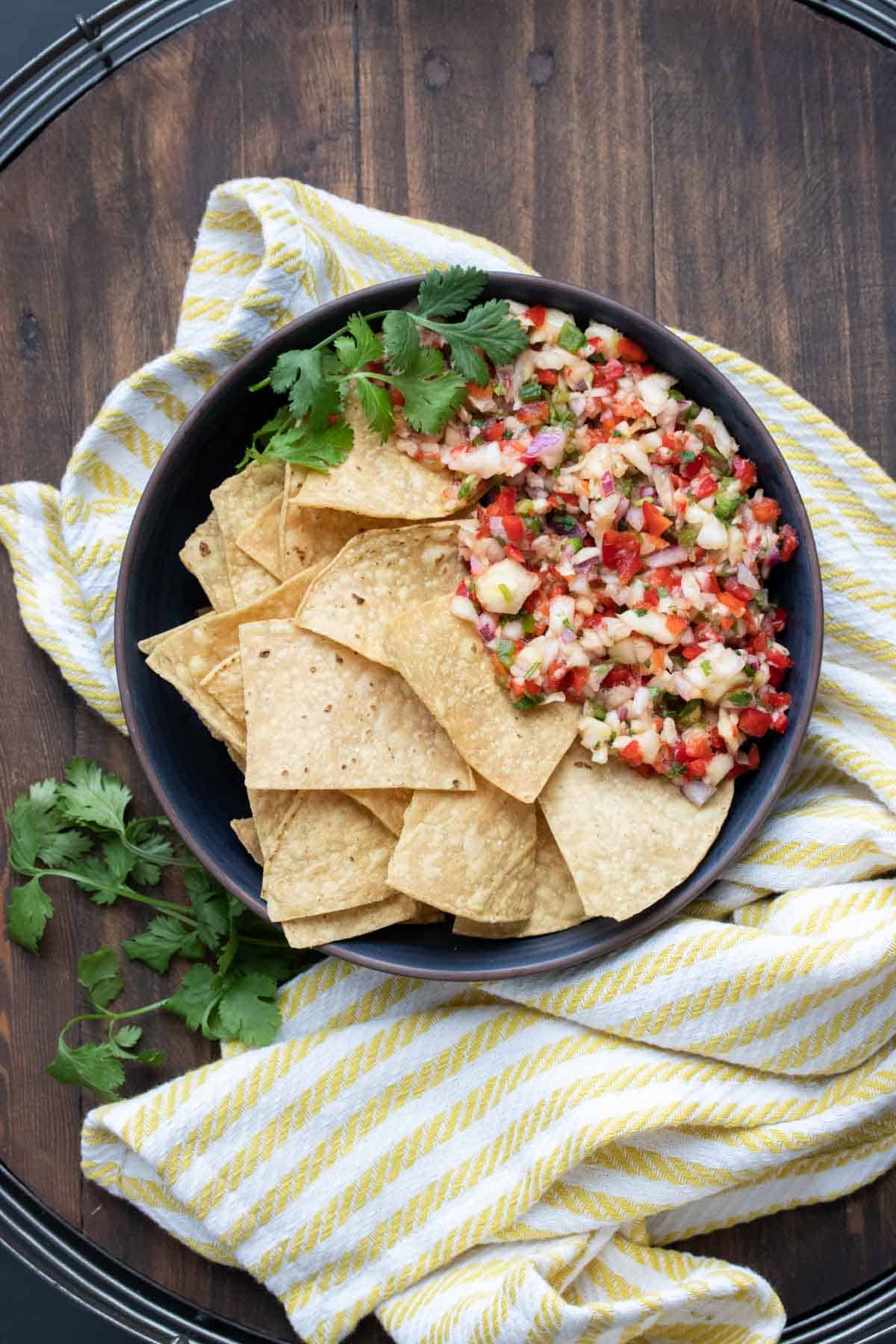 This post was originally published on July 9, 2020.
I love salsa like I love cookies! Which means many types and varieties must be made. If you love salsa like I do, you'll want to make sure and try my fresh Mexican salsa, salsa verde and a very similar citrus salsa!
This pairs amazing with so many things, you can use it on roasted vegetable tacos or vegan jackfruit tacos for an extra layer of awesome flavor!
How to Make Pineapple Salsa
This is a fairly simple recipe to make. And what's even better is that it creates a second bonus recipe!
Because pineapple can be juicy, I like to strain the salsa and save the juice to make a cream sauce. You simply take the reserved juice and blend with the cream sauce ingredients to get a delicious sauce to drizzle and dip in!
Ingredients
Pineapple
Red pepper
Red onion
Cilantro
Serrano pepper
Lemon juice
Apple cider vinegar
Garlic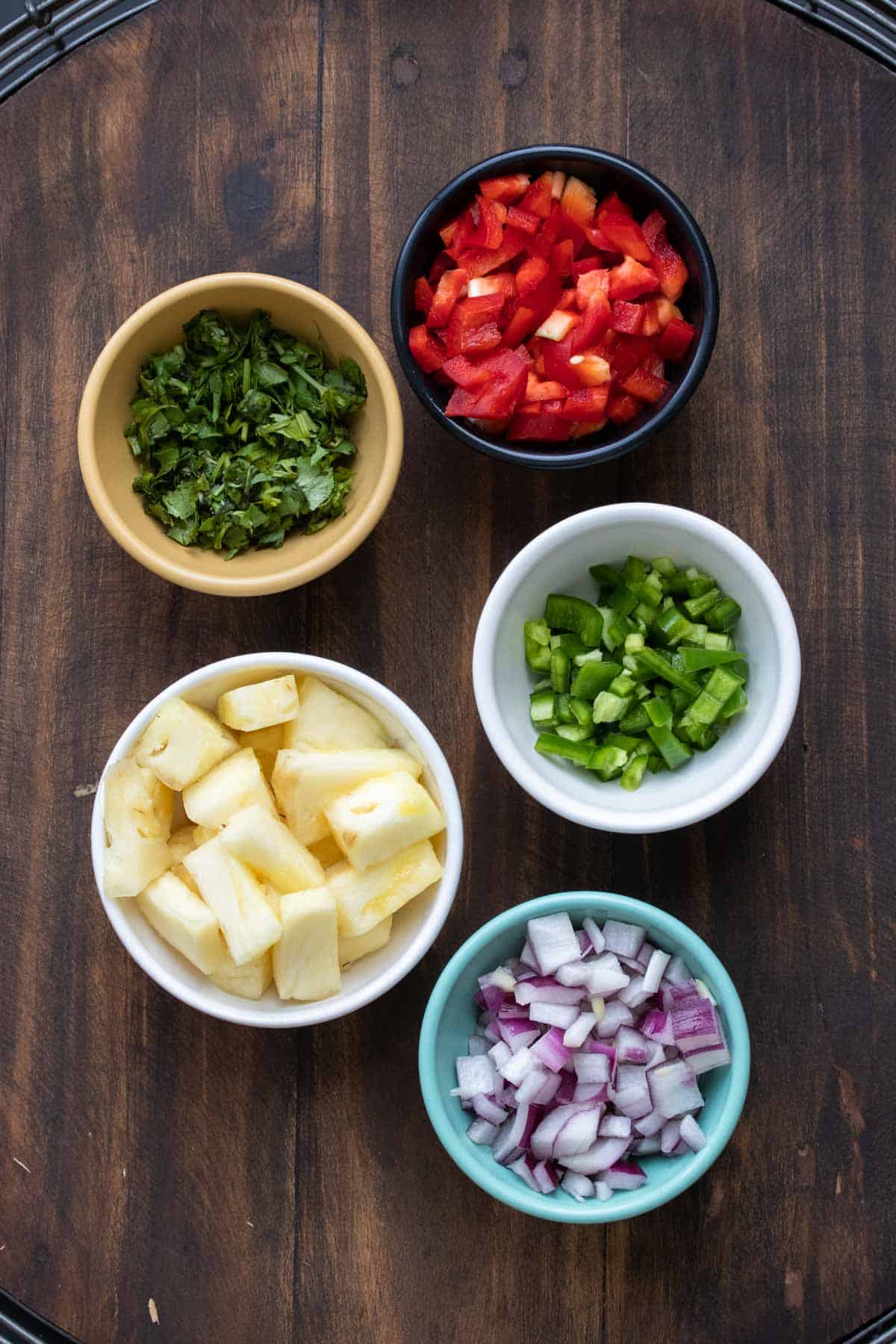 Step by Step Instructions
Put everything into a food processor and pulse to mix and chop into a salsa consistency.
Drain the juice to avoid a watery salsa.
Make the bonus cream sauce with the reserved salsa juice in a blender.
Enjoy them together or separate!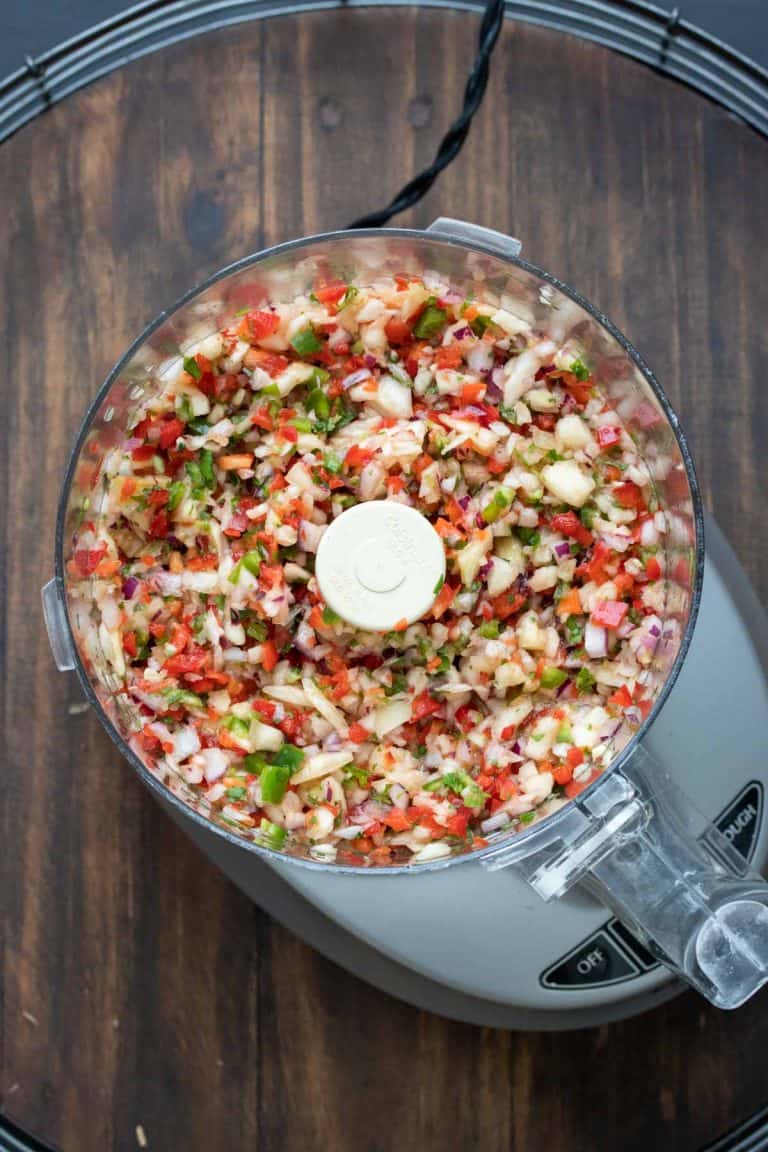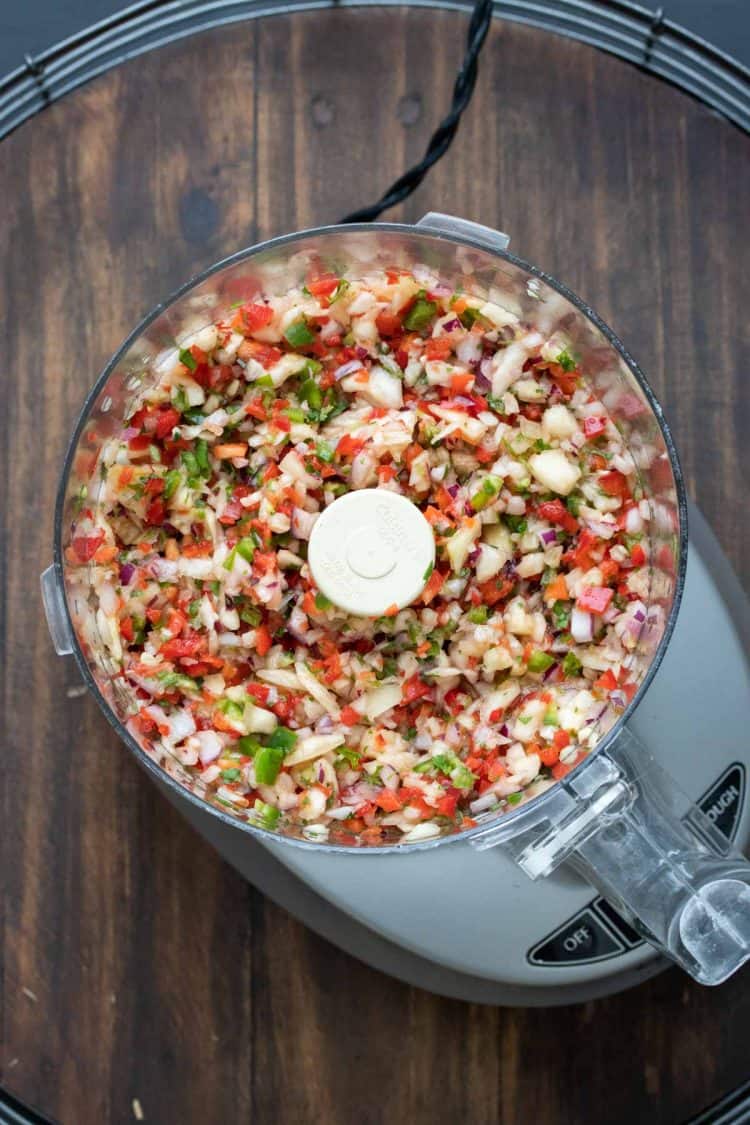 Serving Suggestions
Both the salsa and cream go well with so much! Here are some ways we have loved it: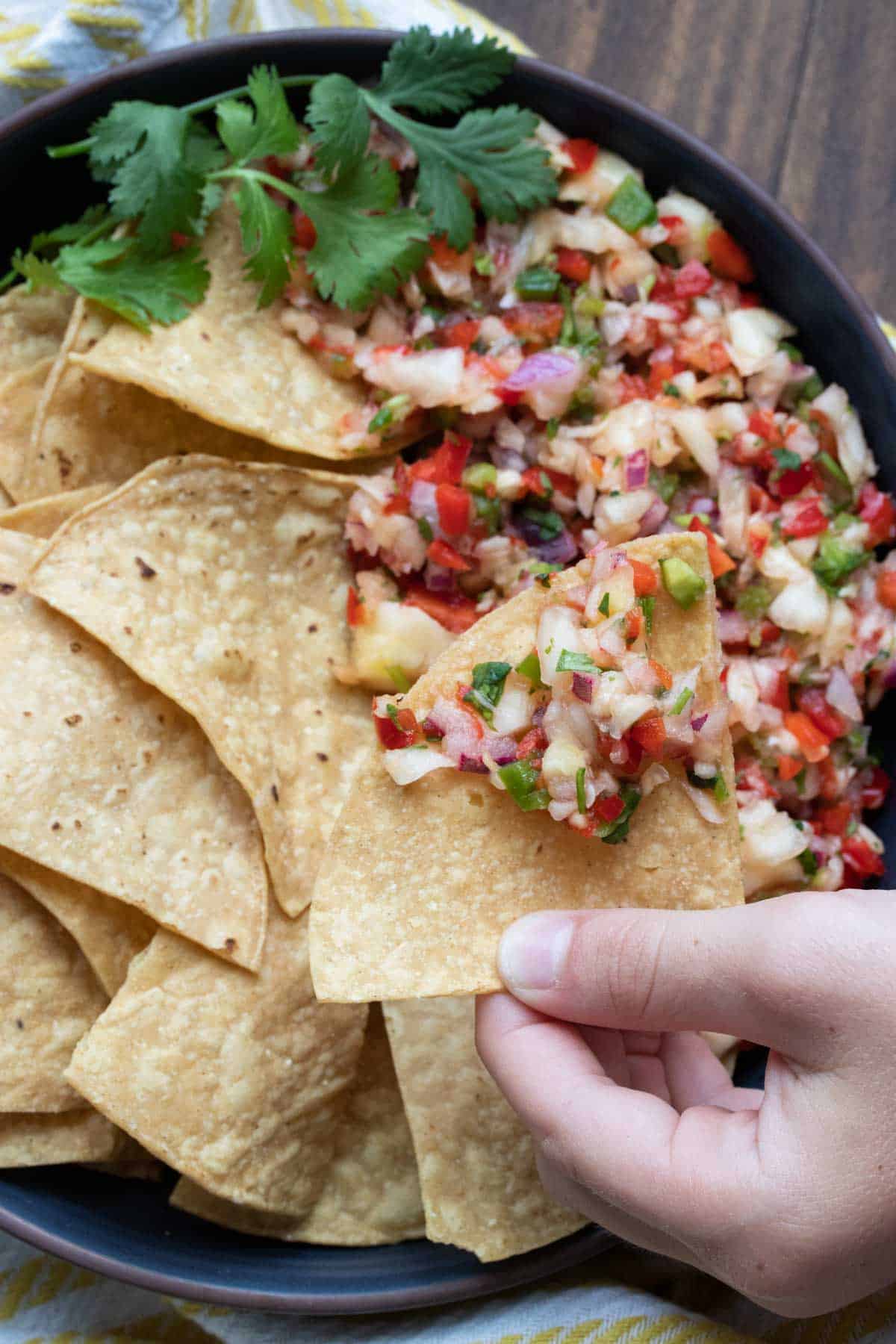 Tips for Choosing a Pineapple
I love a good pineapple. But knowing how to pick one out can be tricky. The flavor is a must have to make sure this recipe turns out delicious.
You can look at a few different things to make sure your pineapple is perfectly ripe:
Look for bright green leaves.
Look for a nice yellow color.
Smell the bottom for a sweet pineapple smell.
Press it and make sure it is slightly soft.
Tips for Cutting a Pineapple
There are a few different trains of thought out there. Here are the steps for how I found it easiest:
Cut off the top.
Cut off the bottom.
Stand up and cut off the skin around.
Cut in half length wise.
Slice each half in half again.
Carefully cut the core from the center.
Slice each piece lengthwise into the thickness you want.
Then cut widthwise into the size pieces you want.
More Tips and Tricks
Here are a few more things to keep in mind when making this recipe:
Fresh pineapple is the best for this salsa as it yields the best flavor, however if you only have access to canned or frozen you can make it work. Drain and rinse the canned pineapple and pat dry. Defrost the frozen pineapple to room temp and pat dry.
If your pineapple doesn't have a lot of flavor, you can add a touch of pineapple juice to the food processor to enhance the flavor a bit.
If your pineapple is too sweet, you can rinse it in some cold water, or add some extra lime juice to counteract the sweetness.
If your strained liquid isn't enough for the cream sauce, add a touch of broth or a mix of broth and pineapple juice to make up the difference.
Add extra flavor by grilling your pineapple!
Common Questions
How do I store pineapple salsa?
If you have leftovers, simple store in an airtight container in the fridge.
How long does pineapple salsa last in the fridge?
It will last for 5-7 days.
What can I do with leftover pineapple salsa?
The great thing about this salsa is that it is so versatile! It can be added to so many things as an ingredient or simple as a topper. If your salsa if nearing the end of it's shelf life, you can blend it into a cream sauce and freeze the sauce for later use. The salsa itself doesn't really freeze well.
What can you do with old pineapples?
Old pineapples tend to be really sweet. Which if you like the sweetness, then use them for salsa! You can always counteract with lime to cut some of it. But the best thing you can do is make margaritas like these pineapple jalapeño margaritas.
More Salsa and Dip Recipes
Scoop up flavor with all of these fabulous plant based recipes: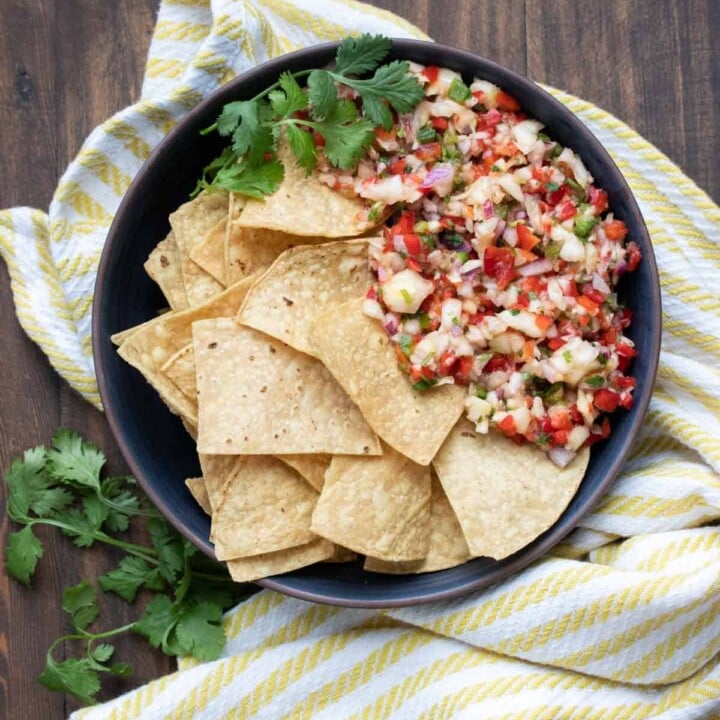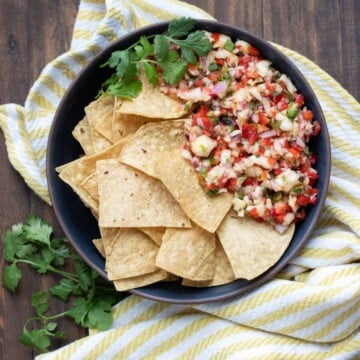 The Best Pineapple Salsa Recipe
This is hands down the best pineapple salsa recipe! It is absolutely delicious plus there's a bonus creamy sauce you can make with the leftover juices!
Ingredients
2 cups pineapple , chopped into large pieces
1 cup chopped red pepper
½ cup coarsely chopped red onion , about ¼ of a medium onion
¼ cup packed cilantro
1 tablespoon chopped Serrano pepper , about ½ a pepper (seeds removed)
1 tablespoon lemon juice
2 teaspoons apple cider vinegar
½ tablespoon chopped garlic , 2-3 cloves, roughly chopped
1-½ teaspoons sea salt
Cream sauce:
½ -1 cup juice from salsa , see instructions
Veggie broth or pineapple juice to make up the rest of the 1 cup juice , see note
1 ¼ cups cashews
1 tablespoon lemon juice
1 teaspoon apple cider vinegar
1 clove garlic
½ teaspoon sea salt
¼ cup fresh cilantro
Instructions
Put pineapple, red pepper, onion, cilantro, Serrano pepper, lemon juice, apple cider vinegar, garlic, and salt in a food processor. Pulse until chopped.

Drain the salsa with sieve and save the juice if making cream sauce.

Use in tacos, as a dip, in wraps, over nachos or simply devour with a spoon!
To make cream:
Put all the ingredients except the cilantro in a blender and blend on high until smooth and creamy.

Add in the cilantro and pulse to mix in.

Use as a topping in tacos, as a dip, in wraps, over nachos or simply devour with a spoon!
Notes
This recipe makes 2 different toppings within one recipe.
If you don't have enough juice from the salsa, use broth to bring it up to 1 cup. The more juice, the more pineapple-like the cream will be. You can also use pineapple juice to get the sweet and salty angle.
You do not have to make the cream if you prefer not to. Simply discard the juice or keep it in for a juicier salsa.
If you are not using a high speed blender, you can soak the cashews overnight, boil them for 30 minutes or grind the dry cashews into a fine powder using a coffee grinder (do not soak them for this method).
This makes about 1 cup salsa and 1 ½ cups cream sauce.
Serving size is ¼ cup but nutrition information is only for the salsa.
Recipe by Veggies Don't Bite, visit our site for more great plant-based recipes.
Nutrition
Calories: 65kcalCarbohydrates: 16gProtein: 1gFat: 1gSaturated Fat: 1gSodium: 524mgPotassium: 209mgFiber: 2gSugar: 11gVitamin A: 1316IUVitamin C: 92mgCalcium: 18mgIron: 1mg
Nutrition and metric information should be considered an estimate.
Never miss a recipe!
Sign up here and get a FREE quick and easy meal guide!