If you're looking for a quick and easy meal idea, then roasted vegetable pasta should be top of the list. Easy to switch up each week and a family favorite!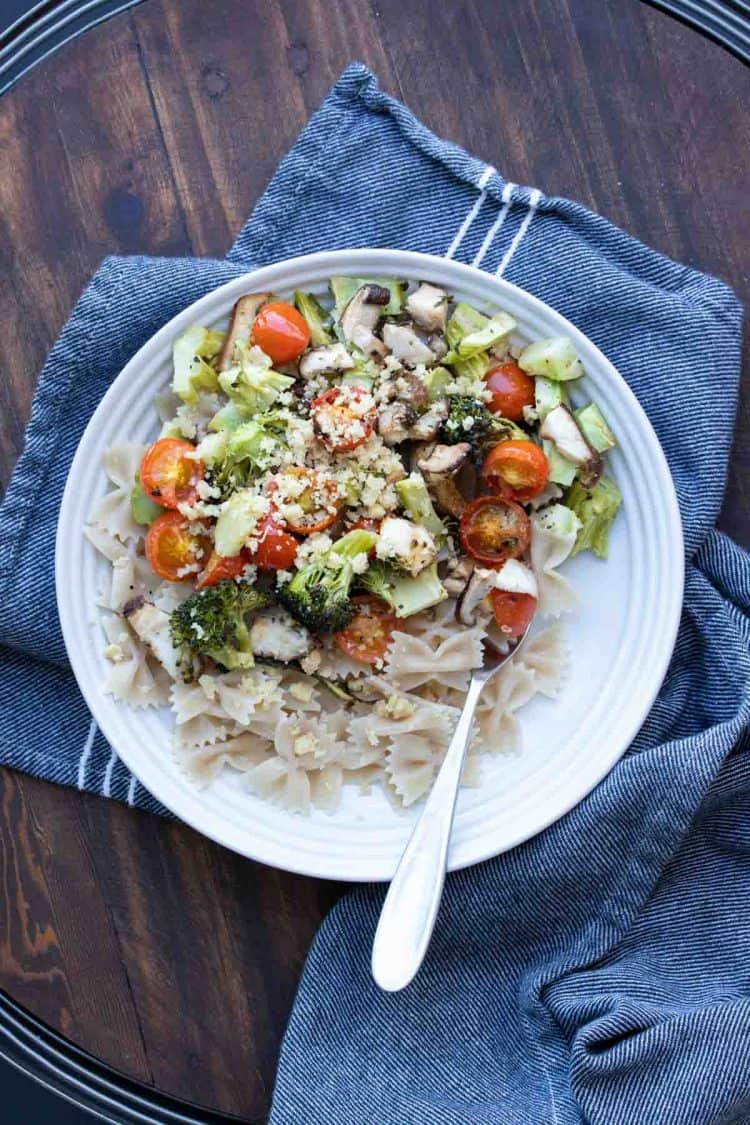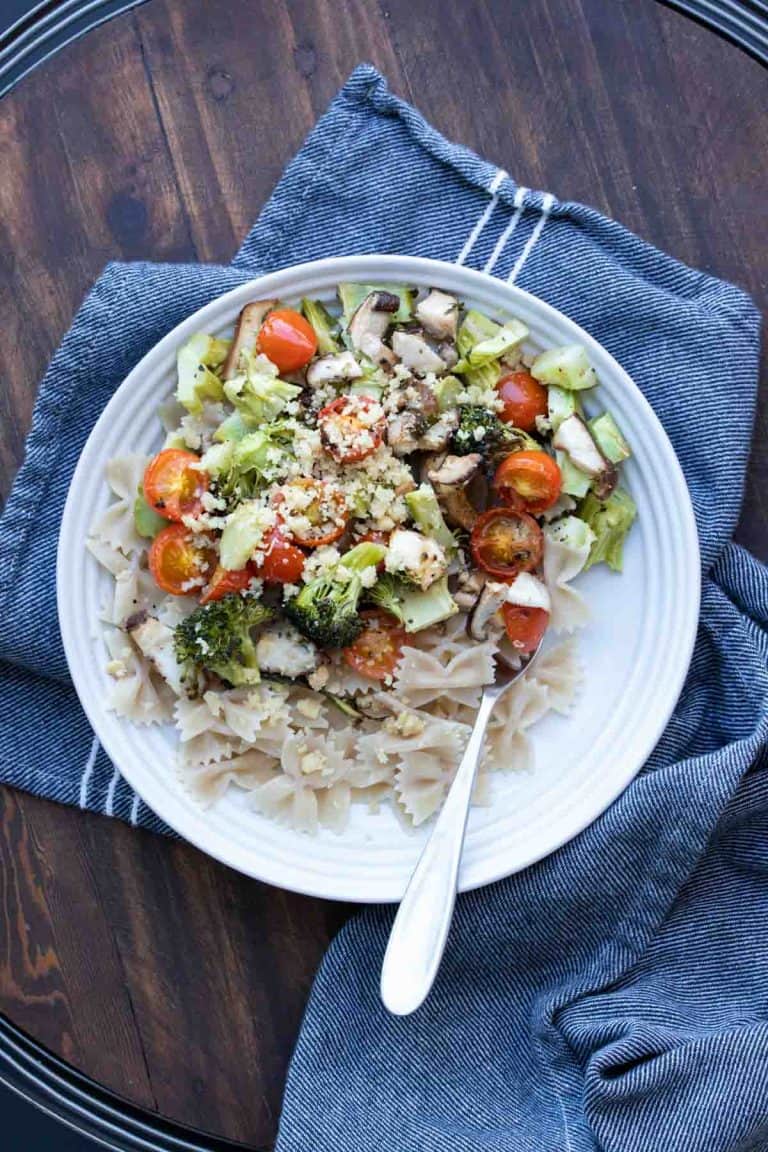 This post was originally published on November 18, 2013.
I am a big proponent of NOT making full recipes every day of the week. It's exhausting! Which is why having quick and easy healthy meals like these are so important.
The Perfect Easy Meal
You need this easy meal idea in your back pocket at all times. This is such a great meal option because:
It's easy to make
Can be prepped ahead of time
Is super versatile to meet everyones flavor preferences
Is easily changed up to make it new and different each time
Takes very little energy to make
How to prep ahead
Prepping veggies is one of my favorite things to do! If done with a system in place, it can make your week so easy. Look at this guide on prepping veggies for more details.
In general, all you need to do is cut the veggies the day before so they are ready to go when it's roasting time.
Fresh versus frozen vegetables
You can definitely use frozen vegetables for a super easy meal. The thing to keep in mind is that the end texture will definitely not be the same. I find that when using frozen vegetables, you don't get as nice of a crisp.
What kind of pasta to use
Any kind of pasta you like works with this roasted veggie meal. Whether it's spaghetti, penne or shells, it all works! Make sure to use gluten-free if needed.
There are also types of pasta subs you can use if you don't want to eat pasta itself, here are some of our favorite ideas:
How to Make Roasted Vegetable Pasta
As one of the easiest meals, this will be a go to quick and easy idea for the week! Here are the simple steps.
Cut your veggies and roast them on a baking sheet (I use parchment to help with crispness).
Put over pasta and top with cheese or anything else you want!
How do you add vegetables to pasta?
Adding the veggies can be done either by simple topping the pasta with them, or by mixing them together in a bowl. You can also eat the roasted veggies as a side!
Types of vegetables to use
The options are literally endless when it comes to the vegetables used to pair with your pasta. It really comes down to what you like. We have basically tried everything!
Veggies gain a richer almost caramelized flavor when you roast them. And many change flavors a ton, like the radishes you see in these roasted vegetables tacos.
Here is a list of ideas for vegetables to serve with pasta to get your brain gears turning:
Root type vegetables
Potato
Sweet potato
Yams
Carrots
Radishes
Turnip
Parsnip
Beets
Onion
Green onions/ scallions
Garlic
Shallots
Cruciferous and leafy greens
Spinach
Chard
Beet greens
Mustard greens
Kale
Arugula
Collard greens
Turnip greens
Rapini
Lettuces
Microgreens
Bok choy
Broccoli
Cauliflower
Brussels sprouts
Zucchini and squashes
Green zucchini
Pumpkin
Summer squash
Crookneck squash
Italian heirloom zucchini
Eight ball zucchini
Pattypan (scallop) squash
Butternut squash
Acorn squash
Delicata squash
Kabocha squash
Spaghetti squash
Beans and Peas
Green beans
Green peas
Butter beans
Snow peas
Snap peas
Stem Vegetables
Asparagus
Celery
Artichoke
Fennel
Other
Tomatoes
Avocados
Cucumbers
Eggplant
Mushrooms
How to cook the different vegetables
Different vegetables cook at different rates and also are best cooked in different ways, (you can grab my free cheat sheet below). So you first need to figure out what veggies you are using.
Personally, I have roasted every type of vegetable, even greens! Although greens are best sautéed (in my opinion), sometimes I get lazy, chop them up, just mix them with the others and roast.
But generally, I choose to saute my greens and roast everything else. When it comes to roasting, there are ways that you can easily roast all types of veggies at the same time.
To roast everything on one pan, if a veggie needs more time to cook, cut it into smaller pieces than the veggies that need less time to cook.
To roast on different pans, group veggies on each pan by time needed to cook and cut veggies the same size so they cook evenly.
Types of herbs to add
You can also add fresh herbs, both before and after roasting. Here are some of my favorite:
Basil
Oregano
Thyme
Rosemary
Dill
Chives
Sage
Parsley
Tarragon
Mint
Topping ideas
While we love these roasted veggies plain, there are many ways to up this meal. Here are some favorites:
Olive oil
Butter
Veggie sausage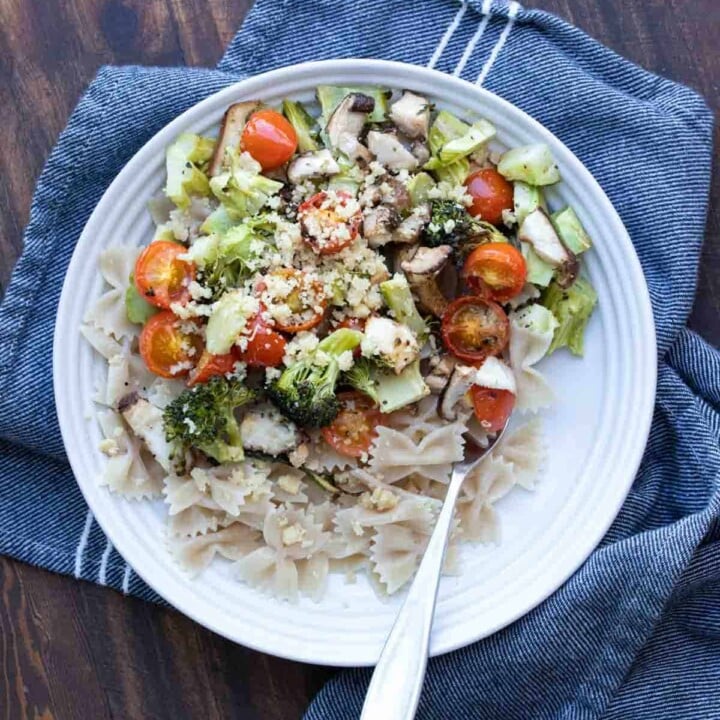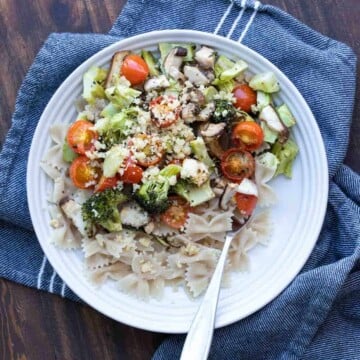 Roasted Vegetable Pasta
Instructions
Preheat oven to 450 F/ 230 C.

Put veggies on a parchment lined baking sheet. Drizzle with oil, sea salt, oregano, garlic powder and pepper and mix a bit to incorporate.

Roast for 20-30 minutes depending on veggie and how big they are cut.

Meanwhile cook pasta according to package directions.

Toss veggies with pasta and serve sprinkled with my vegan Parmesan!
Notes
Mix and match the veggies you prefer.
Cut quick cooking veggies into bigger pieces than longer cooking veggies to keep them cooking within the same time.
You can use frozen veggies but the texture won't be as crisp. Watch the cook time as they may need less.
Nutrition facts include ½ cup vegan parmesan cheese from my website.
Recipe by Veggies Don't Bite, visit our site for more great plant-based recipes.
Nutrition
Calories: 413kcalCarbohydrates: 74gProtein: 14gFat: 7gSaturated Fat: 1gCholesterol: 1mgSodium: 728mgPotassium: 515mgFiber: 5gSugar: 2gVitamin A: 850IUVitamin C: 122mgCalcium: 73mgIron: 7mg
Nutrition and metric information should be considered an estimate.
Never miss a recipe!
Sign up here and get a FREE quick and easy meal guide!