Can infertility and mental health have a positive relationship? Find out how my struggle to have a baby was the best thing that ever happened to me.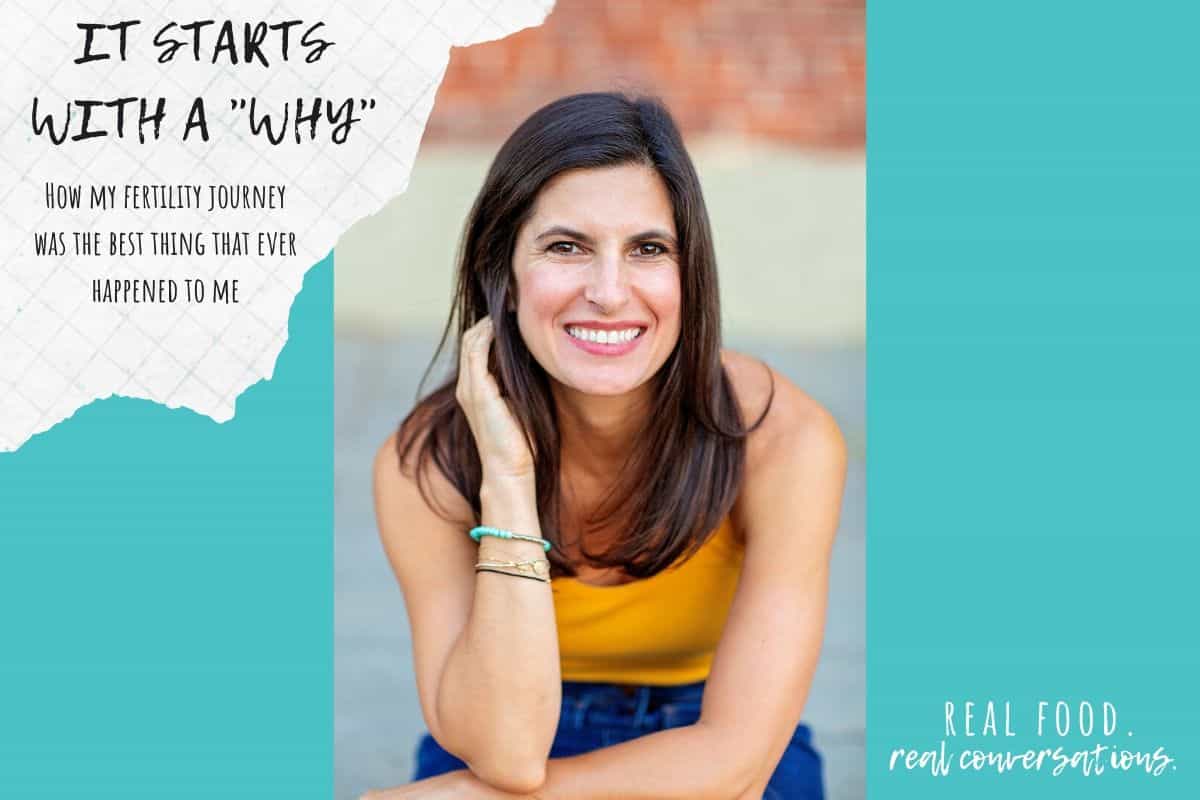 Any time you want to make a change or do something, you need to think about your "why." Why do you want to do it? What is the motivation? Your "why" should be guiding you along the way and help keep you on the path toward your goal.
Podcast: Play in new window | Download | Embed

Subscribe now! Apple Podcasts | Google Podcasts | iHeartRadio | Stitcher | TuneIn | Deezer | RSS | More
Who am I?
I have always wanted to start a podcast, and finally got my butt in gear to get it done! Even with this podcast, I had to think about my "why" in order to decide on how to build it.
It all started with a baby. A baby that wasn't born. A miscarriage that started our journey down the path of infertility and the start of us seeing how changing our diet for health reasons can have a positive impact.
Including an alternative approach in my plan
Being raised by a mom who made home cooked meals, treats, you name it, I ate a lot of healthy wholesome food. I always considered myself healthy.
But when I began struggling to have a baby, I questioned everything about me and my "healthy" body. The first slew of fertility procedures (which included 3 rounds of IVF, 3 IUI's, a few surgeries, second opinions, and acupuncture) were filled with failure and wore me out.
I heard the words "egg donor" being uttered and decided I just needed a break. That is when I met a holistic nutritionist who was getting a PhD in women's fertility. I decided to try something new, so began working with her to add a natural treatment for infertility to our medical approach.
She did some of her crazy magic (My husband called her my voodoo doc, lol) and found that I had some issues, one of which was my reproductive system. Big surprise, LOL.
How diet changes first helped make a huge change
After putting me on some whole food supplements, and altering my diet to remove gluten, soy and dairy plus lowering the amount of meat I ate, my body began to "heal."
Changing our diet for health back in 2009 was not easy. The many options we have today were not around back then. But I was willing to try anything. And slowly I started to feel different. I wouldn't necessarily say I felt cured or better, just different.
After about 6 months, I decided to try one more trial of IVF. And boy was that eye opening. My doctor told me from the very first blood draw that my body was different. He couldn't quite put a finger on why, but it was.
Well low and behold, adding in that natural treatment for infertility helped the medical approach we were doing. We got ourselves some solid embryos which led to a baby! The joy we felt can't be put into words. This was the start of my realization that all that I knew about health and diet wasn't set in stone.
Infertility and mental health
All of the things I have been through in life have created the stories that my subconscious uses to make my current decisions. Some of those stories have changed, and some remain key to my life.
My experience with fertility struggles helped me learn to let go. I realized that life will throw curveballs and knowing how to adapt quickly and easily will benefit my mental health.
Seeing how altering my diet and trying alternative medicine made such positive changes to my body, I realized that healthy is a relative term and it is not a one size fits all approach.
It's so important to keep the big picture in mind. We are not all the same. Health is a combination between body and mind, and both need to be kept in a happy state.