Looking for the perfect way to start your day? This vegan oatmeal recipe is the ultimate creamy delicious choice and it comes together in mere minutes!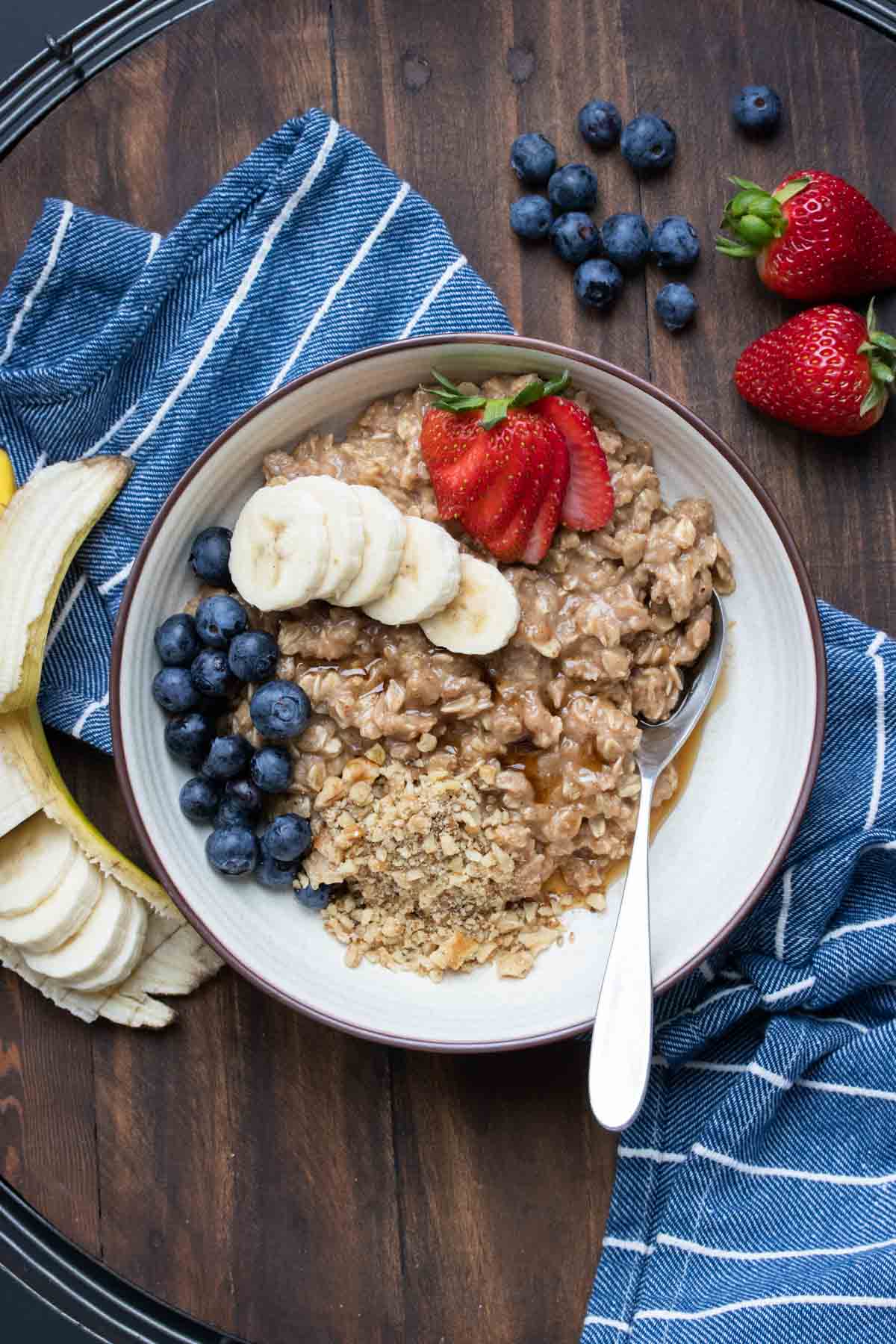 This post was originally published on November 18, 2013.
This is no boring old oatmeal. From the first bite to the last, you've going to love the rich creamy flavor like no other! Easily customizable with whatever toppings you like, and the best family friendly meal.
The flavor is rich and comforting and perfect for a cozy day. We love to go between this and my peanut butter chia pudding for the perfect breakfast treat!
Oatmeal Basics
It's easy to throw together some oats and milk and call it a day. But it doesn't take much more effort to go from blah to incredible. And since I don't do blah, incredible it is!
Can you eat oatmeal as a vegan?
Absolutely. Not only can you eat it, but you can pile on allllll the amazing toppings and make it one of the best breakfasts ever. Oats themselves are vegan, so it's all in the ingredients you use to make it.
The main ingredient to worry about is the liquid used. Some say that you get a creamier result when you use water to make oatmeal. However, I beg to differ. I think that using the right milk, and cooking the oatmeal correctly will give you the creaminess you want.
The best milks to use
To get a creamy result, you need to use a milk with some fat in it. In this recipe, I use canned lite coconut milk. I like this choice because it's thicker, creamy and has a nice amount of healthy fat. But it's still thin enough to give moisture to the oats.
There are plenty of dairy free milks you can choose from though, and all will work. But you want to test to see what gives you the creamy result you prefer.
Topping options
You can top your oatmeal with just about anything! Even savory creations like my Creamy Spinach Oatmeal. The best part of this recipe is getting creative and making it different every time! Here are a few of my favorite toppings:
Fresh fruit- Berries, Bananas, pears, apples, are all amazing choices.
Nuts and seeds- Almonds, Walnuts, Pumpkin Seeds, pecans and so many more.
Spices and seasoning- Cinnamon, Nutmeg, Pumpkin Pie Spice, etc.
Shredded coconut
Dried fruit
Chocolate chips
Nut and seed butters
Maple syrup or honey
Jelly or jam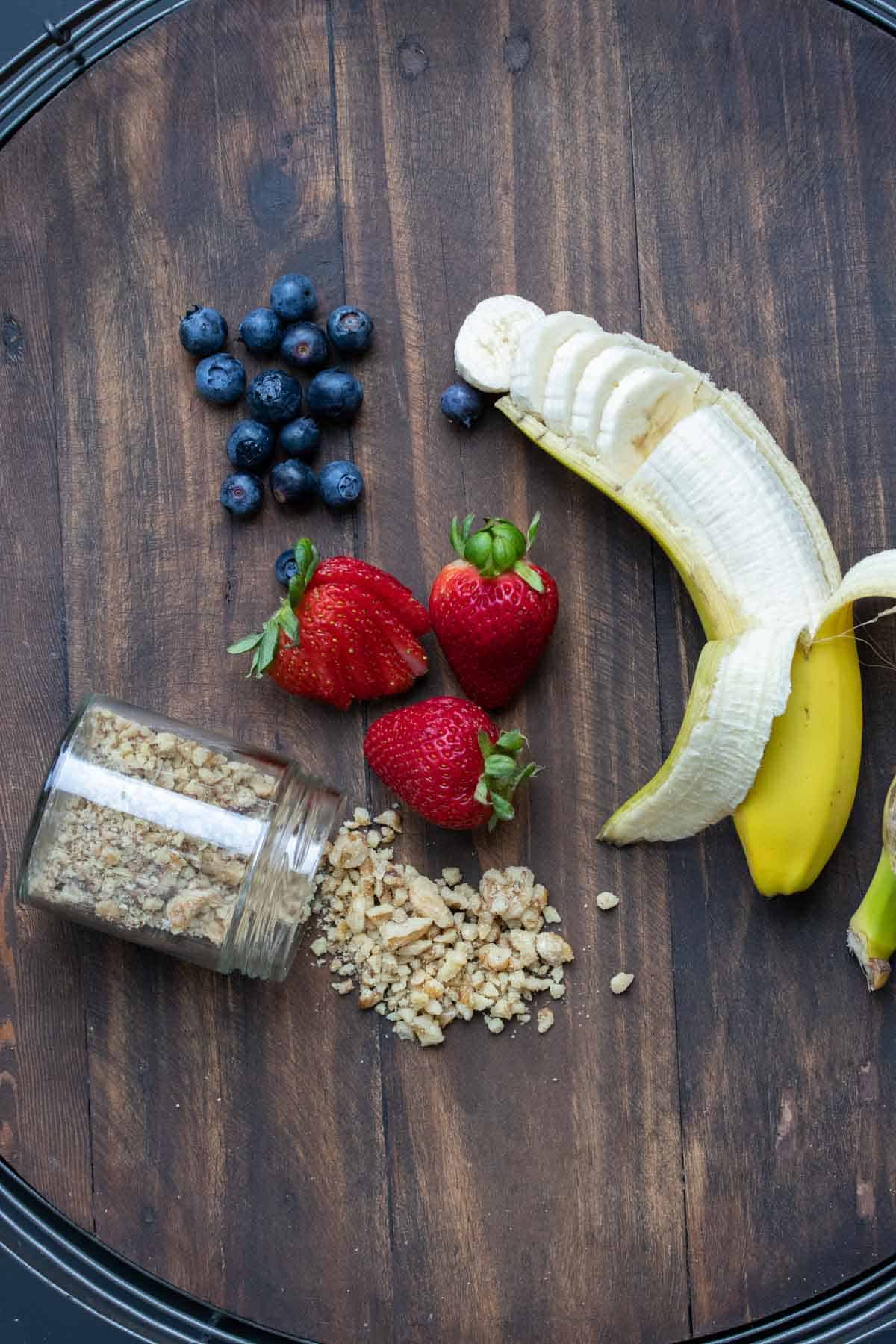 If you're feeling adventurous you can go savory and add things like Vegan Parmesan Cheese, sauteed veggies, crumbled vegan sausage, the list goes on!
You can even see my fun recipes for overnight oats like my peach overnight oats and my carrot cake overnight oats, simply use the toppings to make them regular oats!
Prepping ahead
I personally prefer oatmeal fresh, but that doesn't mean you can't prep everything ahead of time. I like to make little jars with all of the toppings I want so it's a quick dump and eat situation.
You can also pre portion out your ingredients so they are easily ready to go in the morning!
If you really want to make the oatmeal ahead of time, you can. I would suggest cooking it a little on the thinner side so that when you reheat it in the morning, it won't be overly thick. You can also try baking oatmeal!
How To Make Vegan Oatmeal
You want to start by adding everything into a pot. This lends to a creamy end result, versus heating the liquid and then adding the oats. This is because it allows the oats to slowly absorb the liquid and soften releasing the creamy end texture.
Heat over low for about 2-3 minutes. You don't want to cook this on high because it can burn easily. It also doesn't let the oats slowly soften for that perfect creamy texture. Be careful not to over cook. They thicken more as they cool, so pull the oats off before they fully thicken.
Top with your favorite toppings and devour.
Cooking- Frequently Asked Questions
How do you cook it in the microwave?
You can definitely cook these in the microwave, but you won't get as creamy as a texture. Put everything into a microwave safe bowl, then heat on the lowest setting for one minute. Stir then slowly heat in increments of 30 seconds, stirring in between until you get the texture you want.
How do you cook it in the crock pot?
While I think steel cut oats are better than rolled oats in a slow cooker, you can definitely get a delicious result with rolled oats. Put everything into a small sized slow cooker (or you can double to triple the recipe), cook on low for 6-8 hours or high for 4-5. Check for desired doneness along the way.
How do you cook it in the instant pot?
Like the crockpot, I think steel cut oats are a better choice for the instant pot. But rolled oats can still give a good result. You simple put everything in the bowl. Cook on manual for 3-4 minutes. Allow the stream to release for about 10-15 minutes.
How do you reheat oatmeal?
As oatmeal sits, the oats absorb all the liquid and it thickens. So when you reheat it, you will need to add just a little bit of liquid to thin it out again. You can reheat on the stove over a low setting, or in the microwave.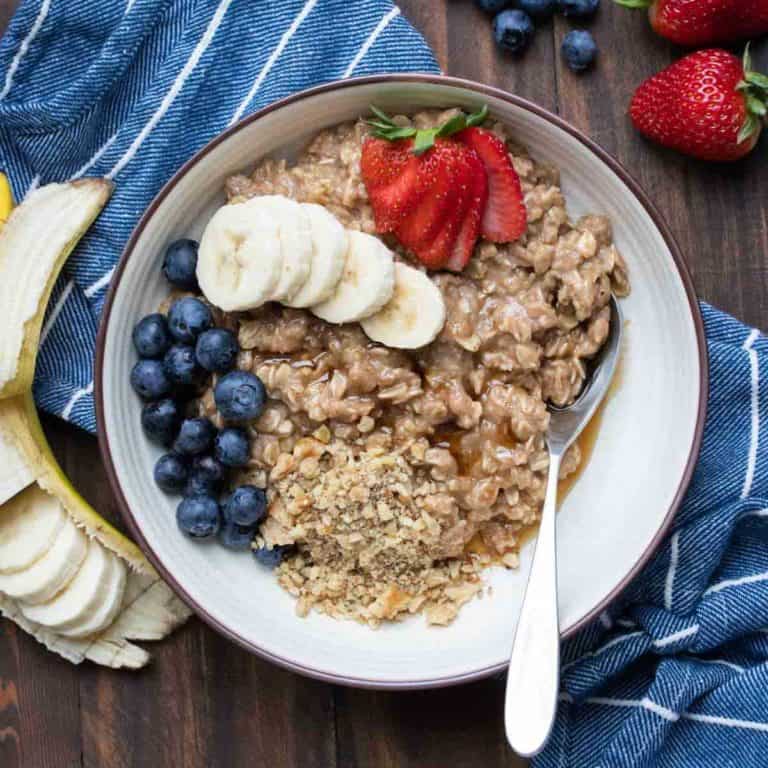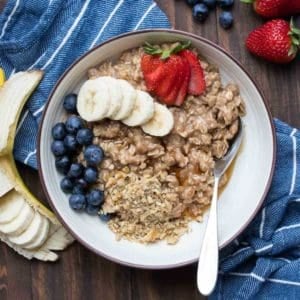 The Best Creamy Vegan Oatmeal Recipe
Looking for the perfect way to start your day? This vegan oatmeal recipe is the ultimate creamy delicious choice and it comes together in mere minutes!
Ingredients
Optional toppings:
nuts
fresh fruit
dried fruit
seeds
nut butter
Instructions
Add the ingredients into a pot over medium low heat and stir until just thickening. About 2-3 minutes.

Remove from heat and add to a bowl. Use toppings of choice and enjoy!
Notes
You can use steel cut oats if you prefer, but you will need to cook them longer.
Canned coconut milk will get you the creamiest flavor, but any milk will work.
The almond butter adds to the rich creamy flavor but you can leave it out.
Nutrition facts are for basic oatmeal without the toppings.
Recipe by Veggies Don't Bite, visit our site for more great plant-based recipes.
Nutrition
Calories: 421kcalCarbohydrates: 49gProtein: 9gFat: 20gSaturated Fat: 10gPolyunsaturated Fat: 3gMonounsaturated Fat: 6gSodium: 247mgPotassium: 315mgFiber: 6gSugar: 13gVitamin A: 2IUVitamin C: 0.02mgCalcium: 104mgIron: 2mg
Nutrition and metric information should be considered an estimate.
Never miss a recipe!
Sign up here and get a FREE quick and easy meal guide!