Having basic picnic staples is a must as the weather warms up. These vegan baked beans are packed with flavor and can be served with so many other recipes!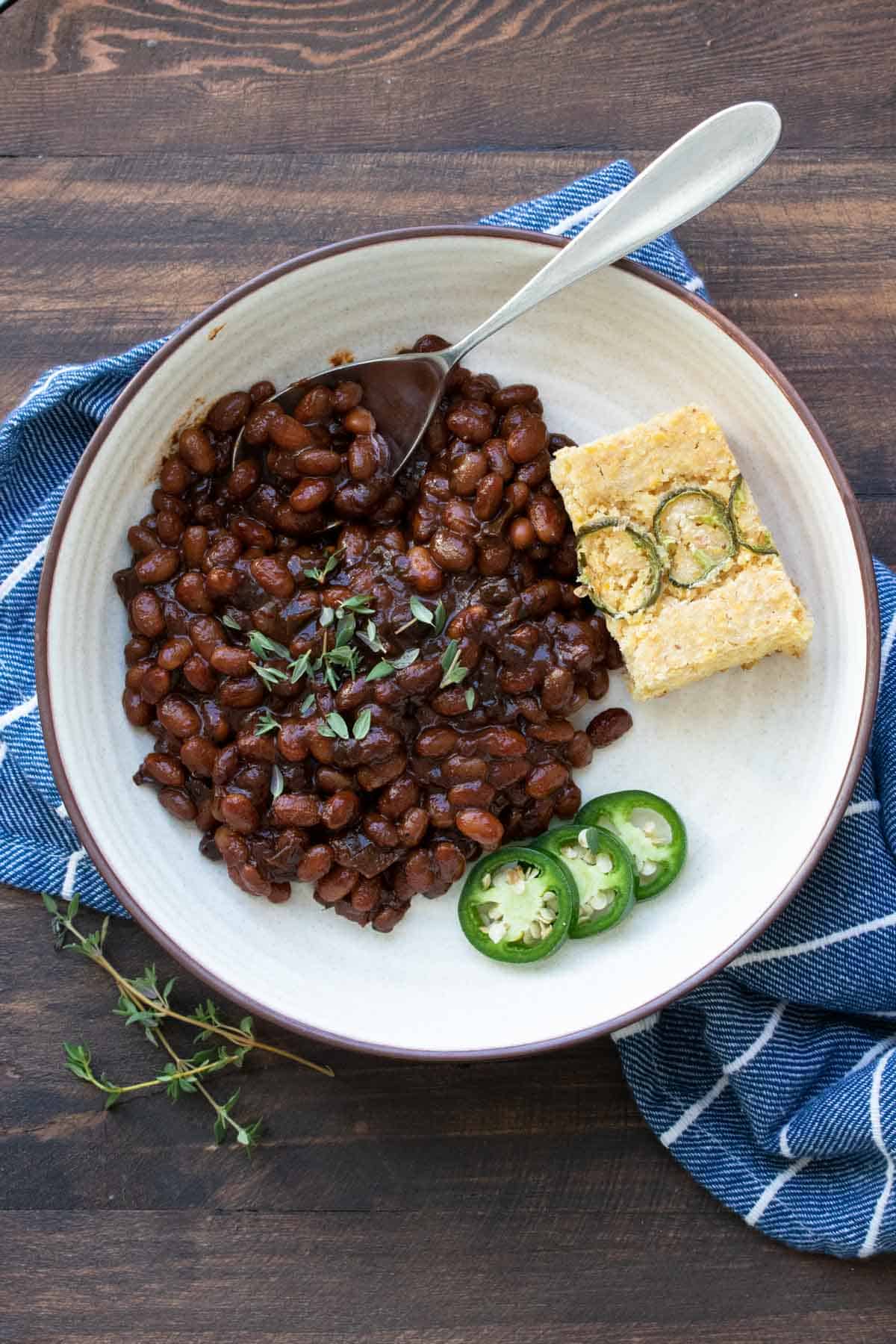 Being prepared for the upcoming picnics, cookouts and barbecues is on my yearly to do list. I start with perfecting my favorites, then decided what I am missing that I can create. This baked bean recipe is high on my list and will be your go-to dish to share!
Vegan Baked Beans
Baked beans are a simple recipe, but done right can be SO flavorful. We love them plain with a simple side salad or as part of a big picnic.
While this can be a complicated recipe, I have tried to simplify it as best I can. I am giving a few different options, but keep in mind that ovens, pressure cookers, stove tops and slow cookers can be different so cook time may vary. Especially when using dried beans.
What kind of beans to use
Baked bean recipes traditionally use navy and/or white beans. Other beans can be used, but these are a great choice for creamy smooth texture and flavor.
Canned vs. Dried Beans.
Either canned or dried beans work in this recipe. Baked bean connoisseurs will say dried beans are the best, however, I tested and trialed this recipe multiple times and my winner was the canned bean version, both for ease and flavor.
The only difference is I adjusted the recipe and did not use the broth. Instead, I used two cans of beans with the juice and got fabulous results!
Remember if you are using dried beans, you need to soak them. My post all about cooking with dried chickpeas gives a few different options when it comes to soaking.
Are baked beans suitable for vegans?
This depends on the ingredients. Many classic baked bean recipes call for bacon, so unless you use a plant based bacon alternative, it won't work. But this version is vegan friendly and equally as amazing!
How do vegans make beans taste better?
In order to get that similar smoky amazing flavor, you need an ingredient that will contribute that. Like I did in my classic bolognese sauce, my key ingredient is liquid smoke! It gives the beans that smoky flavor usually provided by bacon.
Is honey vegan?
Honey is not vegan as it comes from the work that bees do. It is really a personal decision and depends on how you feel about bee farms and how honey is produced. But if you are a strict vegan, you do not eat honey.
Making Vegan Baked Beans From Scratch
Most recipes from scratch require a lot of time and energy. I like to take things like this and simplify them. I also love including options for the cooking process to make things even easier for those looking for the fast track result!
Saute the onion and pepper.
Add in the rest of the ingredients.
Bake. At this point, you can also just leave it in the pan, cover it and cook to get a faster result.
Serve with your favorite sides!
Options for cooking
The two ways I tested this recipe were the stove top and the oven. Since these are baked beans, baking them is the main way you get the best result, However, I am not a purist when it comes to my recipes, and I love giving options.
Stove top cooking
If you simply want a delish smoky flavorful bean side, you can simply leave this recipe in the pan, and cook until thickened to your desired consistency. This option works when using canned beans. If you want to use dried beans, you will need to cook much longer.
Cooking in the Instant Pot
To make these beans in the instant pot, you would still saute the onions and pepper for the most flavorful result. You can do this in a pan or in your Instant Pot if you have that option.
Then you would add all ingredients, and cook on manual for about 30 minutes with the seal on. Then allow the pressure to release for 20 minutes before you turn the seal to vent. If you are using canned beans, then cook for about 15 minutes only.
Cooking in the Crock Pot
Like with the Instant Pot, you want to saute the onions and peppers for the best flavor. Then add all ingredients, and cook on low for 6 to 8 hours. You can also cook on high for 4 to 6 hours but the flavor isn't as good.
If you are using canned beans, cook on high for 2 hours or low on 4 hours. Either way, make sure that you stop and check along the way to judge doneness.
Adding spice
I am a spice lover! While I gave a spice free option for this recipe since I wanted to make it family friendly, there are many ways you can give this an extra zing! Here are some ideas:
Extra hot sauce
Chopped jalapeno pepper
Cayenne pepper
Chipotle seasoning
Crushed red pepper
Recipes to serve with
These vegan baked beans are amazing served with so many other things. Here are some other recipes that are perfect for your next picnic, cookout or barbecue:
Other amazing barbecue recipes
If you love barbecue flavors, then you will love these other recipes!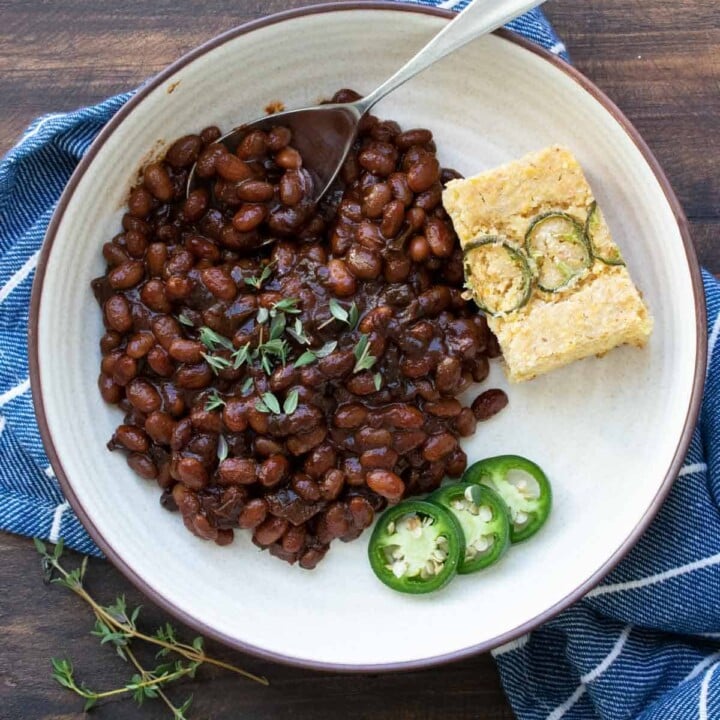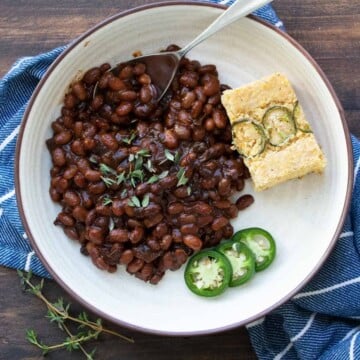 Healthy Vegan Baked Beans
Having basic picnic staples is a must as the weather warms up. These vegan baked beans are packed with flavor and can be served with so many other recipes!
Equipment
pressure cooker (optional)

slow cooker (optional)
Ingredients
3 cups canned navy beans with liquid (about 2 cans) , or ½ pound dried (see note)
1 cup chopped onions
Drizzle of oil or veggie broth to saute
1 ½ teaspoons sea salt
1 cup chopped green pepper
½ cup broth to saute
¼ teaspoon liquid smoke
7-8 cups veggie broth , omit if using canned beans
½ cup tomato paste
¼ cup molasses
1 tablespoon hot sauce or apple cider vinegar
½ teaspoon ground mustard
½ teaspoon ground black pepper
Instructions
Preheat the oven to 375 F/ 190 C

Saute the onion with salt and drizzle of oil or broth until brown and caramelized.

Add green pepper, liquid smoke and ½ cup broth and cook until softened.

Add beans, broth (if using dried), tomato paste, molasses, hot sauce/vinegar, mustard and pepper.

Cook until reduced by about ½ and thickened a bit. This takes about 30 minutes.
If cooking on the stove top and not baking:
Taste and check for doneness. Dried beans will need more time and potentially more broth. Cover and keep cooking until desired consistency is reached.
If baking:
Transfer to a square baking dish and bake for 2-3 hours. If it starts to burn on the edges and the beans aren't soft yet, cover with foil as you bake longer. You may need to add more broth.

When done, serve with your favorites!
Notes
You can also use white beans.
Soak dried beans over night.
If using canned beans, you will dump the beans and liquid in. If your beans have salt, you will need to lower the amount you add.
This can vary depending on oven. Start with 7 cups broth, add more as you need. Start with 2 hours, keep cooking until you get the doneness you are looking for.
This makes a square pan and 8 side servings but the number of servings can depend on whether this is a side or main course.
You can double this recipe to make a 9 x 12 baking dish.
Recipe by Veggies Don't Bite, visit our site for more great plant-based recipes.
Nutrition
Calories: 184kcalCarbohydrates: 36gProtein: 8gFat: 1gSaturated Fat: 1gPolyunsaturated Fat: 1gMonounsaturated Fat: 1gTrans Fat: 1gCholesterol: 1mgSodium: 542mgPotassium: 499mgFiber: 6gSugar: 11gVitamin A: 69IUVitamin C: 17mgCalcium: 74mgIron: 2mg
Nutrition and metric information should be considered an estimate.
Never miss a recipe!
Sign up here and get a FREE quick and easy meal guide!