While goals are great, small habits are even better. Working in tiny incremental steps will get you big goal success that is sustainable!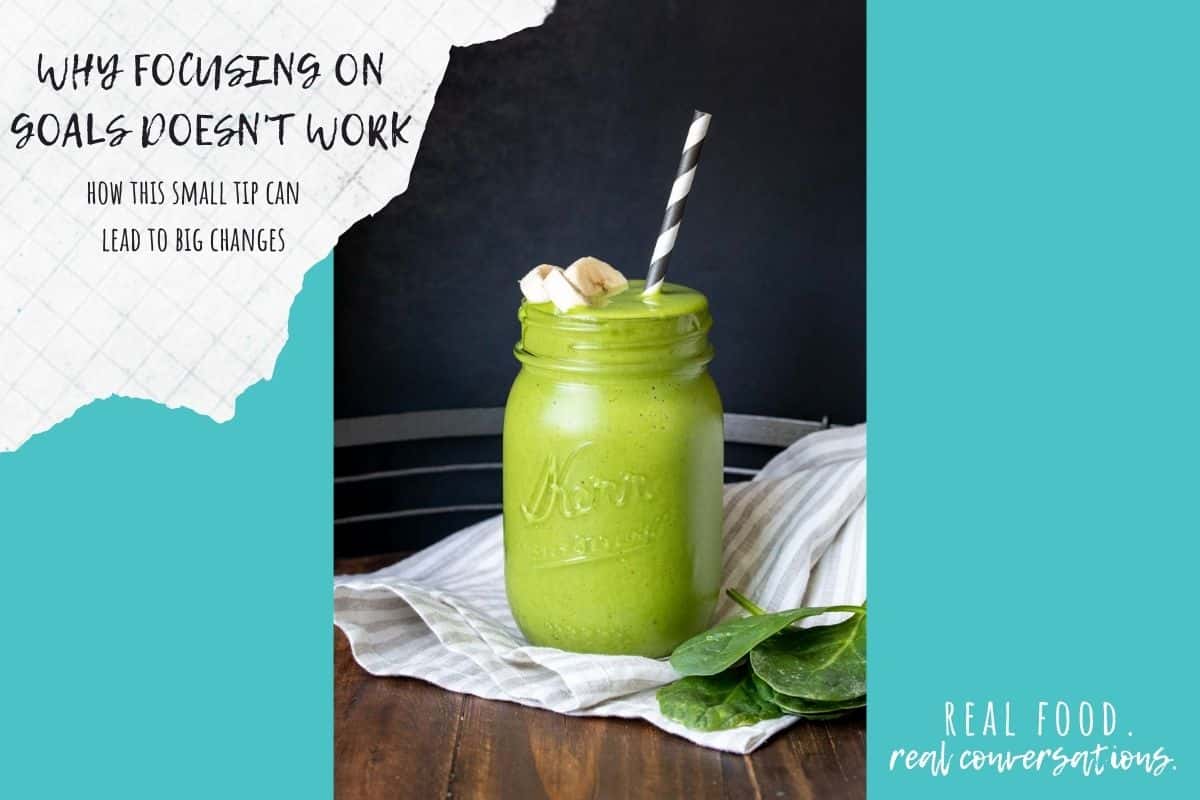 We are told to have big goals in life. Reach for the stars! But the reality is that trying to meet those big goals is overwhelming, and when a task feels too big to tackle we give up.
Podcast: Play in new window | Download | Embed

Subscribe now! Apple Podcasts | Google Podcasts | iHeartRadio | Stitcher | TuneIn | Deezer | RSS | More
So how do we achieve those big goals? It is possible with the right strategy! My education years getting my regular and special education teaching credentials and my masters degree in education, plus my 14 years as a teacher, taught me that small achievable steps had far greater results.
I then went on to become health coach certified, and my training further strengthened that belief in small steps. We need to create small habits and integrate them into our every day life so that our goals feel natural and not a mountain we must climb.
The Tiny Habits Method
Part of my training to become a certified health coach included a section on the Tiny Habits Method by a man named BJ Fogg. This was one of those boxed out side pieces that we often skip as we study.
But something about it caught my eye and I was fully immersed into this information. It took what I learned through my teaching experience and gave it a name. It all seems like common sense but I realized that many people don't know this.
The idea behind the tiny habits method is to make the behavior changes you want so small that they are easy to do. Not overwhelming. This is exactly what I did with my students when I was teaching.
I now take this method and use it in my health coaching business. I help my audience and clients achieve their wellness goals without overwhelm. When something feels achievable you are more likely to stick with it.
How to Start Small Habits
But where do we start? Actually starting seems to be one of the hardest parts. My free habits guide is a great place to begin if you're looking for a little push. I also work with clients one on one and in groups if you're needing a little something extra.
The first thing I like to focus on is your why. The big reason for making a change. It's really important because it keeps you focused and reminds you why you are doing something.
When things get hard, it's easy to give up if you don't have a why behind it. Your why can be anything that is meaningful to you. Just make sure it is about you and not what you "think" it should be.
Some whys by current and past clients are:
Help reduce my blood pressure and cholesterol
Reverse my diabetes
Avoid diabetes
Avoid the obesity some of my family has gotten to
Feel stronger
Be able to run around with my children
Live long so I can see my kids get married and have children
Improve overall wellness
But it can really be anything! There is no wrong answer, unless it is based on what someone else has told you to focus on. Your why must come from within or it won't be meaningful.
Steps for Creating a Small Habit
Once you have your why, it's time to choose a goal and then dissect it into those small habits. This is a very personal process so I can't give specifics but I can give an example of my own journey.
When we changed our diet to help better my husbands health, my own wellness also got better. This helped me realize that I wanted to keep working on my overall wellness. Since wellness encompasses the body and mind, I wrote down goals in both areas:
Bring meditation into my daily habits
Be able to do a handstand
Cut gluten out of my diet
In the food arena, I felt pretty solid, however I discovered that gluten is a huge issue for me so that is something I needed to work on taking out.
It is really important to work on one small habit at a time, which means you need to pick one goal to start with. For me, making meditation as part of my daily routine was a good starting point because when I have a healthy mind the other goals come easier.
I broke down my mediation goal into small achievable steps. Because I didn't meditate at all, and honestly thought it was just for hippies, I was starting from ground zero.
Here is a list of the small habits I started with:
While I brush my teeth, focus on the act of brushing them and not everything else I had to do (I got this idea from the book Becoming Super Woman by Nicole Lapin)
Start every Monday with a 5 minute guided meditation from the Calm app.
Start every Monday and Wednesday with a 5 minute guided meditation from the Calm app (hump day is always a hard one for me!).
Start every Monday, Wednesday and Friday with a 5 minute guided meditation from the Calm app.
Before every workout, do a 5 minute guided meditation from the Calm app.
The next steps after this would be to increase the times spent, and/or add another meditation during the day.
One thing to remember though, is you can simply have one of those small habits as a stopping point and then move on to a habit for another goal. There are no rules, make it work for you.
The Benefits for Creating Small Habits
When we focus on something big like a goal, it seems overwhelming. It's like climbing a mountain without any shoes. If our goal is to reach the top of the mountain, we need to have the right gear.
So with reaching our goals, we need to think about the small steps it takes to get there. It is human nature to be overwhelmed when we think about achieving something large. And with overwhelm there is a higher rate of giving up.
If we focus on something small and more accessible, reduces the overwhelm and helps is feel more successful. When we feel more positive, we put more effort.
This is how we slowly, but more successfully, reach those large goals we want to achieve.
Examples of Small Habits
Where we want to go in life, and what we want to achieve is very personal. But what is the same across the board is making sure you focus on your overall wellness.
Being in a good place in both body and mind helps you achieve success in other areas, your relationships, your job, parenthood, and the list goes on!
Overall, I suggest looking at the health of your body and mind. Even creating a few small habits to work on your overall wellness can help! Here are a few examples:
Add more movement to your day, even a small walk is something if you do nothing right now.
Find ways to add more veggies into your diet. A simple handful of spinach into your smoothie will add extra nutrients into your day!
Take 10 minutes to decompress during the day, even going to a quiet room and closing your eyes, or reading can help calm your mind.
Incorporate a rest day into your meal routine. We need to recharge even when it comes to cooking!
Overall, do what works best for you! This is your life and only you know what's best.