This vegan black eyed peas recipe is based on the southern original. Check out my secret ingredient to give it a traditional meaty flavor!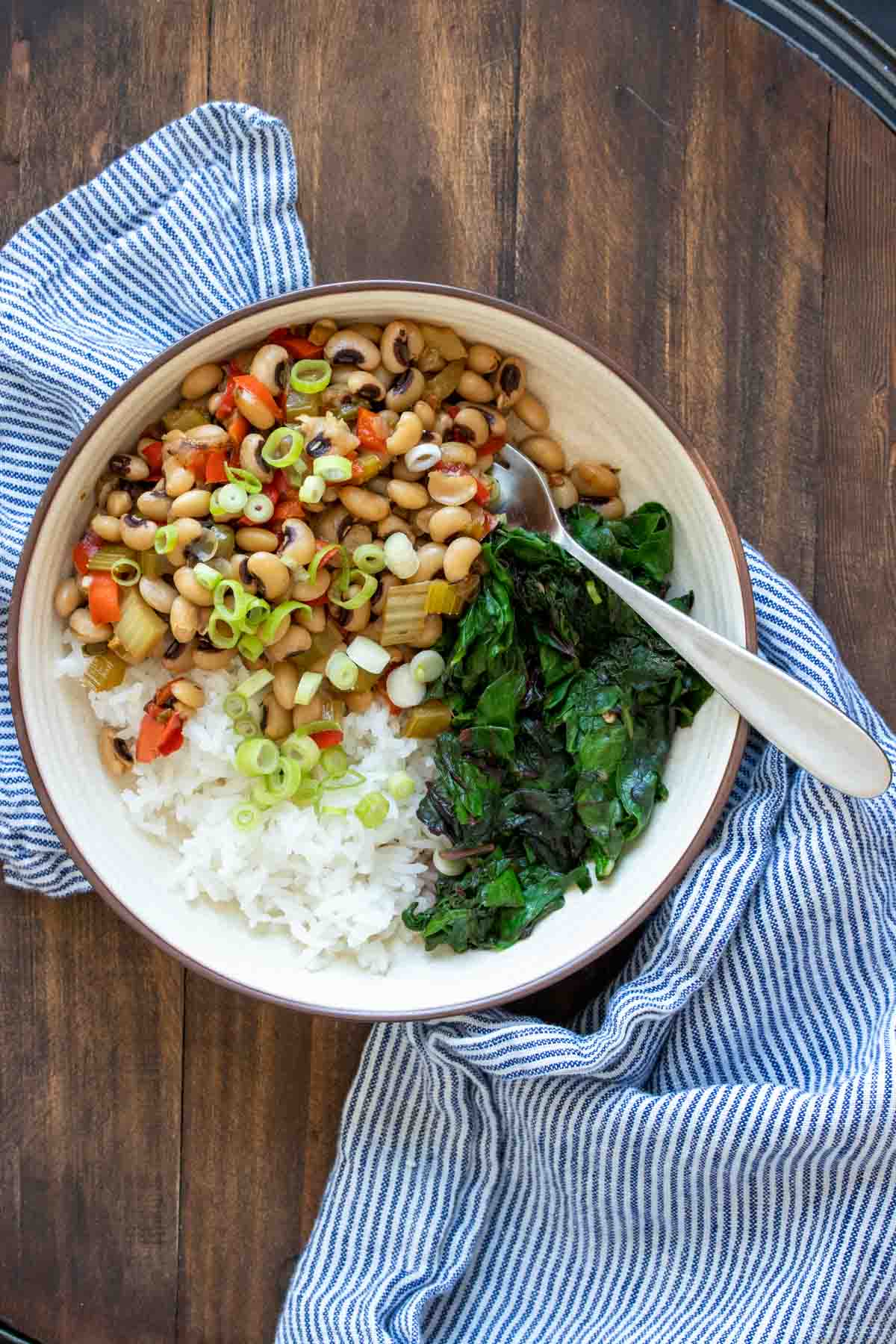 This recipe is also known as Hoppin' John. I love a good all in one kind of recipe. This one has protein, veggies and keeps you full and satisfied!
Whether you're looking for some good luck while ringing in the new year, or just looking for some good luck around the dinner table on a busy weeknight, this recipe has you covered. It's easy to make, has a ton of flavor, and is incredibly healthy!
Ingredients
Fresh, healthy, and simple ingredients make up this easy meal:
Onion
Celery
Red pepper
Jalapeño
Black eyed peas
Seasonings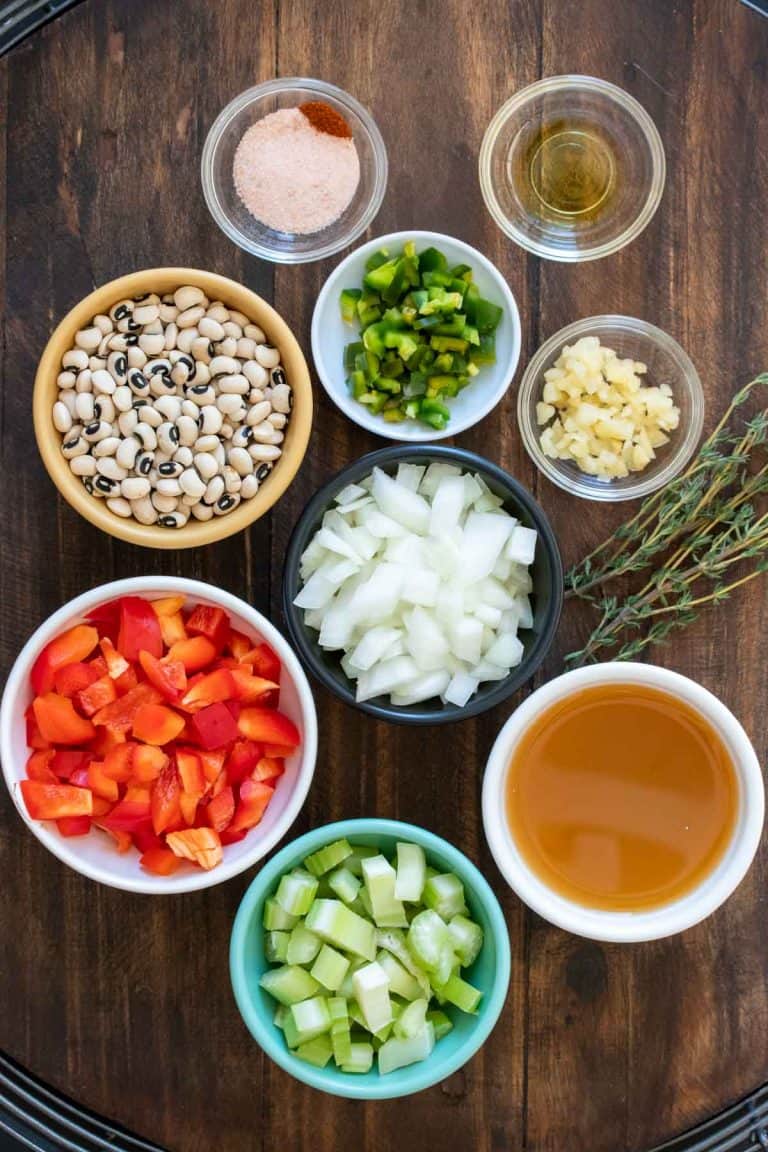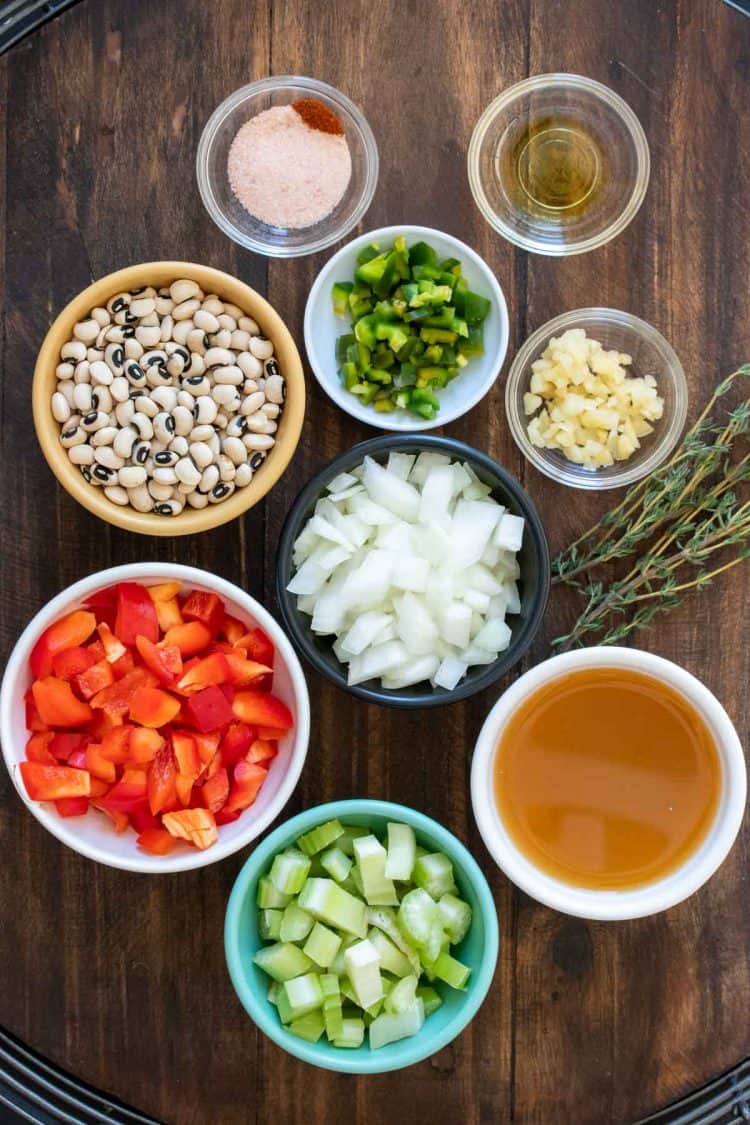 For serving, you'll need: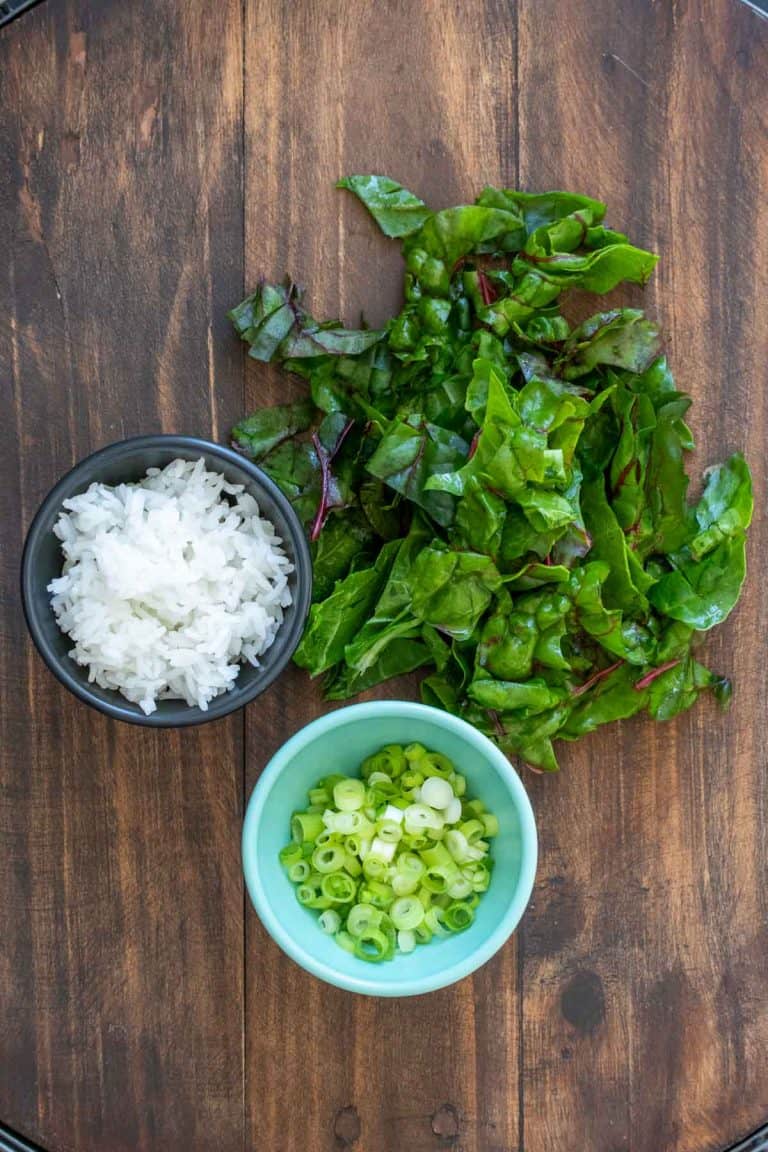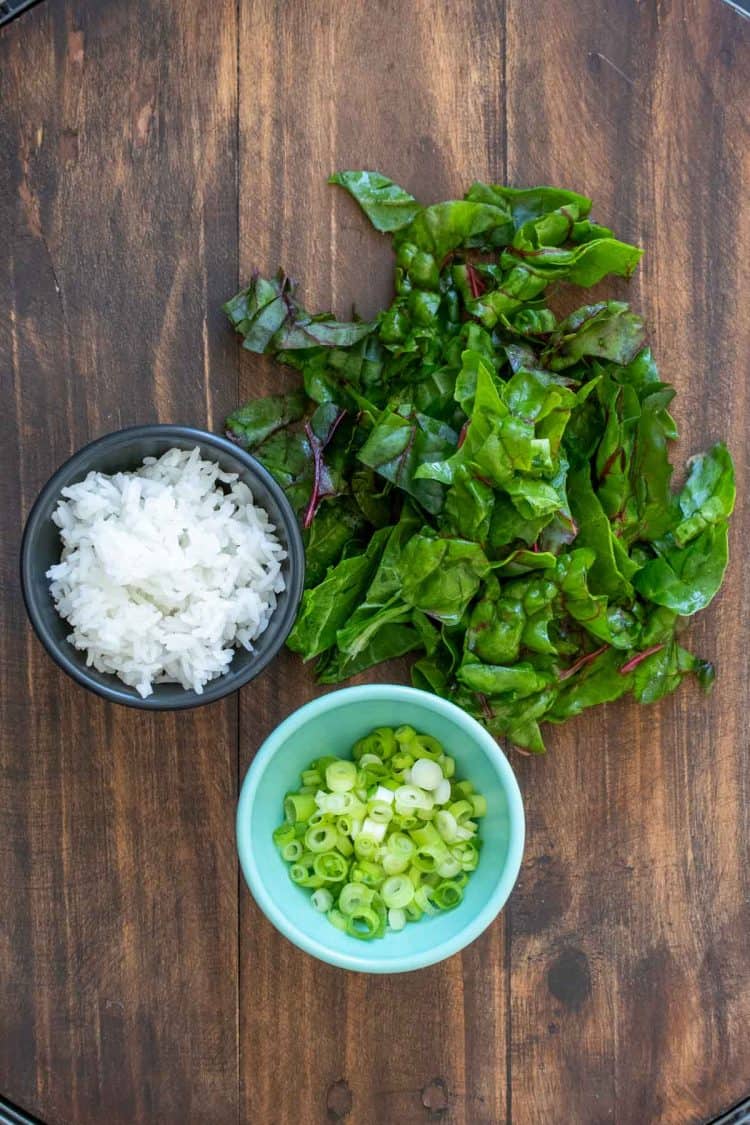 How To Make Black Eyed Peas
This filling dish comes together easily for a stress free meal!
Sauté.
Simmer the black eyes and broth.
Cook until all the liquid has evaporated.
Serve!
Serving tips
I like serving this dish with fresh chard, but you can use collard greens, kale, or spinach instead.
White rice is standard to serve with Hoppin' John, but if you prefer, use brown rice, quinoa, or couscous!
Serve some yummy gluten free cornbread for the perfect addition to this meal!
Preparation tips
Frozen cooked rice is my favorite, it saves time and makes it even easier!
Make sure to soak the dried black eyed peas overnight otherwise they won't cook fast enough.
Soak the black eyed peas by putting them in a pot and covering with water, make sure the water level is a few inches above the top of the black eyed peas as they will expand. Drain and rinse before adding to the recipe.
The soaking process can be sped up by boiling for a few minutes, removing from heat, and then soak in the hot water for an hour.
You can also sub in already cooked beans to save more time. If you do, you can omit the broth.
Sauté the chard in the same pan as the black eyed peas to save on dishes.
If you don't have any liquid smoke you can use smoked paprika instead.
Tips for leftovers
Let the dish cool down before storing.
Store in an airtight container in the fridge for up to 4 days.
You can also freeze leftovers in an airtight freezer safe container for up to three months.
Reheat the leftovers in the microwave. I like to add a little broth or water to keep the rice from drying out.
Common Questions
What is Hoppin' John?
Hoppin' John is a dish traditionally made with black eyed peas, smoked pork, and onion served with rice and collard greens.
Which annual holiday is Hoppin' John traditionally served during?
Hoppin' John is traditionally served for New Years Eve, it's said to bring good luck for the upcoming year.
Why do Southerners eat black eyed peas and greens on New Year's Day?
Black eyed peas served with collard greens are meant to bring good luck. The peas represent coins, and the greens paper money. Often cornbread is served with it as well to represent gold.
Do you have to soak Black Eyed Peas?
You don't have to soak black eyed peas, but it will take a lot longer to cook them, I definitely recommend soaking. It's easy and will save time over the stove!
More Healthy Vegan Recipes
After ringing in the new year you may want to hit the reset button on healthy eating! These easy recipes will help you get on track: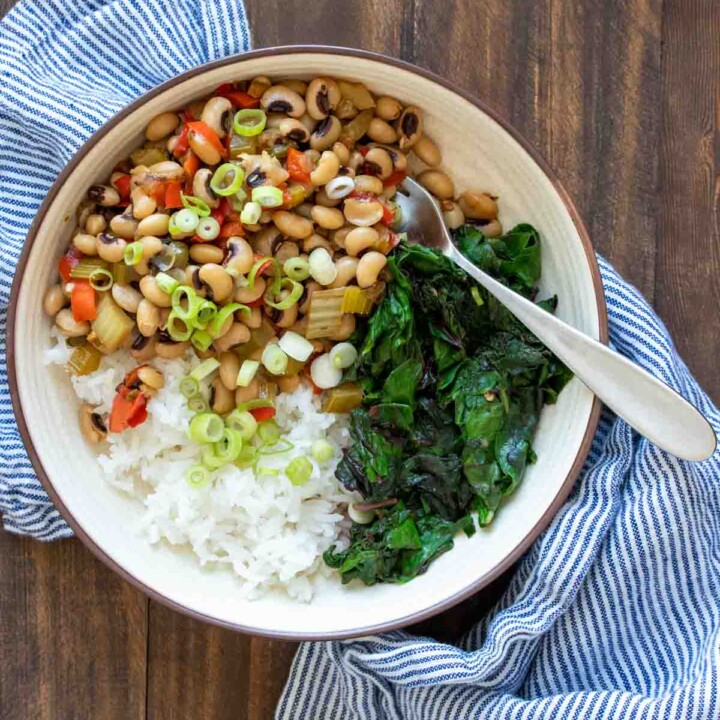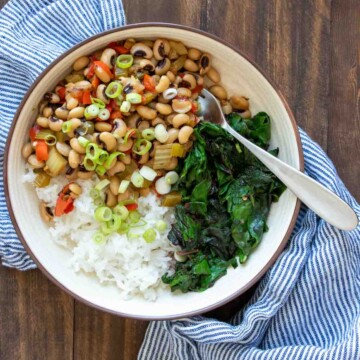 Southern Vegan Black Eyed Peas Recipe
This vegan black eyed peas recipe is based on the southern original. Check out my secret ingredient to give it a traditional meaty flavor!
Ingredients
1 cup sweet or yellow onion , chopped
3 cloves garlic , chopped
1 teaspoon sea salt
Drizzle of oil or broth to sauté
1 cup celery , chopped
1 cup red pepper , chopped
1 jalapeno , seeded and chopped
1 teaspoon fresh thyme
¼ teaspoon cayenne pepper , optional for added spice
¼ teaspoon liquid smoke , see note
1 cup dried black eyed peas , soaked overnight (see note)
3 cups veggie broth , low sodium if needed
To serve:
4 cups cooked white or brown rice I love the frozen cooked to make it fast
1 bunch chard slice and sauté (see note)
Sliced green onions garnish
Instructions
Sauté the onion and salt in oil/broth until the onion is soft. About 5 minutes.

Add in garlic and saute for 1-2 minutes until fragrant.

Add the celery, red pepper, jalapeno, thyme, cayenne and liquid smoke. Sauté about 3 more minutes until the celery and pepper are just beginning to soften

Add in the black eyes and broth. Simmer covered for 25-30 minutes until beans are soft. Uncover and cook 5 or so minutes until all the liquid has evaporated.

Serve with rice and chard and garnish with green onions!
Notes
You can use 1 teaspoon smoked paprika instead of the liquid smoke if you prefer.
To make this even quicker, you can sub in 2 ½ cups cooked black eyed peas. You don't need the broth if you do this, just add in and sauté to warm them. I sauté the chard in the same pan I cooked the dish.
Nutrition facts include rice and chard.
Recipe by Veggies Don't Bite, visit our site for more great plant-based recipes.
Nutrition
Calories: 452kcalCarbohydrates: 90gProtein: 17gFat: 3gSaturated Fat: 1gPolyunsaturated Fat: 1gMonounsaturated Fat: 1gTrans Fat: 1gCholesterol: 1mgSodium: 686mgPotassium: 898mgFiber: 11gSugar: 8gVitamin A: 2148IUVitamin C: 60mgCalcium: 101mgIron: 5mg
Nutrition and metric information should be considered an estimate.
Never miss a recipe!
Sign up here and get a FREE quick and easy meal guide!