This vegan sweet potato soup is a hearty, nutritious and ultra cozy meal. It is easy to make, super flavorful and will keep you full and satisfied!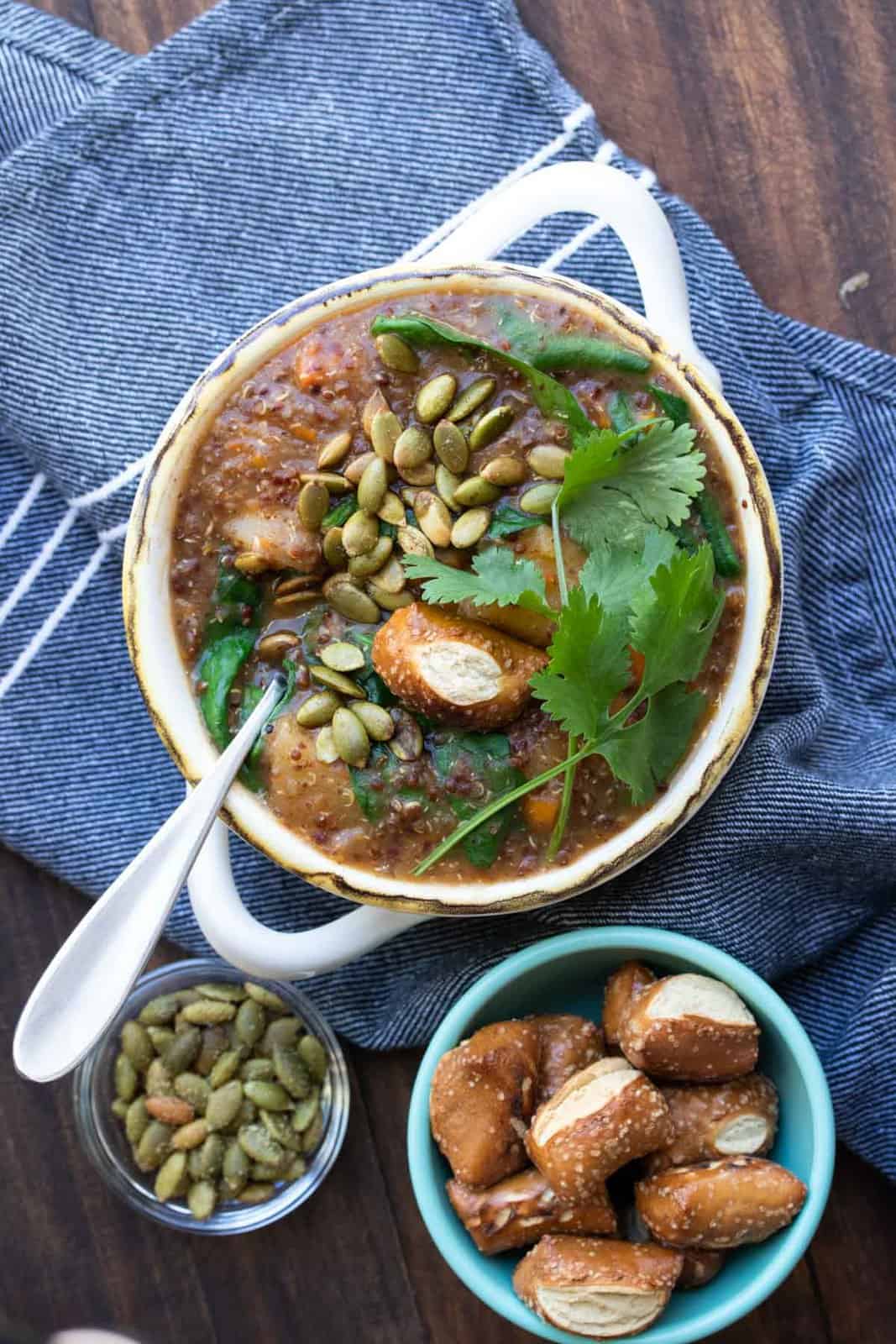 If you're looking for a soup that isn't wimpy, you've found your recipe. Sweet potatoes are the prefect main ingredient to this nutritional powerhouse!
Vegan Sweet Potato Soup
This recipe comes from a new book, Plant-Based Meal Prep, written by my friend Jackie Sobon, from Vegan Yack Attack. Jackie always has the most flavorful recipes (I have actually tried her recipes in person!), so I was excited to review this book.
The basis of the book is meal prepping. Jackie provides all the components you need for weeks of organized recipes. The book is set up in an easy to follow fashion, and she even takes into account the single meal prepper! Here is some of the organization you'll find:
The basics of meal prepping.
Meal prep for one.
A variety of menus mixing and matching all the recipes she provides.
A slew of recipes for breakfast, lunch, dinner, snacks and basics.
Shopping lists for each recipe.
If you are someone that loves to follow a well organized, step-by-step plan to make recipes for every meal all week long, then this book is for you!
This vegan sweet potato soup is just one recipe from her bunch! It is definitely one you can prep ahead and store for the week.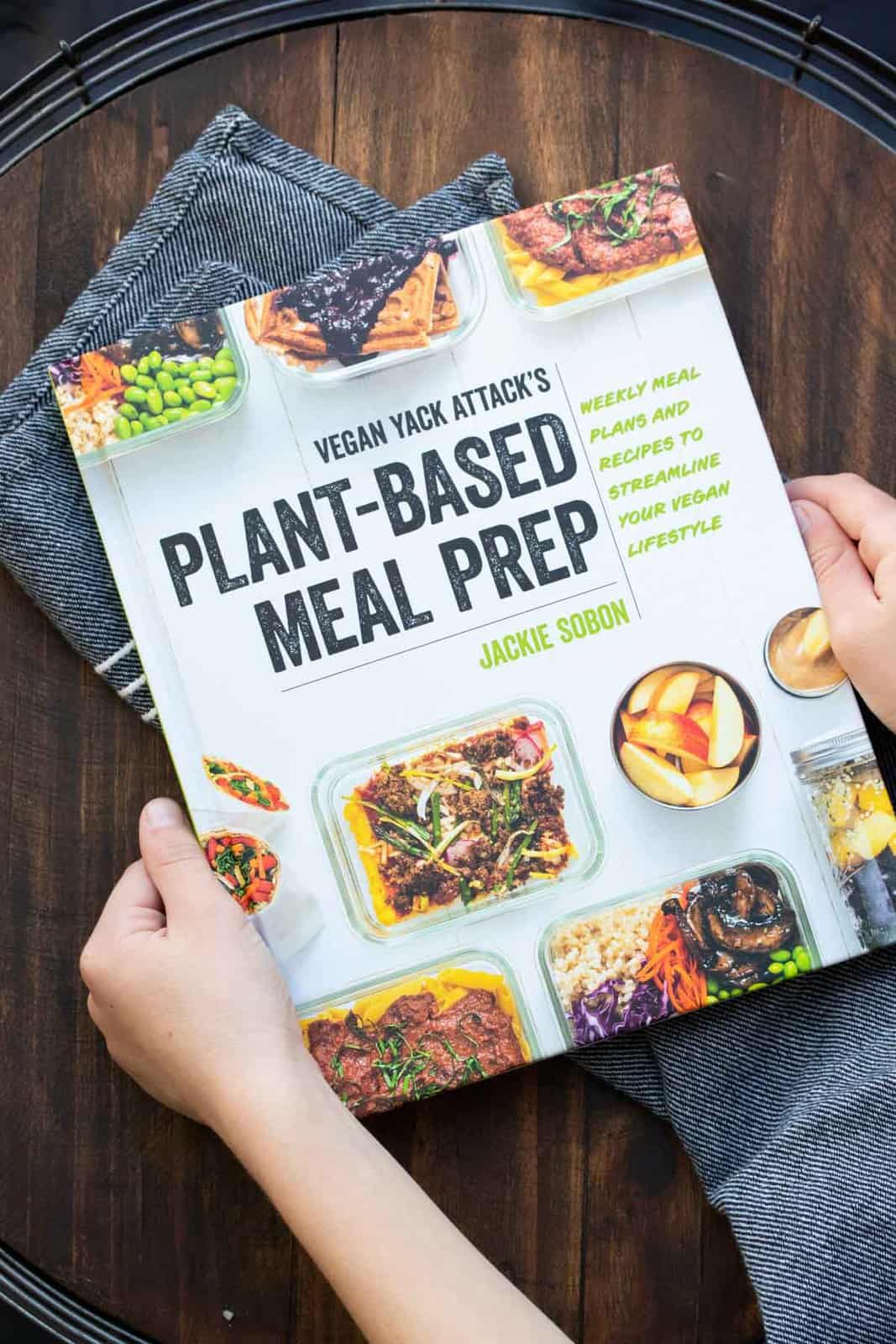 Prepping and Serving Tips
This soup can be prepped ahead of time which makes it a great option for meal planning! I love that like a lot of other soups, this one tastes better the longer you're able to let it sit.
To prep this ahead of time make sure to chop all the veggies and store them in containers so that when you make the soup itself, you've done all the prep!
Serve it fresh and warm, alone or with a yummy side. It's filling and satisfying on it's own, but you can never go wrong adding more to the table!
This vegan sweet potato soup also goes great with:
Storing and Reheating Tips
If you're wanting to store this soup, you'll want to first make sure it has cooled down completely. It then should be stored in an airtight container. It will last for a few days in the fridge and up to 6 months in the freezer, according to the book.
I also like to put a piece of plastic wrap right up against the top of the soup to help keep freezer burn at bay.
If you're reheating from frozen, you will want to let it defrost completely before reheating.
Add More Vegetables or Protein
This vegan potato soup is already pretty nutrient-dense, but you can pack in more veggies if you want. Here are some veggies that would go great:
Broccoli
Cauliflower
Celery
Zucchini
Other greens like chard or kale
Corn
You can add some extra protein as well:
Roasted crispy chickpeas
White beans
Sausage (vegan or veggie based ones to keep this plant-based)
Tempeh
How To Make Vegan Sweet Potato Soup
Saute the veggies.
Add the potatoes.
Blend and serve!
If you loved this recipe, you might love some of my other sweet potato dishes like Thai Sweet Potato Curry!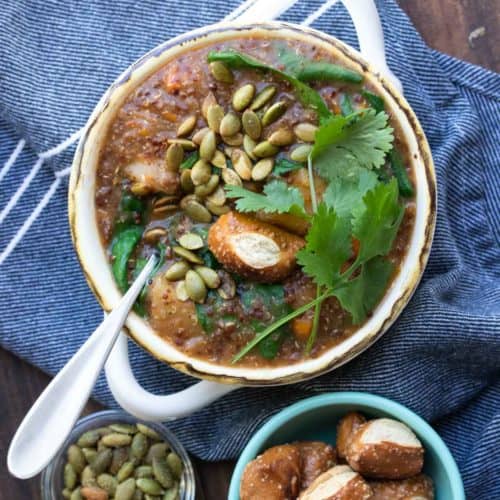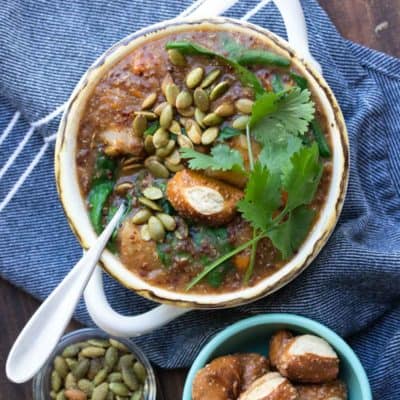 Vegan Sweet Potato Soup
This vegan sweet potato soup is a hearty, nutritious and ultra cozy meal. It is easy to make, super flavorful and will keep you full and satisfied!
Ingredients
1

tablespoon

sunflower oil

1½

cups

diced red onion

1¼

cups

diced orange bell pepper

1½

pounds

sweet potatoes, unpeeled, diced

2

large carrots

chopped

3

cloves

garlic

minced

2

tablespoons

nutritional yeast

2

teaspoons

smoked paprika

1

teaspoon

garlic powder

1

teaspoon

ground cumin

4

cups

vegetable broth

2

cups

water

2/3

cup

red quinoa, rinsed

1

cup

frozen spinach, broken up into pieces

½–1

teaspoon

sea salt

½

cup

roasted pumpkin seeds (pepitas)

¼

cup

fresh cilantro leaves

5

slices

of toasted crusty bread

, optional
Instructions
In a large pot, heat the sunflower oil over medium heat. Add the red onion and bell pepper and cook, stirring frequently, until the onion is softened, about 5 minutes.

Adjust the heat to medium-low and add the sweet potatoes, carrots, garlic, nutritional yeast, smoked paprika, garlic powder, and cumin.

Cook for 5 more minutes, adding 1 or 2 tablespoons (15 to 30 ml) water if necessary to prevent sticking.

Stir in the vegetable broth, water, and quinoa, cover, and bring to a boil over medium-high heat.

Once boiling, adjust the heat so that the soup is simmering, cover, and cook, stirring occasionally, until the quinoa is tender, about 20 minutes longer.

Puree half of the soup mixture using an immersion blender or by carefully transferring to a blender.

Add the spinach, stirring to break up any clumps, and add salt to taste.

Let the soup cool for 20 minutes, then divide it between 5 jars or storage containers. (If not eating right away).

Top each serving with the pumpkin seeds and cilantro and store in the refrigerator for up to 7 days. Serve with a slice of bread, if desired.
Notes
I left out the nutritional yeast since I am not a huge fan of it. 
I also, sautéed with just a small drizzle of olive oil and used broth to cook the onions until they caramelized a little.
I used fresh spinach and it turned out great.
This soup is great for storing in the fridge to eat during the week, and it also freezes well if you want to plan way ahead.
If you choose to freeze it, divide it into five freezer-safe storage containers and freeze for up to 6 months.
Reprinted with permission from Jackie Sobon and Fair Winds Press, an imprint of Quarto Publishing Group USA Inc. © 2020
Nutrition provided in the book (a little different from the one auto calculated here, most likely due to brands used):
NUTRITIONAL ANALYSIS
Per serving (not including bread): 427 calories; 11 g fat; 72 g carbohydrates; 13 g fiber; 17 g sugar; 13 g protein
Recipe by Veggies Don't Bite, visit our site for more great plant-based recipes.
Nutrition
Calories:
340
kcal
Carbohydrates:
58
g
Protein:
11
g
Fat:
8
g
Saturated Fat:
1
g
Sodium:
1087
mg
Potassium:
1072
mg
Fiber:
10
g
Sugar:
12
g
Vitamin A:
29055
IU
Vitamin C:
58
mg
Calcium:
126
mg
Iron:
4
mg
Nutrition and metric information should be considered an estimate.