Your favorite Greek greasy indulgence gets a make over! Now super healthy, vegan Greek gyros, loaded with protein and full of pure authentic flavors and seasonings.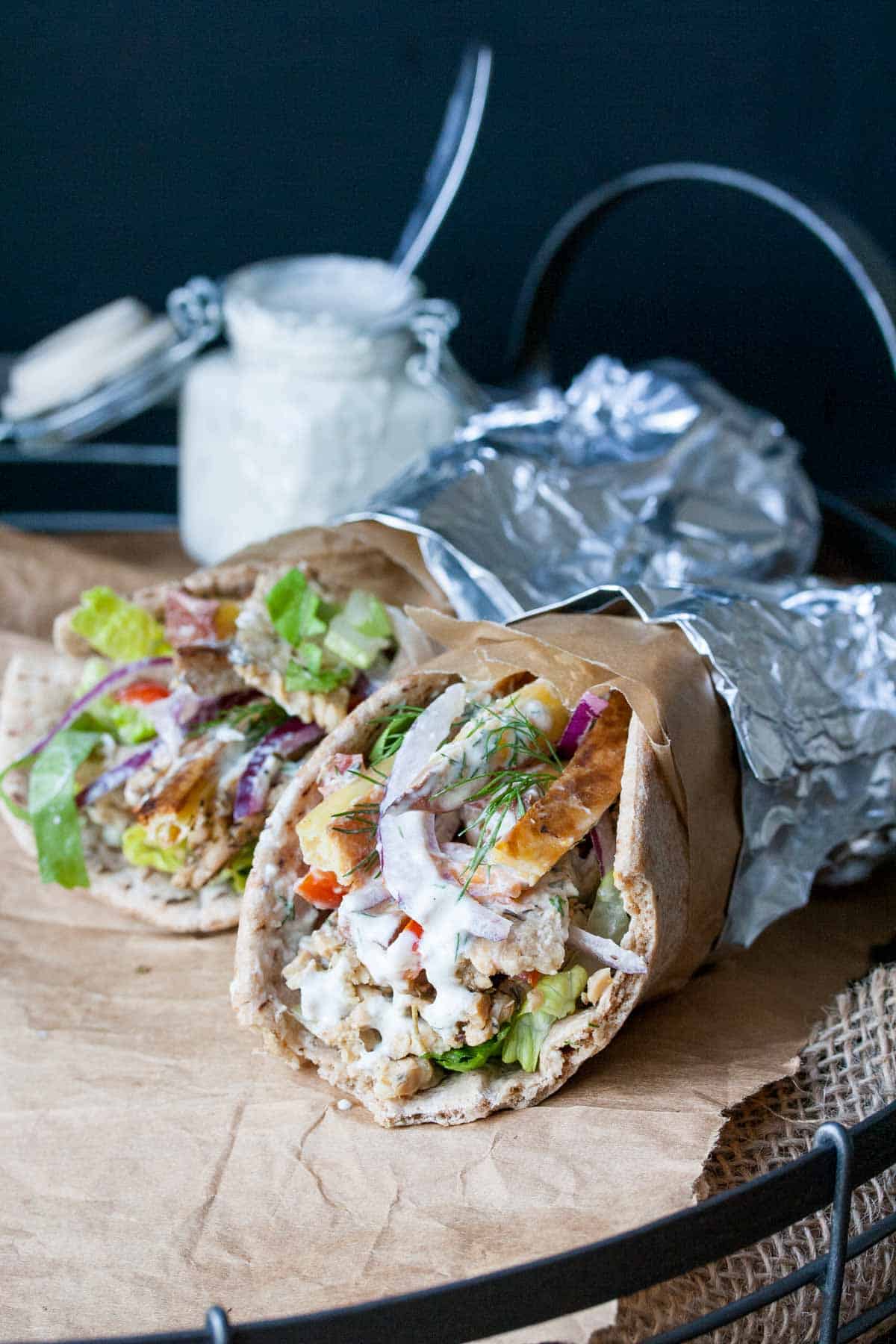 Anyone else spend a year in Greece gorging on greasy delicious gyros at two in the morning after a night out at the bars? I see you Greeks out there nodding. This was my year abroad when I was supposed to be taking college classes to bring back credits to UC Davis for my senior year. Although biology was my major, I opted for more of a social study term instead 😉
Turning the unhealthy greasy gyro into a weekly staple
Once we changed our diet ditching our meat filled meals, I knew there were some must have foods I needed to convert. Gyros are traditionally a thinly sliced lamb and that clearly wasn't going to cut it for us anymore. So I put on my science hat and got to work in my lab...aka kitchen.
There are so many ways to make a gyro. I found loads of options when I did a search:
I really wanted to hone in on that traditional flavor and texture so I played around with the tempeh idea. I was not a fan of tempeh the first time I tried it. That bitterness...nasty. Then I learned that you can boil it to get the bitter taste out. Genius!
Once it's boiled, you can use a sharp knife to cut thin slices. If you over boil, it can crumble if you slice too thin so watch it, but even so, crumbles are still delish. All you need is to soak these puppies in marinade and you are good to go!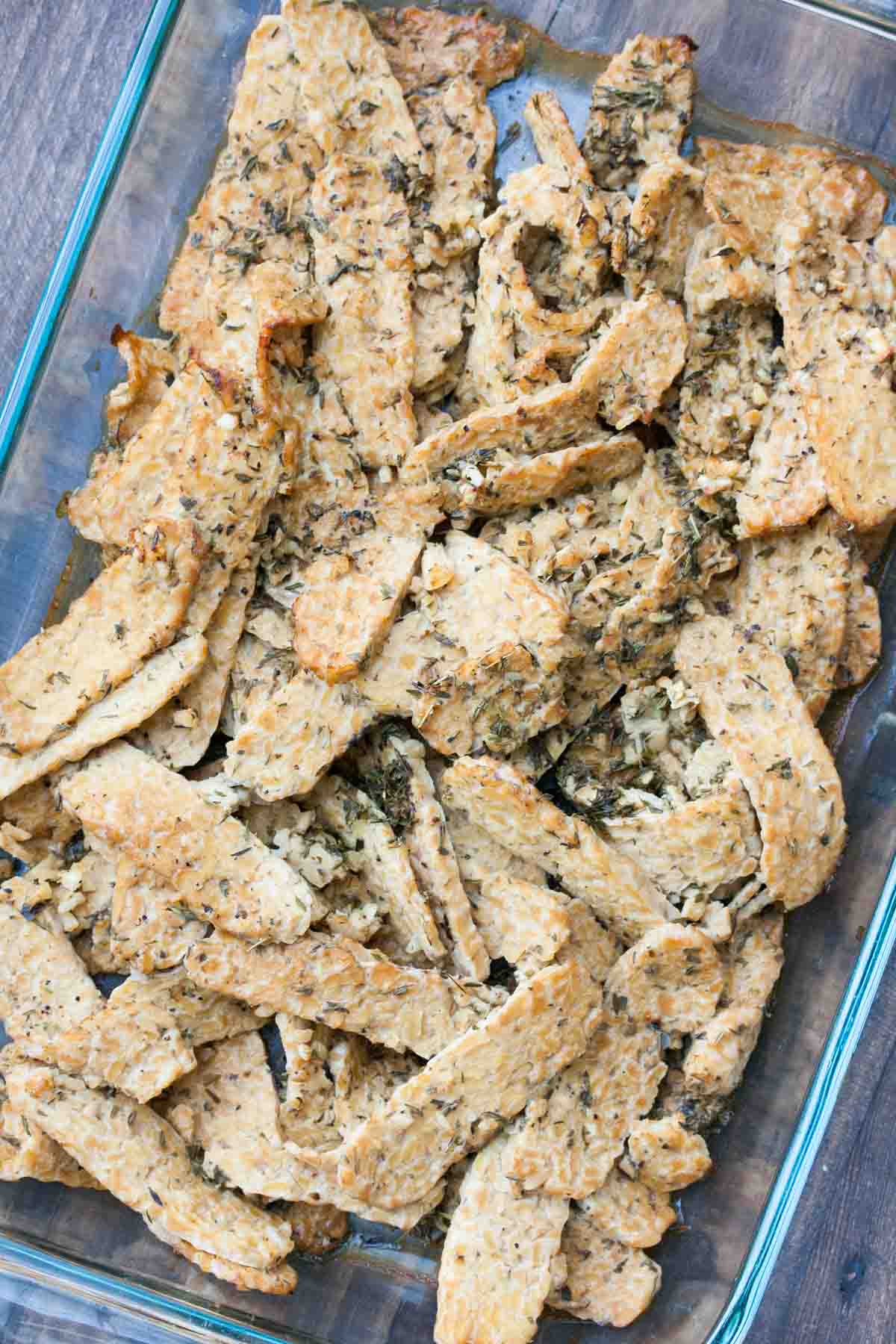 That Greek marinade though
After using my mamas traditional recipe to basically nail my Vegan Tzatziki, I went back to her for the perfect marinade. I basically took her flavors, added the broth for soaking plus an ooomph of Tamari for the salty taste a gyro must have, and let this tempeh soak it all in.
Boom. Success. Load these up with ALL the fixings (fries are where it's at), smother it in Tzatziki and dive in like it's two in the morning and you've just danced your ass off.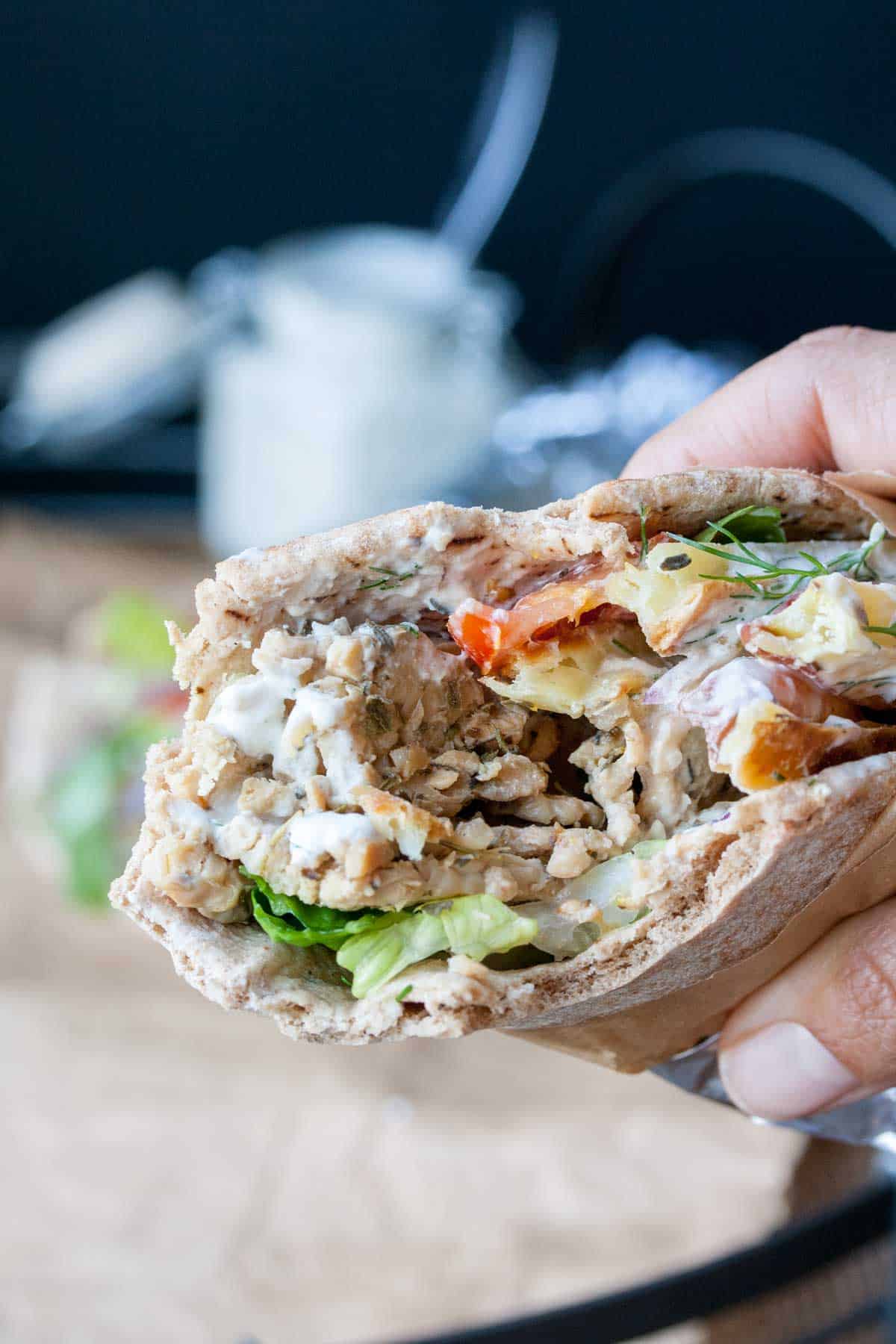 These Vegan Greek Gyros look pretty amazing, don't they? Go ahead, one small lick of the screen.
This recipe was originally published on 2/27/2014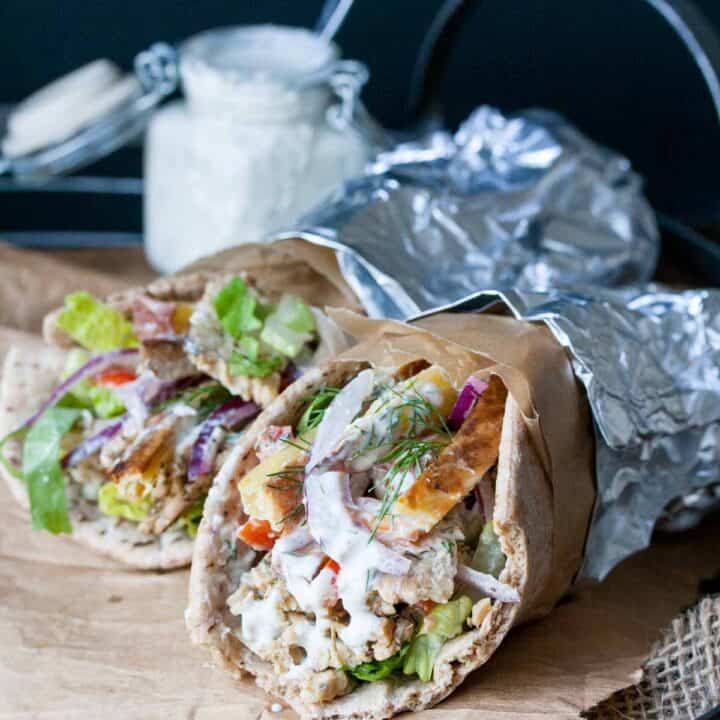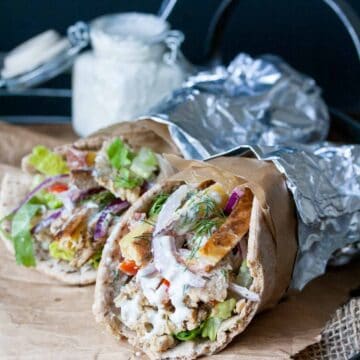 Healthy Vegan Gyros with Tempeh
Your favorite Greek greasy indulgence gets a make over! Now super healthy, vegan, loaded with protein and full of pure authentic flavors and seasonings.
Ingredients
Instructions
Marinating the tempeh (you can do this first before you prep everything else or the day before for maximum absorption and flavor):
Cut the block of tempeh in half width wise so it makes two shorter blocks.

Boil or steam in a pot of water for about 20 minutes. This cuts the bitterness from the tempeh.

Meanwhile, make marinade by combining everything in a large container or large ziplock bag.

Once the tempeh is done, allow to cool. Then cut into thin slices, about ⅛ inch thick. Using a very sharp knife will make this easier.

Add thinly sliced tempeh into the marinade and allow it to soak for at least 4-6 hours, overnight is best. If using mushrooms then put thin slices right into marinade.
Once tempeh is ready:
Preheat oven to 350 F (175 C).

Take tempeh slices out of the marinade (save it!) and spread them out in a thin layer in a 9 x 13 baking dish. Do this with mushroom slices too but no need to save the marinade.

Gently pour about ¼ cup of the marinade over the tempeh slices.

Bake for 30-35 minutes or until the edges are brown.

Meanwhile, if you are making the potatoes, slice the potatoes into thick french fry sized slices. I keep the skins on but you can peel them if you prefer.

Place them in a bowl and cover with water to help remove some of the starch. Allow to soak for 5-10 minutes. A trick I use, is that I marinade the tempeh/potatoes in a plastic bag. Then I drain the bag and use it to put potatoes in with other ingredients so that they get some of the flavorings.

Prep the tomatoes, red onion, lettuce and make tzatziki if you haven't yet.

Drain the potatoes and pat dry. Put them back in the bowl.

Add broth or oil and salt. Mix well.

Once tempeh gyro slices are done, remove from oven and cover with foil to keep warm. Set aside.

Turn the oven up to 450 F (230 C).

Spread the potatoes over a cookie sheet and bake for 30 minutes.

When the potatoes are done, warm the pita bread in a damp towel for 2-3 minutes to soften.

Build your gyros with the tempeh gyro slices, potatoes, tomatoes, red onion and lettuce if preferred.

Drizzle tzatziki over the top and devour!
Notes
Another option for the potatoes is using aquafaba if you don't use oil. Aquafaba is simply the juice from a can of chickpeas. Use the same amount as the broth.
Adjust the amount of salt based on your taste. You may need more or less depending on what broth and Tamari/soy sauce you use.
You can substitute garlic powder for fresh garlic if you don't have it, but the fresh garlic yields a more authentic flavor. 
Nutrition info does not include Tzatziki, see the recipe for the info. It also only takes into account about ¼ of the marinade since you are not eating the entire marinade. 
Recipe by Veggies Don't Bite, visit our site for more great plant-based recipes.
Nutrition
Calories: 262kcalCarbohydrates: 45gProtein: 12gFat: 3gSodium: 291mgPotassium: 525mgFiber: 2gSugar: 2gVitamin A: 275IUVitamin C: 11.1mgCalcium: 102mgIron: 2.6mg
Nutrition and metric information should be considered an estimate.
Never miss a recipe!
Sign up here and get a FREE quick and easy meal guide!