Satisfy your cravings with vegan gyros made with tempeh, fresh veggies, and tangy tzatziki sauce. A healthy twist on the Greek classic!
You can also use portobello mushrooms to make this recipe. Just as easy, but with a slightly different texture. Make one or even both for a perfect family meal!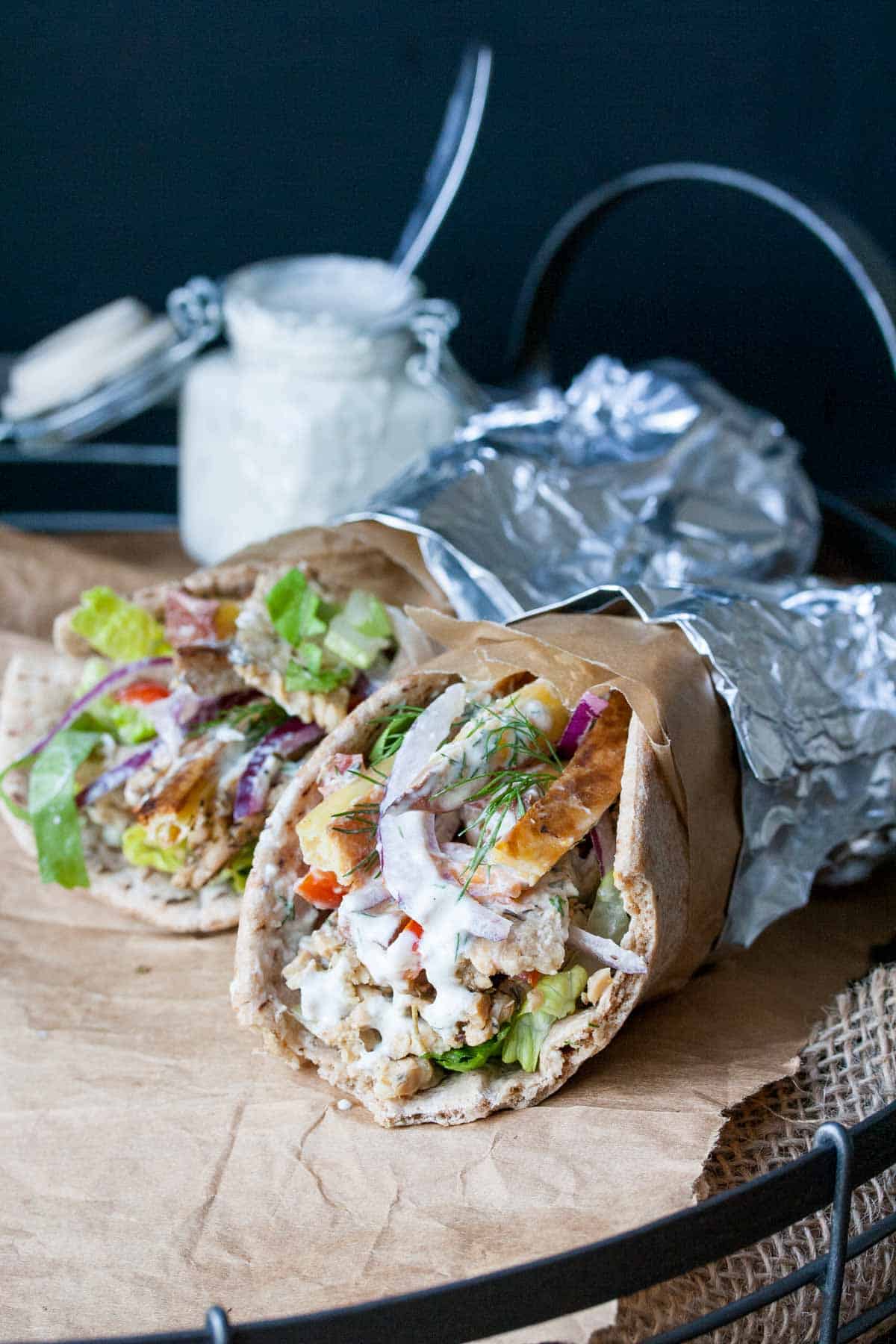 This recipe was originally published on 2/27/2014
This vegetarian gyros twist on the meat based original is a great choice for meatless Monday. Keep it dairy free using my amazing vegan tzatziki sauce.
Ingredients
When it comes to the best vegan Greek food, gyros must be part of the discussion! This homemade gyros recipe ditches the meat and uses plant based ingredients instead.
For the vegan gyro meat choose either:
Tempeh
Portobello mushrooms
For the gyros marinade:
Garlic
Greek oregano (use regular oregano if you don't have Greek)
Dried thyme
Lemon juice
Tamari (or soy sauce for a non gluten free version)
Load the sandwich with:
Pita bread
Tomatoes
Red onion
Lettuce (optional, not a traditional topping)
Oven Fries (optional)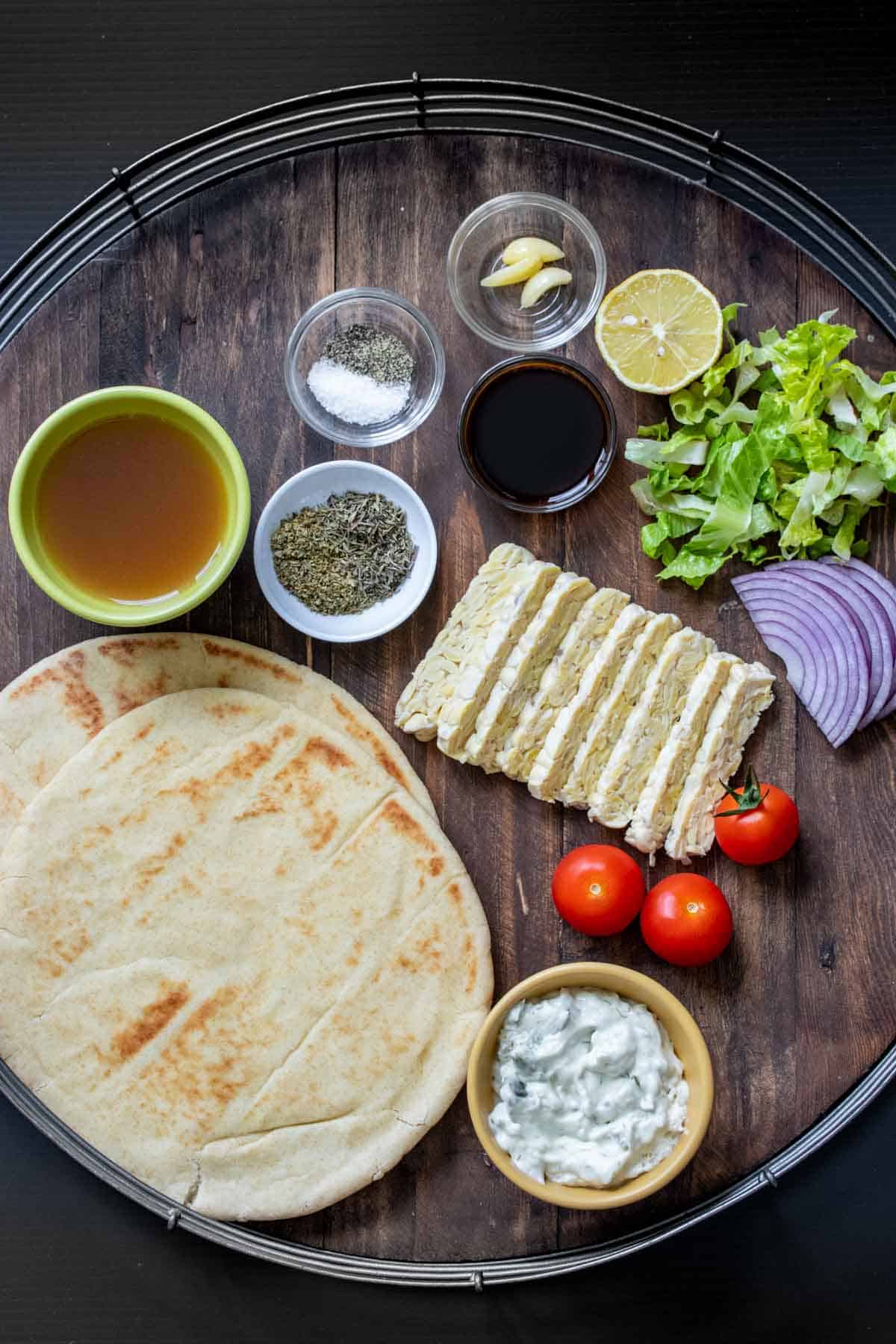 There are so many ways to make a gyro. In addition to tempeh and mushrooms, there are loads of options. Here's what I found when I did a search:
How to Make Vegan Gyros
This mushroom or tempeh gyro sandwich recipe is an easy build your own dinner idea. Follow these steps to get them done with little prep:
Marinate the tempeh or mushrooms.

See the recipe card for detailed instructions on preparing the tempeh for marinating.

Bake the marinated tempeh or mushrooms.
Meanwhile prepare the toppings.
Build the gyro sandwiches and enjoy!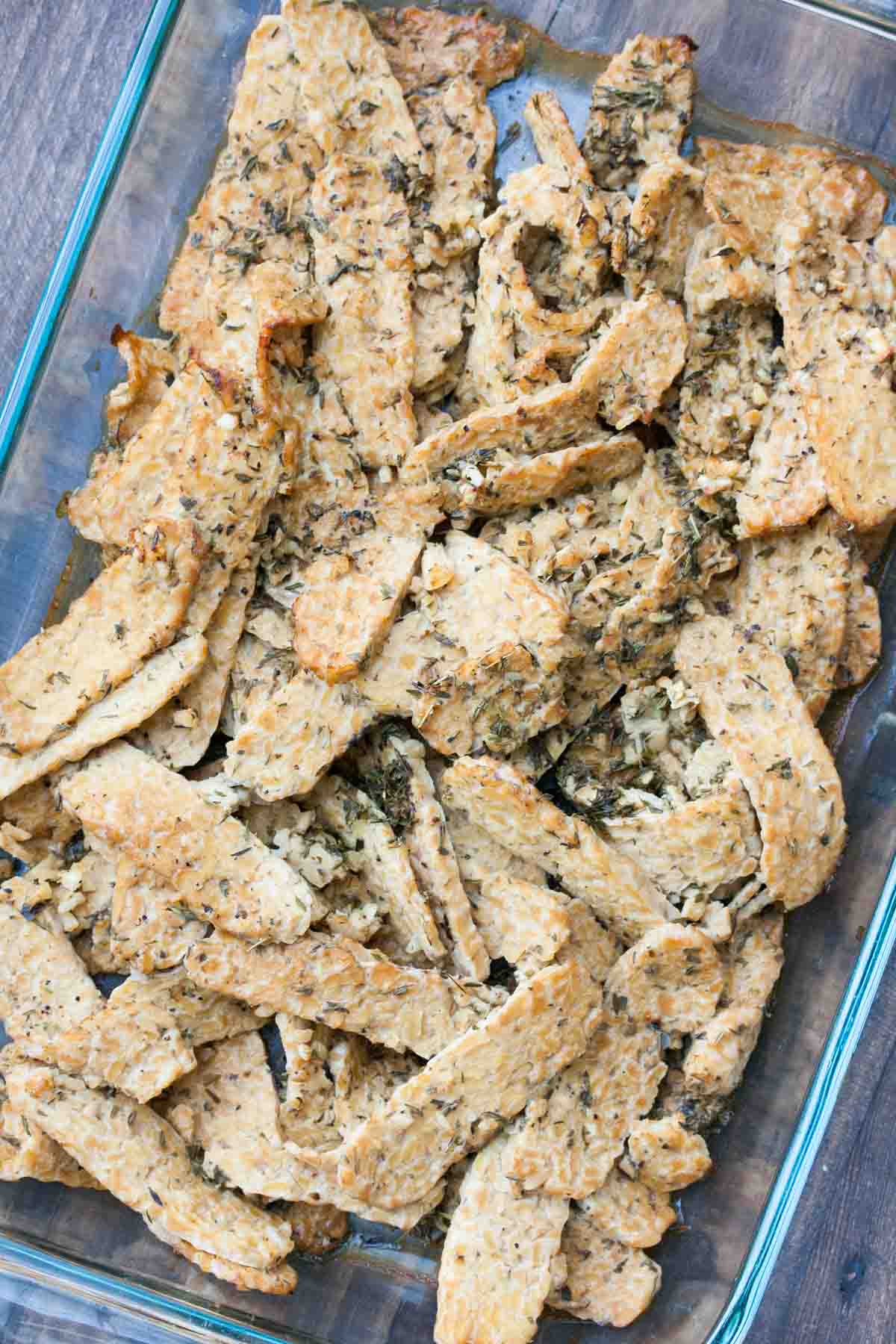 What to Serve With Gyros
Now that you know how to make gyros they'll likely be on your regular menu rotation. The gyro seasonings will pair great with any of these vegan Greek recipes:
Extra toppings:
Gyros sauce - we prefer the classic choice of tzatziki, but you could also use hummus, tahini sauce, ranch, or sour cream.
Olives
Cucumbers
Bell peppers
Pepperoncini
Cheese - for a vegetarian gyro add any cheese you like, to keep this recipe vegan use dairy free feta
Hot sauce
Serve as a meal along with:
More Uses For Vegan Gyro Meat
This easy gyro recipe can be used for more than pita sandwiches! Try using the vegan gyro meat in any of the following ways:
In a sliced bread sandwich or wrap
As a pizza topping
On top of fries
Add to pasta salad or this Orzo Salad
In a bowl
As part of a mezze platter
Meal Prep and Storage Tips
Marinate the tempeh or mushrooms the night before.
You can even cook the marinated tempeh or mushrooms up to 2-3 days in advance.

Store cooked tempeh in the refrigerator for up to 3 days.
Cooked mushrooms will keep in the fridge for up to 5-7 days.

Slice the toppings up to 2 days ahead of time.
Make the tzatziki up to 5 days in advance.
Reheat the vegan gyro meat in a pan on the stove with a little olive oil, or in the microwave until heated through.
Common Questions
Is a gyro healthy?
It depends on what the gyro consists of, and what your definition of healthy is. Using lamb or beef results in high saturated fat, whereas loading up a gyro with plant based fillings will not have as much fat. Keep your toppings fresh for a healthy gyro sandwich.
Is gyro meat gluten free?
The meat itself is gluten free. However, the seasonings (especially store bought) may contain gluten so make sure to check the label.
What is a gyro?
A gyro (pronounced "YEE-roh" or "ZHEE-roh") is a popular Greek dish that typically consists of seasoned meat, usually lamb, beef, or a combination of the two, cooked on a vertical rotisserie. The meat is typically thinly sliced and served wrapped in a warm pita bread or flatbread along with toppings.
Vegan Burgers, Wraps and Sandwiches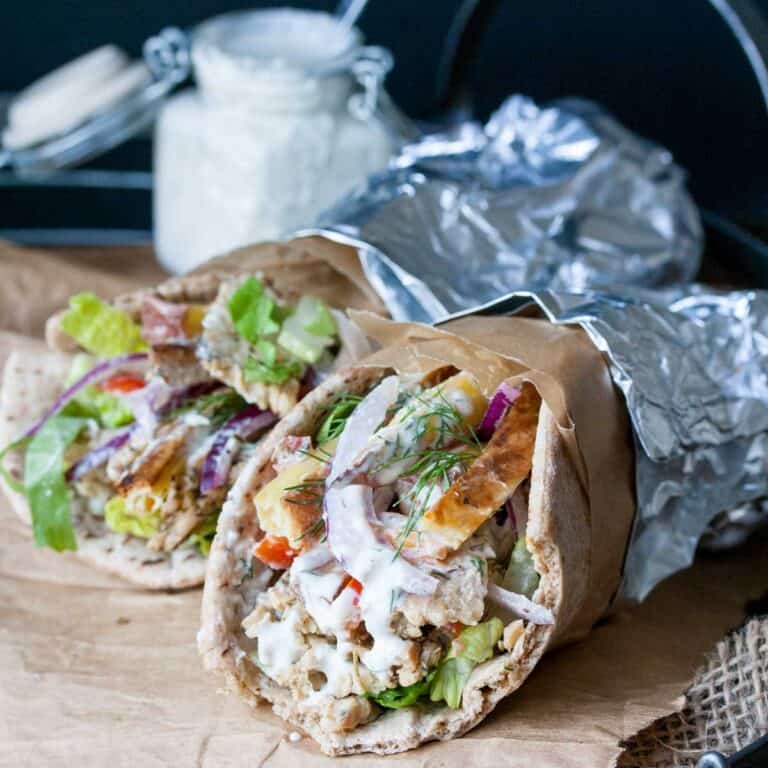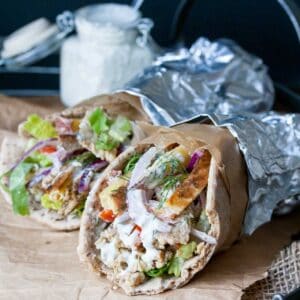 Vegan Gyros (Tempeh or Mushrooms)
Satisfy your cravings with vegan gyros made with tempeh, fresh veggies, and tangy tzatziki sauce. A healthy twist on the Greek classic!
Ingredients
8 oz tempeh (package in block form), or use two portobello mushrooms very thinly sliced
To serve:
8 pita bread
2 fresh tomatoes , sliced
½ red onion , sliced
2 cups lettuce , sliced (optional, not a traditional topping)
Oven Fries , optional but so good
Instructions
Marinating the tempeh (you can do this first before you prep everything else or the day before for maximum absorption and flavor):
Cut the block of tempeh in half width wise so it makes two shorter blocks.

Boil or steam in a pot of water for about 20 minutes. This cuts the bitterness from the tempeh.

Meanwhile, make marinade by combining everything in a large container or large ziplock bag.

Once the tempeh is done, allow to cool. Then cut into thin slices, about ⅛ inch thick. Using a very sharp knife will make this easier.

Add thinly sliced tempeh into the marinade and allow it to soak for at least 4-6 hours, overnight is best.

If using mushrooms then put thin slices right into marinade.
Once tempeh (or mushrooms) is ready:
Preheat oven to 350 F (175 C).

Take tempeh slices out of the marinade (save it!) and spread them out in a thin layer in a 9 x 13 baking dish. Do this with mushroom slices too but no need to save the marinade.

Gently pour about ¼ cup of the marinade over the tempeh slices.

Bake for 30-35 minutes or until the edges are brown.

Meanwhile you can prep the tomatoes, red onion, lettuce and make tzatziki if you haven't yet. If you use potatoes then make sure to make them as well, they take a while to bake so you may want to do this first.

Once tempeh (or mushrooms) is done, remove from oven and cover with foil to keep warm. Set aside. 

Warm the pita bread in a damp towel for 2-3 minutes in the microwave to soften. 

Build your gyros with the tempeh gyro slices, potatoes (if using), tomatoes, red onion and lettuce if preferred. 

Drizzle tzatziki over the top and devour!
Notes
Adjust the amount of salt based on your taste. You may need more or less depending on what broth and Tamari/soy sauce you use.
You can substitute garlic powder for fresh garlic if you don't have it, but the fresh garlic yields a more authentic flavor. 
Nutrition info is for baked tempeh only. 
Recipe by Veggies Don't Bite, visit our site for more great plant-based recipes.
Nutrition
Calories: 63kcalCarbohydrates: 4gProtein: 6gFat: 3gSaturated Fat: 1gPolyunsaturated Fat: 1gMonounsaturated Fat: 1gTrans Fat: 0gCholesterol: 0mgSodium: 273mgPotassium: 132mgFiber: 0.3gSugar: 0.3gVitamin A: 19IUVitamin C: 2mgCalcium: 46mgIron: 1mg
Nutrition and metric information should be considered an estimate.
Never miss a recipe!
Sign up here and get a FREE quick and easy meal guide!