It's always hard to find the best tasting milk alternatives but I have you covered with this super extensive and informative list!
Giving up dairy can be confusing and overwhelming, but with these ideas you will definitely not miss it.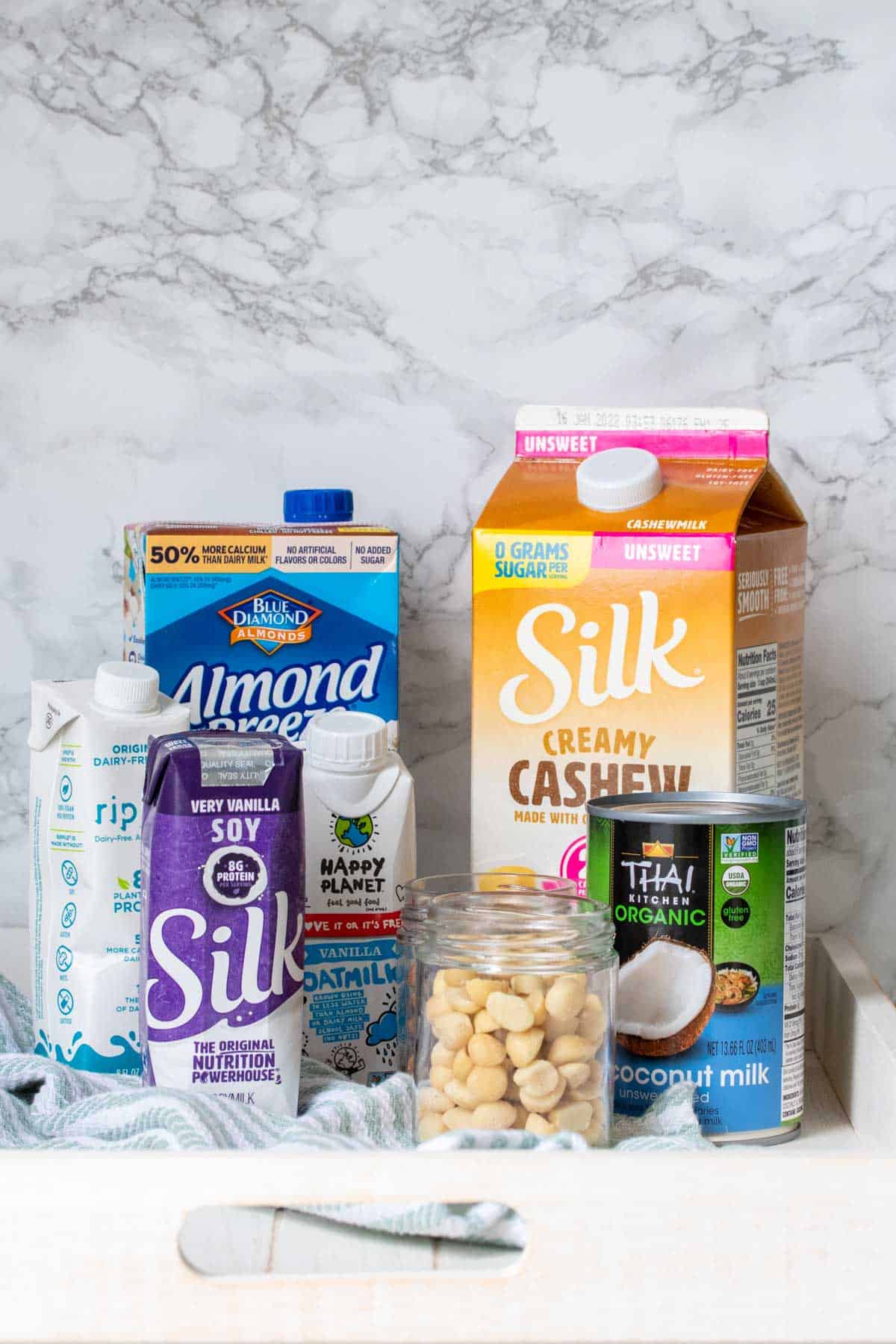 You can do anything dairy free! We never miss anything with all that's available at the stores, and even with recipes for my amazing recipes for vegan chocolate milk, strawberry milk and even homemade banana milk!
There are many reasons people lead a dairy free lifestyle. And with all the great dairy free alternatives these days, it's not that difficult. Dairy free milk has come a long way over the years. You can now find a number of options at your local store.
The flavors are so good you can sip them on their own, mix into smoothies, add to coffee, use for cereal, or swap it out for cow's milk in recipes!
Read below to find the perfect dairy free milk alternative to fit your needs!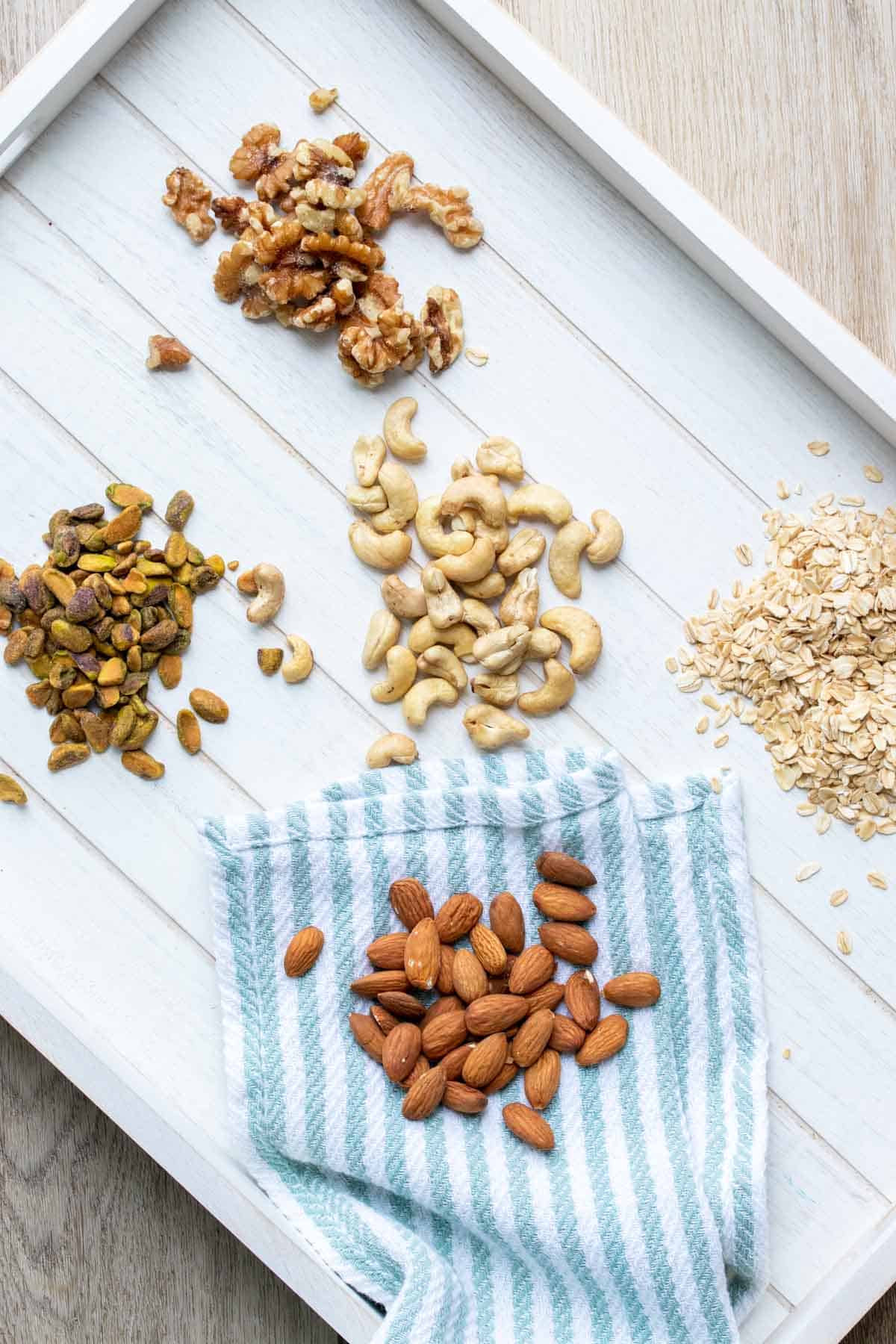 Nut Based Milk Alternatives
Cashew Milk
This is one of my go to dairy free milks. It has a rich and creamy texture with delicious flavor and is super versatile. Use it interchangeably for cows milk in all sorts of cooking and baking recipes, sauces, smoothies, and drinks.
It's full of healthy fats, protein, vitamins, and minerals. Unsweetened store bought cashew milk has around 25 calories per cup, whereas homemade will pack in 160 calories. Not only are commercially sold options more convenient, they're also fortified with calcium, vitamin D, and vitamin B12. Homemade cashew milk, however, will have more protein and fiber.
Popular store bought brands include Silk and Elmhurst, or make your own at home with no straining!
Almond Milk
Over the years this has become a popular option for many. You can find it all over at stores, restaurants, and coffee shops. The light yet creamy texture and neutral taste makes it easy to use for both sweet and savory needs.
It does not have as much protein as other options, but is a natural source of vitamin E and is sometimes fortified with calcium and vitamin D. There are around 35 calories per cup.
Califia Farms and Almond Breeze are excellent store bought choices, or make your own in 10 minutes at home.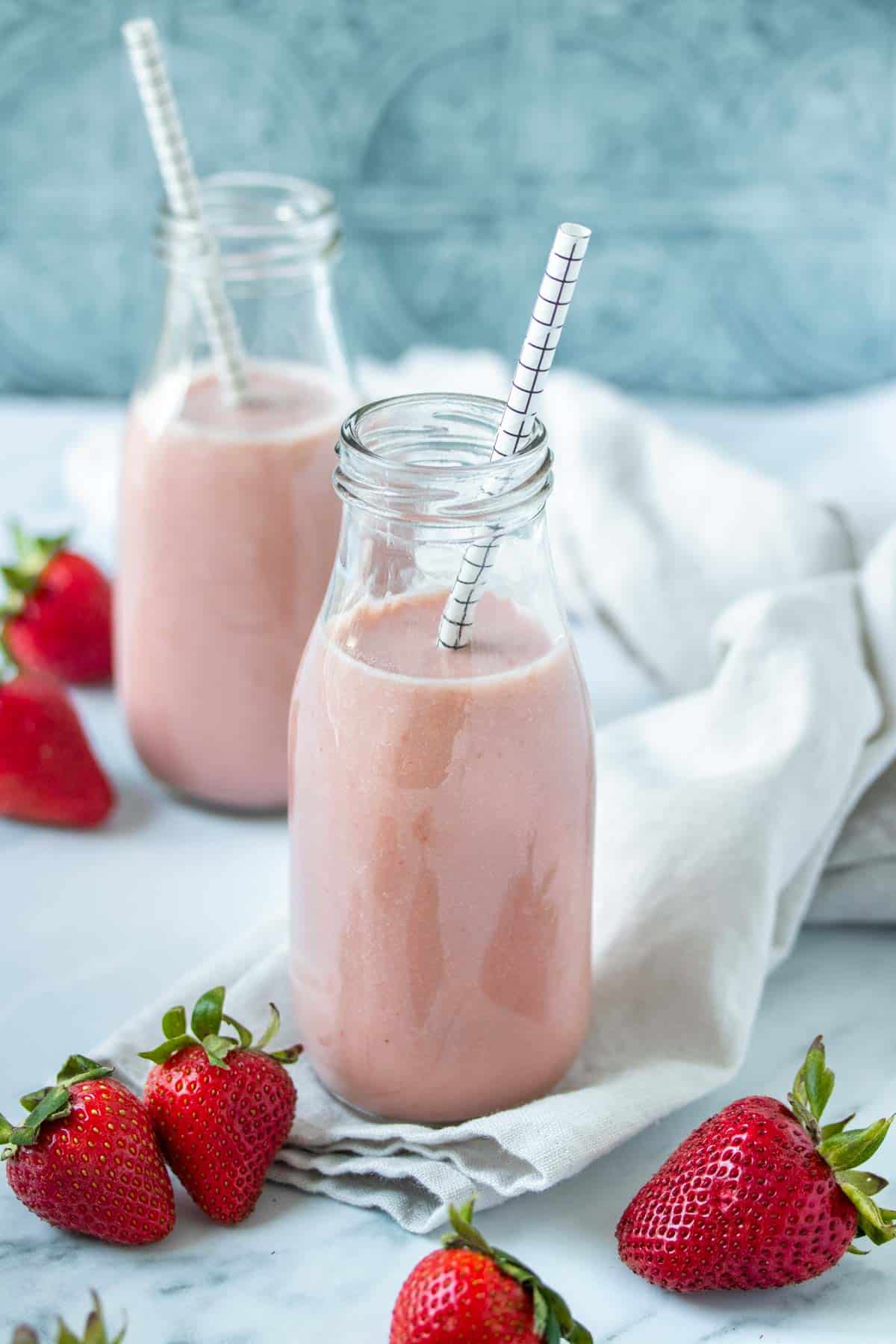 Walnut Milk
Unlike the neutral almond and cashew varieties, walnut milk tastes like walnuts! This makes it a great option for baking or mixing into coffee or smoothies.
It's rich in antioxidants and essential fatty acids like omega-3, that are great for brain and heart health. There are 120 calories in one cup.
An easy to find brand is Elmhurst, or you can create your own.
Pistachio Milk
Everyone's favorite nut to crack open is now a milk! It has a slightly rich, nutty, and buttery flavor. In fact, it actually tastes like pistachios! It's great to use in smoothies, coffee, or tea.
Pistachio milk is a good source of healthy fats while being low in sugar and carbohydrates. Once cup will have around 50 calories.
Try out Táche or make a homemade pistachio milk.
Macadamia Milk
Another neutral tasting milk alternative which means it can be used in a variety of applications.
This choice is naturally sugar-free and like walnut milk it packs in healthy fats. Commercially produced options are generally boosted with vitamin D, calcium, and vitamin B12. One cup of macadamia milk contains 50 calories.
You can find Milkadamia at the store or make your own.
Hazelnut Milk
Another nutty tasting dairy free milk, this is great to use to amplify drinks like coffee or hot chocolate, smoothies, or even mix it into overnight oats for a rich flavor.
It's filled with antioxidants, omega-3s, and vitamin E with 110 calories per cup.
Elmhurst and Pacific Foods are popular brands, or make a homemade version.
Nut Free Milk Alternatives
Soy Milk
This option has been around for ages and continues to be a popular choice. It's thick and creamy with a rich taste.
There are 8 grams of protein and 131 calories in one cup. Many store bought brands also contain calcium and vitamin D.
Silk is a popular brand, and you can also make homemade soy milk.
Oat Milk
This milk alternative is taking the world by storm! It's super creamy and is perfect for all dairy free needs.
It is fortified with calcium, vitamin D, and vitamin B12. There are also 3 grams of protein and 120 calories per cup.
Happy Planet and Oatly are great brands to try, and it's also easy to make your own.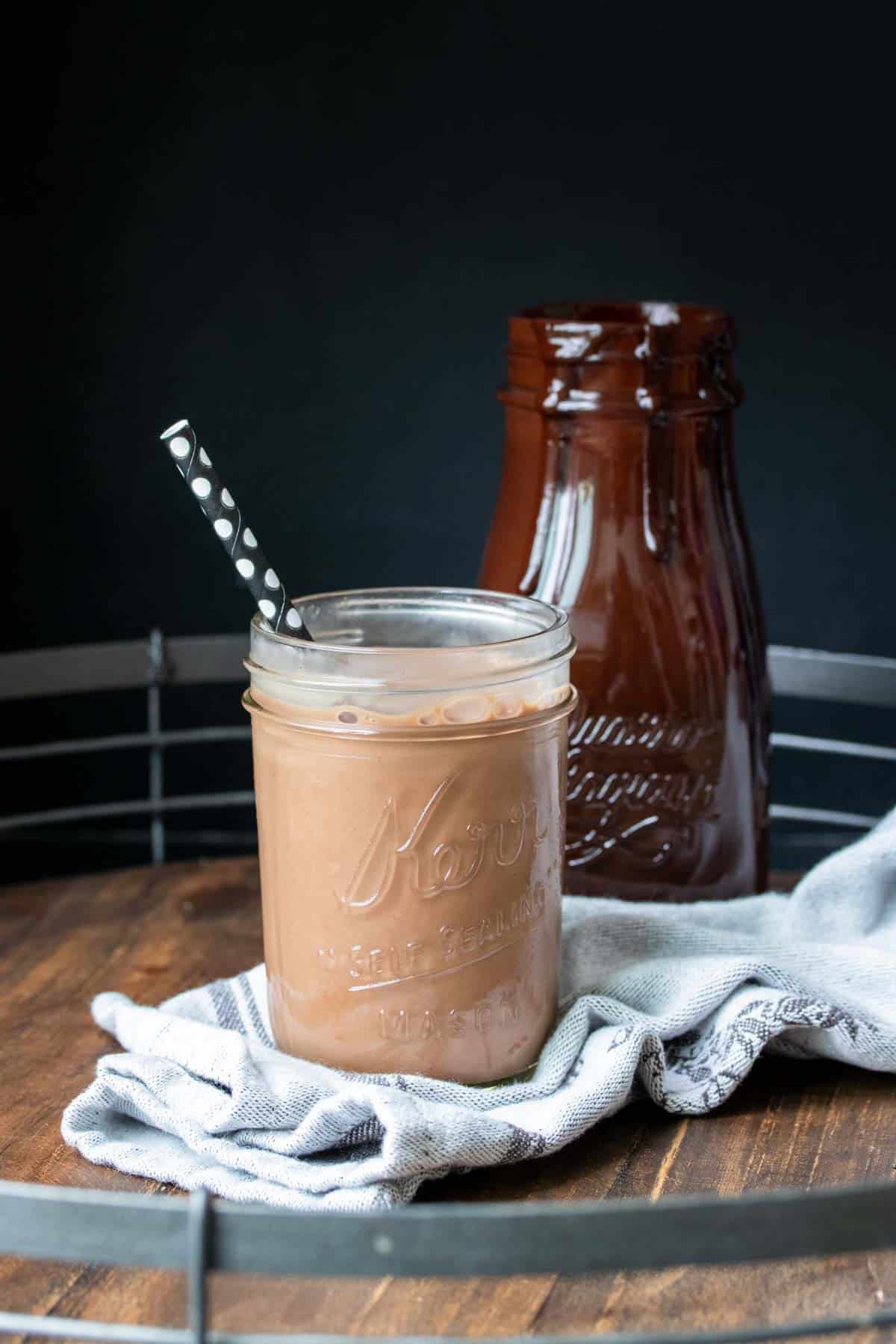 Pea Milk
Nope, this isn't made from the green peas you have with dinner, it's made from yellow split peas. The smooth taste and thick texture makes it pretty versatile.
This alternative is a good source of protein, has zero sugar, and is often fortified with vitamin D, omega-3's, B12, and calcium. The unsweetened varieties have 70 calories per cup.
Look for Ripple or Sproud, or make homemade pea milk.
Coconut Milk
There are two types of coconut milk, carton and canned. The kind in the carton is used as a drink and like other milk alternatives. The canned is better for cooking and has a much stronger flavor.
One cup of the canned milk has 360 calories, whereas the carton only has 45 calories per cup.
Thai Kitchen is a popular canned option, or try So Delicious for the carton kind. You can also alway make your own.
Hemp Milk
This allergen-friendly dairy free milk has an earthy flavor and a creamy texture.
It naturally packs in omega-3s and omega-6s, and store bought brands are fortified with calcium, vitamin D, and vitamin B12.
Living Harvest and Pacific Foods are generally easy to find, or blend you own.
Spelt Milk
This sweet tasting dairy free milk is great for coffee, smoothies, and desserts.
It contains calcium, vitamin B, vitamin D, and vitamin E, as well as iron and magnesium.
There are not too many store bought options, but it's easy enough to make at home.
Rice Milk
Another option that's been around a long time. It has a thin consistency with a mild taste.
This milk is low in fat while offering antioxidants and vitamin B.
Rice Dream is a popular brand to buy, but it's also inexpensive to mix up yourself.
Flax Milk
Neutral, nutty, and slightly sweet, this milk is another with a nice creamy texture.
Nutritionally it offers omega-3s, and commercially made flax milk is fortified with calcium, vitamin D, and B12. One cup has around 50 calories.
Good Karma is easy to find, but making your own is easy too.
Banana Milk
Hence the name, you can guess what this tastes like! Mix it in smoothies or use in recipes like pancakes, muffins, or bread.
It's a good source of potassium, calcium, and only has 60 calories per cup.
Moola is popular, but I'm partial to my recipe for homemade banana milk.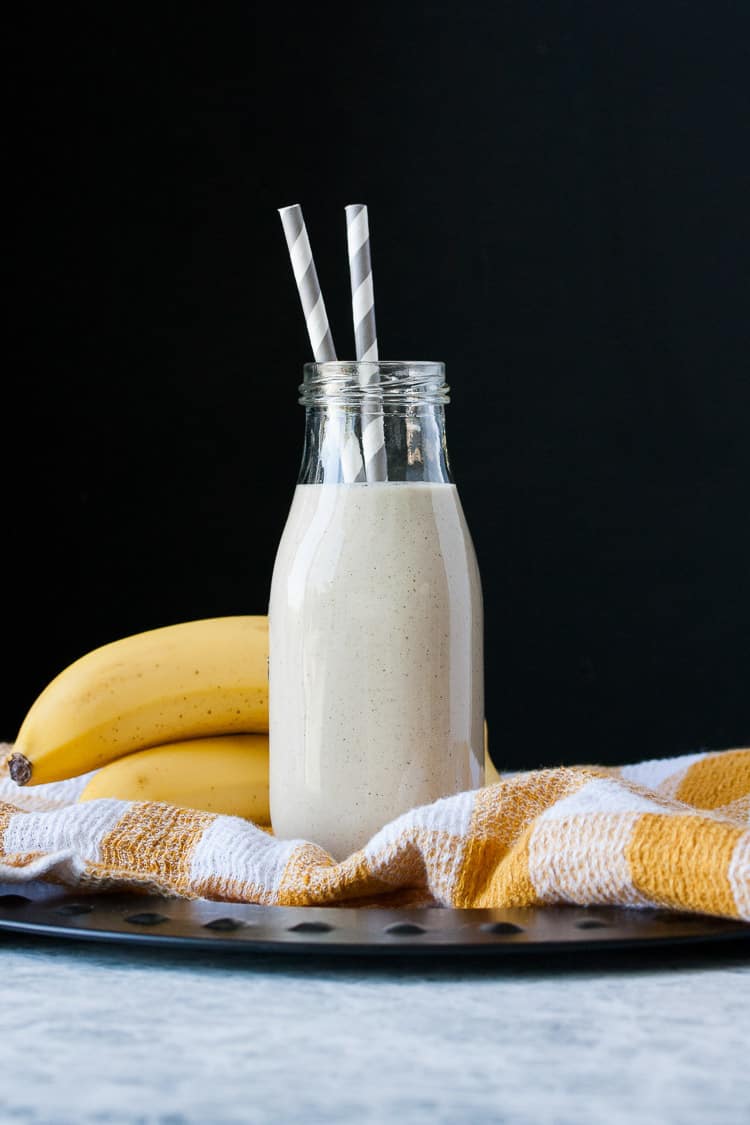 Quinoa Milk
This is another milk that tastes a bit like the main ingredient. The flavor is a bit nutty and slightly sweet.
Much like quinoa, it has protein and some iron. There are approximately 70 calories per cup.
Commercially made quinoa milk is still hard to come by, but there are plenty of recipes to DIY.
Sesame Milk
Yet another great creamy option, this milk has a rich and nutty taste.
There is a good amount of protein offered, with 90 calories a cup. As with other plant based milks, it's generally enhanced with vitamin D and calcium.
Hope and Sesame is a good one to try, or make it at home.
Potato Milk
The newest dairy free milk is made from potatoes!
There are not any store bought available options in the United States just yet, but you can make your own potato milk at home easily!
Common Questions
Which alternative milk is the healthiest?
Everyone's picture of health and nutrient needs are different. Hemp milk has the highest healthy fats and protein compared to other options. Oat milk is a great source of fiber. Coconut and almond milk are low in carbs. When you are choosing a dairy free milk be sure to read the label to ensure it fits your needs.
What milk alternative tastes the most like milk?
Oat milk is probably the closest tasting to dairy milk. It's creamy with a mild, slightly sweet flavor.
What is the best dairy free milk for baking?
Oat milk and cashew milk are the creamiest which is good for baking. Almond milk is another great neutral tasting option.
Which milk alternative is best for coffee?
Any dairy free milk you like the taste of will be great in your coffee. If you are looking for one that froths well try oat, almond, soy, or coconut milk.