All you need to know about the best vegan cookbooks in every category is right here! No matter what your favorite flavors are, we've got you covered!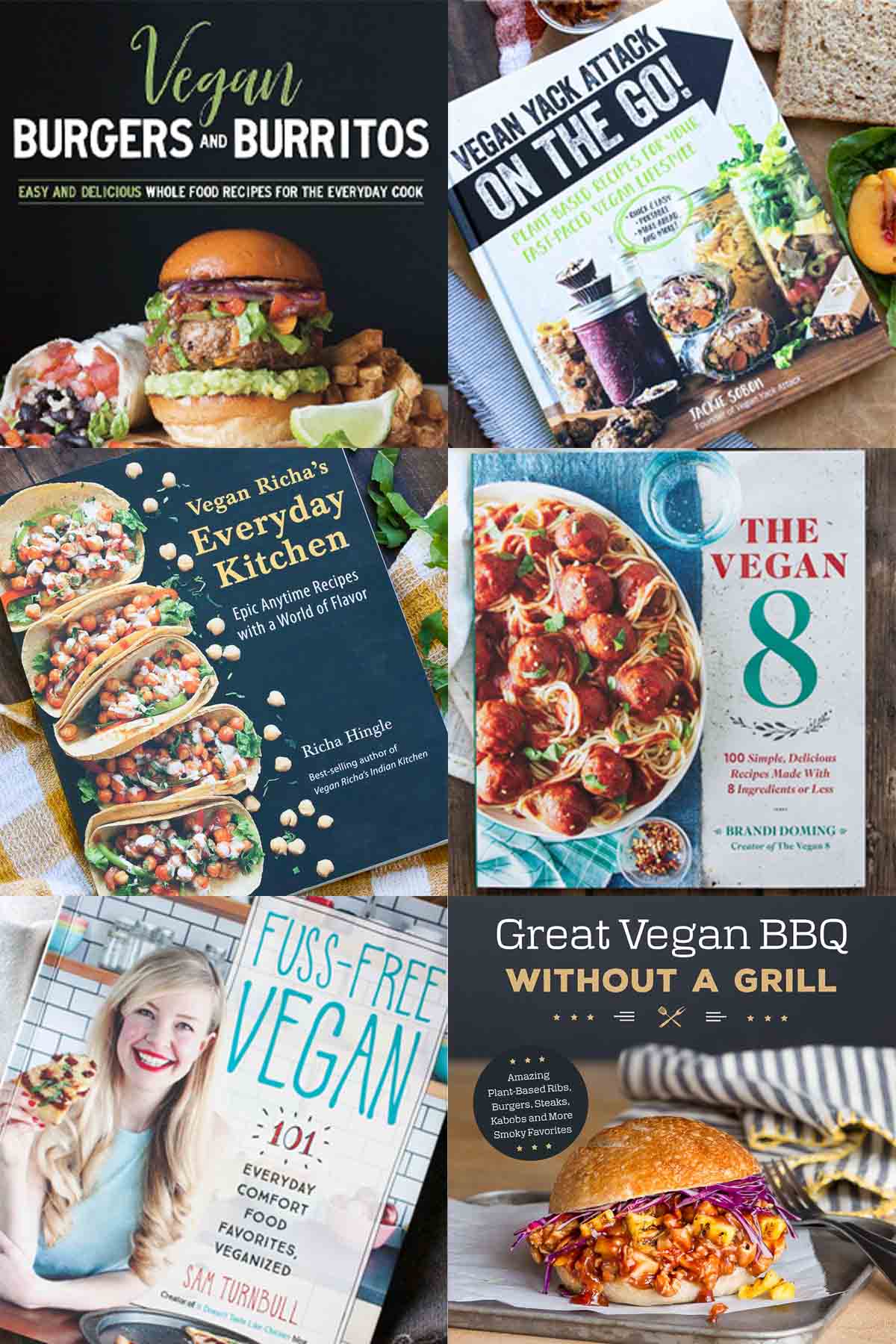 This post was originally published on October 24, 2019.
There are so many options these days and the rabbit hole of search volume can be overwhelming. Which is why we picked our favorites in every niche ranging from beginner to more advanced.
While I am partial to my own book, Vegan Burgers and Burritos, there are so many others I love out there.
If you are looking for simple with few ingredients, ethnic cuisines or even recipes that are easily taken on the go you will find some amazing options!
Cookbooks are a great gift for just about anyone. But finding the right one for the right person is a feat in and of itself. So I am breaking it down, based on the books I know and the reviews I have read and heard from others.
I separated the lists into categories to help make it easier and narrow down your search! However, I couldn't start this list without my personal favorite, my vegan cookbook! It can fit in many of the following categories, so I'll just throw it right here at the top, ha!
This is the perfect cookbook for the burger and burrito lover...and also the sauce lover as it has 19 different sauce recipes! If you don't have it yet, get yourself a copy! It's whole food based, just like my website, and has a great variety of recipes!
I worked nonstop on weekends and weekdays, while raising three little boys, with a husband who traveled every single week to create the recipes in this book and do all of the photography. If I can do all that, you know the recipes are easy enough for you to tackle too!
Vegan Burgers and Burritos: Easy and Delicious Whole Food Recipes for the Everyday Cook
Vegan Cookbooks for Beginners
Any time you are trying something new it can be overwhelming. Especially when it comes to cooking. Learning how to make vegan recipes is like learning a whole new type of cooking.
Much like you would need guidance when making recipes that are from the asian cuisine, vegan cooking needs the same. There are many tips and tricks I have picked up along the way!
So what are the best vegan cookbooks for beginners? Here is a list of some of my favorites:
The Vegan 8: 100 Simple, Delicious Recipes Made with 8 Ingredients or Less
This book is ideal for beginners because each recipe is made with a handful of simple ingredients. Plus, most of the recipes are already dairy-free, oil-free, gluten-free, and nut-free, and if they're not there's substitution ideas!
Click to read my review on The Vegan 8 Cookbook and get her recipe for vegan pumpkin donuts!
The Vegan Instant Pot Cookbook: Wholesome, Indulgent Plant-Based Recipes
A collection of all plant based recipes that can easily be made in your pressure cooker! Find delicious recipes for breakfast, lunch, dinner, and dessert all made from nothing but the most wholesome ingredients.
Chloe Flavor: Saucy, Crispy, Spicy, Vegan: A Cookbook
The recipes in this book are anything but bland and boring! Each dish focuses on bold flavors and bright colors to delight all of your senses.
Click to read my review on the Chloe Flavor Cookbook and get her recipe for vegan General Tso's Tofu!
Vegan Reset: The 28-Day Plan to Kickstart Your Healthy Lifestyle
Beginner or veteran, plant based or not, from time to time we all need help getting on track with our health. Not only is this book great for the recipes, but it also includes meal plans, shopping lists, and tips for prepping.
Click to read my review on the Vegan Reset Cookbook and get her recipe for vegan avocado kale salad!
The Veginner's Cookbook: The Ultimate Starter Guide for New Vegans and the Veg-Curious
In addition to easy to make, affordable, and tasty recipes, this book offers support for a plant based lifestyle. There's tips for everything from how to order at restaurants to how to talk to your friends and family about your choice.
Click to read my review on The Veginner's Cookbook and get her recipe for vegan apple roses!
Healthy Happy Vegan Kitchen
Not only is this book packed with tons of easy and delicious recipes, but it also includes lots of tips for beginners. Learn how to "veganize" your kitchen, all sorts of cooking techniques, what vegan staples to have on hand, as well as wellness tips to live by.
Click to read my review on the Healthy Happy Vegan Kitchen Cookbook and get her recipe for vegan thumbprint cookies!
Budget Friendly Vegan Cookbooks
The idea that healthy, plant based eating is expensive is simply untrue. Sure, it can be expensive, but it doesn't have to be. These books focus on just that:
Plant-Based on a Budget: Delicious Vegan Recipes for Under $30 a Week, in Less Than 30 Minutes a Meal
This book details how to create easy plant based meals while saving tons of money! Plus, the majority of the recipes in this book are made in around 30 minutes or less.
Frugal Vegan: Affordable, Easy & Delicious Vegan Cooking
A collection of breakfast, lunch, dinner, dessert, and snack recipes to keep you full and satisfied. They're all made with easy to find and affordable ingredients.
Click to read my review on the Frugal Vegan Cookbook and get her recipe for vegan barbecue chickpea sliders!
Cookbooks with Quick and Easy to Follow Recipes
Beginner or just really busy, these books will all come in handy:
Isa Does It: Amazingly Easy, Wildly Delicious Vegan Recipes for Every Day of the Week
For busy people looking for quick and simple yet creatively delicious dinners, this book is for you! It includes 150 recipes that are made from ingredients easily found at your local supermarket.
Easy. Whole. Vegan.: 100 Flavor-Packed, No-Stress Recipes for Busy Families
Family friendly meals made with healthy plant based foods are a reality! Make any of the easy recipes for busy mornings and evenings, or prep ahead with the make ahead recipes.
Click to read my review on Easy. Whole. Vegan. Cookbook and get her recipe for vegan chili mac!
Oh She Glows Every Day: Quick and Simply Satisfying Plant-based Recipes
Yet another gem from Angela. This book focuses on recipes that are easy to make for people with busy lifestyles. Just like her other work, she includes tips for making her recipes kid and allergy friendly.
Click to read my review on The Oh She Glows Every Day Cookbook and get her recipe for vegan French lentil stew!
Vegan Yack Attack on the Go!: Plant-Based Recipes for Your Fast-Paced Vegan Lifestyle - Quick & Easy - Portable - Make-Ahead - And More!
With plenty of quick and easy recipes that are doable for those with even the busiest of schedules, this book is great for those (as the titles suggests) on the go. These include make ahead dishes as well as meals that are portable. There's also a section ideal for beginners that outlines pantry and equipment staples in addition to general tips and tricks that will come in handy.
Click to read my review on Vegan Yack Attack on the Go Cookbook and get her recipe for vegan coconut bacon blt with peaches!
Minimalist Baker's Everyday Cooking: 101 Entirely Plant-based, Mostly Gluten-Free, Easy and Delicious Recipes
Minimalist doesn't refer to a lack of flavor, nope, each of these fabulous recipes are made with 10 ingredients or less! Many of the recipes can also be made in one pot and in 30 minutes or less. Too easy!
Click to read my review on the Minimalist Baker Everyday Cooking Cookbook and get the recipe for 30 minute vegan breakfast burritos!
Comfort Food Cookbooks
All the comfort food dishes you know and love are transformed into plant based recipes in these books:
Fuss-Free Vegan: 101 Everyday Comfort Food Favorites, Veganized
When you want hearty, comforting, typically 'bad for you' food in a healthier and plant based way, you need to sift through this cookbook. It features nachos, burritos, pizza, dips, and plenty of desserts to keep your cravings at bay.
Click to read my review on the Fuss Free Vegan Cookbook and get her recipe for vegan 15 minute peanut noodles!
Hot for Food Vegan Comfort Classics: 101 Recipes to Feed Your Face [A Cookbook]
The most delicious comfort food is possible to make with all plant based ingredients! We're talking mac and cheese, cheesesteaks, fried chicken, and even bacon all made with vegan ingredients. Do yourself a favor and indulge in these amazing meals!
Vegan Richa's Everyday Kitchen: Epic Anytime Recipes with a World of Flavor
Another book featuring comfort food recipes, this one focuses on the best international favorites. There's everything from casseroles to curries, burgers to pizzas, and breakfasts to desserts. Plus, this book includes a variety of sauce recipes and ideas for mixing and matching.
Click to read my review on Vegan Richa's Everyday Kitchen Cookbook and get her recipe for vegan buffalo chickpea tacos!
Niched Vegan Cookbooks
These books all have a more narrowed focus than the others. The specificity means that they're experts and it really pays off in flavor!
Great Vegan BBQ Without a Grill: Amazing Plant-Based Ribs, Burgers, Steaks, Kabobs and More Smoky Favorites
All of the classic BBQ favorites have been transformed into the most amazing plant based recipes. And the best part? They're all made on your stove, no grill or smoker is needed!
Click to read my review on the Great Vegan BBQ Cookbook and get her recipe for vegan pulled mushroom sandwiches!
Go Dairy Free: The Ultimate Guide and Cookbook for Milk Allergies, Lactose Intolerance, and Casein-Free Living
This is so much more than a collection of recipes. This is a full guide to all things dairy free including how to read labels, all about calcium, travel and restaurant tips, and even how to save money.
Click to read my review on the Go Dairy Free Cookbook and get her recipe for vegan mushroom barley soup!
Vegan Richa's Indian Kitchen: Traditional and Creative Recipes for the Home Cook
So many wonderful Indian dishes, so little time! Learn how to make favorites like curries, street style tempeh wraps, and avocado naan. All satisfying, and all made with plant based ingredients.
Awesome Vegan Soups: 80 Easy, Affordable Whole Food Stews, Chilis and Chowders for Good Health
Whether it's the Winter and you need something hot to cozy up with, or the Summer when you want a cool soup to chill out with, this collection of recipes have you covered! With so much variety in flavors your taste buds will never be bored again!
Click to read my review on the Awesome Vegan Soups Cookbook and get her recipe for vegan spinach pea soup!
The Perfect Blend: 100 Blender Recipes to Energize and Revitalize
This book is so much more than smoothies! Recipes for snacks, salads, sides, soups, mains dishes, and desserts, plus tips for how to boost them with extra nutrition. It also includes a dozen goals for leading a healthier lifestyle.
Click to read my review on The Perfect Blend Cookbook and get her recipe for vegan shiitake mushroom lettuce cups!
More Popular Titles
Don't just take my word for it! These are some of the best selling vegan cookbooks out there:
Thug Kitchen: The Official Cookbook: Eat Like You Give a F*ck (Thug Kitchen Cookbooks)
If you are offended by foul language this book is not for you. However, if you want a fresh and casual take on things and a laugh or two, this book is definitely one for your collection! This book is filled with easy and attainable recipes that taste fabulous.
The Oh She Glows Cookbook: Over 100 Vegan Recipes to Glow from the Inside Out
Making the switch from low calorie processed foods to wholesome nutritious food proved to make immense improvements in Angela Liddon's health and life. She has shared over 100 of her tried and true recipes in this book, and they're all amazing!
Forks Over Knives―The Cookbook: Over 300 Recipes for Plant-Based Eating All Through the Year
This popular book focuses on all of the wonderful and healthy foods you can eat. Their recipes range from breakfast, soups, salads, pasta, grains, beans, desserts, and more. They also include some grilling recipes that are delish!
Love Real Food: More Than 100 Feel-Good Vegetarian Favorites to Delight the Senses and Nourish the Body: A Cookbook
With recipes for every time of day, this book guides you in using and enjoying real food. Many of the recipes include substitutions to fit your dietary needs. Each dish is designed to make you and your belly feel good!
The First Mess Cookbook: Vibrant Plant-Based Recipes to Eat Well Through the Seasons
You may be aware that produce is best when it is in season. This book focuses on that seasonality and making the most out of what's available each time of year. Plus, the photos are seriously frame worthy!
Click to read my review on The First Mess Cookbook and get her recipe for vegan breakfast cookies!
Love and Lemons Every Day: More than 100 Bright, Plant-Forward Recipes for Every Meal
On top of all the wonderful recipes, you'll get multiple guides. Ideas for salad dressings, vegetable broth, weeknight pastas, and how to roast all the veggies.
Click to read my review on the Love and Lemons Everyday Cookbook and get her recipe for vegan Caesar salad! (I also reviewed her first book, click here to see the review and get the recipes for vegan flatbread with white bean puree and asparagus.)
What is the best vegan cookbook?
Calling something the best is so relative, but when it comes to an overall vegan cookbook, this is a list of some of my favorites. I tried to think about a variety of things when making this list so that there is something for everyone:
user friendly
types of ingredients
gluten free
veggie heavy
classics made vegan
cost of recipes
What is the best selling vegan cookbook?
So of all of these amazing choices, there has to be one that is top of the charts right? Based on the sales and reviews I looked at on Amazon, the two that are neck and neck are: Thug Kitchen and Forks Over Knives! Don't forget these books can make great gifts as well!