Diet culture is the thought that people are worth more or less based on their body size. Find out how we can move beyond this toxic idea!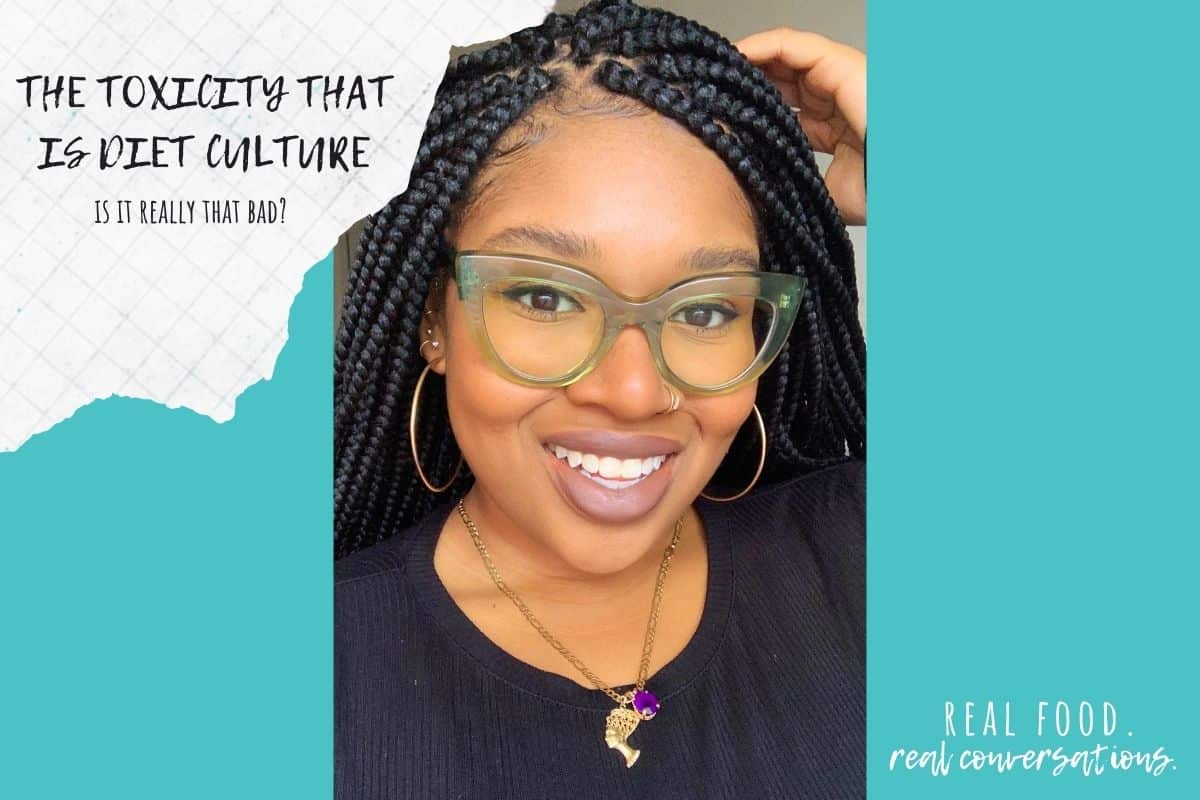 It is important that we as humans make moves away from the negative environment that is diet culture. With mental health needs on a huge incline, fighting the idea that our worth is tied to our body is so important.
Podcast: Play in new window | Download | Embed

Subscribe now! Apple Podcasts | Google Podcasts | iHeartRadio | Stitcher | TuneIn | Deezer | RSS | More
Breanna Danielle is the founder of the lifestyle and wellness site Plant Based Bre.  Breanna combines her love for research and passion for wellness through her online work of creating a safe space for POC to improve their mental, spiritual and physical health.
When Breanna isn't working on content or teaching classes, you can find her being a foodie at your local vegan bakery. Living a plant-based lifestyle has been a long and rewarding 8-year journey, and she uses her lessons learned along the way to inspire others to change their lifestyle habits. You can connect with her on Instagram via @plantbasedbre.
What is Diet Culture?
Diet culture is the overall idea that your worth, value, morality are tied to your body size. It focuses on how we look on the outside, and not who we actually are.
Diet culture exists everywhere, from the infiltrated online world and social media, to places like doctors offices and clothing stores.
Nutrition, workout culture, health and wellness spaces are filled with a particular body type. But food and exercise are really just a small part of overall wellness.
Why is Diet Culture Toxic?
A main problem with diet culture, is that it is everywhere. It affects every size, it affects every race. The idea that you must change your body to look a certain way reaches all people.
We are conditioned to believe these things from a very young age. This creates stories in our subconscious which drive our future actions. If our stories are based in the toxicity of diet culture, then our actions will follow suit.
Diet culture is found in such a wide array of areas in our life, that it is hard to escape. It takes work to undo the harm it has laid. You must put effort into training your mind to think differently.
Another aspect of diet culture is the idea of toxic positivity, the need to be positive all the time. This is not reality When we don't accept and process our negative emotions, we are pushing them down and eventually they will burst.
This toxic positivity is seen online constantly. It's the picture perfect house, mom, relationship, child. A pretty painting that is simply one snapshot of a real life. It's a highlight reel, but the problem is people take it as the whole movie.
Identifying Diet Culture
Bre says that diet culture started affecting her as young as 14 when she started to feel that she needed to lose X amount of weight. She was an active young woman, but still remembers having pediatricians tell her she was overweight.
Many doctors still do this today. Without a full exam and deep dive into a persons life, and simply based on the number on a scale, they turn to weight loss as their go to sugestion.
This is diet culture. It's based on the idea that a bigger body size is not acceptable. Except bigger does not necessarily mean unhealthy. Health can be achieved at all sizes and a deep look into someones life needs to be done before suggestions are given.
Beauty culture is also very infiltrated with diet culture. The standards in beauty do not represent the real population. From the clothes sold in stores, to the products we are pushed to buy. The stereotype we are fed needs to be changed.
Resisting Diet Culture
In order to start chipping away at this idea that we are only worth what our body looks like, we need to make a change in the way we think. We need to ask ourselves the tough questions.
While avoiding all media and online presence could help give us space away from diet culture, there are ways to change without necessarily going that drastic.
Finding and following accounts of all sizes and races is one way to experience a variety of people. When we see more than just one type of person, and start to connect with those different than us, we open our minds to learning more and bettering ourselves.
This is one pillar of mindfulness. Seeing the world with a beginners mind, being open to new learning and experiences. This approach helps change our one sided mind into a multidimensional one.
A few tips Bre gives to help yourself become aware of the ideals diet culture instills in us is to ask yourself these questions when it comes to decisions you make for your body:
Where did you get the ideas of your body?
How do you speak about it, what are your thoughts on it?
Why do you need to be on a diet?
What will you get out of being on a diet?
Does the image you have of your body represent your real body?
Diet Culture and Certain Diets
The problem with diets such as vegan, plant-based, keto, whole 30, etc. is that diet culture holds a strong presence. So much of the time the draw and representation is to eat a certain way so you can look a certain way.
While there are great accounts (like mine and Bre's) that focus on the wellness benefits that don't center upon body size, there are more than depict body size as the goal.
The assumption is if you eat a certain way, you get thin. While some people that choose to eat a plant-based diet do lose weight, there are also many that don't. The stigma that if you are a larger body, you must not be eating wholesome foods is real.
True veganism is based on the ethical perspective of life. Not the diet. Being an anti-diet vegan is something you can strive for to negate diet culture.
Diet Culture and Pregnancy
One of the scariest parts of diet culture is the stake it holds in the pregnancy space. From the moment a woman gives birth, the idea that she needs to get "her body back" is hammered into her.
The postpartum mental health care women need is very under served. Then throw in the pressure of diet culture and it's a disaster.
Diet culture values a mother's body on how quickly she loses the weight she gains during pregnancy. If you don't lose it fast enough you must be lazy. Instead of focusing what we look like after having a baby, we need to shift and focus on the care we give to our mental health and the baby itself.