Vegan food at Trader Joe's is growing exponentially as the vegan diet becomes more and more popular. Ready made items are stocked in every section!
You aren't just finding simple ingredients anymore, there are vegan options for shelf stable snacks, frozen food, and all things refrigerated.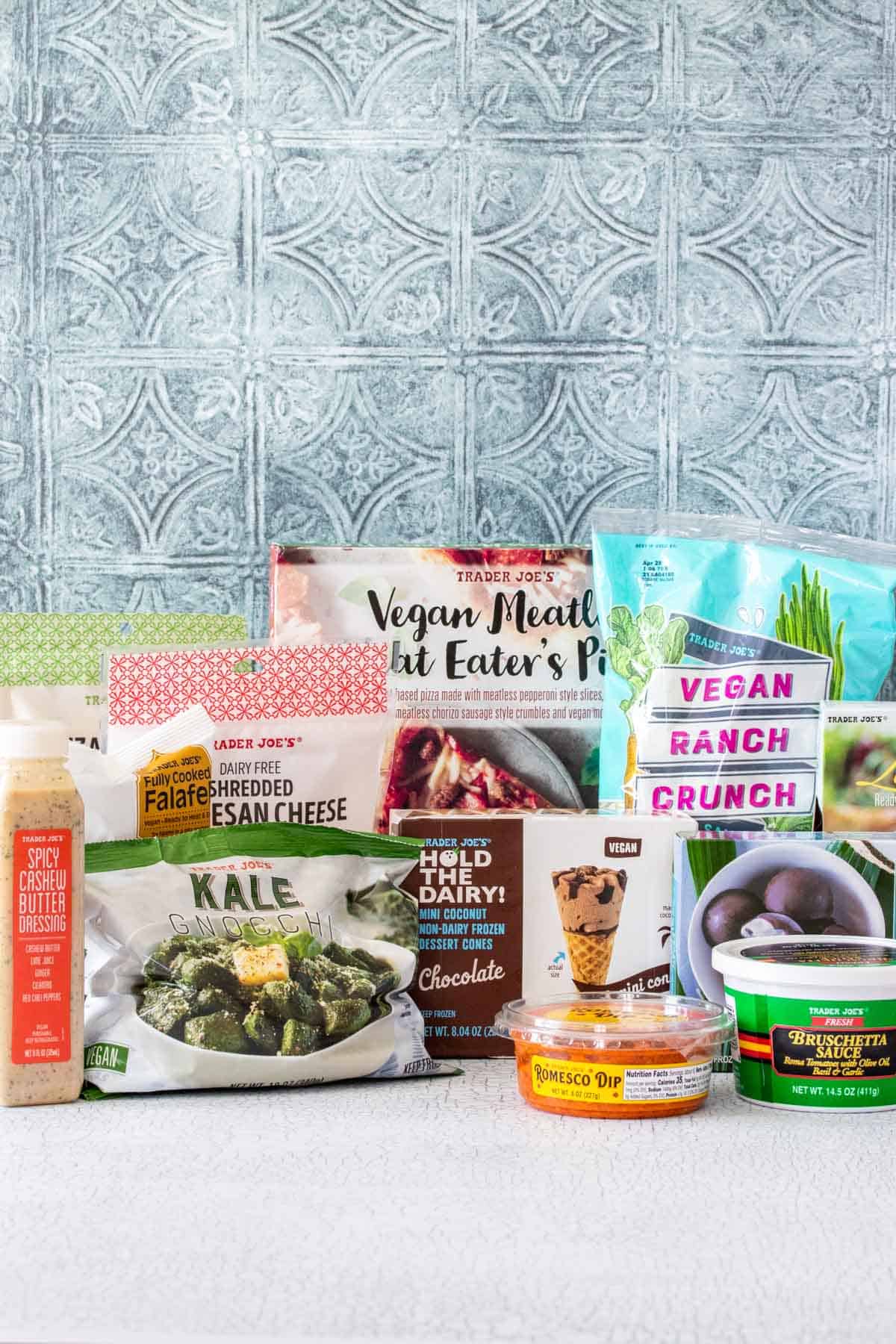 Having vegan items available for quick use, especially dairy free alternatives, is so important for the every day consumer that follows a vegan diet.
It's amazing to see mainstream stores like Trader Joe's supplying these options! But don't forget that item availability changes often so this post may not have the most up to date accurate information.
From snacks, to ingredients, to full on meals, there are a number of options for vegan food at Trader Joe's is impressive. And lucky for us it seems they're adding new foods all the time! So add these tasty snacks and meals to your shopping list next time you head there, and keep an eye out for any new ones. Once you get home with your haul, make these easy Trader Joe's Meals!
Ready to Heat and Eat
Many of the ready made meals are found in the frozen section, but they also have a few refrigerated and canned items that make for super easy meals. Just warm them up and dig in!
Vegan Spinach and Cashew Ravioli
Vegan Enchilada Casserole
Organic Lentil Vegetable Soup
Organic Split Pea Soup
Hearts of Palm Pasta
Trader Joe's Frozen Food
Who doesn't love an effortless meal? Frozen foods are amazing because they have a long shelf life, are prepared quickly and easily, and the Trader Joe's options taste amazing!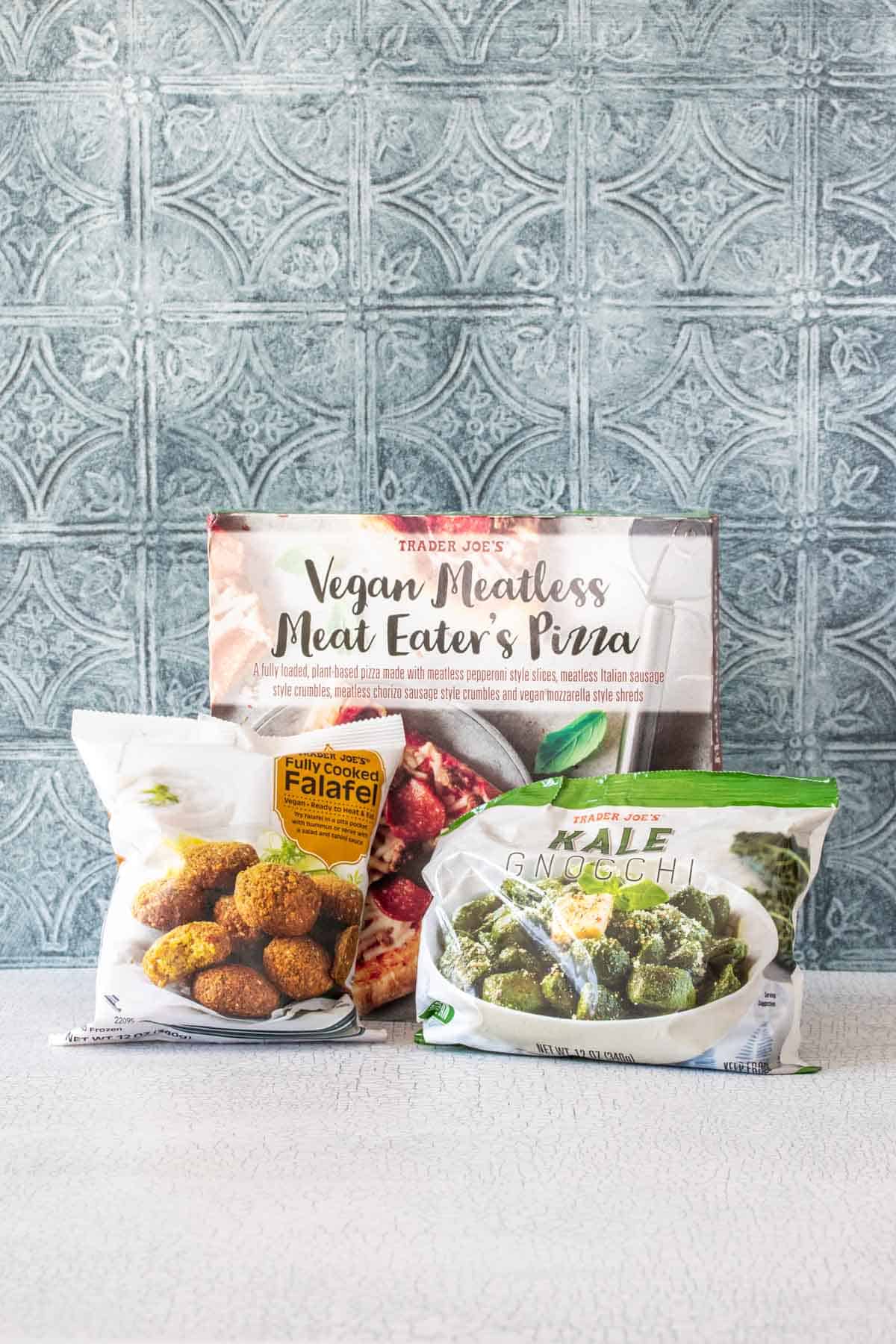 Tofu Scramble with Soy Chorizo
Vegetable Fried Rice
Vegan Meatless Meat Eaters Pizza
Fully Cooked Falafel
Kale Gnocchi
Organic Veggie Bites
Vegetale Pad Thai
Riced Cauliflower Bowl
Japchae Korean Sweet Potato Glass Noodles & Vegetable Stir Fry
Kimchi & Tofu Soup
Trader Joe's Snacks
Get to munching on the best vegan snacks from Trader Joe's! You'll find the usual nuts and dried fruit, as well as these prepared options.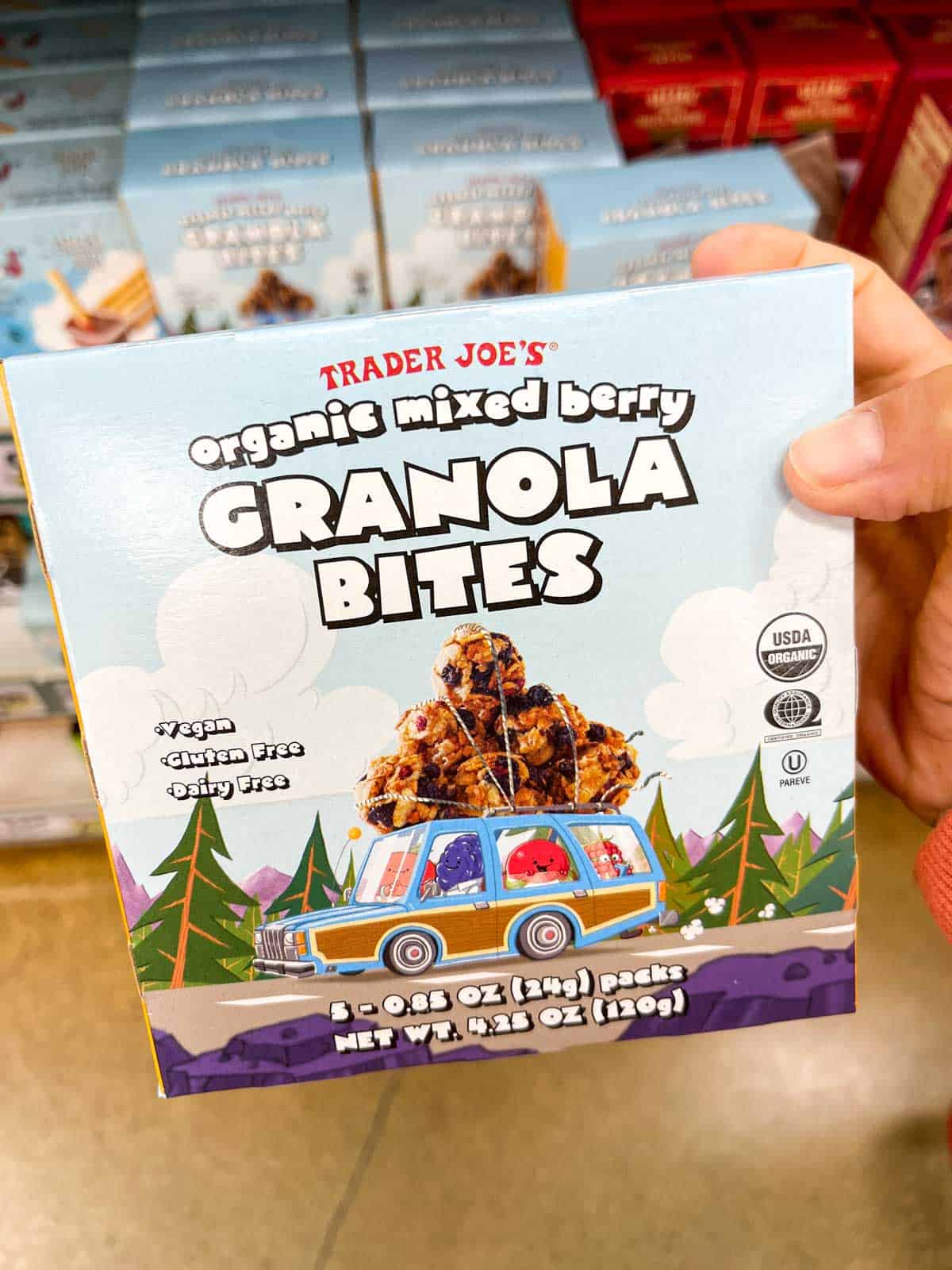 Organic Mixed Berry Granola Bites
Synergistically Seasoned Popcorn
Crisp Crunchy Crisps
Spicy Porkless Plant-Based Snack Rinds
Organic Roasted Seaweed with Sea Salt
Meat Alternatives
Trader Joe's offers both their own brand of meatless items, as well as other popular brands like Impossible.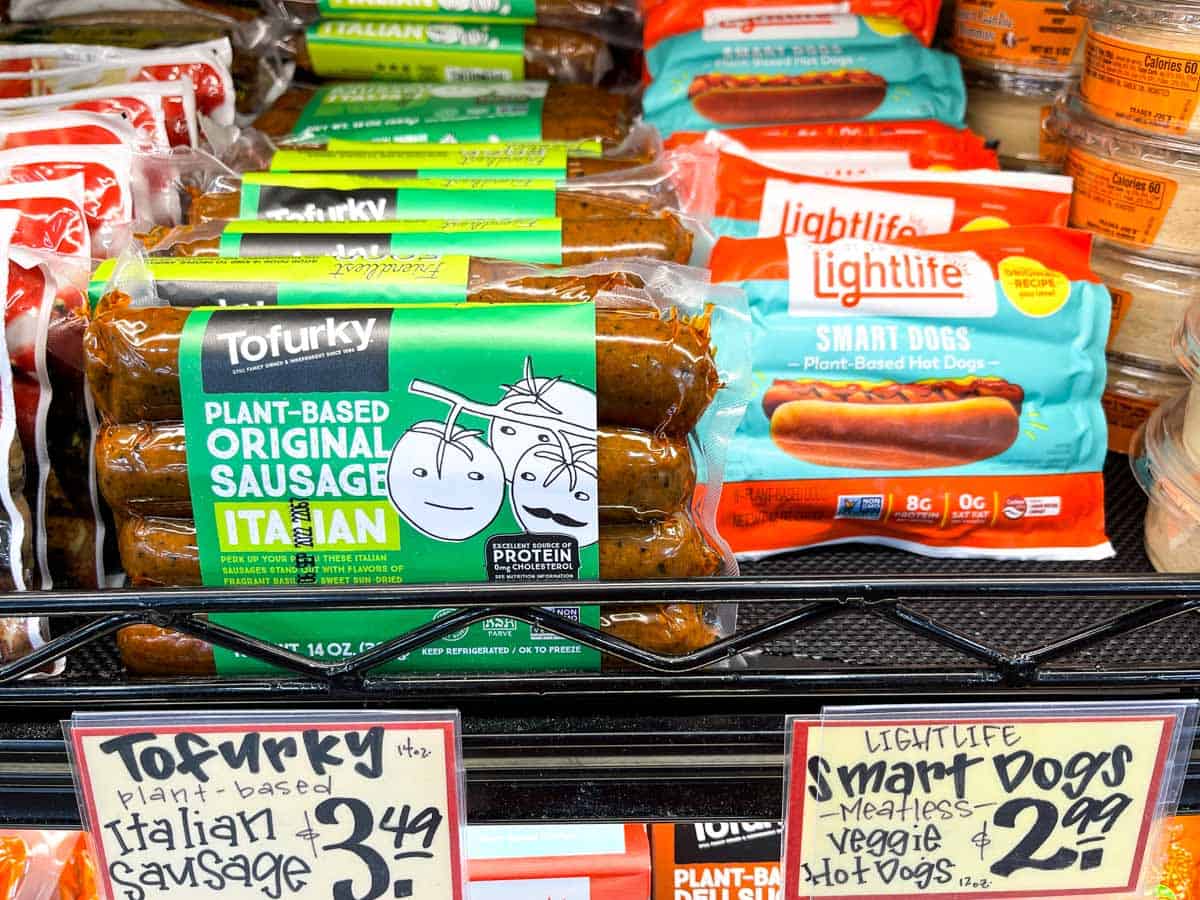 Chickenless Crispy Tenders
Organic Baked Tofu Teriyaki Flavor
Organic 3 Grain Tempeh
Chicken-less Mandarin Orange Morsels
Soy Chorizo
Dairy Alternatives
There are many choices for cheese, milk, yogurt, and other dairy staples at Trader Joe's. They have a good offering of a number of brands as well as many of their own.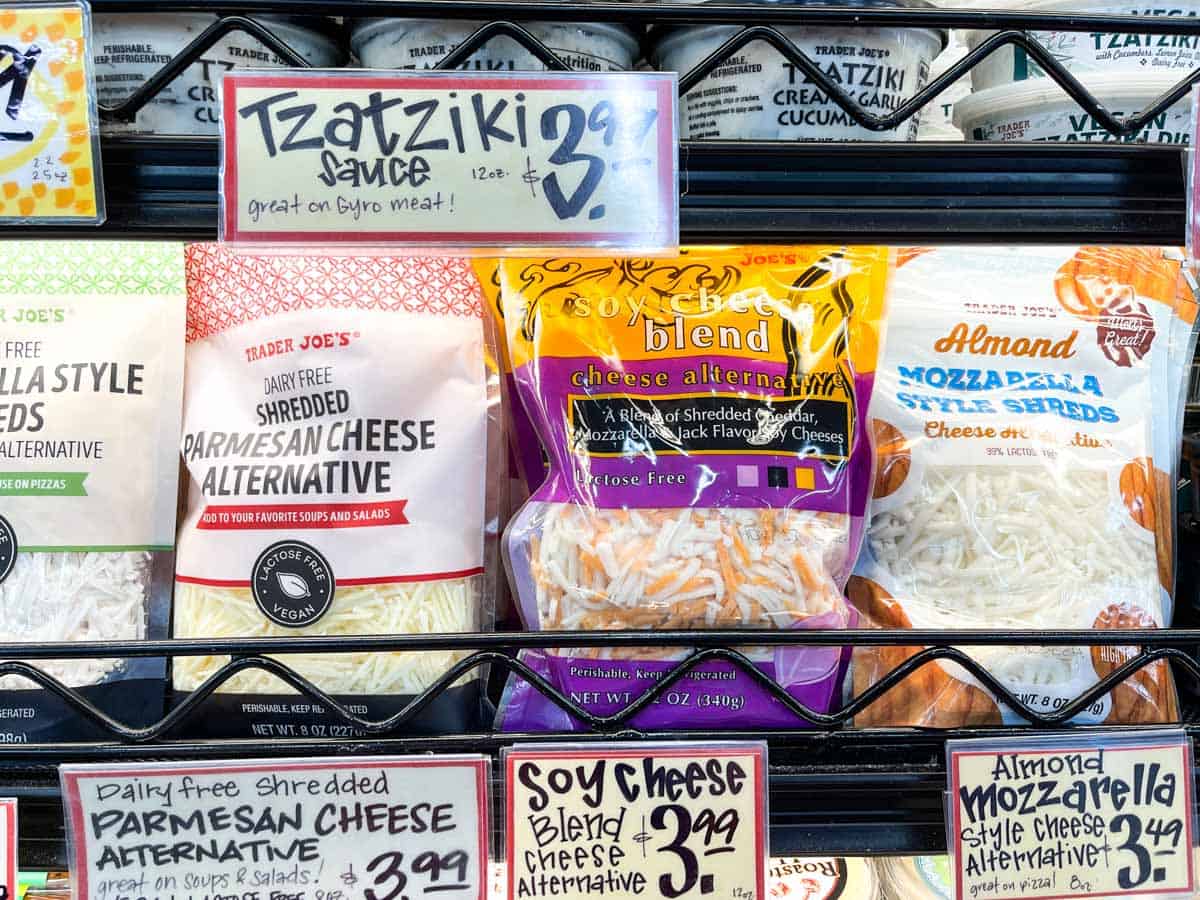 Trader Joe's Vegan Cheese
Vegan Feta Cheese Alternative
Vegan Cream Cheese Alternative
Dairy Free Shredded Parmesan Cheese Alternative
Cheddar Style Slices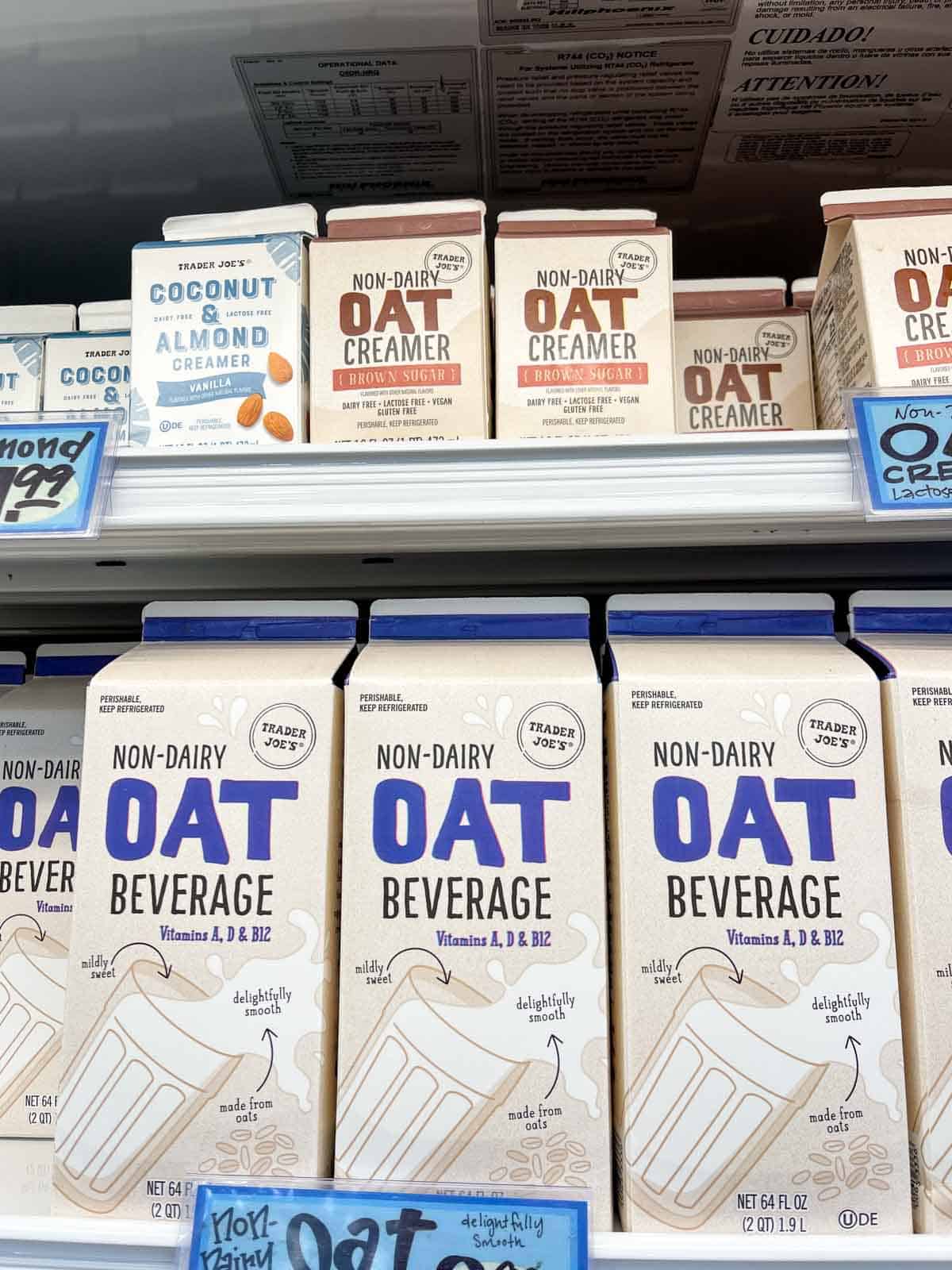 Trader Joe's Vegan Milk
Brown Sugar Non Dairy Oat Creamer
Non-Dairy Oat Beverage
Organic Unsweetened Almond Beverage
Unsweetened Almond, Cashew & Macadamia Nut Beverage
More Dairy-Free Options
Vegan Buttery Spread
Organic Creamy Cashew Cultured Yogurt Alternative
Creamy Coconut Cultured Yogurt Alternative
Trader Joe's Salads and Salad Dressings
There's plenty of vegan options at Trader Joe's for making your own salad creations in the produce department alone! There's also a number of ready-made salads and dressings to try.
Vegan Ranch Crunch Salad Kit
Vegan Taco Salad Kit
Vegan Chickpea Masala Salad
Peanut Udon Noodle Salad
Vegan Creamy Dill Dressing
Vegan Caesar Dressing
Green Goddess Salad Dressing
Spicy Cashew Butter Dressing
Trader Joe's Sauces, Spreads, and Dips
When it comes to vegan dips and condiments at Trader Joe's, there's a lot to choose from! Enjoy them as part of a snack, spread on a sandwich, or drizzle over your favorite recipes.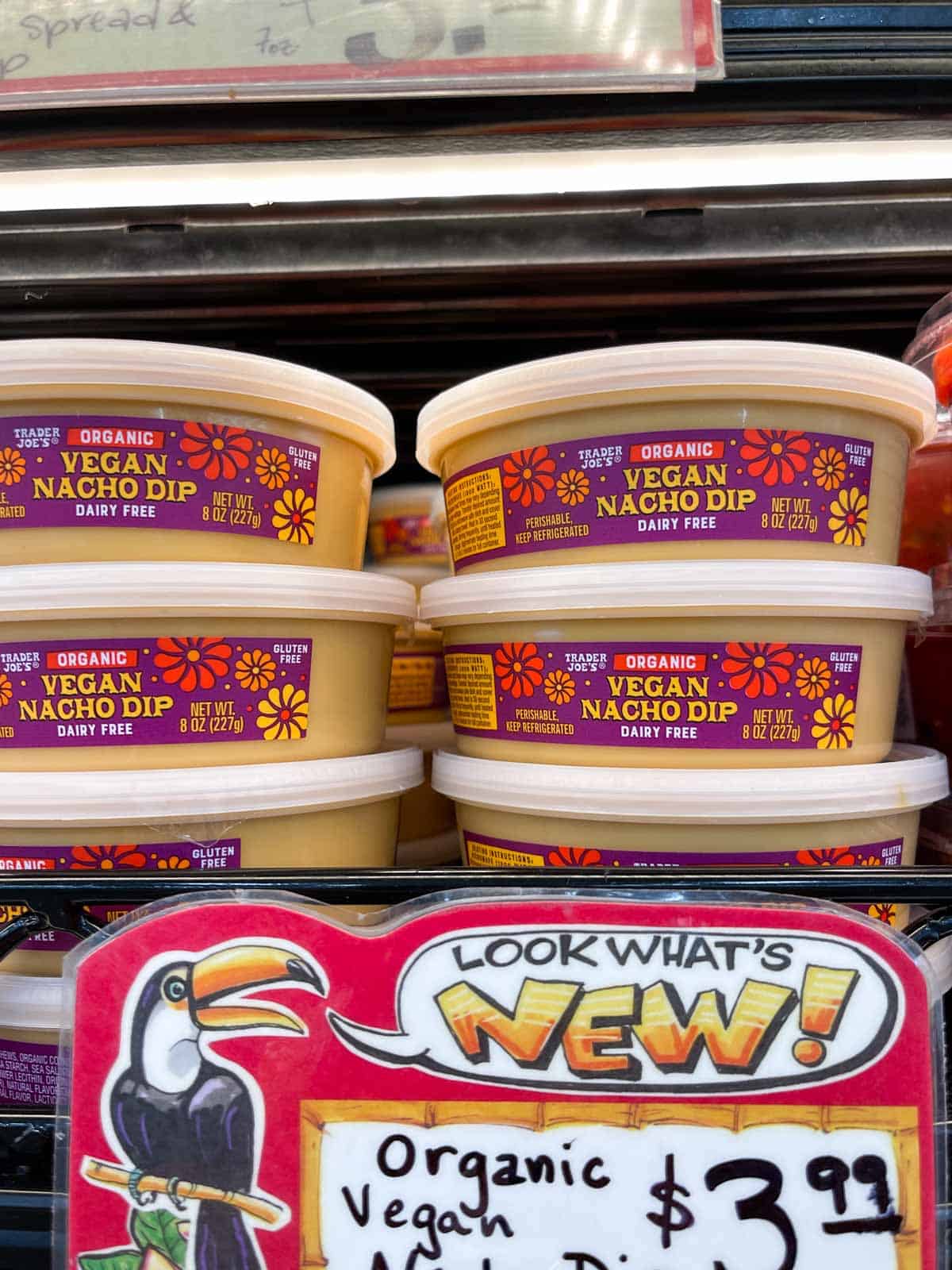 Organic Vegan Nacho Dip
Vegan Buffalo Style Dip
Vegan Tzatziki Dip
Vegan Caramelized Onion Dip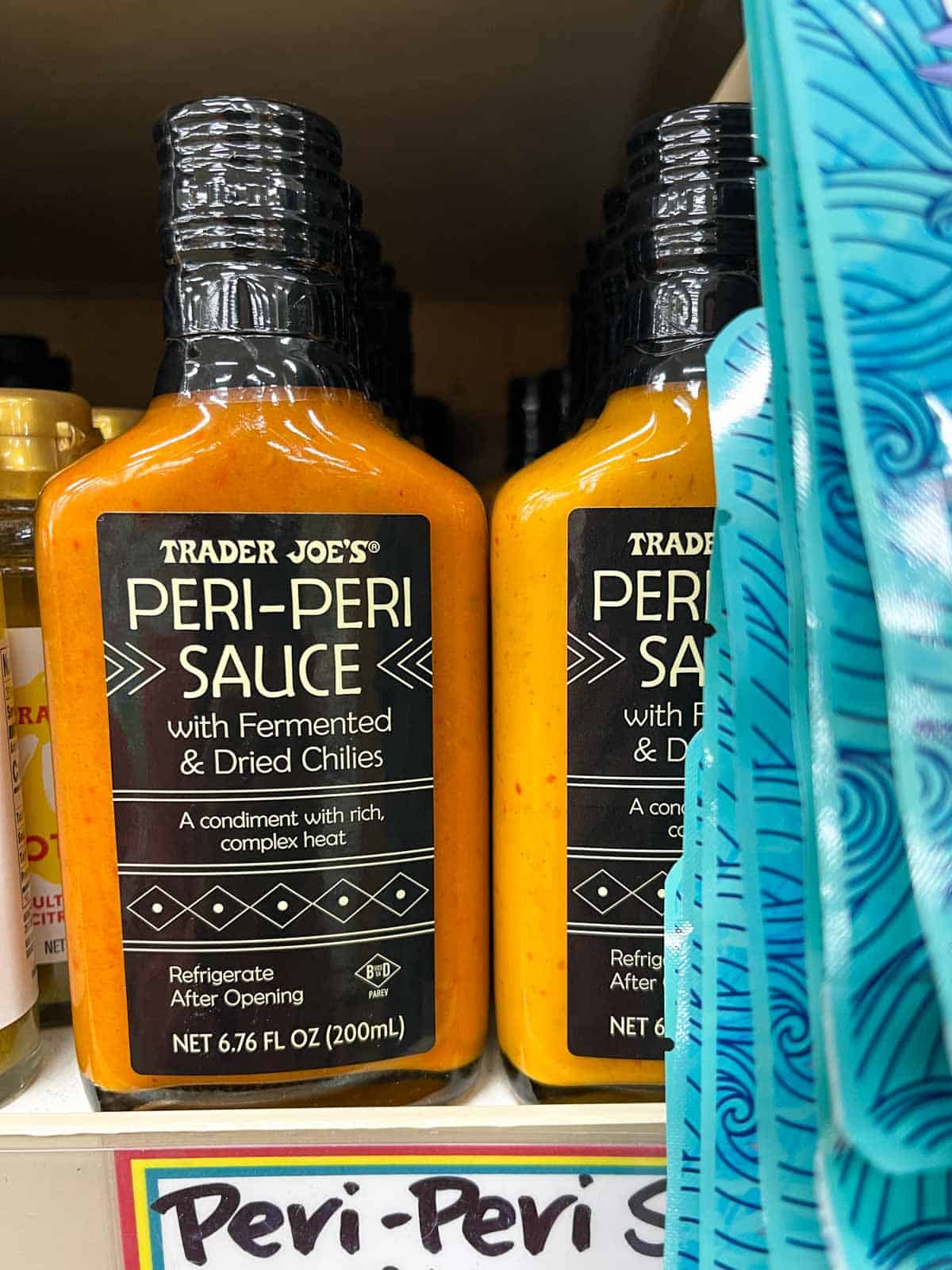 Vegan Mayo Spread & Dressing
Cold Brew Coffee BBQ Sauce
Jalapeño Sauce
Thai Green Curry Simmer Sauce
Spicy Taco Sauce
Peri Peri Sauce
Zhoug Sauce
Tamarind Sauce
Chimichurri Sauce
Vegan Bolognese Style Pasta Sauce
Seasonings
Dress up your recipes with a few shakes of their flavorful and unique spice blends.
Everything But The Leftovers Seasoning Blend
Ajika Georgian Seasoning Blend
Mushroom & Company Multipurpose Umami Seasoning Blend
Green Goddess Seasoning Blend
Trader Joe's Desserts and Sweet Treats
When it comes to the best vegan food at Trader Joe's, we couldn't forget about all the delicious vegan desserts!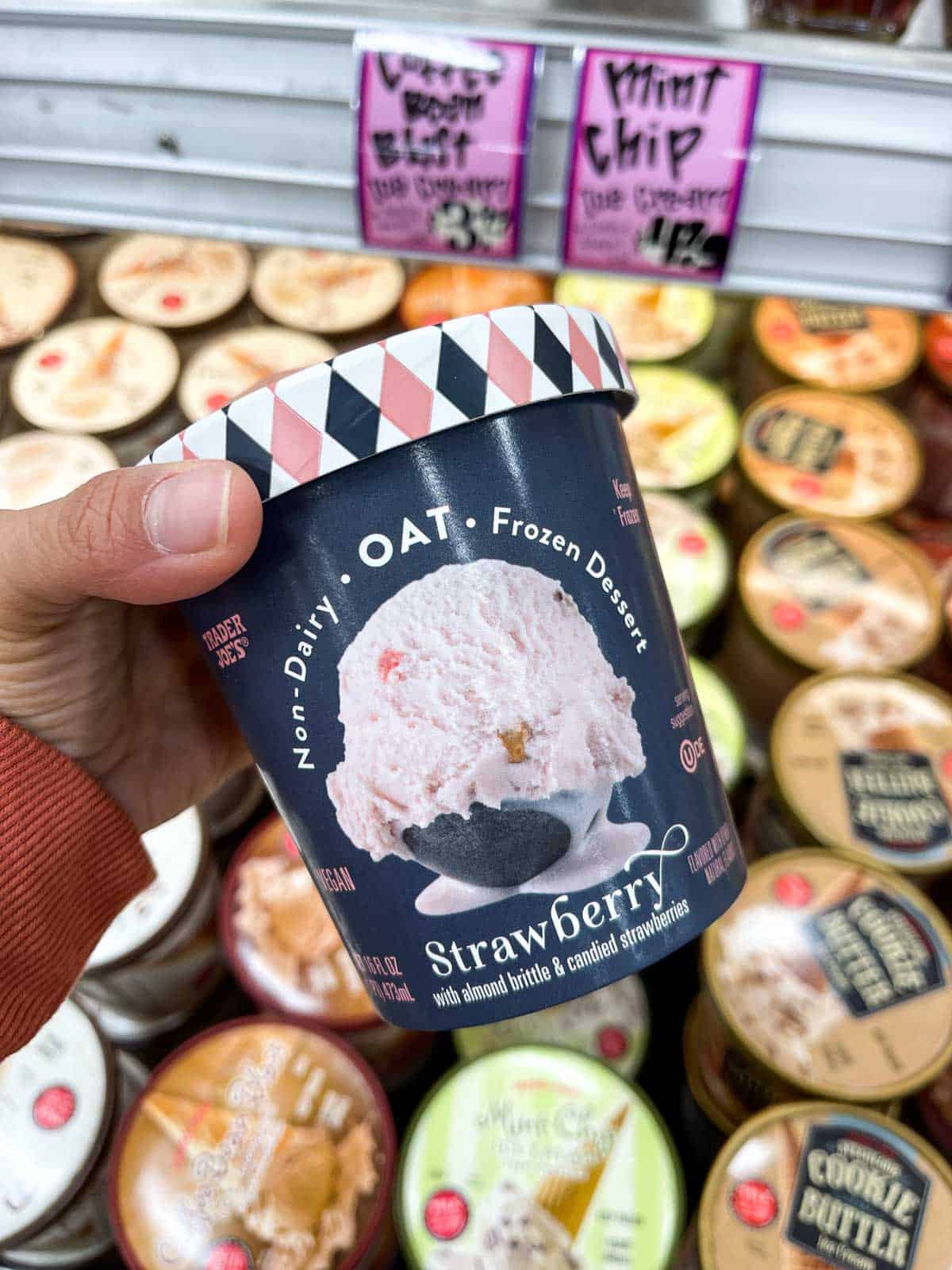 Hold the Dairy! Vegan Chocolate Mini Cones
Oat Non-Dairy Dessert Sandwiches
Non-Dairy Frozen Dessert Chocolate Fudge Oat Bars
Vegan Cookies and Cream Vanilla Bean Bon Bons
Non-Dairy Oat Frozen Dessert
Soy Creamy Non-Dairy Frozen Dessert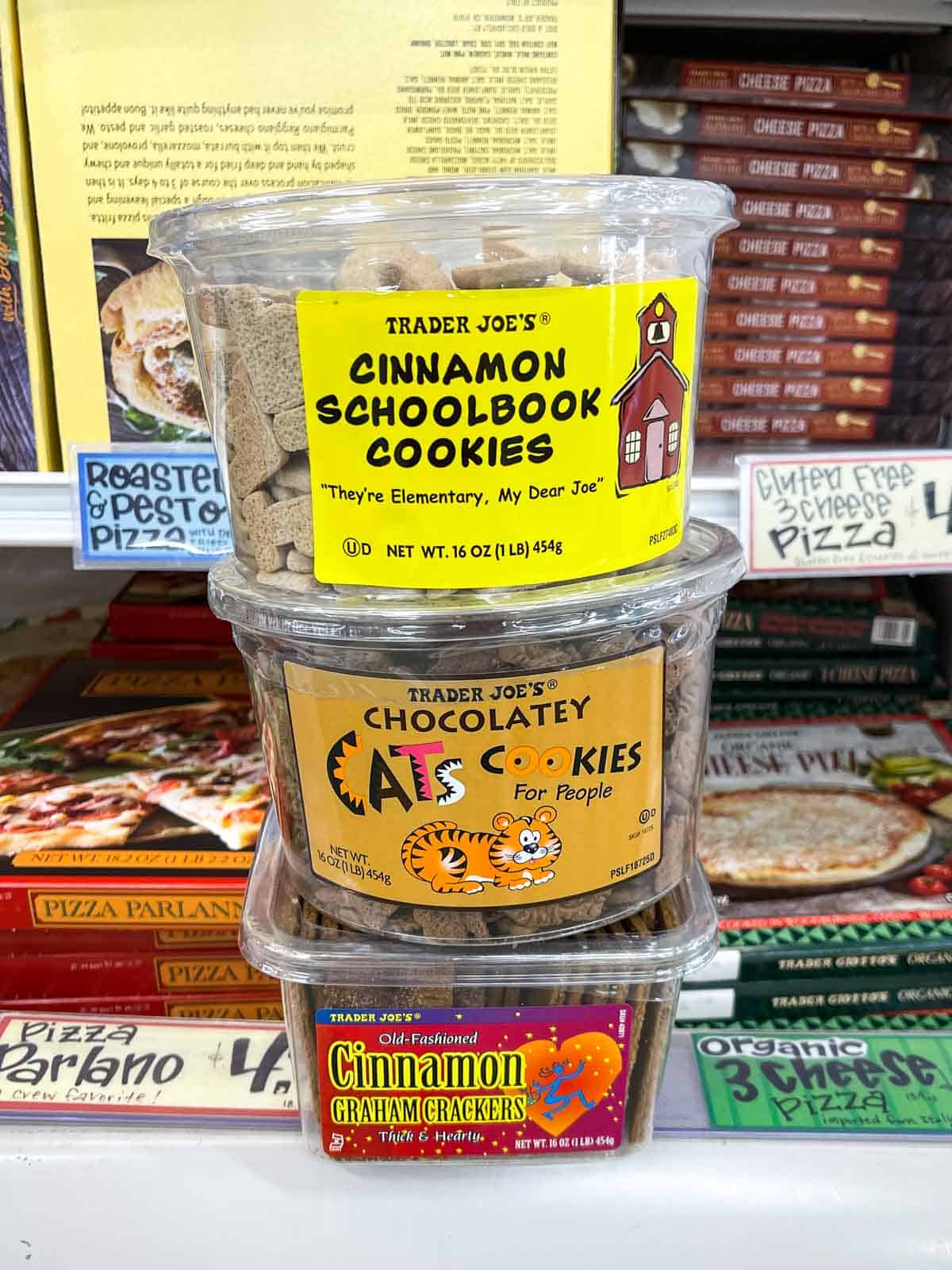 Cinnamon Schoolbook Cookies
Chocolatey Cats Cookies
Cinnamon Graham Crackers
Animal Crackers
Oat Chocolate Bars
Thai Banana Fritters
Sweet Cinnamon Filled Korean Pancakes
Vegan Banana Bread with Walnuts
Peppermint Mini Marshmallows
Trader Joe's has so many vegan options, you simply have to look!