These easy Trader Joe's recipes are simple yet delicious meals using your favorite Trader Joe's ingredients. Make mealtime a breeze with these convenient and tasty meals.
There are so many ways to mix and match Trader Joe's ingredients to make recipes you'll love. The key is having an open mind and getting creative. These are some of our favorites!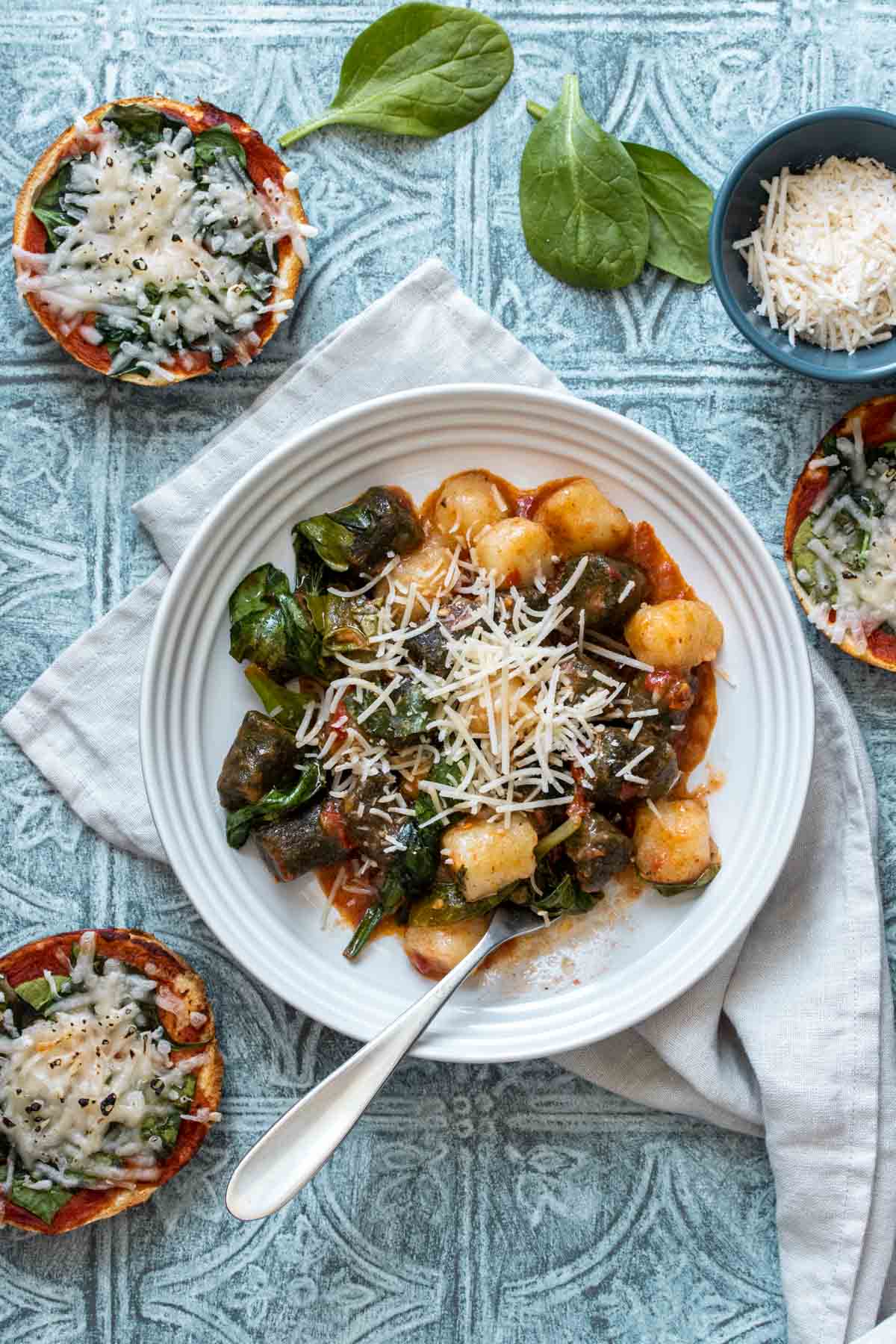 This post was originally published on June 6, 2022.
Trader Joe's is great for people that need quick and easy meals on a budget. I'm here to show you that it's possible to have that and eat nutritious food!
There are tons of easy everyday meals you can make with all of the vegan food at Trader Joe's! In addition to all of the ready made food, there are a few staples you can pick up to have on hand to make healthy Trader Joe's recipes on busy weeknights. Read below for some easy recipes to try this week!
15 Minute Trader Joe's Dinner
One of the best Trader Joe's foods is their frozen gnocchi, it's too good! We love making this quick and easy dinner on a regular basis. It's easy to switch up the flavors with different sauces and mix ins, but this is our favorite!
Ingredients
These are the simple items you need in order to make this easy Trader Joe's meal:
Frozen gnocchi - Choose either the cauliflower gnocchi or kale gnocchi, or use a mixture of both!
Bruschetta sauce - You can find this in the refrigerated section.
Spinach - Fresh baby spinach in a bag from the produce department is easiest since it has already been washed.
Vegan Parmesan - This is optional but highly recommended!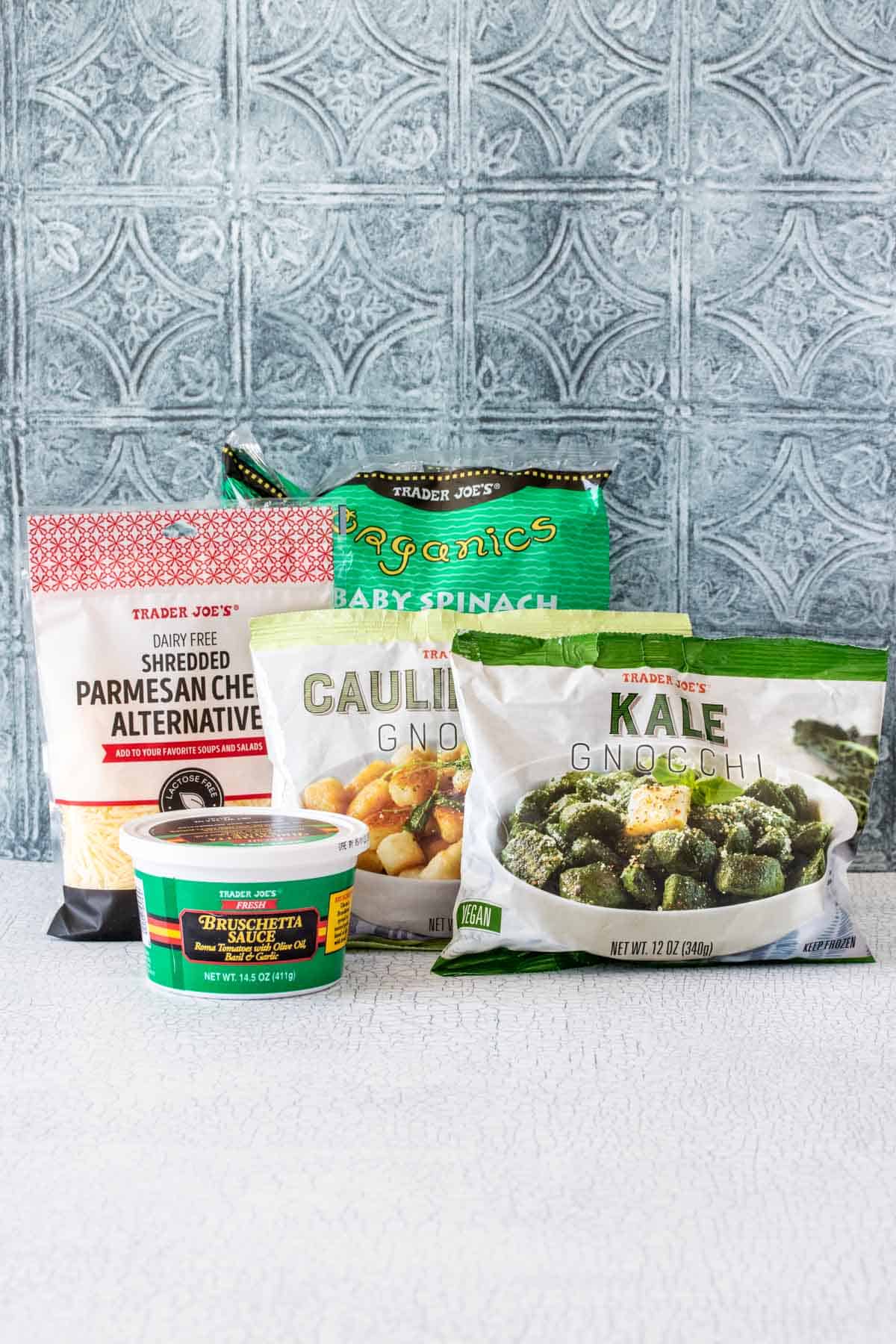 How to Make Gnocchi with Bruschetta Sauce
This is one of our favorite easy Trader Joe's meals because of how fast and simple it is! Here's what to do:
Sauté the frozen gnocchi.
Mix in the bruschetta sauce.
Add in greens of choice.
Serve with vegan parmesan!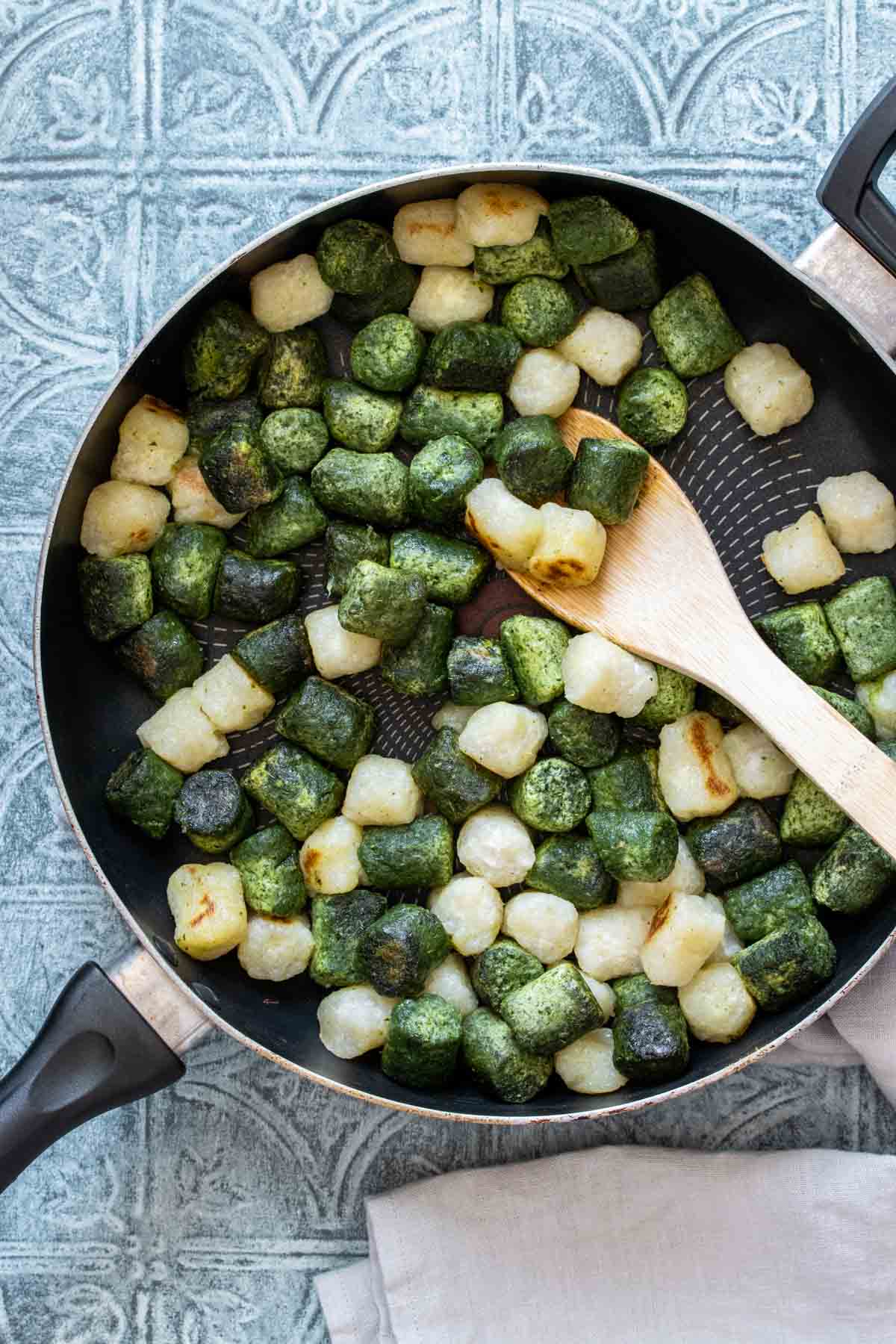 More Trader Joe's Meal Ideas
Cooking with Trader Joe's food is great because you can use the ingredients in so many different customizable ways! Here are a few more easy meals to make for the week:
Pizza Bagels
For this fast dinner idea you will need bagels, pizza sauce, cheese, spinach, and any other toppings you like! We prefer using the Trader Joe's pizza sauce since it's ready to go, and the dairy free mozzarella style shreds.
To assemble the pizza bagels:
Spread some sauce over the bagel halves.
Add the toppings, such as spinach, mushrooms, olives, etc.
Top with the vegan cheese.
Toast in a toaster oven, bake in the oven, or heat in an air fryer until everything is warm!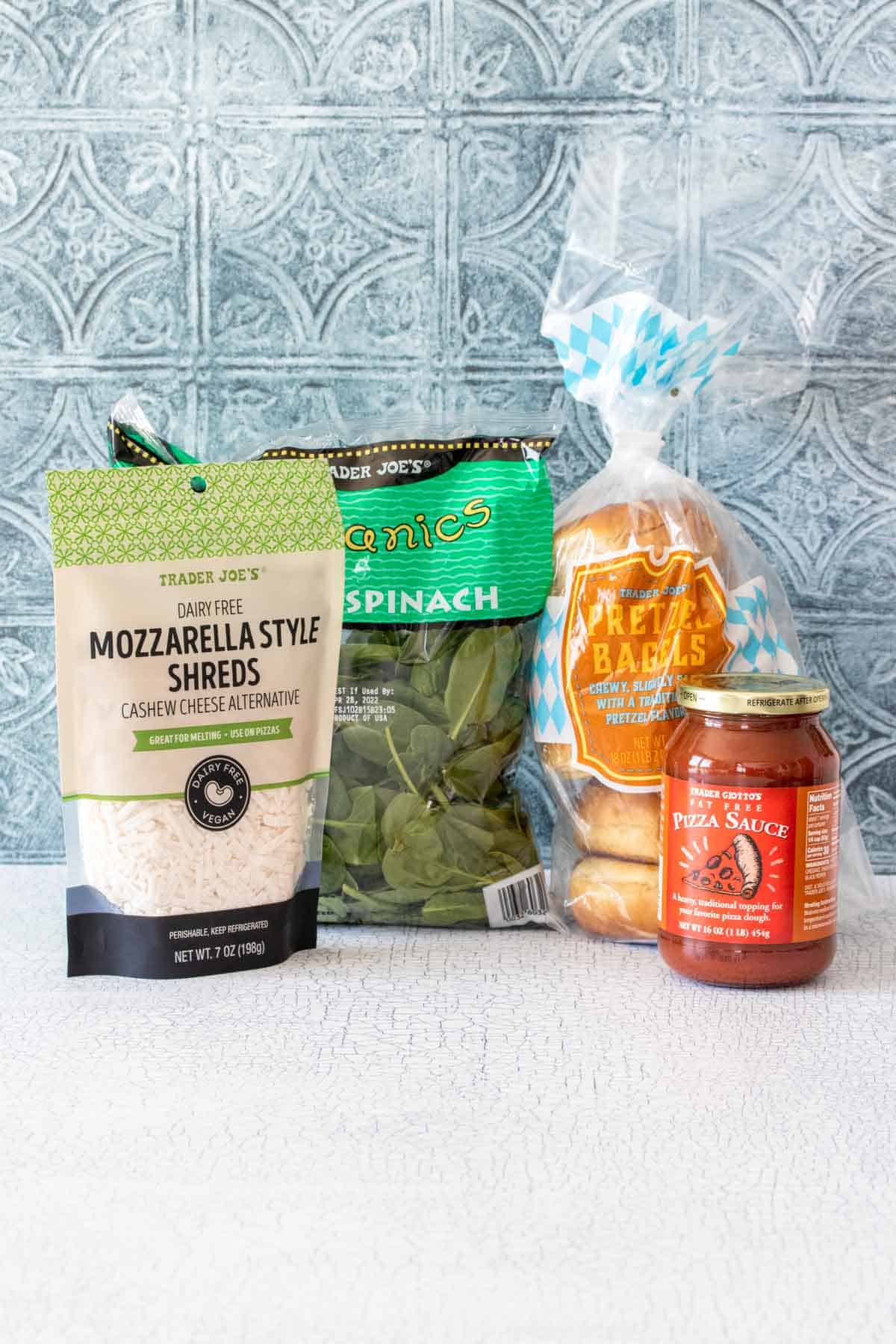 Falafel
The frozen falafel can make multiple Trader Joe's recipes, here are a couple ideas for quick and healthy meals.
Salad:
Load fresh greens into a bowl.
Coat with your favorite salad dressing.
Top with the falafel, rice and any other tasty toppings like cucumbers and tomatoes.
Warm a piece of pita bread or naan.
Load it with the falafel, greens, rice, red onions, and any other toppings.
Drizzle with vegan tzatziki and dig in!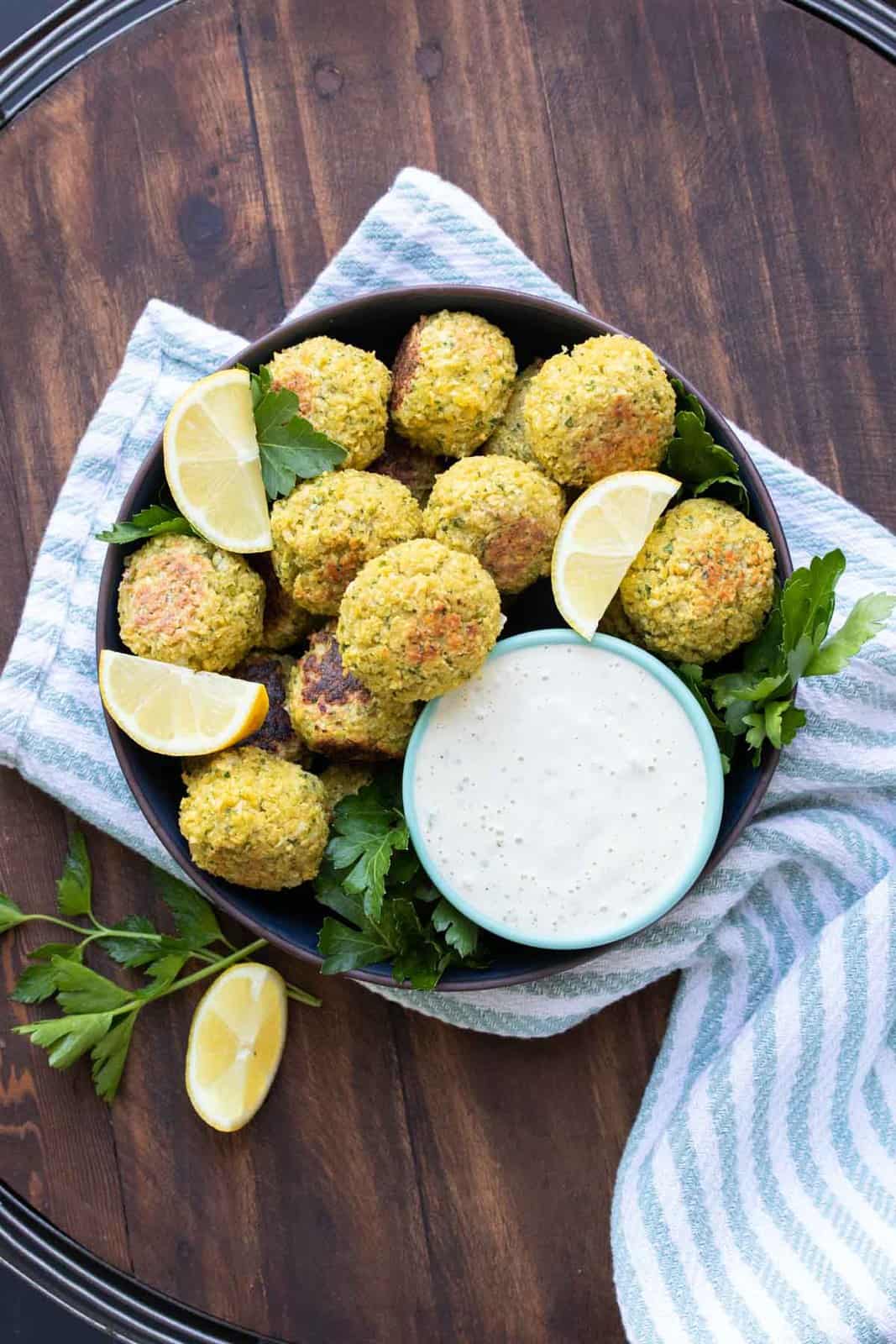 Veggie Fried Rice
I love making vegan fried rice to use up excess produce, and having a few staples in the freezer makes it even easier to put together!
You can use either the frozen brown rice or cauliflower rice. Frozen peas and frozen mixed veggies are convenient, but you can also mix in any fresh veggies you have as well.
Sauté the veggies.
Push the veggies to the side and scramble the vegan egg or egg if you are using it.
Mix in the rice, soy sauce or tamari, and apple cider vinegar or rice vinegar.
Cook until everything is warm and enjoy!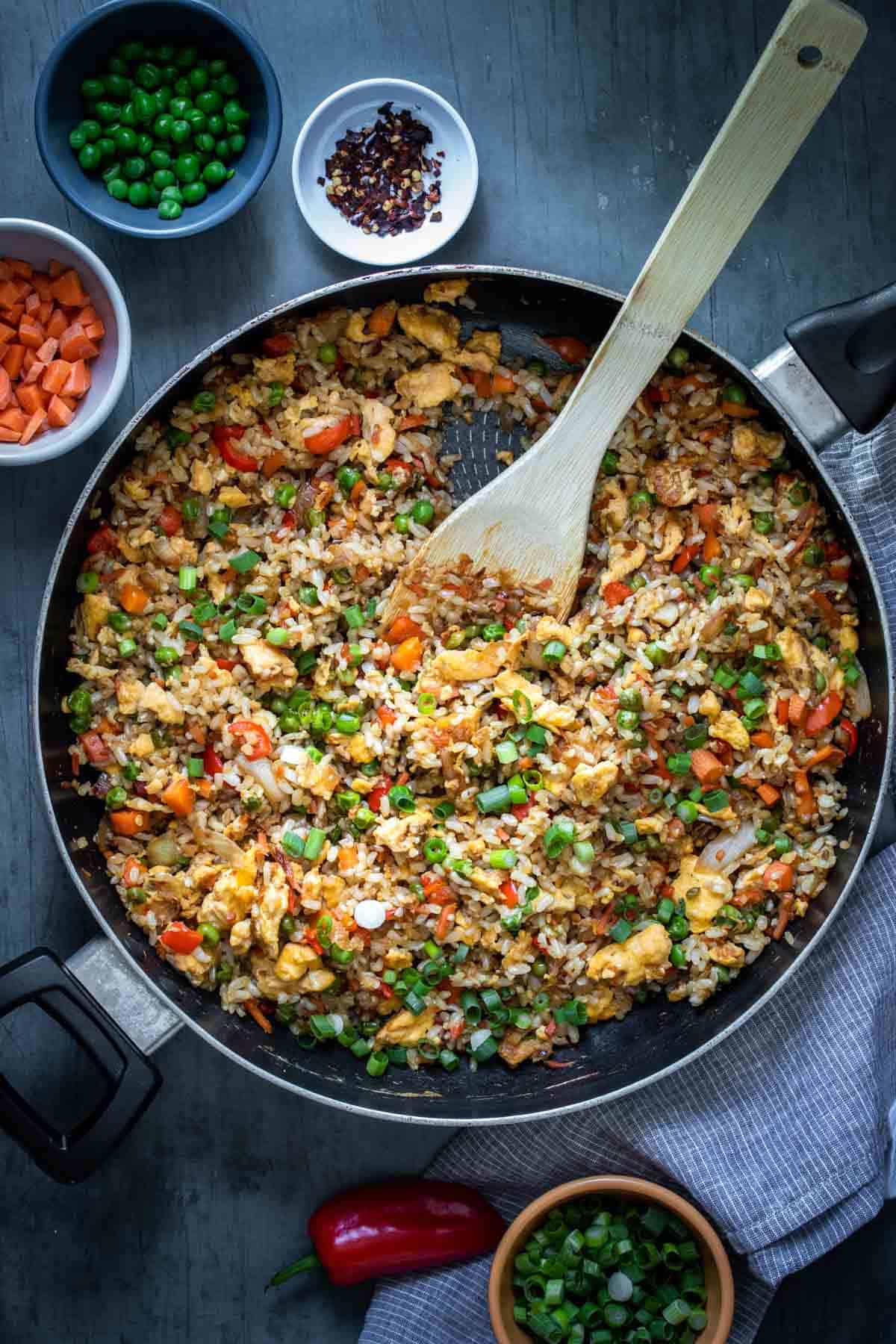 Vegan Taco Meat
You can use this taco meat to make so many Trader Joe's dinners like tacos, taco bowls, or taco salads! All you need for the vegan meat is an onion, frozen cauliflower rice, precooked lentils, (which you can find in the refrigerated section at Trader Joe's), and taco seasoning.
In order to make the taco meat:
Sauté the onion in a pan with oil (or broth if you are oil free) for 3-5 minutes.
Add the lentils and cauliflower rice and cook until they start to brown
Mix in the taco seasoning and cook until heated through.
Once that's done you can make tacos with your favorite toppings. Or, skip the shell and make a bowl with rice and beans as the base.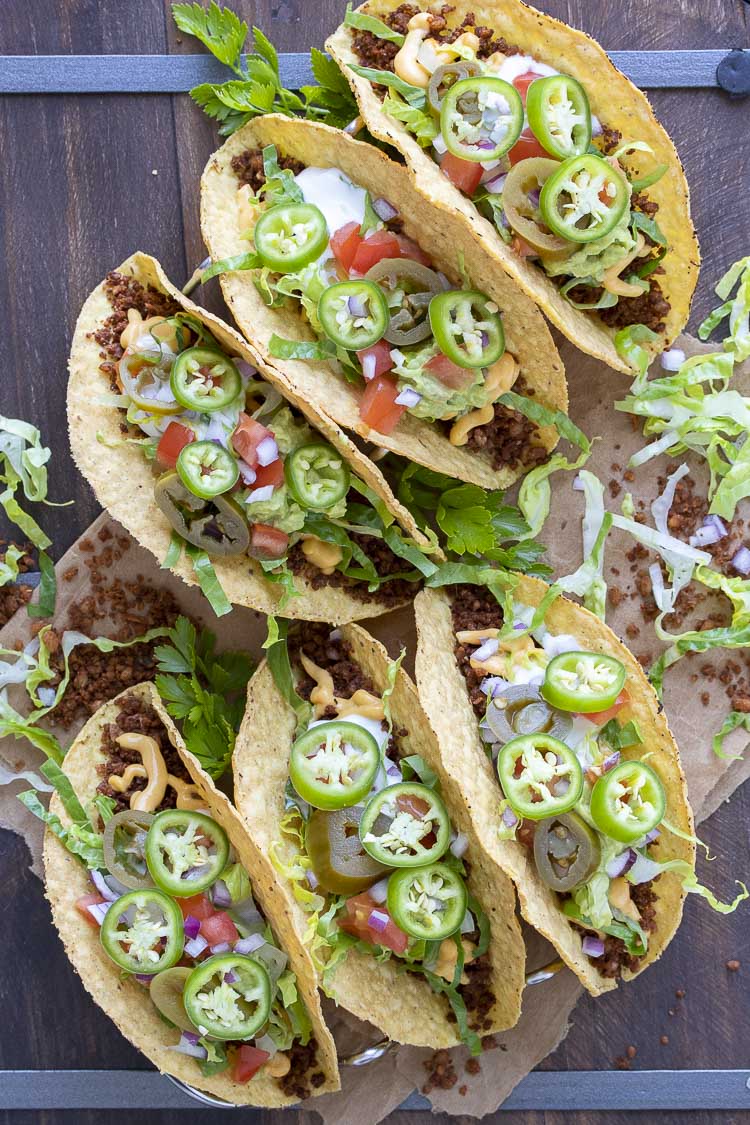 More Easy Dinner Ideas
Add to your menu of Trader Joe's dinner recipes and get inspiration from these meal plans!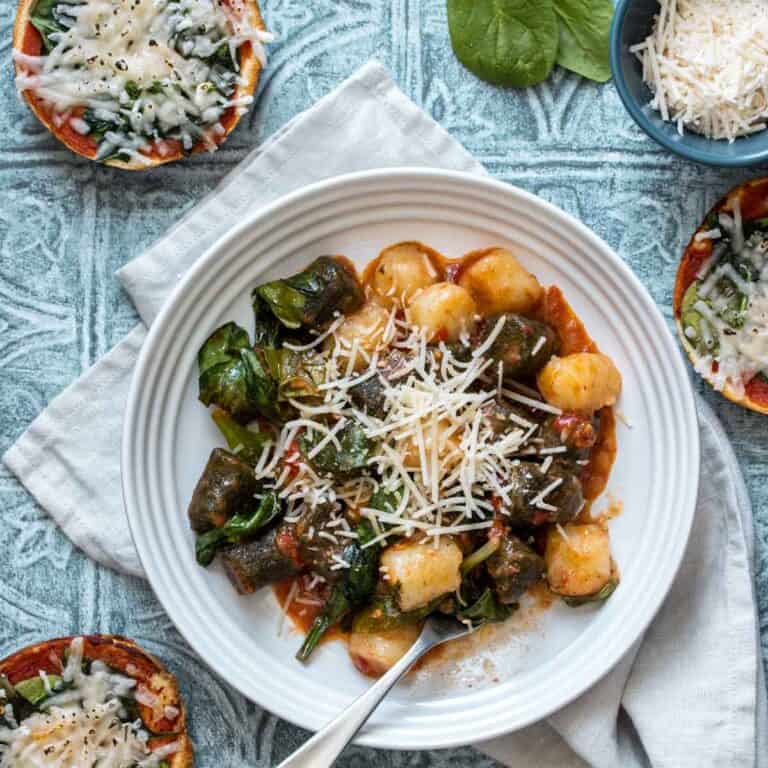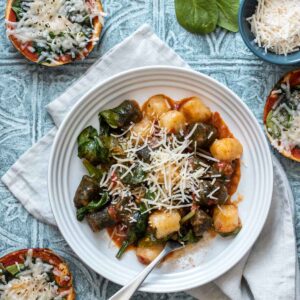 Easy Trader Joe's Recipes- Gnocchi
These easy Trader Joe's recipes are simple yet delicious meals using your favorite Trader Joe's ingredients. Make mealtime a breeze with these convenient and tasty meals.
Ingredients
2 bags Trader Joe's frozen gnocchi , we like the kale ones best
drizzle of oil or broth to saute
1 tub Trader Joe's bruschetta , we use the refrigerated one
1 package Trader Joe's fresh spinach
Trader Joe's vegan Parmesan , optional
Instructions
Saute the frozen gnocchi with a little oil, or broth if oil free, in a pan over medium heat until they begin to brown. About 5-7 minutes.

Add the bruschetta sauce and mix. Allow it to simmer for about 3-5 minutes.

Add in greens of choice. Mix until wilted.

Serve with vegan parmesan!
Notes
The kale gnocchi is more al dente and have a better flavor than the cauliflower gnocchi in our opinion.
Servings are based on the recommended amount on the gnocchi bags. 
Recipe by Veggies Don't Bite, visit our site for more great plant-based recipes.
Nutrition
Calories: 210kcalCarbohydrates: 21gProtein: 4gFat: 12gSaturated Fat: 1gPolyunsaturated Fat: 1gMonounsaturated Fat: 1gSodium: 653mgPotassium: 134mgFiber: 3gSugar: 5gVitamin A: 2250IUVitamin C: 7mgCalcium: 24mgIron: 1mg
Nutrition and metric information should be considered an estimate.
Never miss a recipe!
Sign up here and get a FREE quick and easy meal guide!