Your favorite comfort food, now both vegan and low carb! This zucchini ravioli smothered with marinara and creamy Alfredo sauce is the ultimate indulgence.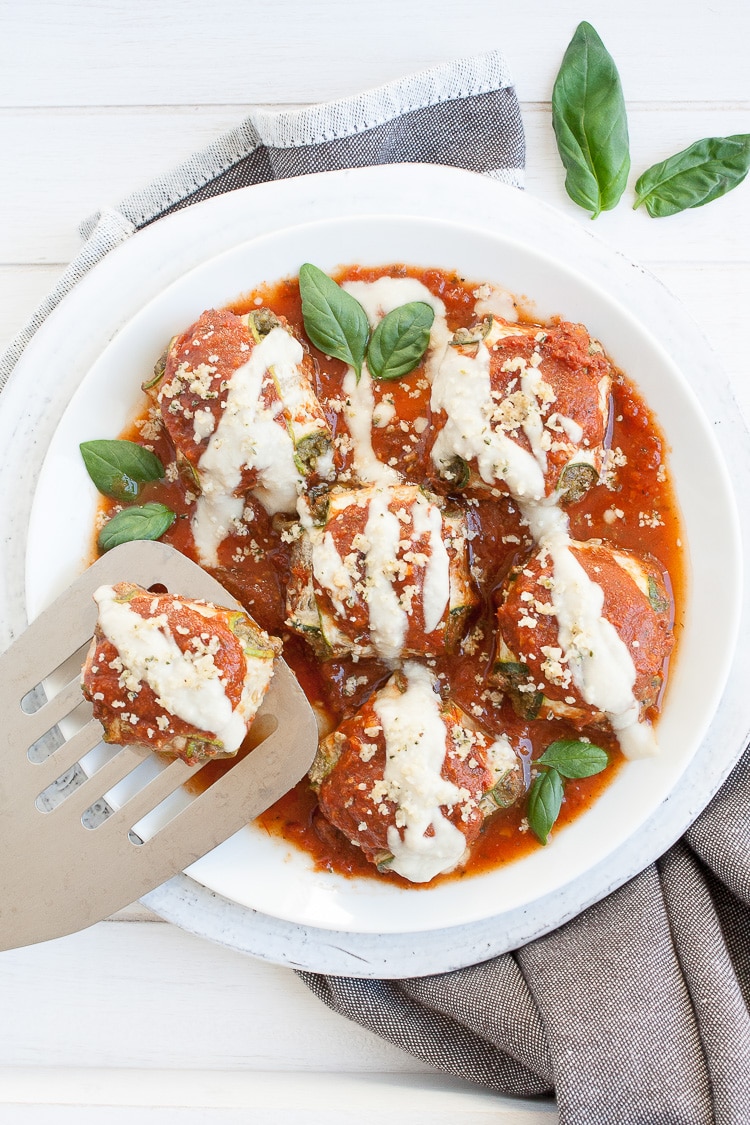 This post was sponsored by NOW Foods but the content and opinions expressed are fully my own.
I survive on flavorful comforting indulgent food. I mean salads are cool every now and then, but there is nothing like a really satisfying meal. And the ultimate unicorn of food, is when said indulgent meal is both healthy for you and leaves you feeling like you actually did eat a salad. This my friends is your new food unicorn, zucchini ravioli. A low carb flavor explosion.
Veggies are not pasta, thanks for trying though
This low carb ravioli is nothing like the other veggie substitute pastas. As much as I love a good zoodle, they still leave me wanting more. I am usually what is called a carb maniac, I love my carbs and my body craves them. But from time to time, I feel the need to have a carb vacay. However salad doesn't usually cut it for me.
Enter zucchini ravioli. Little pockets of tightly wound thin zucchini slices filled with a basil and spinach ricotta to die for, and topped with flavorful tomato sauce, creamy Alfredo and buttery hemp seed pine nut parmesan. Bake this to a borderline crisp and dive in head first. A comfort food heaven.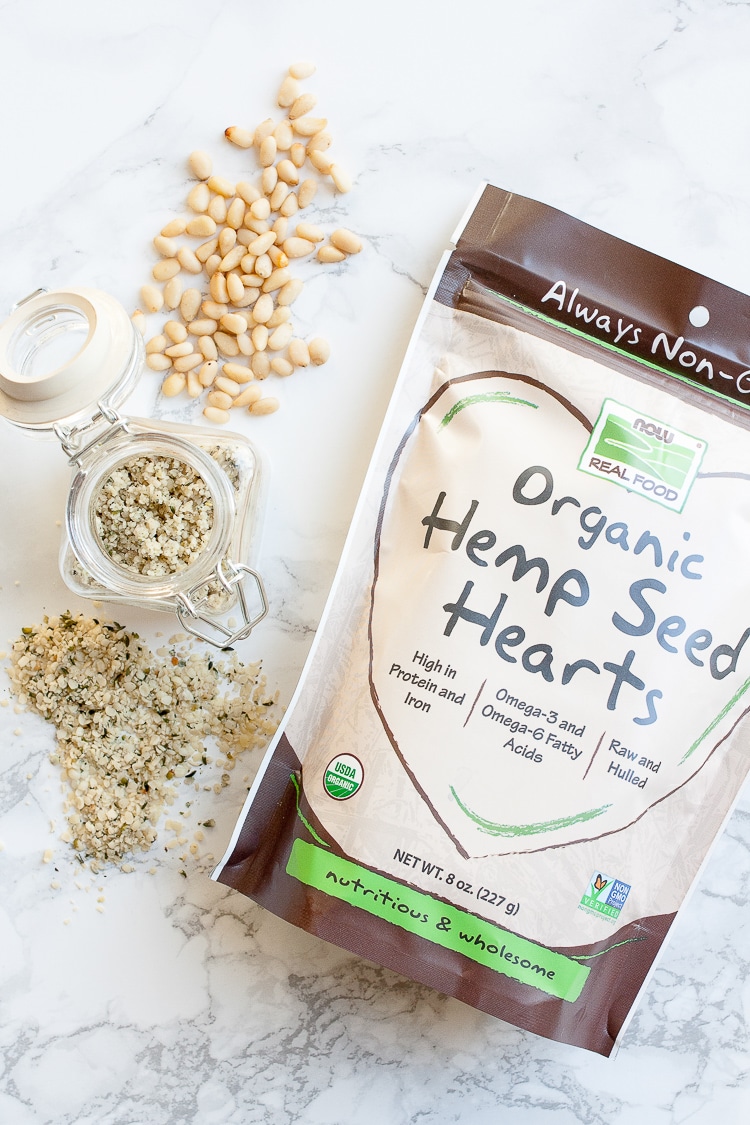 Wait, did you say hemp seeds in parmesan?
Hemp seeds are my favorite dirty little secret. They are tiny pockets of whole food fat and filled with protein. And pine nuts are a fabulous buttery little nut.
I first combined the flavors of hemp seeds and pine nuts in my Scalloped Cauliflower recipe. I mixed them with breadcrumbs to form a perfect crispy topping. But I knew that buttery combo had to make a great parmesan sub on it's own, so onto the zucchini ravioli it went! Side note: You can also make this grateable parmesan cheese too.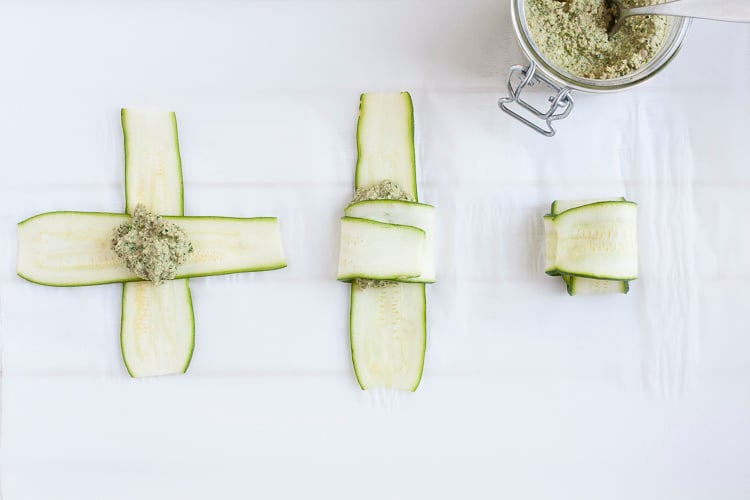 But will I be able to make zucchini ravioli?
Making these zucchini ravioli may seem difficult, but I can promise you they are not. You can skip the alfredo and use jarred tomato sauce for an even EASIER meal, although I highly recommend you try the homemade version when you have more time. Putting these together though is super easy!
5 steps to low carb zucchini ravioli:
Slice the zucchini into strips.
Pulse all ricotta ingredients into a processor,
Fill zucchini slices with ricotta to make ravioli (see photo above).
Cover with sauce.
Bake.
We literally eat these almost every week! I make my homemade tomato and Alfredo sauces in bulk and keep portions in the freezer. And my parmesan is always on hand! It keeps great in the freezer.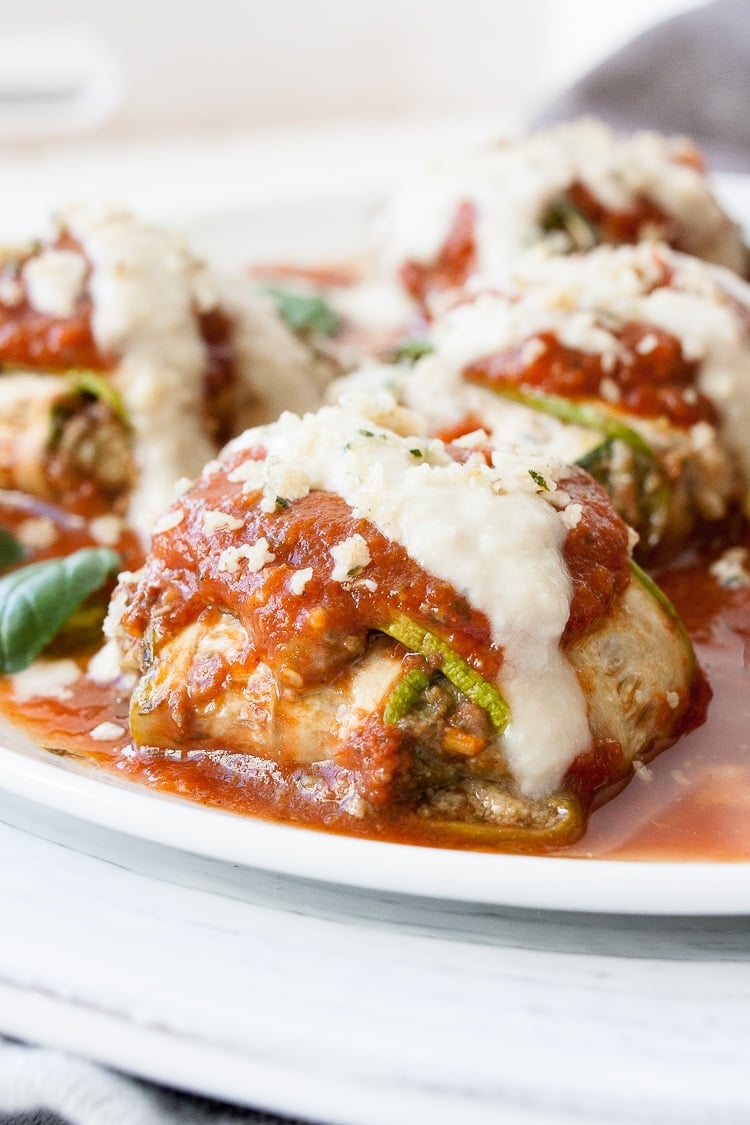 Confession…I sometimes serve these over pasta too when I need some carbs in there but still want all the veggies. They are SO darn good. I mean I'm currently in bed writing this post and I kinda want to go downstairs and make a batch.
This recipe was originally published on 12/20/2016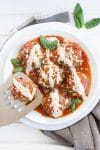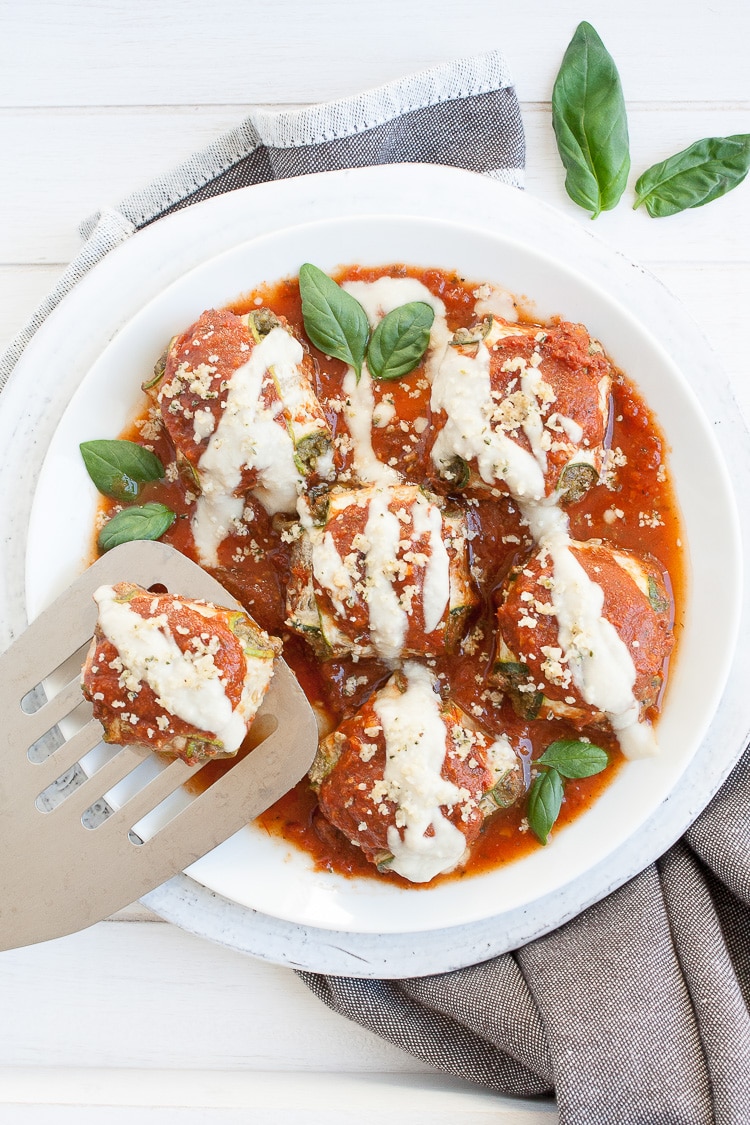 Zucchini Ravioli: A Low Carb Indulgence
Your favorite comfort food, now both vegan and low carb! This zucchini ravioli smothered with marinara and creamy Alfredo sauce is the ultimate indulgence.
Keyword:
healthy ravioli, ravioli made with vegetables
Instructions
If you're making your own marinara, make now and set it to cook while prepping the rest of the meal.

If you haven't made Alfredo make it as well, follow the directions in the link.

Make parmesan by adding all ingredients to a food processor and blending until you get a nice crumble.

Preheat oven to 350 degrees F (175 C).

Slice zucchini lengthwise into very thin strips. A mandolin slicer will give you the best results but you can also do it with a sharp knife and some patience! You can throw away the very edge pieces as those are all skin. You should have about 15 thin slices per zucchini.

Place slices on paper towels and sprinkle a little salt on them to help draw out some of the water. Let them sit while you make ricotta.

Place cashews, walnuts, garlic, salt, pepper, water, basil and spinach into a food processor. Pulse until you get a ricotta like texture. You want it slightly chunky, on the verge of pureed.

Wipe of the excess water and salt from the zucchini strips. Take two strips at a time and make an X.

Place a spoonful of ricotta mixture in the middle where the slices cross.

Then fold the tips of each slice into the middle one by one (see photo in post) to make a ravioli like pocket. Place them into a 9 x 12 baking dish.

Once all ravioli are made, drizzle both marinara and Alfredo over the ravioli. You can put as much or as little as you prefer.

Sprinkle with Hemp Pine Nut parmesan.

Bake for 35 - 40 minutes, until zucchini is fully cooked. Allow to set about 5-10 minutes after baking. Serve while still nice and warm!
Recipe Notes
This makes a total of about 30 ravioli. Each serving is 5 ravioli.
Nutrition info does not include the marinara or cream sauce.
You can add all basil or all spinach if you prefer, just up to 2 cups of whatever one you do.
Adjust the salt for both the ricotta and parmesan to your liking. It all depends on the amount of salt used in the other parts of the recipe.
If you don't have pine nuts, you can always sub walnuts, although it won't have that same deep buttery flavor.
To make this even easier, you can always use a jarred marinara sauce and skip the creamy Alfredo, but it's highly recommended to make your own of both!
If you want to use the ricotta as a topping for something, use less liquid to make it thicker and more stable. Start with only a few tablespoons of water and add more to get the texture you like.
Tips to prep ahead:
Make ricotta, parmesan, red sauce and Alfredo.
Baby/kid food idea:
Make sure ravioli is cooked really well. Cut into small pieces and serve with favorite pasta.
Nutrition Facts
Zucchini Ravioli: A Low Carb Indulgence
Amount Per Serving
Calories 360
Calories from Fat 270
% Daily Value*
Total Fat 30g 46%
Sodium 310mg 13%
Potassium 650mg 19%
Total Carbohydrates 15g 5%
Protein 12g 24%
* Percent Daily Values are based on a 2000 calorie diet.