Amazing sauce doesn't have to be complicated. This easy fresh tomato marinara sauce is super simple but exploding with flavor!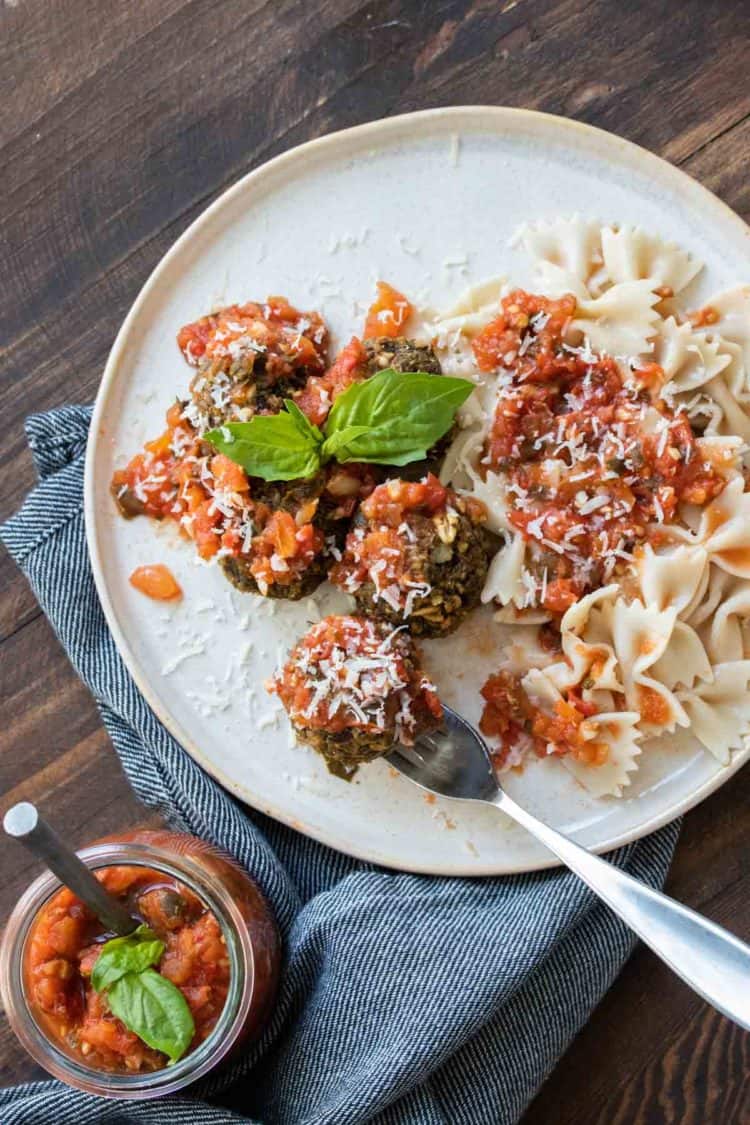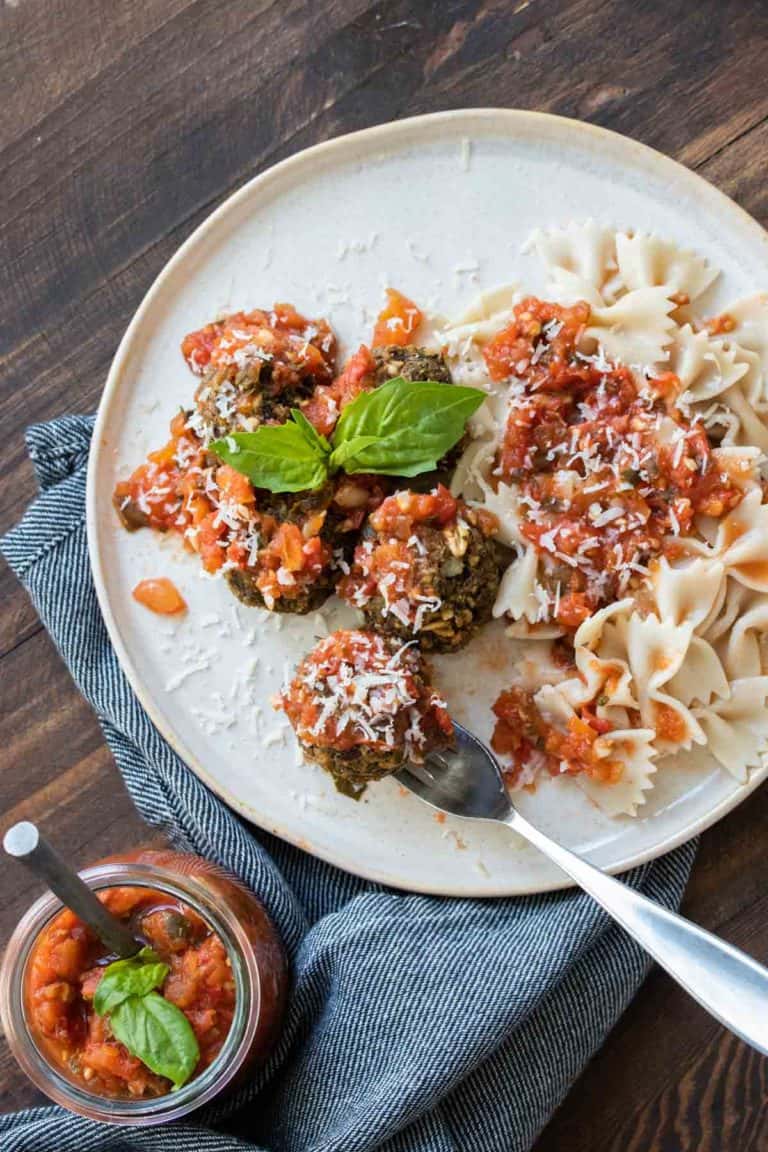 This post was originally published on September 9, 2016.
Everyone needs a quick and easy go to marinara. And this fresh tomato marinara is definitely at the top of my list. Serve it over pasta, mixed with spaghetti squash or even as a dip for crusty baked bread!
Fresh Tomato Marinara
I love having a good tomato sauce at my fingertips, they are so versatile and everyone in my family loves them. Well, except for the "I only like some tomatoes" 5 year old, but he doesn't count.
I often make a boatload and freeze it for those nights I need a fast and healthy dinner. Boil pasta, defrost sauce, a side of broccoli. Boom. Dinner done.
What is the difference between tomato sauce and marinara sauce?
Both of these terms are often used to mean the same thing. However you can also buy "tomato sauce" at the store in a can. Which is literally pureed tomatoes.
To make it even more confusing, tomato sauce in Italy can mean any sauce made from tomatoes and other things. Where as marinara is always just a basic tomato based sauce with only a few ingredients.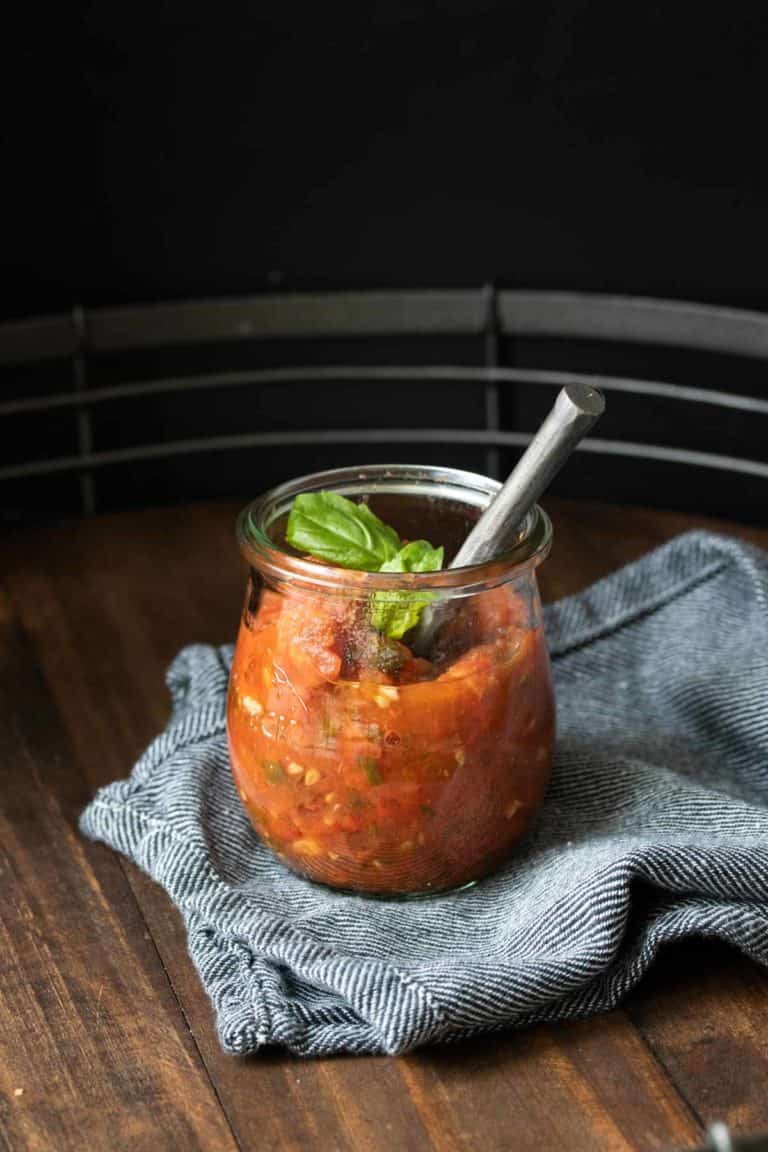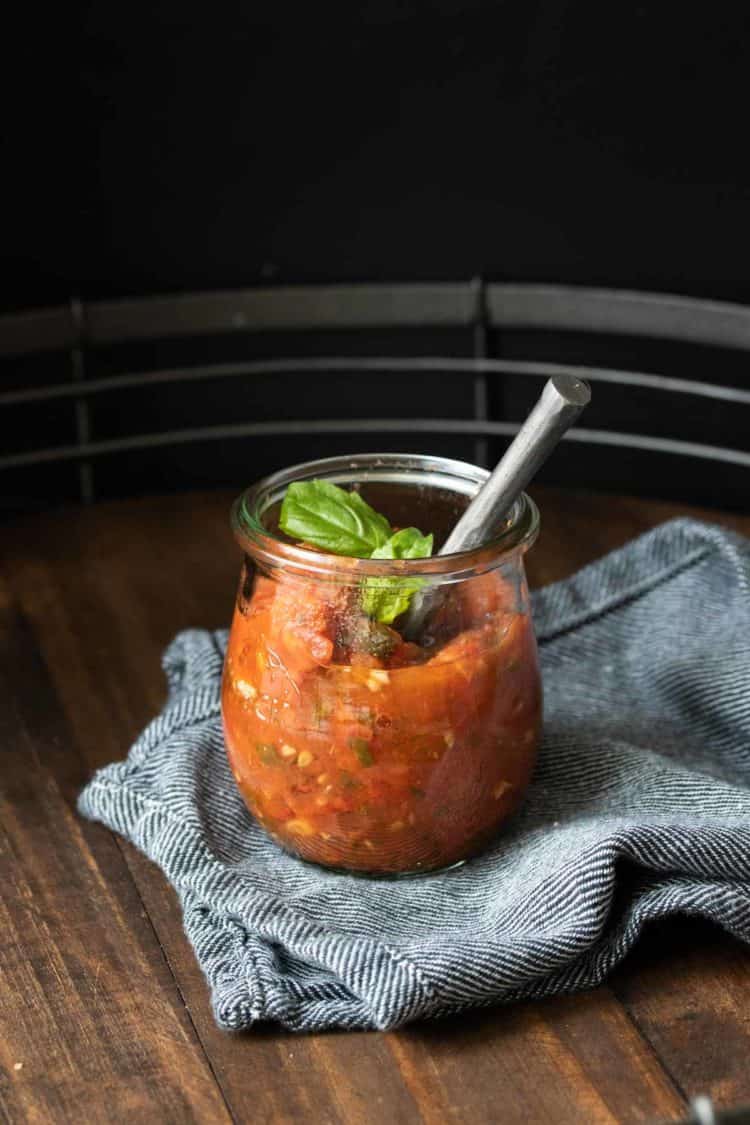 What are the best tomatoes for marinara sauce?
Many people say that using a tomato with less water content and seeds leads to a more flavorful sauce. However, I tend to go with the most fresh and flavorful.
There is a huge difference between tomatoes that have been sitting in a truck for weeks versus local ones that you buy soon after harvest.
San Marzano tomatoes are well known for their amazing rich juicy flavor. But since I don't live in Italy, and those aren't easily found here, I usually go for whatever vine ripened tomatoes I can find.
Roma tomatoes are another flavorful variety that is great for sauce. I find these much easier, and if they are fresh, they are great!
Make sure you weigh the tomatoes versus going by number since size can really vary. This recipe calls for 2 pounds, which is about 8 averaged sized tomatoes.
Do I have to peel tomatoes for sauce?
I never peel my tomatoes. But I don't mind the tiny bit of texture they give. If you want a super smooth sauce then you will want to peel them.
How long does fresh marinara sauce last?
Since you still cook the tomatoes, fresh marinara lasts just as long as any tomato sauce. It's best stored in an airtight container in the fridge and used within 5-7 days. However you can also freeze it for long term storage!
Freezing tips
Here are my best tips for freezing sauce so it stays fresh and freezer burn free:
Before freezing, make sure the sauce has cooled completely.
Then put it in a freeze safe air tight container.
Use a piece of plastic wrap to cover the sauce, making a seal right on the top.
Cover with the lid and it's ready to go!
I like to freeze it in a serving size for my family so I can quickly grab, defrost and use.
How to make tomato sauce from scratch
Blend ingredients into blender or food processor.
Simmer in a pot and serve!
See, easy! All you need is to cook your favorite pasta and serve. I even use this for casseroles and whenever I make lasagna. It's so flavorful and so awesome to have on hand, so make a double batch and freeze!
Tips for making in a crockpot
While I have a slow cooker marinara sauce on this site, you can make this one in a crockpot as well.
Blend like above.
Put in a slow cooker and cook on high for 2-3 hours.
You can taste at 1 hour to see if you like it, it gets better with time.
Recipes that use marinara
The best thing about marinara is how versatile it is! Here are some of my favorite recipes:
You can also use it as a topping on the following: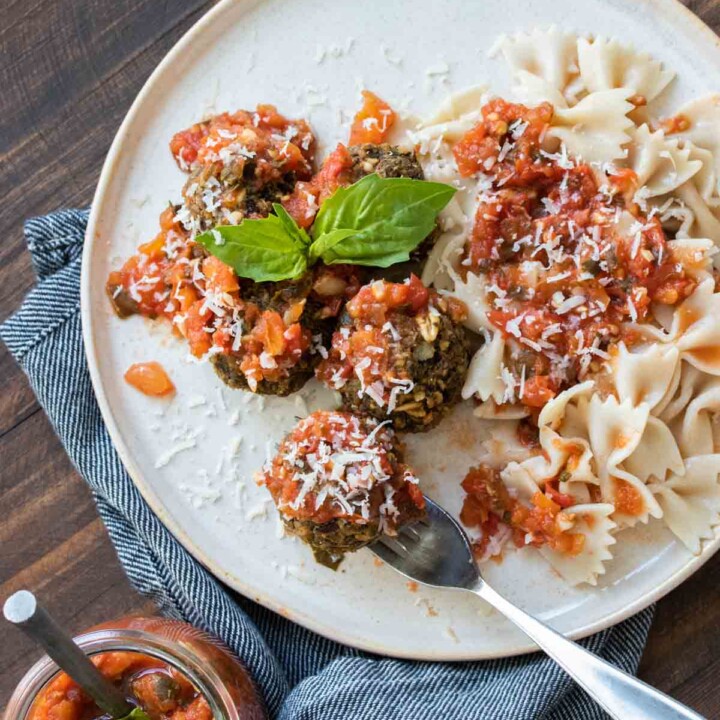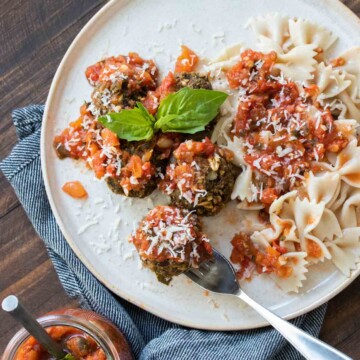 Easy Fresh Tomato Marinara Sauce
Amazing sauce doesn't have to be complicated. This easy fresh tomato marinara sauce is super simple but exploding with flavor!
Equipment
blender or food processor
Ingredients
2 pounds fresh tomatoes , about 8 (roughly chopped)
¼ cup tomato paste
4 cloves garlic
¼ cup fresh basil
1 tablespoon fresh mint
2 teaspoons dried oregano
2 teaspoons sea salt
Instructions
Put all ingredients into a blender or food processor and pulse until everything is somewhere between chopped and pureed. You don't want this totally pureed into soup, but you also don't want large chunks.

Once done, pour into a pot, bring to a simmer, and cook for about 20 minutes.

You can also turn heat to low and continue cooking for about an hour to get a really rich tasting sauce. Watch it so it doesn't cook off too much liquid. If it does, add some veggie broth or water to thin it out.
Notes
I don't suggest jarred or canned tomatoes here since the combination of fresh tomatoes and tomato paste gives it the unique flavor it has.
This makes about 4 ½ cups. Serving size is ½ cup.
Tips to prep ahead:
Make this ahead of time and freeze for a grab and reheat option.
Recipe by Veggies Don't Bite, visit our site for more great plant-based recipes.
Nutrition
Calories: 29kcalCarbohydrates: 6gProtein: 1gFat: 1gSaturated Fat: 1gSodium: 474mgPotassium: 250mgFiber: 2gSugar: 3gVitamin A: 906IUVitamin C: 15mgCalcium: 22mgIron: 1mg
Nutrition and metric information should be considered an estimate.
Never miss a recipe!
Sign up here and get a FREE quick and easy meal guide!