Amazing flavorful sauce does not have to be complicated. This easy fresh tomato marinara sauce is as simple as blend and cook, then ready to serve!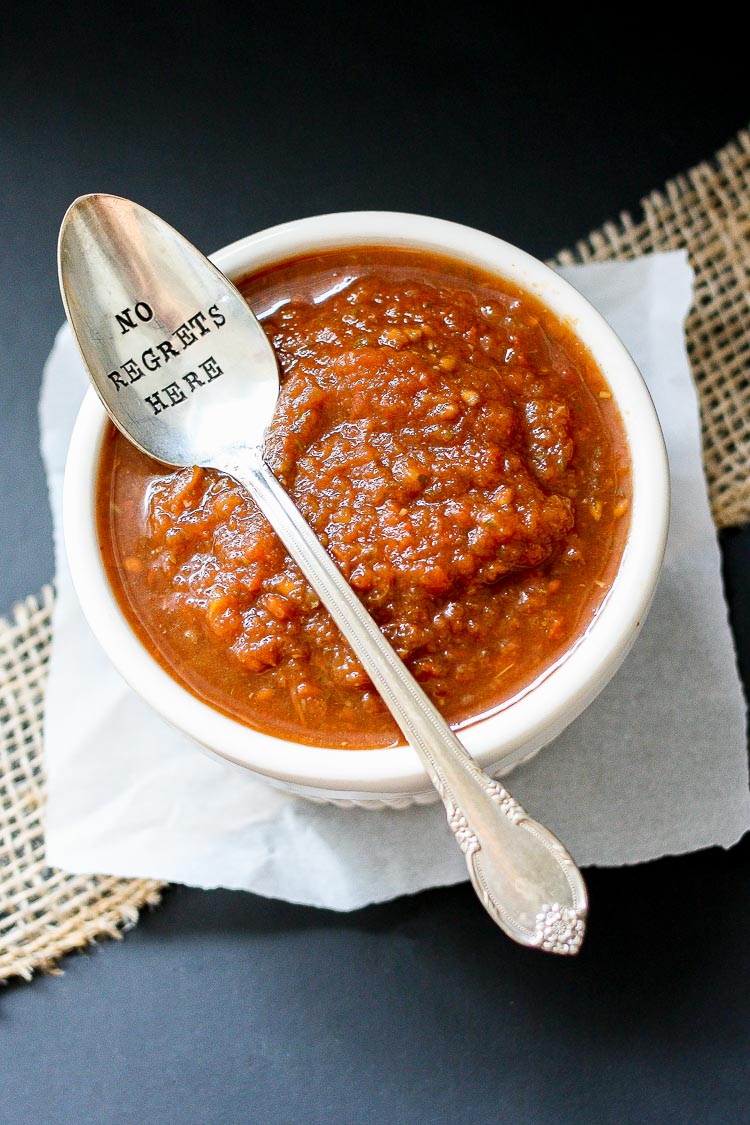 This post was sponsored by Infinity Jars but the content and opinions expressed are fully my own.
Everyone needs a quick and easy go to marinara. I have a few sauce recipes on here already, okay maybe I have a lot, but I love a good vegan tomato sauce! And this fresh tomato marinara is definitely at the top of my list. It's super easy, super flavorful and my entire family loves it!
Plus you can make a boatload and freeze it for those nights you need a fast and healthy dinner. Boil pasta, defrost sauce, a side of broccoli. Boom. Dinner done.
A new product I found made this fresh tomato sauce even better. Jars. Not just any jars, but airtight, lightproof, ultraviolet glass jars! The company is Infinity Jars, and they make these glass jars in all shapes and sizes.
The jars are used for anything like herbs, oils, cosmetics…the list goes on! They were kind enough to send me a variety of jars to try out in my kitchen. I stored some of my spices and herbs in them, and even did a little test using them in the refrigerator with a few things. Keep in mind that these jars are not meant to be used with fresh food, but I had some awesome results!
Chili Success!
My biggest success was a jalapeño. Yep, are you surprised? LOL! But really, I love my jalapeños, but it's hard to use them quickly enough because of their spice level.
I often end up throwing the last ones out because they spoil before I get to them, so I had nothing to lose here. End result, I had fresh as new jalapeños one month later! And I have the pictures to prove it. The left photo is the new jalapeño, and the right is the same one a whole month later!
The jars are great with my dried seasonings and spices as well. I loved the different sizes they came in, perfect for a variety of pantry staples. The dried oregano in this sauce had such a great punch of flavor!
I am so lucky because my mom gives me freshly dried oregano from Greece, but it always seems to lose some of it's awesome potency as time goes on. But ever since I started storing it in these jars, it's been fantastic! I am so excited that I now have that delicious oregano flavor any time I want. Especially when I'm in a pinch and need an easy dinner like this fresh tomato marinara!
Fresh tomato marinara in 3 easy steps:
Put ingredients into blender or food processor.
Blend until everything is chopped.
Pour into pot and simmer as you go about your regular routine.
See, easy! All you need is to cook your favorite pasta and serve. I even use this for casseroles and whenever I make lasagna. It's so flavorful and so awesome to have on hand, so make a double batch and freeze!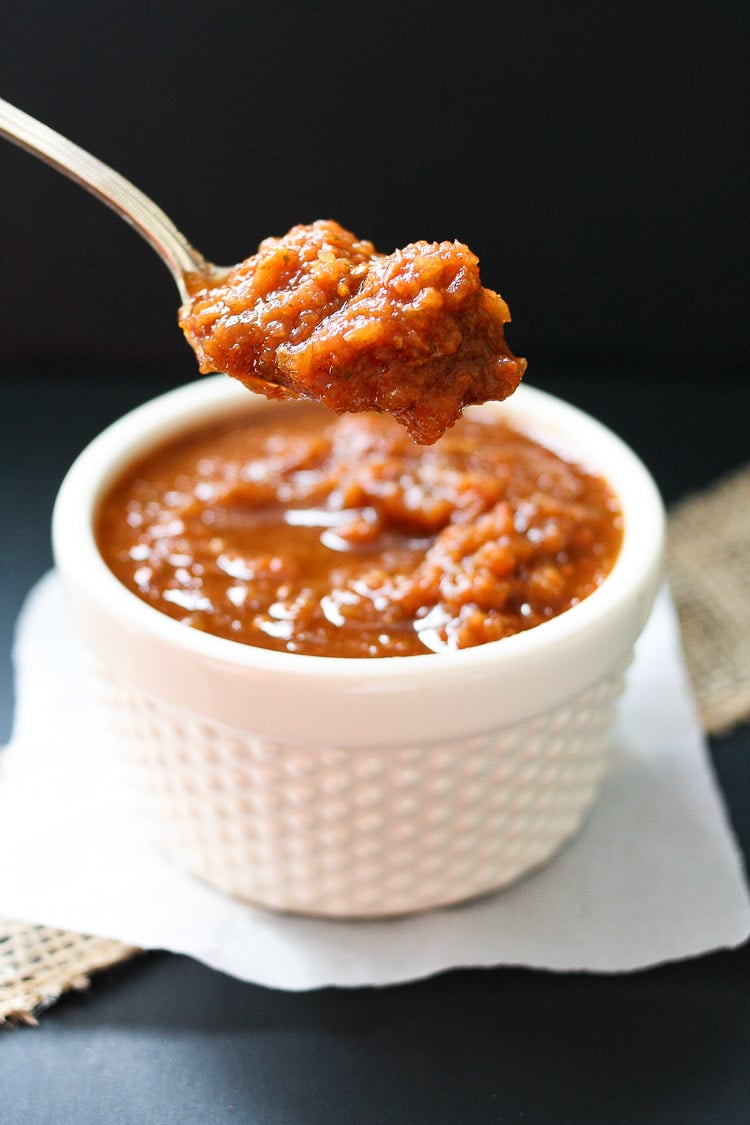 Easy Fresh Tomato Marinara Sauce
Amazing flavorful sauce does not have to be complicated. This easy fresh tomato marinara sauce is as simple as blend and cook, then ready to serve!
Keyword:
fresh tomato sauce, vegan tomato sauce
Servings
:
5
cups (roughly)
Ingredients
8

medium fresh tomatoes

about 3 inches long

¼

cup

tomato paste

4

medium cloves fresh garlic

¼

cup

fresh basil

1

tablespoon

fresh mint

2

teaspoons

dried oregano

2

teaspoons

Himalayan pink salt
Instructions
Wash tomatoes and herbs. Put all ingredients into a blender or food processor and pulse or blend on low until everything is somewhere between chopped and pureed. You don't want this totally pureed into soup, but you also don't want large chunks.

Once done, pour into a sauté pan or pot, bring to a simmer, then turn heat to low and continue cooking for at least an hour. You can cook at a higher temp for shorter as well, but cooking over a longer period of time allows the flavors to marinate longer and yields a better tasting sauce.

I also tried cooking it on the lowest setting throughout the day and it was even better. Watch it so it doesn't cook off too much liquid. If it does you can always add some veggie broth or water to get it back to a thinner sauce.
Recipe Notes
You can substitute dried herbs for the fresh and vice versa, but this combination gave me the flavor I was looking for.
If you sub, make sure to use less dried than fresh as they are more potent. I don't suggest jarred or canned tomatoes here since the combination of fresh tomatoes and tomato paste gives it the unique flavor it has.
Tips to prep ahead: Wash tomatoes and herbs.
Baby/toddler food idea: Perfect sauce for kids of all ages!
Nutrition Facts
Easy Fresh Tomato Marinara Sauce
Amount Per Serving
Calories 15
% Daily Value*
Fat 0g0%
Cholesterol 0mg0%
Sodium 940mg39%
Potassium 19mg1%
Carbohydrates 3g1%
Protein 0g0%
Vitamin A 120IU2%
Vitamin C 1.3mg2%
Calcium 22mg2%
Iron 0.4mg2%
* Percent Daily Values are based on a 2000 calorie diet.