Getting those extra veggies in with these low carb spaghetti squash bowls loaded with all the things! Customizable and the perfect family meal.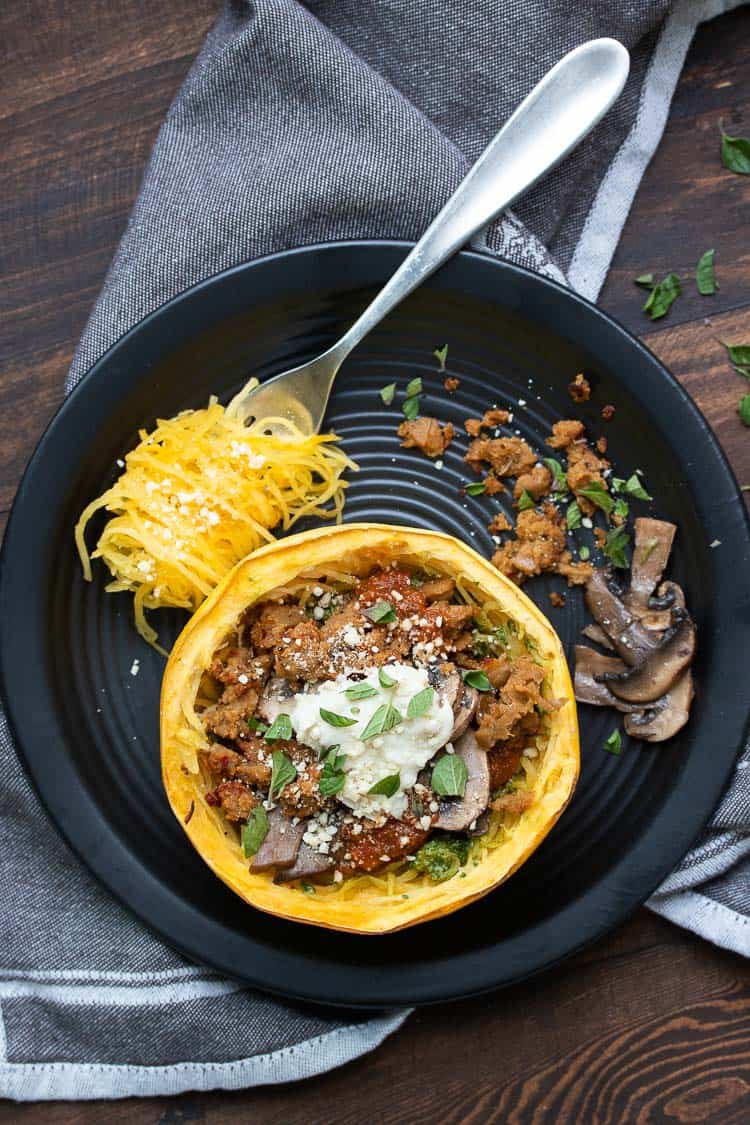 This recipe was originally published on 11/18/13
I never thought veggie noodles could taste so good! It's all in the toppings. From ultra rich vegan cream sauce, to marinara and sautéed mushrooms, this dinner will win the entire family over.
How do you cut a spaghetti squash?
Believe it or not, there is a right way to cut a spaghetti squash so you get the most out of those noodles.
The strands of a spaghetti squash run circular around the squash width wise. Many people, including me many moons ago before I got with it, cut their squash length wise.
If you do this, you are chopping those strands into shorter pieces. Also, you aren't giving the inside room to let the moisture escape, resulting in a mushier end product. And you know how I feel about much (barf).
So you should always cut your squash into a bowl versus a boat.
Also, to allow the most moisture to escape while roasting, so you don't get that barflike mush factor, cut the ends of as well for ventilation.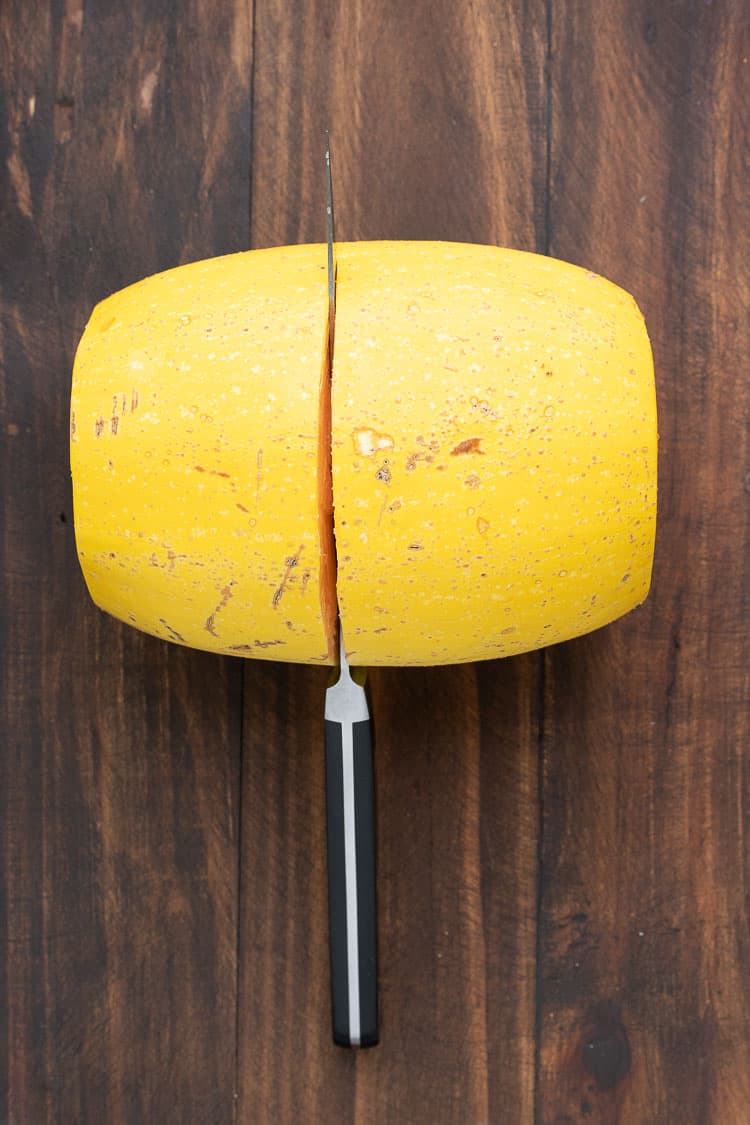 How do you cook a spaghetti squash?
So once you have cut your spaghetti squash correctly, you want to cook it so that it doesn't get mushy. At least if you want this to be one of the best low carb spaghetti alternatives ever.
Here are the steps I follow, with an optional fancy extra trick:
Cut ends off of the spaghetti squash.
Cut it in half width wise to get 2 bowl like pieces, you can also cut it multiple times to get smaller ring like pieces.
Scrape out the seeds in the middle. 
If you want to get fancy, salt your pieces and allow them to sit so that some of the moisture is drawn out (much like you would do to zucchini), then wipe dry. I have skipped this step many times and still gotten an amazing end result.
Drizzle with a touch of oil, if you use it and if not just rub with a bit of broth, and salt if you did not do step 4.
Place on a parchment lined cookie sheet and bake at 400 for about 30-40 minutes, you want the sides of the squash to just slightly push in. If you do this right, you can scrape out perfect spaghetti like strands!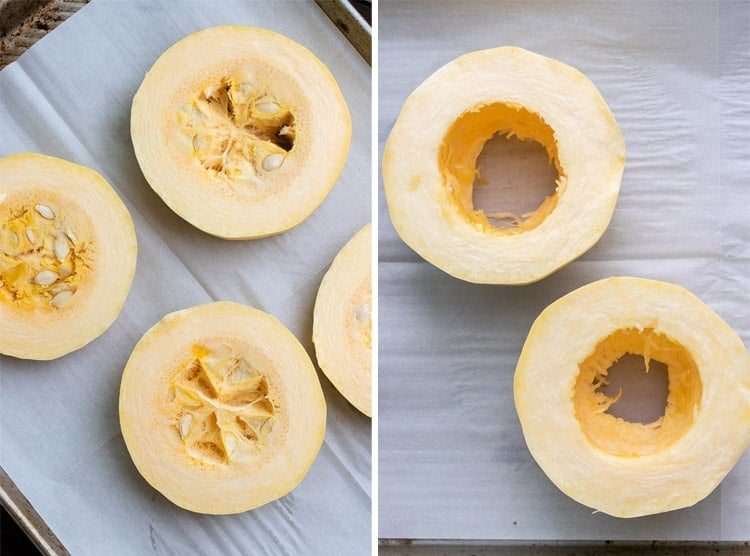 Are there other ways to cook a spaghetti squash?
Roasting in the oven is my favorite was to cook all my vegetables. It brings out the best flavor, especially with things like spaghetti squash which can otherwise be bland.
However, there are many other ways you can cook it if you prefer. I have not tried these, so you will need to experiment, but here is a rough idea:
In the crockpot: cook on high for 3-4 hours or low for 6-7
In the Instant Pot: cook on manual for about 15 minutes
In the microwave: cook for about 8-10 minutes
What goes into spaghetti squash bowls?
My favorite thing about this dinner is that it is SO customizable. I have less tantrums which makes me a more pleasant person.
I set up the toppings like a taco bar, because if I can mention tacos I will, and the kids go down and add whatever they want.
The best part is that because they are getting veggies in even if they simply eat it plain or with a touch of my favorite Grateable Vegan Parmesan, they are still getting a healthy meal!
But for the rest of us that like to indulge, the toppings are endless! Here are some of our favorites: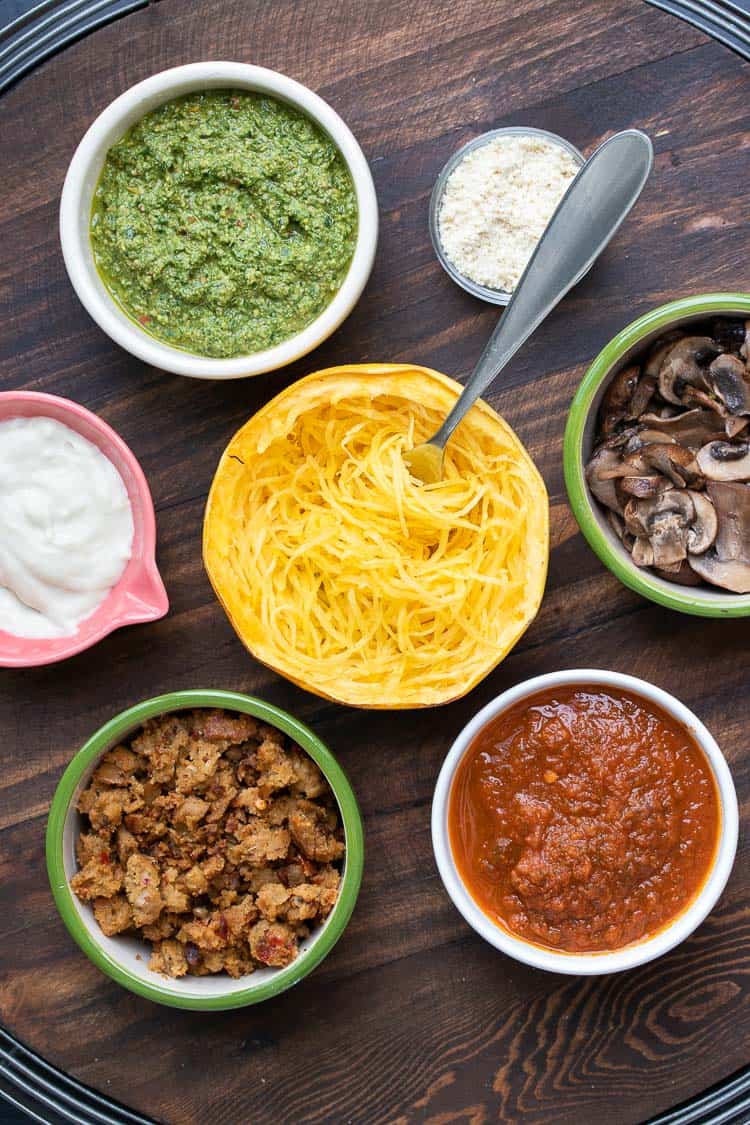 Can I make the bowls ahead of time?
Another great thing about this recipe, as if I haven't already sold you, is that you can make everything you need ahead of time. It's a meal planners dream!
You can definitely roast the spaghetti squash ahead of time. I leave it intact, meaning I don't fork out the spaghetti, then store in an airtight container. When I'm ready, I heat it in the microwave or oven.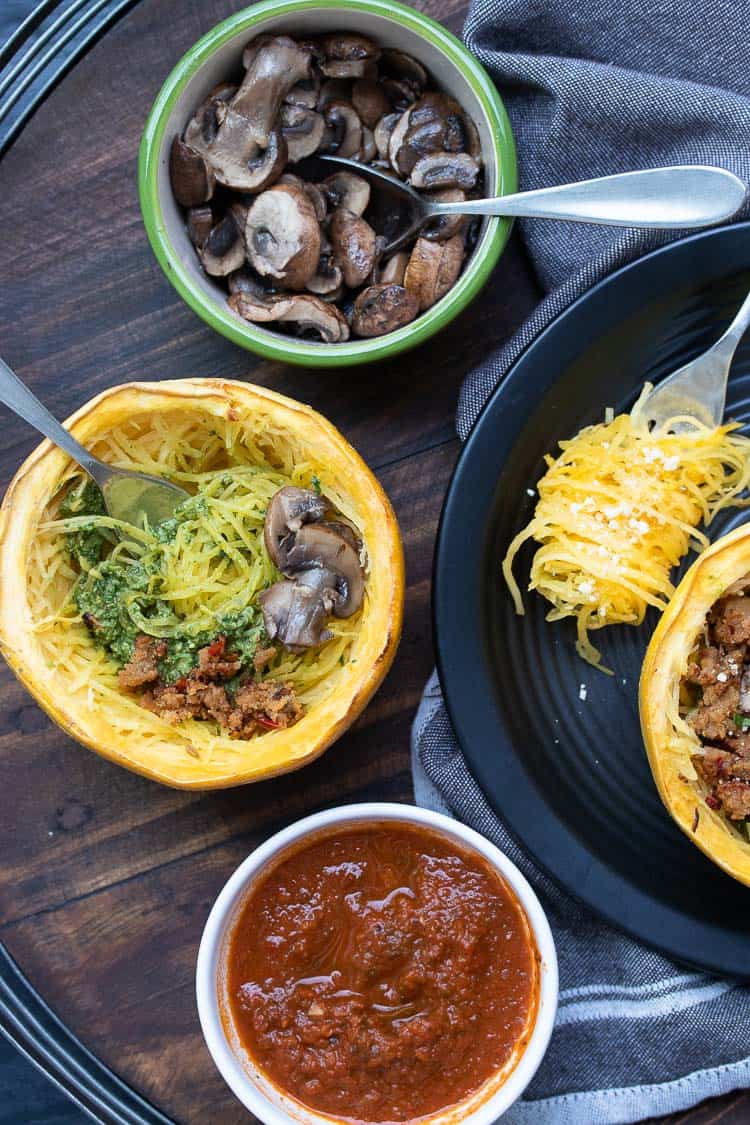 All of the toppings can easily be made the weekend before too, you can even batch prep and make doubles of some to use with another meal! Here are some of my suggestions for each topping:
Marinara:
Pesto:
Vegan Cream Sauce: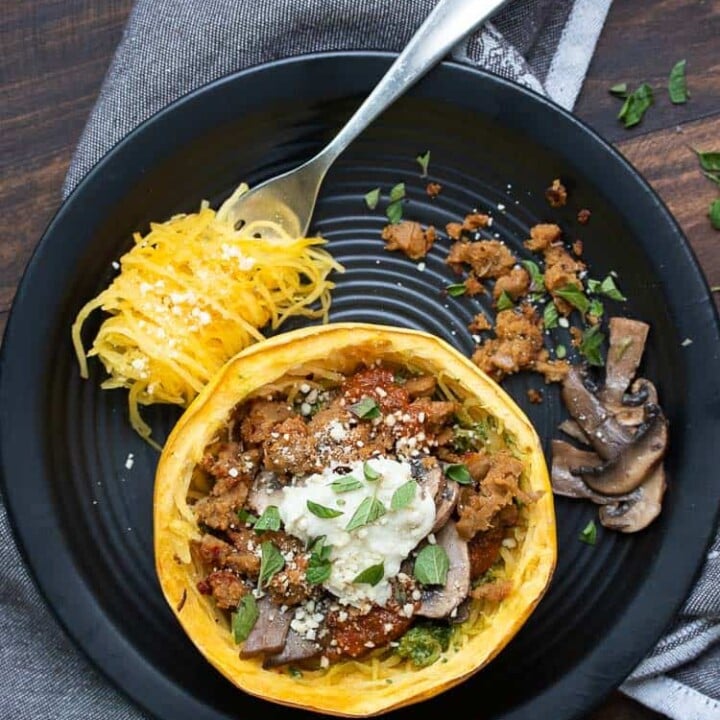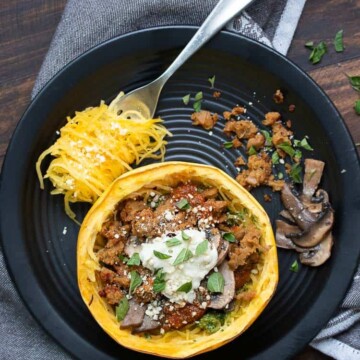 Low Carb Spaghetti Squash Bowls
Getting those extra veggies in with these low carb spaghetti squash bowls loaded with all the things! Customizable and the perfect family meal.
Instructions
Preheat oven to 400.

Cut the ends off of the spaghetti squash and then cut in half widthwise (see post).

Scrape out seeds, an ice cream scooper makes a great tool for scraping.

Optional: salt the spaghetti squash pieces to allow some of the moisture to drain out. Wipe down with a paper towel.

Brush with oil or veggie broth and salt (if you didn't salt them already).

Place on parchment lined cookie sheet. Bake for 30-40 minutes or until skin is soft to the touch.

While the spaghetti squash is baking, make the rest of your toppings if you haven't already.

To make the mushrooms, sauté with oil/broth and salt until all of the liquid has evaporated.

Once spaghetti squash is done, take them out of the oven and use a fork to scrape the insides to get the "spaghetti" noodles. Keep the "spaghetti" inside the squash bowl.

Top each spaghetti bowl with toppings of choice.

If you want, you can put them back in the oven and bake for another 5-10 minutes. Enjoy!
Notes
Make it easy with store bought toppings.
Add or take away any other toppings you prefer.
Nutrition facts are calculated using everything here (including all homemade options), for exact information calculate with what you use.
To make these low carb make sure to use low carb protein options as the chickpea crumbles are bean based and therefore have carbs.
Recipe by Veggies Don't Bite, visit our site for more great plant-based recipes.
Nutrition
Calories: 515kcalCarbohydrates: 57gProtein: 15gFat: 25gSaturated Fat: 1gPolyunsaturated Fat: 0gMonounsaturated Fat: 0gTrans Fat: 0gCholesterol: 0mgSodium: 1005mgPotassium: 955mgFiber: 12gSugar: 17gVitamin A: 670IUVitamin C: 18.2mgCalcium: 156mgIron: 4.7mg
Nutrition and metric information should be considered an estimate.
Never miss a recipe!
Sign up here and get a FREE quick and easy meal guide!