A plant-based diet when you are an athlete is doable and can actually be helpful. Listen to find out why protein isn't your main issue!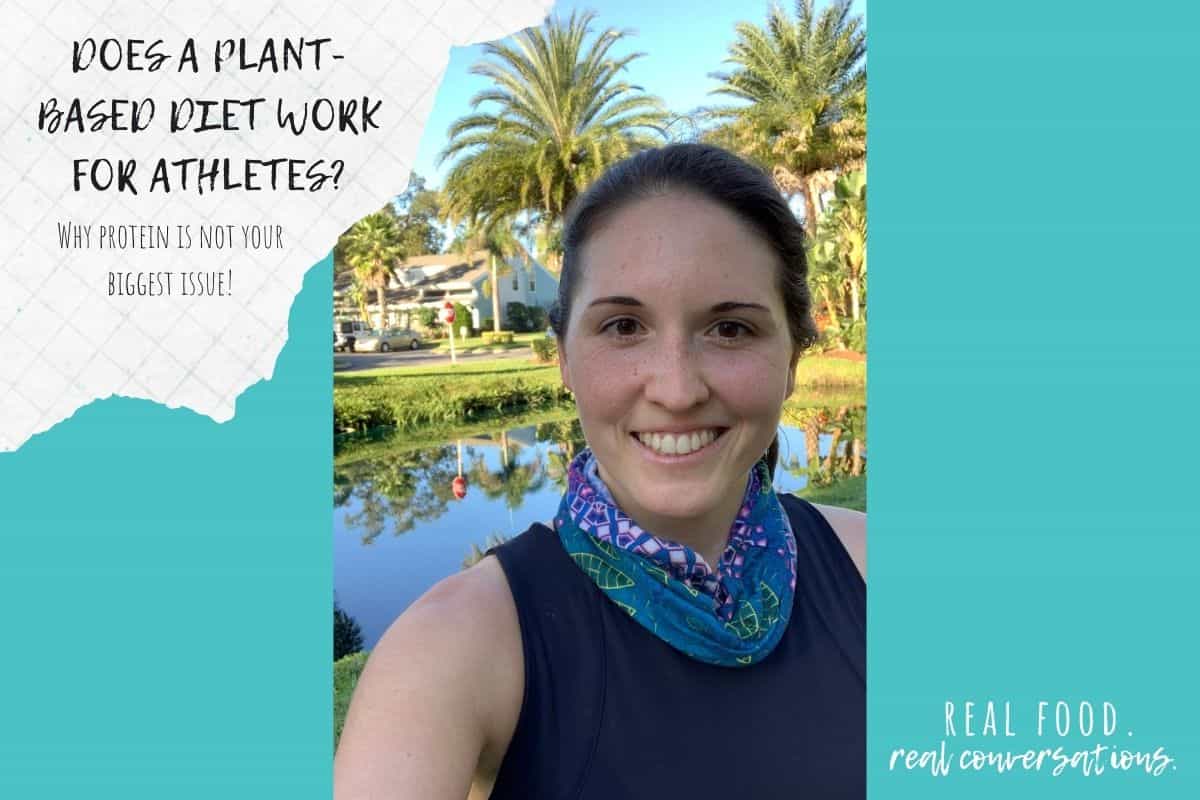 We worry so much about protein in our country. It seems to be the main focus in the diet world, especially when it comes to athletes. But Kayla tells us why we should focus on so much more!
Podcast: Play in new window | Download | Embed

Subscribe now! Apple Podcasts | Google Podcasts | iHeartRadio | Stitcher | TuneIn | Deezer | RSS | More
Kayla Slater is a plant-based online nutrition and run coach. She is a Registered Dietitian and a plant-based runner. She has been a plant-based vegan for 5 years and runner for 10 years.
You can find all that she offers on her website Plant-Based Performance Nutrition and find her free resources here!
Is a Plant-Based Diet Good for Athletes?
Absolutely! And some evidence is even showing that a plant-based diet can help performance. They are seeing how all the nutrients we get from plants helps recovery and it may help with speed as well.
While different types of athletes need different things, overall a diet rich in plant-based whole foods gives your body great nutritional sources.
Eating for Performance
Overall, it's important to try to incorporate more whole foods, especially when you are active and want to perform well.
Here are some tips and ideas from Kayla:
It's best to eat about 1-2 hours before your run or workout so you have time for it to settle. You should eat something with a low glycemic index like a bagel and avocado. It's hearty but it won't give you belly issues.
Since everyone is different, it's best to experiment with this and see how your own stomach does.
Pre run/workout (about 10-20 minutes before):
You need low glycemic index carbs. Not high or too much fiber
Fruit is best because easy to digest, it gives you quick energy since it's fructose.
Smoothie, piece of fresh fruit, or fruit based bar like a Lara Bar.
During your run/or long workout:
You want quick energy low glycemic index carbs as well.
Energy gels, Kayla like Huma gels because they are made from chia seeds.
Tailwind electrolyte powder has more carbs than a normal electrolyte drink so some like to use it.
Ultra runners also use foods like dates and mashed potatoes. Potatoes are amazing for runners because they have carbs but are not complex carbs plus they are a great source of potassium.
Post run/or long workout:
You want carbs and protein with a ratio of 3 grams of carbs for every 1 gram of protein.
Carbs replenish energy by replacing the glycogen stores you used up when you exercised. Protein is important because you are breaking down muscles during your running or work out and protein helps repair them.
You want to eat within 1 hour of your workout.
Smoothie or a protein bar are good quick choices. Quick.
After that, about 2 hours later sit down and have a well balance meal that includes carbs, protein and fat. Some plant-based meal ideas would be a veggie burger, burrito, taco, hearty salad or soup.
Protein and Athletes
Protein seems to be the main focus when it comes to plant-based diets and with athletic performance overall. When actually, people in the US do not have a protein issue but in fact are lacking in fiber.
While different kinds of athletes need different amounts of protein, depending on whether you are looking to focus on performance or building muscle, it is possible to do so with plants.
There are many sources of protein when eating a plant-based diet:
beans/legumes
nuts/seeds
vegetables
quinoa
grains
tofu/tempeh
store bought items like protein powders and plant-based mock meats
Kayla has her runners eat around 1.2-1.4 grams of protein per kg of weight, and she finds that they get all they need through their plant-based diet.
In fact she had one client who needed to increase calories to meet her running needs, and she found that she was getting plenty of protein even with only increasing food intake with things like fruits and veggies.
Plant-Based Diet and Supplements
There are really two main supplements that Kayla focuses on to make sure you are getting all you need with a plant-based diet. They are vitamin B12 and vitamin D.
The best source of Vitamin D is the sun and most of us don't get enough. From technology keeping us inside, to our scare for skin cancer and always being lathered in sunscreen, our vitamin D levels can get lower than we need.
While getting outside is optimal, it's important to take a supplement if you have low levels. I personally have low vitamin D even living in a year round sunny place.
Vitamin B12 is mostly found in animal products, so people that are eating a fully plant-based diet often need to supplement. While fortified foods and even mushrooms can give you some of what you need, keeping tabs on your levels is important.
Tips to Get Started as a Plant-Based Athlete
Start with creating awareness around your behaviors, how you will be doing meal planning to make it work, your relationship with food, etc.
Move slow, no reason to jump right in.
It's okay to have some processed store bought foods.
It's okay to be lenient as you are working towards your goals and meeting your nutrition needs. You can do more harm than good if you don't fuel right.
Eat balanced meals that include carbs, protein and fat because we need them all.
And don't forget to find all that Kayla offers on her website Plant-Based Performance Nutrition and find her free resources here!