Creamy vegan butternut squash soup with coconut milk is the perfect fall meal. Flavorful with few ingredients and super easy to make!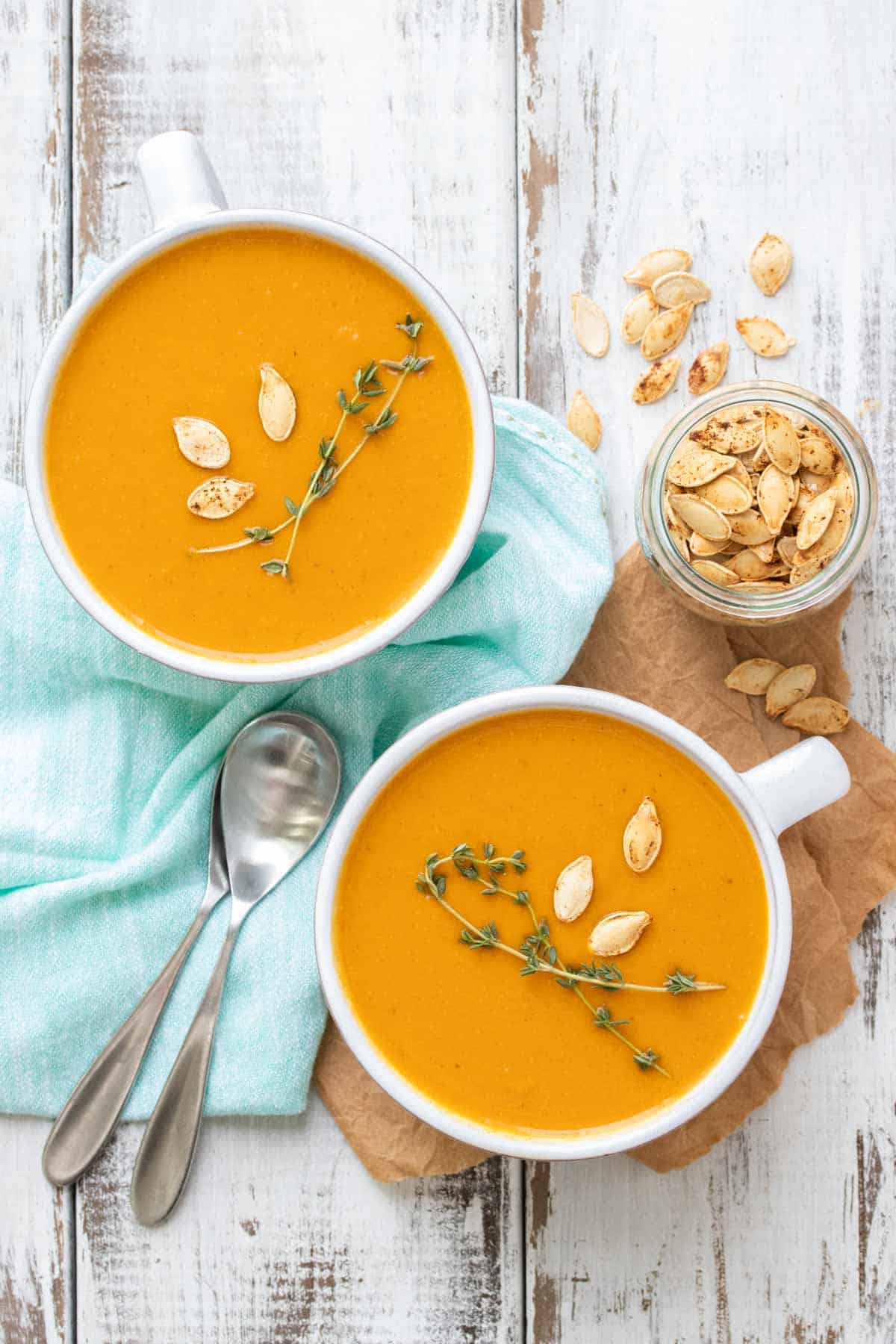 This recipe was originally published on 11/5/18
Fall flavors are some of my favorite. Especially pairing things you wouldn't normally think of like butternut squash with coconut milk and rich warm flavors like smoked paprika. I can eat that sweet and savory combo like candy right off the pan!
Butternut Squash Soup
One of the best ways to incorporate fall ingredients into a meal is making them into soup. While we love my creamy butternut squash pasta, soup is a favorite when it comes to making dinner because it's an easy way to get veggies in. Plus it's simple to make.
This vegan butternut squash soup has eight simple ingredients, two of which are salt and veggie broth. It's a perfect meal to prep ahead because you can do the roasting the day before and then when you are ready for dinner just blend and heat.
I love to make this for the whole family because it pairs well with so many things.
You can top with something crunchy, dip with something gooey, or just stick your face right in and lap it all up like a dog. Not that I've ever done that. I'm just saying I have heard of it being done. **wipes face**
Here are some of our favorites:
grilled cheese
quesadillas
paninis
salad
baked potato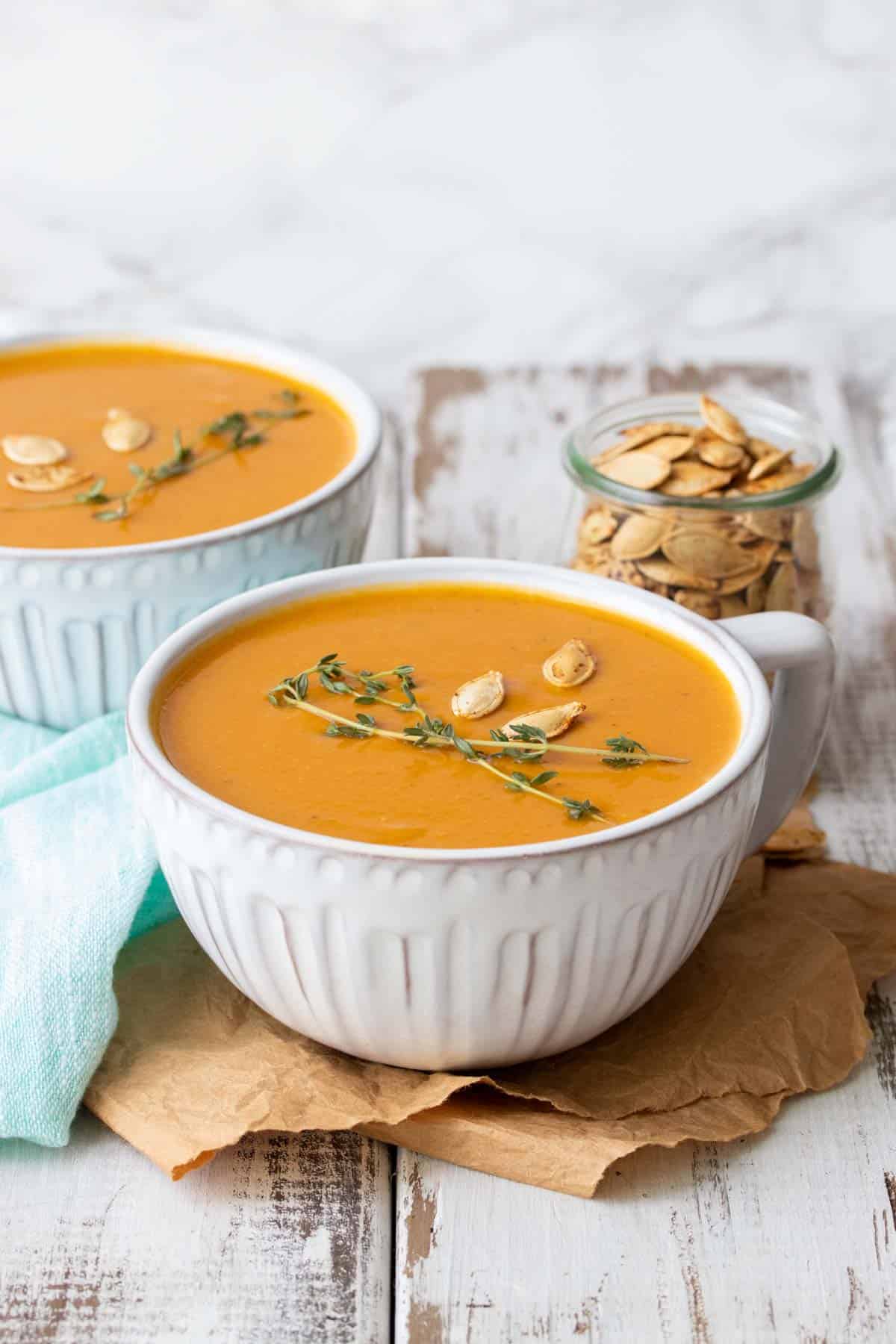 How do you make butternut squash soup thicker?
One thing with soup and kids is the mess If a soup is too watery, it literally gets all over. So I have a few tricks in making sure my soups are either thick to begin with, or I can make them thicker for the kid bowls.
Thicker soups are not only better for me because the mess is not as bad, but they are actually much easier for the kids to eat. Here are a few of my tricks:
Making sure your broth/water ratio is kept low. I start slowly and keep adding until I get the thickness I want.
Throw in a cooked potato. Potatoes will thicken soup and make them creamy.
Add rice or quinoa to the bowl, then pour the soup in and mix. This will thicken it just for the serving so others don't need to have the grains if they don't want.
How long will butternut squash soup keep in the fridge?
Because this vegan butternut squash soup uses veggie broth and not chicken broth, it keeps about one week in the fridge. It's best fresh or within the first few days, but it will still be good to eat up to seven days.
Can you freeze butternut squash soup?
Absolutely! I love doubling this recipe and freezing half of it in containers of two servings each. That way, I can easily pull it out for a quick meal or when I need a small side dish.
The best way I have found to prevent freezer burn is to put the soup in a glass container filled about ¾ of the way. Then cover the top with plastic wrap, making sure the plastic is touching the whole top of the soup.
Then cover with the container lid. I like to label it with what it is and the date I froze it. The layer of plastic touching the soup helps prevent icy buildup.
How do you defrost butternut squash soup?
When you are ready to eat, take the soup out of the freezer. If you are doing this the night before, then put it in the fridge to slowly defrost overnight. If you are doing it the day of, take it out in the morning and allow it to slowly defrost on the countertop.
Can you customize butternut squash soup?
One of the best things about soup is how easy it is to customize. You can change it up so that everyone is happy!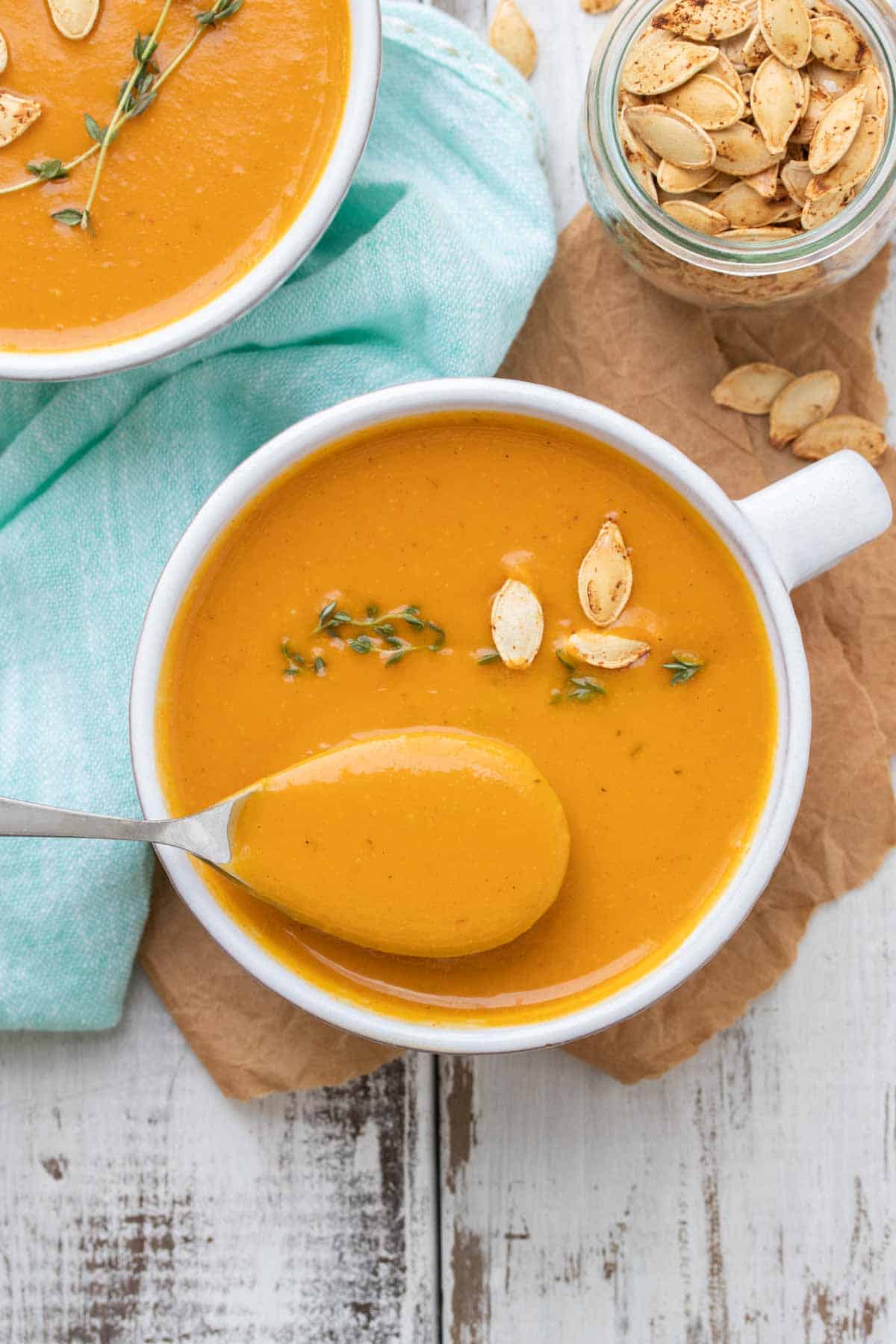 Vegan Roasted Butternut Squash Soup in 3 easy steps
This vegan soup is so easy to make. The longest part is letting the veggies roast, but for that the oven does most of the work. Here is the play by play:
Roast the butternut squash.
Blend
Heat it up or keep blending if you have a great blender!

Would you like to try more delicious Vegan soups? Check out these tried and true recipes!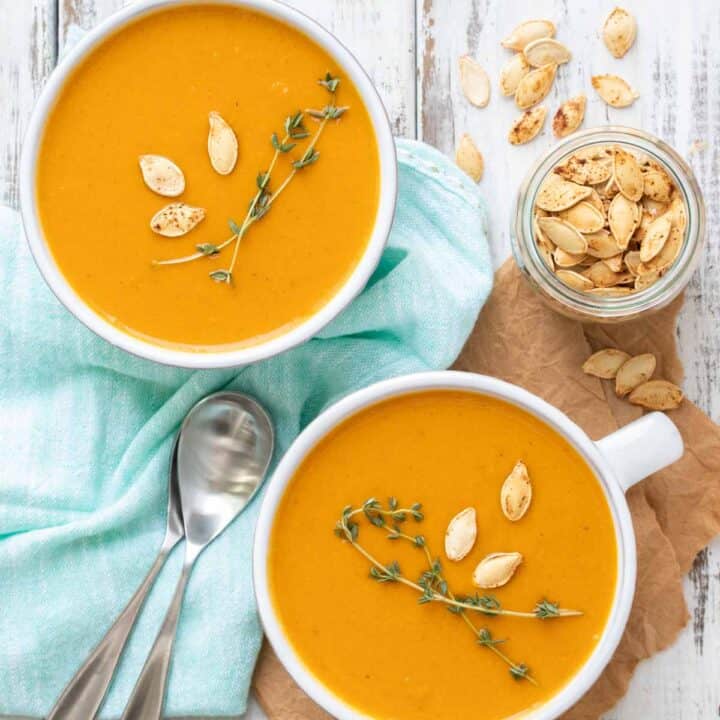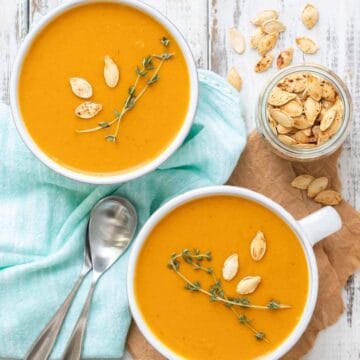 Vegan Roasted Butternut Squash Soup
Creamy vegan butternut squash soup with coconut milk is the perfect fall meal. Flavorful with few ingredients and super easy to make!
Ingredients
5 cups chopped butternut squash (a small squash about 1.75 lbs)
1 cup chopped shallots
5 cloves garlic , medium sized (adjust for your preferred garlic flavor)
2 teaspoons smoked paprika
1 teaspoon sea salt
10-12 sprigs thyme , about a 1 inch diameter bunch (see note)
2 ¼ cups lite coconut milk (about 1 ½ 13.6 fluid ounce/403 ml cans)
2 cups veggie broth , low sodium if needed
Optional topping:
Instructions
Preheat the oven to 450 F/ 230 C

Mix the squash, shallots and garlic with the smoked paprika and salt.

Put the mixture on a parchment lined cookie sheet. Top with the thyme sprigs.

Bake for 35 minutes until the squash is cooked and brown on the edges.

Remove the thyme sprigs, and put the rest into a blender with the coconut milk.

Blend until smooth.

If your blender is big enough, add the broth and blend until hot.

If your blender is not big enough, pour the mixture into a pot and add the broth to the pot. Heat on the stove over medium low heat until warm.

Serve, add toppings and dippers too!
Notes
This makes 6 cups. The serving size is 1 ½ cups. Adjust depending on what course you serve this as.
I love garlic but if you do not like too much then reduce the amount.
For the thyme, you want to sperate the pieces so they cover the top of the veggies on the pan like in the photo.
Bonus Tip: If you are warming the soup in a pot, after pouring the mixture into the pot, pour the broth in the blender and blend to get the last bits of soup that are stuck to the blender walls. This also helps clean the blender a bit. Then pour the broth into the pot.
Recipe by Veggies Don't Bite, visit our site for more great plant-based recipes.
Nutrition
Calories: 183kcalCarbohydrates: 25gProtein: 2gFat: 7gSaturated Fat: 6gPolyunsaturated Fat: 0gMonounsaturated Fat: 0gTrans Fat: 0gCholesterol: 0mgSodium: 607mgPotassium: 669mgFiber: 4gSugar: 4gVitamin A: 19215IUVitamin C: 41.9mgCalcium: 101mgIron: 1.9mg
Nutrition and metric information should be considered an estimate.
Never miss a recipe!
Sign up here and get a FREE quick and easy meal guide!