Making vegan mayo at home has never been easier. This healthy recipe uses no oil or eggs, but whole food ingredients for the perfect result!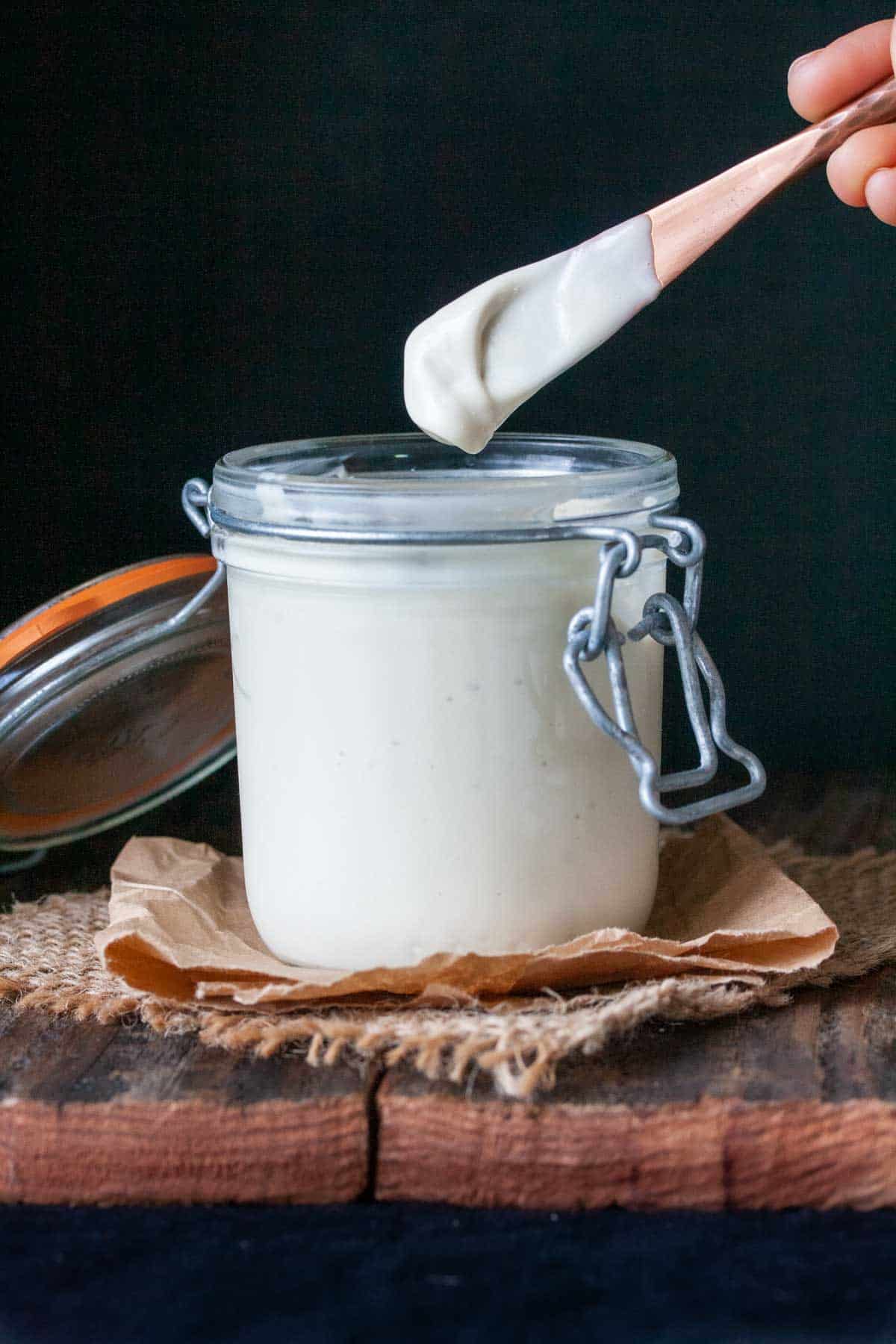 This post was originally published on October 30, 2017.
I have never been a mayo lover until I learned to make it at home. This recipe is so good and versatile! Bonus that it's so healthy.
This mayo is healthy, vegan and made with no oil. Slather it on anything and everything! I'm telling you, I don't even like traditional mayo and this stuff is legit!!
This recipe comes from my cookbook, Vegan Burgers and Burritos. It can be used plain or to make other awesome spread, like I do in this delicious Fall Harvest Burrito (also a recipe from my cookbook!). You can grab this recipe in the notes below the recipe for the mayo!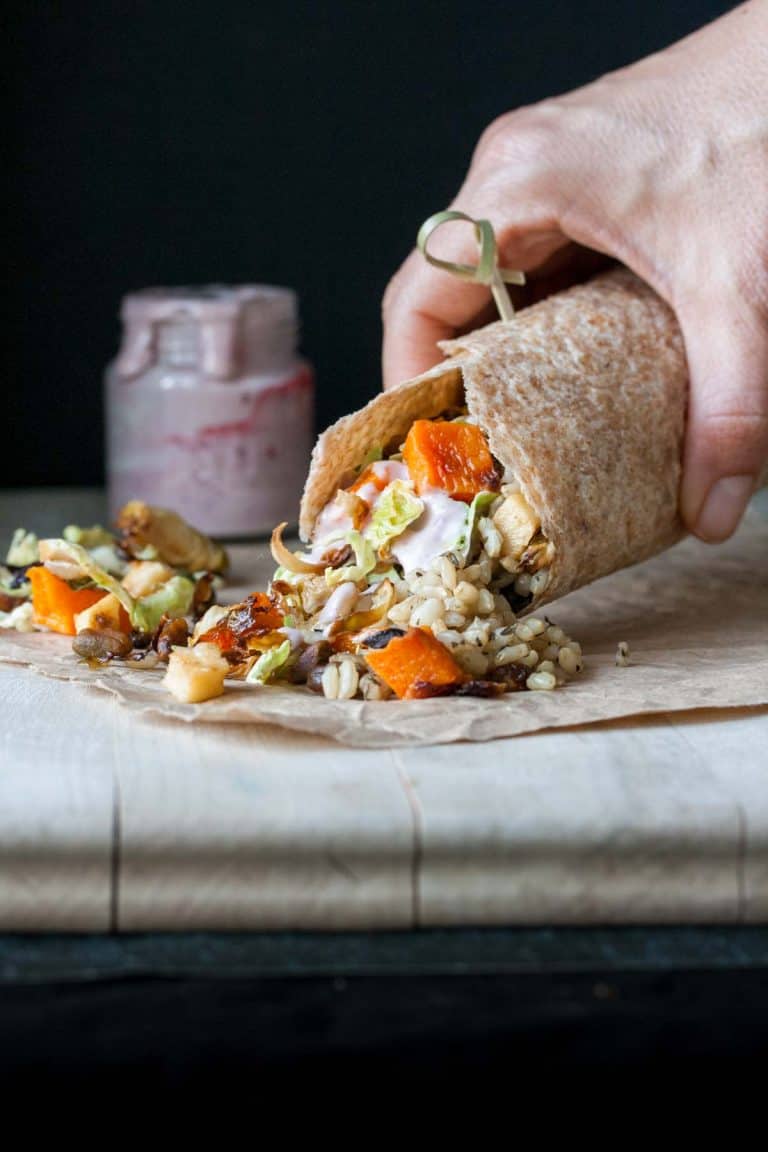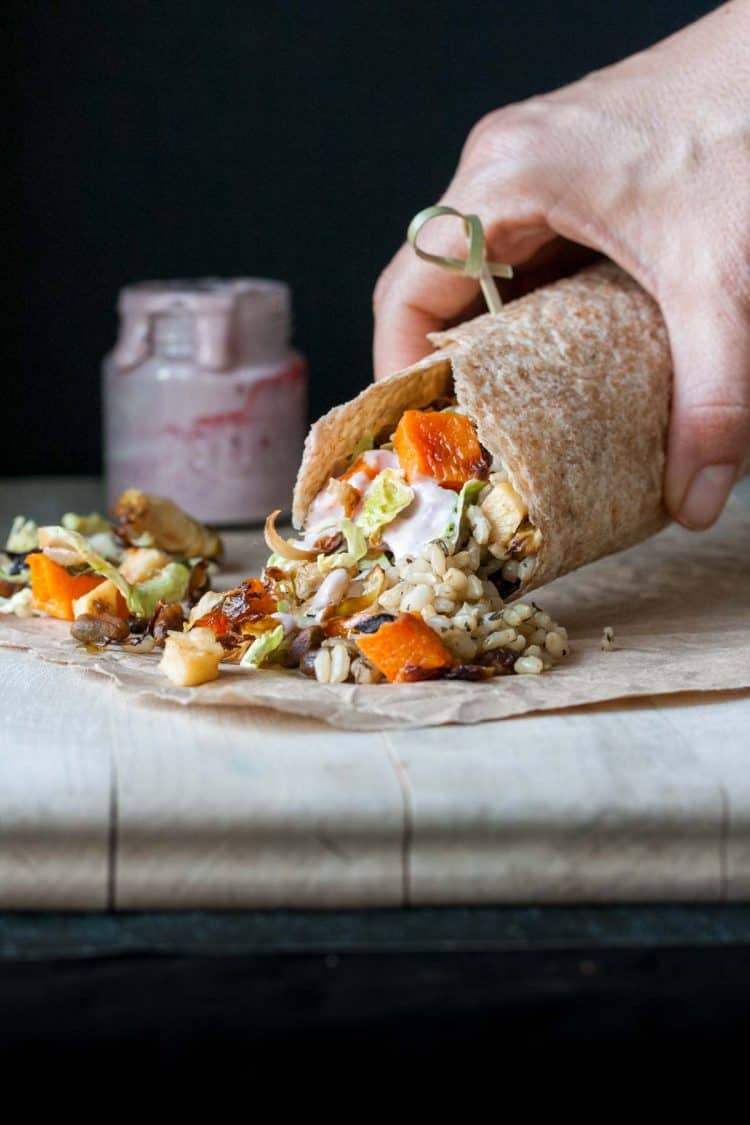 Ingredients
No oil, no eggs, no artificial substitutes! All you need to make this mayo is just real whole foods: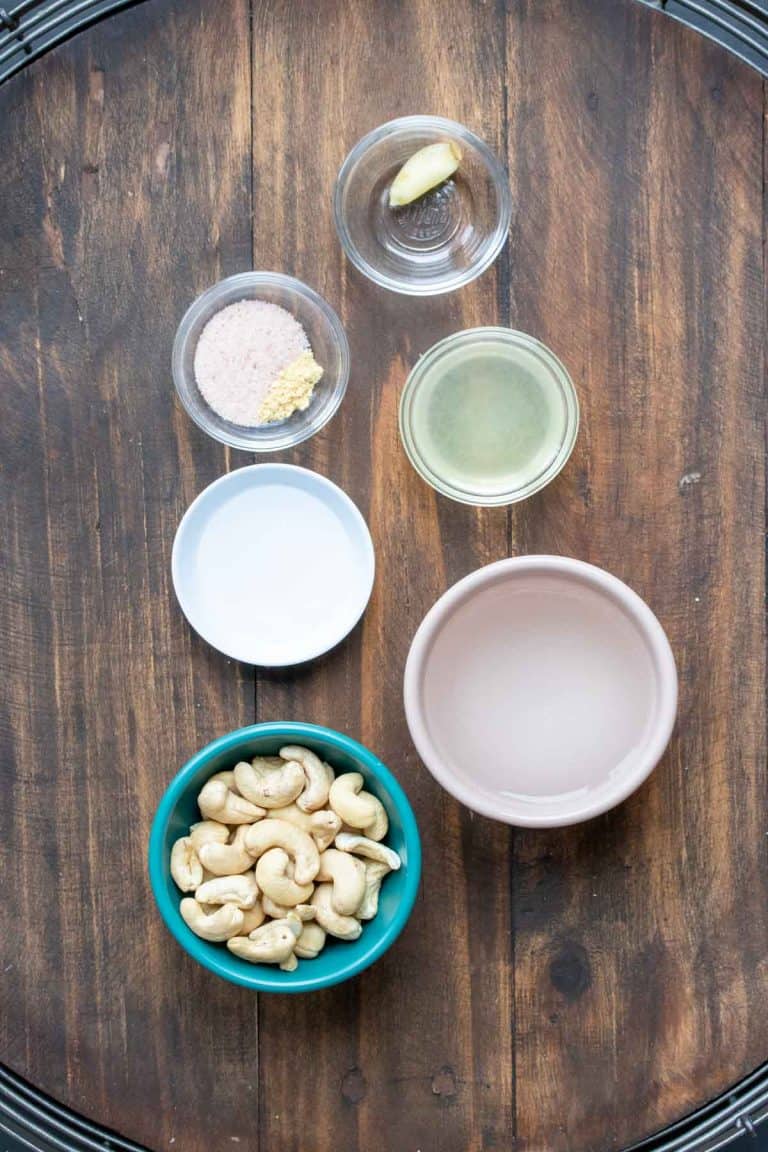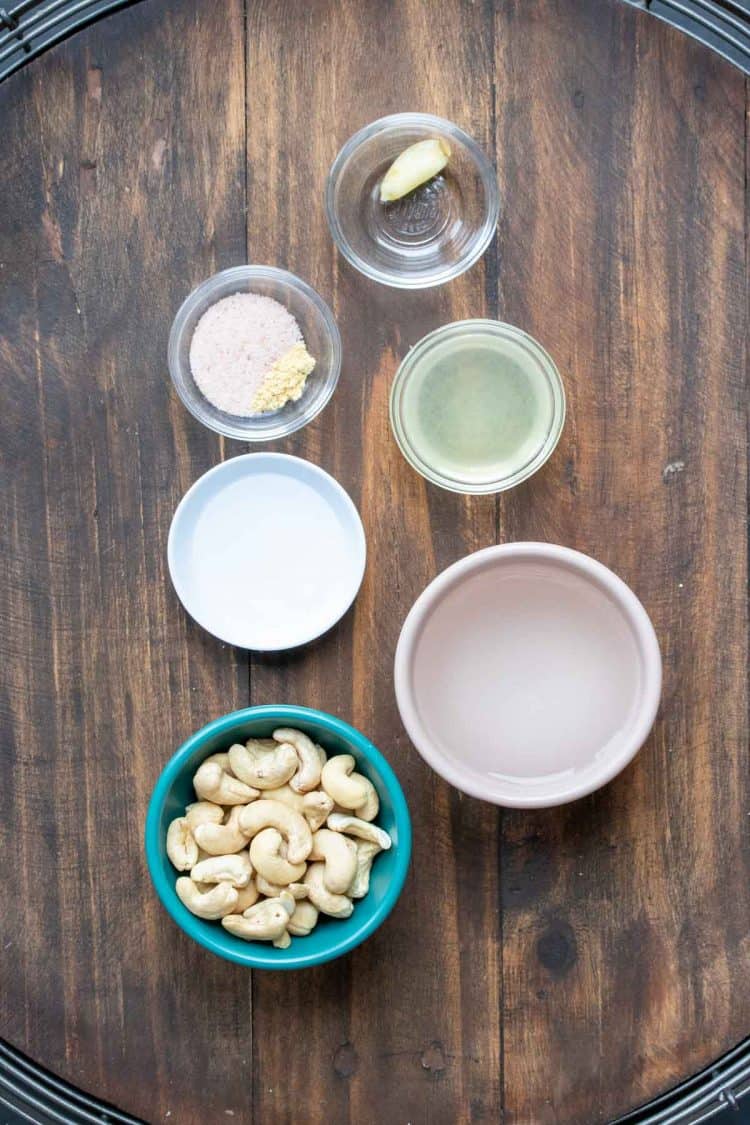 How to Make Vegan Mayo
Easier and quicker to make than heading to the store! This process is seriously so simple you'll make it every time you need mayonnaise. Here's what to do:
Put all ingredients into a blender.
Blend until smooth, then let sit in the fridge.
Serve!
How to use vegan mayo
This oil free mayo is wonderful in and on everything! Use as a spread on your favorite sandwiches, wraps, and burgers. You can also incorporate it in other recipes as well like these:
Tips and tricks
This vegan mayo recipe is pretty simple, but these helpful hints should come in handy:
Common Questions
What is vegan mayo made of?
While there are a number of recipes out there, this one uses cashews, vinegar, lemon juice, and seasonings.
What do vegans use instead of mayo?
Using a vegan mayo is the best substitute, but there are other options as well. Avocado, olive oil, vegan plain yogurt, hummus, or tahini could work depending on what you need it for.
More Vegan Sauce and Spread Recipes
Whether it's a classic condiment you can't live without, or just that perfect extra addition of flavor and creaminess, I have you covered! These recipes are all made from healthy whole food plant based ingredients: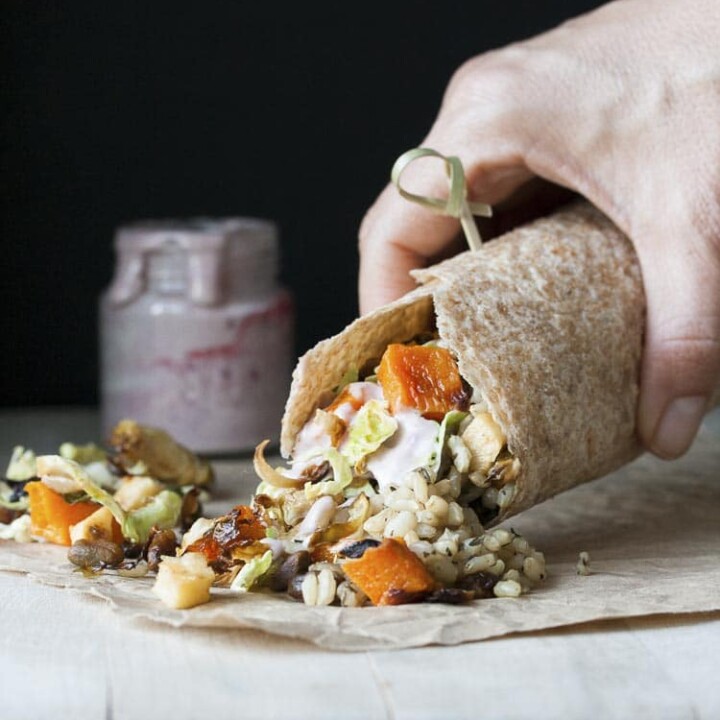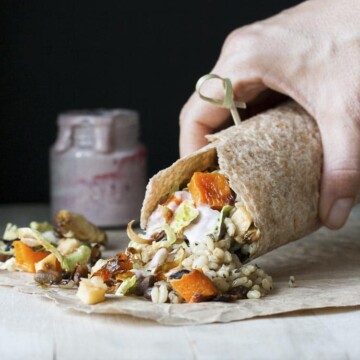 The Best Vegan Mayo Recipe
Making vegan mayo at home has never been easier. This healthy recipe uses no oil or eggs, but whole food ingredients for the perfect result!
Ingredients
1 ½ cups raw cashews (see note)
13 tablespoons water , ¾ cup plus 1 tbsp
2 tablespoon distilled white vinegar
2 teaspoon fresh lemon juice
¾ teaspoon sea salt
⅛ teaspoon ground mustard seed
⅛ teaspoon freshly chopped garlic
Instructions
Put all ingredients into a blender and purée until smooth.

Refrigerate the mayo to thicken. You can use right away but it won't be as thick.

Serve!
Notes
For the mayo:
If you are not using a high-speed blender, there are a couple of options for making your sauce smooth: You can use a coffee grinder to grind everything to a fine powder, or make sure to soak your cashews overnight, or for at least 2 to 3 hours. If you forget, you can also boil them for 30 minutes.
This makes 1 cup, serving size is 2 tablespoons.
Nutrition facts are for the mayo only
To make the Fall Harvest Burrito from my cookbook:
Thyme Rice 1 cup (210 g) uncooked brown rice (see notes) 13⁄4 cups (414 ml) low-sodium veggie broth (see notes) 1 tablespoon (2 g) dried thyme 3⁄4 teaspoon sea salt (see notes)   Veggie Bake 2 cups (360 g) chopped butternut squash 1⁄2 cup (120 g) chopped shallots 3⁄4 teaspoon sea salt Low-sodium veggie broth (about 1⁄2 cup [118 ml]) or drizzle of oil, plus more for roasting 3 cups (1 kg) shaved or sliced Brussels sprouts, divided 1 cup (180 g) peeled and chopped apples 1⁄4 cup (28 g) pistachios   Raspberry Mayo 1⁄2 cup (118 ml) Vegan Mayo 2 tablespoon (30 g) raspberry jelly or jam   To serve 4 to 5 tortillas  
Preheat the oven to 400°F (204°C). Place the rice, broth, thyme and salt in a small pot and mix well. Bring it to a rapid boil. Reduce the heat, cover and simmer for about 30 minutes or until the liquid has evaporated. Remove the pot from the heat, let it stand for 5 minutes and then fluff the rice with a fork. Mix together the butternut squash, shallots, salt and broth, and bake for about 15 minutes. Remove it from the oven and add 2 cups (680 g) Brussels sprouts, apples, pistachios and the rest of the broth if needed. Using a spatula, mix everything together well. Bake it for 30 minutes or until the squash is browning at the edges. When it's done, put it into a bowl with the reserved cup (340 g) of raw shaved brussels sprouts and mix well. While the veggie bake is cooking, make the raspberry mayo by mixing the mayo and raspberry jelly together in a small bowl. Set it aside for serving. Serve in tortillas with raspberry mayo. To fold the burrito, fold the sides over toward the center, then roll upward to create a burrito. You can grill the seam for 7 to 8 minutes until it seals and closes the burrito. You can also grill the other side to make it crisp. Notes:
I like my rice on the al dente side, so when cooking you may need to add another ¼ cup (60 ml) of broth and cook for an extra 5 minutes if you prefer it well done.
The rice isn't overly salty. The other parts of this burrito have plenty of salt, so I keep the rice on the milder side.
You can use water instead of broth for the rice, but the broth adds great flavor. You may need to adjust the amount of salt if you don't use broth.
This makes 4-5 burritos.
Kids:
This can be served as a bowl if folding a burrito is too hard!
Recipe by Veggies Don't Bite, visit our site for more great plant-based recipes.
Nutrition
Calories: 135kcalCarbohydrates: 7gProtein: 4gFat: 11gSaturated Fat: 2gSodium: 199mgPotassium: 162mgFiber: 1gSugar: 1gVitamin A: 1IUVitamin C: 1mgCalcium: 10mgIron: 2mg
Nutrition and metric information should be considered an estimate.
Never miss a recipe!
Sign up here and get a FREE quick and easy meal guide!