This vegan cream cheese recipe is the best recipe there is! It's made with five simple ingredients, including one surprise ingredient, and tastes like perfection.
I love how you can easily customize this vegan cream cheese substitute to mimic all the flavors of traditional cream cheese. From strawberry to veggie and even adding spices to make it your own!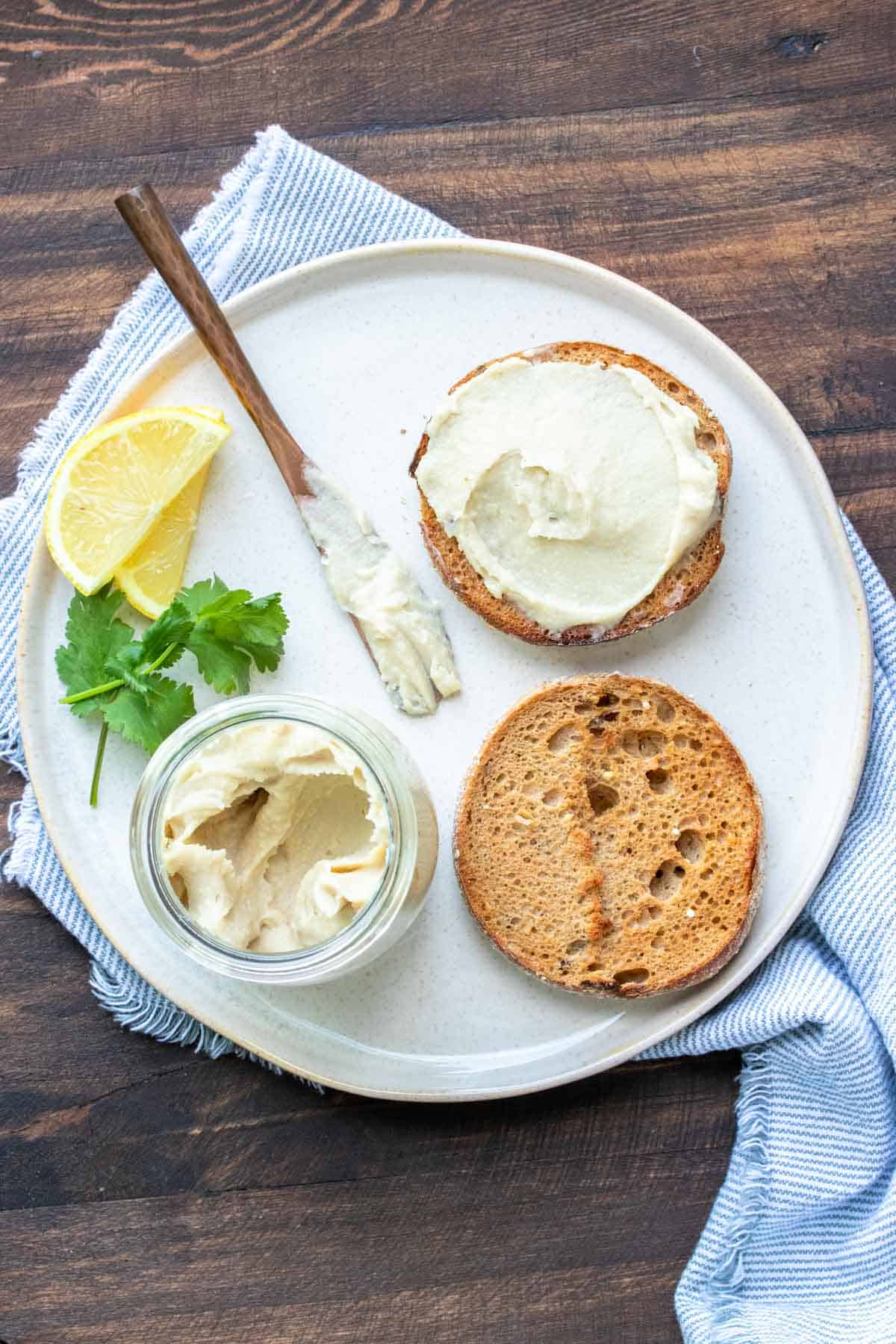 This post was originally published on March 14, 2020.
Cream cheese is such a good flavor! It's perfect for sweets, like my vegan cream cheese frosting, and can even be used as a spread on sandwiches or mixed into dips.
Is Cream Cheese Vegan?
Usually no. Traditional cream cheese is made from milk and cream, as well as stabilizers for the commercially produced kinds. Thankfully there are a number of store bought options for vegan cream cheese, which you can read about in this guide for Dairy Free Alternatives.
However, making your own homemade vegan cream cheese is super easy to do! It tastes great, and is made with only whole food plan based ingredients, no stabilizers or weird added ingredients here!
Ingredients
The super simple ingredients you need to make this vegan cream cheese recipe include:
Plain dairy free yogurt
White vinegar
Lemon juice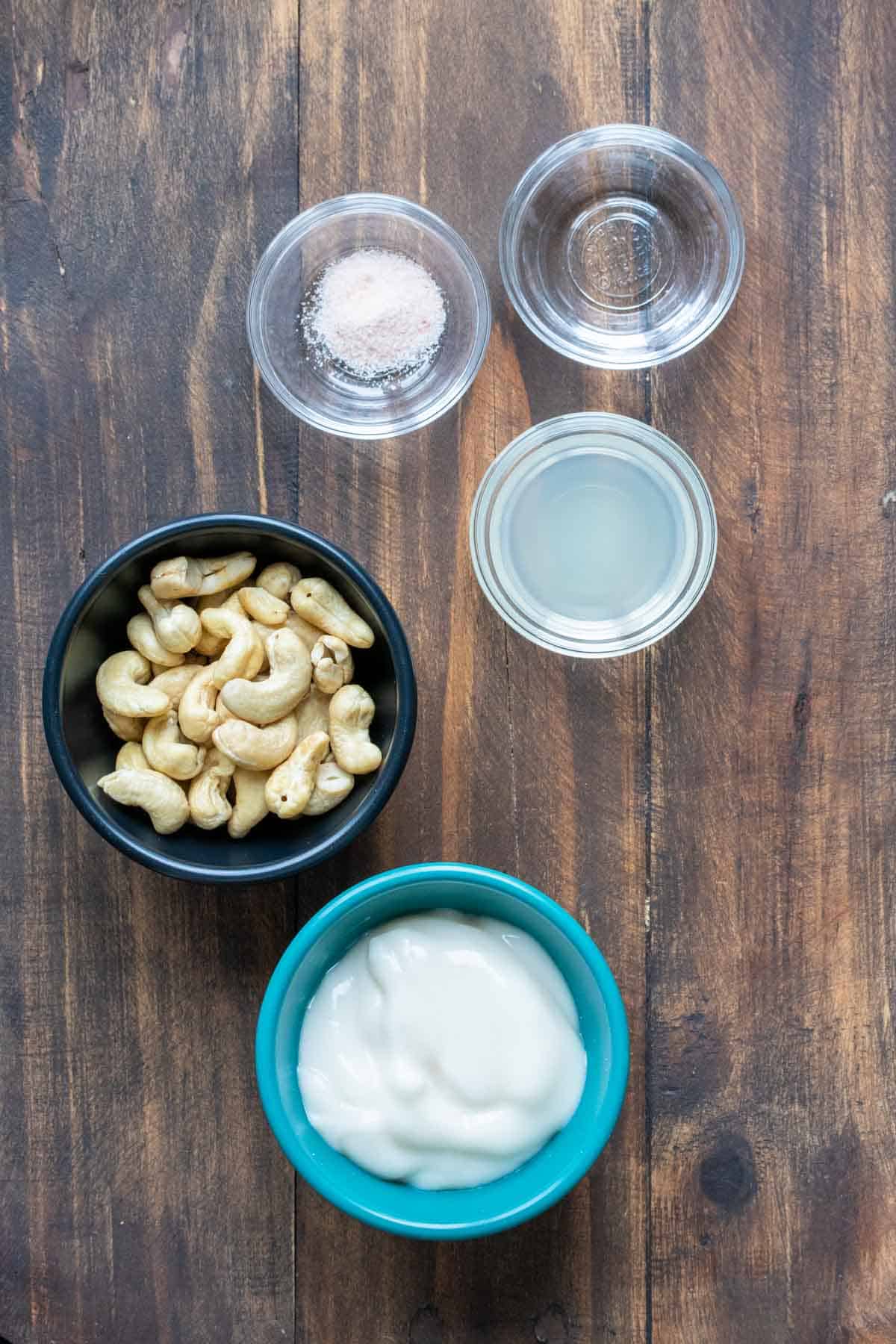 How To Make Vegan Cream Cheese
This is a really quick and easy recipe to make!
Process ingredients and blend until smooth.
Save it in an airtight container for any time you need it!
You can even add in things like chopped veggies or spices to mix it up.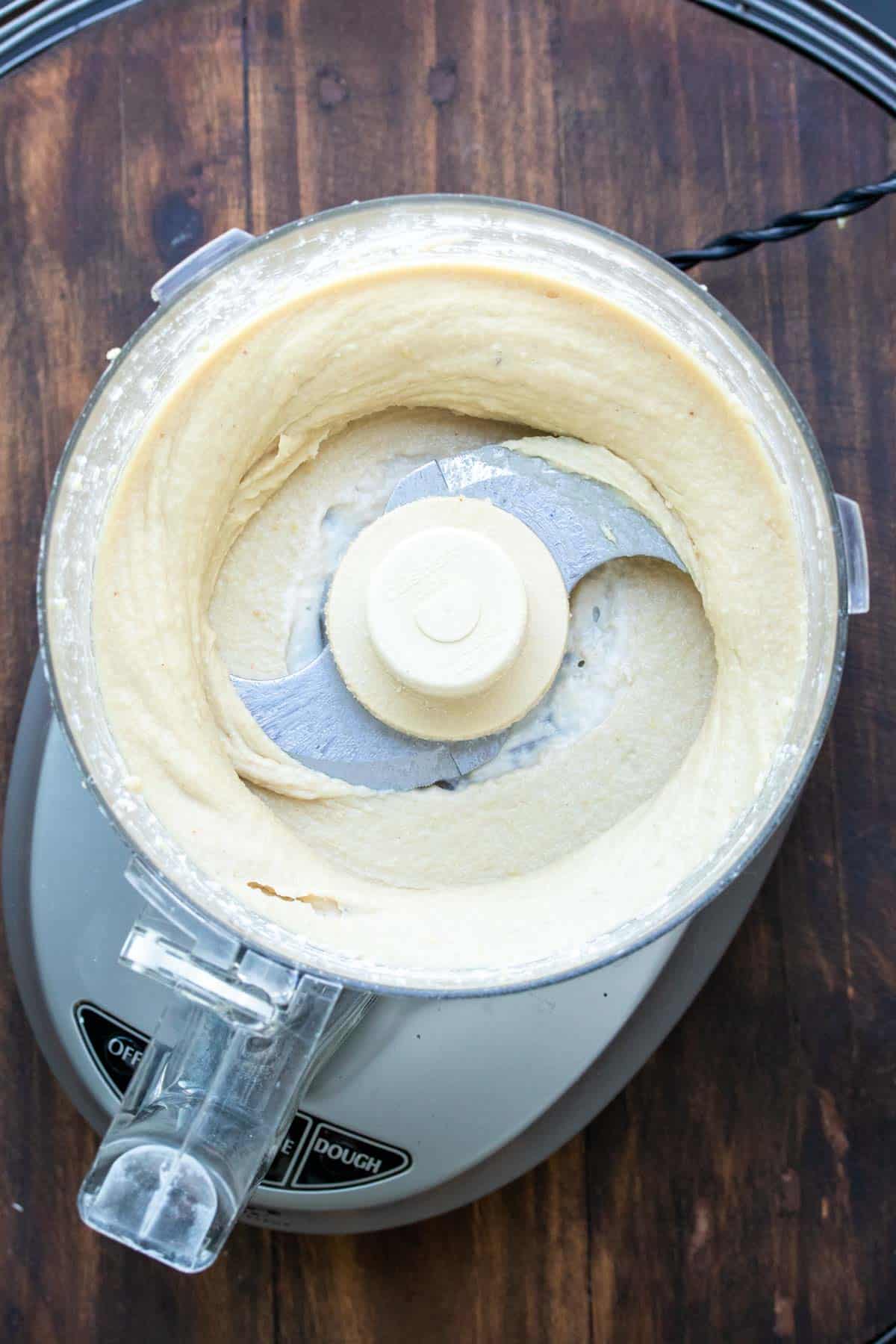 Flavor Suggestions
The best thing about this recipe for vegan cream cheese is that you can add so many different kinds of add ins! The key with add ins is to make sure you aren't adding in more moisture or the texture will change.
If you want fruit, add freeze dried fruit versus fresh or frozen. If you want veggies, stick to hard low moisture picks.
Combination ideas
Here are three vegan cream cheese flavors we love and make most often:
Berry cream cheese: Add in between 1 - 1 ½ cups freeze dried berries of choice.
Scallion cream cheese: Add in about ½ - 1 cup sliced green onions.
Veggie cream cheese: Add in about ½ - 1 cup finely chopped veggies that are low in moisture like carrots, peppers, onions, etc.
More mix in ideas
Here are some other ideas if you want to play around!
Herbs like parsley, thyme, cilantro
Sugar for sweetness
Spices like cinnamon, nutmeg, pumpkin spice, ginger
Chopped nuts
Sun dried tomatoes or roasted peppers
Capers
Jalapeños or chipotle peppers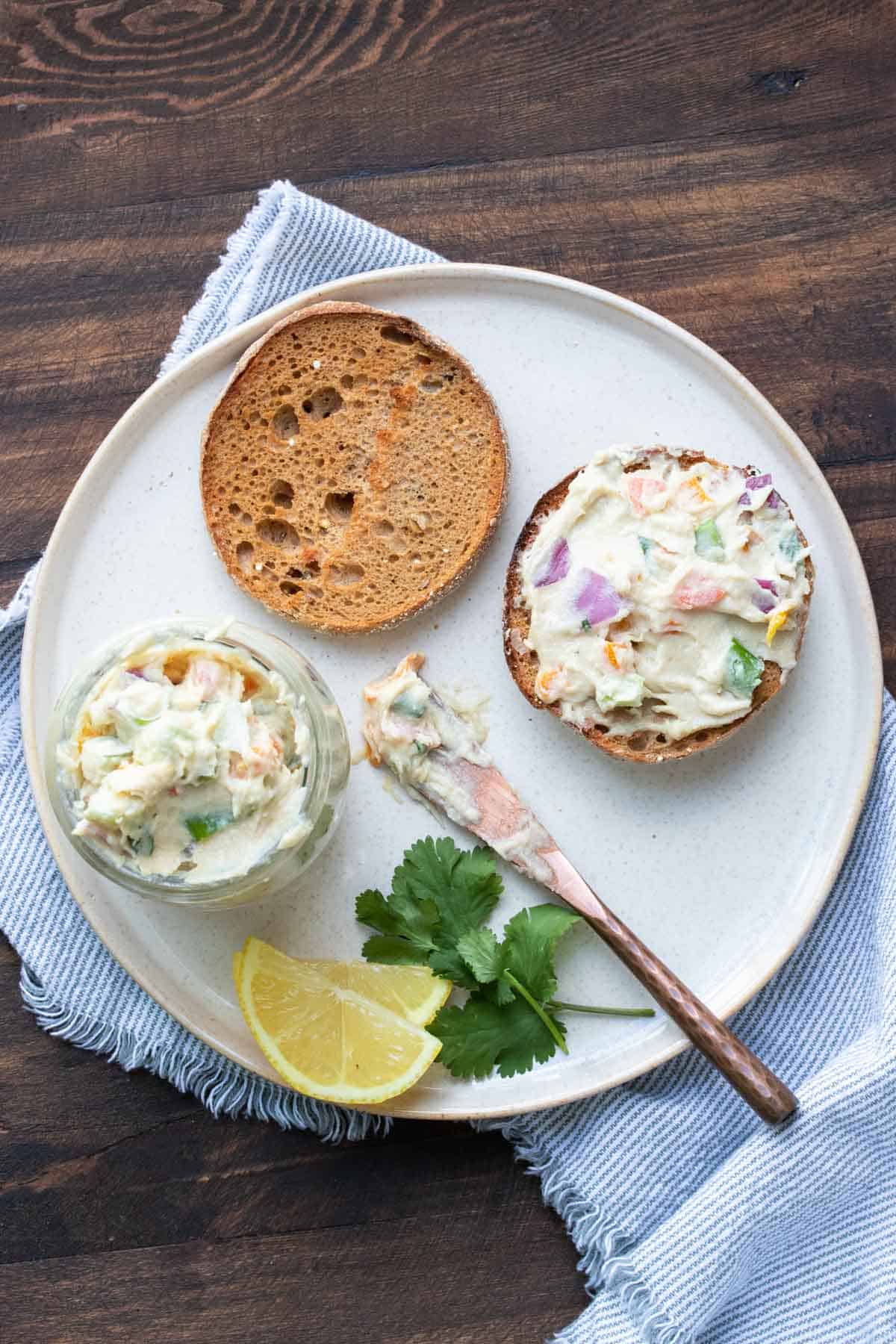 Serving suggestions
I love using this dairy free cream cheese both as is, and in recipes. Here are some of my favorite ways to use it:
Smeared on bagels or english muffins with jam
A dip for crackers and veggies like celery sticks
Using it instead of mayo on a sandwich
Putting it in pasta sauce to make it creamy
Frosting for cupcakes or cakes
Making a cookie sandwich
Mixing it in a smoothie
Mixing it in soup
As a crepe filling
Swirling it in these vegan brownies
Mixing it into ice cream
Preparation Tips
Here are a few more suggestions to get the best results with this vegan cream cheese recipe:
Make sure you soak your cashews as this helps with the overall texture.
If you forget to soak them, you could boil the cashews for about 30 minutes.
You can also substitute the cashews for blanched slivered almonds instead.
A food processor will work better than a blender since there is such little liquid in the recipe.
You will need to stop and scrape down the sides every few minutes. This will take about 5-10 minutes depending on how good your processor is.
Storage Suggestions
This stores really well in the fridge in an air tight container for about 7 days.
Freeze in a freezer safe container, and put a layer of plastic over the top of the cream cheese touching the surface. This helps reduce the ice crystals that form.
Note that if you freeze it, the texture after you defrost it will be a bit less fluffy and more firm.
When ready to use, slowly defrost on the counter and give it a good mix.
Common Questions
What is vegan cream cheese made of?
There are many ways you can make a dairy free cream cheese. The base is usually some kind of nut mixed with a few other ingredients. Some of the regulars you see out there include; nut base (usually cashews or almonds), vinegar, lemon juice and salt.

For this vegan cream cheese recipe, I used cashews as the base (with an option to sub with slivered almonds). To get that whipped fluffy texture and add to the creaminess and tang, I used a plain dairy free yogurt. I loved adding the yogurt instead of more liquid because it kept it nice and fluffy!

I also added a mix of lemon juice and distilled white vinegar. The combination of these two gave the perfect tang. With the cashews and the creamy yogurt it created a dairy free cream cheese to die for!
What does vegan cream cheese taste like?
It depends what you put in it! The base of this recipe has the familiar creamy texture and slightly tangy taste. You can mix in a number of ingredients to make it more flavorful, either sweet or savory!
What is a vegan substitute for cream cheese?
It really depends on what you are using it for. Cream cheese adds a creamy texture to whatever recipe you're making.

A good substitute for cream cheese as a spread is hummus or avocado since they have similar textures.

If you need it in a recipe try Vegan Cashew Cream Sauce, yogurt, thick dairy-free milk, or silken tofu.
What is a healthy substitute for cream cheese?
When it comes to healthy, it really depends on what that means to you. If you are avoiding dairy, like you would be if you are here looking for plant-based recipes, then the ideas I gave above are great alternatives.
More Vegan Cheese Recipes
You have that classic recipe that calls for cheese, but you're living that plant based life, what to do?! Try any of these dairy-free cheese recipes: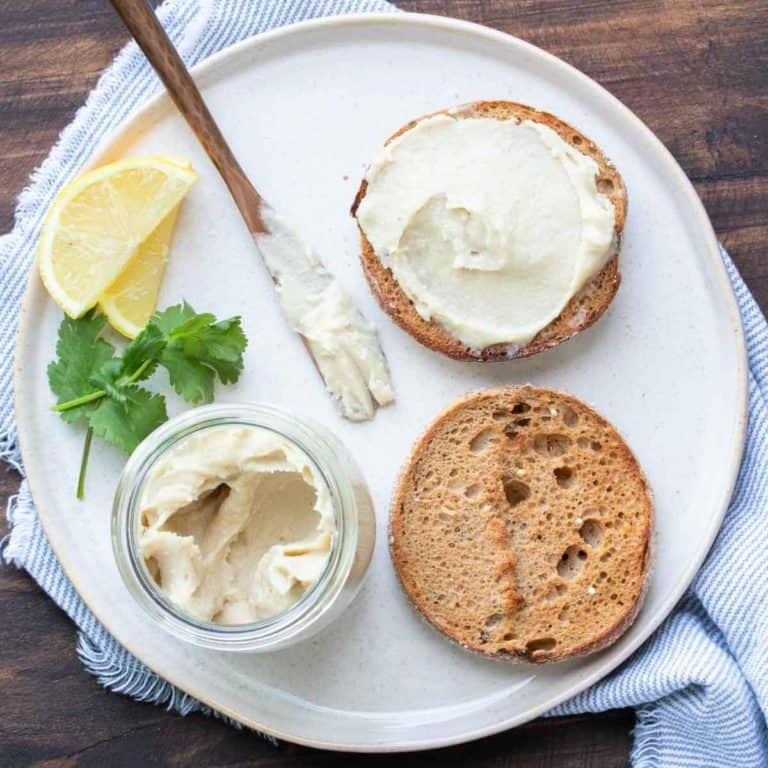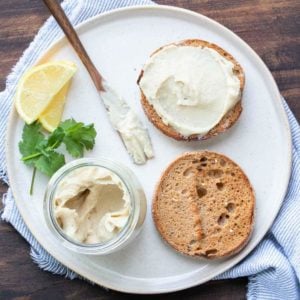 The Best Recipe for Vegan Cream Cheese
This vegan cream cheese recipe is the best recipe there is! It's made with five simple ingredients, including one surprise ingredient, and tastes like perfection.
Ingredients
1 ½ cups raw cashews , soaked overnight then rinsed, drained and dried well (see note)
½ cup plain dairy free yogurt , there are many brands but the tangier they are the better
4 teaspoons white vinegar
2 teaspoons lemon juice
½ teaspoon sea salt
For Berry Cream Cheese:
1 - 1 ½ cups freeze dried berries of choice
For Veggie Cream Cheese:
½ - 1 cup finely chopped veggies of choice , make sure to use low moisture veggies like carrots, peppers, onions, etc to preserve the texture
Instructions
Put all ingredients into a food processor and process until creamy and smooth. Make sure that your cashews are dried as it's easy to get extra water into the mix and change the overall texture.

This may take up to 10 minutes depending on your processor. Stop every few minutes to scrape down the sides of the bowl.

If you are adding freeze dried fruit add it at the start for a smooth result and towards the end if you want it with chunks. If you are adding veggies, add them in at the end and pulse to incorporate.

When done, store in an air tight container in the fridge and enjoy! It will firm up the colder it gets.
Notes
If you forget to soak your cashews, you could boil them for about 30 minutes.
You can also use blanched slivered almonds.
This makes about 1 ¾ cup. Serving size is ¼ cup.
Nutrition facts are for plain version only.
Tips to prep ahead:
Recipe by Veggies Don't Bite, visit our site for more great plant-based recipes.
Nutrition
Calories: 164kcalCarbohydrates: 10gProtein: 5gFat: 12gSaturated Fat: 2gSodium: 154mgPotassium: 182mgFiber: 1gSugar: 3gVitamin C: 3mgCalcium: 32mgIron: 2mg
Nutrition and metric information should be considered an estimate.
Never miss a recipe!
Sign up here and get a FREE quick and easy meal guide!