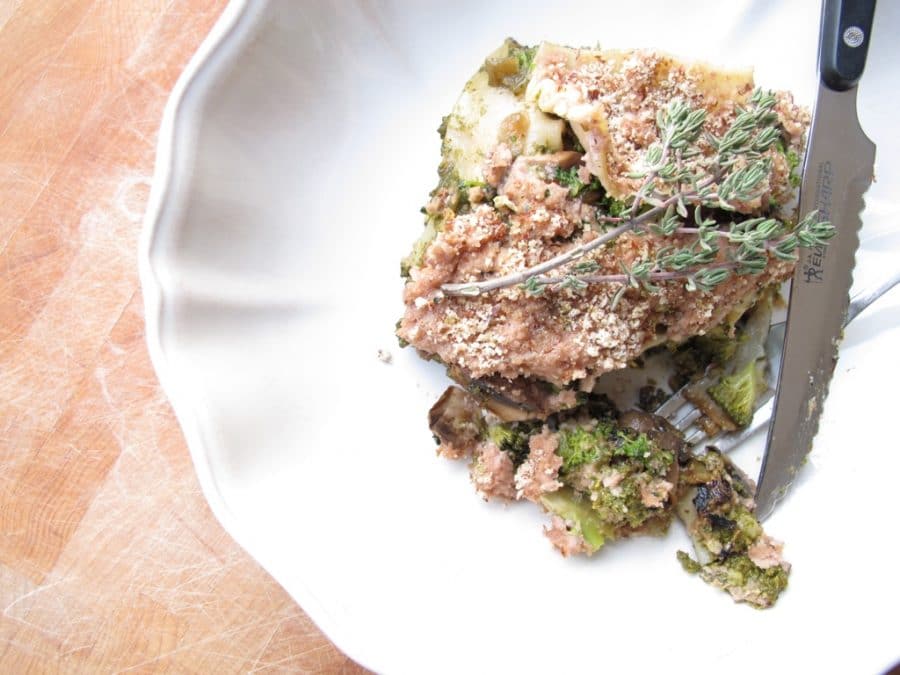 I love tomatoes and tomato sauce, but every once in a while I need a break. I was craving something filling and creamy, a true comfort food without all the dairy that makes me feel awful after I have eaten. So I decided to adapt my beloved Lasagna into what I was looking for. Winter is an easy time to find green veggies that are in season, I like to use local and organic whenever possible but use whatever you find that is easiest for you as it varies greatly by area. This week I was able to find some great broccoli, zucchini, and mushrooms. I also had some of my SKS Pesto in the freezer from last week, which was made from some amazing local spinach, kale, and swiss chard. For this dish, I decided to create more of a cream sauce instead of the Cashew Ricotta I use in my Lasagna, so after some experimentation with different nut combinations, I found that the combination of walnuts and cashews was the taste I was looking for. Hence the creation of my newest sauce Cashew Walnut Cream Sauce! It would go perfect in this rich comfort food.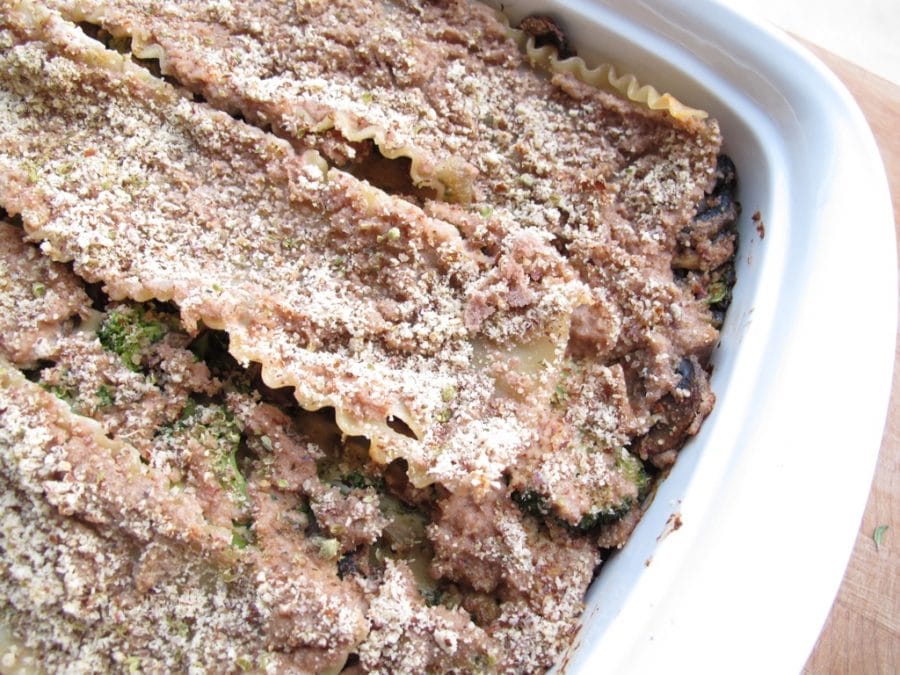 My next task was to figure out the best way to cook all of these water filled veggies so that my lasagna didn't end up mushy and watery, the exact opposite of the taste I was going for. I ended up cutting the zucchini with my mandoline slicer, then grilling the pieces on my George Foreman grill. An extra step but well worth the taste! I loved how it gave a little grilled taste to the end result. The other veggies I just chopped and sautéed on a pan like normal.
Once I cooked the noodles I was ready to start putting it together, and remember that if using brown rice noodles to go gluten free like we do, only cook for 2 minutes once they are in the pot of boiling water so that they don't end up overcooked and mushy once the lasagna is baked...can you tell I hate mushy stuff?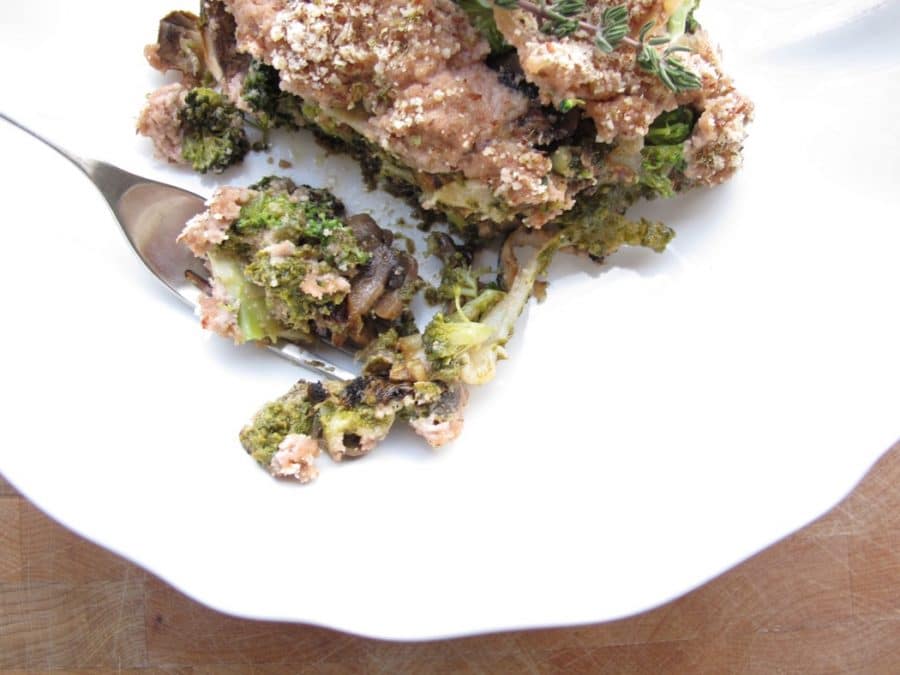 Putting together the lasagna is the easiest part, it's preparing the different things needed that is time consuming. Here are the things you can do before hand (like over a weekend or other non busy day/night) to make the lasagna an easy and quick dinner:
Wash, cut, and sauté the onions, broccoli and mushrooms. Store in refrigerator until ready to use, should be totally fine for a few days.
Wash slice and grill zucchini. Store in refrigerator until ready to use, should be fine for a few days but you may need to drain any water that is released.
Prepare SKS Pesto.
Prepare Cashew Walnut Cream Sauce.
If all these are done, or even the big ones like the pesto and cream sauce, then the actual putting together process will be quick and easy. All you do is layer everything and bake! One caution, if your pesto and cream sauce is on the thicker side, then you may want to put the last layer of noodles underneath the veggies so that they don't dry up. Mine were a tad dry on the top but my oldest son loved eating the crunchier noodle top! Next time I will either make a thinner cream sauce or put the veggie mix on top of the noodles, then add the sauce and almond meal topper to that. Overall this dish turned out even better than I thought. My whole family devoured it and my husband couldn't believe there was no cheese inside. Sounds like I better start stocking up my pesto and cream sauce so that I can whip this up often!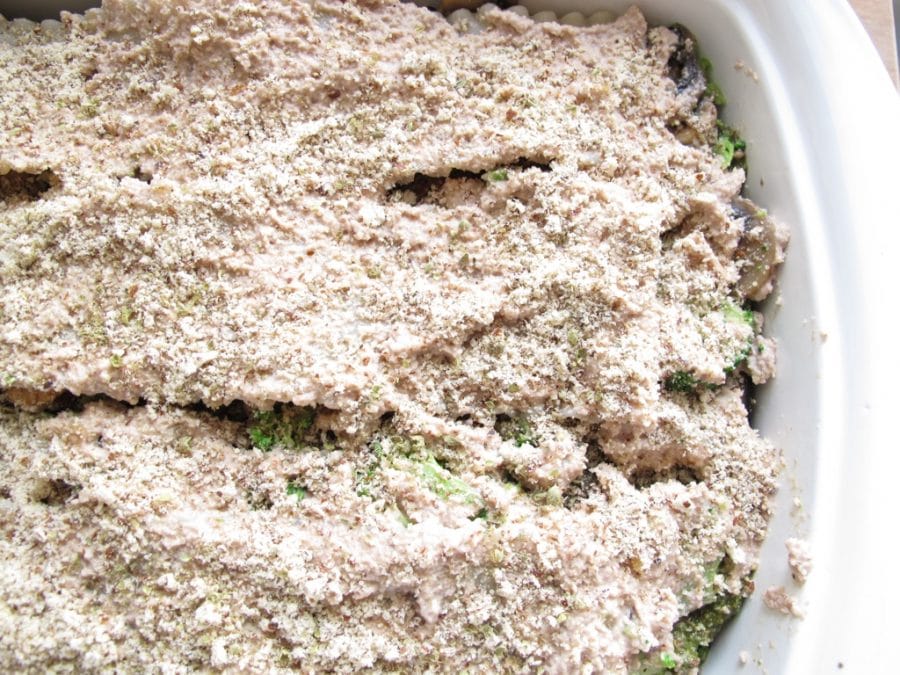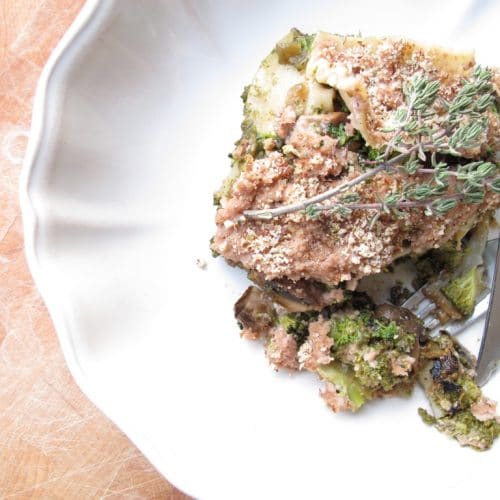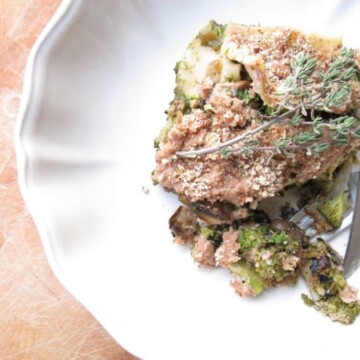 Green and White Lasagna
Notes
Where cream meets pesto and veggies, this lasagna blends together all the flavors perfectly. Not only is it healthy, this dish is comfort food gone amazing! Savor each bite knowing you're doing both your taste buds and your body a favor.
Ingredients:
Instructions:
Preheat oven to 375.
Prepare SKS Pesto and Cashew Walnut Cream Sauce if they aren't already prepared.
Sauté your chopped broccoli, mushrooms, and onion in a pan with oil (or veggie broth). Add salt and pepper to taste. Once just cooked (but still a little al dente) remove from heat.
Slice zucchini using a mandoline slicer or knife, being careful to slice thinly and evenly. Cook on grill/griddler to remove water. You can also cook slices in a pan but they won't get that grilled taste and may get a little softer/mushier.
Bring a pot of water to a boil, once boiling put in lasagna noodles and only boil for 2 minutes since you will also be baking them. Remove and keep in a bowl of cool water so they don't stick.
To layer:
cover the bottom of a 9 x 12 baking dish with a thin layer of pesto
3 lasagna noodles
⅓ of the Cashew Walnut Cream Sauce
½ of the sautéed broccoli, mushroom, onion mix
3 more lasagna noodles
½ of the pesto
grilled zucchini slices
the next ⅓ of the Cashew Walnut Cream Sauce
3 more lasagna noodles
The other ½ of the sautéed broccoli, mushroom, onion mix
The other ½ of the pesto
Last 3 lasagna noodles
Last ⅓ of the Cashew Walnut Cream Sauce
Almond meal (sprinkle to cover top)
Note: If your cream sauce/pesto is on the thicker side, it may be better to add 4 noodles in the first three noodle layers, and then omit the last layer of noodles putting the final layer of cream sauce over the pesto after the sautéed veggies. Then top with almond meal. That way your top layer will stay moist and not be an over dried noodle topping.
Cover with foil and bake at 375 degrees for 20 minutes. Take off the foil and bake 10 more minutes. Let cool before cutting.
If you want to add cheese to this dish, and trust me when I say it doesn't need it, then parmesan or mozzarella would be a good addition as a thin layer over the top and/or over the veggies as you are putting it together. Also, I use plain almond meal in this dish, as opposed to my Spiced Almond Meal, because there are already so many great flavors. But you could do the spiced version too.
Recipe by Veggies Don't Bite, visit our site for more great plant-based recipes.
Nutrition and metric information should be considered an estimate.
Never miss a recipe!
Sign up here and get a FREE quick and easy meal guide!