Not only is this vegan lasagna dairy free, but it is also super easy! With no boiling of the noodles required, it comes together quickly and with no fuss.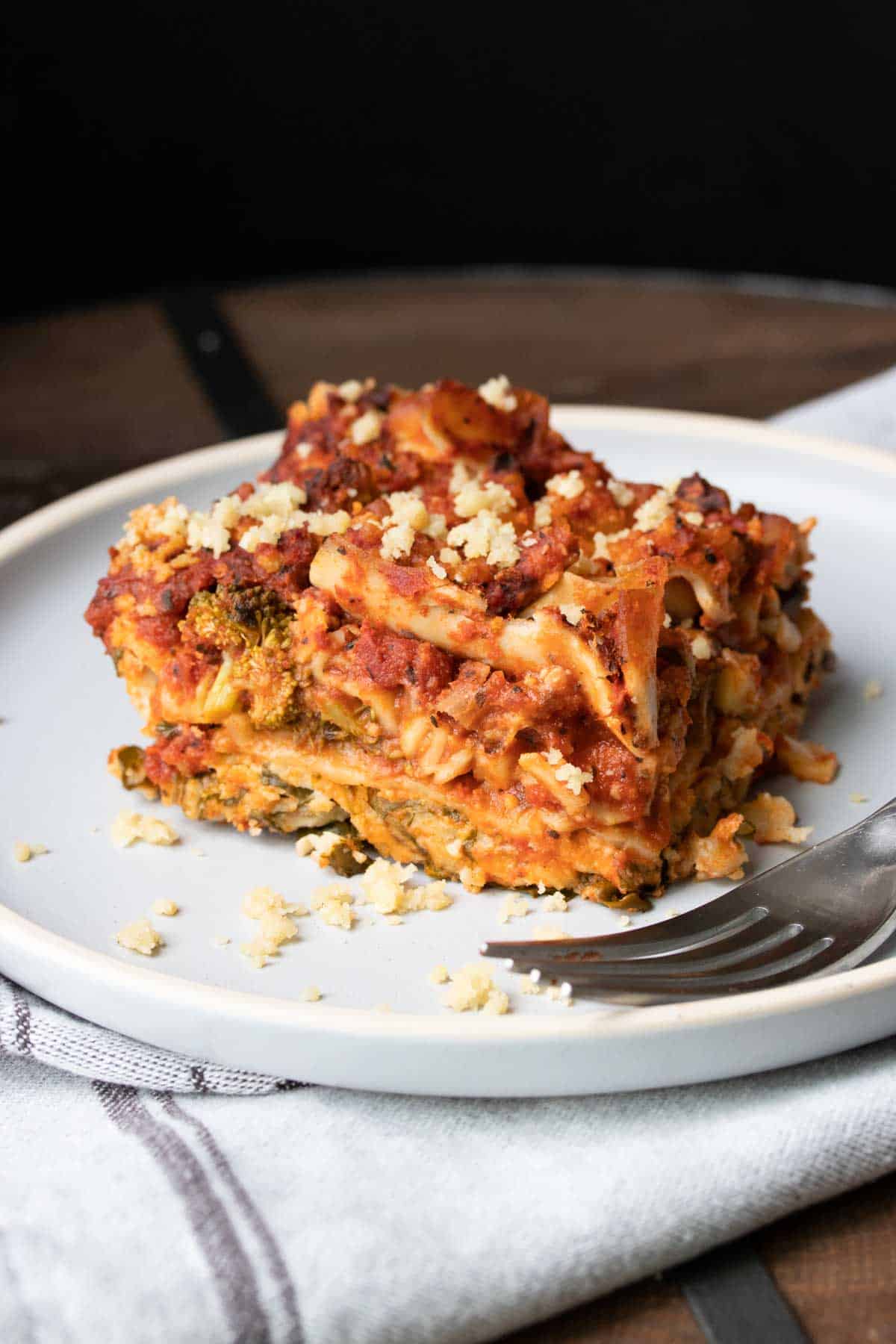 This recipe was originally published on 11/18/2013
Lasagna is definitely a favorite in our house but making it takes forever! This recipe really changes the game up though. It's super simple with store-bought sauce, vegan ricotta, and chopped veggies. The best part? You can throw the noodles in uncooked!

Easy Vegan Lasagna
This easy vegetable lasagna is the lazy mom's dream. It gives you dinner for days, can be frozen for later and comes together so darn fast I could cry.
How do you get a tasty lasagna without boiling noodles you ask? I'll let you in on a secret. There are 3 main keys to making this work.
Use FRESH veggies, whatever you have in the fridge. Chop up and load them up.
Use PLENTY of sauce. More is more.
Cover the top COMPLETELY.
Fresh vegetables release water as they cook. So using them without cooking them in this lasagna allows the water to be sucked up by the noodles.
Also, increasing the sauce also helps contribute to the liquid needed. The noodles are super tasty because they are sucking up the sauce flavor with the released liquid from the fresh veggies.
Covering the top completely helps ensure that the top layer gets cooked and not burned to a crisp while baking. You also need to push the lasagna down if you notice those top noodle layers curling up as it bakes.
Can you freeze vegan lasagna?
You can freeze vegan lasagna! You just have to make sure to store it properly. Lasagna can be frozen before cooking or after. Usually, freezing lasagna before cooking is better, the cheese and filling hold up better. However, if you are not cooking the noodles first like in this recipe, it is better to freeze after.
If you decide to freeze leftovers, make sure the lasagna has cooked down fully and is stored in an airtight container. I like to put a layer of plastic wrap on the top as well to help prevent freezer burn. You'll also want to make sure you let it thaw completely before reheating.
Do lasagna noodles have egg in them?
Traditionally, no. But you should always check ingredient lists when shopping. Some brands may use eggs.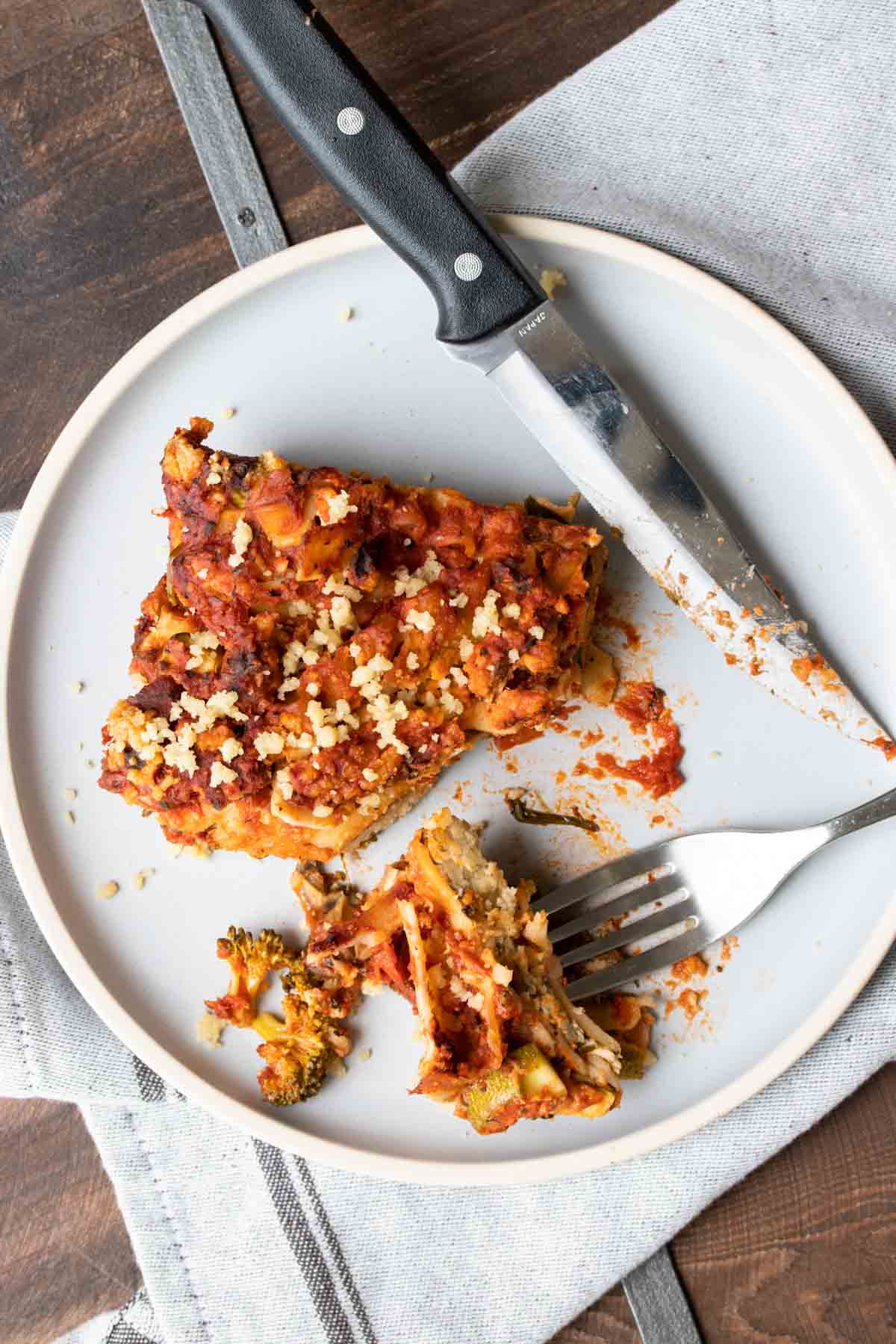 How do you layer a lasagna?
You should layer using the noodles as a guide. Also, look at how many filling ingredients you are using. Here is a quick guide:
Put down some sauce on the bottom of your baking dish.
Lay down noodles followed by sauce.
Add a filling.
Add more noodles followed by sauce.
Repeat until you are done with the filling.
Top with noodles and more sauce.
Sprinkle with cheese.
How many layers should be in Lasagna?
Lasagna must have at least 2 layers, but you can absolutely add more if you'd like! I would suggest looking at how many fillings types you have. I prefer no more than 1-2 filling ingredients per layer.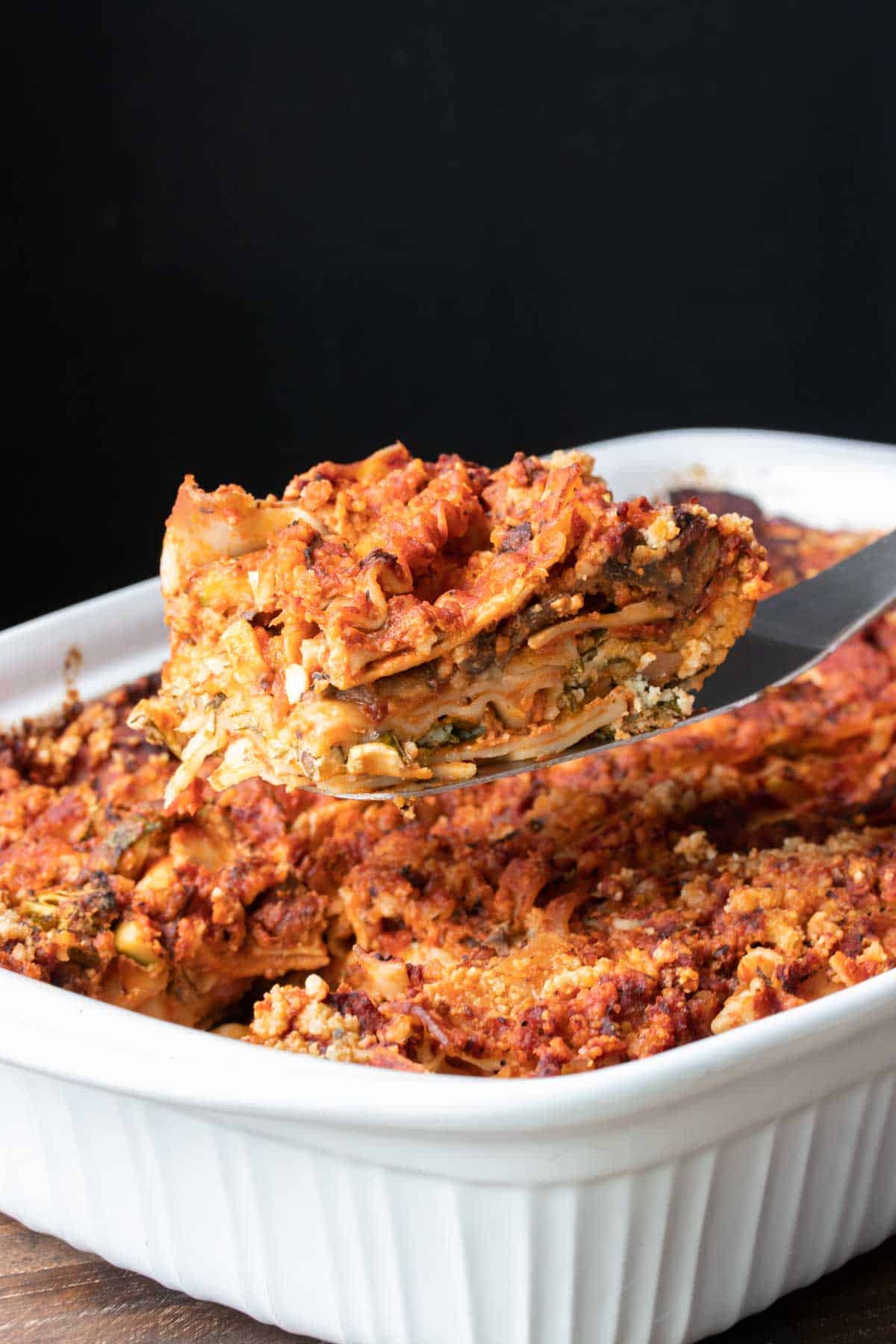 What layer do you finish with on a lasagna?
Your last layer of lasagna should be the noodles, with a little sauce and some cheese sprinkled on top! This helps keep everything together and gives a nice browning layer on top.
How To Make Easy Vegan Vegetable Lasagna
Cover the bottom of the baking dish with sauce. Layer on raw noodles and top with a filling mixture.

Add more raw noodles, top with sauce and add on another filling mixture. Continue until you are done with filling and finish with noodles, sauce and cheese.
3. Cover with foil and bake!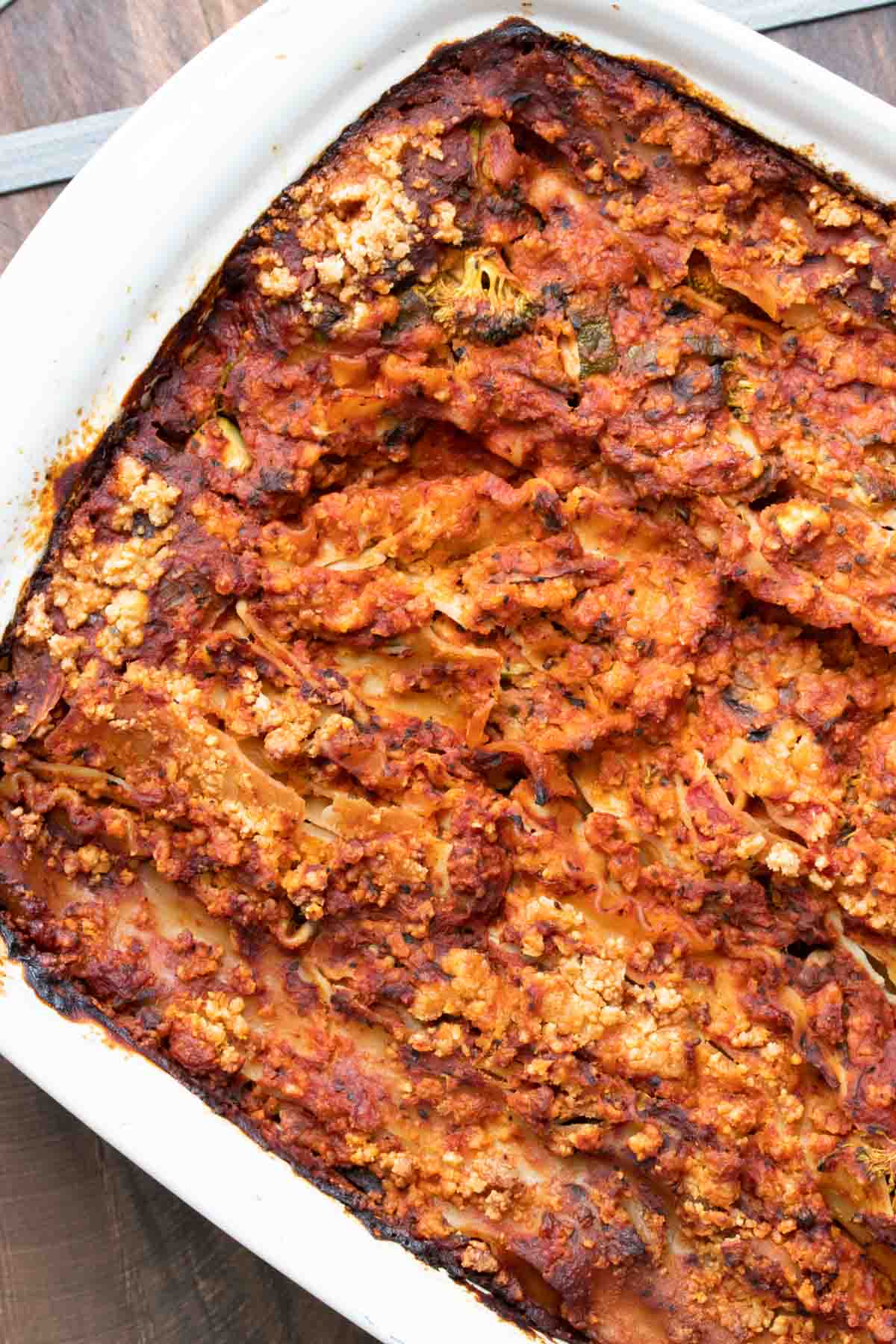 Looking for more lasagna recipes? Here are some other delicious ones: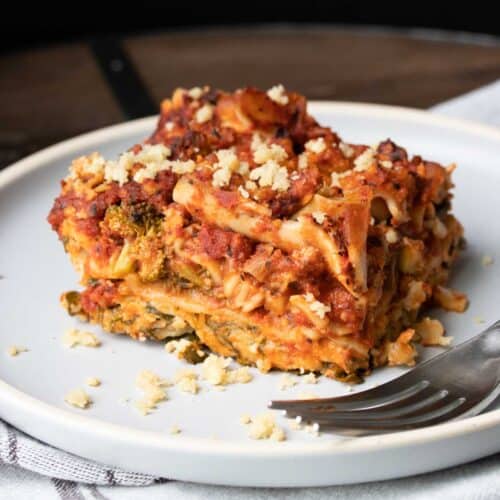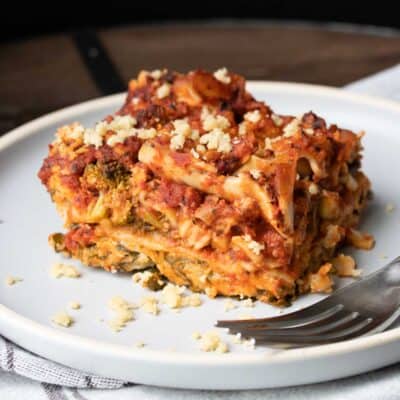 Super Easy Vegan Vegetable Lasagna
Not only is this vegan lasagna dairy free, but it is also super easy! With no boiling of the noodles required, it comes together quickly and with no fuss.
Ingredients
1

box 15 lasagna noodles

, gluten-free if needed

7

cups

your favorite jarred marinara

, can use homemade too

1 ½

cups

cashew ricotta

2

cups

fresh spinach

, measure packed

4

cups

mixed chopped veggies

, use fresh
Instructions
Preheat oven to 375 F/ 190 C.

Mix the ricotta and spinach in a bowl, set aside.

Cover the bottom of a 9 x 12 baking pan with 2 cups sauce.

Add 5 raw lasagna noodles.

Top with ricotta spinach mixture.

Add 5 more raw lasagna noodles.

Add 4 cups fresh chopped veggies.

Sprinkle on 1/2 cup Parmesan.

Add 5 more raw lasagna noodles.

Top with 3 cups sauce, making sure to cover the noodles completely.

Finally, add 1/2 cup Parmesan on top.

Cover with foil and bake for 45 minutes. Check periodically to make sure top noodles aren't popping up. If they are, simply use your spatula to push them back down into the liquid.

Take off the foil and bake 15 more minutes. You may need more time depending on what noodles you use. Let cool before cutting.
Notes
The jarred sauce is used for convenience, feel free to make your own.
I tested this with gluten free brown rice noodles and it turned out great.
You can also use store bought ricotta and Parmesan to make this even easier.
If your noodles start to buckle on top as it cooks, just use a spatula to keep pushing them down. This happened to me and eventually they got cooked enough to stay down.
Recipe by Veggies Don't Bite, visit our site for more great plant-based recipes.
Nutrition
Calories:
266
kcal
Carbohydrates:
27
g
Protein:
9
g
Fat:
13
g
Saturated Fat:
1
g
Polyunsaturated Fat:
0
g
Monounsaturated Fat:
0
g
Trans Fat:
0
g
Cholesterol:
0
mg
Sodium:
109
mg
Potassium:
212
mg
Fiber:
5
g
Sugar:
5
g
Vitamin A:
3550
IU
Vitamin C:
8.1
mg
Calcium:
23
mg
Iron:
1.3
mg
Nutrition and metric information should be considered an estimate.
Never miss a recipe!
Sign up here and get a FREE quick and easy meal guide!