Satisfy that sweet tooth without the unhealthy ingredients. This healthy strawberry cheesecake smoothie is the perfect combo of dessert and whole food ingredients!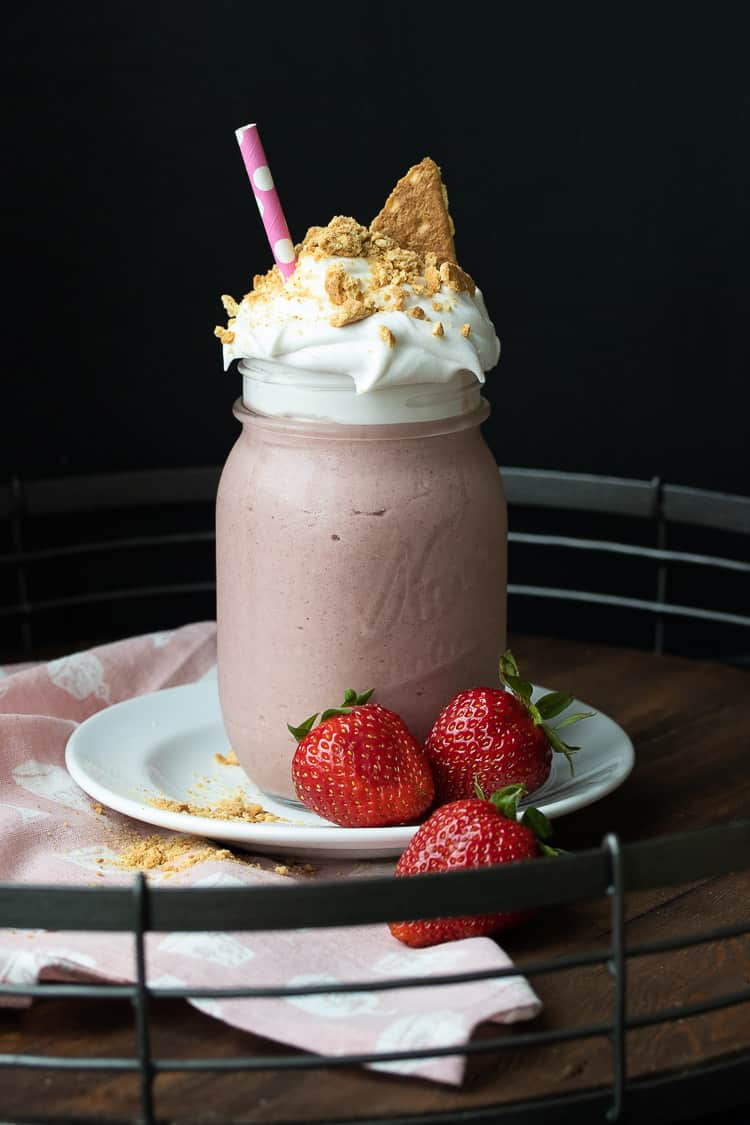 This is a sponsored conversation written by me on behalf of FoodSaver. The opinions and text are all mine.
Strawberries are one of our favorite fruits around here so anytime we can make it into something deliciously sweet, with a twist of healthy, it's a huge win. This frozen strawberry smoothie is the perfect poolside drink, mid day pick me up or after dinner treat!
Healthy Strawberry Cheesecake Smoothie Without the Dairy
The key to the best strawberry based treat is the strawberries. Sounds simple, but it can turn fast bad. Strawberries are finicky little creatures. And when you get bad ones, it can ruin your recipe.
So a little trick I like to use, is when I see good strawberries, especially when they are on sale, I load up. And by load up...I mean LOAD up. But how do you eat all of them before they go bad you ask? You don't silly. You freeze them!
Not only does this save you money, but it also saves you time in having to go back to the store. You can do SO much with frozen strawberries.
And one of my top favorites to make and keep around the house, is this all natural strawberry syrup. It's perfect for this healthy strawberry cheesecake smoothie!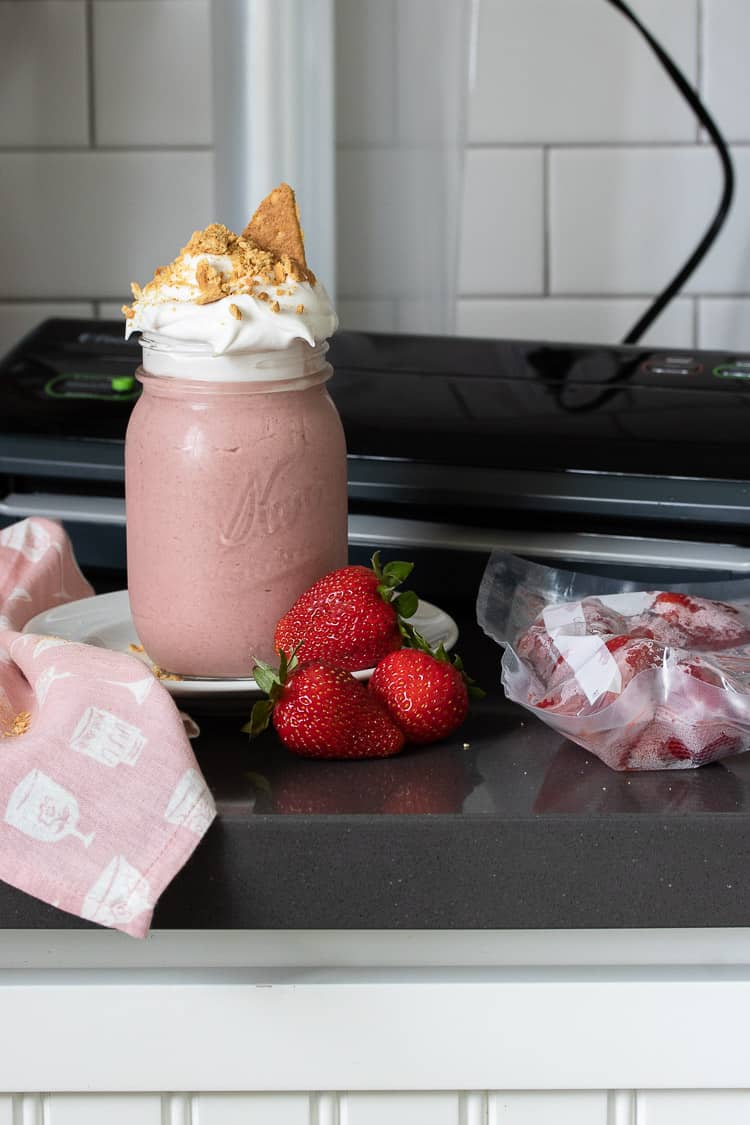 How do you prepare strawberries for freezing?
How you freeze your fresh strawberries makes a big difference. The last thing you want is freezer burn. Yuck!
The first thing I do, is wash the strawberries well. Then I cut off the leaves. This makes them ready to go when you need them so all you need to do is dump and use!
In order to have the freshest frozen berries (wait, is that even a thing?!), a perfect vacuum tight seal is key. This is wear my fave FoodSaver FM2000 Vacuum Sealing SystemFoodSaver FM2000 Vacuum Sealing System comes into play, it's the trusted brand for vacuum sealing.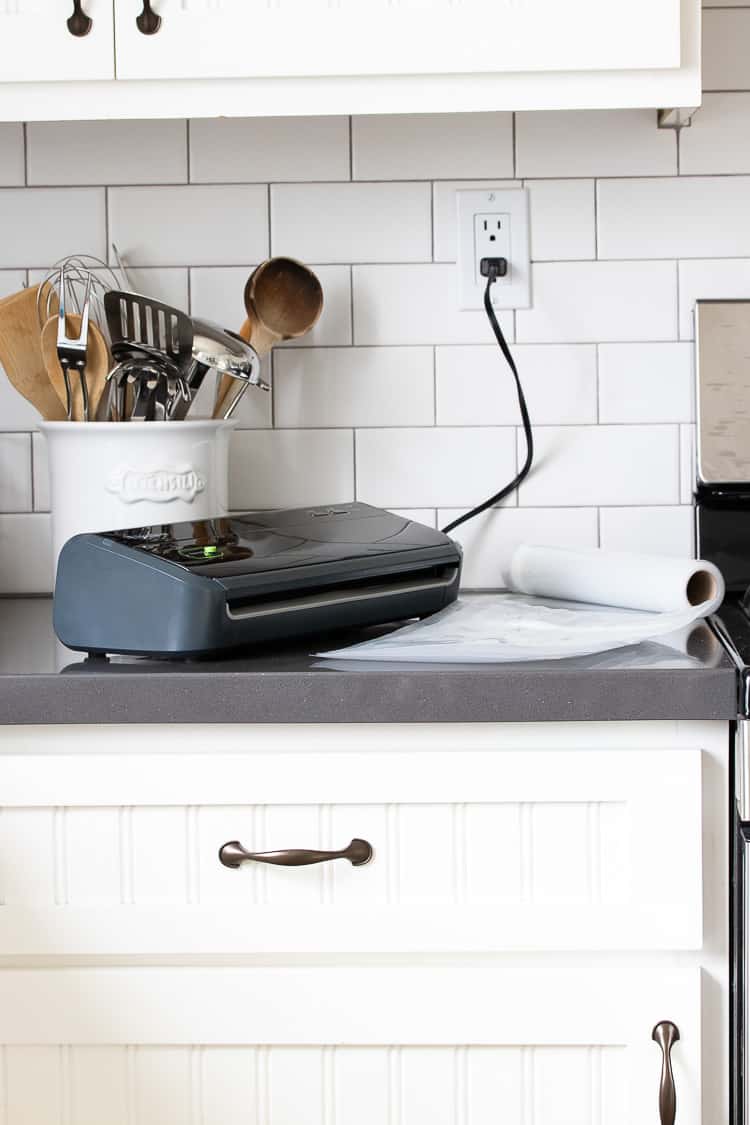 This system helps vacuum seal your food perfectly. Whether you are using the FoodSaver zipper bags, canisters or containers, this baby will seal and deliver the perfect freshly frozen goodies. We use it for leftovers too!
I love that I can hoard strawberries (sorry big burly man trying to manhandle the last basket from me, I win) and freeze them for whenever I need.
I even use this system to store the ice cubes I make with the strawberry syrup for this recipe. Why? because there is nothing more annoying than stacks of ice cube trays that takes up freezer space.
With the vacuum sealed bags, you can stack them on the side and save loads of room! I mean, you need to make space for the ice cream right?
My FoodSaver has quickly become my trusted companion and gives me back:
Money
Time
Space
Plus I know I'm in good hands because it is the number 1 Best Selling Vacuum Sealing Brand, has a 5 Year Limited Warranty and is ETL Safety Certified (which means it is compliant with safety standards).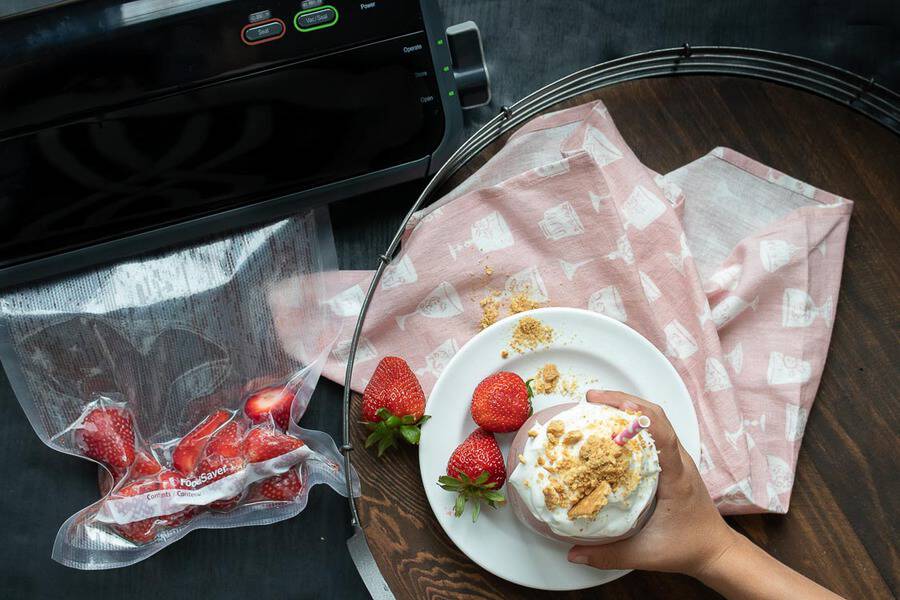 How long do fresh frozen strawberries last?
If kept frozen, freshly frozen strawberries can last up to a year and still taste pretty darn good. They are still safe after that, but freezer burn may take over, especially if you don't use a vacuum sealing system like the Foodsaver.
Can you freeze strawberries and then thaw them?
Absolutely! But there is a method in order to get the best flavor and texture. First, if you are using a vacuum sealed system to freeze the berries to begin with, you will avoid a lot of the iciness that develops around them when in a regular plastic bag.
Take them out of the freezer and put in the refrigerator so that they can defrost slowly. This helps avoid those mushy berries, which happens if you defrost quickly in a microwave.
How do you freeze strawberries without them sticking together?
I can't stand it when I need a small cup of frozen strawberries and when I go to the bag of frozen berries, all I get is a giant hard frozen ball. So how do we avoid this?
I highly suggest using the vacuum seal method. My FoodSaver system helps suck the air out of the bag, allowing a nice tight seal around the strawberries. This way when they defrost and you open the seal, the berries remain fairly in tact and apart.
You also should freeze them in smaller amounts, so that you can grab and use without having to thaw out too many. I like to do half cup portions.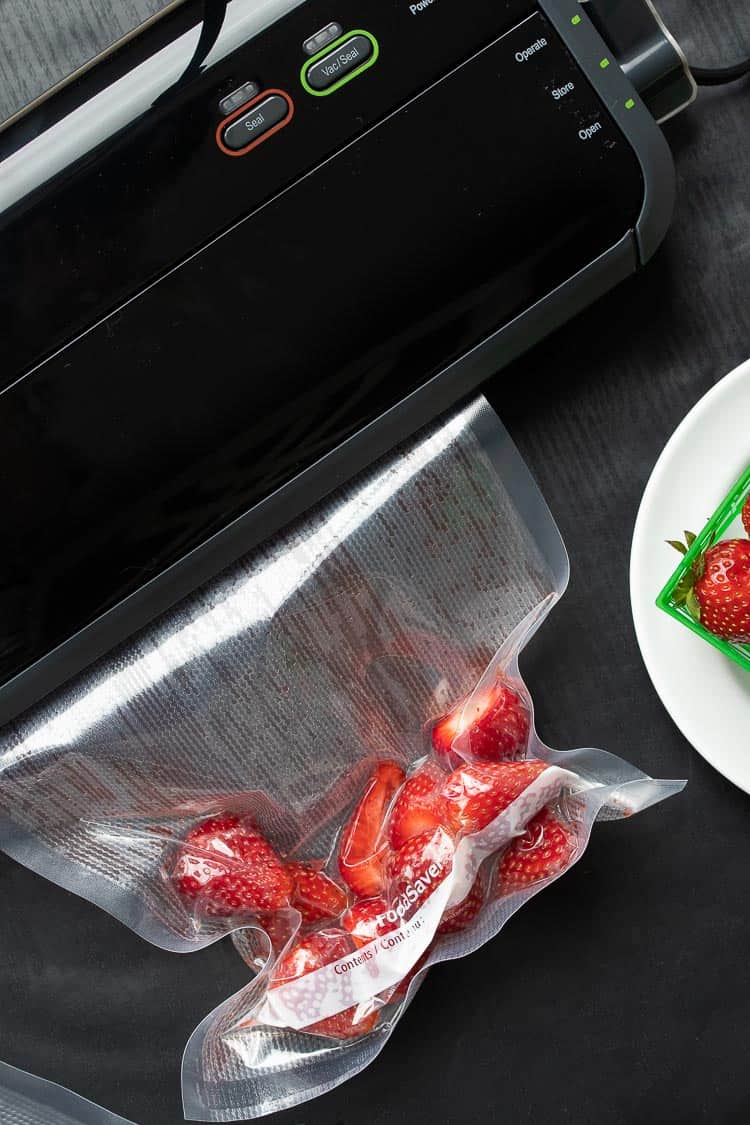 Making a dairy free strawberry cheesecake flavored smoothie
Mimicking dairy flavor in a smoothie is thankfully not too hard to do. My go to ingredients in getting a smooth creamy flavor in frozen treats are:
coconut cream
cashews
dairy free milk
In order to get that cheesecake type tang, I add a combination of two things in this recipe:
apple cider vinegar
lemon juice
Then once you add the sweet strawberry syrup, you get this perfect mixture of a creamy tangy sweet frozen treat! Here is my preferred method to avoid the iciness that often comes with smoothies:
Make the strawberry syrup and freeze cubes.
Use the cubes to make the smoothie.
Blend into a perfectly thick and creamy delicious smoothie.
You could also go straight into using the frozen strawberries with some dates, but I think the flavor and texture of using the frozen strawberry syrup cubes is better.
Check out some other great smoothie options!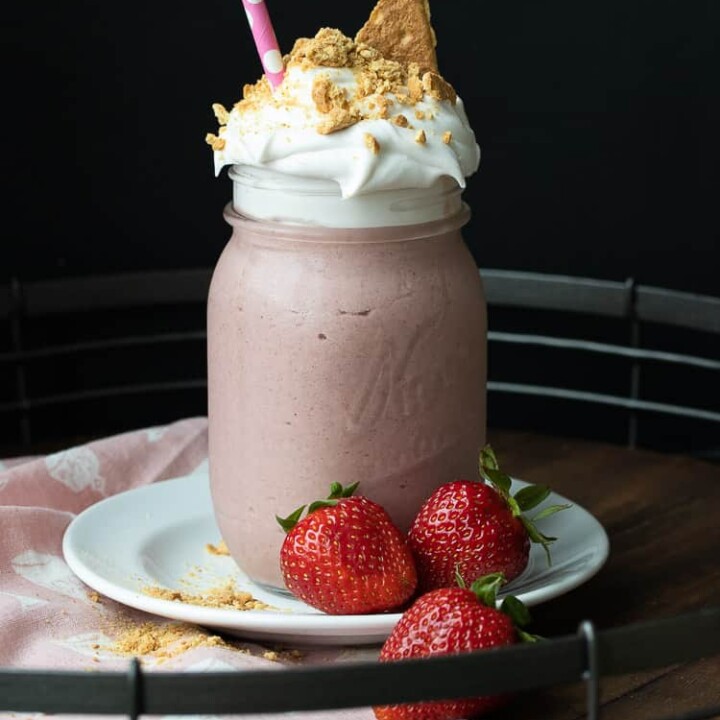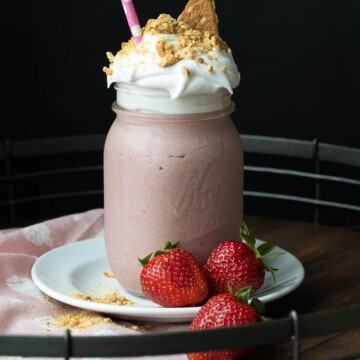 Healthy Strawberry Cheesecake Smoothie
Satisfy that sweet tooth without the unhealthy ingredients. This healthy strawberry cheesecake smoothie is the perfect combo of dessert and whole foods!
Ingredients
1 cup frozen strawberries
1 cup cashew or almond milk
½ cup raw cashews (see note)
¼ cup coconut cream
4 ½ teaspoons lemon juice
4 ½ teaspoons apple cider vinegar
¼ teaspoon vanilla bean or extract
⅛ teaspoon sea salt
12 strawberry syrup ice cubes , made ahead of time (see note)
Instructions
The day before:
Make the strawberry syrup (see link in the ingredients for directions) and freeze into ice cubes. See notes for alternative if you don't want to make the strawberry syrup.
The day of:
Put everything into a blender and blend until thick and smooth.

Top with whipped cream and crushed graham crackers.
Notes
You can use more frozen strawberries and some sweetener, like dates or maple syrup, if you don't want to make the strawberry syrup but the flavor and texture turned out best with the frozen strawberry syrup ice cubes.
The strawberry syrup recipe makes 1 cup which freezes into 12 ice cubes.
If you are not using a high speed blender, you can grind the dry cashews into a fine powder using a coffee grinder (do not soak or boil them for this method). You can also soak them overnight or boil them for 30 minutes.
Tips to prep ahead:
Make the strawberry syrup ice cubes and freeze fresh strawberries for ultimate sweetness.
Recipe by Veggies Don't Bite, visit our site for more great plant-based recipes.
Nutrition
Calories: 437kcalCarbohydrates: 78gProtein: 5gFat: 14gSaturated Fat: 2gSodium: 156mgPotassium: 224mgFiber: 7gSugar: 60gVitamin C: 31.1mgCalcium: 16mgIron: 1.6mg
Nutrition and metric information should be considered an estimate.
Never miss a recipe!
Sign up here and get a FREE quick and easy meal guide!