A homemade vegan buffalo sauce recipe made without butter but you'd never know it! Tastes just like the classic version; spicy and perfect.
This vegan version of buffalo sauce goes with everything. It's healthy and made with simple whole foods, one you'd never guess!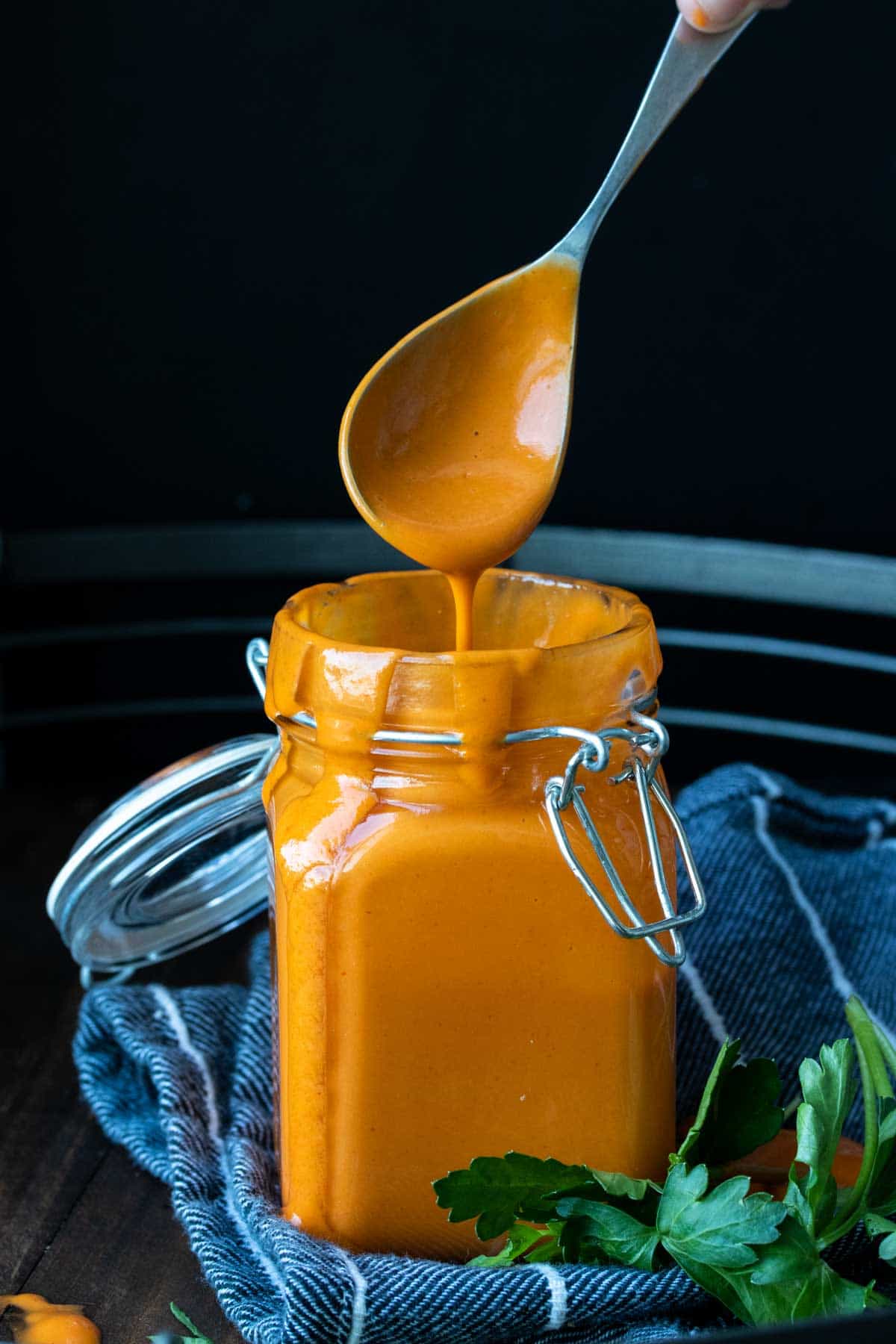 This post was originally published on March 17, 2020.
I put buffalo sauce on everything, the flavor is addicting! You must try this recipe on these vegan buffalo wings, buffalo cauliflower tacos and even use it in my vegan buffalo chicken dip.
Ingredients
I really can't think of anything that you can't smother with buffalo sauce. Pizza? Yep. Lasagna? SO good. Tacos, burritos, wraps, sandwiches....the list goes on!
Here are the ingredients that you need for this amazing vegan buffalo sauce:
Hot sauce
Cashews
Water
Maple syrup
White vinegar
Soy sauce/tamari
Lemon juice
Smoked paprika
Garlic powder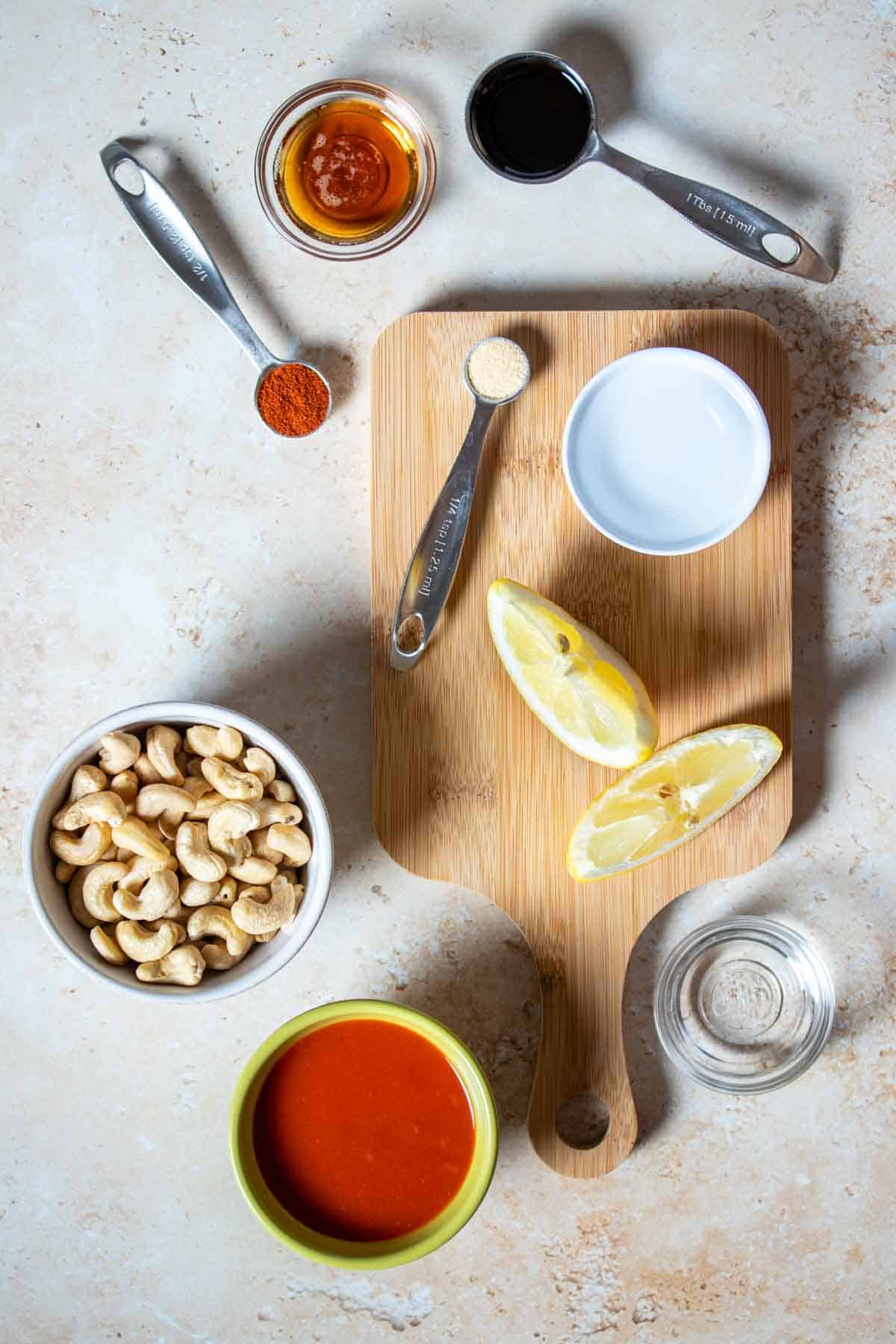 How To Make Vegan Buffalo Sauce
Put everything into a blender and blend until nice and smooth.
Eat on everything!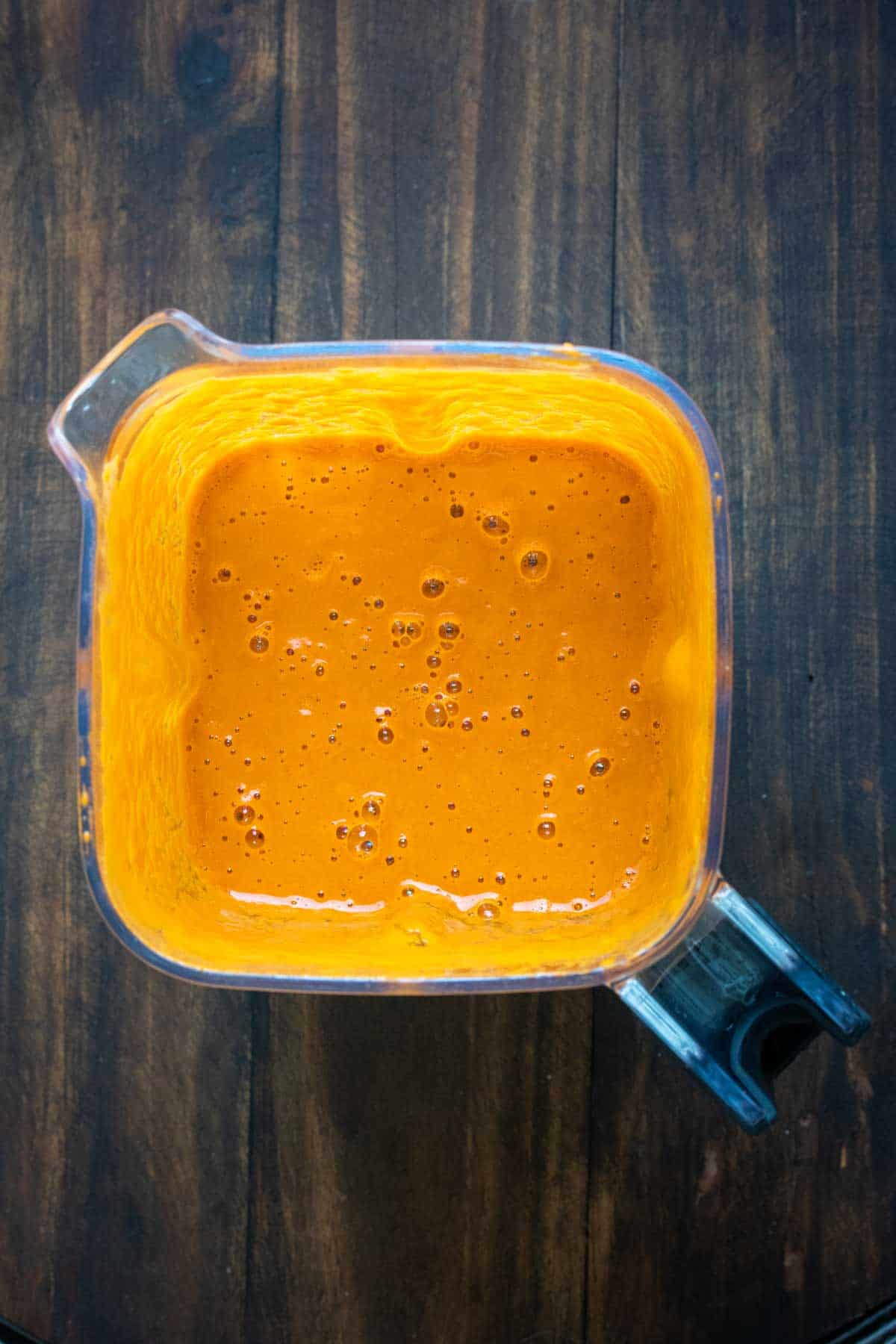 Ways to Use Buffalo Sauce
Here are some of my favorite recipes that use this amazing dairy free buffalo sauce!
Storage Tips
Keep this vegan buffalo sauce in an airtight container. I like using bottles that are easy to pour from such as this OXO Squeeze Bottle or these Plastic Hot Sauce Bottles.
Refrigerate homemade buffalo sauce for up to one month.
You'll want to give it a good shake before using it in case anything has separated although it should be good.
Adjusting the Heat
Since the base of buffalo sauce recipe is hot sauce, this will be a spicy sauce. But some people can take less spice than others (ahem husband). If you find that you love buffalo sauce, but want a touch less heat, here are a few things you can do:
Pour in more vinegar
Add more of the cashew/water mixture if you're making buffalo sauce without butter
You can also mix in more butter if using the butter option
Stir in more lemon juice
Add a touch more maple syrup
If you're a spice lover and want to make this vegan buffalo sauce more spicy here are a couple things you can try:
Mix in some cayenne pepper powder
Choose a spicer hot sauce
Common Questions
Is buffalo sauce vegan?
It all depends on the brand or recipe! Some buffalo sauces are vegan, but some contain dairy. This means it's important to read the ingredient list carefully to ensure the one you are grabbing has no dairy in the ingredients.
Is Frank's Red Hot Wings sauce vegan?
Don't let the "natural butter type flavor" in the description fool you, Frank's Red Hot Sauce IS vegan! So feel free to grab up a bottle if you need something quick. But this recipe is super easy and even more delicious!
What is buffalo flavor?
Traditionally, buffalo flavor is a combination of butter and hot sauce! It's used on things from chicken wings to dips. My Baked Vegan Buffalo Chicken Dip is the perfect way to use it!
Is hot sauce the same as buffalo sauce?
Nope, even though they are both spicy, they are not the same! Hot sauce is simply some combination of hot pepper, salt, and vinegar. If you add butter to the hot sauce, that would get you buffalo sauce.
What is Buffalo sauce made of?
Traditionally, buffalo sauce is a combination of hot sauce and butter, along with some other spices and seasonings. It's pretty easy to create a vegan version by simply using vegan butter. But I needed to take it a step further for this vegan buffalo sauce recipe (always bucking the system!).
So as I was looking at the ingredients in one of my favorite vegan butters, it hit me. I was going to replace the creamy butter with just the right amount of cashews and water!
History of Buffalo Sauce
Buffalo sauce originated in Buffalo, New York at a family owned restaurant called Anchor Bar. The owners received chicken wings instead of the chicken they ordered. So because they didn't want them to go to waste, they mixed them up with some spicy sauce and served them.
More Vegan Sauce Recipes
Now that you see how easy it is to keep this buffalo sauce recipe vegan, try out some more homemade plant based sauces: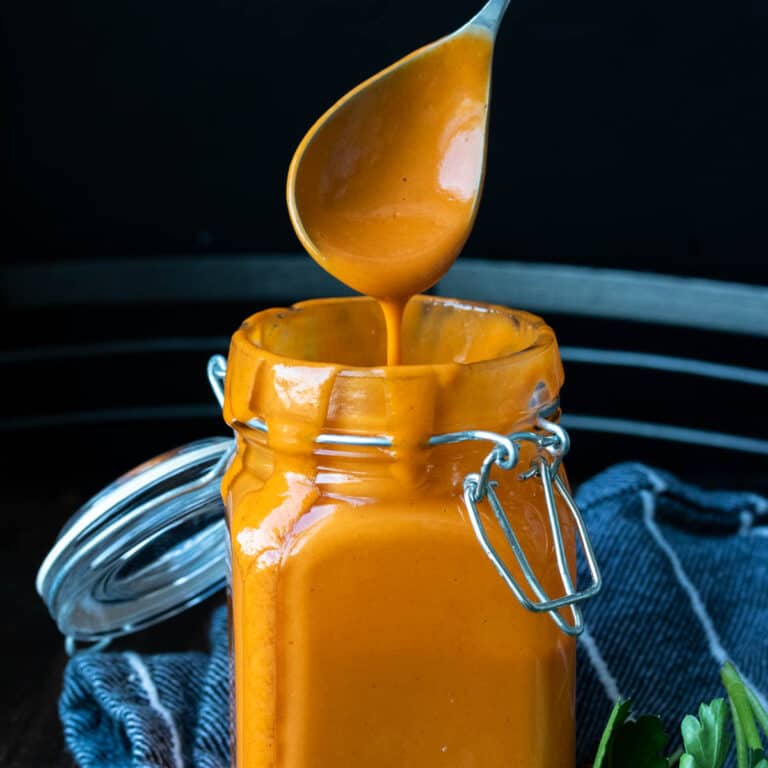 Healthy Vegan Buffalo Sauce (Without Butter)
A homemade vegan buffalo sauce recipe made without butter but you'd never know it! Tastes just like the classic version; spicy and perfect.
Instructions
Put all ingredients into a blender and blend until nice and smooth.

When done, store in an air tight container in the fridge.

Serve on everything!
Notes
Soak your cashews overnight if you don't have a highspeed blender. If you forget to soak your cashews, you could boil them for about 30 minutes. You can also grind the dry cashews into a fine powder with a coffee or spice grinder.
For the butter version, simple substitute the cashews and water with ½ cup vegan butter. You can blend on high to help melt the butter, or make this in a sauce pan instead and cook on the stove.
This makes 1 ½ cups sauce. Serving size is 2 tablespoons.
Tips to prep ahead:
Recipe by Veggies Don't Bite, visit our site for more great plant-based recipes.
Nutrition
Calories: 23kcalCarbohydrates: 3gProtein: 1gFat: 1gSaturated Fat: 1gSodium: 558mgPotassium: 50mgFiber: 1gSugar: 1gVitamin A: 94IUVitamin C: 15mgCalcium: 4mgIron: 1mg
Nutrition and metric information should be considered an estimate.
Never miss a recipe!
Sign up here and get a FREE quick and easy meal guide!