Delicious vegan buffalo wings turned sliders. Crispy, packed with flavor, super healthy and smothered in a vegan ranch dressing that will blow your mind.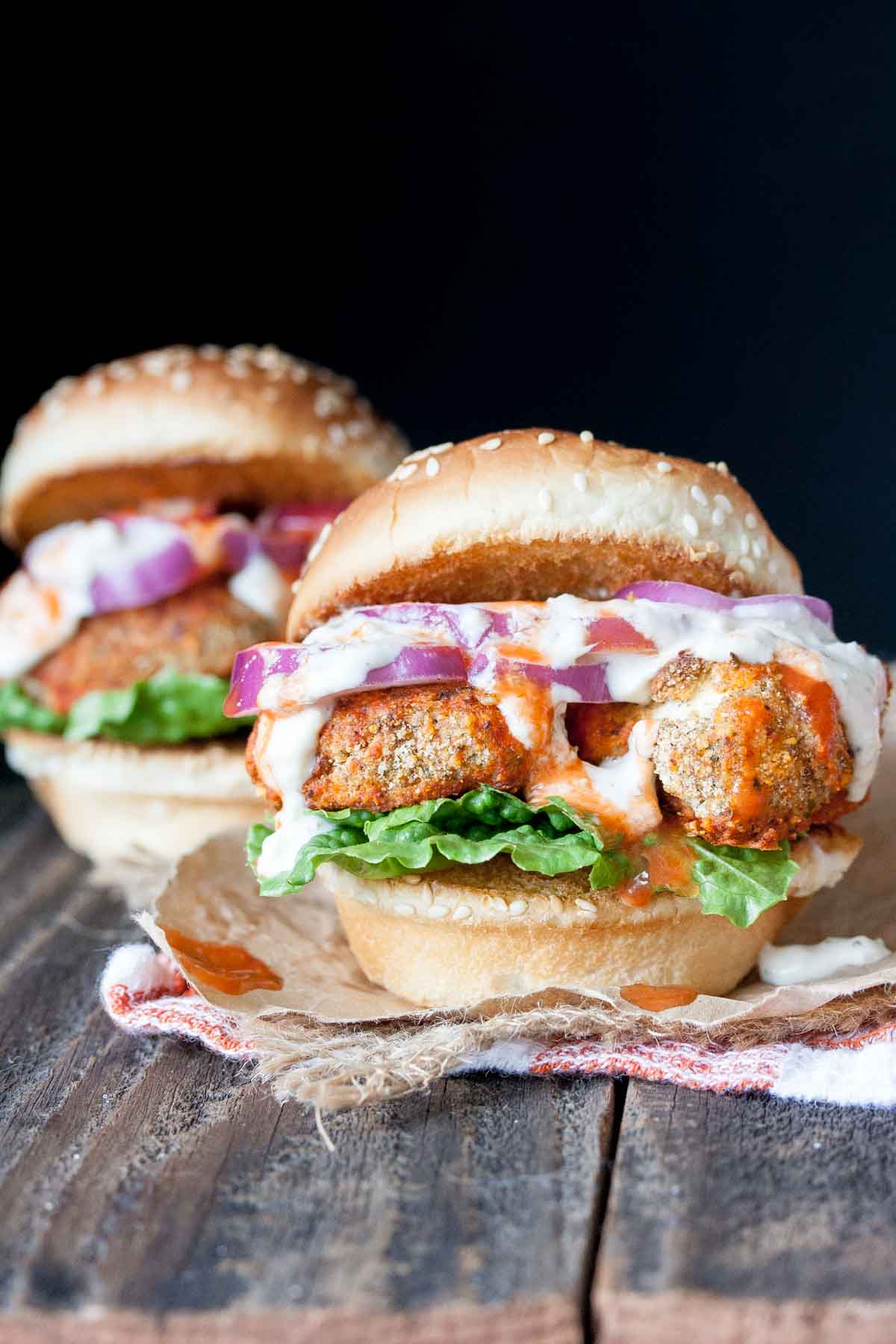 TOMORROW!!! It's the big day friends!!! It's cookbook release day!!! Man oh man, this year has flown by. It was a little over one year ago when I got an email from my publisher asking if I was interested in writing a book, I was shocked to say the least. I remember when I first started creating all of the recipes, people asked how in the world I would come up with so many burgers and burritos. Well lets just say I actually had TOO many ideas! LOL, that pretty much sums up my life. First world blogger problems right? I narrowed it down to my favorites, it was no easy task. But these my friends are the best of the best! A collection of the most diverse, flavorful, delicious burgers, burritos, sauces and sides you will find in one book!
It's no secret I am a hot sauce lover. If you visit my other recipes here on the blog you will find a wide collection of spicy favorites. My Protein Packed Buffalo Dip is a huge reader favorite, as is my Queso Blanco. I even have another buffalo burger, my Buffalo Chickpea Burger, that is topped with crispy baked onion rings. WHAT?! So of course it was necessary to add a few spicy options in my book. And these vegan buffalo wing sliders are no joke. Crispy, packed with flavor, healthy as can be and smothered in a vegan ranch dressing that will blow your mind.
Vegan Ranch Dressing like WOAH
Let's talk ranch. I have tried a few different recipes out there. Some tasty, but none that could stand up next to regular ranch and fool anyone. I swear I have served my vegan ranch dressing to many people and no one had any idea it was vegan. In fact, when I created my recipe I had regular ranch taste tests with friends to compare each step of the way. This is legit people. This vegan ranch dressing is the real deal. Which is why, when I was trying to decide which recipe to share with you all today in celebration of my book release, I knew it had to be this. This dressing speaks my book like no other. Yes the recipes in this book are plant based. Yes they are made of whole food ingredients you find at your regular grocery store (no weirdo stuff). But mostly, this book is simply really good food that just happens to be vegan. Convinced yet? Give yourself an awesome gift and order here!!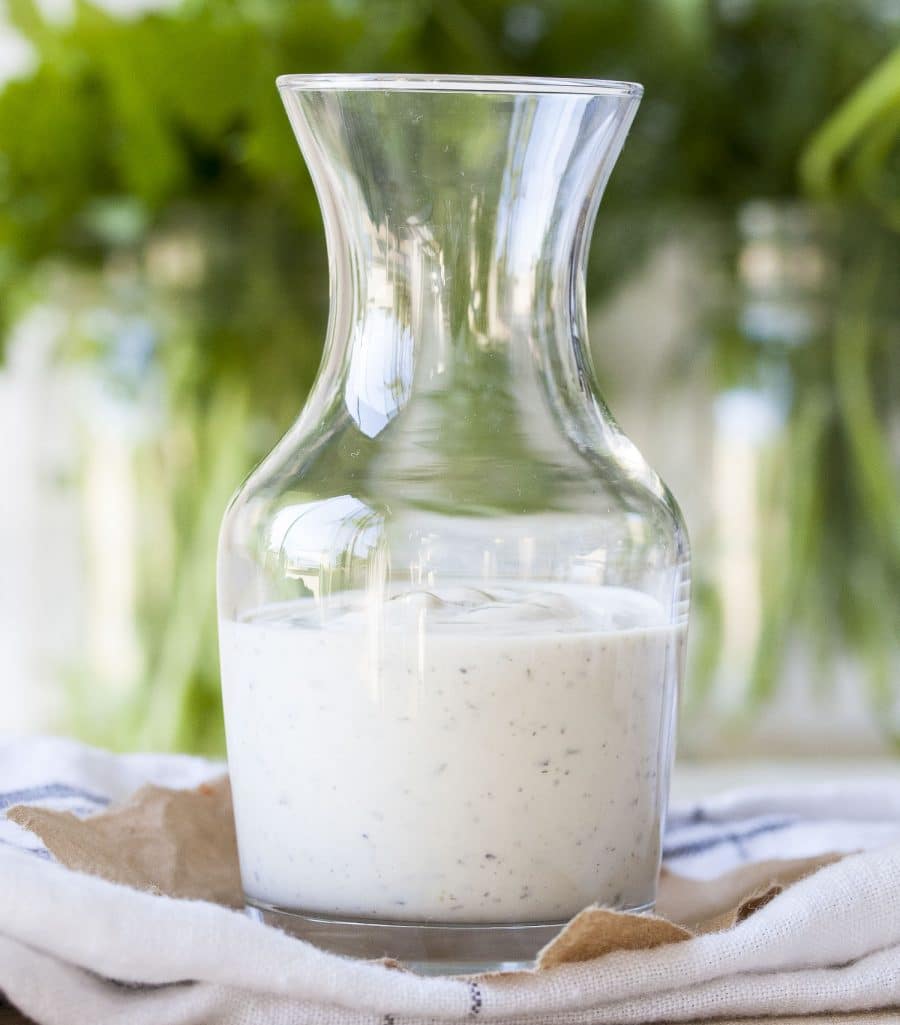 But WAIT!! There's more (I know right?!)…My amazing friends at NOW Foods have let me do a huge giveaway for you guys today! Look at all of these ingredients at your fingertips! Here's the loot you can walk away with:
Scroll down past the recipe to enter! What more can you ask for with this package of ingredients? All you need is to order my cookbook and you're on your way to amazing dinners anytime you want! Happy early holidays to you all!
Vegan Buffalo Wing Sliders and Ranch Dressing
---
Sophia DeSantis | Veggies Dont Bite
Yields 8-10 SLIDERS
Delicious vegan buffalo wings turned sliders. Crispy, packed with flavor, super healthy and smothered in a vegan ranch dressing that will blow your mind.
25 minPrep Time
35 minCook Time
1 hrTotal Time
4.6 based on 10 review(s)
Ingredients
Instructions
Make ranch dressing. Place the cashew milk, vinegar and lemon juice in a bowl and allow it to sit while you assemble the rest of the ingredients.
Add the milk mixture, cashews and salt into a high-speed blender and purée until smooth.
Add the parsley, garlic powder, onion, onion powder, dill, black pepper and mustard powder to the blender and pulse until well mixed. Refrigerate the dip to thicken.
Preheat the oven to 450°F (232°C).
Slice the cauliflower into large slider-size pieces.
Make the crispy coating by mixing together the cornmeal, bread crumbs, hemp seeds, parsley and garlic powder, then place it in a shallow baking dish .
Make the batter by combining the almond flour, buffalo cayenne pepper hot sauce, water and baking powder in a bowl until fully mixed. Add a drizzle of oil if you'd like.
Using one hand for the batter and one for the coating (this helps avoid clumping of the coating), dip each cauliflower piece in the batter then place in the coating dish and cover with coating. Place each piece on a parchment-lined cookie sheet . Make sure to evenly spread out the pieces.
Bake for about 25 minutes. Remove the cookie sheet from the oven and drizzle about 1/2 cup (120 ml) hot sauce on top of the cauliflower pieces, trying to coat the top sides well. Using a pastry brush can help. Flip them over and drizzle the rest of the hot sauce on top of the other sides, trying to coat them well. Put them back in the oven and bake for 10 minutes until they're crispy.
Serve immediately on slider buns with the toppings of your choice, using 1 to 2 pieces of cauliflower for each slider, depending on size.
Notes
You can add a small drizzle of oil to the batter if you want. It is definitely not needed but can add an extra crispness to the final product. You can use almond flour instead of hemp seeds to make it easier, but I like the final texture the hemp seeds give because of their natural oils. I use a fine-ground blanched almond flour, but because this isn't a baked good, any almond flour would work. If you are not using a high-speed blender, there are a couple of options for making your sauce smooth: You can use a coffee grinder to grind everything to a fine powder, or make sure to soak your cashews overnight, or for at least 2 to 3 hours. If you forget, you can also boil them for 30 minutes. I use distilled white vinegar here for the specific flavor it adds. I tried this with apple cider vinegar and it does not have the same tang. You can definitely sub it if you want but please be aware that the flavor will be compromised. The tangy flavor that distilled white vinegar gives is what makes this ranch so traditional tasting.
7.6.5
147
https://www.veggiesdontbite.com/vegan-buffalo-wing-sliders-ranch-dressing/