This buffalo cauliflower will blow you away. It's healthy, vegan, gluten-free, made with wholesome ingredients and has the perfect crisp!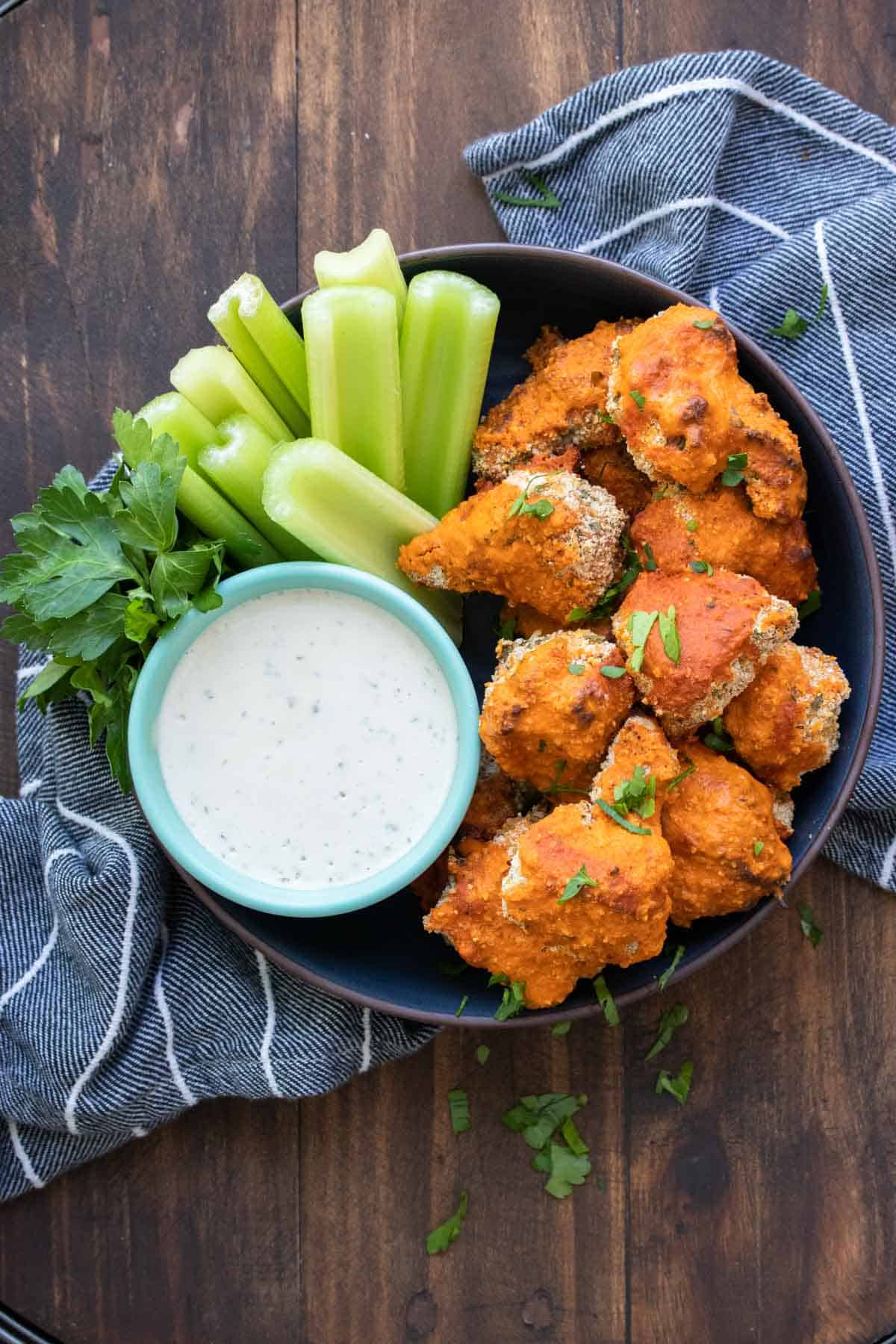 This post was originally published on November 6, 2017.
We love this recipe. It's dangerously addicting, but since it's made with veggies it's a meal you won't care to stop! Eat them alone, or use them to top a salad, in a sandwich or any other way you desire.
Vegan wings are a weird thought. Wings overall have always freaked me out! But when I figured out how to get the perfect comfort food flavor without the actual "wing" I became a top of the line addict!
Ingredients
The ingredients you need to make buffalo cauliflower are:
Cauliflower 
Cornmeal
Bread crumbs (gluten-free if needed)
Hemp seeds
Almond Flour 
Soda Water
Baking Powder
Seasonings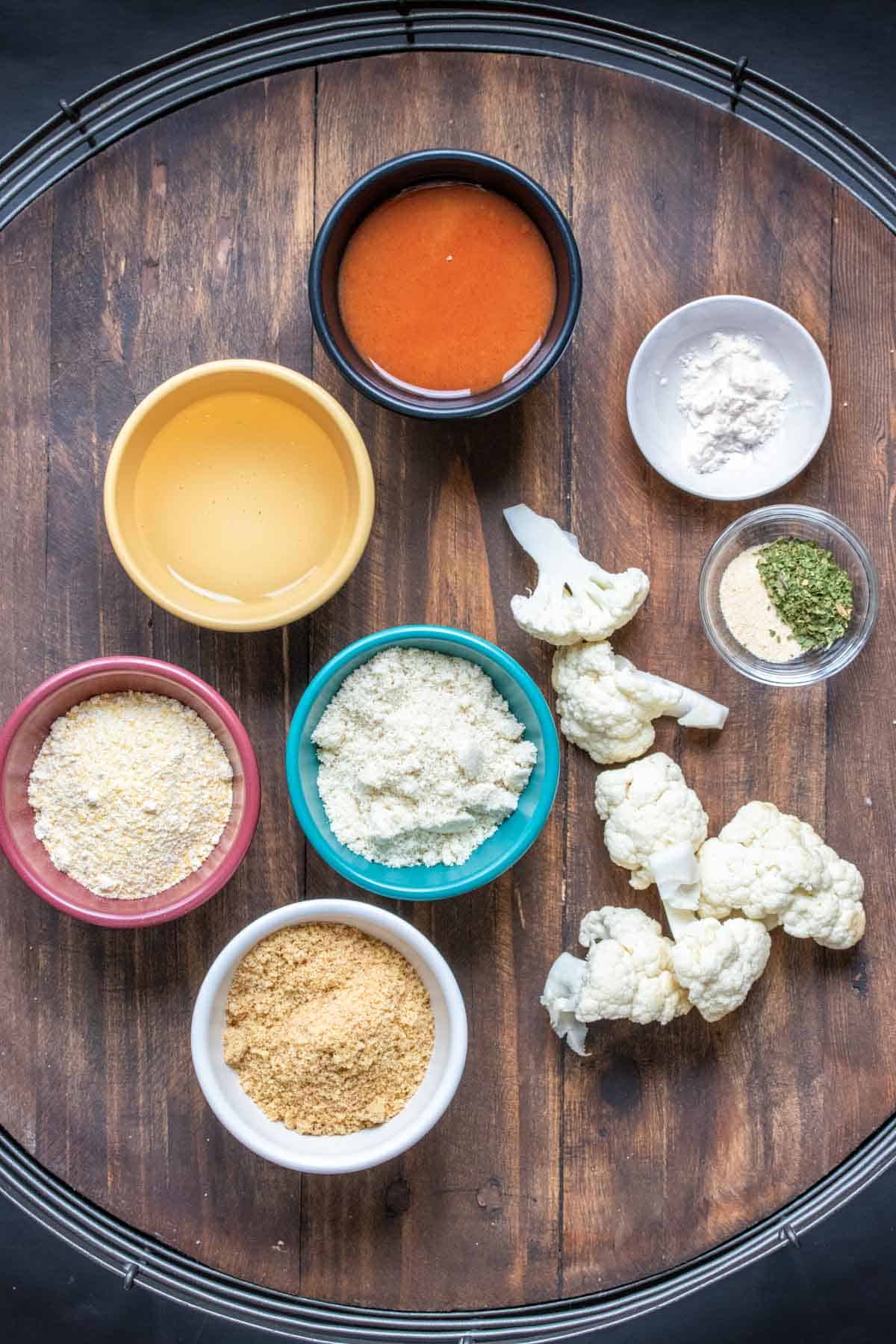 How To Make Vegan Buffalo Cauliflower Bites
It's a pretty simple process for making this crispy buffalo cauliflower, here are the steps:
Make the batter and the crispy coating.
Cover the cauliflower pieces into the batter then into the coating.
Put on a parchment lined baking sheet.
Bake, coat with sauce, and bake some more.
Dip and enjoy!
Serving suggestions
I love eating these buffalo wings right from the pan with some Vegan Homemade Ranch Dressing, but when I take a moment to act like a grown adult, I put them together as a full meal with so many other things! Here are a few side dishes we love these with:
These buffalo wings are also perfect to use as a part in other recipes. These are some of my favorite ways to use them:
Over a salad
In a wrap
Buffalo Wing Sliders
These vegan buffalo wing sliders are a recipe in my Vegan Burgers and Burritos cookbook and they are amazing! Find this and many more vegan burgers and burritos, plus sauces and sides.
Preparation tips
Here are a few suggestions for the best results:
You'll want to wash your cauliflower and then cut into chunk size pieces. I prefer to keep my pieces a bit larger unless I'm making them for kids, in which case I'll cut them to nugget size.
To get the look of a real buffalo wing, you want to include some of the stem.
Put the coating in a shallow baking dish, or a ziptop bag for a shake and bake option.
You can add a small drizzle of oil to the batter if you want. It is definitely not needed but can add an extra crispness to the final product.
The key to these crispy oven baked wings, is in the batter and coating. The soda water helps fluff up the batter, which helps keep on the crispy outer coating.
The combination of cornmeal, breadcrumbs and hemp seeds gives the perfect amount of fat for that fried feel, plus crispness. You can use almond flour if you don't want to break out the hemp seeds, but I love the whole food fat hemp seeds give.
Storage and reheating tips
These vegan buffalo wings are best served fresh. But, if you don't eat them all (like in case you lost all sense of taste for a hot minute), you can save them for later.
Store leftovers in an airtight container in the refrigerator for up to 5 days.
The best way to reheat these is to pop them back into the oven! You can heat them in the regular oven or even in your toaster oven.
An air fryer can also be used to reheat leftover buffalo cauliflower.
You don't want to microwave or they will get mushy and soft. And we allllll know how I feel about soft mushy things.
Tips for making ahead
This isn't the best prep ahead food. You really want this nice and fresh, especially the batter since the fluffiness in the soda water goes away after some time. But there are a few things you can do to make this process a bit shorter:
Make the outer coating and keep in an air tight container.
Cut the cauliflower.
Make the buffalo sauce (or buy store bought).
Common Questions
What are vegan buffalo wings made of?
There are many ways people create a non wing wing. Some use seitan (not a fan), others use veggies, and some use tofu. For me, my top choice in both texture and flavor is… CAULIFLOWER.

Cauliflower really doesn't have much flavor as it is, so it's a great vehicle for loads of flavor. It really holds onto sauces and when dressed up in a crispy coating, it crisps up perfectly with a great texture.

What is buffalo sauce made of?
Traditionally, buffalo sauce is a combination of hot sauce and butter, along with some other spices and seasonings. It's pretty easy to create a vegan version by simply using vegan butter.

But of course being me, that was too easy. So I created a homemade buffalo sauce without butter!
How do you prepare cauliflower?
First off you need to wash it. Then, cut away the leaves and stem. Then cut or break apart the florets into your desired size.
Why are my cauliflower wings soggy?
Not using the batter and crispy coating combo can result in baked cauliflower wings that are soggy. Also, make sure to bake on a parchment lined baking sheet at the recommended temperature.
How do you reheat Buffalo cauliflower?
The best ways to reheat cauliflower wings is in the oven, toaster oven, or air fryer.
More Vegan Cauliflower Recipes
Cauliflower is one of those great versatile ingredients that can make so many recipes! There's no reason for it to be boring. Try out these other plant based cauliflower recipes to keep things interesting: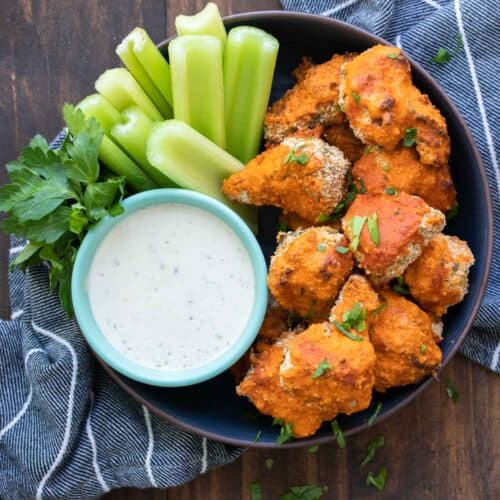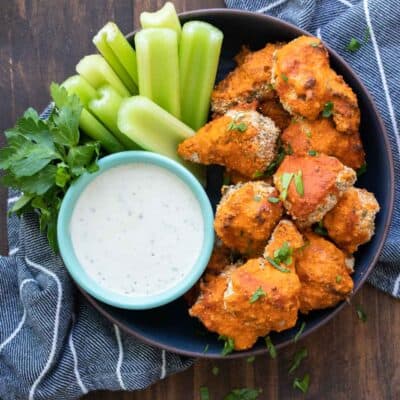 Healthy Vegan Buffalo Cauliflower Wings
This buffalo cauliflower will blow you away. It's healthy, vegan, gluten-free, made with wholesome ingredients and has the perfect crisp!
Ingredients
1

head

cauliflower

(medium-size)

3/4 – 1

cup

vegan buffalo sauce

, or any cayenne pepper hot sauce like Franks
CRISPY COATING:
3/4

cup

cornmeal

3/4

cup

bread crumbs

(gluten-free if needed)

6

tbsp

hemp seeds or almond flour

, grind the hemp seeds for best results (see notes)

6

tsp

dried parsley

6

tsp

garlic powder
Instructions
Preheat the oven to 450°F (232°C).

Slice the cauliflower into large slider-size pieces. Or cut into nugget size if making for kids.

Make the crispy coating by mixing together the cornmeal, bread crumbs, ground hemp seeds (or almond flour), parsley and garlic powder, then place it in a shallow baking dish. You can also put it into a large plastic bag for the shake and bake option.

Make the batter by combining the almond flour, buffalo cayenne pepper hot sauce, water and baking powder in a bowl until fully mixed. Add a drizzle of oil if you'd like. See notes for kid friendly batter.

Using one hand for the batter and one for the coating (this helps avoid clumping of the coating), dip each cauliflower piece in the batter then place in the coating dish and cover with coating. Place each piece on a parchment-lined cookie sheet. Make sure to evenly spread out the pieces.

If using the plastic bag, simply place the batter coated cauliflower into the bag and shake to coat in the topping. It should all fit but do it in parts if need be, just make sure to only use half of the coating so that it doesn't all get wet.

Bake for about 25 minutes. Remove the cookie sheet from the oven and drizzle about 1/2 cup (120 ml) hot sauce on top of the cauliflower pieces, trying to coat the top sides well. Using a pastry brush can help.

Flip them over and drizzle the rest of the hot sauce on top of the other sides, trying to coat them well. Put them back in the oven and bake for 10 minutes until they're crispy.
Notes
You can use almond flour instead of hemp seeds to make is easier, but I like the final texture the hemp seeds give because of their natural oils.
I use a fine grained almond flour, but because this isn't a baked good, any almond flour would work.
You can add a small drizzle of oil to the batter if you want. It is definitely not needed but can add an extra crispness to the final product.
This makes about 30 pieces, depending on how small you cut the cauliflower. Serving size is about 5 pieces.
Baby/Kid Food idea:
To make these kid friendly, for the batter, use 1 cup milk of choice, 2 teaspoons apple cider vinegar, 1 cup almond flour. Whisk well. You can also add some of the parsley and garlic powder into the batter if you want too. Don't drizzle it in hot sauce part way through baking, simply bake for 30-35 minutes. Other than that everything else is the same!
Recipe by Veggies Don't Bite, visit our site for more great plant-based recipes.
Nutrition
Calories:
312
kcal
Carbohydrates:
38
g
Protein:
12
g
Fat:
15
g
Saturated Fat:
1
g
Sodium:
969
mg
Potassium:
596
mg
Fiber:
8
g
Sugar:
4
g
Vitamin A:
10
IU
Vitamin C:
47
mg
Calcium:
180
mg
Iron:
3
mg
Nutrition and metric information should be considered an estimate.
Never miss a recipe!
Sign up here and get a FREE quick and easy meal guide!