This vegan shawarma recipe is made with portobello mushrooms for a healthy version of traditional street food. It's easy and so delicious!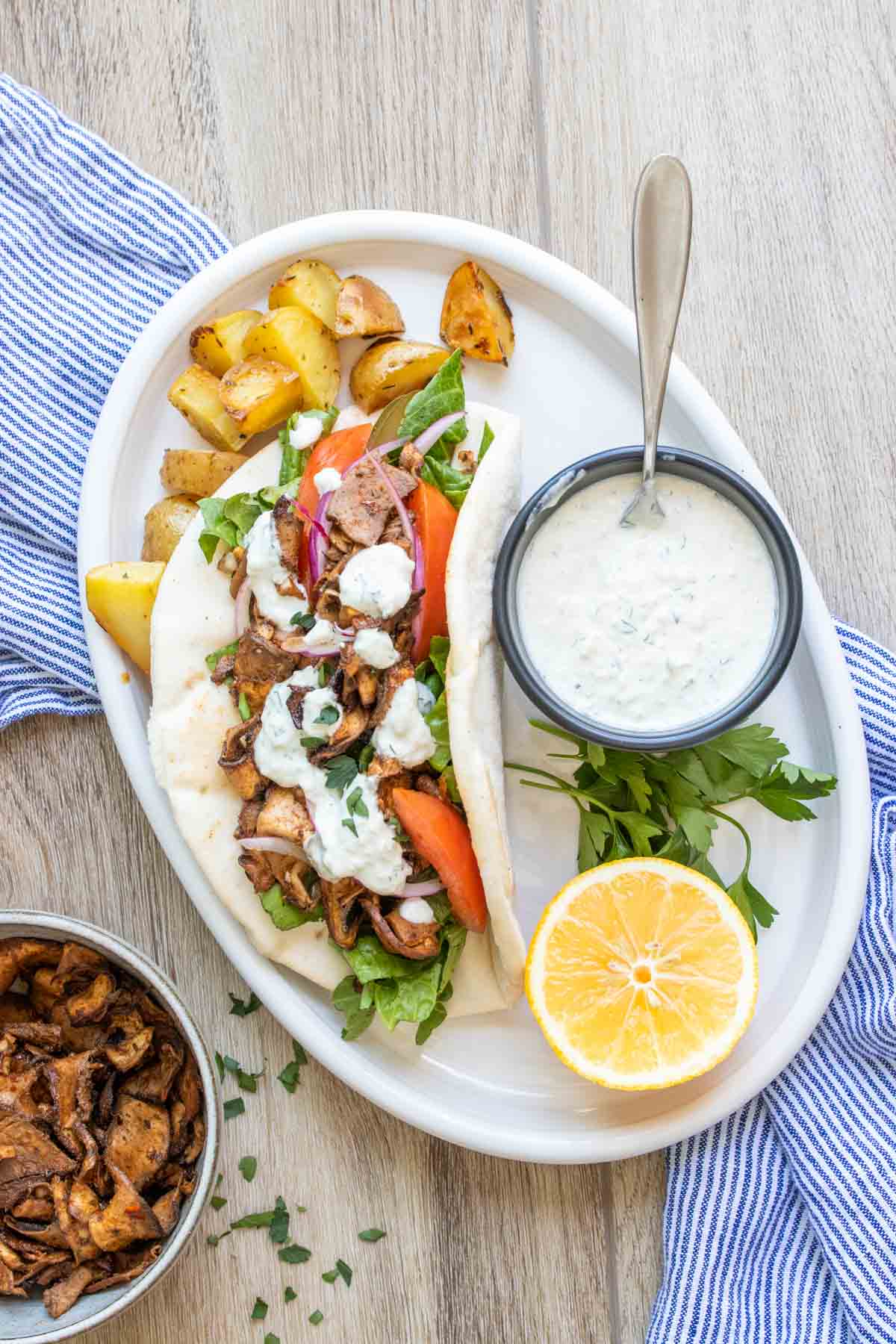 I love stepping out of my comfort zone to create recipes from other cultures. While I know this isn't as authentic as what someone would make that knew it better, it's still delicious and a great way to get more plants into your diet!
Traditionally, shawarma is slices of meat flavored with a wide array of seasonings, piled up, then cooked rotisserie style. Most of us don't have a rotisserie at home, and some of us like plant based food instead of meat. In comes this vegan shawarma! It captures many of the flavors of the original recipe in a meat free and easy process.
Ingredients
In order to make this plant based shawarma, you will need the following ingredients:
Portobello mushrooms
Garlic
Lemon juice
Apple cider vinegar
Cumin
Cloves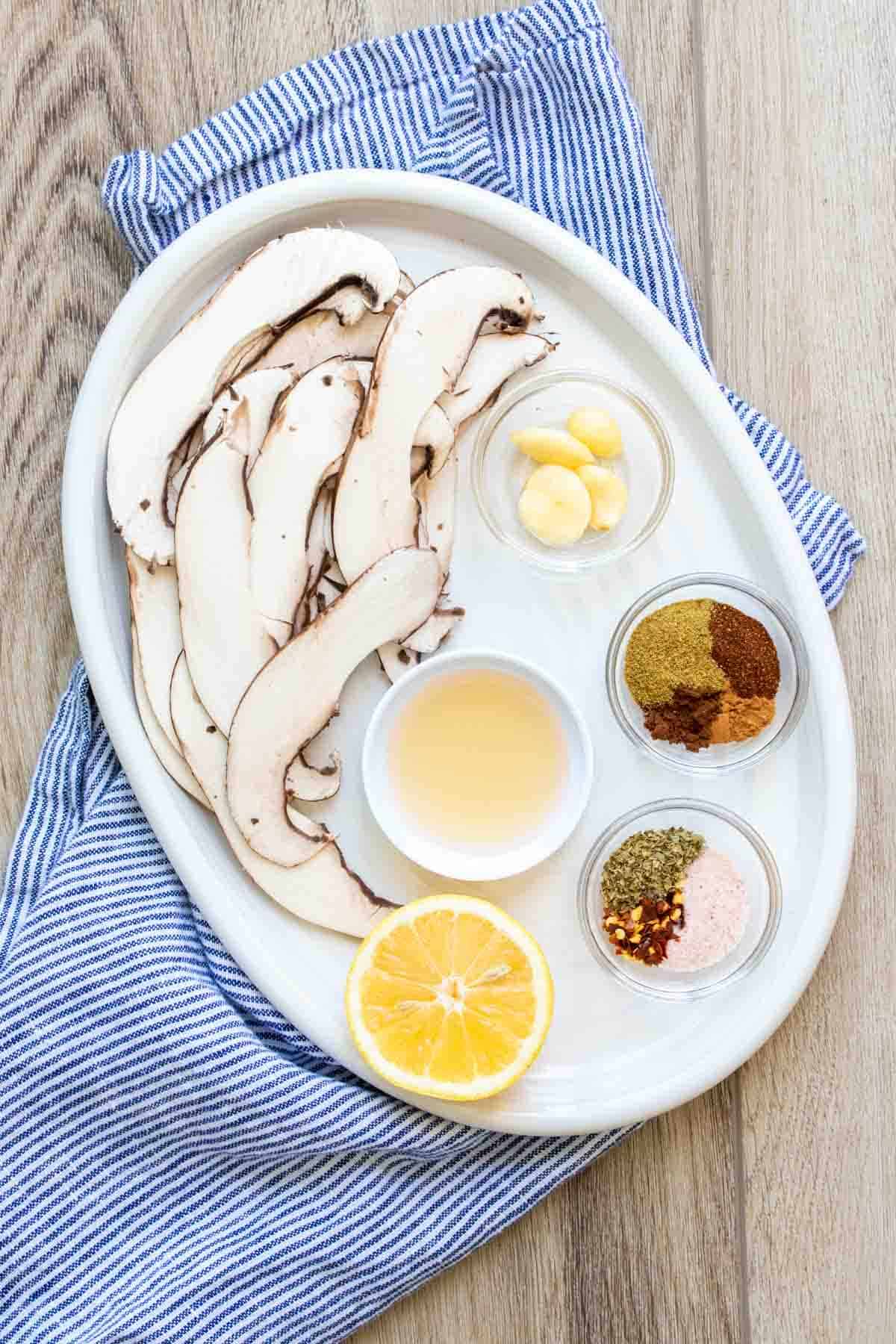 How to Make Vegan Shawarma
It's so easy to make your own homemade shawarma! Here's what to do:
Marinate and bake the mushrooms.
Then load onto warmed pita bread.
Add toppings and serve!
Topping suggestions
This vegan shawarma can be served with a plate of rice and grilled veggies. It also tastes amazing folded into warm, soft, pita bread. Load it up with toppings to suit your taste. Here are some of our favorites:
Pickles
Tomatoes
Lettuce
Red onion
Tips and tricks
Here are a few helpful hints when making the best vegan shawarma:
You can also use tempeh instead of mushrooms. Cut the block in half. Boil tempeh halves for 10-15 minutes. Remove and cool, then slice it into ¼ inch slices.
Also, if you use the tempeh, you will need some broth to bake it so it doesn't dry out.
If you don't like spicy food, use less red pepper, or omit completely.
Adjust the seasonings for your tastes, the flavor combos are easily customized.
Store leftover shawarma in the refrigerator for up to 3-4 days in an airtight container.
Reheat in a skillet, the oven, or microwave.
Common Questions
What is in vegan shawarma?
Slices of portobello mushrooms or tempeh act as the base, and they are seasoned with a variety of spices.
What is Shawarma made of?
Shawarma seasoning can be made from a wide variety of spices. Most recipes include cumin, paprika, cloves, and cinnamon. Other spices often included are turmeric, onion powder, garlic powder, allspice, oregano, or nutmeg.
What is vegan kebab meat?
It can be made from many plant based foods. Some use soy based products, tempeh, seitan, or veggies. Really it comes down to getting the right seasonings and texture!
More Vegan Mediterranean Recipes
Satisfy that fresh flavor craving with these easy and healthy plant based recipes: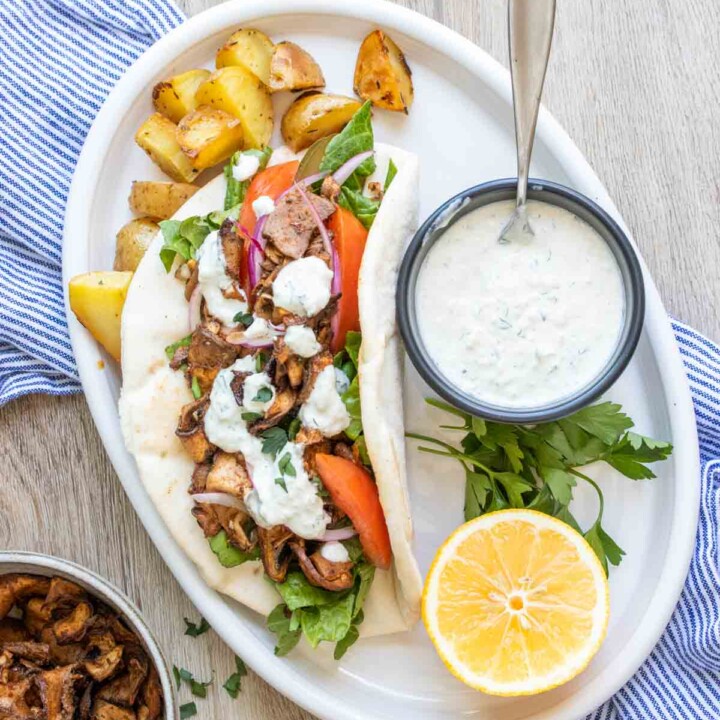 Vegan Shawarma Recipe with Portobello
This vegan shawarma recipe is made with portobello mushrooms for a healthy version of traditional street food. It's easy and so delicious!
Ingredients
2 portobello mushrooms , or you can also use 8 ounce package of tempeh
3-4 cloves garlic , minced
2 tablespoons lemon juice
1 tablespoon apple cider vinegar
1 ½ teaspoons paprika
1 teaspoon cumin
1 teaspoon oregano
¾ - 1 teaspoon sea salt
½ - ¾ teaspoons cloves , adjust to your preference
½ - ½ teaspoons crushed red pepper , use less if you do not like spice
¼ - ½ teaspoon cinnamon , adjust to your preference
Drizzle of olive oil or broth if you don't use oil
To serve
Pita bread , gluten-free if needed
Pickles
Tomatoes
Lettuce
Red onion
Instructions
Preheat oven to 350.

Mix all the ingredients, except the mushrooms/tempeh in a bowl and mix well.

If using portobello mushrooms, thinly slice them. Put them in a baking pan.

If using tempeh, cut tempeh block in half. Bring a pot of water to a boil, place tempeh halves inside and boil for 10-15 minutes. This removed any bitter taste from the tempeh. Remove tempeh, and after it has cooled slice it into ¼ inch slices.

Add the spice mix to the pan with the mushrooms/tempeh. Using your hands massage the mixture into the mushrooms/tempeh so they are well coated.

You can allow it to sit while you prep any toppings/sides, but you don't have to marinate it too long. About 5-10 minutes while you clean up works great too.

Bake for 35-40 minutes or until golden brown and beginning to crisp at the edges. You may want to mix the slices up part way through.

Once it is done, warm your pita in the oven for 3-5 minutes to make it more pliable and easy to eat.

Assemble and serve!
Notes
This is my version of shawarma, there are some flavors in some traditional versions we don't love so I created it based on the spices we liked.
If you do not love the cinnamon and clove flavor then I'd suggest using on the lower end. They are required to get a more traditional flavor, but it's up to you how much you want in. I only like a little of them for a hint of flavor.
If you use the tempeh, you will need some broth to bake it so it doesn't dry out. I'd start with ½ cup and add more as it baked if you see it getting dry. A little oil helps too.
The nutrition facts are for the base recipe only, they will change depending on the toppings you use.
Recipe by Veggies Don't Bite, visit our site for more great plant-based recipes.
Nutrition
Calories: 22kcalCarbohydrates: 4gProtein: 1gFat: 1gSaturated Fat: 1gPolyunsaturated Fat: 1gMonounsaturated Fat: 1gTrans Fat: 1gSodium: 400mgPotassium: 211mgFiber: 1gSugar: 1gVitamin A: 460IUVitamin C: 4mgCalcium: 23mgIron: 1mg
Nutrition and metric information should be considered an estimate.
Never miss a recipe!
Sign up here and get a FREE quick and easy meal guide!