This is the 100th episode of Real Food Real Conversations and I can't believe it! I published my first episode almost two years ago, so much has changed since then.
Listen in to hear updates of how we are doing and where we are now!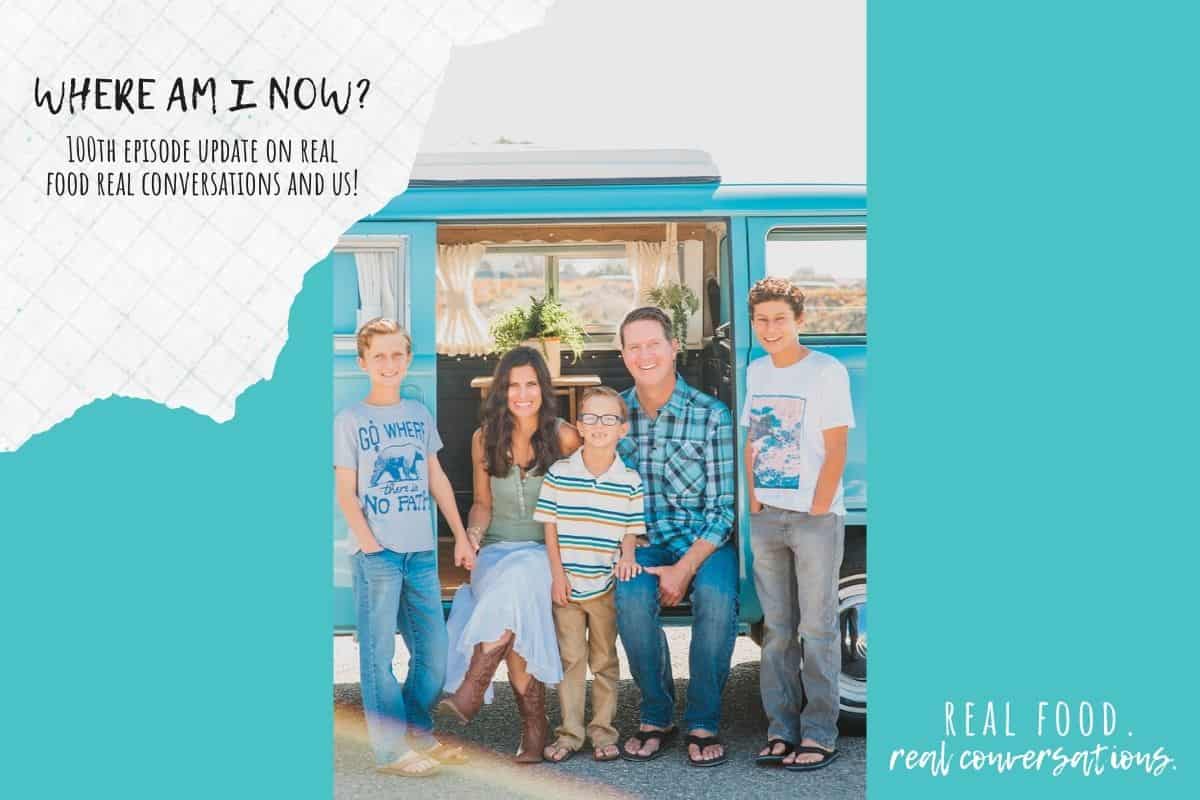 Time can change people, especially after the last two years we have had. It most certainly has changed our family and life.
Podcast: Play in new window | Download | Embed

Subscribe now! Apple Podcasts | Google Podcasts | iHeartRadio | Stitcher | TuneIn | Deezer | RSS | More
Starting my podcast was something I decided to do after realizing life was slowing down with all happening in 2020 and business was going to change for me. Brand budgets were tight, the world was unsure of it's future.
I needed something else and my awesome business coach (I interviewed her in the episode about exercise habits) suggested a podcast. I am thinking it's because I like to talk, LOL! She is not wrong.
Starting a podcast helped me express the thoughts and ideas I had without the pressure of social media. I liked having a platform that I didn't have to worry about an algorithm for, I could choose what to say and how I wanted to say it.
It was so freeing and really helped me get through 2020. I loved meeting so many new people, even if it was only online. But that was our new normal at the time, and it gave me avenues to be social when being social in life was harder.
How Our Life Has Changed
The last two years have taught me a lot. My life, my self, and my business have all gone through changes. Some experiences have been good, and some have been rough. But all in all, I am a better person today than I was two years ago.
Changes in my business
When the world shut down, unfortunately so did a lot of my income. I make the bulk of my money partnering with brands to share products I know, use and love with my audience.
Because of the financial breakdowns with all that happened in 2020, many businesses put their budgets on hold. Which meant I my income was also put on hold.
The good part was that my site traffic increased a ton as people now were home learning how to cook and bake, and having more meals at home. This was great and I loved sharing more with everyone!
I even created some pantry meal videos and gave them out for free to my audience, this felt good because I love giving to the community. But overall, we took a hit financially so I had to make some changes.
When you go through struggles, you learn a lot about yourself and are able to step back and see what it is you truly want.
I realized how much I love food photography and the creative aspect in what I do, from the photos to the recipes. Which led me to a year long photography mentorship that I am doing now.
I also learned that I love the health aspect about what I teach and got certified to be an ACE Health and Wellness Coach. I truly enjoy working with clients to help them meet their health and wellness goals! If you are looking for a coach that will guide you towards your goals and be by your side as you succeed, I'm your girl!
Today, I am in a very good place with Veggies Don't Bite. Business is picking up again and I am focusing on partnerships that make me happy and fill me up. One thing that I have learned is that life is too short to be unhappy. Money isn't everything, you can adjust your budget to keep your mental health in a good place.
Why I don't eat gluten
If you have read about our journey with our diet changes, and what led me to start my business, you'll know that it all started with my husband's health. We began eating a plant-based diet for his heart health, and (mostly) haven't made a ton of changes.
About two years ago, I started working with a functional medicine doctor (I had her on the podcast to chat about mental and physical health) after I went into early onset menopause. One of the first things I learned was that I needed to cut out gluten.
Wow, what a life changer. I had dealt with seasonal allergies my entire adult life, being on one form of medication for many years. 6 months after cutting gluten, I was medication free and had no allergies. Poof, gone.
The inflammation in my body had diminished significantly and so my allergies had also diminished. I also felt less constant bloating and my stomach didn't hurt as much.
Another huge thing I noticed is that my anxiety levels decreased as well. This I truly believe was a difference that had to do with the gluten, focusing more on mindfulness and incorporating yoga into my life. In fact I recently got my MBSR (a mindfulness program) certification!
Change in our plant-based diet
Overall, we still eat a plant rich diet. I am still constantly creating recipes at home which means lots and lots of plant-based meals. So most of our food comes from plants and is plant-based in nature.
That being said, we still do not follow any strict eating rules. I have always said that we don't look at our diet as a black and white area. To us it's a balance of mental and physical health, eating lots of plants but also being ok with eating things we love that aren't plants. You can read more about my philosophy in my about me page.
When I found out that I needed to be gluten-free for medical reasons, this was really hard for me. My food anxiety had a field day with this news because I do not do well with absolutes when it comes to diet.
Because avoiding gluten is a must, I have learned to let go on the other things when I go out. While this may not work for everyone, it is something that has really worked for me and my mental health.
My husband still eats the same he always has, mostly plants but doesn't stress about dairy and eggs when he is out. I have to focus on no gluten. So together we are super fun at restaurants, LOL!
Giving ourselves permission to let go a little in areas we can has really helped us enjoy going out and being with friends outside our home. This is a big lesson we took to heart the last two years.
How We Learned to be Grateful
If there is anything we have learned after 2020, it's to be grateful for all we have. While we have had plenty of ups and downs, at the end of the day we are healthy and happy.
We have been through a lot with things happening to friends and family. Deaths, accidents, breakdowns, mental health problems, physical sickness, you name it.
But one thing I have learned is that there will always be someone worse off than you and someone better off than you. Focusing on the here and now, all you have in the moment, can do wonders for keeping you grounded.
This isn't to say I haven't had bad days. There have been plenty. And I do get upset, and cry and get mad. Because in that moment those are the feelings I had and allowing them is ok.
But after they pass, I always come back to being grateful for everything that has happened to me, both good and bad because every experience and every moment teaches you something.
Thank you all for being a listener, follower and supporting me through this business journey!