With the obsession over protein, we often miss the mark on what we really should focus on, fiber. This is why we are talking all about why fiber is important with our guest expert!
Fiber is a necessary carbohydrate for our body. Everyone needs to include it in their diet in order to maintain physical health.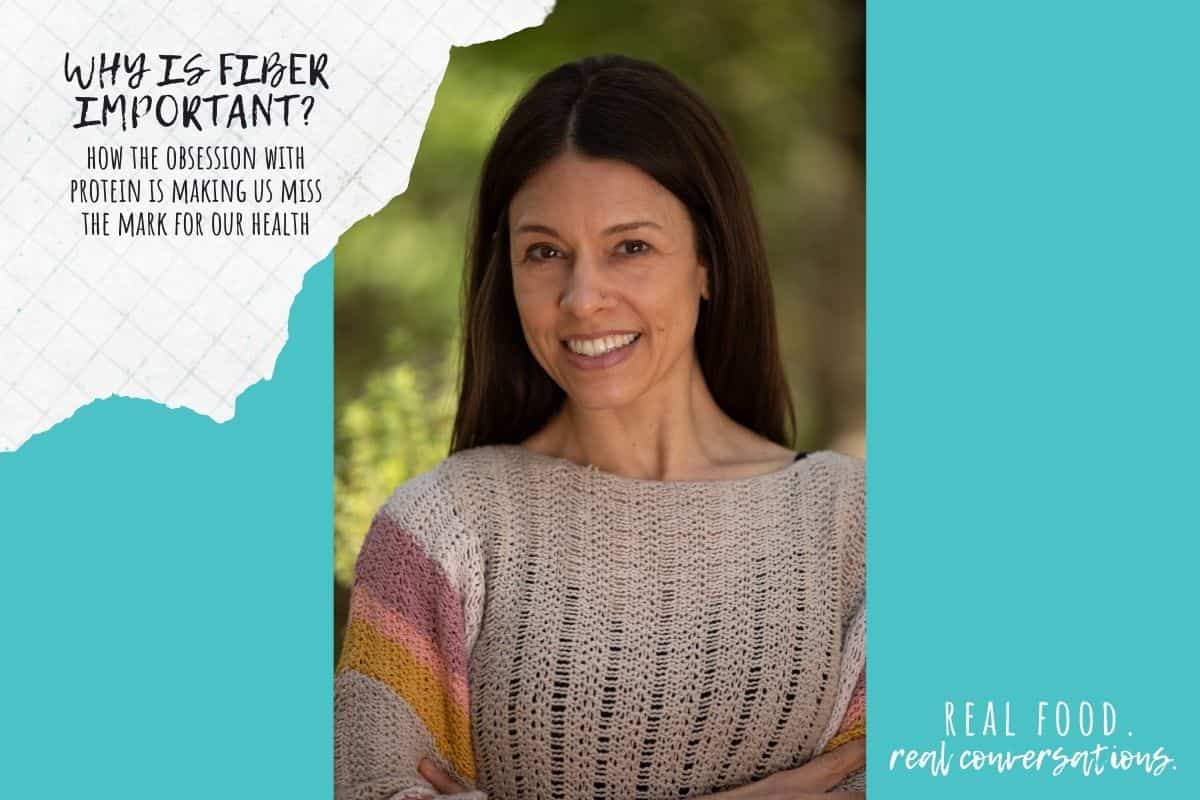 Nichole Dandrea-Russert, MS, RDN, author of The Fiber Effect, has been a registered dietitian nutritionist for 27 years, specializing in heart disease, diabetes, sports nutrition and women's health.
For the past 13 years, she has focused on plant-based lifestyles through inspiring and educating people about plant-based eating to optimize their health and the health of the planet.
Podcast: Play in new window | Download | Embed

Subscribe now! Apple Podcasts | Google Podcasts | iHeartRadio | Stitcher | TuneIn | Deezer | RSS | More
Nichole has been featured in Eating Well, Business Insider and Atlanta Journal Constitution. She is also a media spokesperson for The Weather Channel and local Atlanta television networks.
She shares her passion through her website Purely Planted. She lives in Atlanta, GA with her husband and rescue dog, Mariposa.
Grab her Free 5 Tasty and Simple-to-Make Plant-Based Dressings ebook here!
What is Fiber?
Fiber is a carbohydrate that is not digested by our body. We don't have enzymes to break down the fibrous components of plants, although chewing does help a bit. But overall, it moves through us undigested and whole.
There are two types, soluble and insoluble fiber. Soluble fiber becomes a gel like consistency when we eat it as it absorbs with water. Insoluble is more like roughage that moves through whole.
Why Do We Need Fiber?
Fiber is so important for our body. It impacts us both directly and indirectly. While many people think that fiber is there mainly for your digestive system, it does impact many other things as well.
What fiber does for your body
Soluble fiber helps lower cholesterol and control blood sugar and feeds healthy bacteria in the gut.
There is now newer research coming out that shows how fiber is the foundation for gut health. Gut health is being linked to many things, from digestion to mental health and moods.
Fiber helps lower cholesterol by decreasing the absorption of bad cholesterol and pulling some of it out of our system.
Also helps keep inflammation down by feeding bacteria in our gut and diversifying it. This keeps inflammation down both short term and long term, which helps prevent lifestyle diseases like heart disease, diabetes and also manage weight.
This can also help indirectly by preventing types of dementia and cancers.
Insoluble fiber helps to clear our toxins and carcinogens out of our body and pulls water into the large intestine and colon which helps you poop.
What Happens if You Don't Get Enough Fiber?
Most of the population are not getting enough fiber, in fact more than 95% are not getting what they need. Women are supposed to get a minimum of 25 grams a day and men 38 grams. This is based on fiber's role in the prevention of heart disease.
When your body isn't getting enough fiber, it can't function
Constipation
Stomach pains
Headaches
Blood sugar swings
Mood swings
Craving carbohydrates
Not feeling satisfied with meals
Overeating leading to weight gain
Not sleeping well
Sources of Fiber
Whole foods are the best source of getting fiber. You cannot get fiber in animal products. When making any change in your diet, especially with upping your fiber, make sure to up it slowly to minimize GI discomfort.
There are different types of fiber, so eating a variety of foods is important. Some foods that contain fiber are:
Beans (lentils, black beans, pinto beans, etc)
Leafy greens
Whole grains (brown rice, farro, quinoa, buckwheat, etc)
Chia seeds
Flaxmeal
Also make sure to drink plenty of water when you are eating lots of fiber!
While supplements can also be helpful, using whole foods to get fiber is best because with supplements you aren't getting the other healing benefits like the phytonutrients that come with fiber.