This amazing vegan queso fresco is made with 4 simple plant-based ingredients. It's the perfect addition to your Mexican-inspired dishes!
This recipe is so easy to make and a great flavorful alternative to traditional queso fresco. It's creamy and so versatile!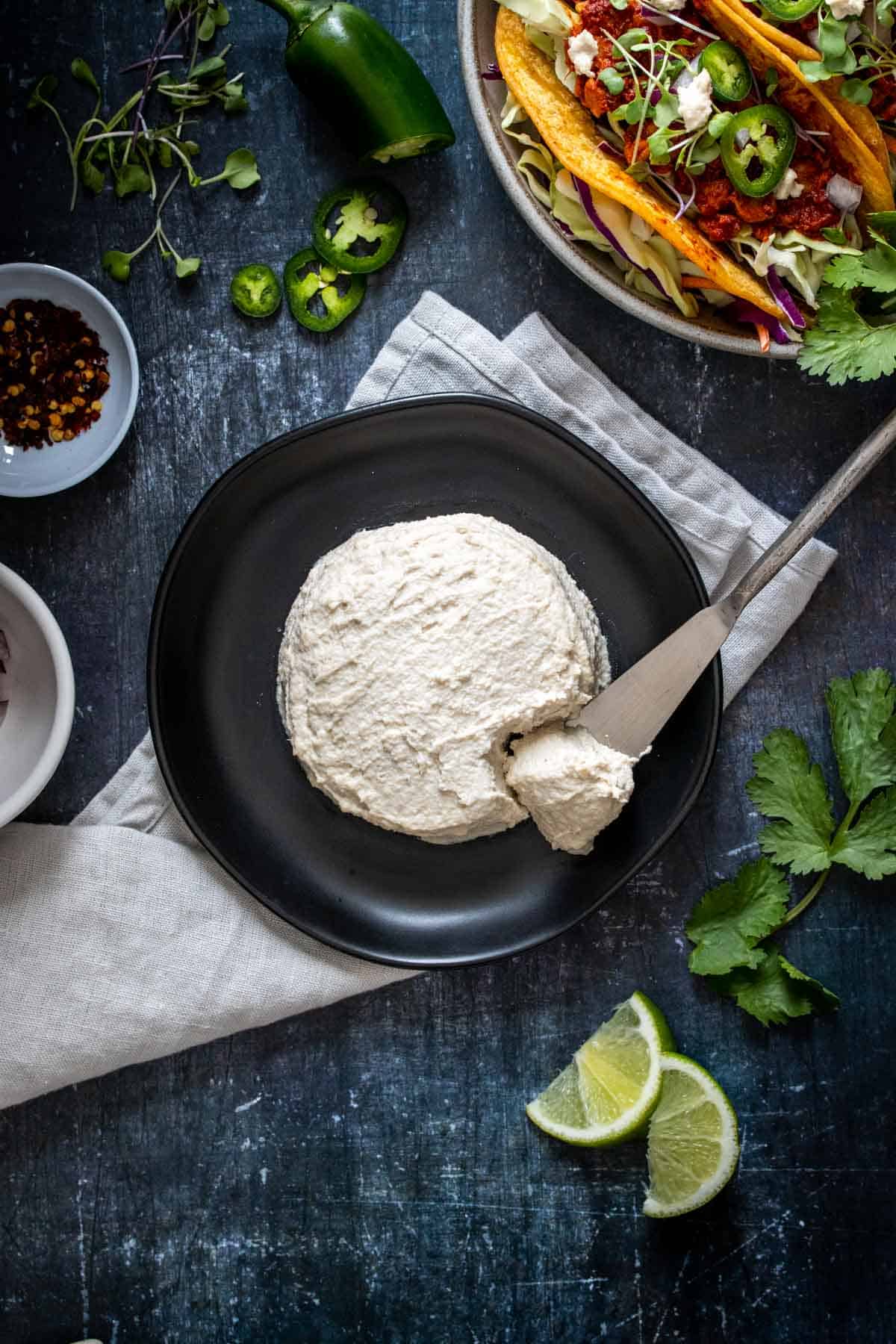 This post was originally published on May 30, 2022.
After the huge success of my vegan feta, I knew I wanted to tweak the ingredients a bit to achieve a different flavor that could represent the creamy queso fresco I loved to use on all my Mexican recipes.
Ingredients
This homemade queso fresco recipe is so simple to make from all plant based ingredients! While not as detailed as some other recipes out there, you still achieve the flavor you need without all the fussy steps!
They key to creating cheesy and creamy dairy free queso is focusing on the end flavor you want. It's easy to change up ingredient amounts to get slightly different flavors!
Here is all you need for this vegan queso fresco:
Cashews
Vinegar
Water
Salt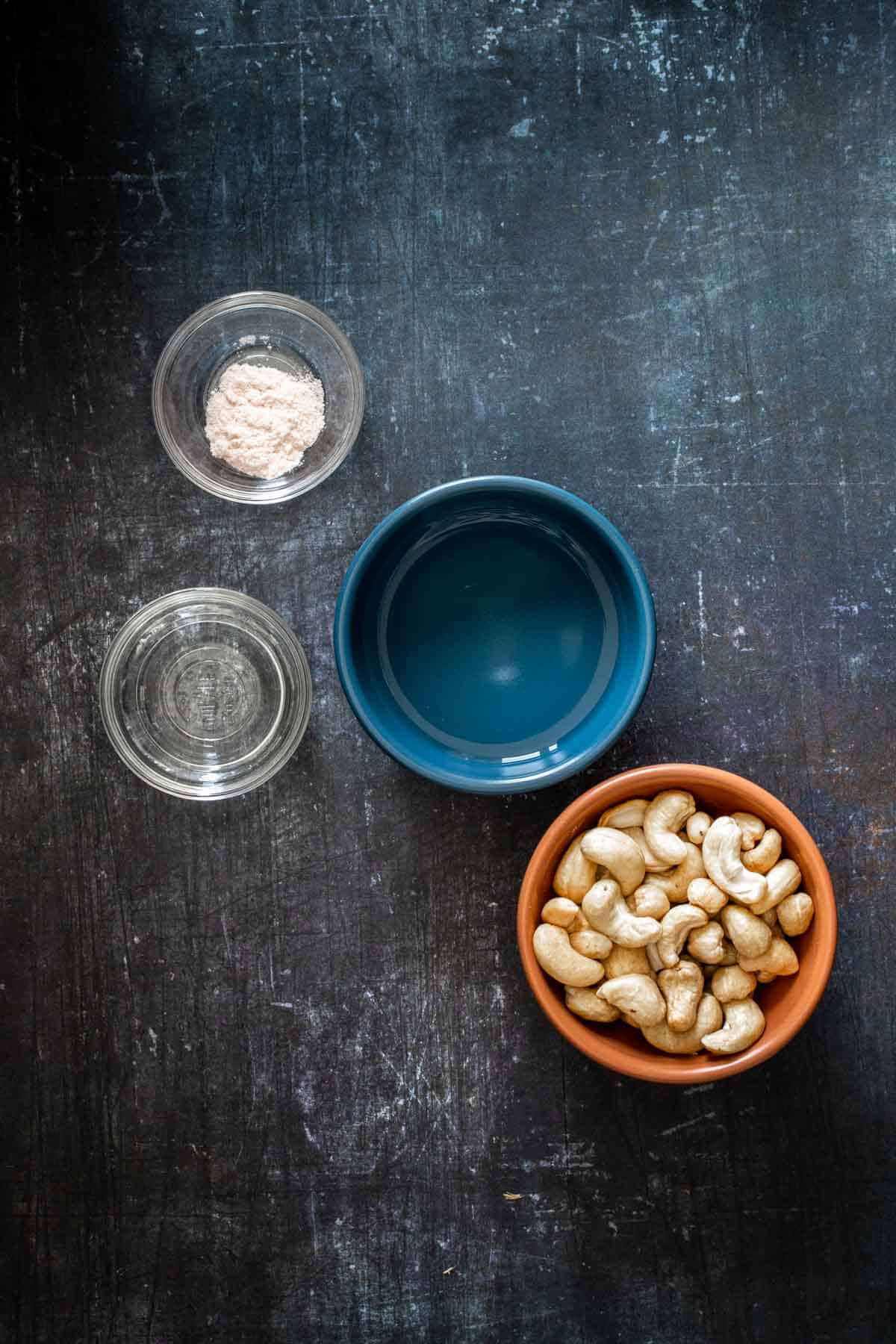 How to Make Queso Fresco
It's more simple than you may think to make your own vegan queso fresco! Here's what to do:
Add the soaked cashews with the other ingredients into a food processor.
Blend until smooth but with a little texture.
Strain in a cloth.
Chill and serve!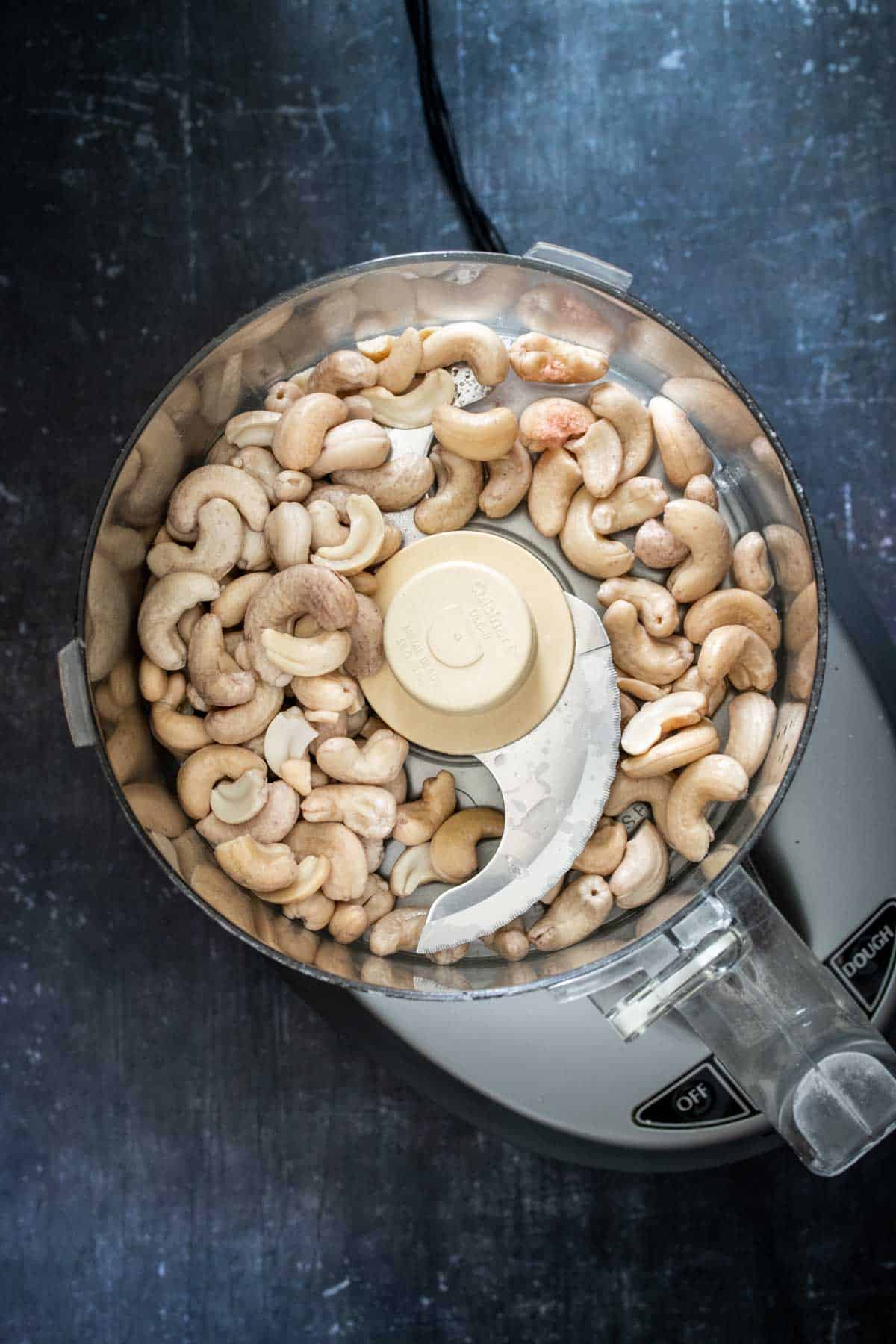 What to Serve With Vegan Queso Fresco
There are so many ways to use this crumbly Mexican cheese! (It makes an excellent cotija cheese alternative!) Try it with these plant based recipes whether you mix it in or use as a garnish: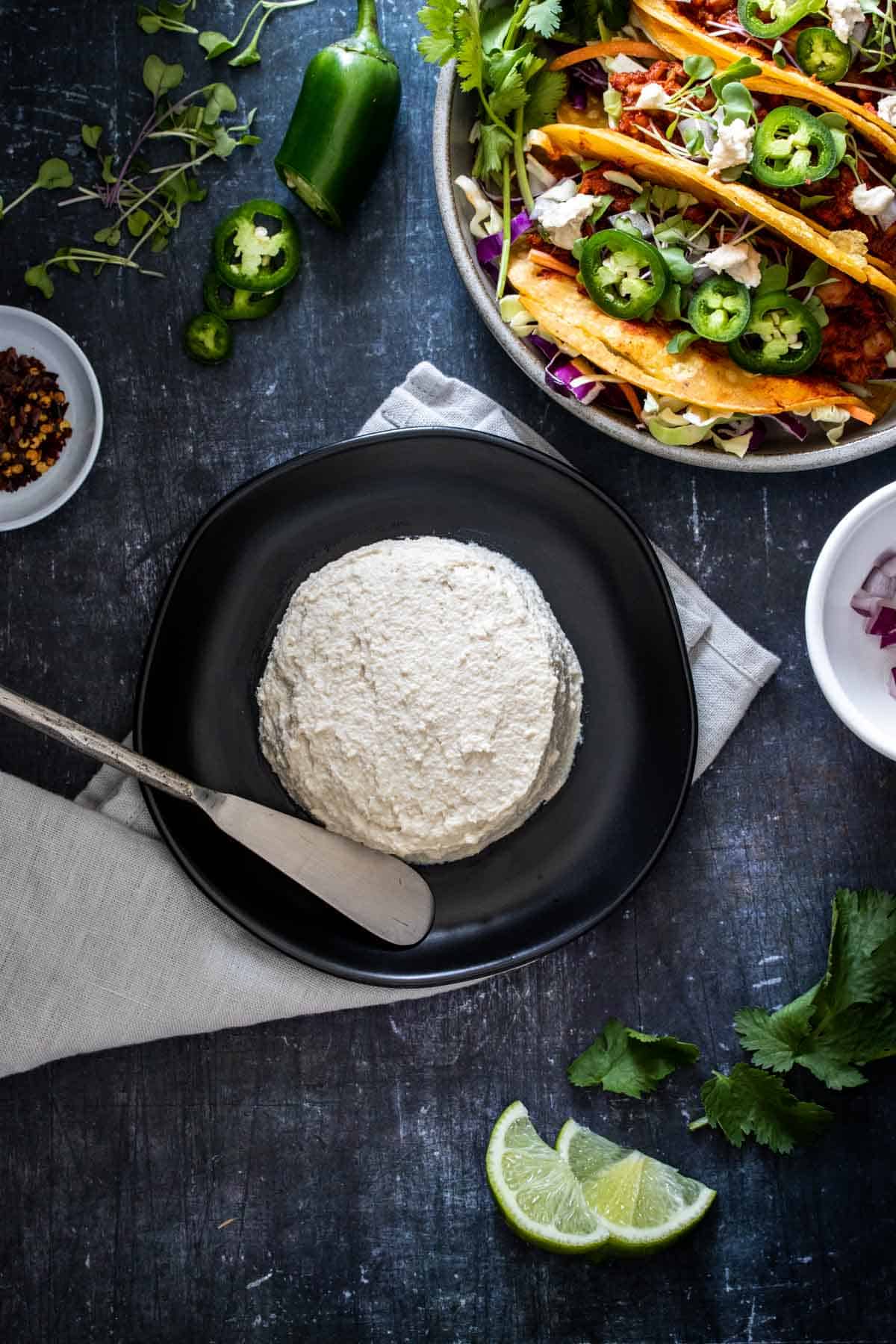 Preparation Tips
In order for this vegan queso fresco substitute recipe to work, the cashews need to be softened.

Either soak them overnight first, or boil them for 25 minutes.

You can adjust the consistency to make it thinner or softer by adding 2 tablespoons of water.

The flavor will be diluted a bit so add a little more vinegar.

Make sure to only use white vinegar for the right flavor.
Customize the flavor by mixing in nutritional yeast, ground mustard or garlic powder.
For an extra tangy flavor add more vinegar.
If you want the texture more firm for crumbled queso fresco, make sure to chill it in the fridge for 4-6 hours.
You can also use it immediately for a softer consistency.
How to Store Vegan Queso Fresco
Seal the queso in an airtight container and place in the refrigerator for up to one week.
You can also freeze it! Keep in a freezer safe airtight container for up to 3 months. Defrost before using.
If freezing, cover the top of the cheese with plastic wrap, press down so it provides a seal, then cover with the container top. This helps prevent freezer burn
Common Questions
Is queso fresco cheese vegan?
Queso fresco cheese is generally made from cow's milk, and sometimes include goat's milk, which are not vegan. However there are many store bought vegan queso fresco alternatives available, and making your own is easy to do!
What can I substitute for queso fresco?
You can use feta, ricotta, or cotija cheese instead of queso fresco in most recipes. If your concern is to avoid dairy, this plant based queso fresco recipe is the perfect alternative!
Is queso fresco the same as cotija?
No, the two cheeses are different although similar. Cotija is saltier than the more mild queso fresco. Additionally, cotija is generally more firm and dry.
Can you freeze queso fresco?
Yes you can! See above for more details.
What is queso fresco in english?
Queso fresco translates to fresh cheese in english.
Does queso fresco melt?
Queso fresco does not melt in the classic stringy ooey gooey sense, but it will soften a bit as it is warmed.
Vegan Sauces and Toppings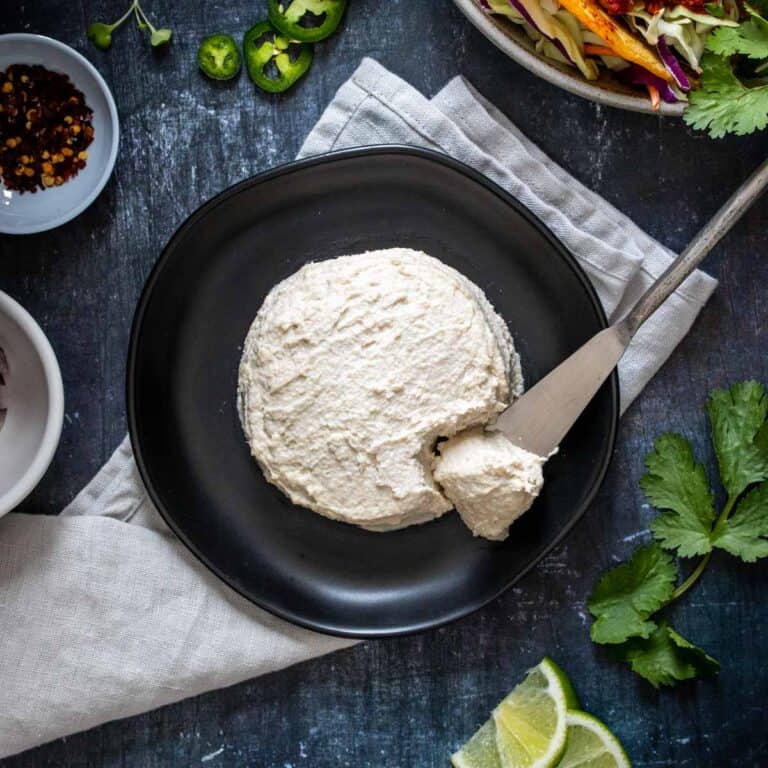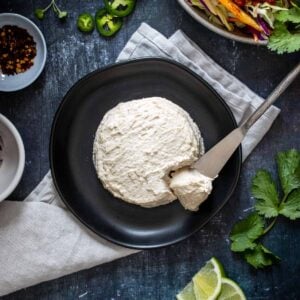 4 Ingredient Vegan Queso Fresco
This amazing vegan queso fresco is made with 4 simple plant-based ingredients. It's the perfect addition to your Mexican-inspired dishes!
Ingredients
1 cup raw cashews , soaked overnight or boiled for 25 minutes to soften (see note)
2 tablespoons distilled white vinegar (add an extra 1 teaspoon for a tangier version)
1 tablespoon water , see note
½ teaspoon sea salt
Instructions
In a food processor, add the cashews (drain and rinse them after the soaking), vinegar, water and salt.

Blend until you get a smooth creamy texture. Some chunkiness is okay.

Put the mixture in the center of a cheese cloth, tea towel or any type of cloth napkin. Wrap the cloth over it into a ball and put a rubber band or tie it with string to keep it shut.

Put the ball in a mesh strainer and then put that over a bowl. Place it in the fridge for at least 4-6 hours. This will help draw out the small amount of moisture that is in the cheese, firming it up a bit. For a super quick version, you can also wrap it up and pat out a little of the moisture and then use as it. Or skip this entirely and use as is for a softer texture.

Once the moisture has been drawn out it will be thicker so you can place it on a plate and form it into a round shape if you prefer for esthetics. Or simply just use!

Serve with anything and everything!
Notes
If you forget to soak the cashews, simply boil them for about 25 minutes. They need to be soft so do not skip this step and use them dry.
If you want this softer/thinner, then add 2 tablespoons water. If you do this, then add the extra teaspoon vinegar for more tang. 
You need white vinegar for this, other vinegars won't give the same flavor.
If you wanted added flavors you could add some nutritional yeast, ground mustard or garlic powder but I preferred it simple as written.
This makes about 1 cup mixture. Serving size is 1 tablespoon.
Recipe by Veggies Don't Bite, visit our site for more great plant-based recipes.
Nutrition
Calories: 45kcalCarbohydrates: 2gProtein: 1gFat: 4gSaturated Fat: 1gPolyunsaturated Fat: 1gMonounsaturated Fat: 2gSodium: 66mgPotassium: 53mgFiber: 1gSugar: 1gVitamin C: 1mgCalcium: 3mgIron: 1mg
Nutrition and metric information should be considered an estimate.
Never miss a recipe!
Sign up here and get a FREE quick and easy meal guide!