This apple cider vinegar coleslaw is the perfect side dish recipe. It's healthy, simple, flavorful and made with only a few ingredients.
Whether it be a picnic, barbecue, or family dinner, you're going to want this coleslaw. The dressing is perfect to make ahead and then put together right before you need it!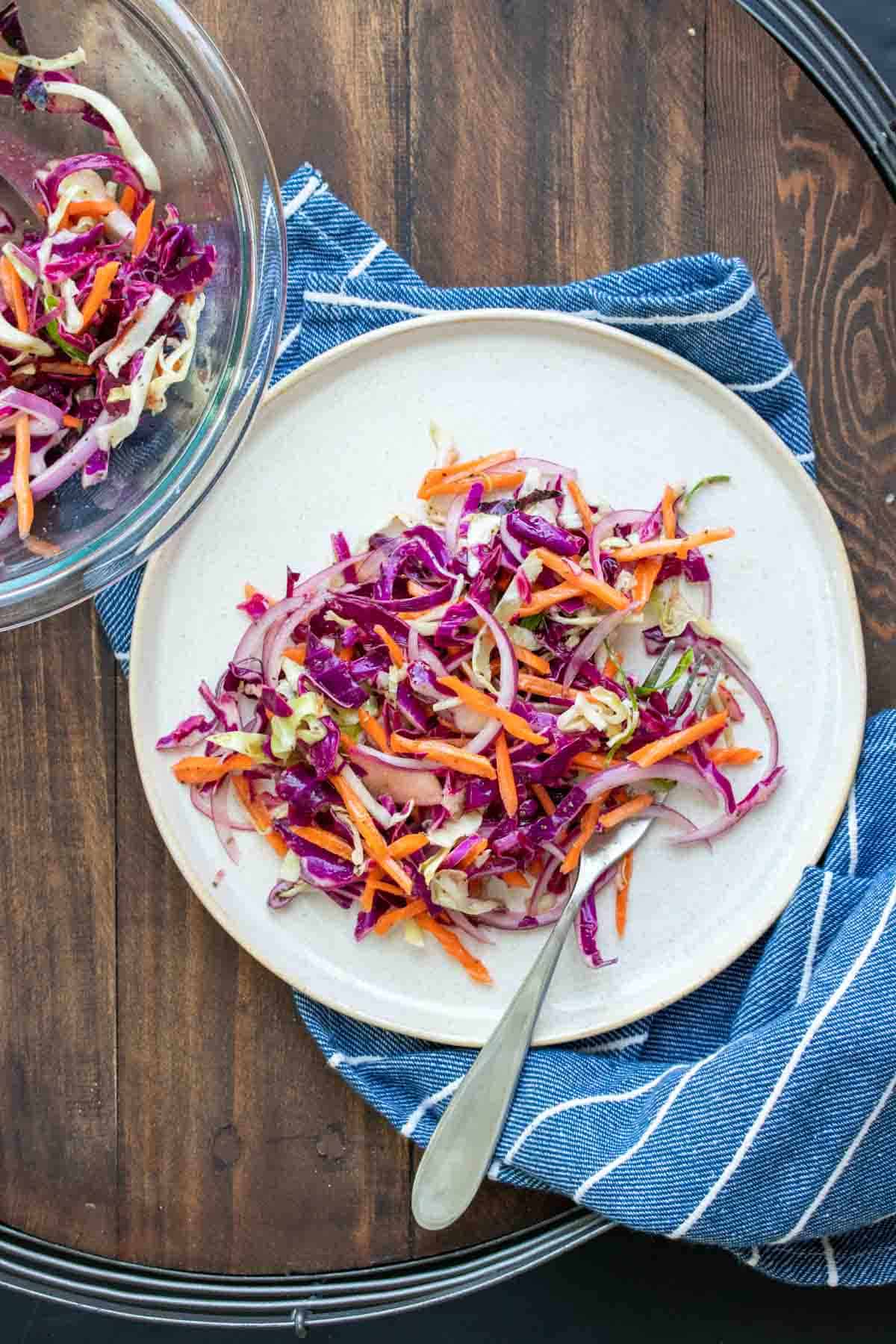 This post was originally published on March 1, 2021.
I love having versatile recipes that are easy to prep ahead and throw together day of. This is one of our favorites to pair with homemade black beans and Mexican rice!
Ingredients
Coleslaw is so fresh and crisp, and makes a great addition to so many meals! It can be used as a topping, a side dish, or even as a base for an extra flavorful salad. It comes together super fast, and since the flavors improve with time it's also a great make ahead dish!
Creamy coleslaw seems to get all the love, but this apple cider vinegar coleslaw recipe is ready for the spotlight. This version is made with the perfect mix of fresh and flavor-packed ingredients. Here's what you'll need:
Shredded cabbage
Shredded carrots
Sliced red onion
Apple cider vinegar
Oil or broth
Seasonings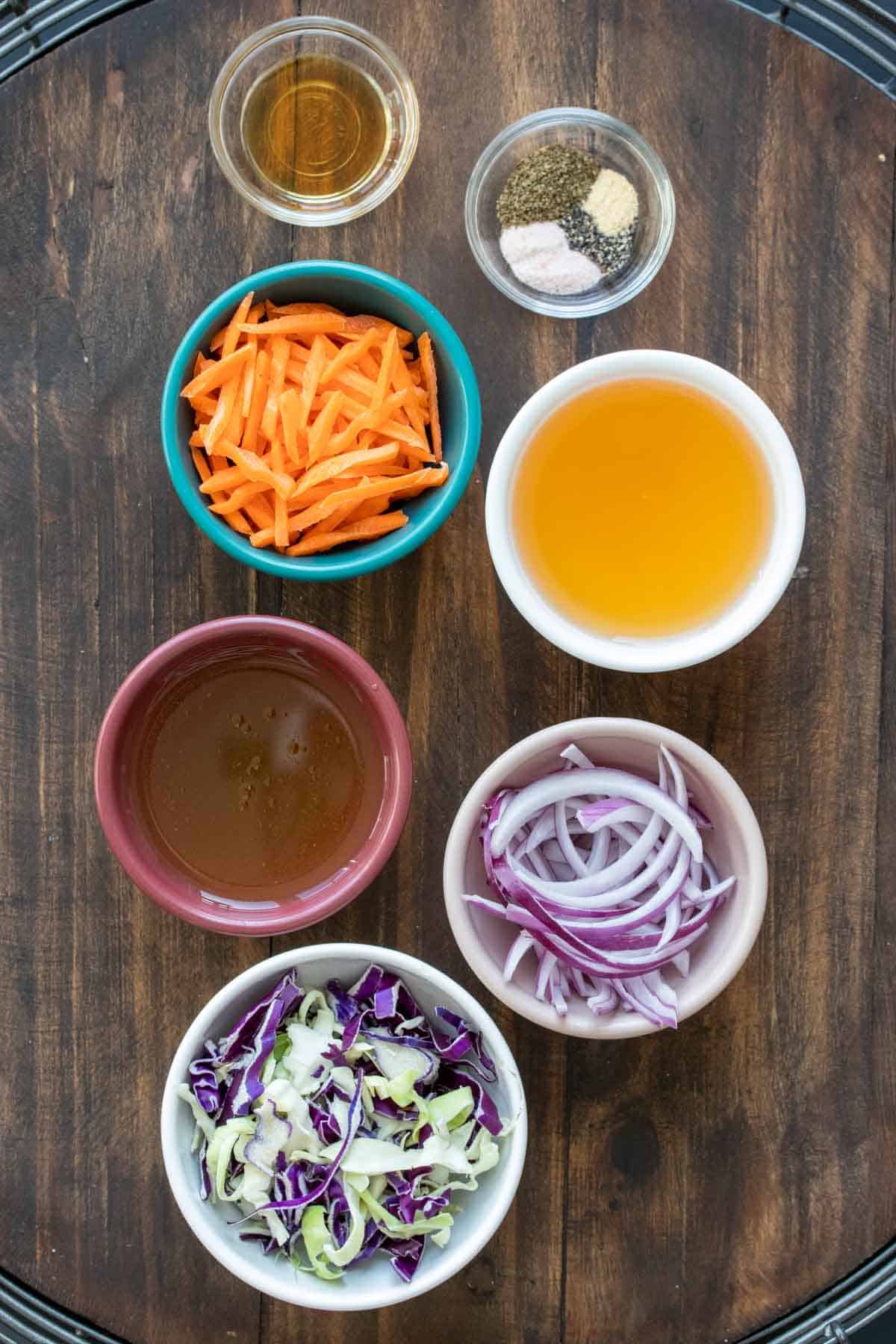 How To Make Apple Cider Vinegar Coleslaw
This vinegar slaw recipe couldn't be any easier! Once you shred the cabbage and carrots, here's what to do:
Mix cabbage, carrots, red onion and dressing in a bowl.
Let rest in the fridge then enjoy!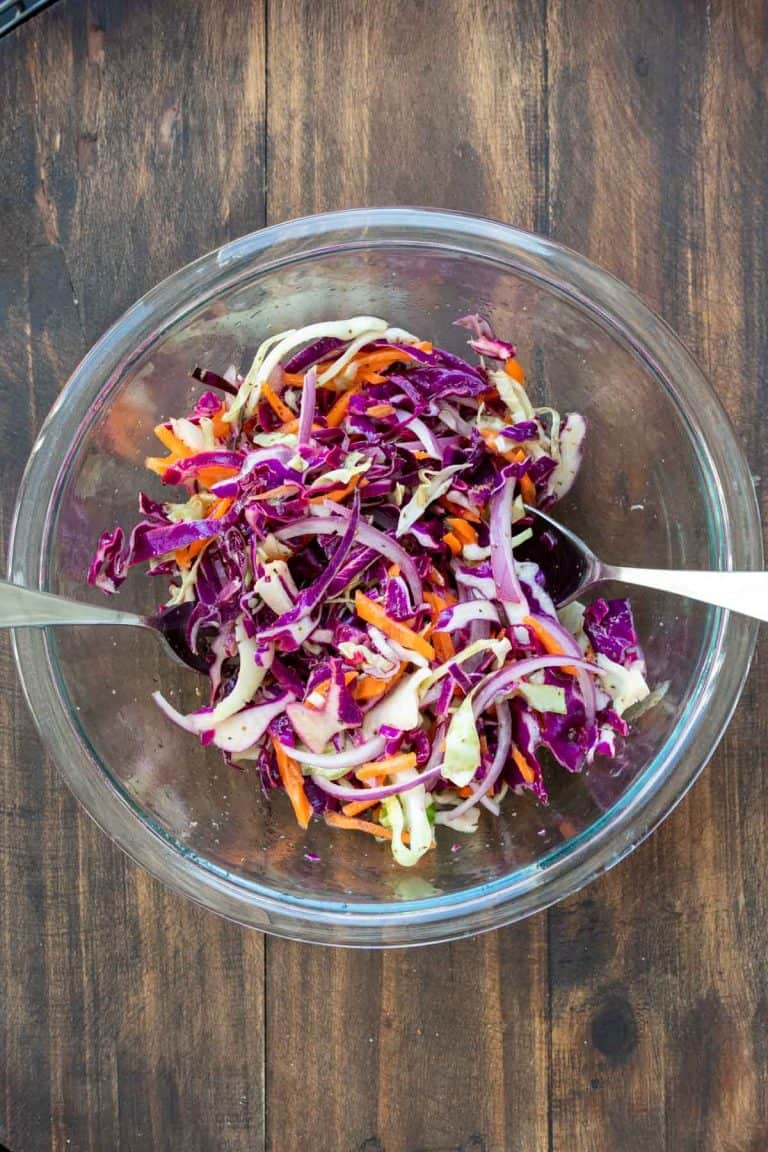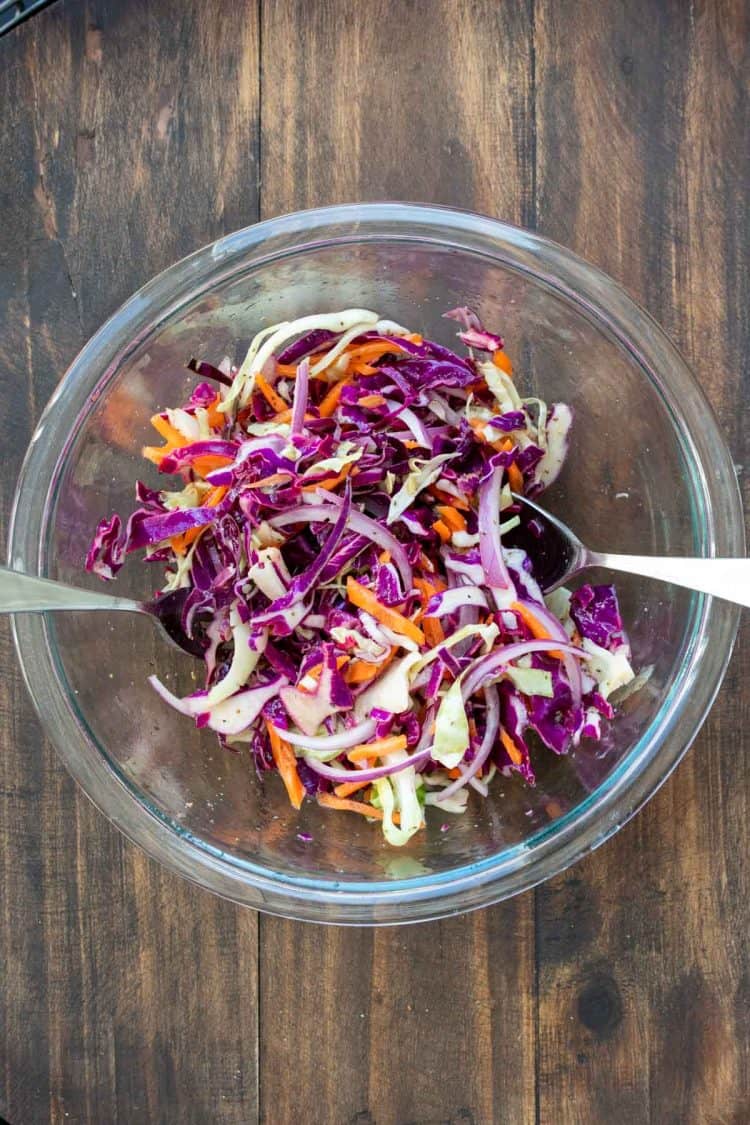 What to Serve With Coleslaw
This coleslaw with vinegar dressing makes a great topper to burgers, sandwiches, grilled entrees, tacos, even bowls! It's also a fabulous side dish to any of these recipes:
Flavor suggestions
Make this coleslaw recipe with apple cider vinegar your own customized creation!
If you like tangier flavors, use more vinegar.

Or, use less to keep it on the milder side.

Apple cider vinegar is the best for this recipe. If you want to use another vinegar you can, however the end result won't have that same flavor.
I like to use a mix of green and red cabbage, but any cabbage or combination will do.
Mix in additional ingredients for a flavor and nutrition boost!

Try adding greens, apples, bell pepper, celery, herbs, green onion, radishes, beets, jicama, fennel, sunflower seeds, and more!

This recipe will taste best after it has a chance for the flavors to come together. I recommend chilling for a minimum of 5-10 minutes.
Make Ahead and Storage Tips
Shred the cabbage and ahead of time. Or, buy a package of pre shredded cabbage.

Some packaged mixes have the carrots in them. You can make this easy and use those. Just make sure the total amount of cups is the same.

Shred the carrots in advance as well.

Use a thick cheese grater, or a grating attachment on a food processor.

Mix the vinegar coleslaw dressing up to 7 days in advance.
Keep the shredded veggies in one airtight container and the dressing in another, and store in the fridge until you're ready to use.
Store leftovers in an airtight container for up to 5 days.
Common Questions
What is coleslaw dressing made of?
Most coleslaw dressings are made with mayonnaise, a sweetener like sugar, and spices. Others are made with a vinegar base, oil, seasonings, and a sweetener.
How long will vinegar coleslaw keep?
Vinegar coleslaw will keep in an airtight container in the refrigerator for up to 5 days.
Is apple cider vinegar better than white vinegar?
It depends what you're looking for! Apple cider vinegar is made from apples and has more of a flavor than white vinegar, making it great for cooking. Plus, it has some health benefits including probiotics! White vinegar is made from grain alcohol and can be used for cooking as well, but also cleaning!
Is coleslaw better the next day?
The more time the flavors have to work together the better, to a certain point. The longer your coleslaw sits the less crunch it will have. The sweet spot to eat coleslaw once it's mixed is between 10 minutes and 24 hours.
More Vegan Cabbage Recipes
I don't know about you, but when I buy a head of cabbage for coleslaw I often have leftovers! Here are some more plant based recipes that use cabbage as well: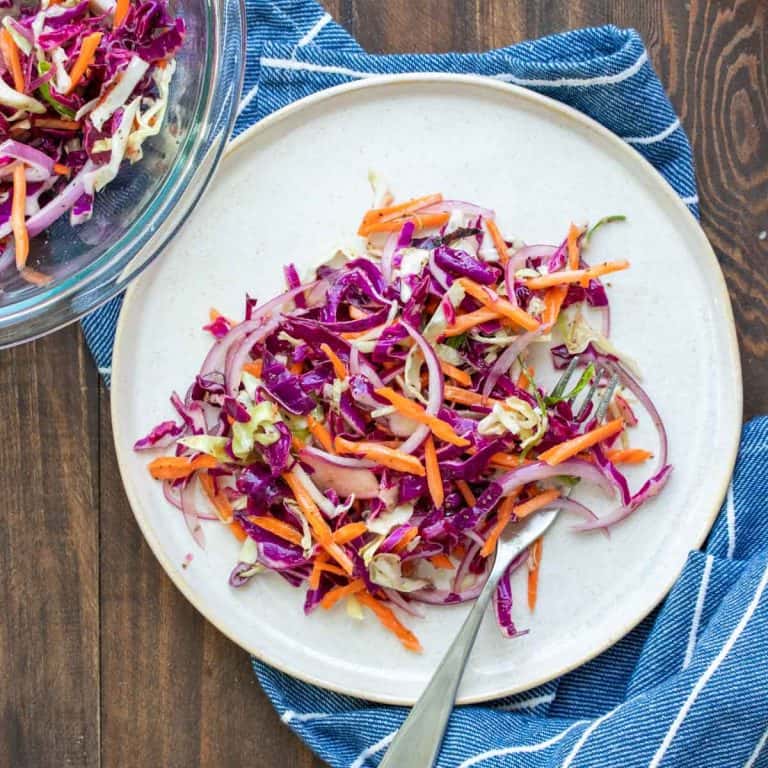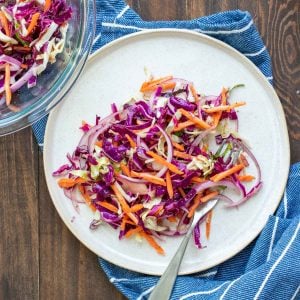 Apple Cider Vinegar Coleslaw
This apple cider vinegar coleslaw is the perfect side dish recipe. It's healthy, simple, flavorful and made with only a few ingredients.
Ingredients
4 cups shredded cabbage , can do a mix of green and red or a prepackaged mix
1 cup shredded carrots , see note
½ thinly sliced red onion
Instructions
Place cabbage, carrots and red onion in a bowl and mix well.

Add all dressing ingredients and combine. After mixing, allow salad to sit for a bit to combine flavors. I usually let it settle about 5-10 minutes but it's still great the next day.
Notes
There are some mixes you can buy that has the carrots, or other veggies, in them. You can make this easy and use those. Just make sure the total cups is the same.
Recipe by Veggies Don't Bite, visit our site for more great plant-based recipes.
Nutrition
Calories: 40kcalCarbohydrates: 5gProtein: 1gFat: 2gSaturated Fat: 1gSodium: 150mgPotassium: 121mgFiber: 1gSugar: 3gVitamin A: 2241IUVitamin C: 14mgCalcium: 26mgIron: 1mg
Nutrition and metric information should be considered an estimate.
Never miss a recipe!
Sign up here and get a FREE quick and easy meal guide!