Are you ready to get sloppy in the best way ever? These lentil sloppy joes are easy to make, loaded with flavor, and a sure fire hit for the entire family.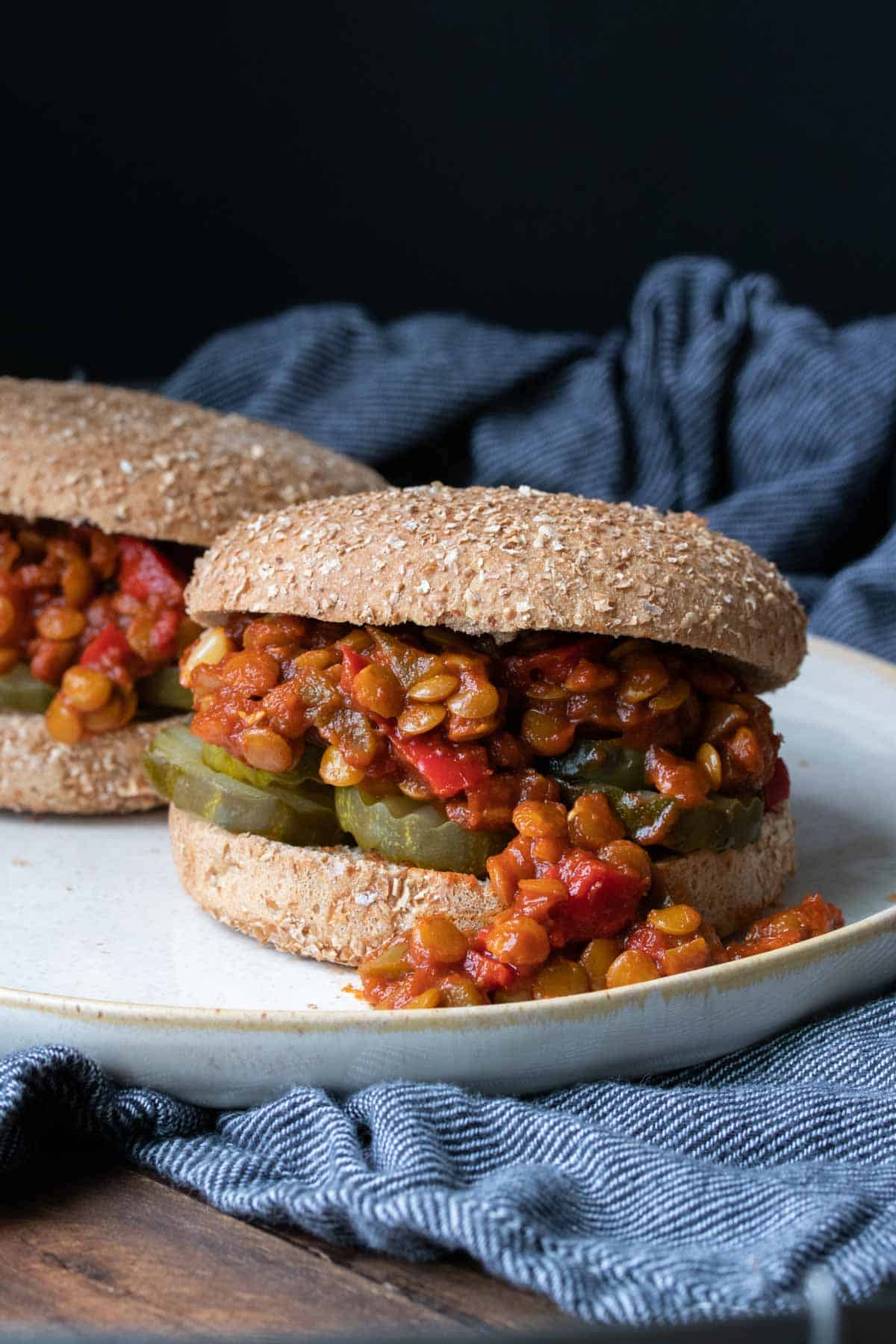 I was never a huge sloppy joe fan. They reminded me of the school cafeteria meal that just grossed me out. But that was until I made my own and blew that old gross recipe out of the water!
Vegan Lentil Sloppy Joes
Lentils are a staple in our house. We love them and put them in everything! They are filled with protein and iron, both of which are needed in our vegan diet, along with tons of nutrients and fiber. If you want to read more check out my post all about how to cook lentils!
So I am pretty much trying to create alllll the things with lentils. Sloppy joes had to be done eventually, so here we have it.
Why are they called sloppy joes?
These types of sandwiches are actually the creation of a cook from the 1930's! I can't believe they are that old. Loose meat sandwiches were popular then and he added tomato sauce to his sandwiches. These became popular and the Sloppy Joe was born!
How do I substitute lentils for meat?
Lentils have a great meaty texture and flavor. They make even traditional meaty dishes taste incredible, like in my Vegan Shepherd's Pie. You would substitute one cup of uncooked lentils for about one pound of ground beef, but it really depends on the recipe and other ingredients. One cook of uncooked lentils will become roughly 2 cups once cooked.
Can you make lentil sloppy joes ahead of time?
Yes! But you want to make sure you're using lentils that aren't going to get too mushy over time. Green and brown lentils are best because the cook soft enough to bind together a little but also hold their shape well.
You can make the filling and store it in an air tight container in the fridge. The filling will last about 5-7 days but is best with flavor and texture if you eat them within 3 days.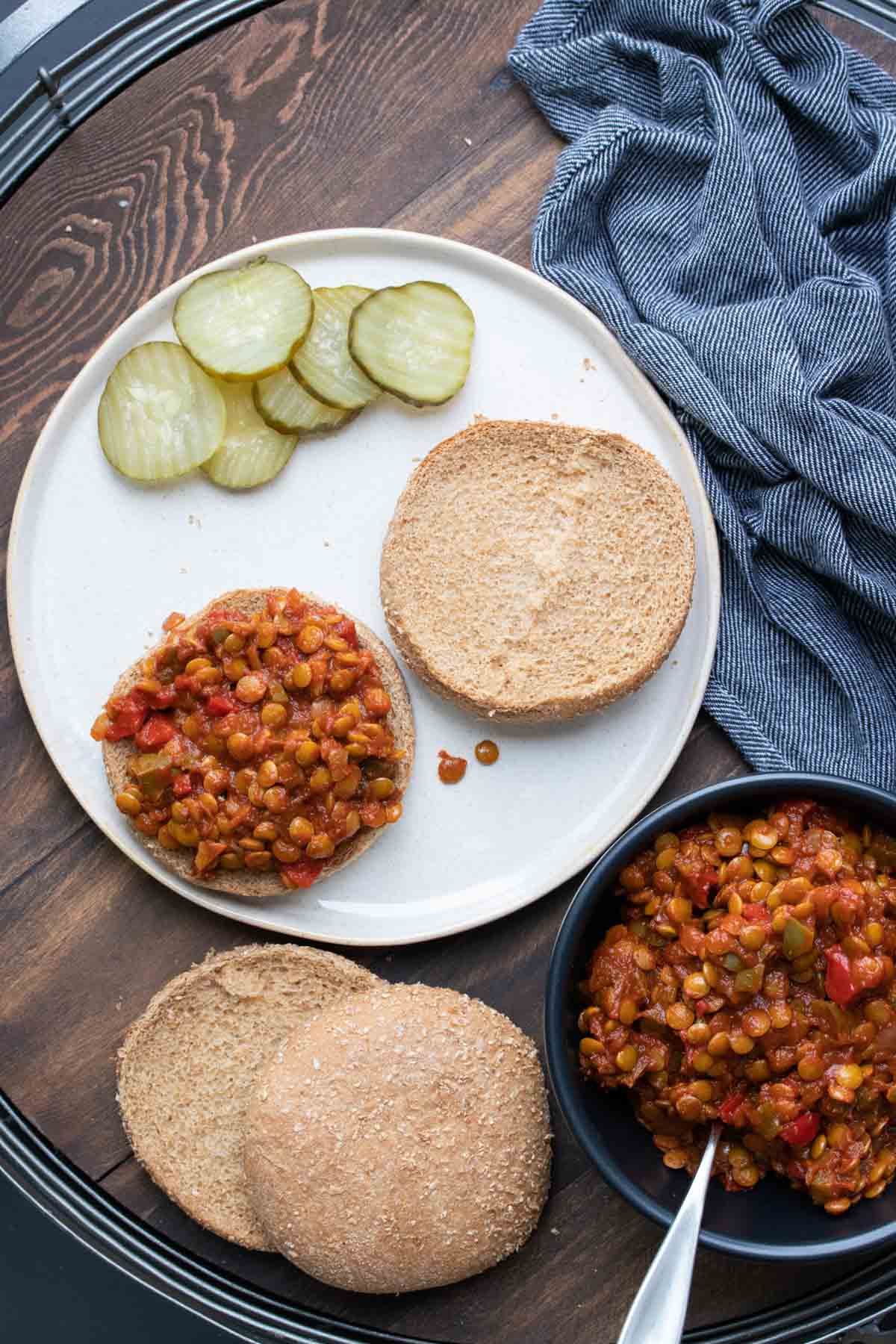 What kind of lentils to use
Green or brown lentils work best for this recipe. One of the best perks of sloppy joes is how easy it is to hide veggies in the mix!
How to add extra veggies
Adding veggie into this sloppy joe recipe is super easy! I started with the hidden veggies I wanted in it and turned to my tried and true zucchini, carrots, and onion, which I knew would pair well with the tomato and not overpower on taste.
But you really can add anything. Just be mindful of how strong the veggie flavor is. You could also do veggies on the side if you wanted more variety!
I also added more veggies into the toppings. Because I can't stand soggy bread, I put some pickles (patted them dry first) on the bottom piece of bread, then the lentils, then covered those with a cole slaw.
The combination of crunchy and soft was awesome and the layers protected the bread from getting tomato sauce soggy!
Perfect sides for serving
These vegan sloppy joes go great with loads of sides. Serve these up with any or all of these:
How To Make Vegan Sloppy Joes
Saute the veggies.
Add remaining ingredients.
Cook until thickened.
Serve!
Toppings ideas
The toppings are where it's at! Always for me. LOL Here are some ideas that we loved top pile on!
Pickles
Lettuce
Tomatoes
Green onions
Cheese
Cooking in the crock pot
To cook these lentil sloppy joes in the crock pot, it's best to saute the peppers, onion and garlic first. Then put everything into a crock pot and cook on low for 6-7 hours or high for 3-5.
Cooking in the instant pot
If you have an instant pot with a saute setting, then follow the recipe and saute the peppers, onion and garlic. Then add the rest of the ingredients and do the following:
Put on the top and move the valve to the sealing position.
Cook on the manual setting for 6-7 minutes.
Once done, allow the pressure to naturally release for about 10 minutes or so, then move the valve to the release position. Once released open and enjoy!
Ideas for serving
While traditional sloppy joes are served on buns, there are other ways to use these vegan sloppy joes! Here are some creative things we have done:
Serve in a wrap with tortilla or flatbread.
Put on pizza crust as part of a pizza.
Bowl style with rice and potatoes, greens, etc.
Over pasta.
As a dip!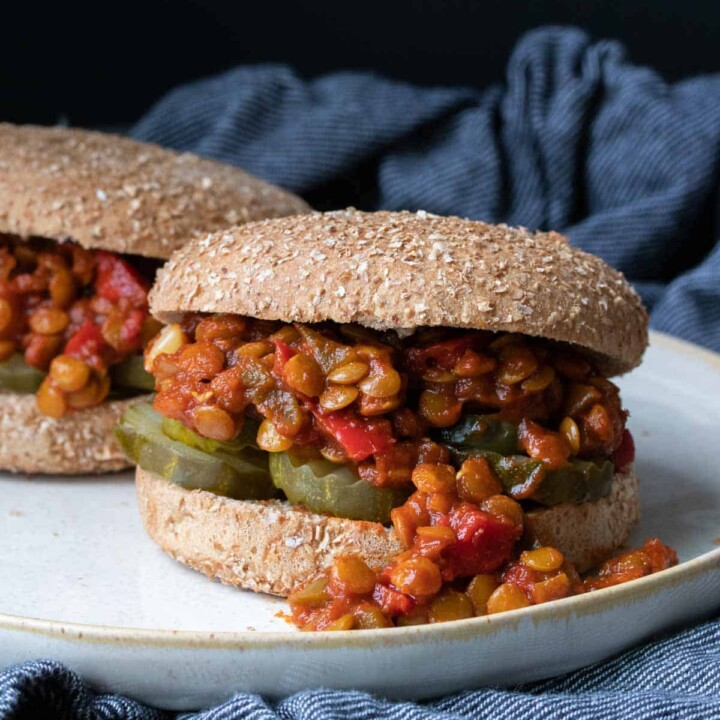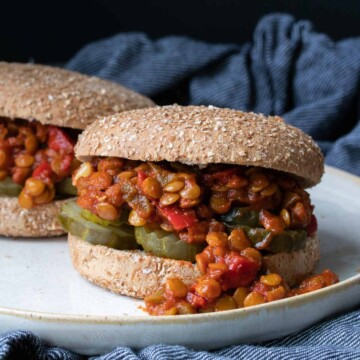 Vegan Lentil Sloppy Joes recipe
Equipment
pressure cooker (optional)

slow cooker (optional)
Ingredients
1 cup chopped yellow or sweet onion
1 cup chopped green or red pepper , or a combo of both
2 garlic cloves , finely chopped
Drizzle of oil or broth to sauté
2 cups broth (see note)
1 cup dried green or brown lentils
15 ounces tomato sauce (see note)
1 tablespoon Tamari/soy sauce
1 tablespoon maple syrup
1 teaspoon apple cider vinegar
1 ½ teaspoons chili powder
1 teaspoon smoked paprika
Sea salt , if needed (see note)
To serve:
Burger buns
Pickles
Shredded cabbage or lettuce
Instructions
Sauté onion, pepper and garlic with drizzle of oil or broth until softened.

Add lentils and cook a few minutes. Add the rest of the ingredients.

Cook for about 20-30 minutes, depending on texture preference.

Serve with toppings of choice!
Notes
You can sub water for the broth but the flavor won't be as good.
Tomato sauce differs between brands with ingredients. Some have only tomatoes, but some have salt and other herbs. If yours is salt fee, you may need extra salt. Just add and taste as you cook. The other herbs are fine if they are included.
Nutrition facts are for sloppy joe mixture only.
Recipe by Veggies Don't Bite, visit our site for more great plant-based recipes.
Nutrition
Calories: 130kcalCarbohydrates: 24gProtein: 8gFat: 1gSaturated Fat: 1gPolyunsaturated Fat: 1gMonounsaturated Fat: 1gTrans Fat: 1gCholesterol: 1mgSodium: 241mgPotassium: 477mgFiber: 9gSugar: 6gVitamin A: 941IUVitamin C: 31mgCalcium: 42mgIron: 3mg
Nutrition and metric information should be considered an estimate.
Never miss a recipe!
Sign up here and get a FREE quick and easy meal guide!