This easy vegan breakfast meal plan is your solution to smooth mornings! It has 5 days of make ahead breakfast recipes and even includes a shopping list!
These recipes are family friendly and don't take much time to prep and throw together. Using wholesome easy to find ingredients makes them the perfect choice for reducing that morning stress!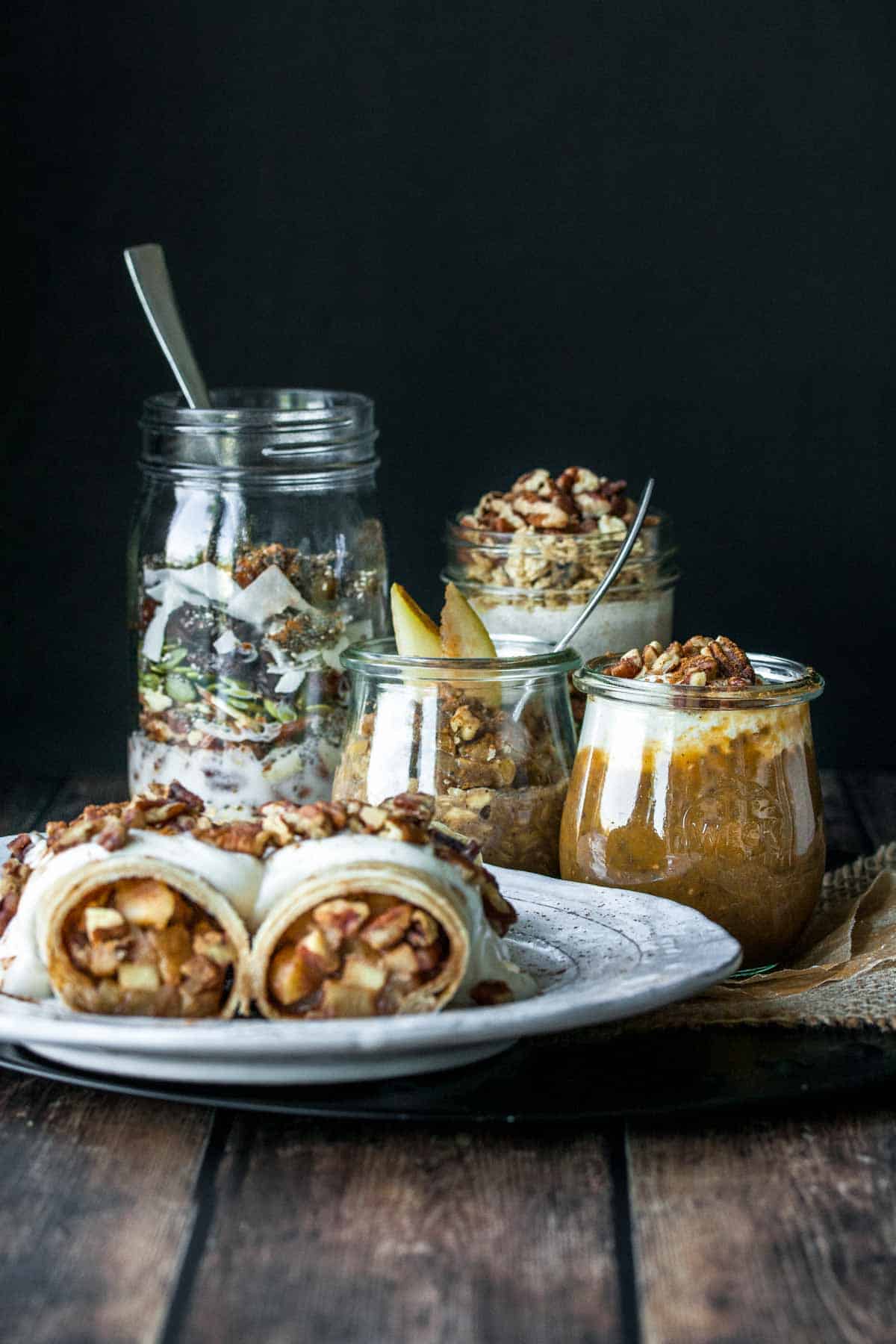 This post was originally published on September 4, 2017.
This is a sponsored conversation written by me on behalf of Silk. The opinions and text are all mine.
Having a vegan dinner plan is so helpful, but no one ever thinks about breakfast. Starting the day on the right foot is so important, and these vegan breakfast ideas will make sure that happens!
Breakfast Meal Plan
I am not a morning person. What I mean, is that I just can't do much in the morning. Wake up early and get an awesome workout in? No problem. Prepare an elaborate breakfast? Nope.
I need most things done the night before; kid's lunches, clothes picked out, backpacks ready...I'm not sure what it is, but if I am not ready to go first thing, I am a ball of stressed out crazy.
Which is why having make ahead weekday breakfast recipes is key for us! All of these recipes can be prepped the night before, leaving them ready to go for a fast, smooth and easy morning. Huge selling point!
Day 1: Pumpkin Pie Chia Pudding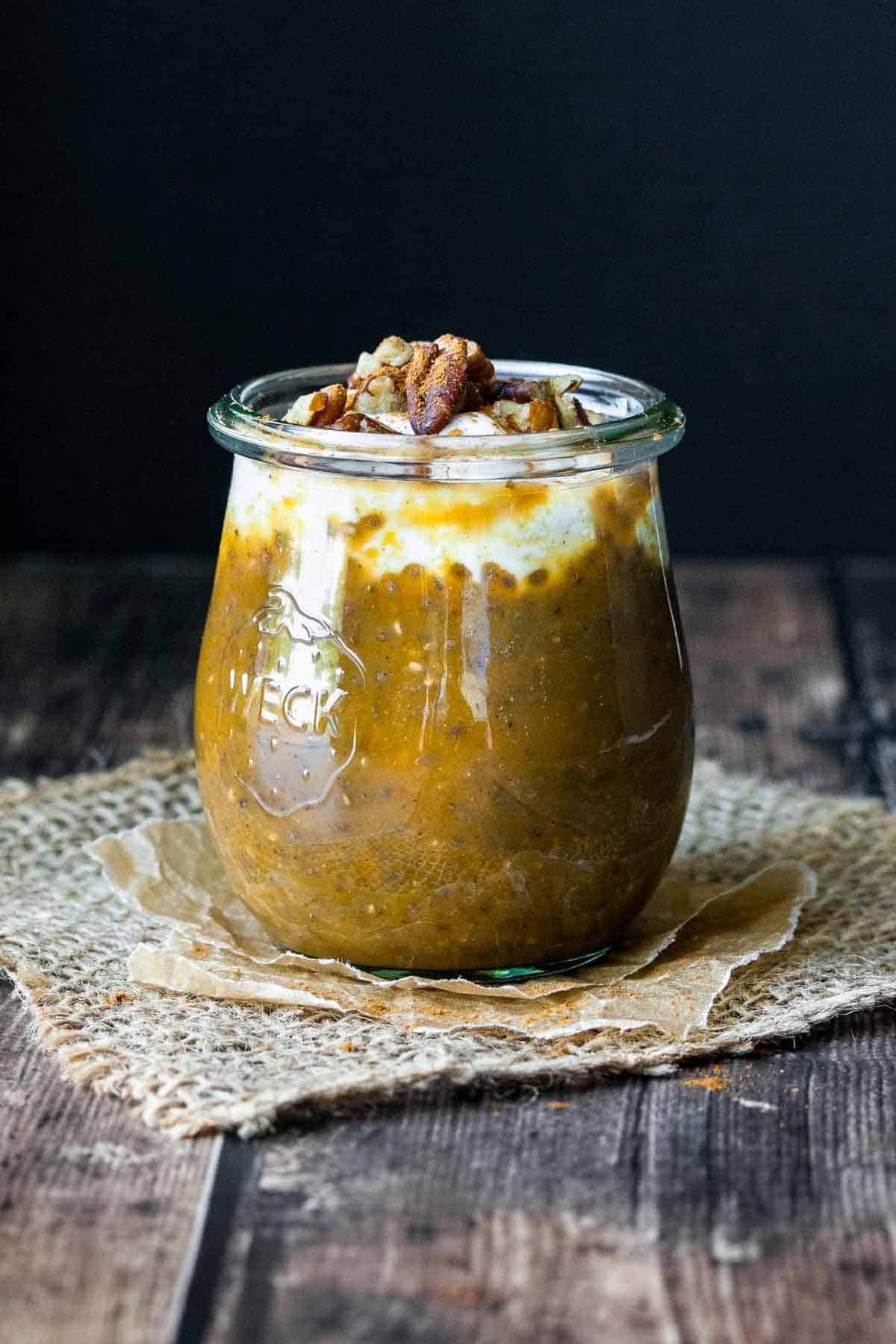 ½ cup canned pumpkin
2 tablespoons chia seeds
2-3 tablespoons maple syrup
¾ teaspoon pumpkin pie spice
¼ teaspoon vanilla extract
pinch sea salt
1-2 tablespoons chopped pecans
½-1 teaspoon coconut sugar (optional)
scoop Silk Vanilla Almond Milk Yogurt as topping (optional)
Combine everything but the pecans and coconut sugar in a mason jar or bowl. Cover and set into the fridge for the next morning. When ready to eat, top with chopped pecans and coconut sugar (if using).
Day 2: Cinnamon Pecan Yogurt Parfaits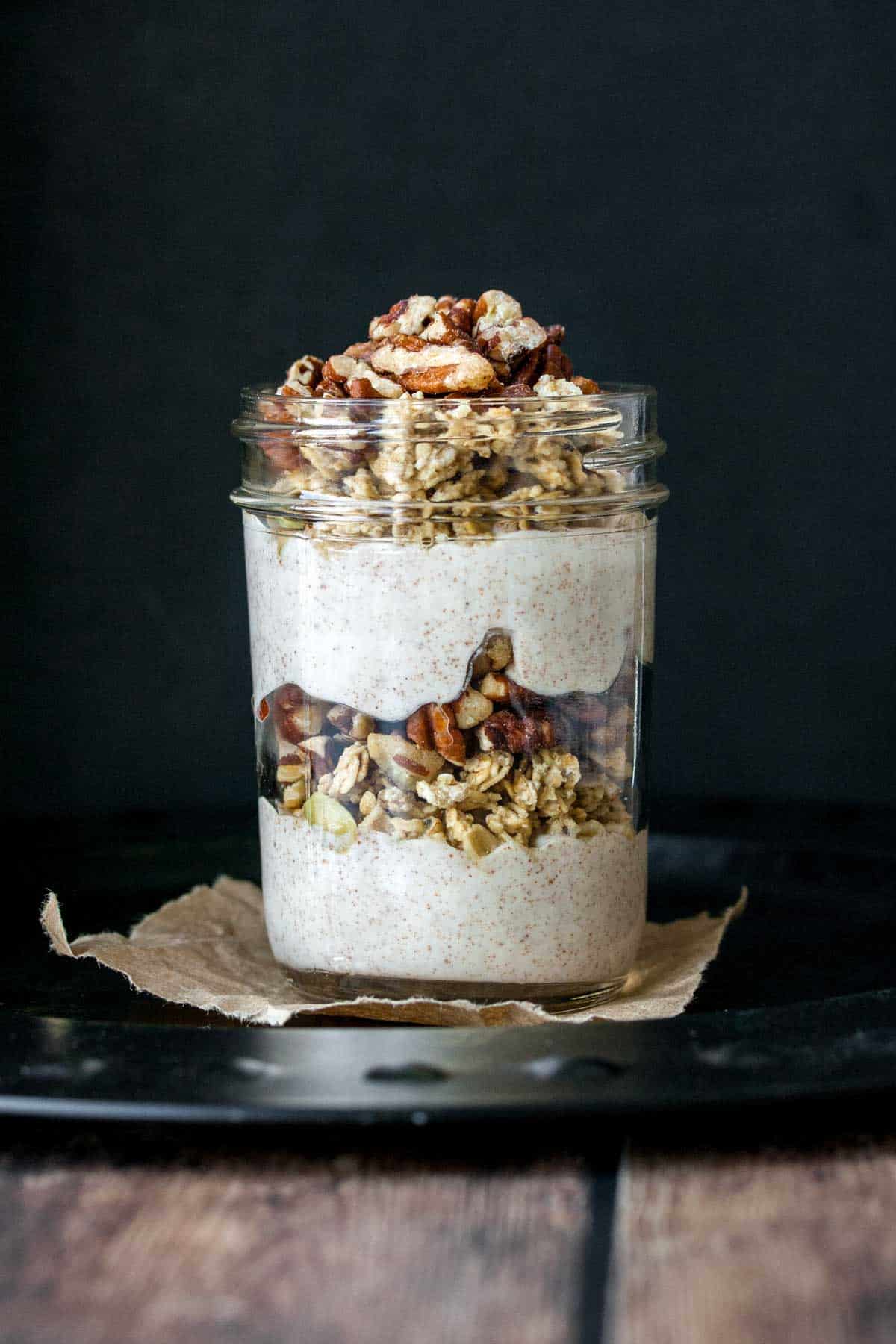 Combine the yogurt and cinnamon. In a jar or bowl, put half of the yogurt mixture at the bottom. Top with half of the granola and half of the pecans. Top with the rest of the yogurt mixture. Then finish it off with the other half of the granola and pecans. You can make this the night before or when you are ready to eat it.
Day 3: Make Your Own Fall Cereal Bowl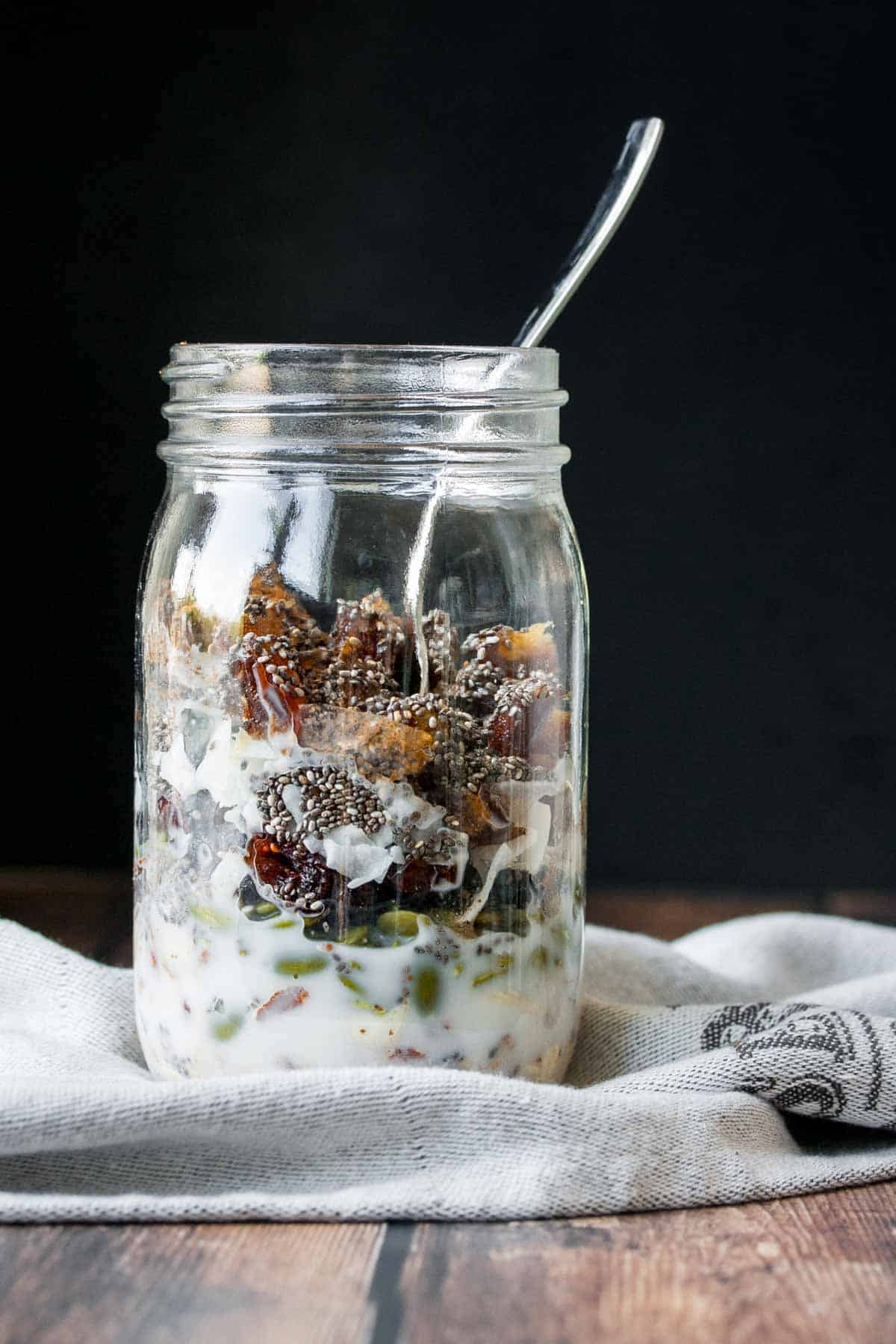 3 tablespoons rolled oats
2 tablespoons chopped pecans
2 tablespoons slivered almonds
2 tablespoons pumpkin seeds
2 tablespoons dried cranberries
1 tablespoon coconut flakes
1 tablespoon chia seeds
1 date, chopped
heaping pinch cinnamon
pinch ground cloves
Add the ingredients into a mason jar or bowl, you can alter the amounts to suit your preference, just make sure to account for it in the shopping list (this is just a guide). Store covered on the countertop until the morning. Serve in a bowl with Silk Unsweetened Almond Milk; as you allow the oats to soak in the milk, there is no need to cook them.
Day 4: Chai Pear Overnight Oats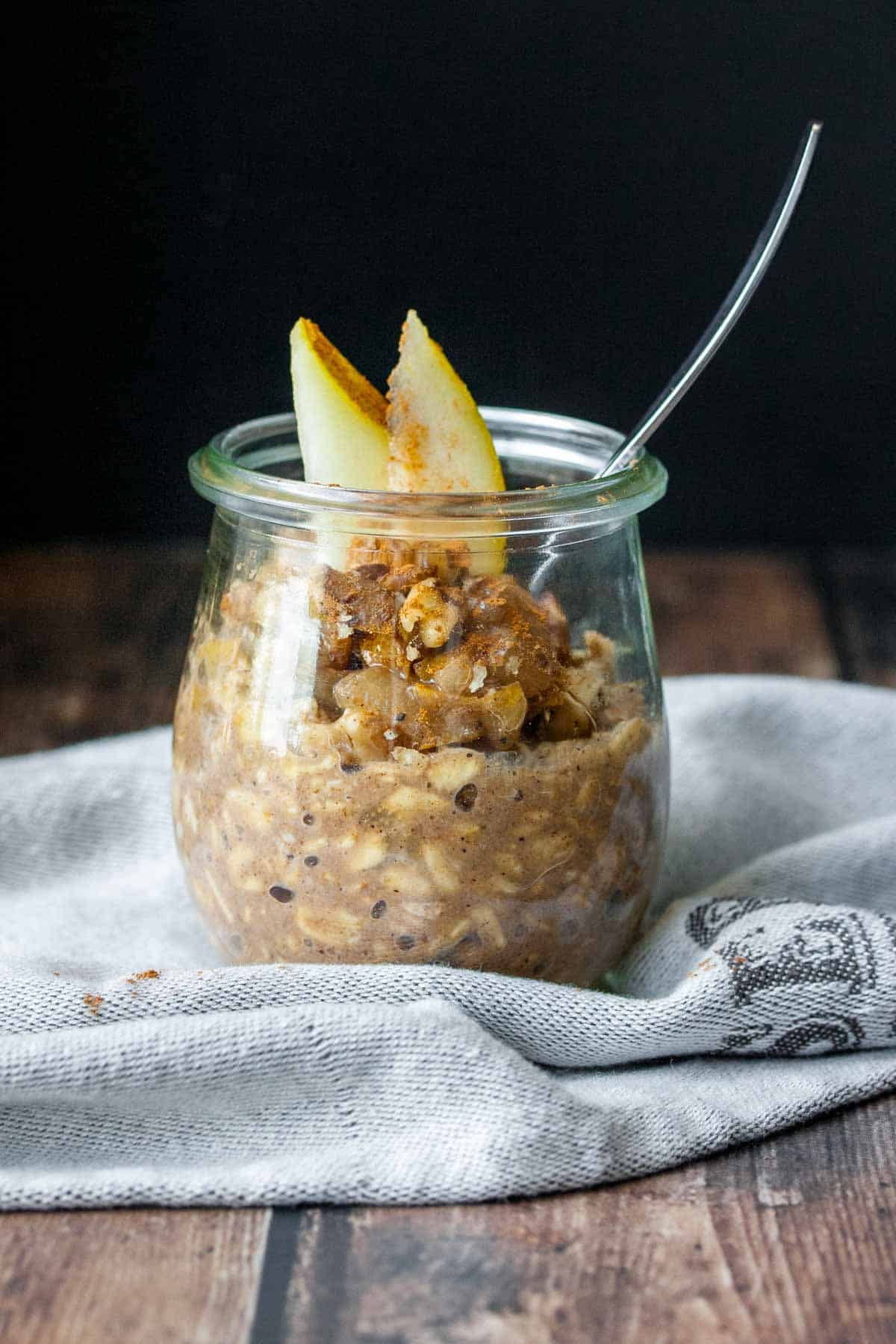 ½ cup chopped pears
1 tablespoon maple syrup
¾ teaspoon vanilla extract
½ teaspoon ground ginger
½ teaspoon cinnamon
¼ teaspoon allspice
⅛ teaspoon ground cloves
⅛ teaspoon cardamom
pinch sea salt
¾ cup rolled oats
1 tablespoon chopped walnuts
Place the pears, milk, maple syrup, vanilla extract, spices and salt in a small pot and cook until boiling and the pears are soft. Place in the bottom of a mason jar or bowl.
Add the oats, extra ¼ cup milk and walnuts to the jar. Cover and shake or mix well until everything is mixed thoroughly. Place in the fridge until morning. You can eat this cold right out of the fridge, or warm in the microwave or over the stove in a small pot.
Note: to skip the cooking step, simply add all ingredients into the jar or bowl and shake or mix well. You may want to add less milk if you do this since some of it evaporates when cooking. It will still taste great just not as sweet and warm since the pears won't caramelize like they do when you cook them.
Day 5: Apple Pie "Crepes"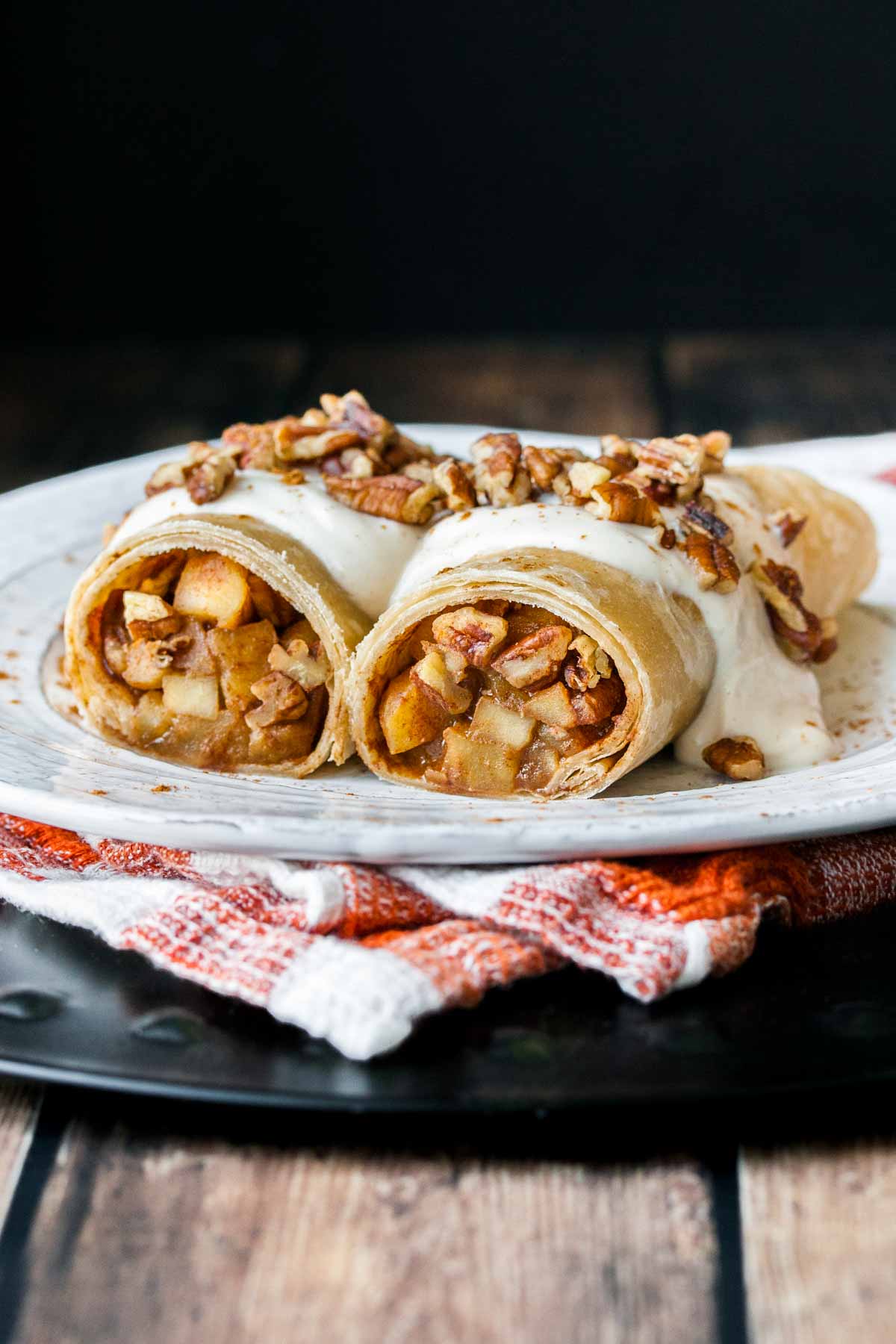 1 cup chopped apples (peel if preferred)
1 tablespoon maple syrup
1 teaspoon cinnamon
¾ teaspoon vanilla extract
pinch sea salt
tortilla of choice
2 tablespoons chopped pecans
scoop Silk Vanilla Almond Milk Yogurt as topping (optional)
Place the apples, milk, maple syrup, cinnamon, vanilla and salt in a small pot. Cook over medium heat until the apples are cooked through. Warm tortilla slightly to soften if cold, fill with mixture. Put the pecans over apples.
Roll and wrap in foil or plastic wrap. In the morning, unwrap and place on plate. Warm in the microwave or if preferred you could warm in the oven (they will be crispier however). Top with vanilla yogurt (if using).
Vegan Milk
We don't drink cow's milk, so when it comes to all our cereal, chia pudding, oatmeal, etc needs, we have to find a great alternative. Around here, we love our Silk Almond Milk . We buy the unsweetened variety, it's smooth, creamy and the boys love it.
I love that I can use this milk in my recipes along with using it as a perfect pair for our breakfasts. It's great for sauces, soups, desserts, and all my dips and dressings!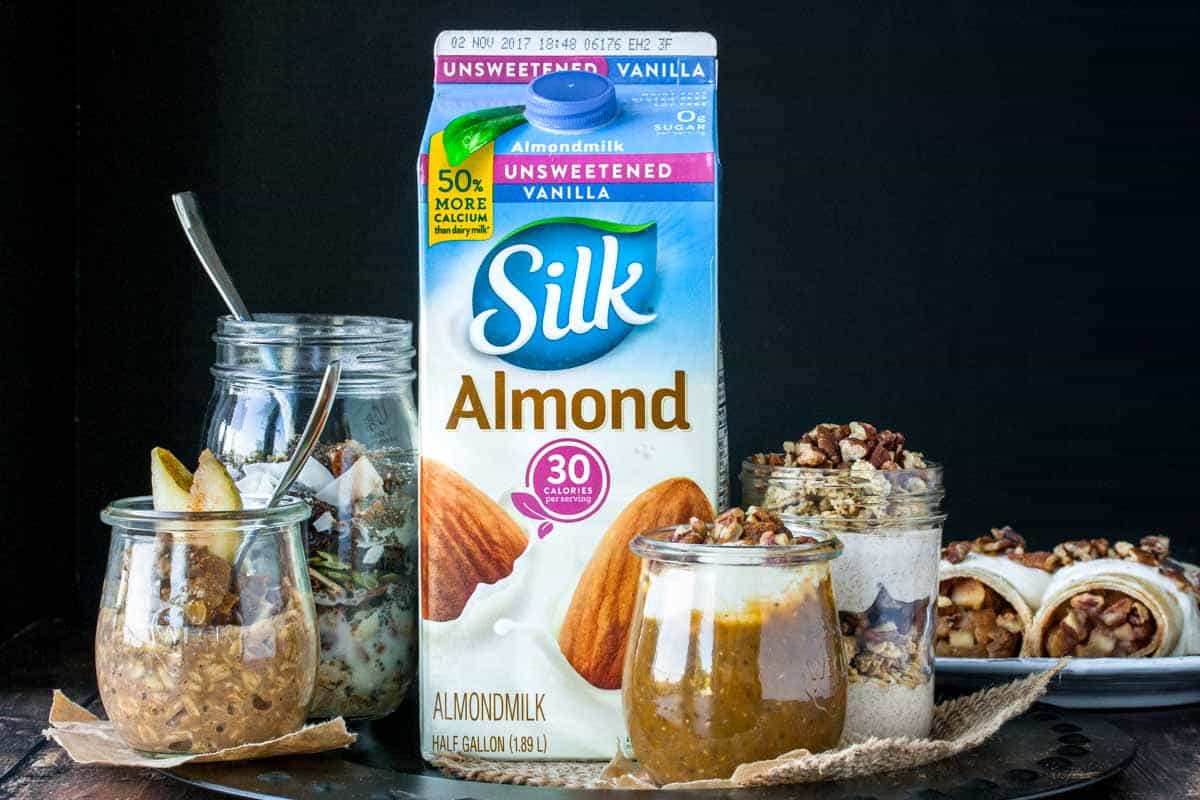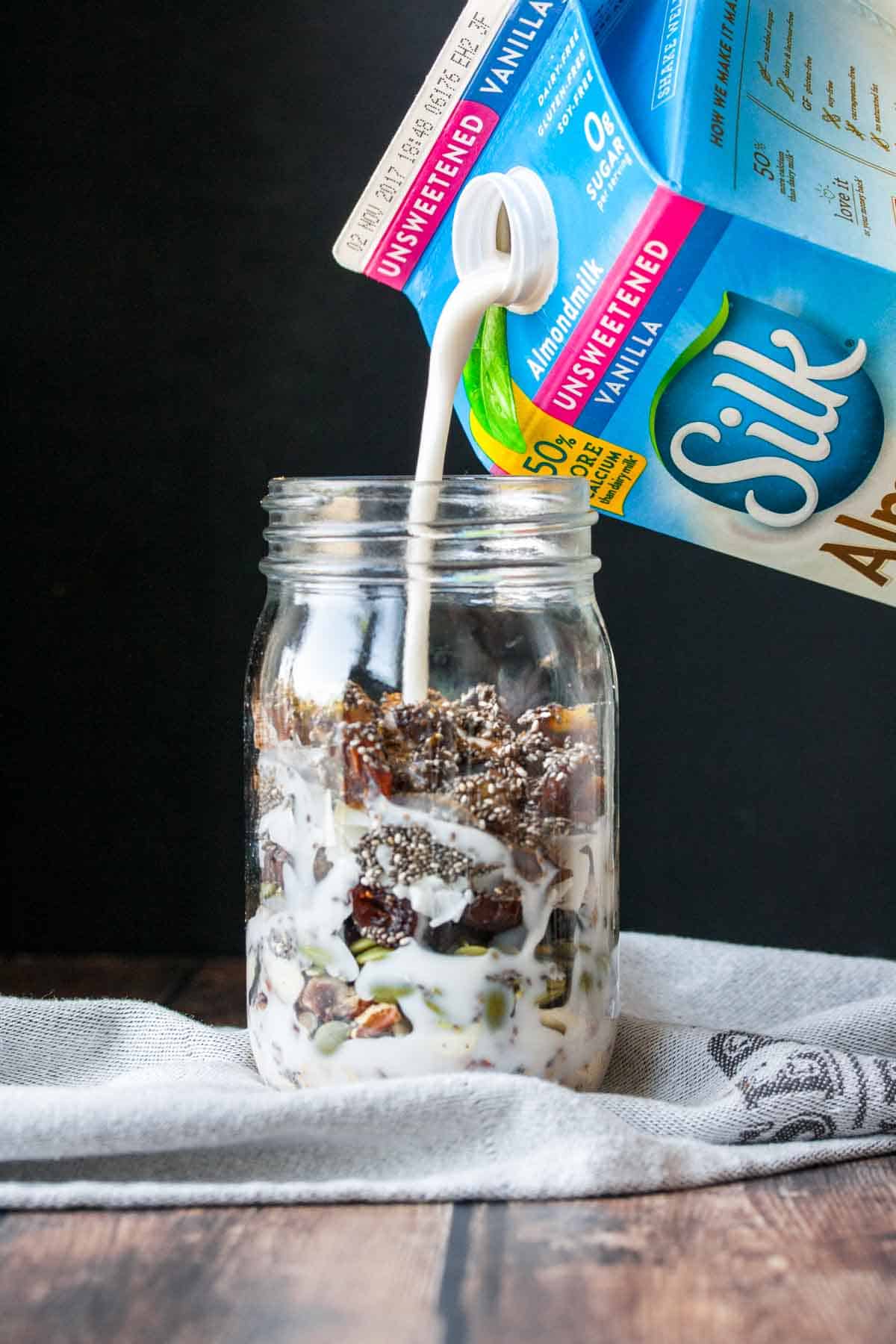 Tips for Meal Prepping Breakfast
Keep the recipes simple, the easier the food is to make the more likely you are to make it!
Start with prepping a few breakfasts a week, once you're used to the process you can do more.
Plan ahead as much as possible, make your menu and check to make sure you have all of the ingredients before you head to the store.
If you plan on heating the meal prepped breakfast make sure you store it in a microwave safe container.
Pre-mix the dry ingredients for overnight oats at the start of the week, then all you have to do is add the wet ingredients the night before!
Food Staples to Have on Hand
It's super easy to make breakfast if you always have the right ingredients in your kitchen! (See below for the full list of everything you need to make this specific vegan breakfast plan.) I make sure I always have the following:
Fruit - keep your favorites stocked, especially ones that travel well such as apples, bananas, pears, etc.
Plant Based Milk - almond milk, cashew milk, oat milk, whatever dairy free milk you like best!
Oats - the vegan breakfast possibilities are endless with oats!
Granola - this can simply be enjoyed like cereal or incorporated in other recipes.
Maple Syrup- obviously this is great for traditional purposes, but it's also an excellent natural sweetener that can be used in plenty of recipes.
Nuts and seeds - these are great for adding texture and nutrition to oatmeal, yogurt, etc.
More Vegan Breakfast Recipes
These breakfast ideas are great, but since we know variety is the spice of life here are a few more plant based breakfast recipes to try: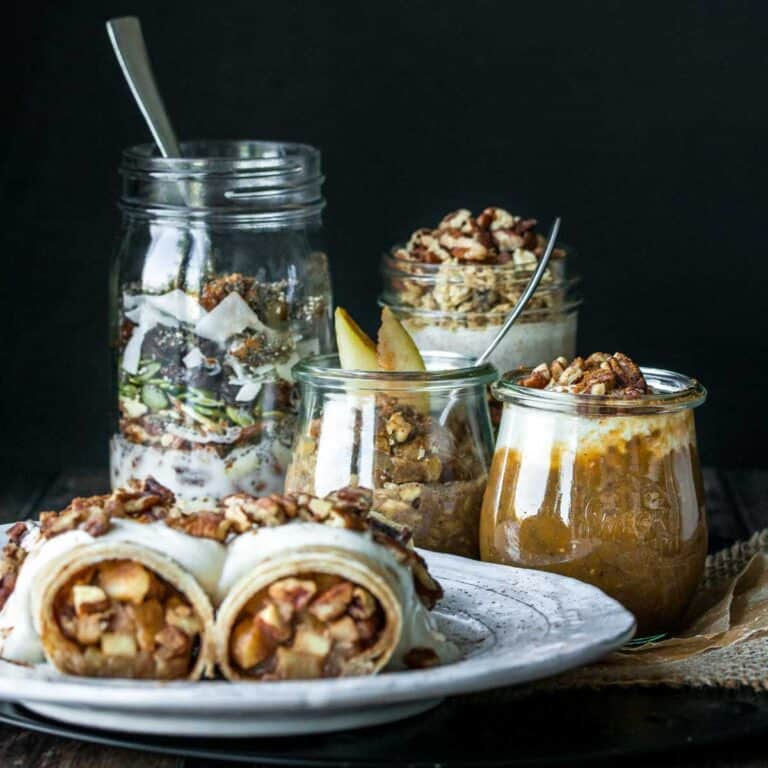 Easy Vegan Breakfast Meal Plan
This easy vegan breakfast meal plan is your solution to smooth mornings! It has 5 days of make ahead breakfast recipes and even includes a shopping list!
Ingredients
Produce:
1 medjool date
½ cup chopped , about 1 pear
1 cup about 2 apples
Non-Dairy:
2 ½ cups Silk Unsweetened Almond Milk
2 containers Silk Vanilla Almond Milk Yogurt
Nuts, Seeds, dried fruit:
Instructions
Shop and prep all you need.

Follow each individual day and/or recipe for instructions.
Notes
Feel free to adjust ingredient amounts to meet your flavor preference, just take note when shopping.
Nutritional information and cook/prep times are an average calculation per recipe. Most recipes do not require any cooking time.
Recipe by Veggies Don't Bite, visit our site for more great plant-based recipes.
Nutrition
Calories: 129kcalCarbohydrates: 13gProtein: 2gFat: 7gSodium: 101mgPotassium: 112mgFiber: 2gSugar: 6gVitamin A: 955IUVitamin C: 0.6mgCalcium: 72mgIron: 0.8mg
Nutrition and metric information should be considered an estimate.
Never miss a recipe!
Sign up here and get a FREE quick and easy meal guide!