This vegan meal plan is perfect for beginners! An easy process for making dinners for the week with zero waste, plus a shopping list!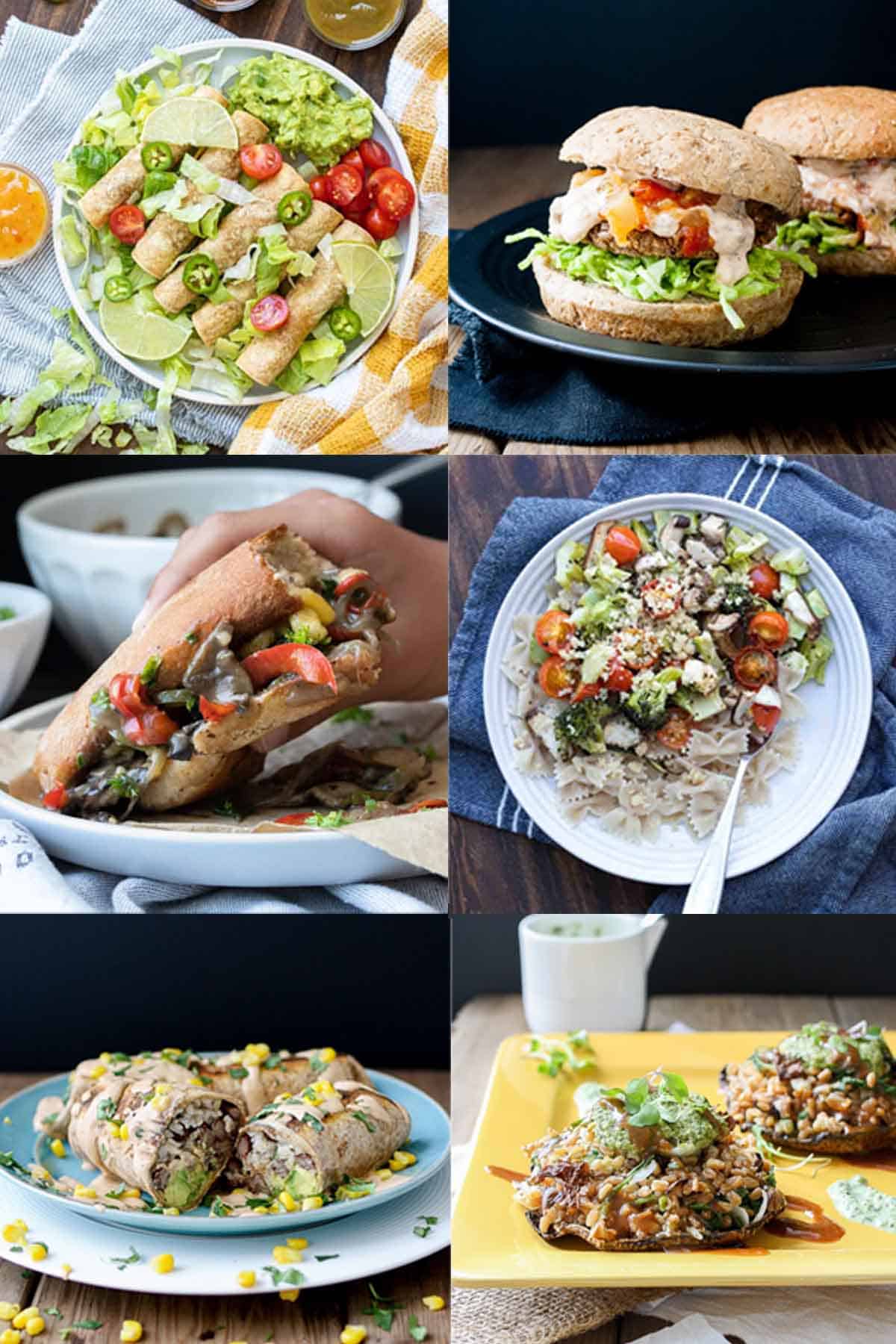 This is a sponsored conversation written by me on behalf of Silk. The opinions and text are all mine.
This post was originally published on June 26, 2016.
This weekly dinner plan is the perfect system for anyone wanting to shop once, use up all they bought, and eat wholesome nutritious meals that taste amazing all week long!
Back in April when I celebrated earth month with one of my favorite brands, Silk, I created this amazing buddha bowl and filled it with veggies that you may have otherwise let go bad because they were forgotten leftovers. An effortless way to use up food that would otherwise go to waste.
Weekly Vegan Meal Plans
There is nothing more satisfying than using up all the food you bought and prepped for your weekly dinners! So I knew I wanted a full week's worth to share with you all.
Store bought or frozen meals definitely have their place in your meal rotation (I actually have my clients do this at least once a week), but by meal planning and making mostly food at home, you save money and feel better, adding to your overall wellness.
Not only are those prepared meals generally more expensive, but they can often contain more sodium, added sugars, and artificial ingredients. Therefore they should be used on moderation.
Using recipes that incorporate similar ingredients, like in this plan, means you can plan to buy what's in season, which usually means more affordable. And since you're buying exactly what you need you won't have excess waste!
If you love meal plans, make sure you look at my easy 7 day meal plan too. You can also check out the list of all my meal plans in one spot here.
Meal Plan Recipes
The recipes here are in a specific order to make it easy to prepare parts of each recipe only once. If you decide to switch them up, please read the notes for each one carefully so you don't miss out on the minimal work portion of the meal plan.
I make a few changes to some of the listed recipes in order to stick to the zero waste and minimal effort idea, so read carefully. I also include tips on prepping ahead for each recipe and on how to adapt it for your baby or toddler, see each individual recipe for these.
Each recipe here is adapted for 4 people, except the portobello sandwiches which is for 6 (just save the extra filling for another time or make a stuffed sandwich, this is what I do).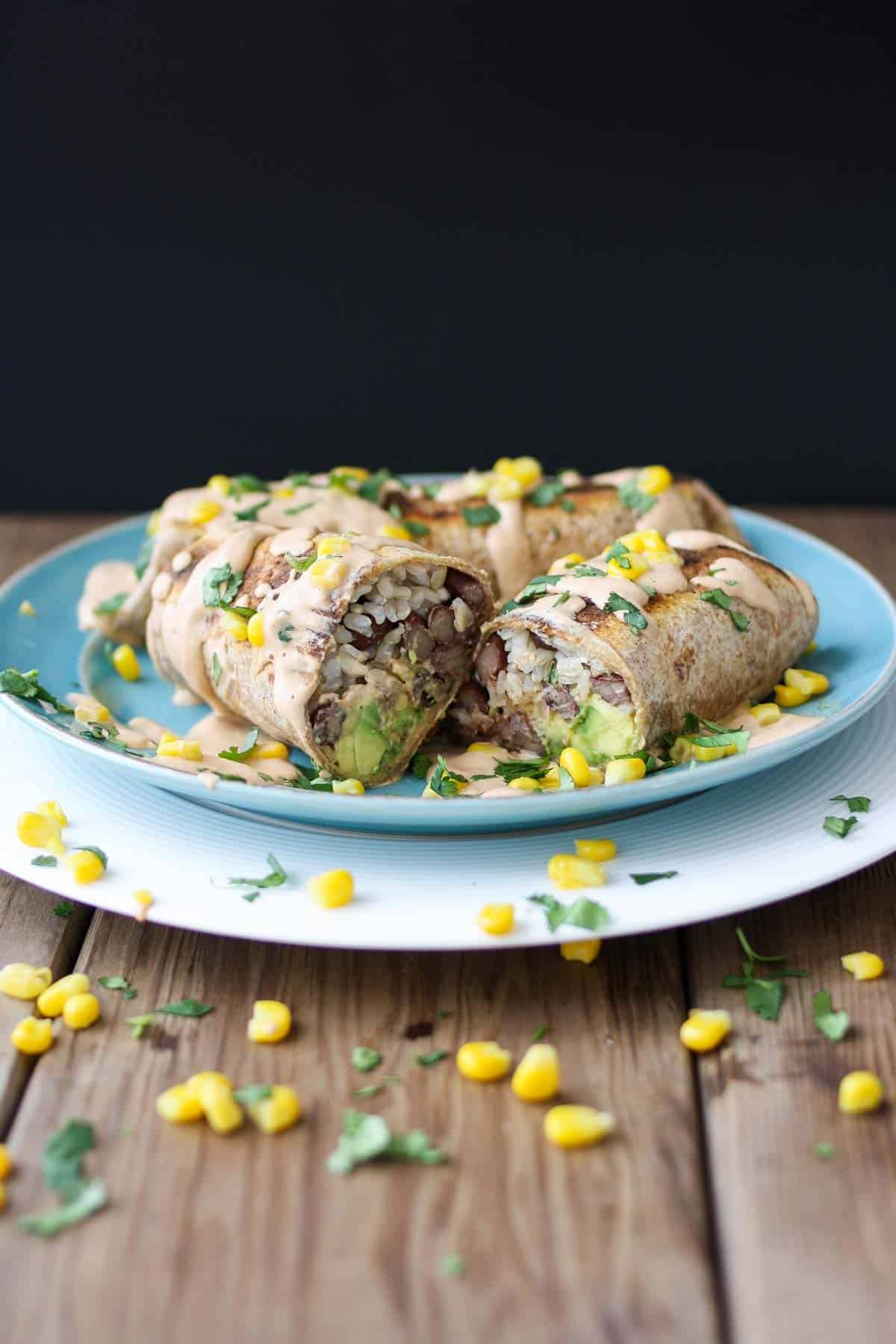 Day #1 Vegan Grilled Burritos
This recipe is originally for 2 burritos, but I am doubling it to adapt it for 4 burritos, however this will be eaten again on day 6 so the ingredient list actually calls for stuff to make 8 burritos in order to account for using this for 2 days of dinner. So each day you make it, double it.
Make the entire 4 cups of the salsa crema to use in this recipe, for the burgers (recipe 2) and for the taquitos (recipe 5). You will use 2 cups of it for this recipe (including both today's meal and when you eat it again on day 6), you will use 1/2 cup for day 2 recipe and 1 1/2 cups for day 5 recipe.
You can rinse all the black beans now (a total of 4 1/4 cups) and put the rest in the fridge to use when making the burgers (recipe 2) and for the taquitos (recipe 5). Or if you prefer rinse them as you need them, and only prep 3 cups for todays recipe. If you're cooking the beans from scratch then you can cook them all now or cook as you go.
Make sure to set another 1/4 cup of salsa aside (and a little more if you want it to top the burgers) for tomorrows recipe, and the rest set aside as a topping for the recipe on day 5.
You can prep all the beans and rice for the entire recipe now (for both today and when you make it again on day 6) or cook it as you need it. Hint: I use the frozen brown rice from Trader Joe's for an even easier dinner.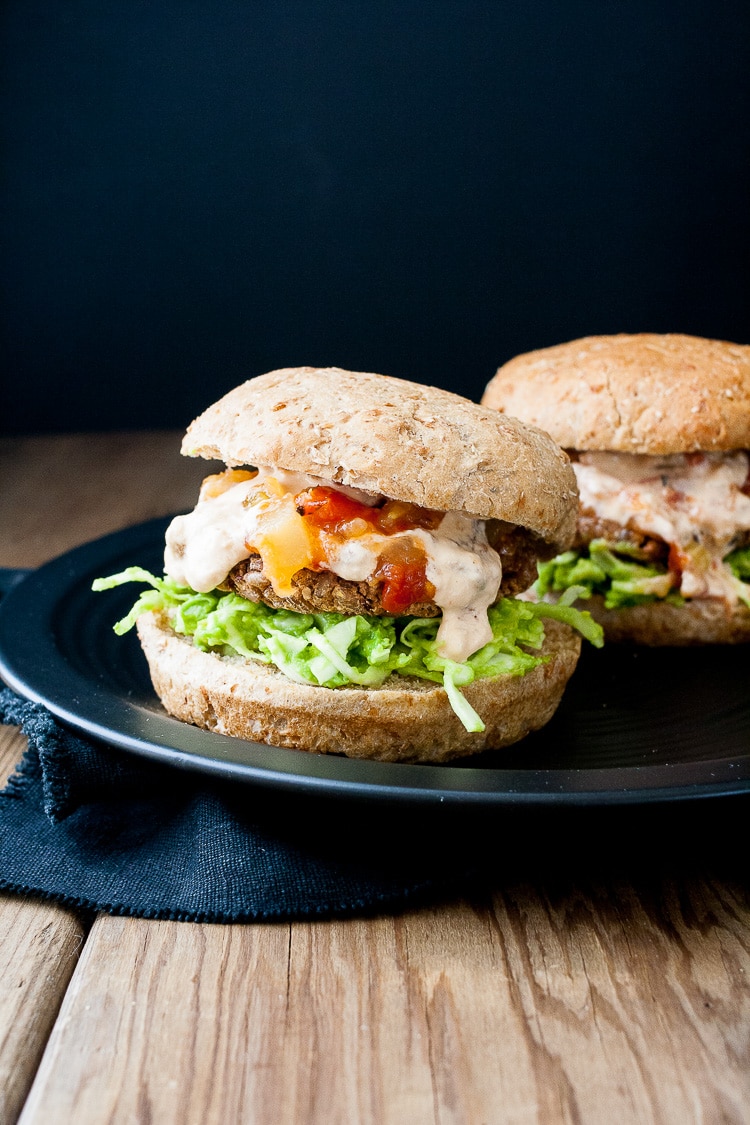 Day #2 Grillable Vegan Black Bean Burgers
Use 1/2 cup of the salsa crema made for yesterday's dinner instead of the mango habanero cream to top the burgers.
Use the salsa bought for yesterday's dinner instead of the mango habanero salsa when making the burgers.
Make all the farro today and save 4 cups cooked farro on the side for tomorrow's recipe.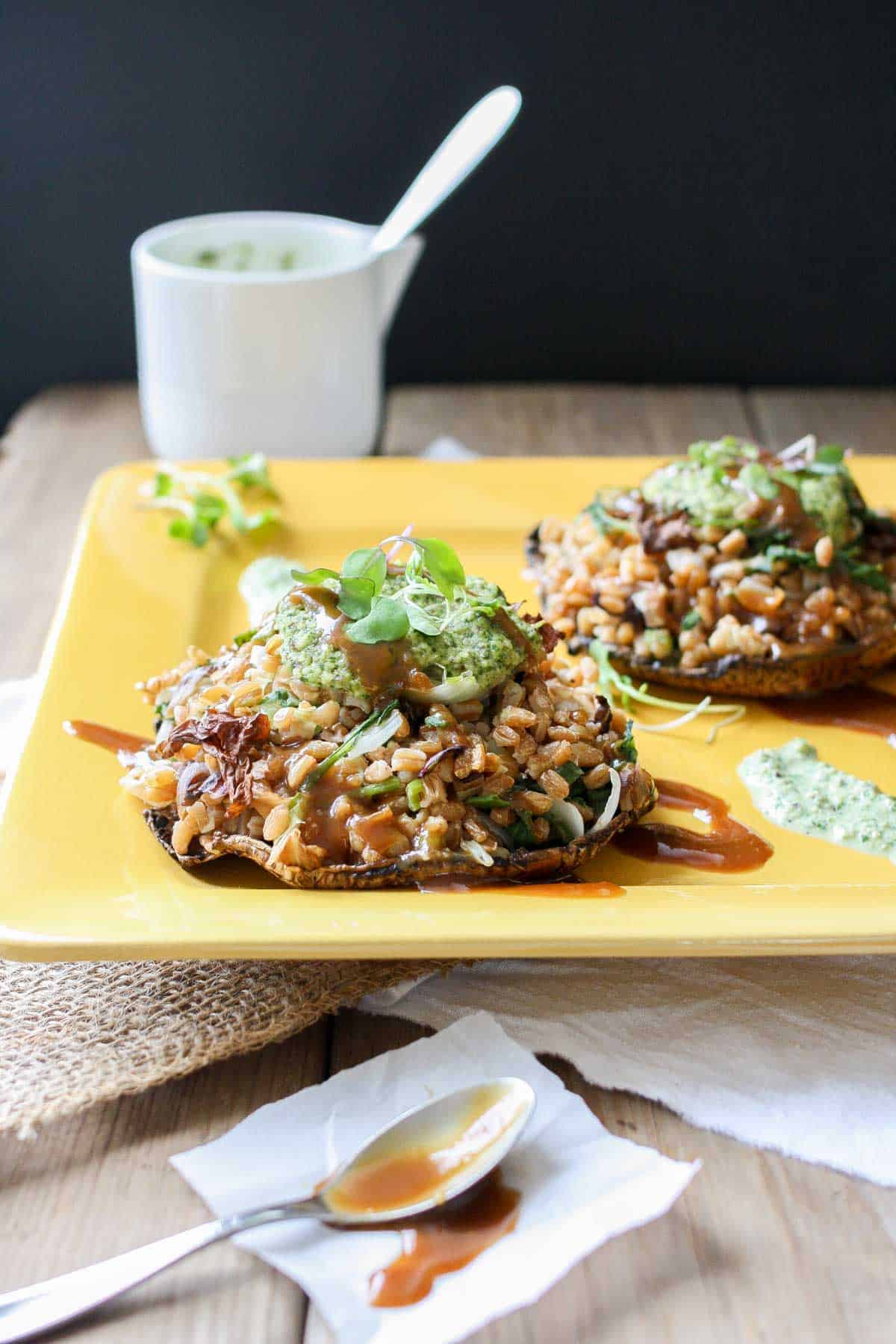 Day #3 Farro Stuffed Portobello Mushrooms
Use the already cooked farro from yesterday.
Make double of the pesto recipe to use with tomorrow's dinner.
The balsamic sauce is an extra optional topping, feel free to leave it out for an easier dinner.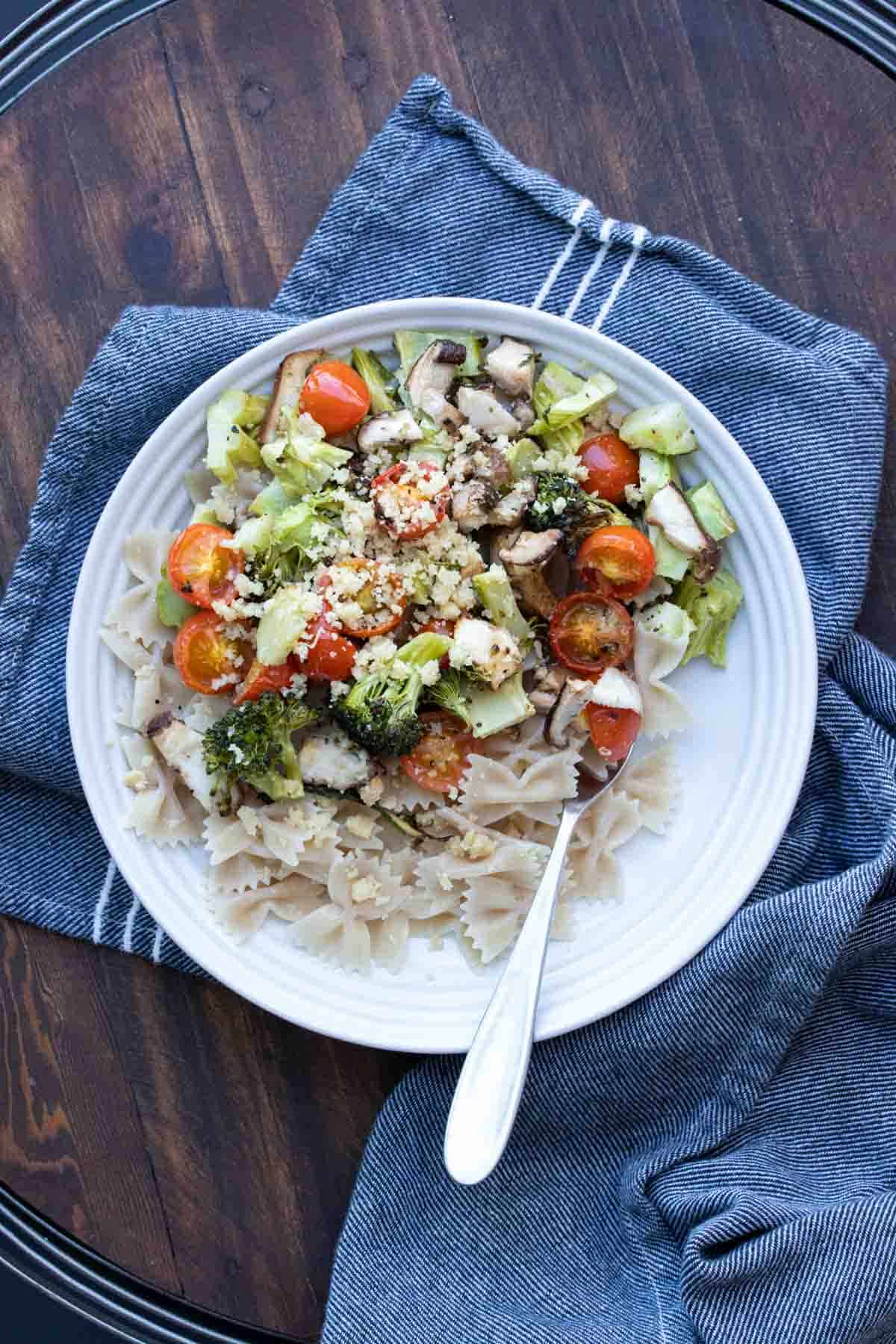 Day #4 Roasted Veggies and Pasta
Roast all 5 3/4 cups of veggies today (save 1 3/4 cup for tomorrow's recipe)
Use the leftover pesto from yesterdays recipe as an additional topping for the pasta.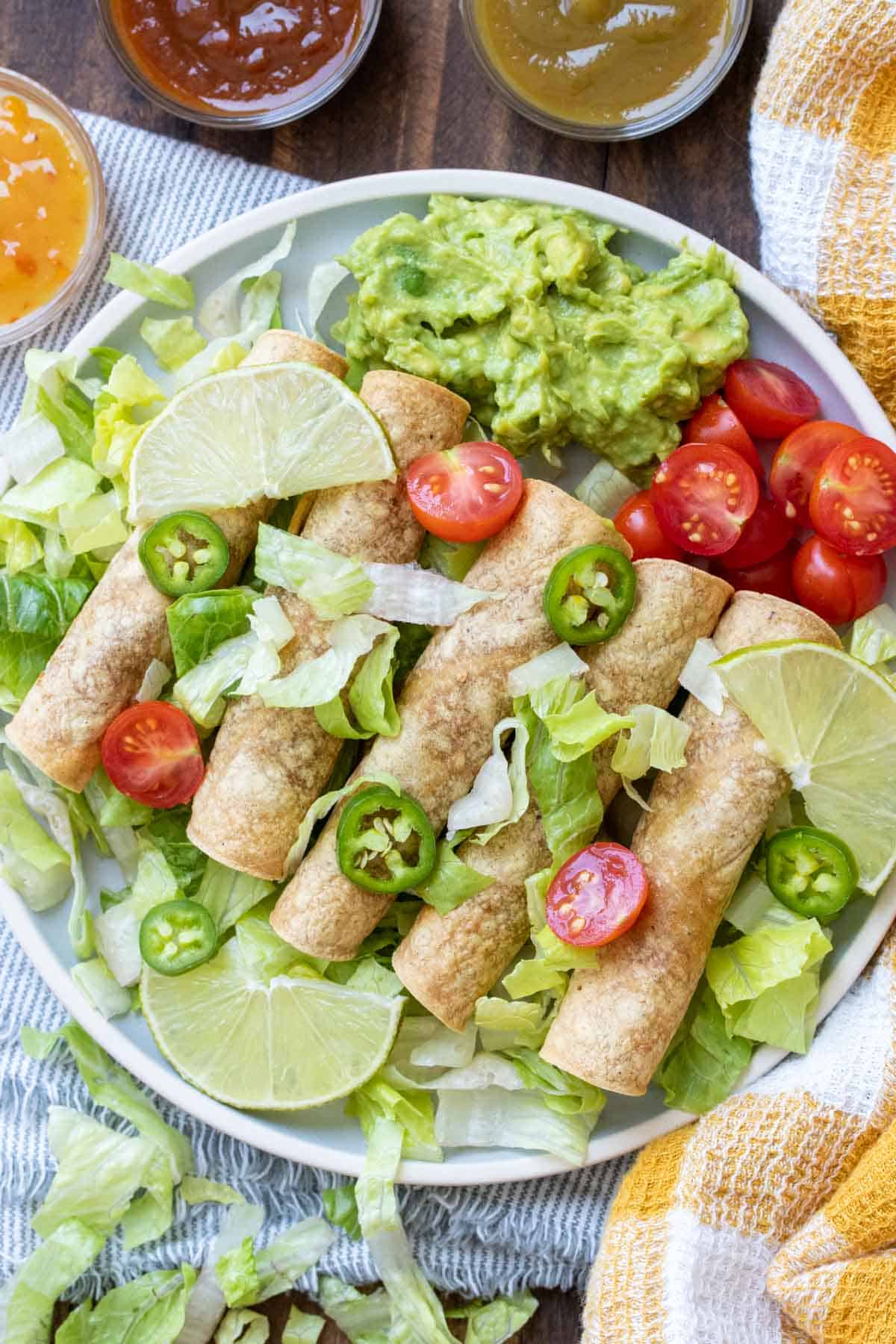 Day #5 Taquitos
You will double the original recipe to have enough for 4 people.
Use the leftover 1 3/4 cup roasted veggies when making these. Doubling the recipe calls for 2 cups veggies, but this is fine, we will add more beans.
Use 2 1/2 cups black beans instead of lentils.
Use the leftover salsa crema (should be 1 1/2 cups) instead of the chiles, cashews, vinegar and water called for in the original recipe. Start by adding 1 cup and check the thickness. You don't want it too runny. Slowly add more and check for texture and flavor. You may use it all or you may not.
For the chili powder, onion powder, smoked paprika and salt, taste and add as you see fit. The flavor from the salsa crema may be enough for you. I added half the amount called for in the recipe (but remember you are doubling it).
If topping with salsa, you will use the one bought for the salsa crema. You can also add any leftover toppings you have like avocado and lettuce, etc.
Day #6 Second serving of Grilled Burritos from Day 1
Follow the recipe from day 1. You should have everything ready to go.
Since there is not much to do today, prep for tomorrow's dinner by slicing all the veggies and saving in the fridge for tomorrow.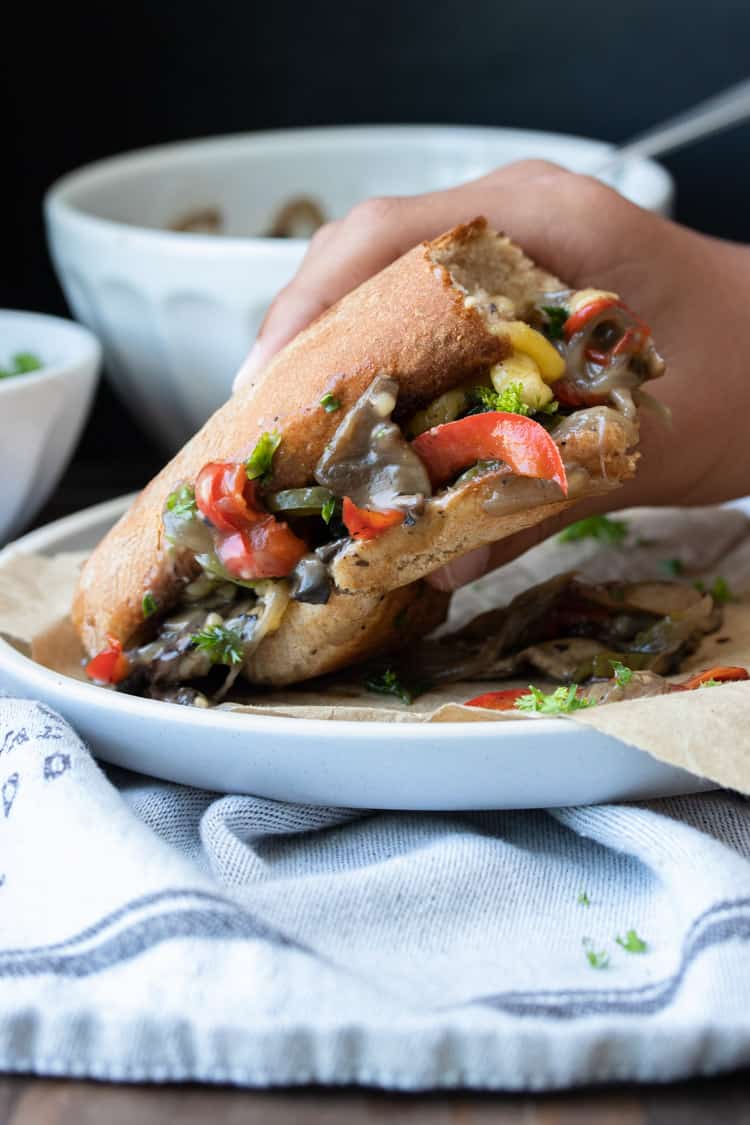 Day #7 Portobello Steak Sandwich
You will use the rest of the portobello mushrooms for today's recipe.
If you prepped yesterday, this will be a very quick and easy dinner.
Grocery List
I have divided the shopping list below into sections to make it easy. This list is everything you need to make each days meal. Every meal is planned for 4 people, except for the portobello sandwiches which are for 6 (just save the extra for another day or add it to make a fuller sandwich), so if you need to feed more or less plan accordingly.
The burritos you will eat twice (day 1 and day 6). Optional additions noted, optional toppings that need a recipe at the bottom.
Vegan pantry staple suggestions
Having certain foods always on hand makes it easier to put meals together. Whether you're following a plan or throwing together a last minute meal, you'll want these items around:
Pasta, beans, grains:
Dried pasta of choice, gluten-free if needed
Black beans
Pinto Beans
Chickpeas
Brown Rice
Quinoa
Oats
Nuts and seeds:
Cashews
Almonds
Walnuts
Flax seeds
Hemp seeds
Chia seeds
(Non) Dairy:
Non-dairy milk- Silk Cashew Milk, almond milk, coconut milk, etc.
Plain dairy-free yogurt
Coconut cream
Spices and baking essentials:
Onion powder
Garlic powder
Paprika
Chili powder
Cumin
Basil
Oregano
Ginger
Cinnamon
Salt & pepper
Vanilla extract
Vegetable broth
Brown rice flour
Maple strup
Produce:
Potatoes
Onions
Greens
Peppers
Mushrooms
Common Questions
What is a typical meal for a vegan?
Typical vegan meals consist of a wide variety of foods, just like non plant based meals! Many vegan recipes include beans, grains, vegetables, fruit, and amazing spices.
How do you make a vegan meal plan?
Following a guide like this one can make meal planning easier. To create your own, note which produce is in season or available and build meals around those. Try to make multiple meals using similar ingredients so that nothing is going to waste. Keep the staples suggested above on hand so that shopping each week is simplified.
What should a beginner vegan eat?
The key to starting out as a vegan is to go slow. Ease yourself into it. Do your best at choosing whole food plant based ingredients, and avoid non vegan foods. Choose your favorite vegetables, fruits, beans, and grains, and find recipes that feature those items.
More Vegan Meal Ideas
The above recipes are great for dinners, but here are some ideas for recipes for the rest of the day:
Breakfast
Lunch
Snacks
Desserts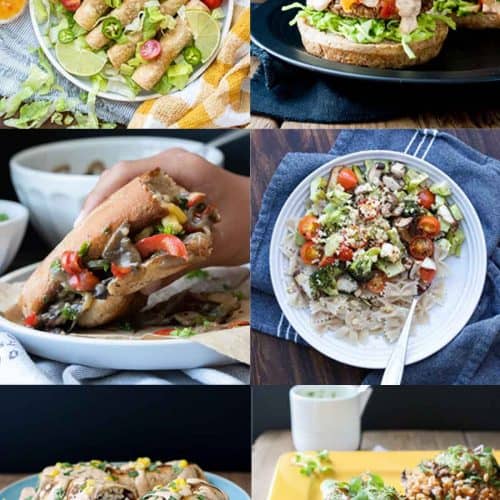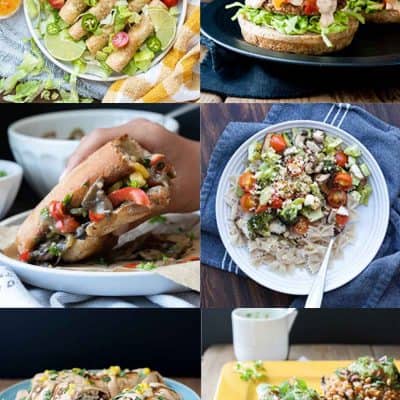 Weekly Vegan Meal Plan Shopping List 1
Use minimal effort and minimal waste to create healthy plant based meals your whole family will love with this weekly vegan meal plan!
Ingredients
Produce
3

avocados

2

tablespoons

fresh lemon juice

1/4

cup

cooked red potato

, about 1/2 of a small potato, a russet potato will work too

2

cups

cabbage

2

cups

spinach

2

cups

shredded lettuce

12

cups

mix of baby kale

, baby arugula, mizuna and radicchio (I used the Earthbound Farm Kale Italia mix or you can buy each separately in a 2:2:1:1 ratio with kale and arugula being the 2, if you can't find them all just use what you find)

8

portobello mushrooms

5 3/4

cup

mix of your favorite veggies

, to roast and mix with pasta and to be used in the rolled taco bean filling

3

spring onions

, need 2 cups chopped

1

small sweet onion

1

small green bell pepper

1

small red bell pepper

2

cherry bomb peppers

, or other spicy peppers of choice, optional for spicy portobello steak sandwiches

5-9

medium garlic cloves

1

tablespoon

parsley

Corn

, optional topping for burritos

Cilantro

, optional topping for burritos

Tomatoes

, fresh or sundried (optional to top pasta)
Canned Goods
5 ¾

cups

black beans

, about 4 ½ cans

1

can cannellini or garbanzo beans

, optional to top pasta
Condiments
1 3/4

cups

jarred salsa

, plus optional extra to top burgers and/or rolled tacos
Pasta and Grains
3

cups

cooked brown rice

, about 1 cup dry or can buy ready frozen to make it easy

5

cups

cooked faro

, about 2-2 1/2 cups uncooked, pearled takes less time to cook but has less nutrients

16

ounces

of your favorite pasta
Breads and Baked Goods
8

tortillas

, 12 inch

18

corn tortillas

, 8 inch

4

burger buns

4

hot dog or sub sandwich buns

, for the portobello recipe, get 6 if you want to make the extra 2
Nuts
2

cups

cashews

2

cups

pine nuts

, or sub walnuts if preferred
Baking and Spices
2

cups

veggie broth

, plus extra to sauté 2 recipes and roast (or cook with your favorite oil)

2

tablespoons

cornmeal or brown rice flour

, either works, see burger recipe for difference

2

tablespoons

brown rice flour

2

teaspoons

onion powder

2

teaspoons

chili powder

2

teaspoons

smoked paprika

1/2

teaspoon

sea salt

, plus extra to taste

ground black pepper to taste
(Non)Dairy
1 1/2

cups

Silk Cashew Milk

4-6

slices

non dairy cheese

, optional for portobello sandwiches
Optional toppings for meals that need recipes:
Maple Miso Balsamic Sauce (for stuffed portobellos)
1/4

cup

plus 2 teaspoons maple syrup

1/4

cup

chickpea miso

or can use white

1/2

cup

plus 4 teaspoons balsamic vinegar
Hemp Almond Parmesan (to sprinkle on pasta)
1/4

cup

hemp seeds

1/4

cup

almond meal

1 1/2

teaspoons

nutritional yeast

1/4

teaspoon

garlic powder

1/2

teaspoon

salt
See Portobello Steak Sandwich recipe for optional cheese sauces to use as toppings or use suggested ready cheese slices above
Instructions
Print out the shopping list and gather all the ingredients.

Follow my day to day instructions in the post so make each nights meal, paying careful attention to the notes.

Feed your family amazing meals, with less effort and minimal waste!
Notes
Every meal is planned for 4 people, except for the portobello sandwiches which are for 6 (just save the extra for another day or add it to make a fuller sandwich), so if you need to feed more or less plan accordingly.
Calories and prep/cook times are based on an average per serving per recipe and not exact. Please see original recipes for a more accurate calculation.
Recipe by Veggies Don't Bite, visit our site for more great plant-based recipes.
Nutrition
Calories:
459
kcal
Carbohydrates:
66
g
Protein:
15
g
Fat:
16
g
Saturated Fat:
2
g
Sodium:
527
mg
Potassium:
798
mg
Fiber:
8
g
Sugar:
8
g
Vitamin A:
3525
IU
Vitamin C:
56.8
mg
Calcium:
143
mg
Iron:
4.6
mg
Nutrition and metric information should be considered an estimate.
Never miss a recipe!
Sign up here and get a FREE quick and easy meal guide!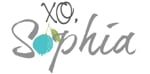 //