A vegan cheese fondue that will have you drooling at first dip! This is made with simple whole food ingredients and a perfect way to get in some extra veggies.
We love to dip anything and everything in this vegan fondue recipe. My kids will even eat veggies they usually don't! We also get creative and dip in things like cooked pasta and sausages.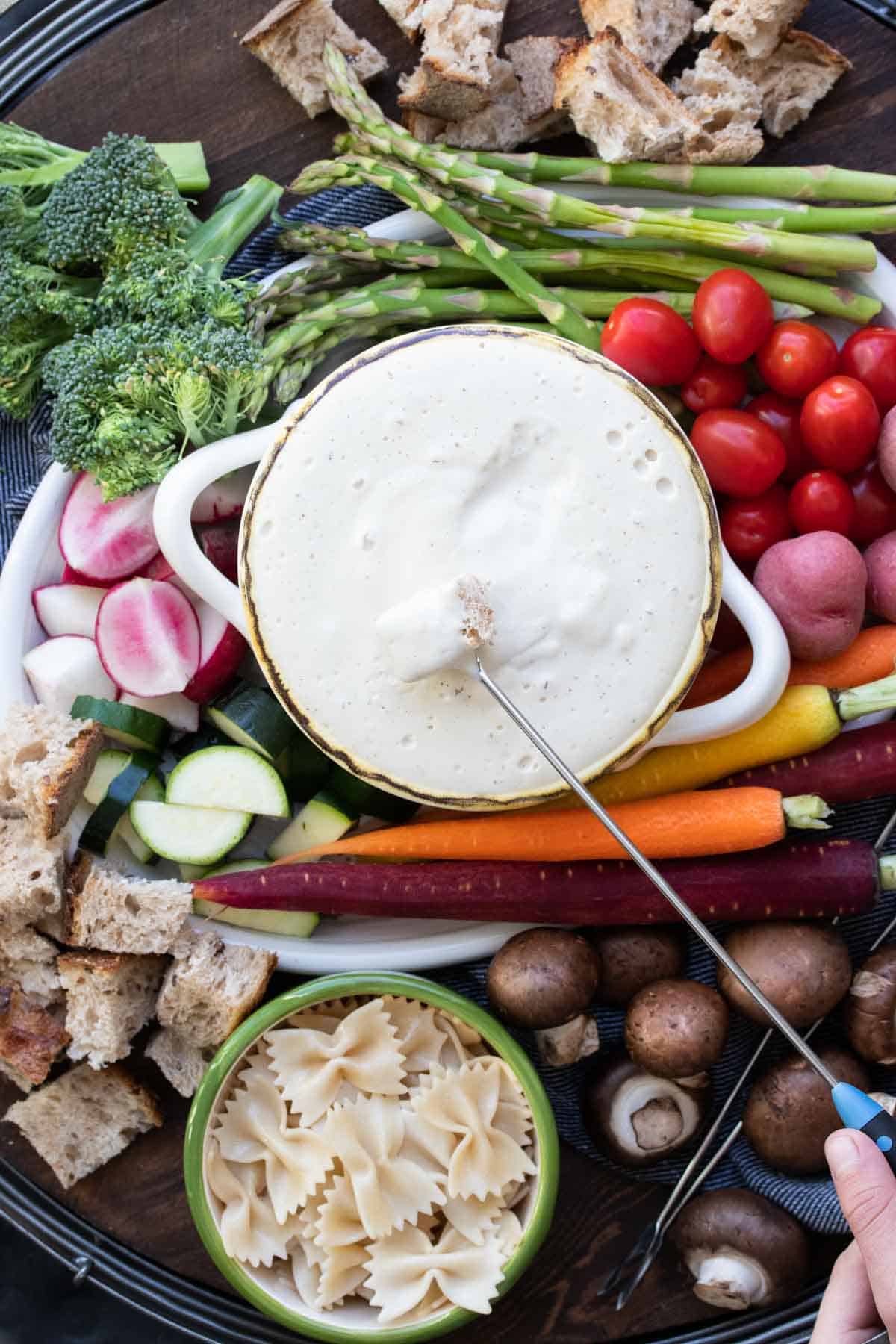 This post was originally published on November 2, 2020.
Cheese fondue is usually something you'd have to pass on when eating dairy free, but not now! This vegan version is just as good as the dairy filled kind. It's the perfect dipper for just about anything!
Ingredients
This vegan cheese fondue is the BOMB! It is warm, delicious and perfect for dipping. Fondue has always held a special place in my heart. Growing up, my family always made a fondue dinner on New Years Day.
So I created my own version to make it dairy free. Here is what you need for the base vegan fondue:
Cooked potato 
Unsweetened cashew or almond milk
Dry white wine
Sweet or yellow onion
Garlic 
Lemon juice
Ground mustard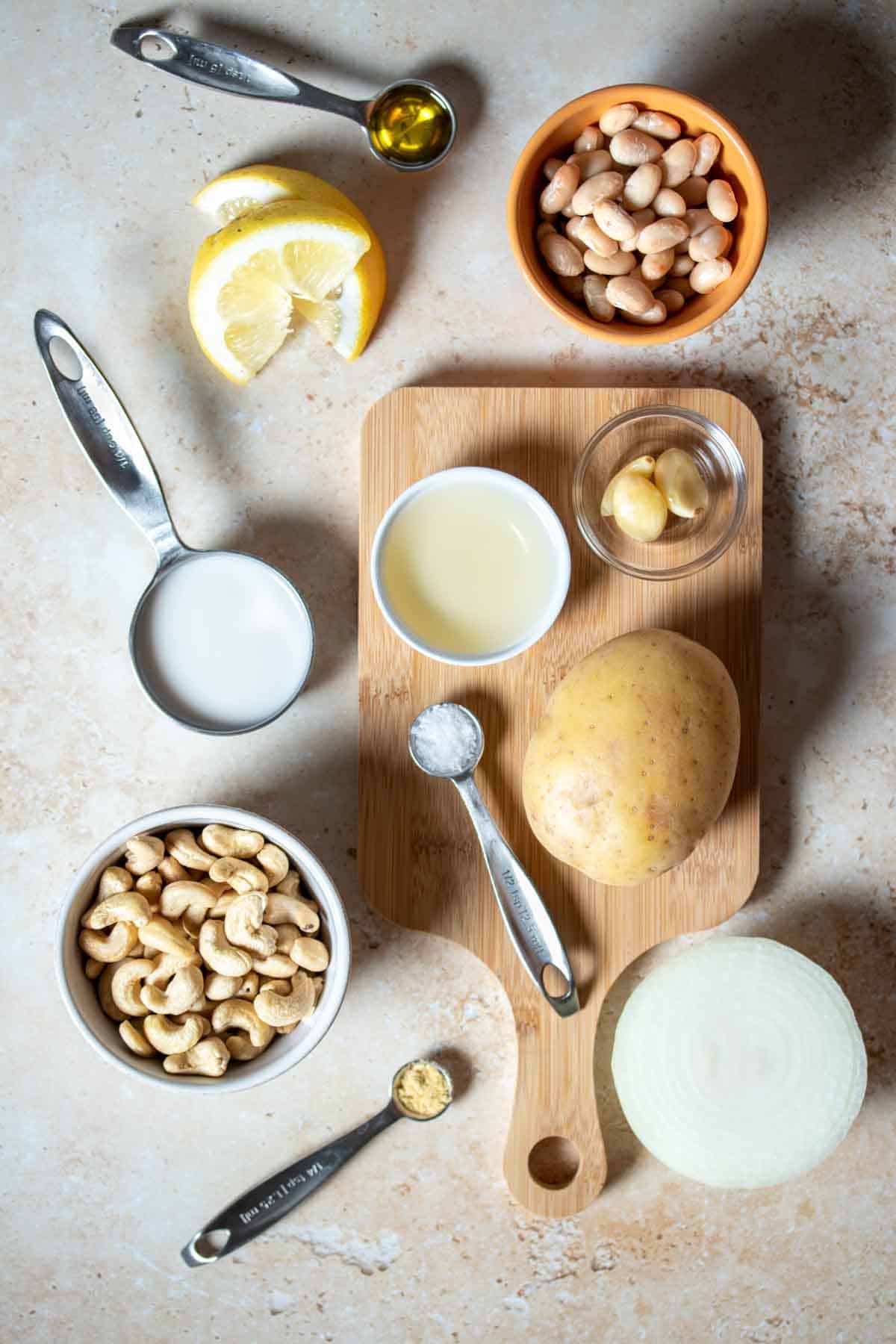 How To Make Vegan Fondue
Here are the easy steps to making this vegan fondue:
Sauté the onion and garlic.
Put the ingredients into a blender and blend until perfectly smooth.
Warm in a pot or fondue pot, keep warm while eating it with all the things!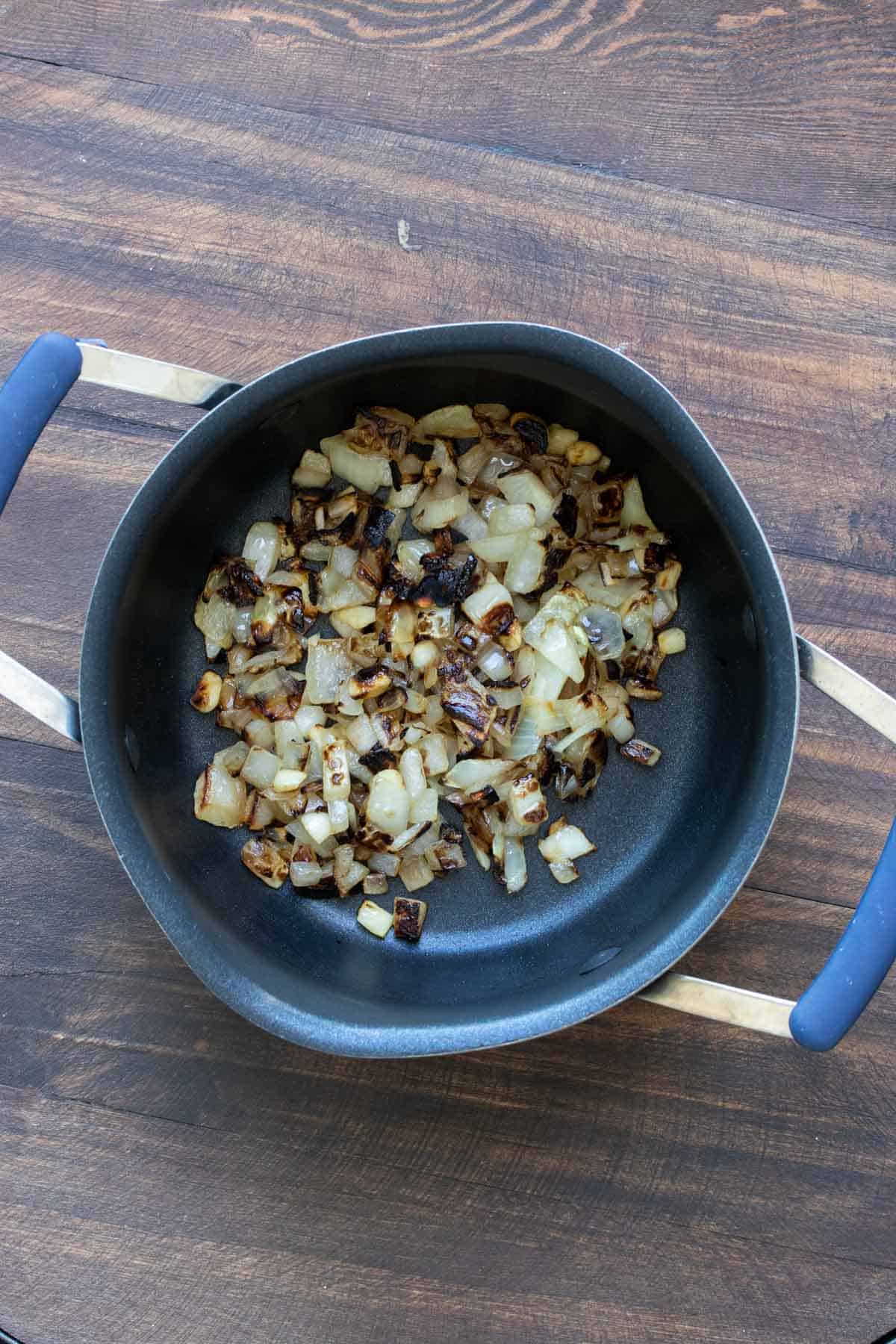 One of the key pieces for awesome fondue is keeping the cheese warm! A fondue pot is a sure-fire way to make this happen. You can also use a double boiler, but fondue pots are the bomb.
This fondue post is a perfect choice that isn't too expensive!
Vegan Cheese Fondue Dippers
Get creative with all the yummy things you can dip in fondue! Serve a mix of veggies, fruit, bread, and more. Here are some ideas to get you started:
Broccoli
Cauliflower
Peppers
Carrots
Zucchini
Mushrooms
Apples
Asparagus
Cherry tomatoes
Green beans
Brussels sprouts
Radishes
Baby potatoes
Snap peas
Pickles or other pickled foods
Apples
Grapes
Pears
Potatoes - cubed and roasted, boiled, or even French fries!
Pretzels
Cooked pasta
Bread - french baguette, sourdough, or your favorite sturdy bread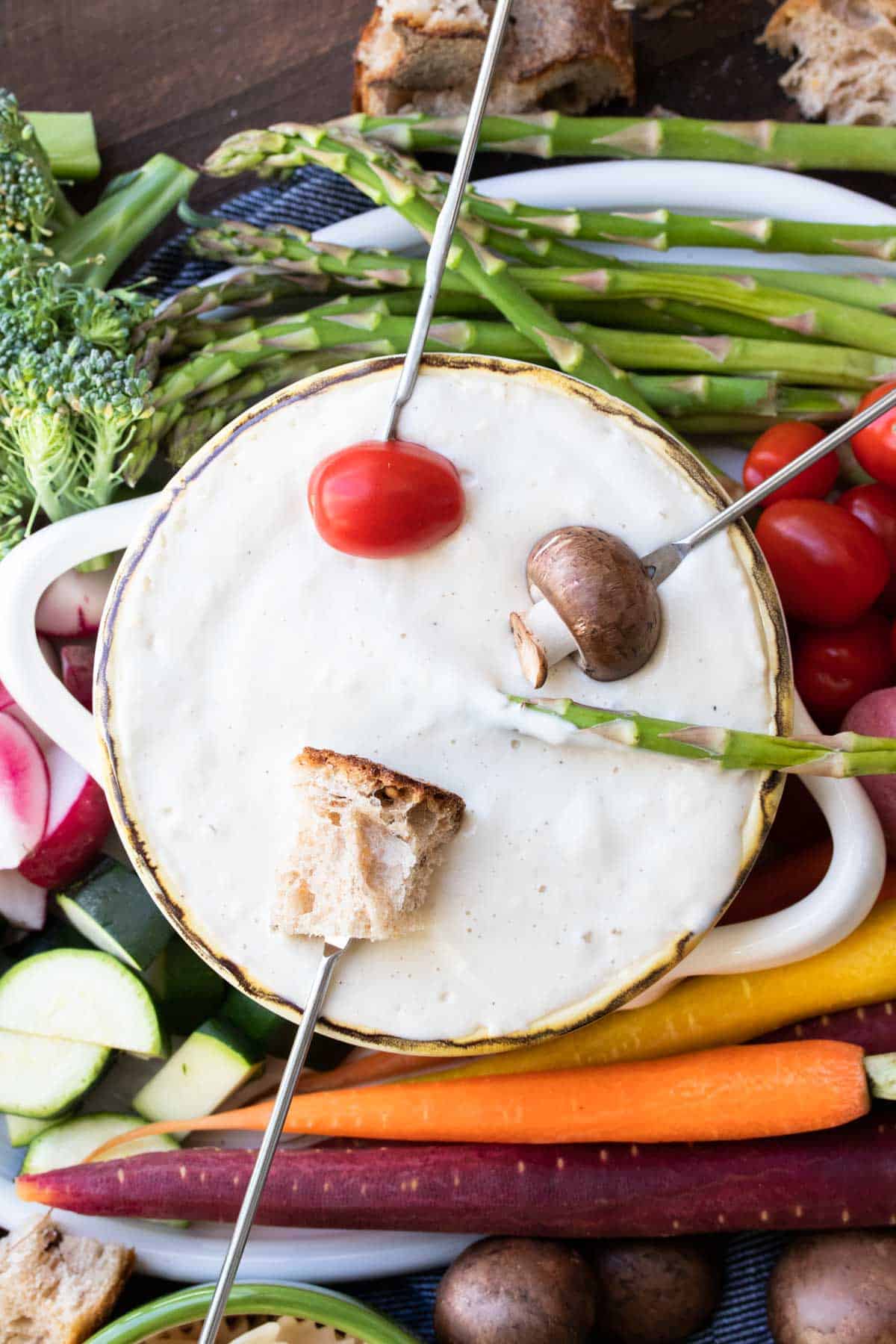 Appetizers to serve with fondue
Looking for other appetizers to serve along side your fondue? I've got you covered with these delicious plant based options.
Tips for Throwing a Fondue Party
Fondue parties are a deliciously good time. What could be better than hanging out with your friends, eating cheese and drinking wine? Not much. Make this vegan cheese fondue, chop up your favorite vegetables, apples, and bread and munch away!
If you don't have fondue forks, you can use skewers, chopsticks, or even a regular fork.
As you dip, try to scrape the bottom and stir it up a little bit as your bring the food out. This will help to prevent the fondue from sticking to the bottom.
Some say the order of eating should start with bread, then veggies, then everything else, but we like to eat whatever whenever!
Avoid eating the food straight off the fondue fork, nobody likes a double dipper! Instead, transfer the dipped food to your plate and use another fork to take bites.
Prep Ahead and Storage Tips
Whether you are hosting a party or heading out to a potluck with your vegan fondue cheese, it's easy to make this ahead of time.
Follow the instructions up until blending, then pour it into an airtight container.
If you are eating it within a couple hours, keep on the counter top until ready to warm it up and eat.
If you won't be eating it soon, put it in the fridge and take out about 30 minutes before you are ready to eat it so it returns to room temp. Then simply warm and serve!
Vegan fondue will keep in the refrigerator for up to 5 days.
This vegan cheese fondue recipe also freezes really well. You just need to let it defrost to room temp, then whisk as you warm it to get back the consistency!
Common Questions
Is Swiss cheese vegan?
No, BUT there are a ton of really great vegan options out there. Vegan alternatives have come a long way in recent years and there are some great vegan cheese options out there.
Is gruyere cheese vegan?
Nope, unless it's a vegan variety! But naturally, gruyere cheese is not dairy free. Always make sure you read the ingredient labels so make sure.
Do you pre cook vegetables for fondue?
This depends on the vegetable. Potatoes, yes. Tomatoes, no. But others like broccoli, carrots, asparagus or cauliflower it can go either way. I like to quickly blanch mine, but not fully cook them.
Is fondue kid friendly?
Absolutely! Fondue is actually a great way to get kids to try new things. Allow your kids to each choose a dipper they want to contribute to the fondue. You can then set out all the different options and encourage them to try at least one new thing.

I don't ever believe in forcing food on kids, nor do I think allowing emotion to be part of eating is healthy for their mind. But there are ways to encourage them to try new things such as showing them by example, talking about the different benefits each type of food has, etc.
More Vegan Cheese Recipes
Get all the flavors of your favorite cheese but without the dairy! Try these plant based recipes: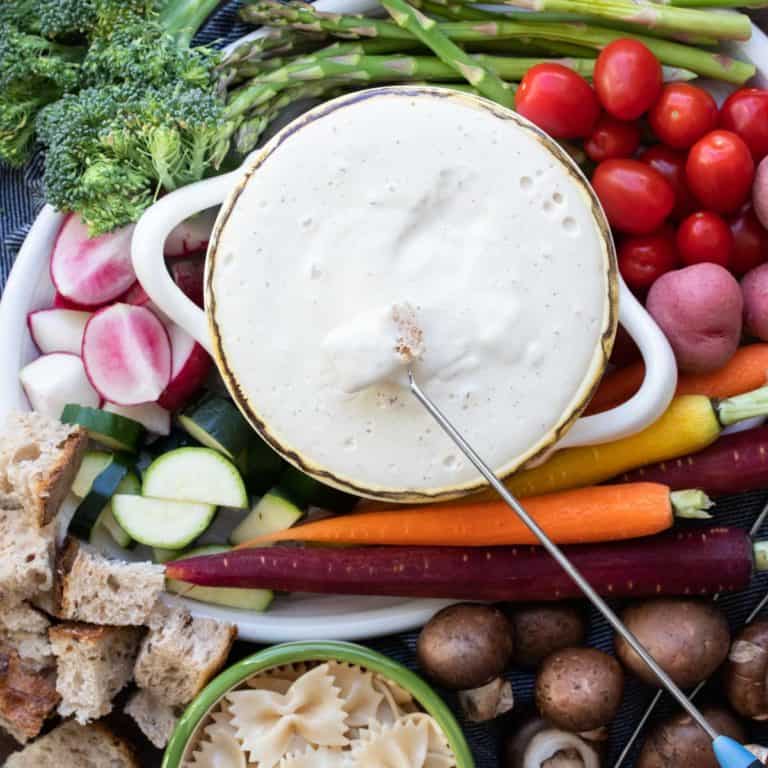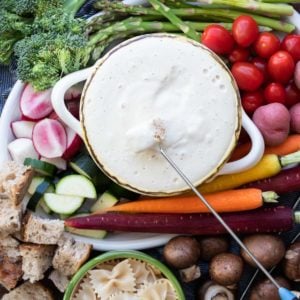 The Best Vegan Cheese Fondue
A vegan cheese fondue that will have you drooling at first dip! This is made with simple whole food ingredients and a perfect way to get in some extra veggies.
Ingredients
1 cup raw cashews , see note
¾ cup cooked potato , about 1 medium potato (see note)
¾ cup unsweetened cashew or almond milk
½ cup dry white wine
½ cup chopped sweet or yellow onion , about ½ a small onion
1 clove garlic , chopped
Drizzle of oil or broth (if oil free) to sauté
1 tablespoon lemon juice
1 ½ teaspoons sea salt
½ teaspoon ground mustard
Dipper ideas:
Pasta
Pretzels
Crackers
Veggie Sausage
Peppers
Apples
Radishes
Pickles
Instructions
If you need to cook the potato, you can microwave it or put it in a pot over the stove and cook covered for about 20 – 25 minutes. If you do this it will have more moisture and the sauce will be a touch thinner but you can cook it down at the end to get it thicker if you prefer. You can also put the cashews in to boil instead of soaking them overnight if you don't have a high speed blender.

Sauté the chopped onion and garlic with a drizzle of oil or broth until browned. About 5 minutes.

Add the white wine and cook until slightly reduced. You still want liquid, just want it to reduce a touch, about ¼ max. Should take 3-5 minutes.

Put the onion/garlic/wine mix along with the rest of the ingredients (make sure to measure out the potato) into a blender and blend on high until creamy and smooth.

You can pour into a fondue or regular pot and serve with any dippers you want. If you want the cheese thicker, cook it a bit in a regular pot on the stove over low heat.
Notes
I used red potatoes but any starchy potato will work, just don't use sweet.
If you are not using a high speed blender you can either soak the cashews overnight or grind them into a fine powder using a coffee grinder. You can also boil them with the potato and onion.
If you have an Instant Pot, put the raw potato, onion and cashews inside with 2 cups water. Cook on manual high pressure for 5 minutes. Allow the steam to release.
Serving size is ¼ cup.
Recipe by Veggies Don't Bite, visit our site for more great plant-based recipes.
Nutrition
Calories: 91kcalCarbohydrates: 6gProtein: 3gFat: 6gSaturated Fat: 1gSodium: 328mgPotassium: 129mgFiber: 1gSugar: 1gVitamin C: 2mgCalcium: 7mgIron: 1mg
Nutrition and metric information should be considered an estimate.
Never miss a recipe!
Sign up here and get a FREE quick and easy meal guide!