These maple roasted Brussels sprouts are baked in the oven and have the perfect combo of salty and caramelized flavor. Add sriracha for a spicy twist for the perfect side dish everyone will love!
Getting veggies in can be so boring, but adding maple syrup to these Brussels sprouts makes them amazing! It also allows for that delicious crispy coating.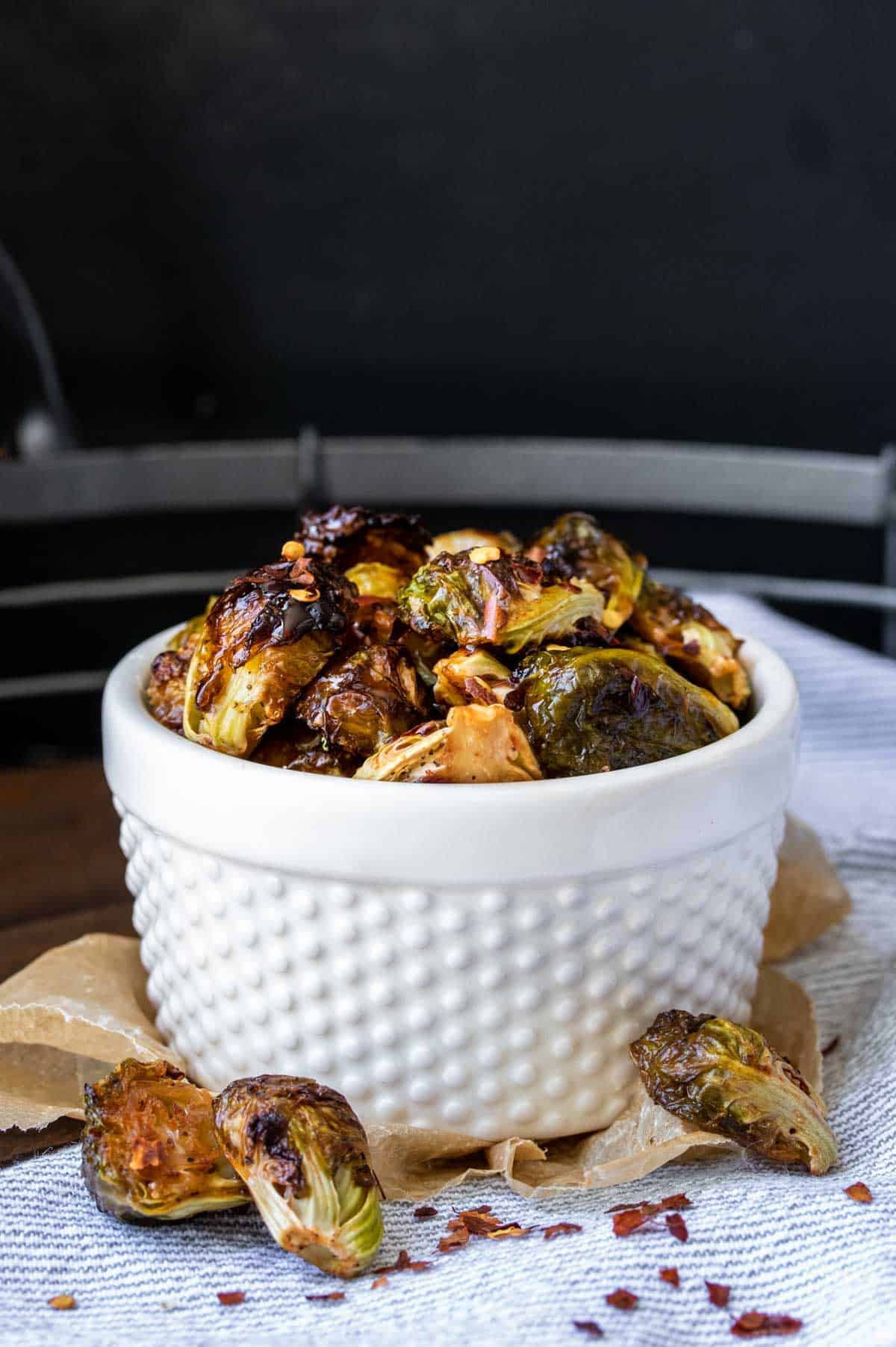 This recipe was originally published on 4/10/14
Tasty veggie based sides are key for our dinners. They are perfect to accompany a main meal, but they also can be used together to make bowls, like in my delicious easy macro bowl, or used to fill wraps and tacos. They even go great in this fall quinoa stuffing!
Ingredients
In order to make this vegan Brussels sprout recipe you only need a handful of items. See below for substitute suggestions.
Brussels sprouts
Sriracha
Cornstarch
Seasonings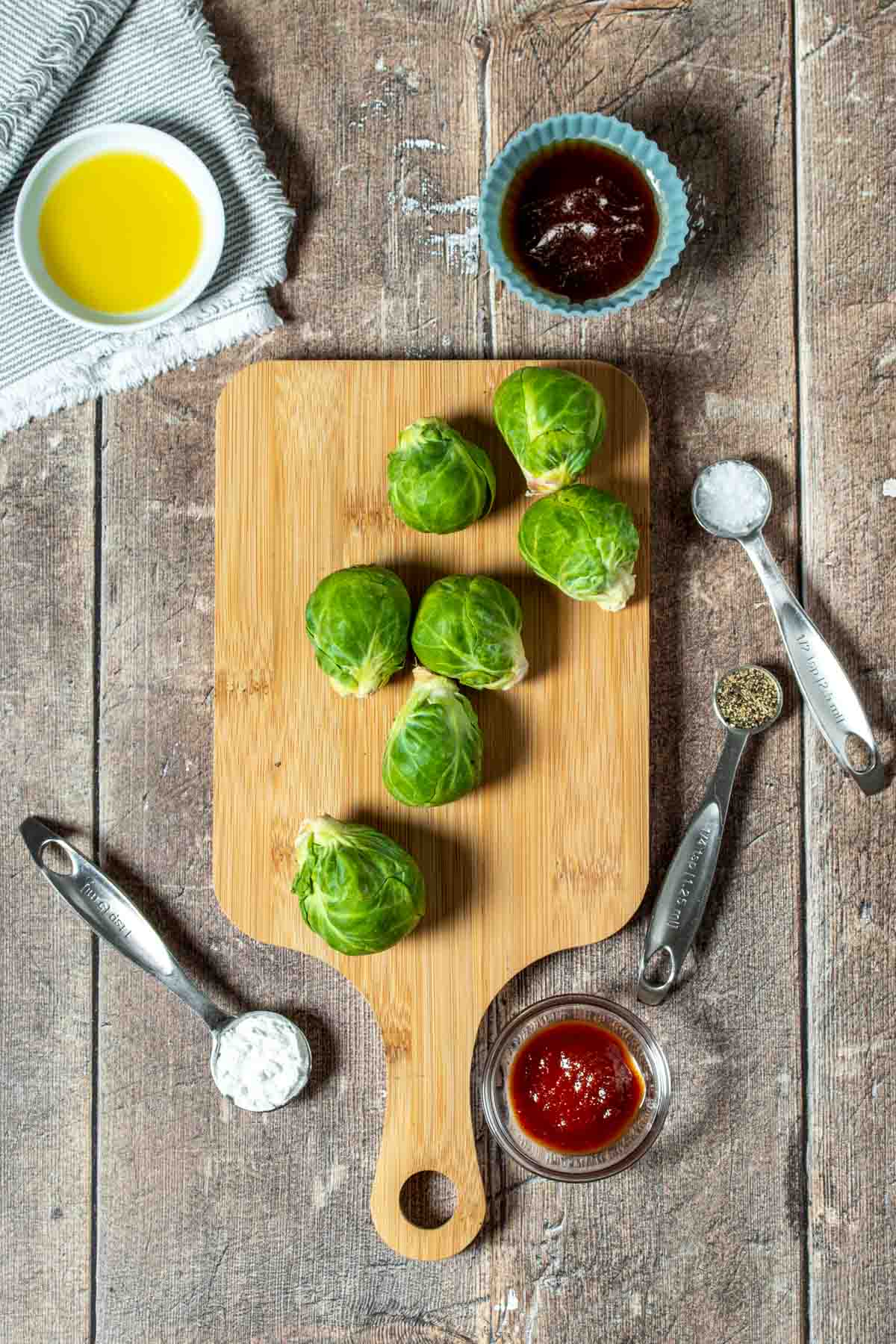 Can you roast frozen Brussels Sprouts?
Technically you can, but it isn't recommended. The excess moisture from being frozen will not give you a very crispy result. If you have no other option and must use frozen ones, do no defrost first! Simply prepare them still frozen.
How to Make Maple Brussels Sprouts
The worst thing about Brussels sprouts is the cleaning. Once you get past that, adding flavor and roasting is super easy! The work you put in is so worth it though, because they are delicious!
Love how easy these come together in just a few steps!
Clean the Brussels sprouts and cut in half.
Make the sauce.
Mix with the ingredients.
Roast.
Top with more sauce and serve!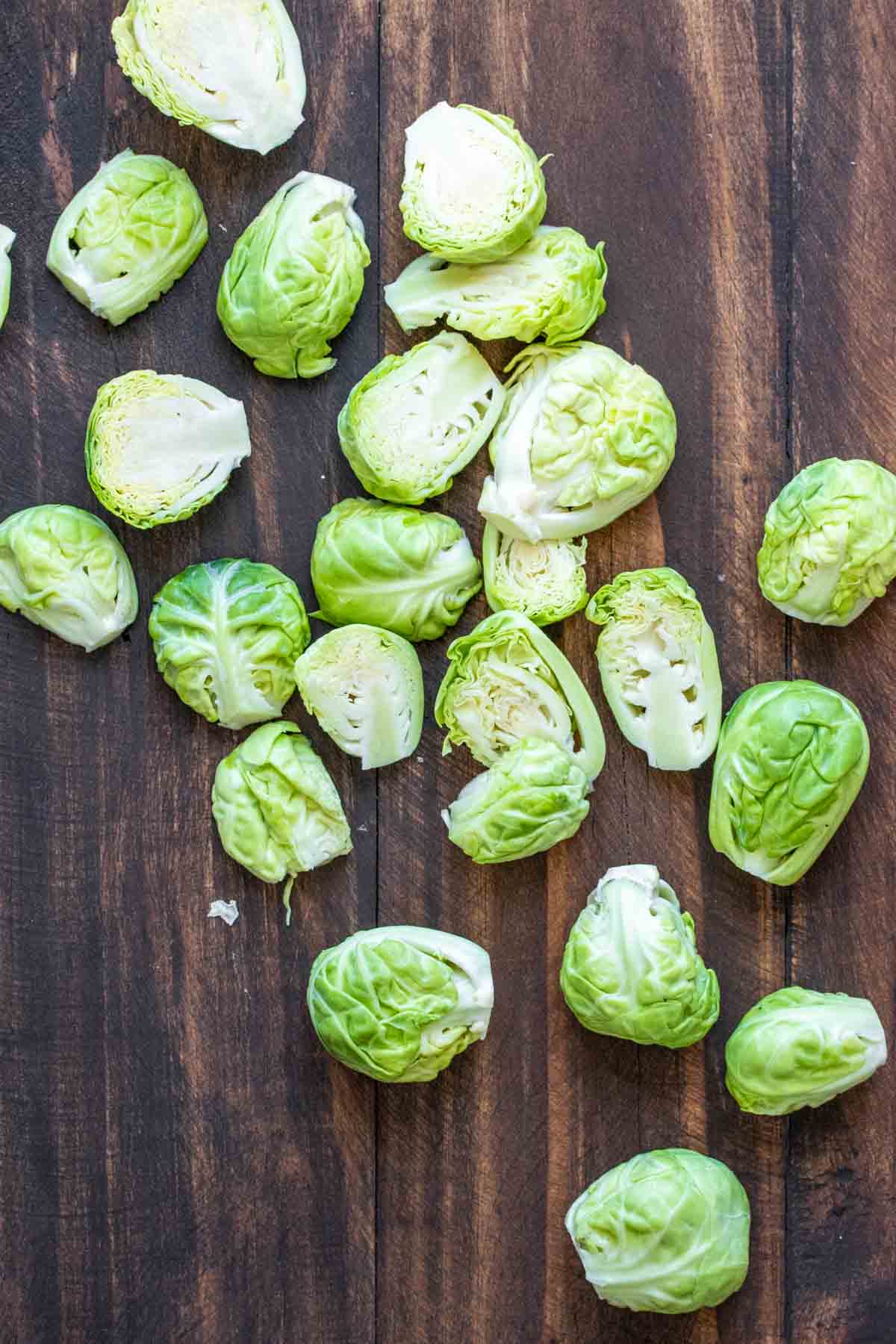 Substitution suggestions
If you don't like spice you can omit the sriracha.

You can add another flavor for an extra oomph if you want such as smoked paprika, liquid smoke, soy sauce, and garlic.

To make this recipe oil free, simply mix vegetable broth with the cornstarch to get a crispy coating.
The cornstarch is optional as well, but highly recommended since it creates the best crunch.
Serving Suggestions
I love these maple glazed Brussel sprouts as a side dish for any party or holiday dinner. Here are a few other recipes I think these pair nicely with, both in flavor and variety of foods:
Prep Ahead and Storage Tips
This is a really easy recipe, and goes fairly quickly, but the cleaning part can be a little tedious.
Clean the Brussles sprouts the previous day and store them in the fridge until you are ready to roast. This will make your prep the day of less than 5 minutes.
Make the sauce up to 5 days in advance, just keep in an airtight container in the refrigerator until you're ready to use.
This recipe is best fresh, but leftovers can safely be stored in the refrigerator for up to 3-5 days.
You can also freeze these roasted Brussels sprouts with maple syrup after you roast them for a quick side dish at a later time.

Let them cool completely, then store in a freezer ziploc or an airtight container for up to 3 months.
If using a bag, roll out as much air as possible.
For a container, I like to put plastic wrap over the top of the Brussels to almost make a wrapped seal. This helps to prevent freezer burn.
Common Questions
Do you wash Brussels sprouts before roasting?
The thing about Brussels sprouts is that they are a pain in the butt. And I say that in the most endearing way. They are packed with deliciousness, packed tightly so that you need to peel off the outer layers and get to that clean middle.

If you have ever done this, you've seen the yuck that can lie beneath. So yes. you definitely want to wash these little suckers.

When buying them, I choose the ones that look clean from the outside and are a nice vibrant color. They usually have less yuck inside.
Do you have to trim Brussels sprouts?
Once you have chosen the best Brussels, put them in a bowl of water and wash like you usually do. Then trim the end and peel off the outer layers until you get to a clean part. I then like to cut the Brussels in half, but leave any super small ones whole.

If you don't trim them it's harder to get the outer layers off. When you trim the end, some of the outer leaves will naturally fall off making it much easier to clean.
What do Brussels sprouts taste like?
Brussels sprouts not only look like cabbage, but they are in the same family as cabbage. The smaller ones are generally a bit sweeter and more tender, and the bigger ones can be a touch bitter and have a cabbage like flavor.

Once you roast them however, it brings out a delicious sweet undertone, especially when flavored well. This maple syrup based sauce is so delicious and pairs amazing with them!
What is the best kind of maple syrup?
There are so many brands of maple syrup out there. The first thing you need to look at, is the ingredients. Maple syrup only needs one ingredient, maple syrup. Makes sense right?

You'd think so. But so many of the choices out there are fake syrups posing as maple. Do not be fooled. Simply turn the container around, and read the ingredients. If it's more than one, move on.
More Vegan Side Dish Recipes
Can't get enough of these maple Brussels sprouts? Want more recipes like this? Check out some more of our veggie filled faves: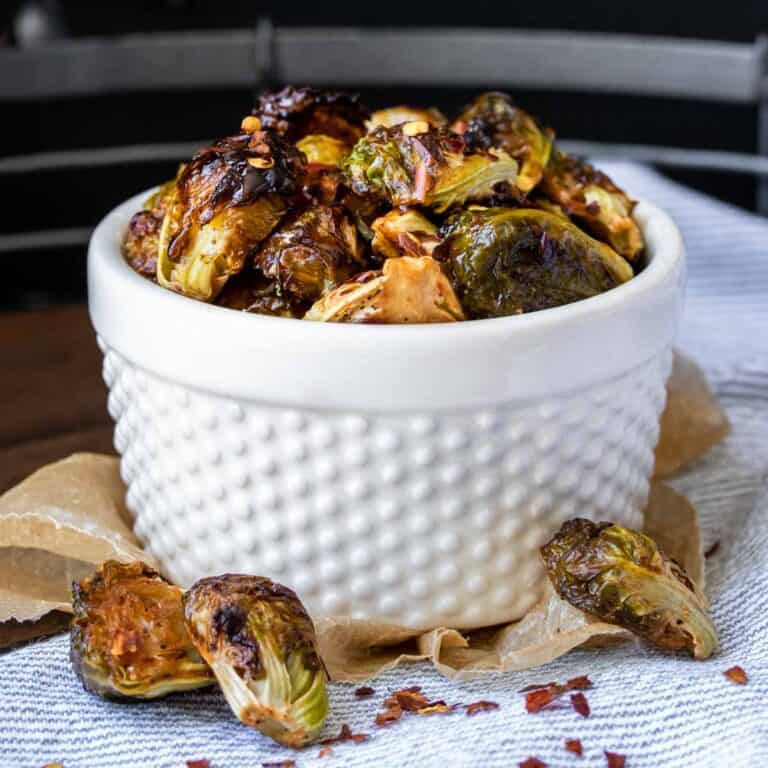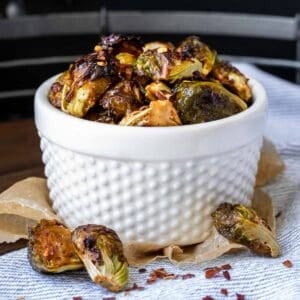 Maple Roasted Brussels Sprouts (with Sriracha)
These maple roasted Brussels sprouts are baked in the oven and have the perfect combo of salty and caramelized flavor. Add sriracha for a spicy twist for the perfect side dish everyone will love!
Ingredients
Optional extra spicy topping
Instructions
Preheat oven to 400 F/ 205 C

Wash Brussels sprouts. Trim off the stem and strip away the leaves until you get to a clean part.

Cut them in half, leaving the smaller ones whole.

Mix maple syrup, oil, salt, pepper and Sriracha and cornstarch if using in a large bowl.

Put in Brussels sprouts and mix around so they are coated well. I like to mix with my hands and massage them.

Place on a parchment lined cookie sheet, cut side down, and bake for 25-30 minutes, until golden brown.

Serve, drizzle on the optional added spicy topping for an extra kick!
Notes
If you don't use oil, I highly suggest using the broth with the cornstarch in order to get the crispy outside.
Drizzle the extra spicy topping on while nice and hot.
Recipe by Veggies Don't Bite, visit our site for more great plant-based recipes.
Nutrition
Calories: 144kcalCarbohydrates: 29gProtein: 4gFat: 2gSaturated Fat: 1gSodium: 463mgPotassium: 486mgFiber: 4gSugar: 15gVitamin A: 855IUVitamin C: 101mgCalcium: 69mgIron: 2mg
Nutrition and metric information should be considered an estimate.
Never miss a recipe!
Sign up here and get a FREE quick and easy meal guide!