This rice stuffing recipe is the perfect side dish for Christmas! It's made with nuts and currants for the perfect texture and flavor combo.
We make this rice stuffing as a Greek holiday tradition in my family. It's easy to adapt for both vegetarian and meat eaters so everyone is happy!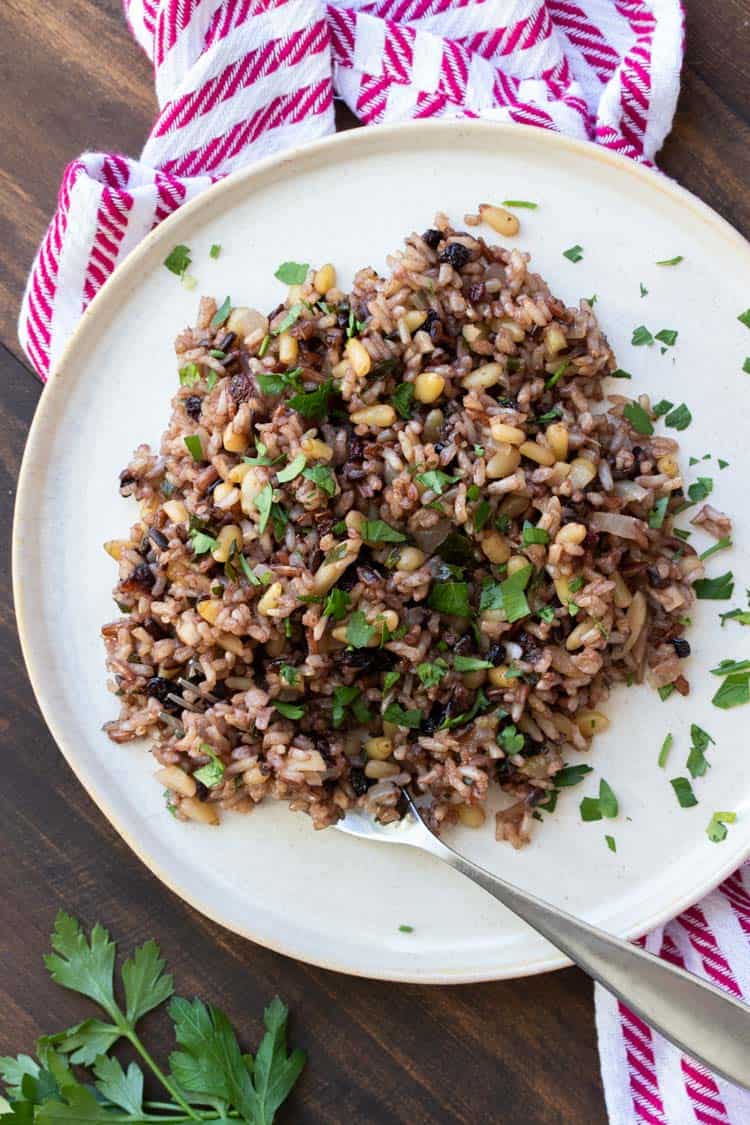 This post was originally published on 12/17/2014
Between this rice stuffing and my vegan spanakopita recipe, I don't need anything else on my holiday table! These remind me of my childhood and brings me so much comfort.
Ingredients
When I think of the holidays, this stuffing is top of my list. I didn't grow up eating bread based stuffing, my parents are immigrants so our holidays always had a Greek twist, and my mom's stuffing was one of my favorite parts of the holiday season.
Here is all you need to make this awesome rice stuffing:
Brown rice medley - wild rice, brown rice, or mixed rice also work
Veggie broth 
Seedless currants
Sweet or yellow onion
Garlic cloves 
Celery
Parsley
Pine nuts
Slivered almonds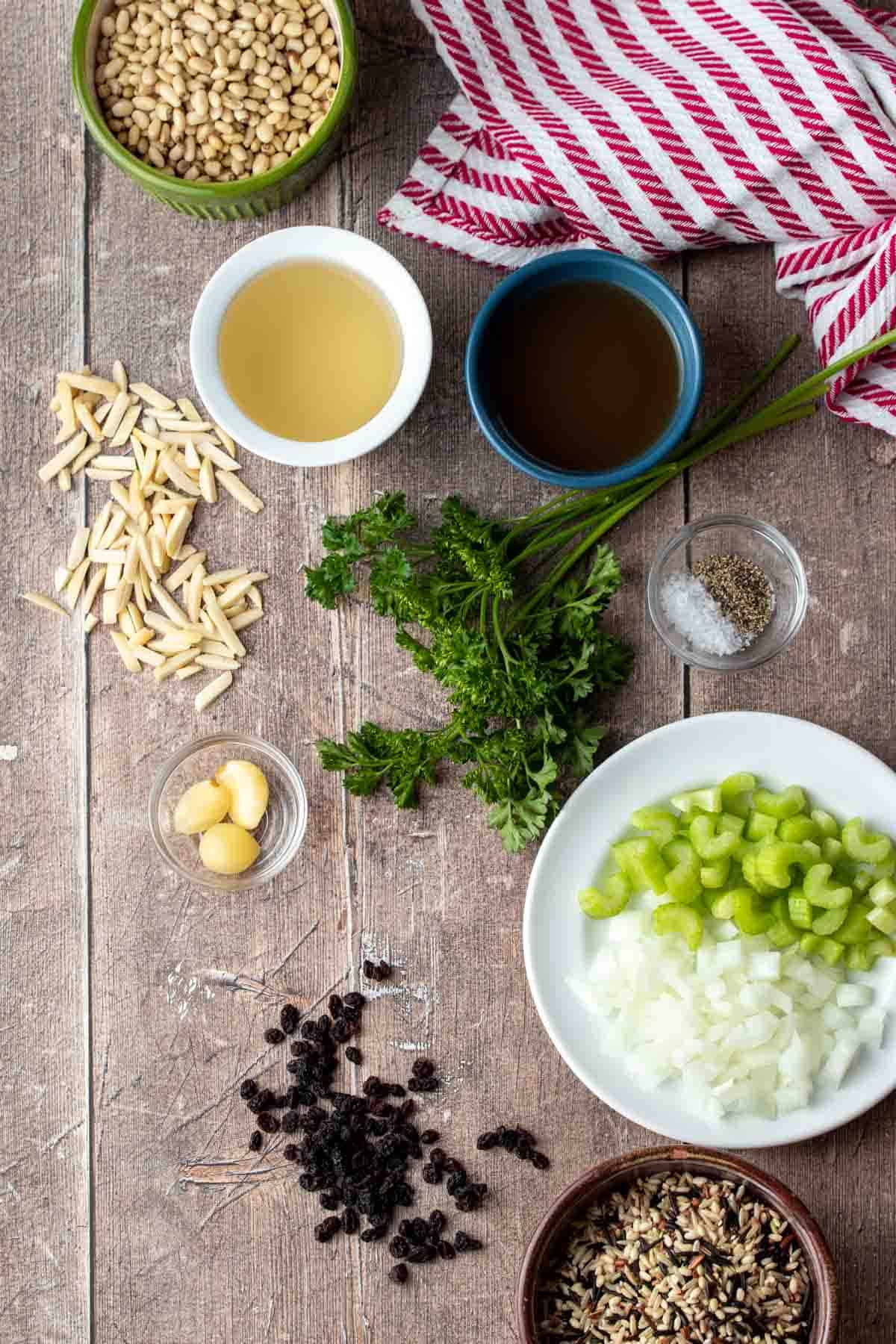 How to Make Greek Rice Stuffing
This rice stuffing has a few steps but totally worth the amazing end result!
Partially cook the rice.
Sauté the other ingredients.
Add the rice and transfer to a baking dish.
Bake and serve!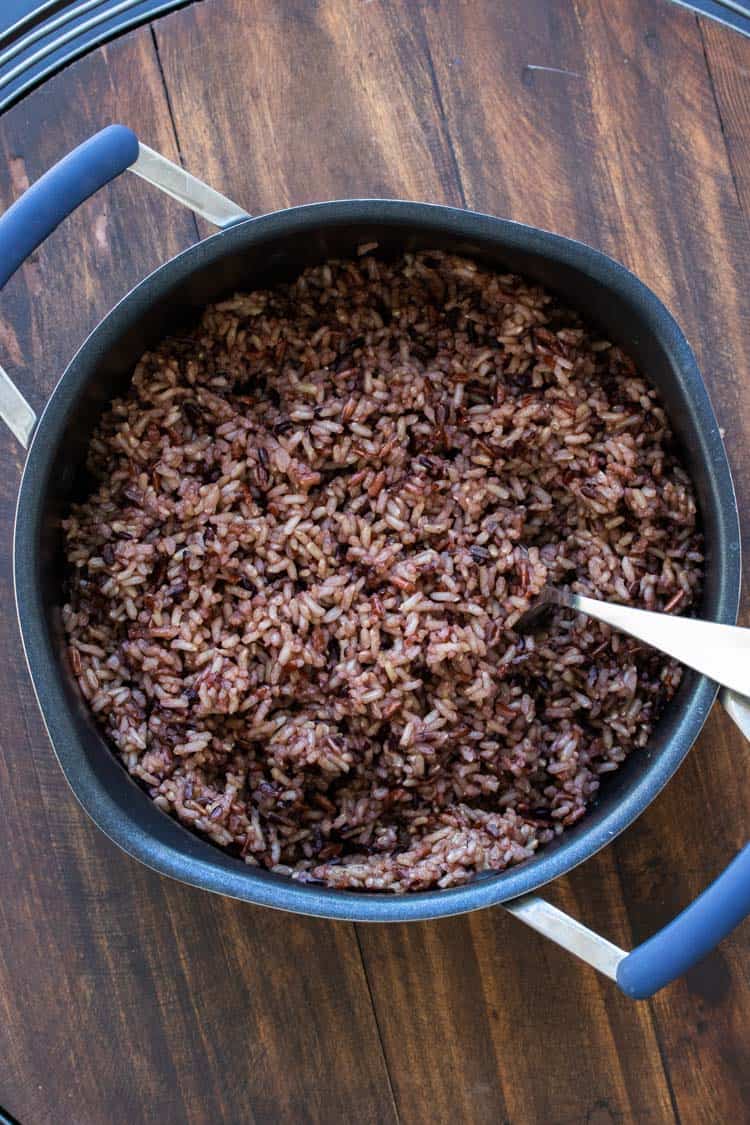 What to Serve with Rice Stuffing
Since we make this dressing during the holidays, I have loads of other side dishes, and a few main dishes, that we eat this with. Here are some of our favorites:
Variations
This recipe is based on my family's version. There are many different types of rice stuffing with all sorts of flavor combinations. As long as the rice and liquid ratios stay the same, you can adjust the mix ins to fit your taste.
Get creative and try adding in or substituting for any of these ingredients:
How to Prepare Stuffing in Advance
Since the holidays are usually filled with craziness, it's great to have a few things you can make the days before. This Greek rice stuffing is one of those recipes. In fact, I'd say that it almost tastes better the next day!
Here is what you can do to prep ahead of time:
Chop all of the veggies and herbs.
Partially cook the rice.
You can also follow all of the directions up to baking, cover the dish and refrigerate. When you're ready to serve take it out about 20 minutes early then pop it in the oven.
Storage and Reheating Suggestions
Seal the rice stuffing in an airtight container.
It will keep in the fridge for up to 3-5 days.
You can also freeze it for up to 3 months.
When you are ready to eat it again, it can easily be heated in the microwave.
Or you can put it in a glass baking dish and warm it in the oven. You may need to add some broth so it doesn't dry out, but don't put too much liquid because it will get mushy.
History of Greek Rice Stuffing
In Greece there is no such thing as Thanksgiving, so stuffing is always made for Christmas. This particular version is one that my yiayia (grandmother in Greek) made and my own mom adapted throughout the years.
Growing up my mom didn't have a lot of money, in fact there were times they weren't sure if food would last long enough, so when it came time for Christmas they used what they had. This stuffing used the parts of the turkey you wouldn't eat otherwise, liver and giblets.
I know, not my idea of yum. LOL But such was life in a poor Greek village. Other people were able to use ground beef and chestnuts, but those cost money.
My mom's version started out using it to stuff our thanksgiving turkey as we adapted to American traditions, and then at Christmas she would make it as a side dish to lamb (another Greek Christmas tradition).
As time went on it has evolved into a purely vegetarian side dish. It's now at the table every Christmas, and often Thanksgiving as well, which means we always have something we love to eat!
More Vegan Rice Recipes
Rice is one of the most versatile grains! You can really dress it up with any flavor and it's amazing. Here are a few more plant based rice recipes that are regulars in our house: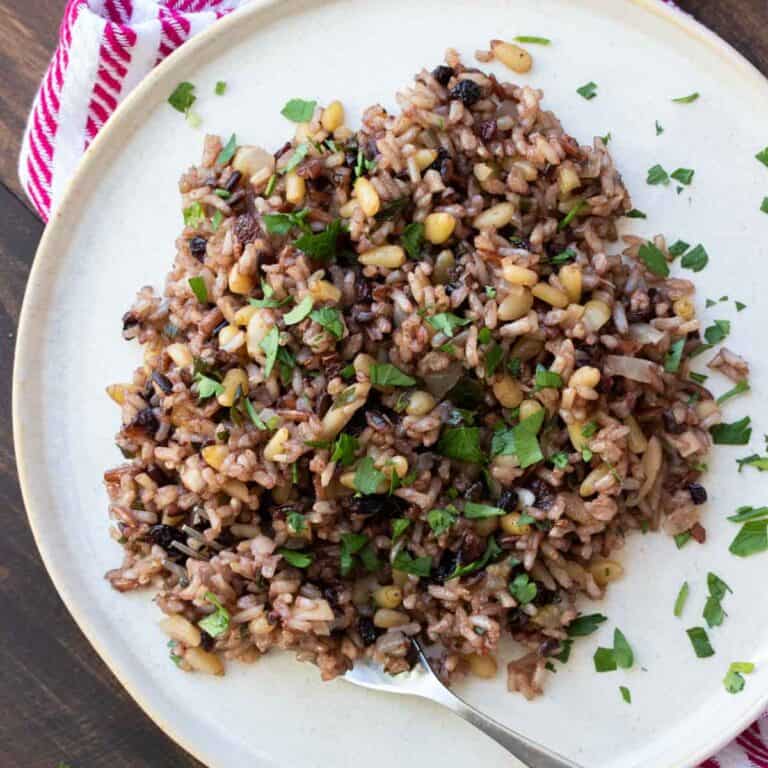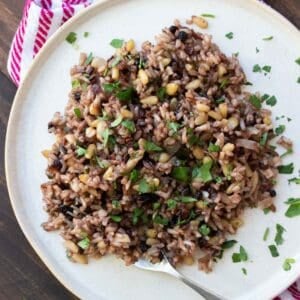 Rice Stuffing Recipe for Christmas
This rice stuffing recipe is the perfect side dish for Christmas! It's made with nuts and currants for the perfect texture and flavor combo.
Ingredients
2 cups brown rice medley , and wild, brown or mixed rice works
3 ½ cups veggie broth to cook rice , you can also use water but won't be as flavorful (use low sodium if needed)
6 tablespoons seedless currants
1 cup white cooking wine  , you can cub veggie broth
1 cup chopped sweet or yellow onion
3 garlic cloves , finely chopped
¼ cup finely chopped celery
drizzle your favorite oil for sautéing , or use about ½ cup broth if oil free, may need more if it gets too dry (low sodium if needed)
¼ cup finely chopped parsley
½- ¾ teaspoon sea salt , adjust for preference
¼ teaspoon ground black pepper 
1 cup pine nuts , you can sub another nut like walnuts
¼ cup slivered almonds
Instructions
Preheat oven to 350°F/180°C.

Soak the currants in the wine (or veggie broth).

Partially cook the rice in veggie broth or water, you can use a rice cooker but watch it carefully so it doesn't over cook. If using the stove top method, watch it so it doesn't burn. Cook for about ⅔ as long as the directions state.

Sauté onions, garlic and celery with a drizzle of oil or the broth in a pan over medium heat until browned. If using broth, use about half the veggie broth to start then add more as needed. 

Add parsley, salt and pepper and sauté a few more minutes.

Add currants with the wine/veggie broth, pine nuts and almonds. Simmer for a few minutes.

Add rice and simmer for a few more minutes. Add more veggie broth if it's too dry.

Serve as is or transfer to a baking dish and cover with foil, watching so it doesn't get too dry. Bake for 5-10 minutes.
Notes
Soaking the currants in white wine really helps with flavor but you can also do veggie broth if you don't use wine.
Servings vary between 8-10 depending on what else you are serving.
Tips to prep ahead:
Precook rice and chop veggies/herbs to be ready when you make it.
Recipe by Veggies Don't Bite, visit our site for more great plant-based recipes.
Nutrition
Calories: 377kcalCarbohydrates: 51gProtein: 7gFat: 15gSaturated Fat: 1gPolyunsaturated Fat: 1gMonounsaturated Fat: 1gTrans Fat: 1gCholesterol: 1mgSodium: 201mgPotassium: 420mgFiber: 4gSugar: 10gVitamin A: 180IUVitamin C: 4mgCalcium: 50mgIron: 3mg
Nutrition and metric information should be considered an estimate.
Never miss a recipe!
Sign up here and get a FREE quick and easy meal guide!