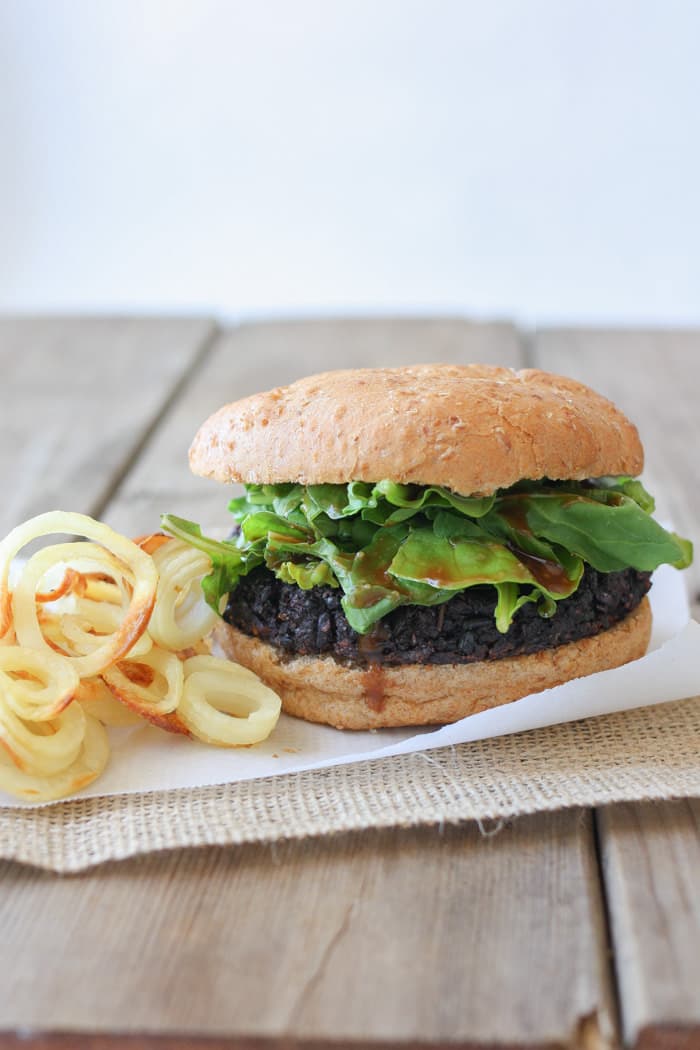 I am slightly obsessed with creating veggie burgers. Maybe it's because I have had so many awful ones, I'm not really sure, but one thing I know is that I love them! I have wanted to create a portobello burger for a while, but I wanted it as more of an ingredient versus the main burger itself. Needing a binder, I turned to black rice for its sticky consistency, sweet nutty flavor and powerful antioxidants. It worked fabulous and didn't fall apart at all, which is a sign of a good veggie burger. I haven't tried grilling these on the barbecue yet, but I bet they'd hold up well! Plus I love that the deep dark color of this rice gives you so many amazing nutrients! Filled with the same antioxidants found in blueberries and other deep dark foods, this rice is a great choice for any recipe.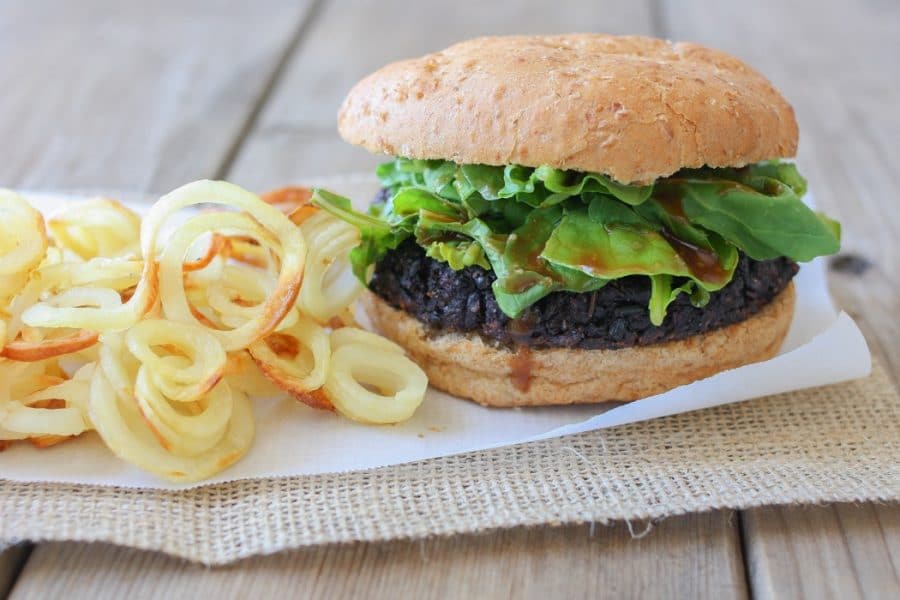 I kept the seasonings simple in order to showcase the natural flavor in these burgers. Black rice is delicious, especially if cooked with veggie broth instead of water. It pairs really well with portobello mushrooms and the shallots and thyme add an extra level of flavor. I also hid some kale in here, because why not?! I used baby kale to avoid a strong taste, but you can also de-stem regular kale.
Because there is a hint of sweetness to the black rice I used, I wanted a topping that would complement it well. Putting my thinking cap on, I came up with a super simple and really delicious combination: miso and balsamic vinegar! I used chickpea miso and mixed it well with some balsamic, the result with an amazing flavor that made my taste buds happy. Sweet, tangy and the perfect dressing for some spicy arugula. This topping turned my burger from every day barbecue to gourmet lunch!
This dinner was a hit in our house, my kids loved the black rice and kept asking for more! So if you're tired of the same old bean based veggie burger give these a try! You won't be sorry.
Portobello Black Rice Burgers with Miso Balsamic Arugula
Servings: Makes 9 large burgers
Black rice packs these burgers with antioxidants, all while giving them a delicious flavor. Mixed with portobello mushrooms and then topped with miso balsamic dressing and arugula, your mouth will have happy tastebuds!
Ingredients:
Miso Balsamic Dressing:
2 tablespoons chickpea miso (or can use a white miso for a soy version)
6 tablespoons balsamic vinegar
note: You can sub another gluten free (or non gluten free) flour, such as oat flour, for the almond meal if you need this nut free. It helps bind the burgers, so if you omit entirely they won't hold together as well. You can use water instead of broth, but broth makes it more flavorful. These get more stable in texture as they cool so allow them to sit for a few minutes before eating. The Miso Balsamic Dressing makes enough for all 9 burgers, so cut both that and the arugula based on how many burgers you are eating.
Instructions:
Cook black rice in a rice cooker or on stovetop using broth making sure to measure the amounts of each.
Wash and chop mushrooms, shallots and kale. Sauté in pan using oil or veggie broth until mushrooms have released some liquid. Set aside to cool. Once cool, put in a food processor with the thyme and pulse until chunky. Do not puree into a mush or paste.
Next add mixture into a large bowl. Add the cooked rice to the bowl, along with the almond meal, flax seed and salt. You can also pulse the rice in the food processor before you add it to the bowl if you want it a little smoother. Mix everything well. Taste and add more salt if needed, but it shouldn't need much if you cooked the rice with broth.
Shape into 4 inch patties, then cook on stove top over medium heat for 5 minutes on each side or until browning (depending on stove). Make sure to keep pan covered to help the burger cook throughout. Check every few minutes to prevent burning, should be slightly browned when ready. Let sit for a few minutes after cooked to help burger get more stable before eating.
To make Miso Balsamic Arugula topping, combine miso and balsamic until mixed well. Toss with arugula.
Serve burgers on sprouted wheat or gluten free buns. Top with Miso Balsamic Arugula. Serve with Truffle Curly Fries.