Vegan pumpkin cupcakes that will knock your socks off. They are also gluten-free and made with whole foods, but still so moist, fluffy and delicious!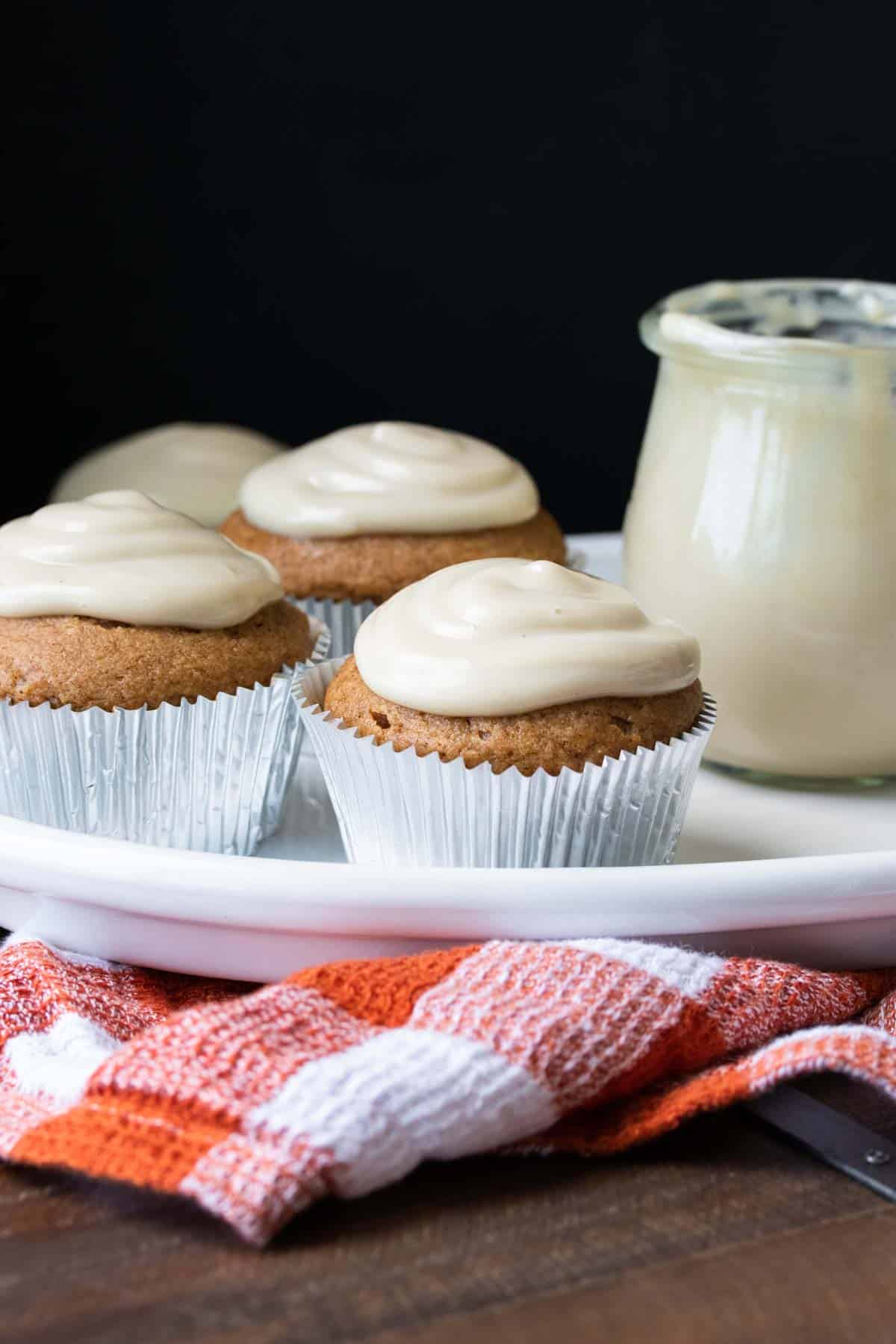 This recipe was originally published on 11/3/14
I'm a huge cupcake fan, something about the smaller version of a cake gets me every time. But since my thighs prefer that I not eat the unhealthy version weekly, I had to have a few healthy vegan cupcake recipes in my back pocket! These healthy pumpkin cupcakes fit the bill perfectly.
Vegan Pumpkin Cupcakes
I love fall flavors. Especially when you have spices like cinnamon and pumpkin in the mix. So naturally, this vegan pumpkin dessert was going to be devoured in a big way. I love that I was able to base these off of whole foods, and make them easy to throw together.
There is not much time for fancy pants in my life right now, so easy treats are my go to.
What is in vegan pumpkin cupcakes?
Often times you have vegan cupcakes made with just the vegan substitutions for the traditional ingredients. I'm talking vegan butter, vegan egg subs, etc. But I love a challenge and since I am a fan of desserts gone healthy when it comes to my weekly obsessions, I created these to be:
made with whole foods
gluten-free
made with unrefined cane sugar
oil free with using whole food fats instead
I found that the combination of oat and almond flours, light coconut milk for some whole food fat, and unrefined cane sugar along with other ingredients gave me the soft and fluffy result I was looking for.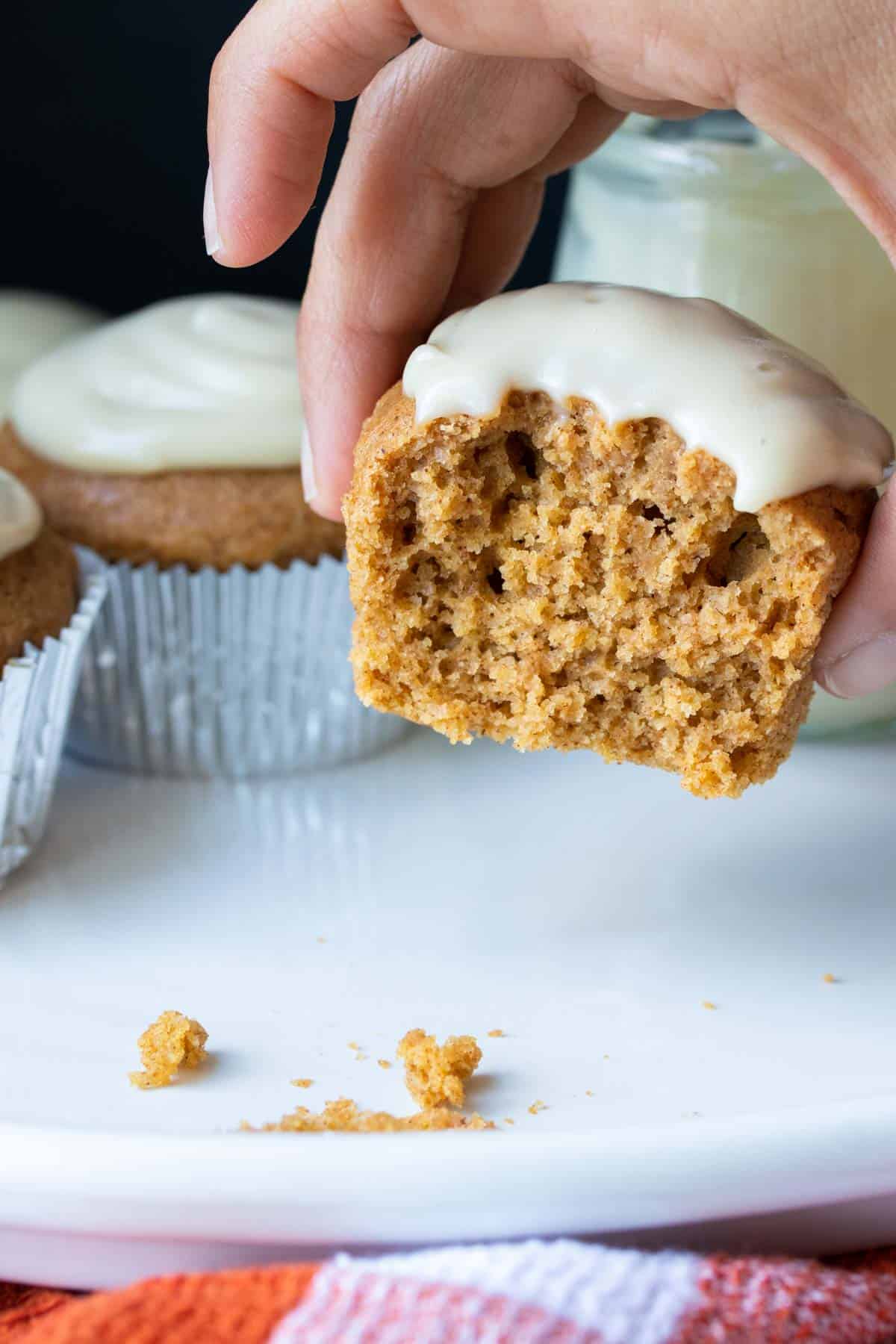 Ingredient tips and substitutions
There are a few ingredients here that need to be touched upon. First, the pumpkin. I highly suggest using canned plain pumpkin here. Not the kind that's pumpkin pie filling.
I also do not suggest using cooked fresh pumpkin. You definitely can, but it is more watery than canned and will result in a different texture. If you must use it, cut down the milk and add slowly until you get the same texture batter as the photo below.
You could also sub other squashes in a pinch. But again keep the water content in mind. Sweet potato is another option but the end result will be more dense and muffin like.
If you are looking for a nut free version, I included the old recipe I had on these in the notes of the recipe card. This new recipe is better in texture and easier to make, but the old recipe is still delicious!
Spice tips
This recipe calls for pumpkin pie spice but if you don't have it, or prefer to mix it up, there are many other options. Essentially, pumpkin pie spice is a mix of the following spices:
cinnamon
ginger
nutmeg
cloves
So if you want to experiment and only use cinnamon, or a combination of cinnamon and something else, go for it! I would suggest having cinnamon be the main spice, but try it without too!
Frosting tips
While I love the new vegan cream cheese frosting I paired these with, the frosting I used in the old recipe is also delicious. You can find it in the notes section of the recipe card.
But, there are other ways you can top these vegan pumpkin cupcakes if you are looking for something really fast and easy that will still be amazing!
Use homemade cocowhip for a light and airy whipped cream type frosting. Mix it with the pumpkin pie spice for an extra layer of yummy.
This quick 3 ingredient cinnamon glaze, simple drizzle it over the top.
Dip the tops in vegan butter and sprinkle with cinnamon and sugar.
Tips for prepping ahead
Because these are a baked good and you don't want to allow the batter to sit too long before baking since you will lose the leavening affects, I wouldn't make the batter too far in advance. I would say 15 minutes max.
However, you can still get these prepped and ready to go for a super quick and easy throw together when you are ready to bake them. All you need to do is mix the dry ingredients and put them in an airtight container on the counter.
Then mix the wet ingredients and put them in an airtight container in the fridge. Allow them to return to room temperature before mixing, but when you are ready simply mix together and bake.
Do vegan cupcakes need to be refrigerated?
These pumpkin cupcakes are still great for a few days after you bake them. If you bake them in the morning, allow them to sit out until evening time. If you bake them in the evening, allow them to sit on the counter over night.
After that, you can store in an airtight container in the fridge for a few days before they aren't great anymore. The flavor will still be good, but the texture starts to go down hill after that.
Can you freeze vegan cupcakes?
If you want to keep these fresh tasting for longer than a few days,  you can freeze them. I wouldn't freeze them with the icing for best results, but you can as long as you know not to expect the frosting to defrost as great as it is fresh.
When freezing the cupcakes, I would follow these steps:
Make sure they are completely cool, give them a few hours. I do have a baking friend that says to freeze when still warm because it keeps the moisture in and helps them not dry out, but not sure how well that works with gluten free. I need to try it!
Wrap in plastic wrap making sure they are completely covered.
Wrap in foil.
Put in an airtight container or ziploc freezer bag.
How to Make Vegan Pumpkin Cupcakes
These cupcakes are easy to throw together, it's just a matter of mixing it all in a bowl and baking. The hard part is getting the darn batter into those cupcake liners without making a huge mess! Or is that just me?
Whisk the dry ingredients.
Add the wet ingredients.
Fill the liners.
Bake.
Make the frosting.
Frost the cupcakes!
If you like cupcakes, check out my other easy to make wholesome flavors!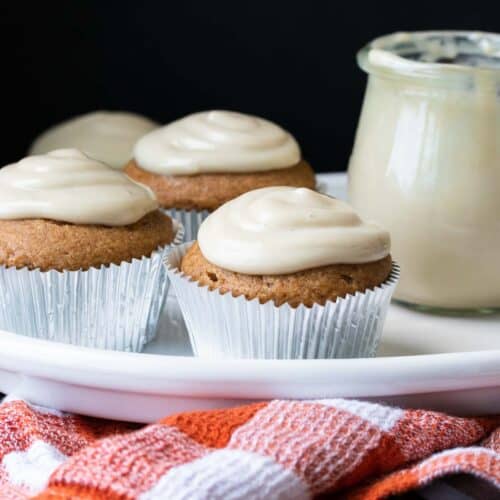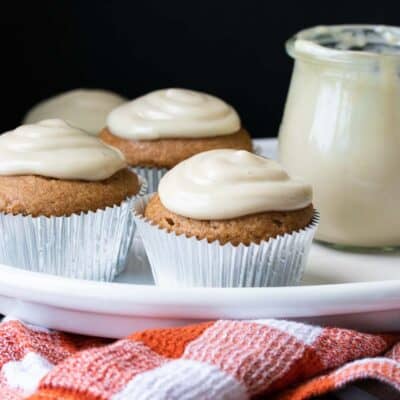 Easy Vegan Pumpkin Cupcakes
Vegan pumpkin cupcakes that will knock your socks off. They are also gluten-free and made with whole foods, but still so moist, fluffy and delicious!
Ingredients
Cupcakes (for older nut free recipe see notes below):
1

cup

oat flour

6

tablespoons

almond flour 

, make sure it is fine grained

10

tablespoons

unrefined cane sugar

, 1/2 cup plus 2 tablespoons (see note)

1 ½

teaspoons 

baking powder

½

teaspoon 

sea salt

1

tablespoon 

pumpkin pie spice

10

tablespoons

lite coconut milk

, 1/2 cup plus 2 tablespoons

1/4

cup

pumpkin puree

, not pumpkin pie filling

1

tablespoon 

apple cider vinegar
Optional topping:
Salted Caramel Frosting

(old frosting version in notes below)
Instructions
Preheat oven to 350 F/ 175 C

Combine dry ingredients in a bowl and whisk to make sure to break up any clumps.

Make a well in the center of the dry ingredient mix, and add the wet ingredients.

Place large spoonfuls of the batter into muffin tins lined with baking cups. Fill about 3/4 of the cup. I use foil baking cups as they don't stick like paper does and also they don't trap in the moisture like paper does. If you use paper the end result will be a little more wet.

Bake for 19 minutes. Depending on your oven, your baking time may vary by a minute or two. Start checking them at 17 minutes and take them out when the tops begin to get firm and a toothpick comes out clean. Let cool in the muffin tins. Once cool to the touch, remove and continue cooling on racks until completely cool, about an hour.

After cupcakes are cooled, you can frost.

Enjoy! If stored in a plastic or glass container with a little bit of airflow, these will still be good the next day!
Notes
I tried coconut sugar and maple syrup for this and I did not love either the texture or flavor. Coconut sugar is a deeper not as light and airy result and maple syrup gave it a little more density.
Follow the metric weights for extra accuracy, however I measured my dry ingredients by scooping the measuring cup/spoon into the flour then scraping the top to flatten.
Nutrition info is for cupcakes only.
I remade this recipe to make it easier and better. But if you want the original cupcake and frosting recipe (that is nut free) see below:
Cupcakes:
1 cup sorghum flour

¼ cup potato starch

¼ cup tapioca starch

1 ½ teaspoons baking powder

½ teaspoon baking soda

½ teaspoon sea salt

2 teaspoons cinnamon

¾ cup pure pumpkin (not pumpkin pie filling)

½ cup coconut butter (room temperature)

1 ½ cups date paste

3 tablespoons molasses

¼ cup full fat coconut milk

1 tablespoon vanilla extract
Frosting (uses ingredients from cupcakes):
5 tablespoons date paste

¼ cup full fat coconut milk

¼ cup coconut butter (room temperature)

½ teaspoon sea salt
Recipe by Veggies Don't Bite, visit our site for more great plant-based recipes.
Nutrition
Calories:
139
kcal
Carbohydrates:
23
g
Protein:
3
g
Fat:
5
g
Saturated Fat:
2
g
Cholesterol:
1
mg
Sodium:
110
mg
Potassium:
146
mg
Fiber:
2
g
Sugar:
13
g
Vitamin A:
953
IU
Vitamin C:
1
mg
Calcium:
59
mg
Iron:
1
mg
Nutrition and metric information should be considered an estimate.
Never miss a recipe!
Sign up here and get a FREE quick and easy meal guide!