These vegan gluten-free chocolate cupcakes are blow your mind delicious. The texture and flavor remind you of regular cupcakes and they are super easy to make with only 9 ingredients!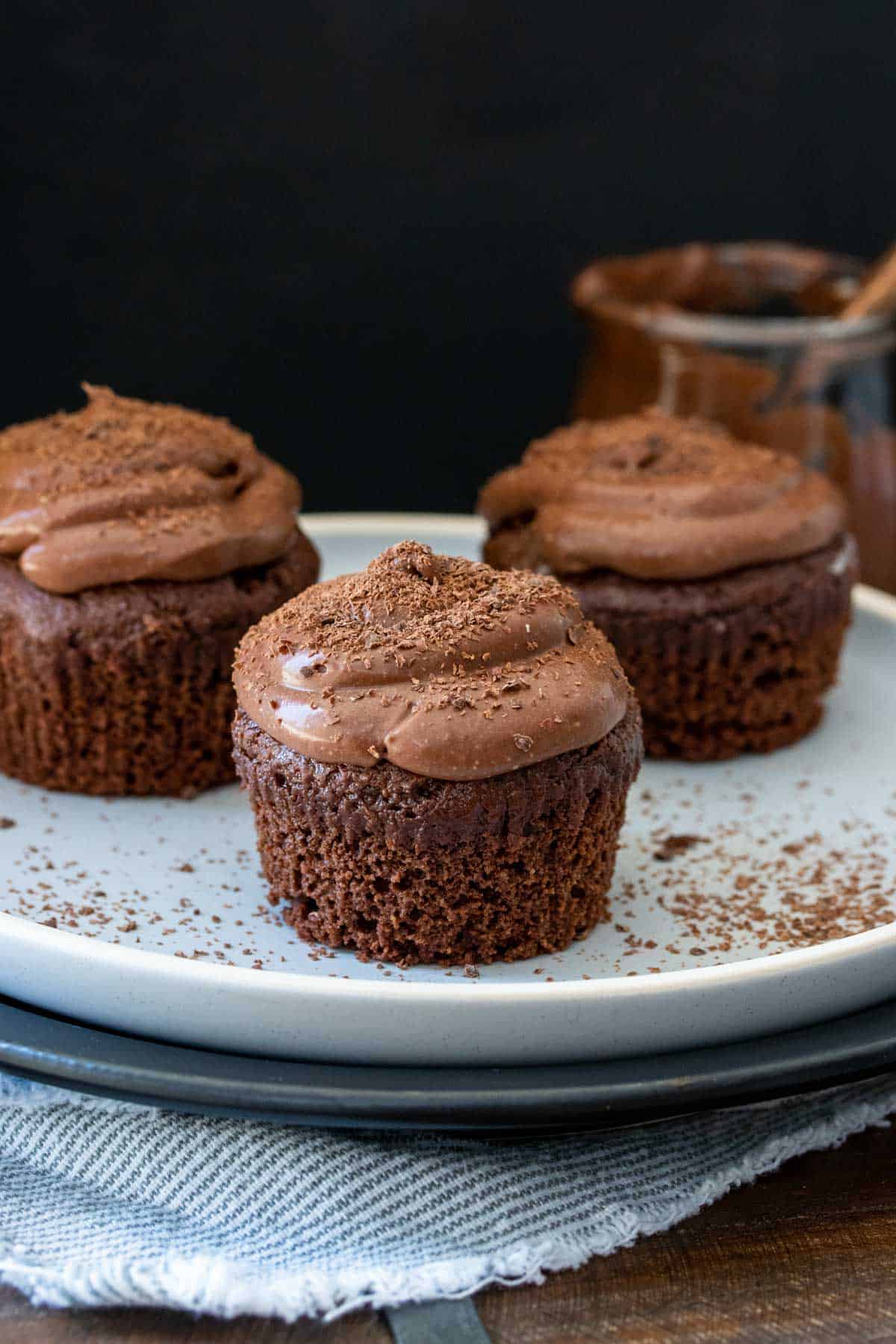 This post was originally published on September 21, 2019.
This vegan ganache, vegan chocolate frosting or vegan cream cheese frosting are all perfect ways to top them with!
When you have an incredible vegan vanilla cupcake recipe, you simply cannot go long without and equally amazing vegan chocolate cupcake recipe. You won't believe how moist and fluffy these can be without all the typical eggs, butter and oil!
How to Make Vegan Chocolate Cupcakes
Chocolate cupcakes need to be rich, moist and have that delicious chocolate flavor. When you want them vegan, gluten-free and without butter and oil, you need to get crafty!
These really are so easy to make! No need for multiple bowls and mixers, just one bowl, a whisk and a spoon is all you need!
Ingredients
Oat flour
Cane sugar
Lite Coconut Milk
Chocolate Chips
Unsweetened Apple Sauce
Apple Cider Vinegar
Tips for Choosing Chocolate
I use both cocoa powder and melted chocolate chips for this recipe. The reason being that this is my favorite way to get a rich deep chocolate flavor. You could simply use cocoa powder but I don't find them as rich and moist as using the combo.
While you can use any chocolate chips or bar you want, I prefer to use a dairy free variety. You can use semi sweet dairy free or naturally dairy free dark chocolate. You want to use good quality chocolate to get good quality tasting cupcakes.
The test is to taste the chocolate on it's own, yep this job is rough, and if you'd eat it plain, then you are good to go!
Step by Step Instructions
Mix the dry ingredients and make a well in the center.
Add in the wet ingredients and mix.
Pour into cupcake liners. I like to use foil because they don't stick and don't create extra moisture.
Bake.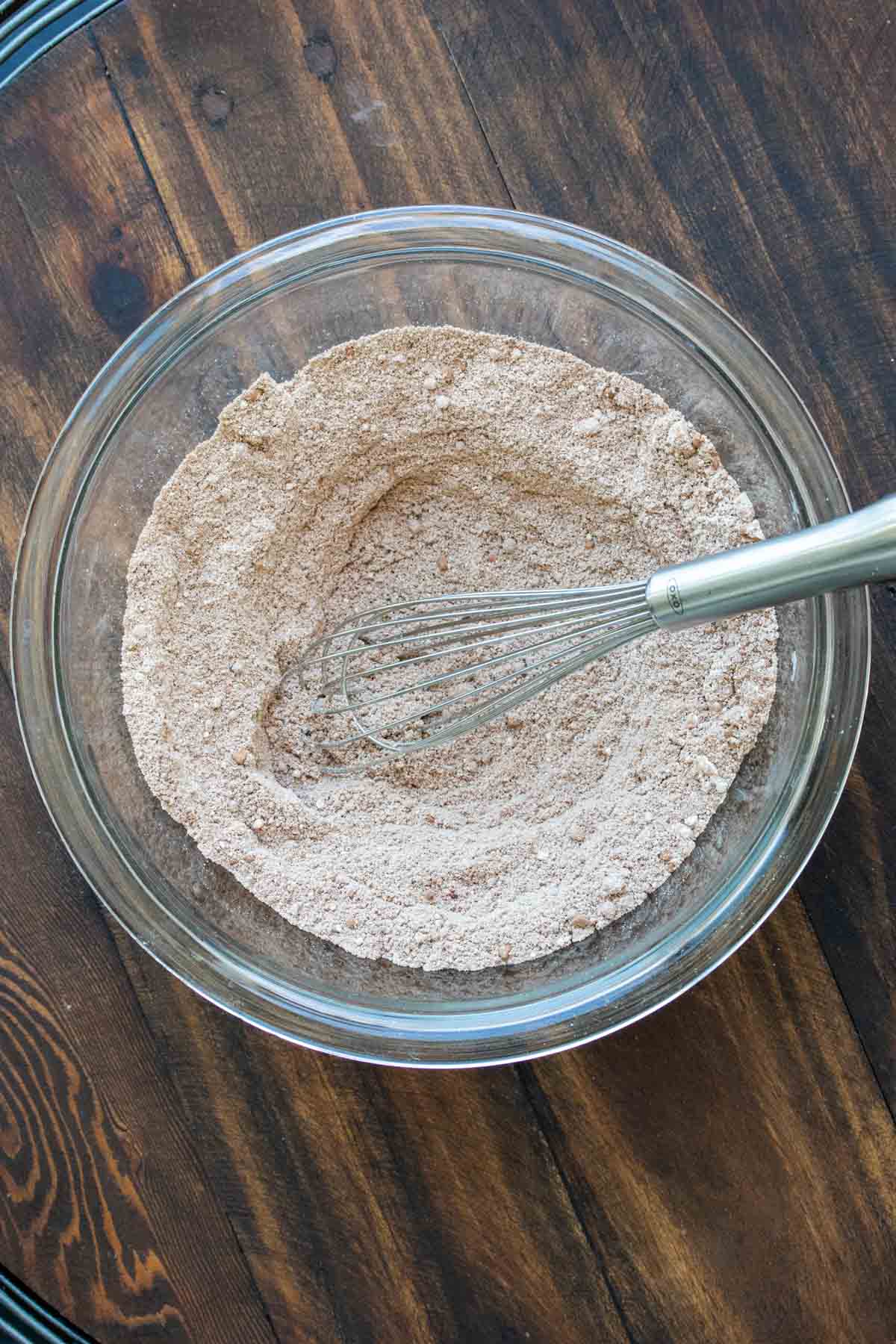 Topping Suggestions
Make sure to allow the cupcakes to cool completely before adding the frosting, otherwise it can melt off! Here are some of the best vegan frostings to use:
Mix ins and Flavoring Suggestions
It's fun to use the same base and mix up how you use it. These vegan chocolate cupcakes are the perfect standard base for so many other ideas!
Add your favorite nuts
Swirl in some peanut butter for a peanut butter cup effect
Add in whole chocolate chips or chunks
Make them into ice cream cupcakes
Mix the batter with the vegan vanilla cupcakes and make a swirl cupcake
Storage Tips
In order get the most out of your vegan cupcakes, you want to make sure you time it right when you are making them. If you are going to serve these the next day, they are still great. Simply keep them on the counter at room temperature.
Using an airtight container will help keep their moisture, just make sure they are completely cool before you put them in. However if you frost them and don't want to ruin the decor, you can also leave them on a platter.
However, if you want to make them ahead of time any longer than a day, freezing them is the best bet. Here is how I freeze them for the best results:
Let them cool completely, at least a few hours. I have a friend who swears by freezing them while hot so that the moisture stays in the cupcake, however I am not sure how this would affect the gluten free texture.
Wrap the cupcake tightly in plastic wrap, making sure to cover the entire thing.
Next, wrap the cupcakes in foil.
Put the wrapped cupcakes in an airtight container or ziploc freezer bag.
Freeze for up to 3 months.
Common Questions
Are vegan cupcakes healthy?
Cupcakes are dessert, and while dessert isn't meant to be healthy per se, I still try and make them "healthier" than the traditional variety. Instead of simply substituting vegan butter, oil and egg substitutes for the non vegan variety, I got creative to get that signature flavor!

I also, didn't want to use traditional white flour, I wanted some nutritional benefit to my flours. So that added an extra layer of craft! Here is how I solved this puzzle.

Oat flour - comes with way more nutritional benefit than white flour.
Cocoa powder - gives some deep chocolate flavor without added sugar and allowing me to cut down the melted chocolate I use.
Apple sauce - Adds moisture, sweetness and helps with the soft fluffiness.
Coconut milk - has whole food fats so that I don't need the traditional butter or oil.
Can I make vegan chocolate cupcakes ahead of time?
Yes! These are so moist and flavorful that they stay great left out on the countertop for the first day. If you are going to serve them later than that, you want to freeze them so that they retain their amazing moisture and texture.
How do you store vegan cupcakes?
Keep them in an airtight container at room temperature. If you are going to keep them for more than a day or two you can freeze them. See above for tips on how to freeze cupcakes.
More Vegan Chocolate Recipes
Satisfy your sweet tooth with any of these chocolaty creations, they're all made with plant based whole foods!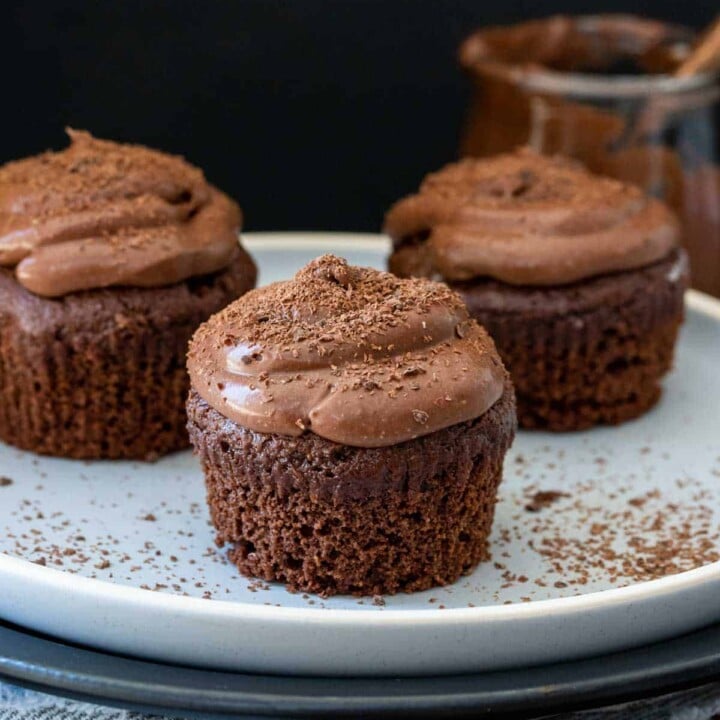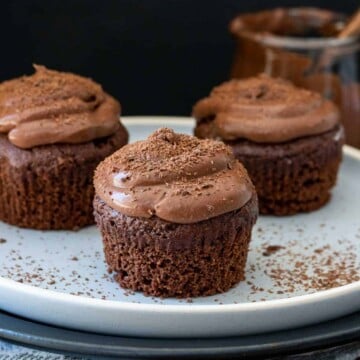 Vegan Gluten-Free Chocolate Cupcakes
These vegan gluten-free chocolate cupcakes are blow your mind delicious. The texture and flavor remind you of regular cupcakes and they are super easy to make with only 9 ingredients!
Ingredients
To top (optional):
Sprinkles
Shaved chocolate
Instructions
Preheat oven to 350 F/ 120 C.

Put all the dry ingredients (oat flour to sea salt) into a medium bowl. Whisk to mix and break up any clumps.

Melt the chocolate chips with the coconut milk slowly to avoid burning. Start with 30 seconds in the microwave and mix. Keep melting in 15 second increments until smooth.

Make a little well in the middle and add in the coconut milk/chocolate mixture, apple sauce and vinegar.

Whisk again to combine and get a smooth batter.

Place large spoonfuls of the batter into 10 muffin tins lined with baking cups. Fill a little more than half full. I use foil baking cups as they don't stick like paper does and also they don't trap in the moisture like paper does. If you use paper the end result will be a little more wet. I also smoothed the batter down on the top by using a moistened finger, this helps them rise evenly as they bake.

Bake at 350 for 17-21 minutes. Depending on your oven, your baking time may vary by a minute or two. Start checking them at 15 minutes and take out when a toothpick comes out clean and the tops just begin to get firm.

Let cool in the muffin tins. Once cool to the touch, remove and continue cooling on baking racks until completely cool, about an hour.

Once cooled you can top how you choose.

Serve! If stored in a container with a little bit of airflow, these will still be good the next day.
Notes
I trialed these with many different sugars and cane sugar gave the best flavor. You can use coconut sugar but it will give you a deeper flavor that won't be as sweet.
Nutrition facts are for the cupcake only, no toppings.
Recipe by Veggies Don't Bite, visit our site for more great plant-based recipes.
Nutrition
Serving: 1cupcakeCalories: 169kcalCarbohydrates: 28gProtein: 3gFat: 6gSaturated Fat: 2gCholesterol: 1mgSodium: 57mgPotassium: 155mgFiber: 2gSugar: 17gCalcium: 36mgIron: 1mg
Nutrition and metric information should be considered an estimate.
Never miss a recipe!
Sign up here and get a FREE quick and easy meal guide!