A great guide to eating your way through the happiest place on earth! All the vegan food that Disneyland and California Adventure has to offer. From snacks, to meals and sweet treats, your belly will be plenty full and happy!
First and foremost, I want to thank Disneyland for giving me two complimentary tickets to the park so that I could partake in all things fun and food. As my big one ran from ride to ride with my husband, I took the middle and ate my way through the park. And he was happy to oblige being the foodie that he is! Here is what we gathered, all the vegan food at Disneyland that we could pack into our bellies, plus a few additions from awesome readers!
This recipe was originally published on 2/20/2017
My goal for our day trip up to the happiest place on earth was to sample as much as I could in the food arena. Since my middle guy is a little hesitant to try any big rides but loves to eat, and my littlest guy was left at home with grandma, I knew I had a good chance at reaching my ultimate find vegan food at Disneyland goal. Keep in mind that this list is not ALL that Disney has to offer, just what I could get to or other things I had heard about but didn't get the chance to try. I mean, I know I can eat a lot, but I had to draw the line somewhere...even I have an end point to my food pit of a stomach.
PSA: The items that I list here are what I believe to be vegan with the research I did. I did not go through the extensive process of asking each chef to verify everything on this list, so if you find something on my list is in fact not vegan when you go, then feel free to comment in a positive way! And as always, menus change all the time so make sure to double check on your personal trip. Thanks!!
Vegan Food at Disneyland
General Goodies
Mickey Pretzel: SO good!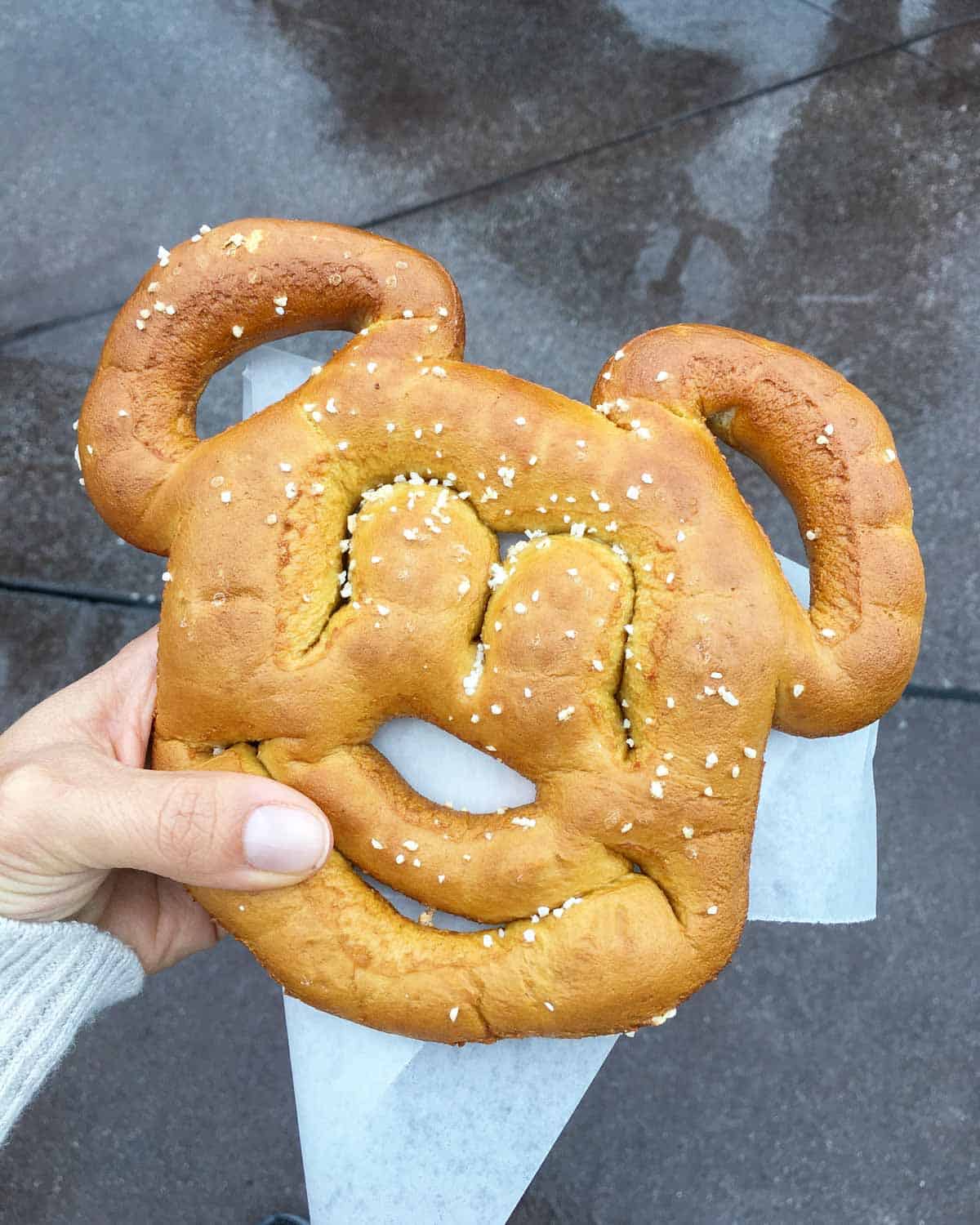 Fruit cups
Chips (non dairy based)
Cotton Candy
Frozen Lemonade
Pre-packaged kettle corn
Hummus
Main Street
Carnation Cafe- Vegan burger: This was a decent lunch option. Since I tend to be a burger snob, I didn't love it but it was a good option with fries for lunch.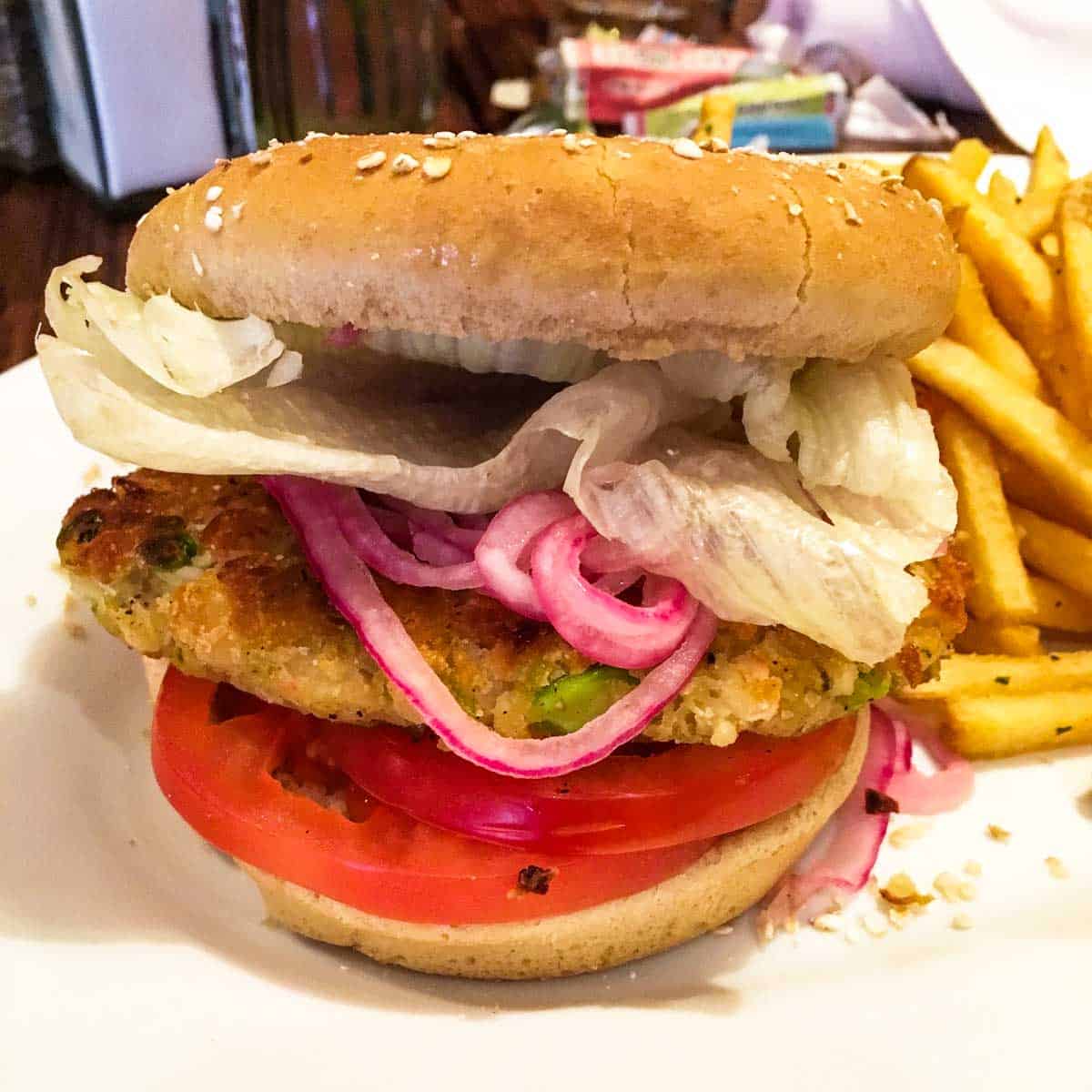 Plaza Inn- Hash browns and mini Mickey waffles. A reader said that the vegan waffles are only available in the morning so you may want to ask.
Jolly Holiday Bakery- Tomato basil soup, grilled veggie and whole grain salad
Gibson Girl Ice Cream Shoppe- Tofutti, there is sometimes a vegan alternative for ice cream but check for availability. A reader said that they told her they don't have it anymore but things change all the time.
Adventureland
Tiki Hut- Dole Whip: Pretty much the best thing ever.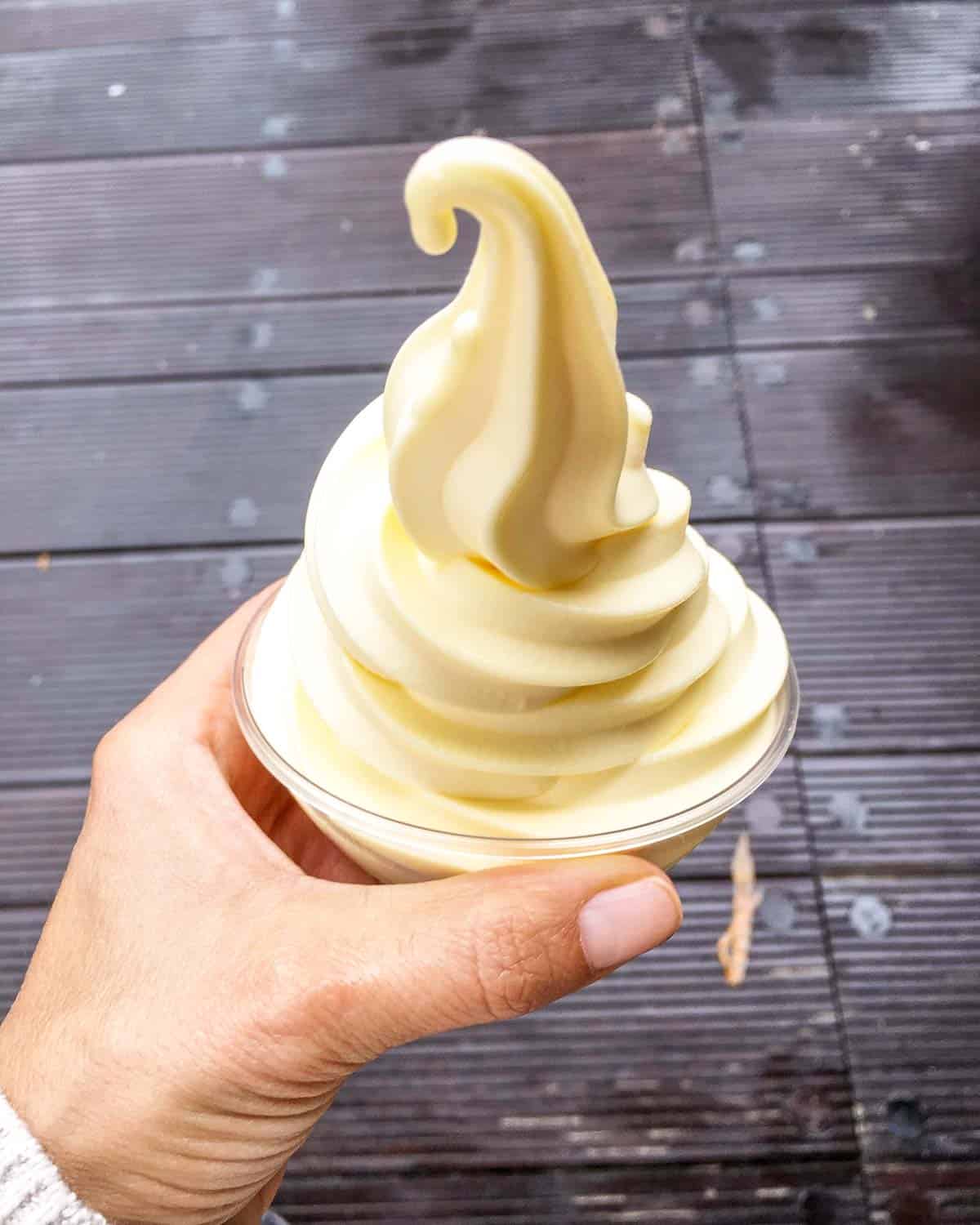 Bengal BBQ- Veggie skewer
New Orleans Square
Royal Street Veranda- Vegetarian gumbo in a sourdough bread bowl. A reader updated that the vegan gumbo is no longer available. Make sure to ask before you go!
French Market- Vegetable jambalaya
Blue Bayou Restaurant- Portobello mushroom and couscous maque choux
Critter Country
Hungry Bear Restaurant- Sweet potato fries, but the veggie burger and fried green tomato sandwich have egg so not fully vegan
Candy palace & critter country shop- Rice milk chocolate bar, dark chocolate bar, and sugar cookies
Frontierland
Rancho del Zocalo Restaurant- Everything that is vegetarian can be ordered vegan except the enchiladas
Big Thunder Ranch BBW- Veggie skewer
River Belle Terrace- Becky Thatcher's Black Bean Cakes, Aunt Polly's Harvest Medley without no cheese
Mickey's Toon Town
Fruit
Chips (non dairy based)
Hummus
Dreyer's whole fruit bar
Fantasyland
Maurice's Treats- The boysen apple freeze looked so good but the line was too long and we had to meet friends
Village Haus Restaurant- French fries, but the veggie burger has egg
Tomorrowland
Redd Rocket's Pizza Port- Tomato basil pasta and and spaghetti with "Mars-inara" sauce with vegan pasta and without cheese, vegetarian pizza without cheese
Tomorrowland Terrace- Portobello and veggies sandwich without cheese or sauce
Vegan Food at California Adventure
General Goodies:
Dreyer's whole fruit bar
Frozen lemonade
Coffee drinks with soy milk
Hummus
Chips (non dairy based)
Fruit
Hollywood Land
Award Weiners- Portobello mushroom philly: This was really really good! Ask for no cheese. A reader was told that the bun was not vegan last time she went, but I was told otherwise. It is always best to ask! You can also just get the filling and eat it as a bowl.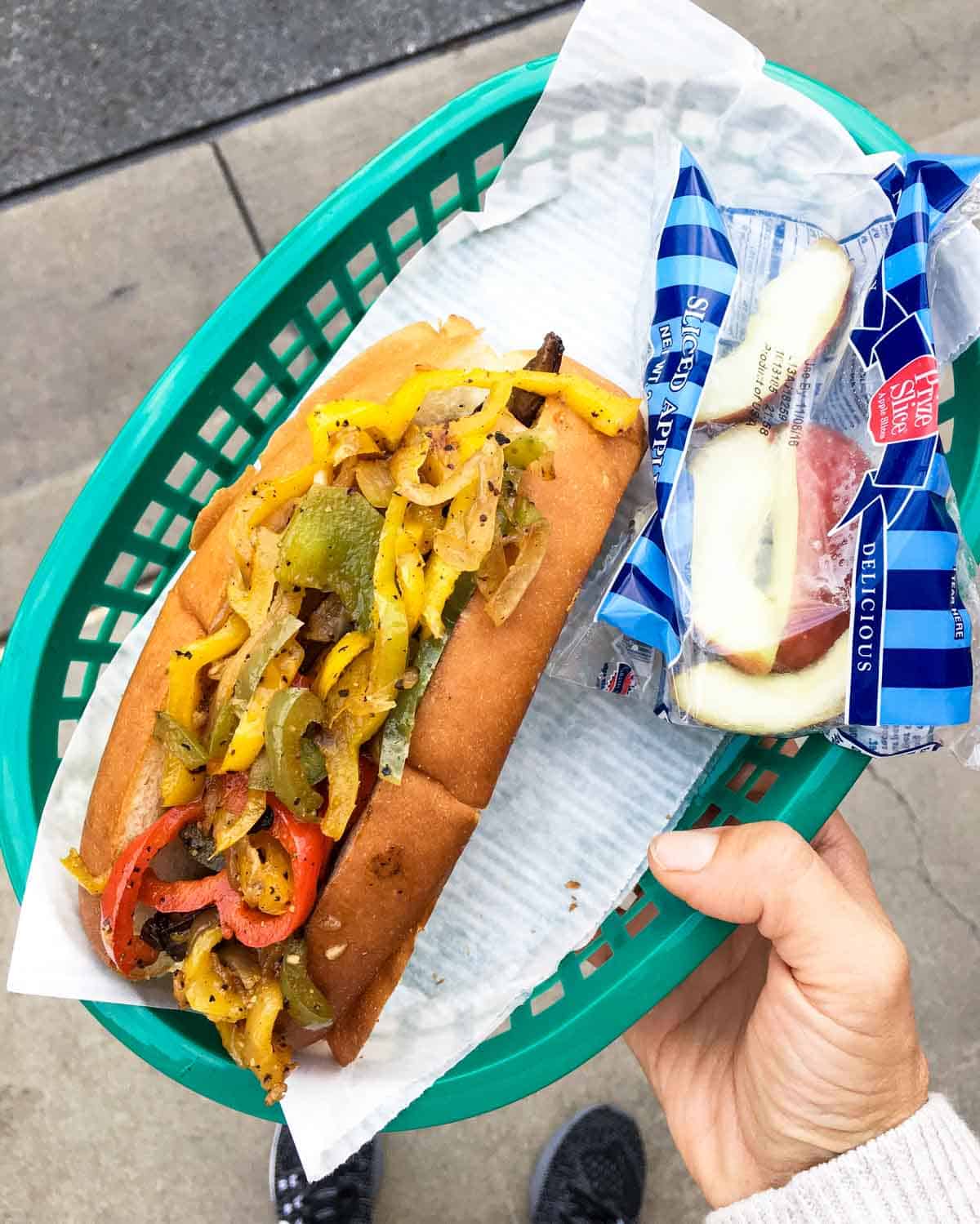 Schmoozies- Any smoothie can be customized without dairy items
Cars Land
Cozy Cone- Vegetarian chili in a pretzel cone: This was really good, order without cheese. The cone has egg so is not vegan but you can always just eat the chili and not the cone, or ask for the chili in a separate container.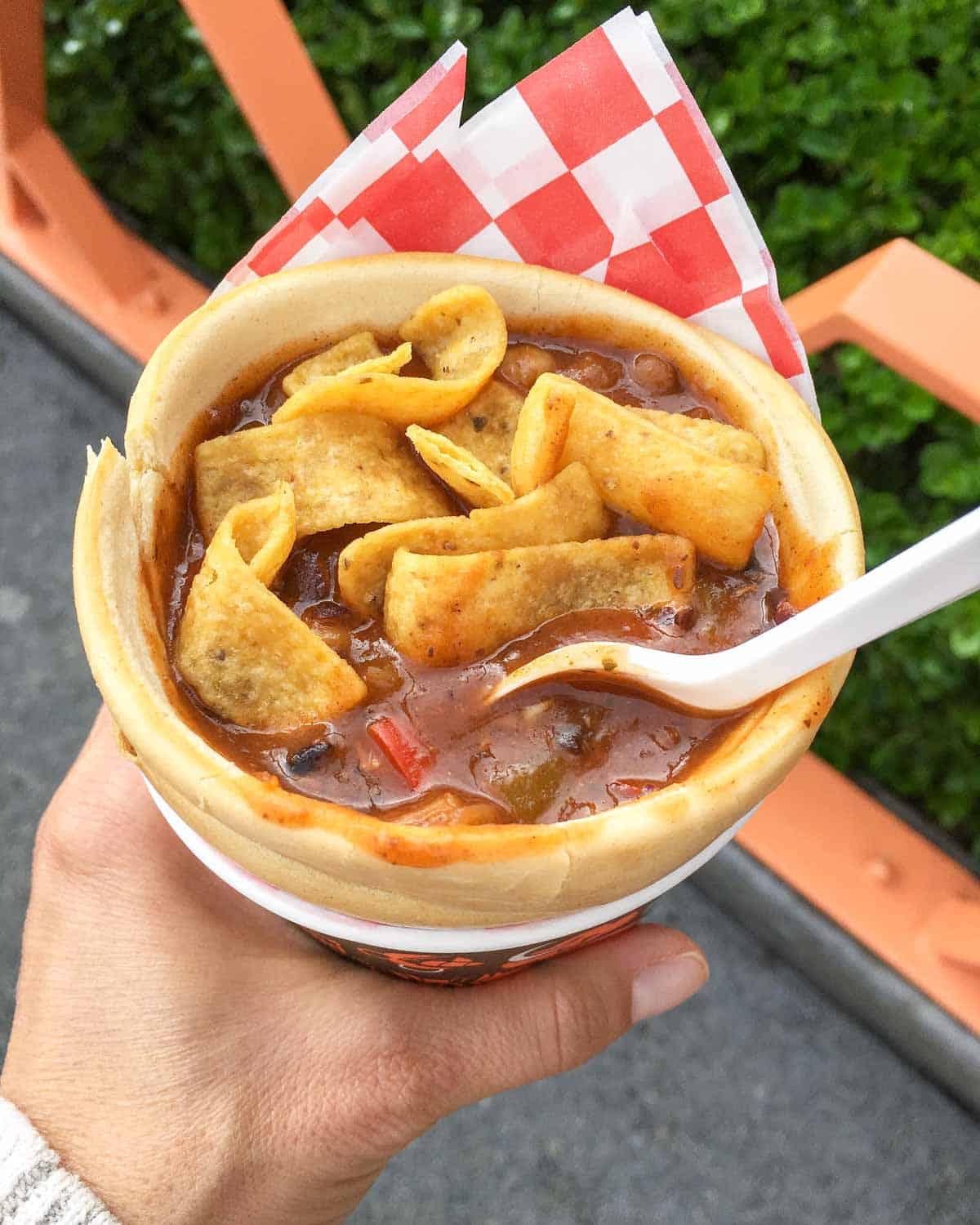 Flo's Cafe- No vegan items but I am mentioning it because I remember eating there a while back and had some vegetarian items and they were awful, so skip it
Pacific Wharf
Cocina Cucamonga Mexican Grill- Order veggie items like tacos or burrito without cheese, sour cream or enchilada sauce. Enchiladas cannot be made vegan because of the sauce.
Lucky Fortune Cookery- Rice bowl with tofu, I heard the sauces are not vegan but you can ask for a sauce off the menu that is. Also a warning by a reader is that the tofu has the texture of silken soft tofu, not firm.
Pacific Wharf Cafe- Vegetarian chili if they have it that day.
Wine Country Tratoria- Broccolini Aglio Olio: This was a yummy pasta with veggies and cooked with olive oil, garlic and red chili flakes! Ask for vegan pasta to make sure it's fully vegan.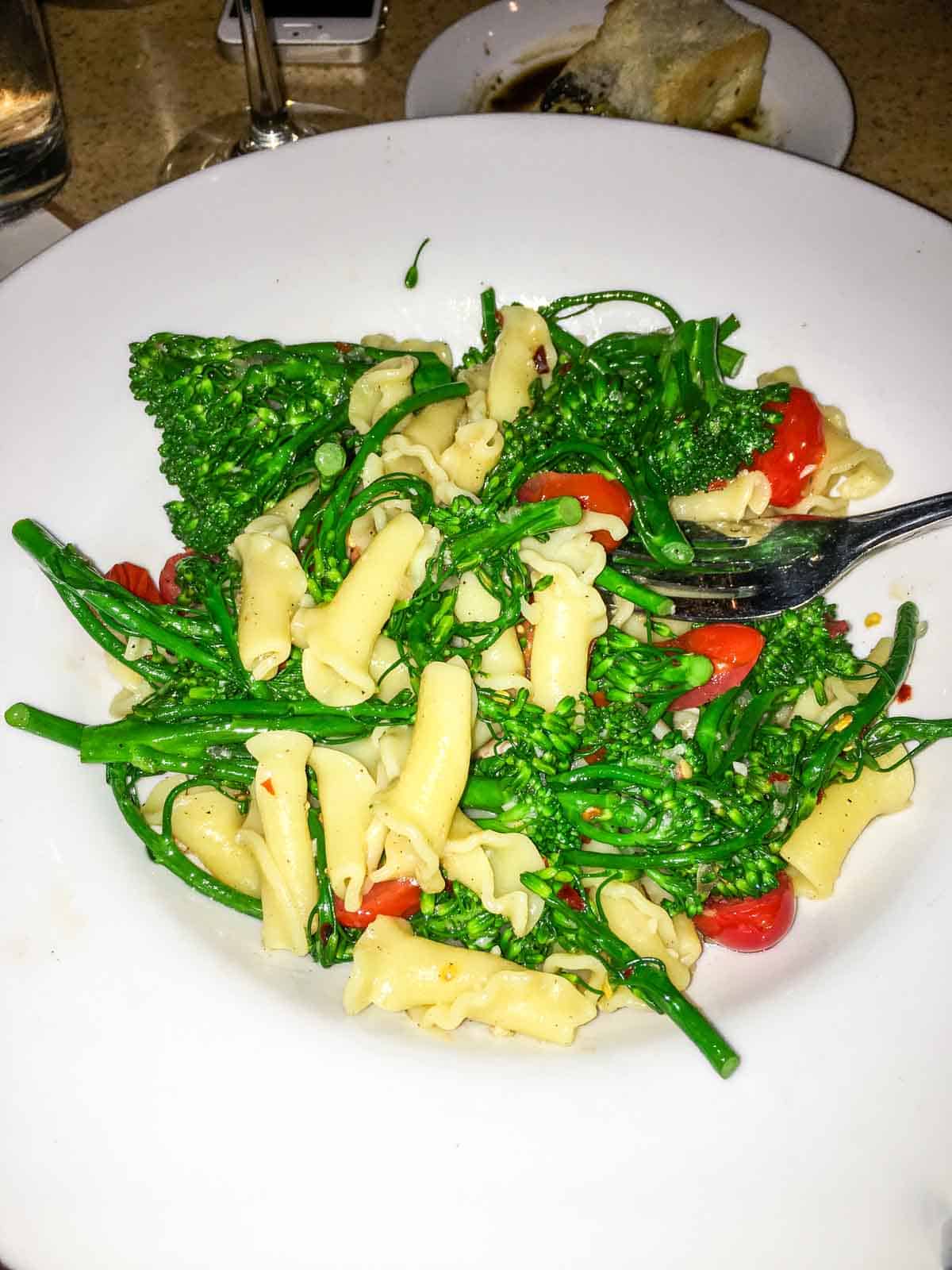 Paradise Pier
Ariel's Grotto- Vegan pancakes, special ordered vegan pasta dishes
Paradise Garden Grill- Mediterranean veggie and tofu skewers with Moroccan Chili or Chimichurri Sauce
Boardwalk Pizza- Vegan pizza special request only
Condor Flats
Taste Pilots Grill- french fries, burger on the menu is not vegan but I heard you can ask for one, or you can simply get a bun and fill it with loads of veggie toppings from the toppings bar
Grizzly Peak
Smokejumpers Grill- A reader told me about the awesome vegan burger here! You need to specify vegan, but they have a build your own burger bar with loads of veggie toppings. Sounds amazing and I am definitely trying it next time!
Buena Vista Street
Carthay Circle- off menu things are vegan pasta and a vegan veggie tower made with seasonal produce, and I heard about a veggie sushi roll wrapped in rice paper at the bar
Clarabella's Ice Cream Parlor- Berry sorbet bar covered in dark chocolate and dairy free chocolate chips (I asked the manager and she did tell me it was completed dairy free)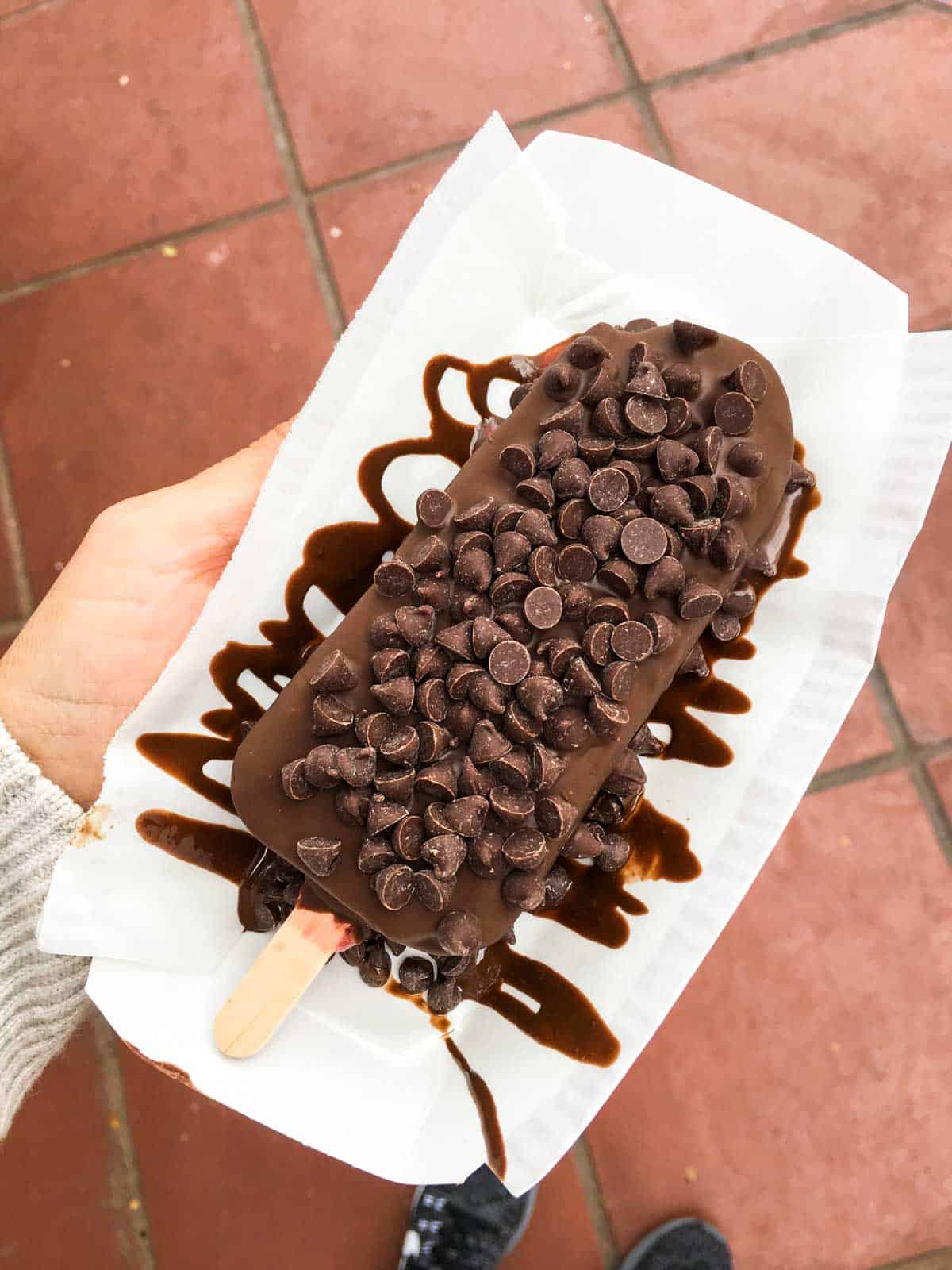 Disney California Adventure Food and Wine Festival 2018
Thank you to Disney for providing me with special media access to the park for this amazing event and a gift card to try all the awesome culinary treats!
This year the Disney California Adventure Food and Wine Festival runs from March 2, 2018 to April 12, 2018. So there is plenty of time to get over there and check it out. While I was a bit hesitant to attend the event initially since I had doubts about any vegan or even vegetarian food items, I am so glad I went because I was more than pleasantly surprised!
Not only does this amazing festival have food and drinks, but there are loads of fun activities for all ages. Here are some of the highlights:
Junior Chef Experience where kids ages 3-11 have some hands on fun led by Chef Goofy to make magical treats!
Family friendly seminars
Cooking demonstrations
Live music
Special dinners
and more!
See the official Disney website for specific details.
Here are some photos (excuse the non professional on the go photos) and lists of all I tried and some ideas on how you can try some of the vegetarian fare with leaving out items to make them vegan. It's important to note that I did not try all of these ideas, so it is always best to ask yourself when doing so.
Top Vegan Food Items
Spiced Oumph! on Pita with Avocado Hummus and Garlic Sauce (found at Avocado Time)- This was an "I can't believe it is vegan" food item!
Compressed Asian Cucumbers with Green Sauce, Toasted Almonds and Sea Beans (found at Eat Your Greens)- Super flavorful and surprising how good it was!
Grilled & Chilled Artichoke Hearts with Romesco (found at I Heart Artichokes)- This was incredible!!
My Favorite Cocktails and Drinks
I love to taste different wines, beers, cocktails and drinks everywhere I go. Since I was driving home, I was not able to have as much as I would have otherwise but I did get to sip on some amazing stuff! I can't state that these are 100% vegan since it all depends on the alcohol used but I don't usually worry about that, so if it is something important for you make sure you ask.
Beet Kombucha Sangria (found at Eat Your Greens)- This was the best Sangria ever!!
Health-Ade Beet Kombucha with Wild Berry FOMZ (found at Eat Your Greens)- If you like beets, then you'll love this. That was not me, and somehow I didn't realize the BEET kombucha would take like beets. LMAO! That being said when turned into Sangria (see above) it was AMAZING.
Strawberry Frose (found at Strawberry Patch)- Who can resist a frose?! Well, I can since I had to drive, but I was really sad about it. I think I may have freaked out the girl who I asked to snap a photo of her drink. LOL
Watermelon Lemonade (found at Peppers Cali-Ente)- This was really good! I love the habanero twist and Tajin rim.
Meyer Lemon Ginger Mule (found at Citrus Grove)- I did not try this but I drooled as I walked by!
Vegetarian Items with Potential to be Made Vegan
Grilled Asparagus Ceasar Salad (found at Eat Your Greens)- Ask to have it plain without the Ceasar dressing on top.
Strawberry and Coconut Rice Frushi (found at Strawberry Patch)- Not sure if the yogurt is inside but if not ask to have it without the yogurt sauce.
Watsonville Strawberry Pie (found at Strawberry Patch)- This has a dairy custard center but it is topped with strawberries and you may be able to simply ask for fresh strawberries.
I'd like to thank my fun sidekick Kate from Highlights Along the Way for tackling all things food and wine with me!
General vegan food info for Disney Adventure Parks
If you want an official list of food options from the Disney site itself, click here. But I also know there are many hidden gems, and many bloggers that have great lists. Here are a few other blogs I found that may also help you all out, please remember that some of their posts may be old and menu items and ingredients change so always verify yourself when there:
Vegan Cowgirl
Have fun finding vegan food at Disneyland, the happiest place on earth!