These vegan gluten-free stuffed peppers are absolutely delicious and a perfect well rounded meal. They are healthy and family friendly!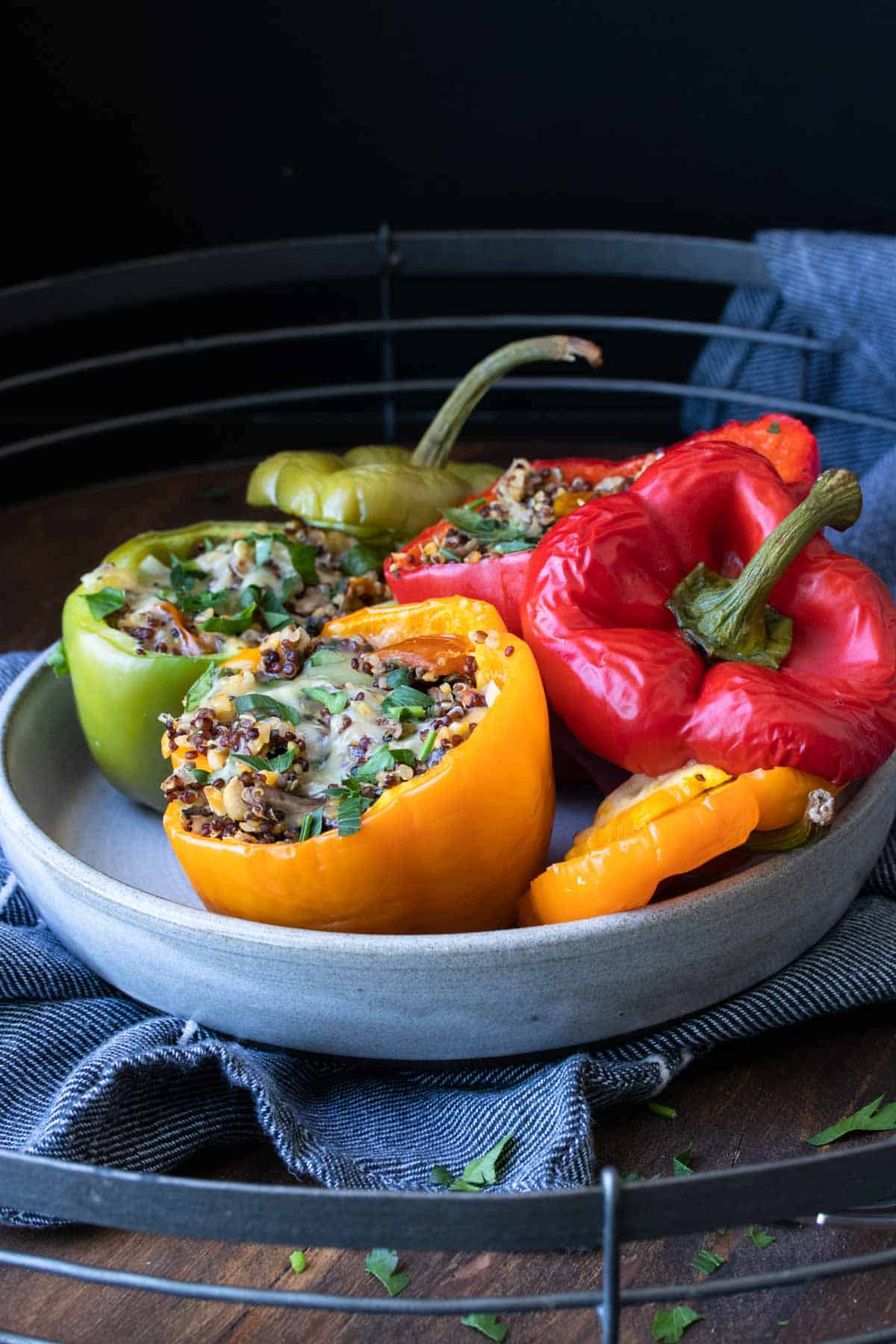 I love mixing it up with a variety of meals. While our go to tacos and pasta are always a hit, it's surprising how much they love something a little different, and these hit the spot!
Ingredients
A variety of fresh and healthy foods make up this easy and flavorful recipe:
Bell Peppers
Quinoa
Chickpeas
Fresh Veggies
Seasonings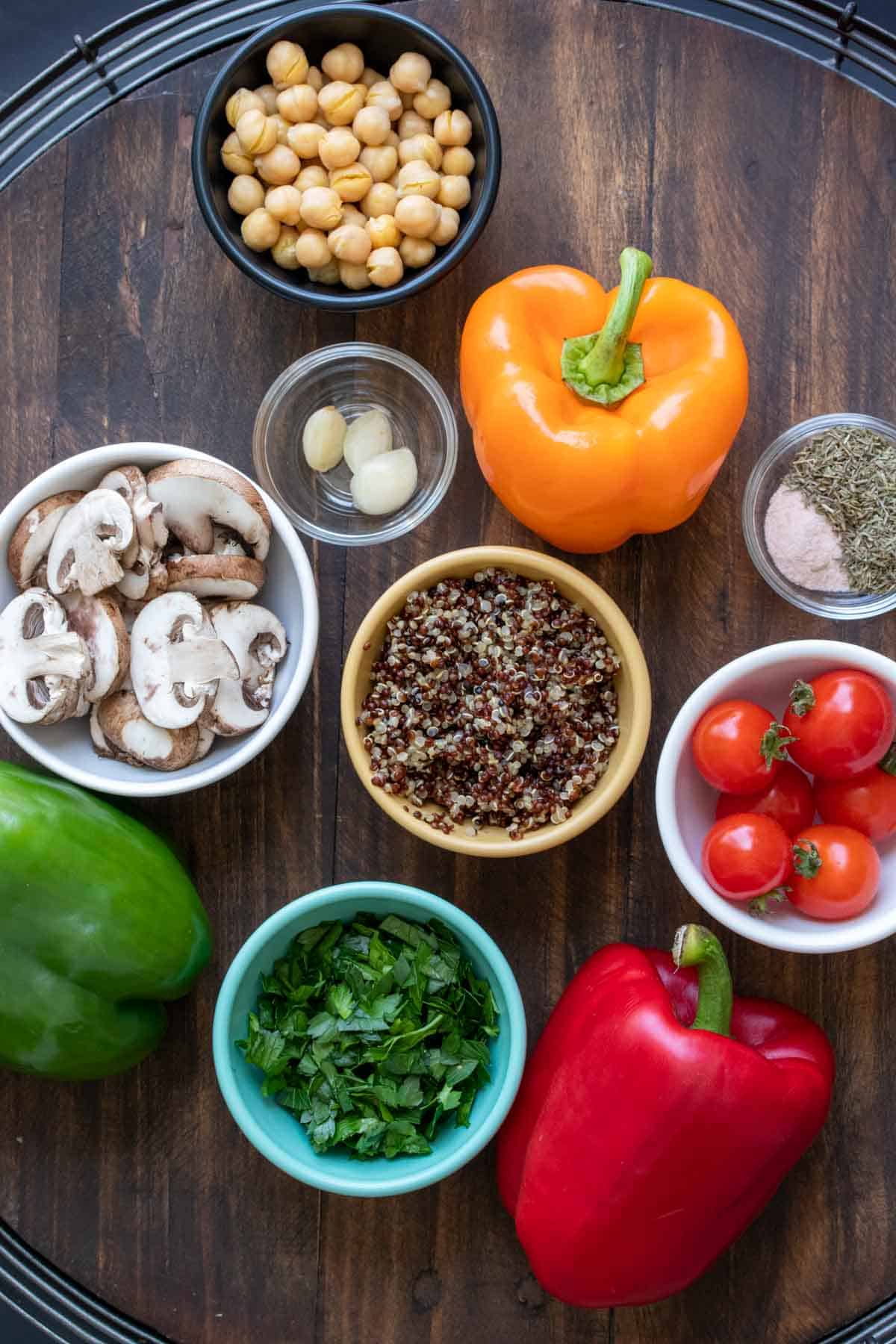 How To Make Vegan Stuffed Peppers
Stuffed peppers make an easy and filling meal in just a few easy steps:
Prepare the peppers.
Use a food processor to coarsely chop the chickpeas.
Next, chop the mushrooms.
Sauté the garlic, mushrooms, tomatoes, and seasonings.
Mix in the quinoa and chickpeas.
Fill the peppers, put on the tops, bake, and enjoy!
Helpful tips and tricks
This recipe is wonderful for meal prepping, stocking a freezer, or giving as a gift (instead of traditional casseroles) since making ahead and storing leftovers is so easy!
You can prepare these stuffed peppers up to 24 hours ahead of time to make mealtime easier. Just mix up the filling, stuff the peppers, and keep them in an airtight container in the fridge until you're ready to bake.
You can even just have the filling ready and the peppers cleaned, then stuff and bake when ready to serve.
Leftovers can be kept in an airtight container in the refrigerator for up to three days. Reheat in the microwave individually for 2 minutes, or bake multiple in the oven for 10-15 minutes at 350°F / 175° C.
Stuffed peppers can be frozen before or after baking. Seal the peppers in an airtight freezer container, make sure they've cooled completely if freezing cooked peppers.
Frozen uncooked peppers should be baked at 350°F / 175° C for 1 hour or until heated through. If the peppers are already cooked you can reduce the time by 30 minutes.
Flavor suggestions
Make variations of this meal to keep things interesting in the kitchen with some of these ideas:
Substitute some of the quinoa for cooked lentils or black beans.
Get a veggie boost by adding spinach, cauliflower, zucchini, or corn to the mix.
Top the peppers with some dairy free cheese.
Finish off the stuffed peppers with a dollop of vegan sour cream.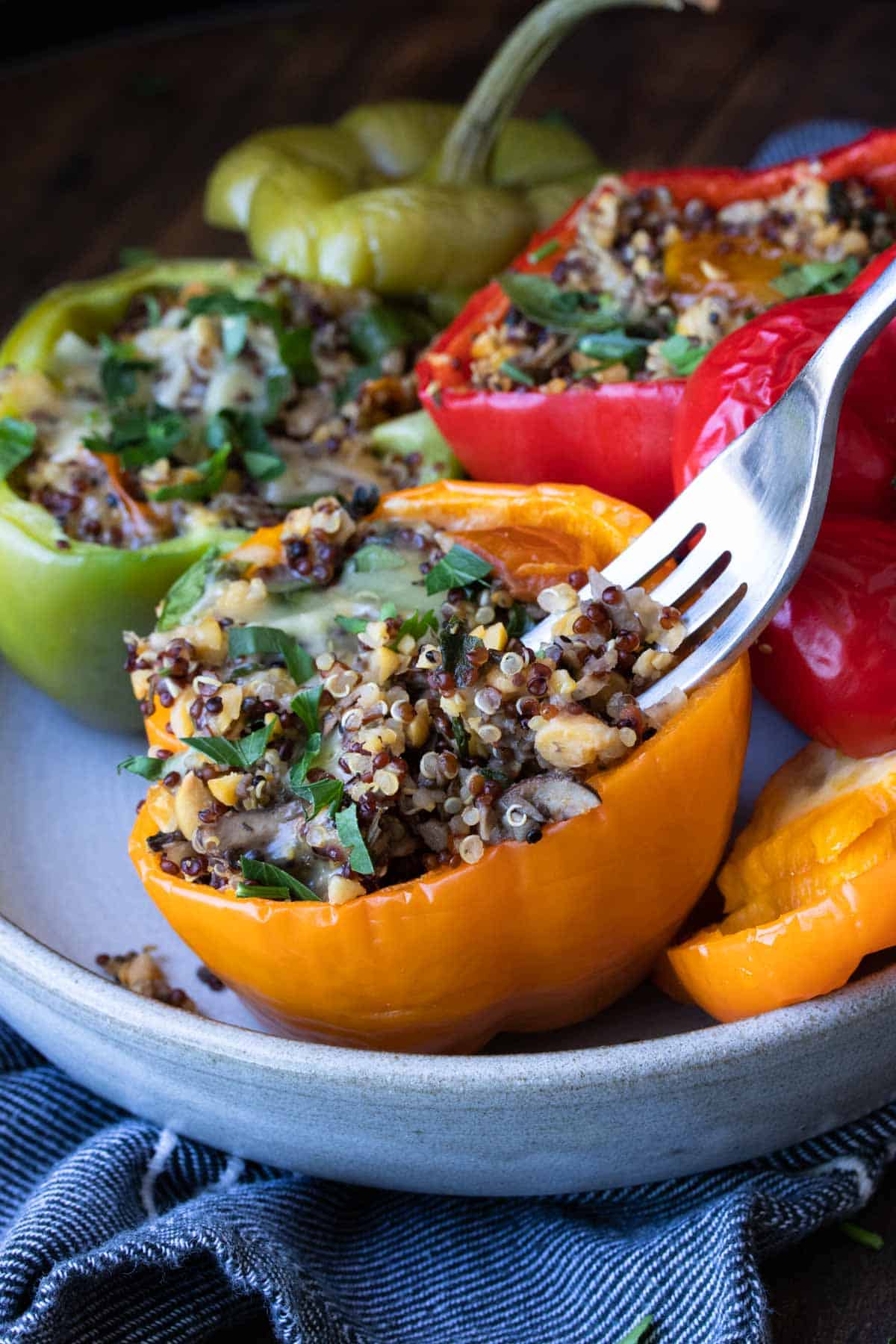 What to serve with stuffed peppers
Pair your gluten-free stuffed peppers with any of these dishes to make a complete meal:
Common Questions
What kind of pepper should I use for stuffed peppers?
There are a few things to consider when choosing bell peppers for stuffing:

The color, this actually designates the flavor! Green are the most bitter, yellow and orange are slightly sweeter, with red being the sweetest of all.

The size, I used medium sized peppers. Large peppers won't be as full, and small ones won't fit everything.

The lobes on the bottom. There's seemingly constant controversy on whether or not this changes the flavor; but one thing is for sure, peppers with 4 lobes on the bottom stand up better than ones with 3.
How do you cut the peppers for stuffing?
Use a sharp knife to cut the top off of the pepper, put it aside. Use a paring knife to carefully remove the ribs and seeds, you can discard those.
Why are my stuffed peppers watery?
The filling ingredients in this recipe release some moisture while cooking, which is why precooking the filling is so important. Making sure the liquid is gone from the mushrooms should eliminate this issue.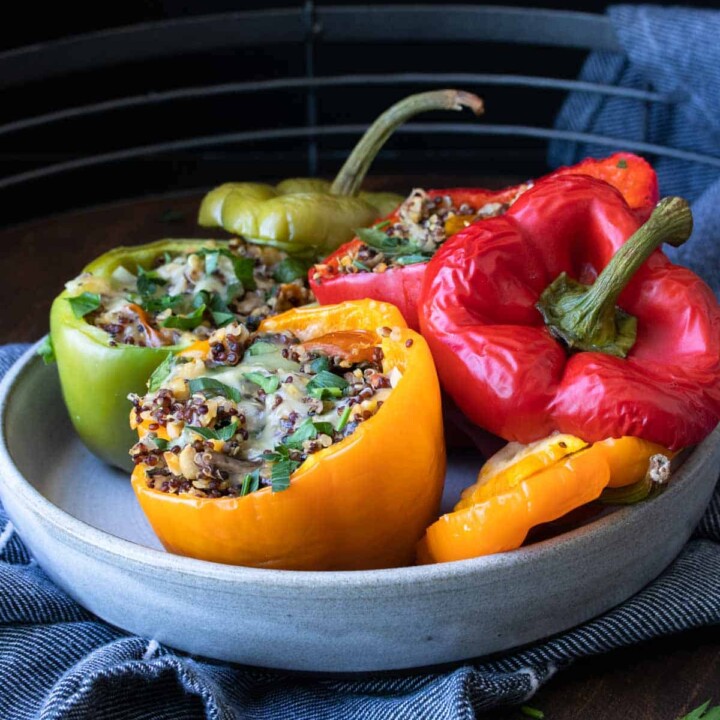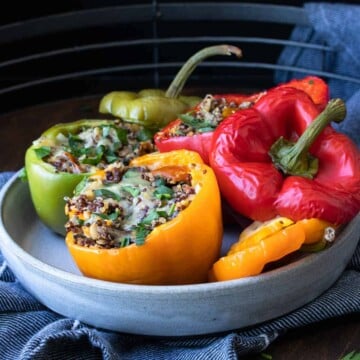 Vegan Gluten-Free Stuffed Peppers
These vegan gluten-free stuffed peppers are absolutely delicious and a perfect well rounded meal. They are healthy and family friendly!
Ingredients
8 red, yellow, orange or green peppers , medium in size
3 cups cooked quinoa
3 cloves garlic , chopped
1 ½ cups cooked chickpeas , rinsed and drained (about one 15 ounce can)
2 cups chopped mushrooms
1 cup fresh chopped tomatoes
½ cup fresh chopped parsley
2 teaspoons dried thyme
1 teaspoon sea salt
Drizzle of oil for sautéing , or broth if oil free
Sprinkle of dairy-free cheese , optional
Instructions
Preheat oven to 350 F/ 175 C

Cut the tops off of the peppers and take out the seeds.

Using a food processor, coarsely chop the chickpeas until crumbled like a meaty texture.

Set aside. Then chop the mushrooms in the same way.

Sauté the garlic in broth or oil until fragrant, about 2 minutes.

Add the mushrooms and cook until the liquid has evaporated, about 5 minutes.

Add the tomatoes, parsley, thyme and salt and sauté until the tomatoes soften, about 5 minutes.

Add in the quinoa and chickpeas and mix until heated through. About 1-2 minutes.

Fill the peppers with the mixture and put on the tops. You can also drizzle with a tiny bit of oil if you want.

Bake for about 30-35 minutes until just browning on top.

Serve and enjoy!
Notes
I used medium sized peppers, the bigger they are the less full they will be.
The serving size is one pepper.
Recipe by Veggies Don't Bite, visit our site for more great plant-based recipes.
Nutrition
Calories: 173kcalCarbohydrates: 31gProtein: 7gFat: 3gSaturated Fat: 1gSodium: 364mgPotassium: 656mgFiber: 8gSugar: 7gVitamin A: 4206IUVitamin C: 160mgCalcium: 45mgIron: 3mg
Nutrition and metric information should be considered an estimate.
Never miss a recipe!
Sign up here and get a FREE quick and easy meal guide!