These vegan stuffed dates are the dessert you've been waiting for. Easy to make, healthy to eat and so crave-worthy you will make them over and over again!
We absolutely love these, kids and adults. It's the perfect sweet treat when you want a little something but still want a little nutritional value.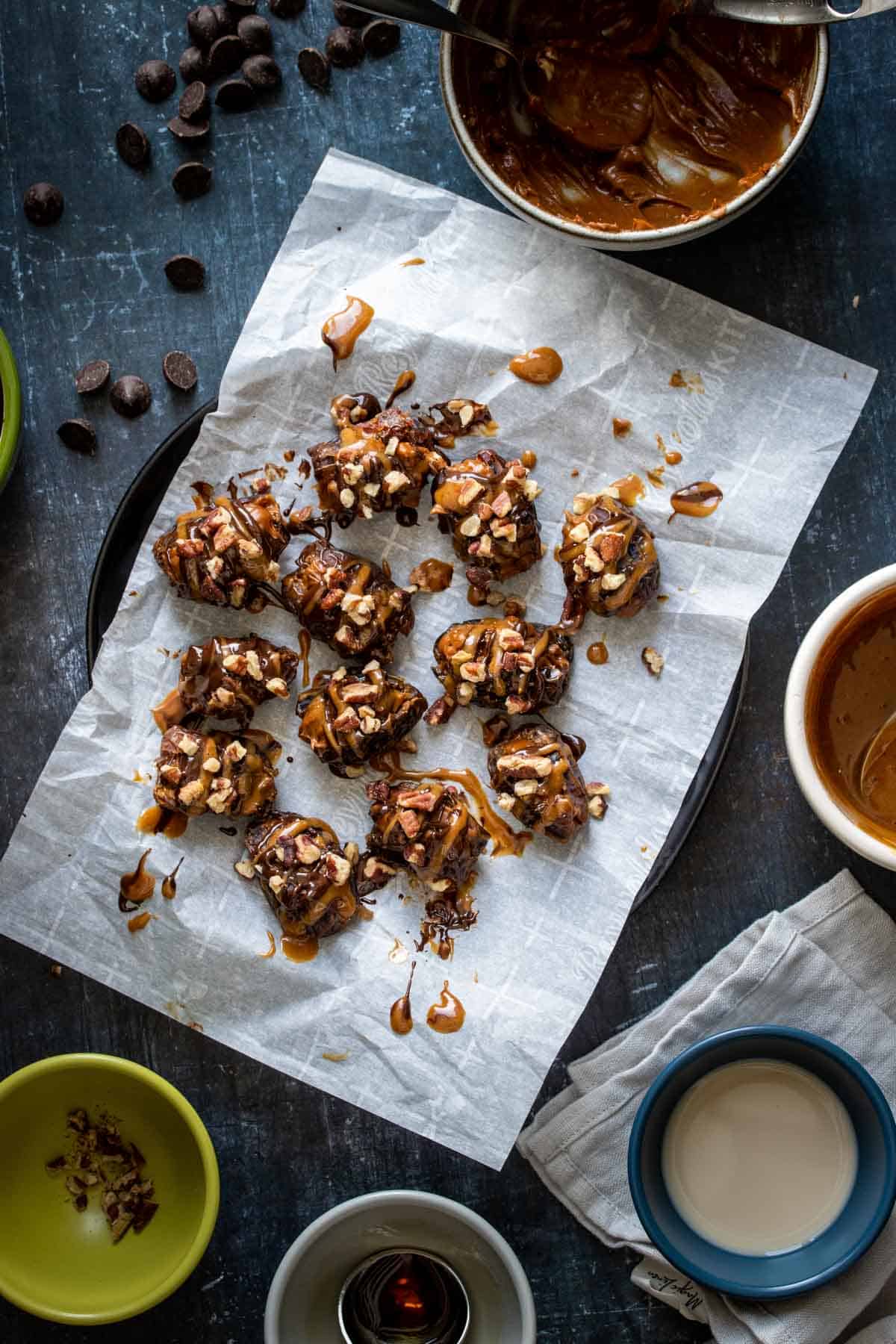 This post was sponsored by PB2 but the content and opinions expressed are fully my own.
While we love indulgences like my vegan lava cake or vegan millionaire shortbread, there are times when I want something super fast and easy to throw together. These stuffed dates are the perfect dessert answer!
How to Make Vegan Stuffed Dates
This sweet stuffed dates recipe is so easy to make using simple ingredients. In fact, it only takes about 15 minutes to create sweet perfection! Plus, I love that the peanut butter powder can be used in two different ways!
Ingredients
Dates
Peanut butter powder (I use my fave PB2)
Dairy free milk
Pecans (feel free to sub with another nut or leave out)
Maple syrup
Vanilla extract
Chocolate chips
A little oil if you want to make the chocolate easier to spread
Sea salt to top, optional but yum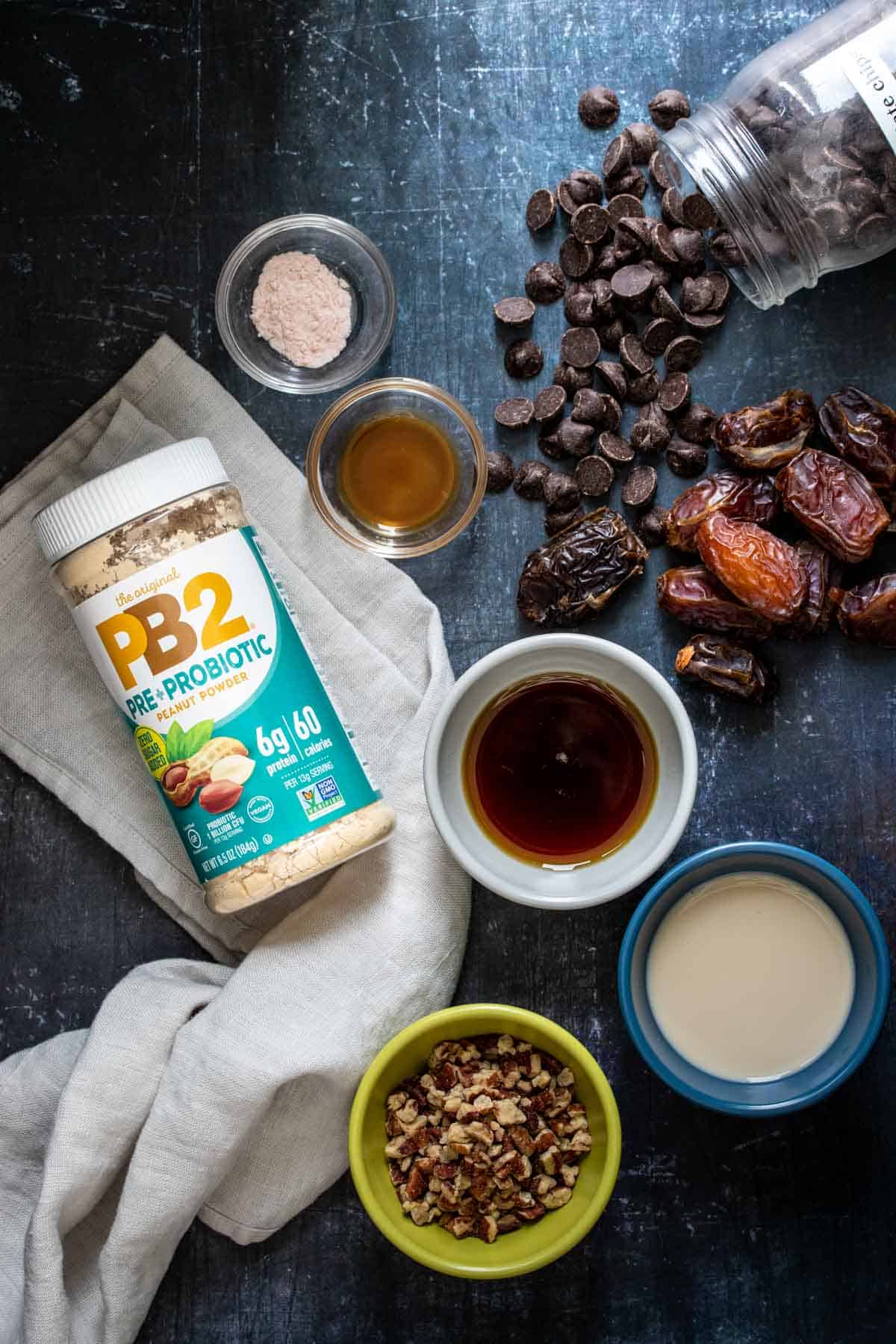 I first fell in love with cashew powder when I used it in my recipes for Butternut Squash Pasta and Creamy Vegan Potato Soup.
Then, after creating my Peanut Butter Chia Seed Pudding with the ever magical PB2 Peanut Butter Powder I've come to the conclusion that these products are necessary to have on hand from here on out. That, and I needed to make more recipes with them! Between these stuffed dates and this Peanut Butter Nice Cream my sweet teeth are thankful for this amazing powder.
Peanut butter powder is made by pressing out the majority of the oil which ends up reducing the calories and fat. It has 90% less fat and 70% fewer calories than classic peanut butter, without sacrificing any plant-based protein!
Fine powder is easier to work with instead of peanut butter which makes great for incorporating in a wide variety of recipes!Add it to your smoothies, make tasty snacks, desserts, and baked goods, or simply mix with water for a peanut butter spread.
As if the peanut butter flavor wasn't amazing enough, PB2 peanut Butter Powder is gluten-free, vegan, kosher, and free of preservatives!
Step by Step Instructions
Open the dates.
Mix the filling.
Make the caramel drizzle.
Fill the dates.
Melt the chocolate and drizzle it on.
Drizzle with caramel.
Top with more nuts and sea salt if you want and devour!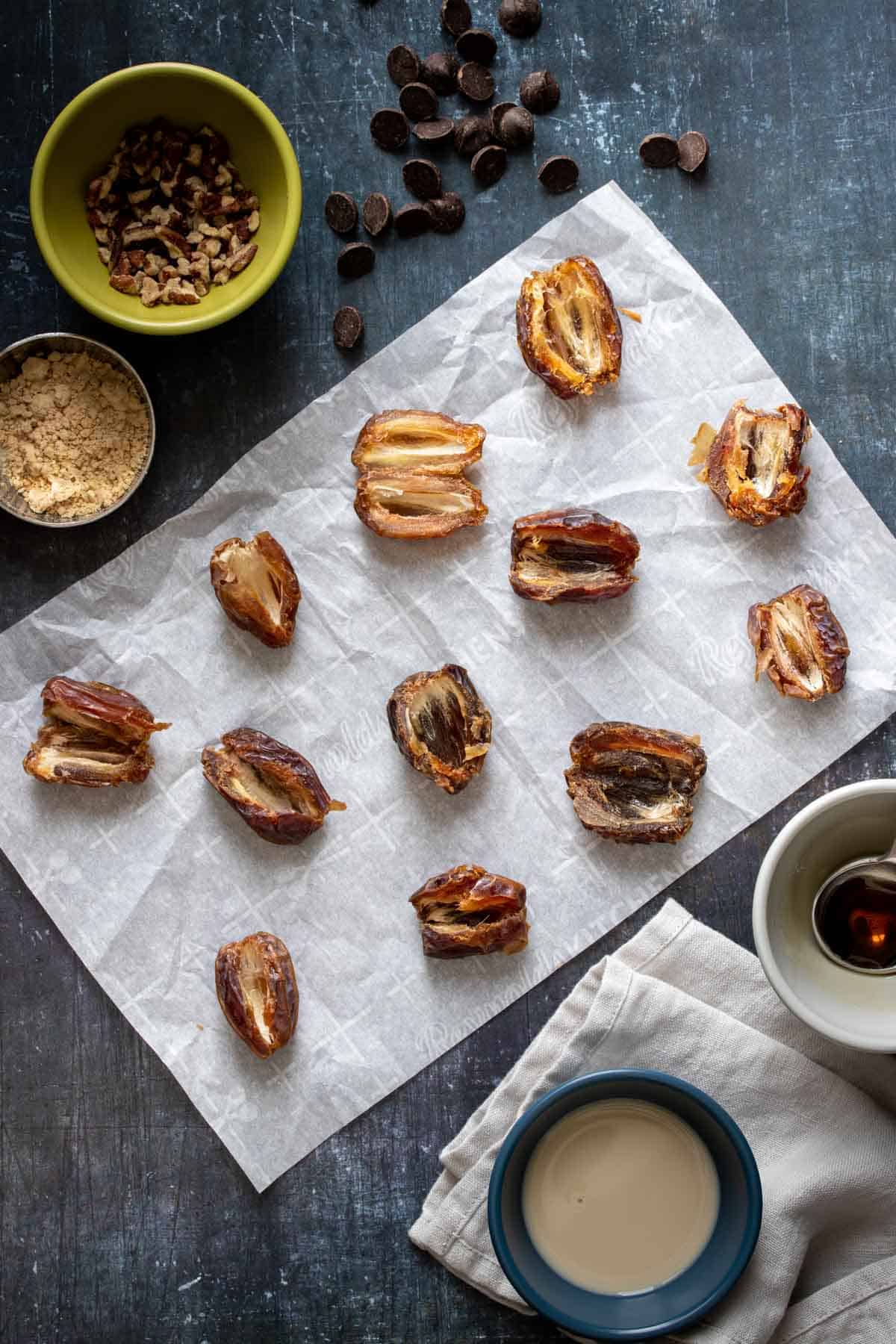 Tips and Tricks
If your dates have pits in them, carefully make a shallow cut lengthwise to the pit and use your fingers to peel it out. Now it you can open and stuff!
Adjust the amount of maple syrup to achieve the consistency you like.
A little bit of oil will help thin out the chocolate making it easier to work with, but it's optional.
If you end up with extra fillings or toppings you can use them to make a bonus ice cream sundae!
You can also use 4 tablespoons of classic peanut butter and omit the milk for the filling if you prefer.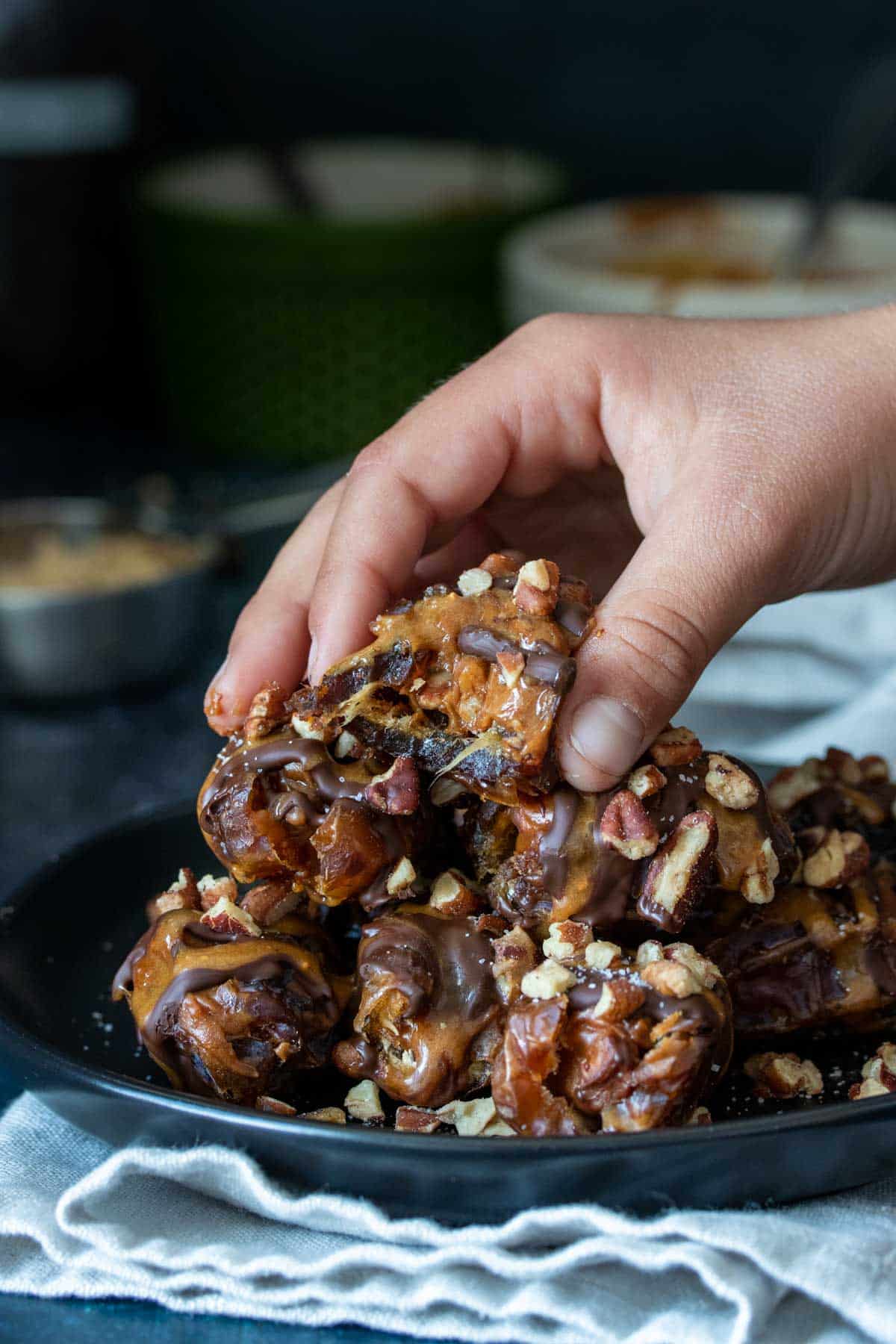 Common Questions
Why are dates healthy?
Dates supply a good amount of fiber, as well as nutrients and antioxidants. It's also a great natural sweetener that you can use in place of refined sugar!
Do dates go bad?
Yes, dates will eventually end up going bad. Usually they'll be good at room temperature for a few months, or up to a year in the refrigerator.
More Vegan Dessert Recipes
Get those sweet tooth cravings under control with any of these incredible plant based recipes!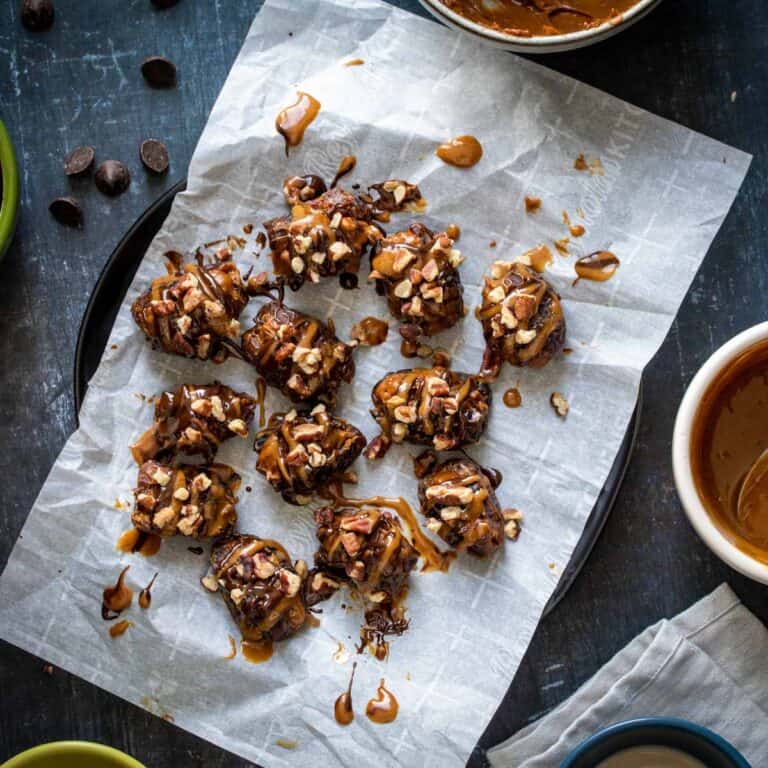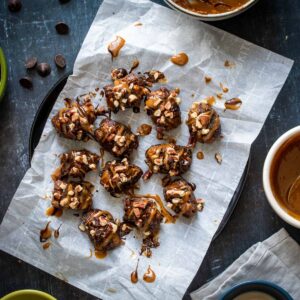 Vegan Stuffed Dates Dessert Recipe
These vegan stuffed dates are the dessert you've been waiting for. Easy to make, healthy to eat and so crave-worthy you will make them over and over again!
Ingredients
¼ cup dairy free milk
3-4 tablespoons chopped pecans , can sub with another nut or omit
3-4 tablespoons maple syrup , depends on how runny you prefer it
1 teaspoon vanilla extract
¼ cup chocolate chips
Drizzle of neutral oil like coconut oil , optional to thin out chocolate and make it easier to work with (or can use a tiny bit of milk too if oil free)
Sea salt to top , optional
Instructions
Open the dates so you have the center exposed.

Mix ¾ cup of the powdered peanut butter and milk until smooth. Use a whisk to make it easy. Mix in pecans and set aside.

Mix the remaining ¼ cup of the powdered peanut butter, maple syrup and vanilla until smooth and set aside.

Put about one teaspoon of the peanut butter mixture in the center of each date, it will depend on the size of your dates. Close the dates and place on a plate.

Melt the chocolate chips with oil (if using). Drizzle over the top of the dates.

Drizzle with the caramel mixture. I like a thicker caramel so using a plastic baggie and cutting off the corner to drizzle it over works great.

Place in the fridge for 5-10 minutes to firm up a bit if preferred and enjoy!
Notes
If you don't want to use powdered peanut butter, you can also use 4 tablespoons regular peanut butter and take out the milk for the filling.
You may have a little extra of the fillings and toppings, if so then make more dates or drizzle over ice cream!
Recipe by Veggies Don't Bite, visit our site for more great plant-based recipes.
Nutrition
Calories: 136kcalCarbohydrates: 26gProtein: 4gFat: 3gSaturated Fat: 1gPolyunsaturated Fat: 1gMonounsaturated Fat: 1gCholesterol: 1mgSodium: 70mgPotassium: 189mgFiber: 3gSugar: 20gVitamin A: 70IUVitamin C: 1mgCalcium: 36mgIron: 1mg
Nutrition and metric information should be considered an estimate.
Never miss a recipe!
Sign up here and get a FREE quick and easy meal guide!