This list of the best easy vegan soups will keep you healthy and warm all winter long! But don't stop there, because these veggie filled meals are good anytime!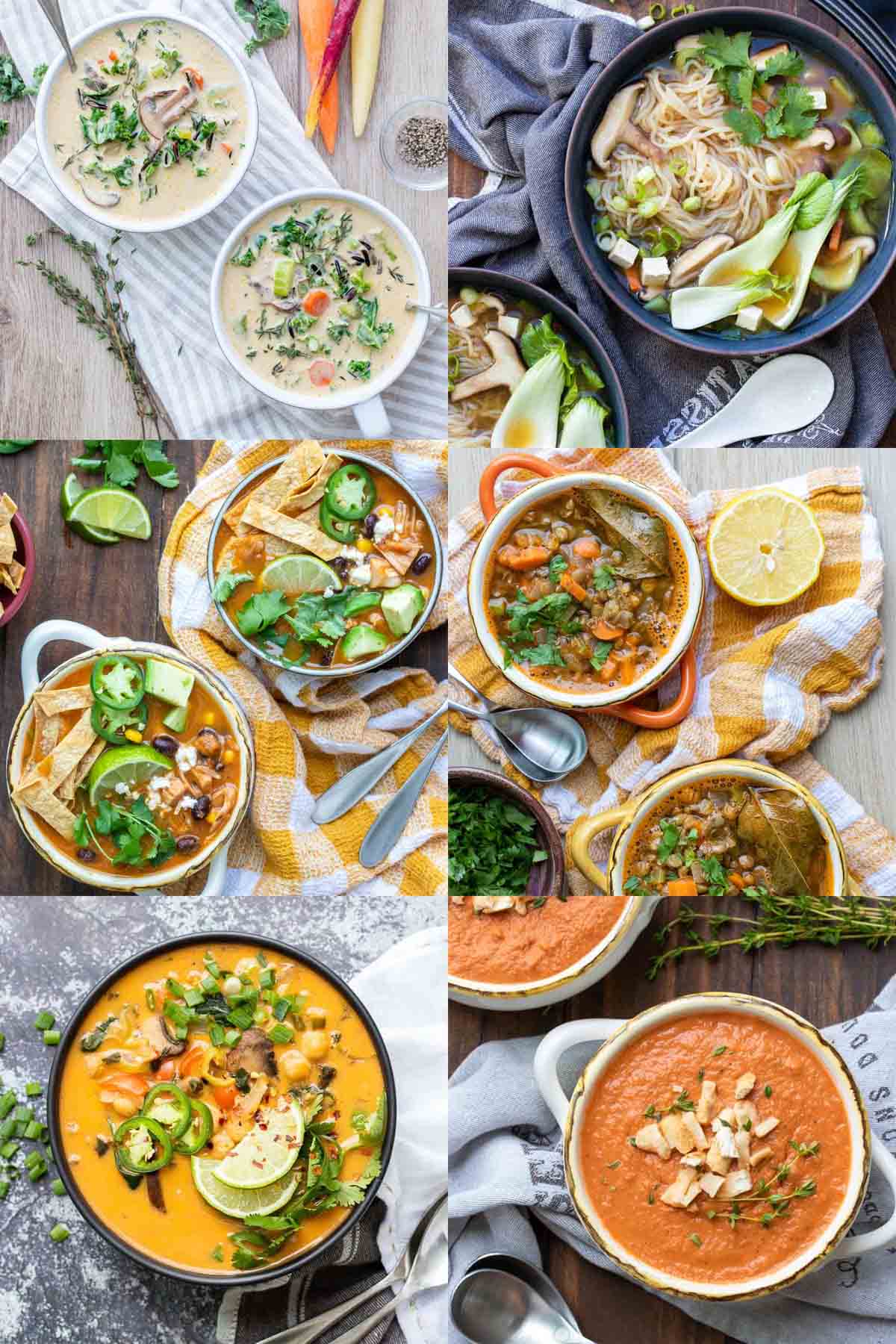 This post was originally published on November 9, 2020.
Eat these amazing soups alone or pair them with a vegan grilled cheese sandwich, vegan Caesar salad, lemon kale salad or top them with some homemade crunchy croutons.
This collection of plant-based and gluten-free soup recipes are some of my very favorite. The kids also love pairing them with a side of baked oven fries, baked sweet potato fries or asparagus fries!
Coming up with meals the whole family will eat that are easy to make can be an impossible task. Soups are a go to favorite in our household as they are a healthy and complete meal all on their own, not to mention super cozy and comforting!
Our Favorite Soups
This plant based take on the classic family friendly recipe is so amazing! You'd never know it's made completely from plants.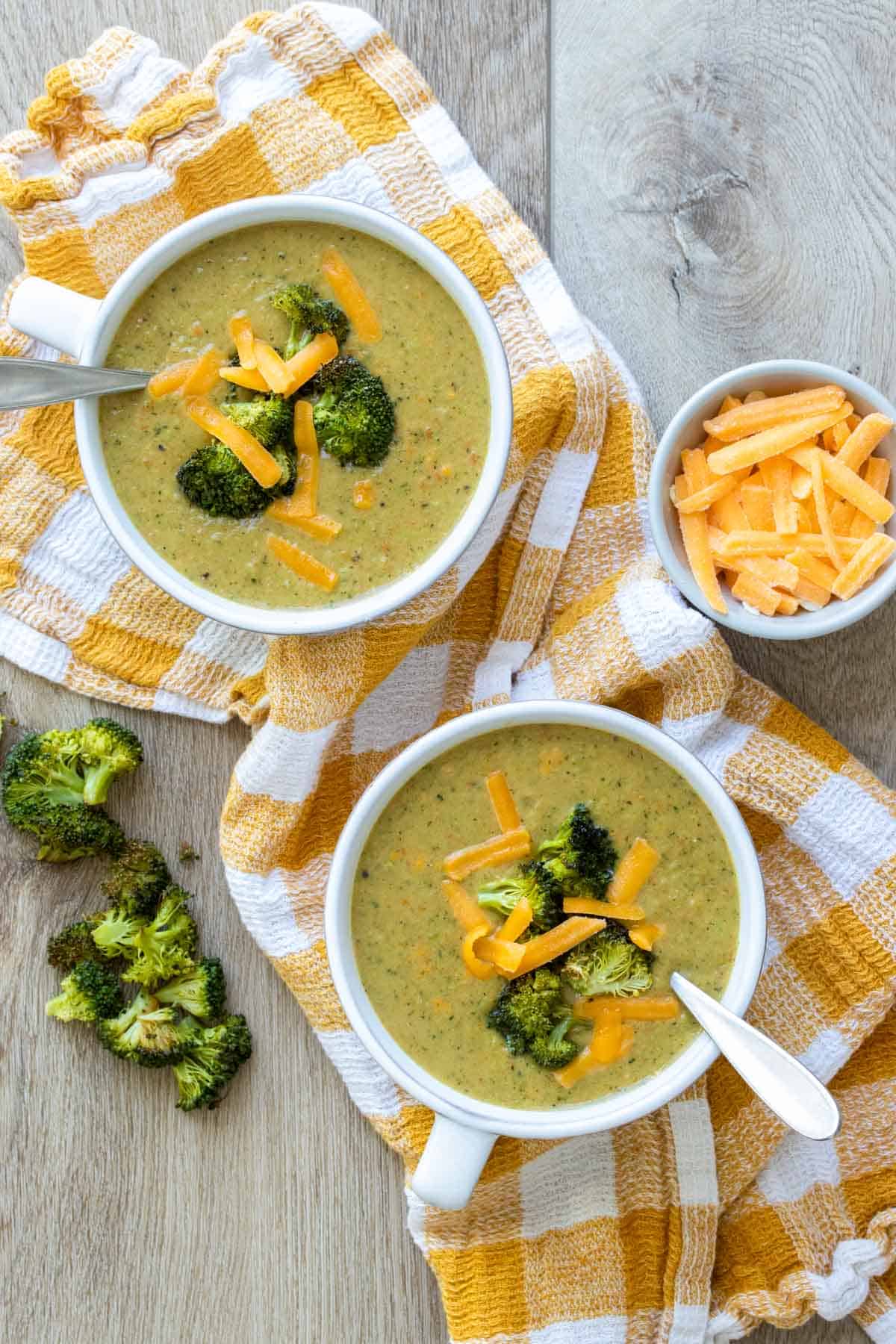 No dairy is needed to create this creamy and hearty soup! It's packed full of nutritious ingredients that will keep you full and satisfied.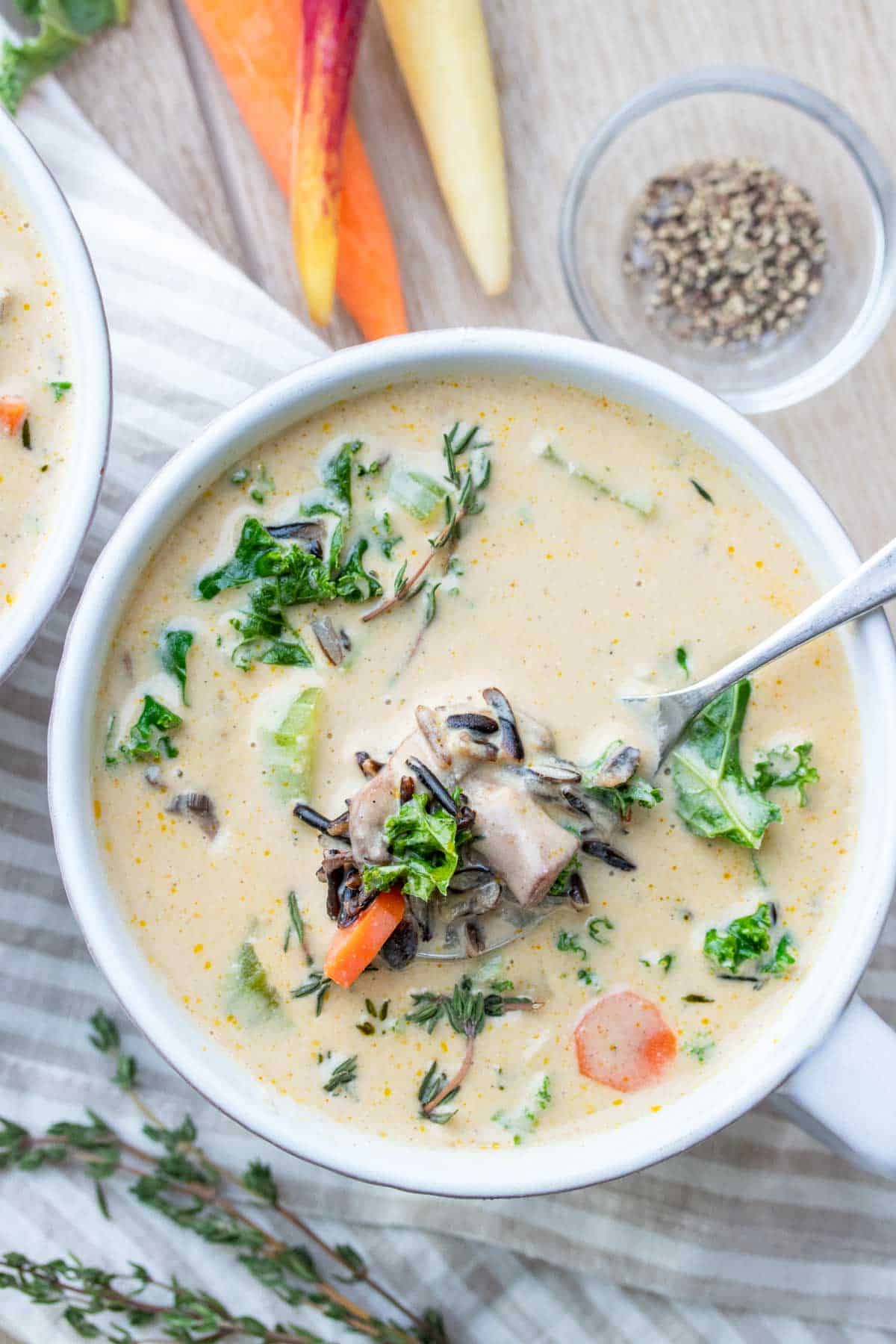 Instead of milk or cream and butter, the rich flavor and velvety smooth texture is achieved with cashews! The whole family will love this thick and hearty soup, especially with the right toppings!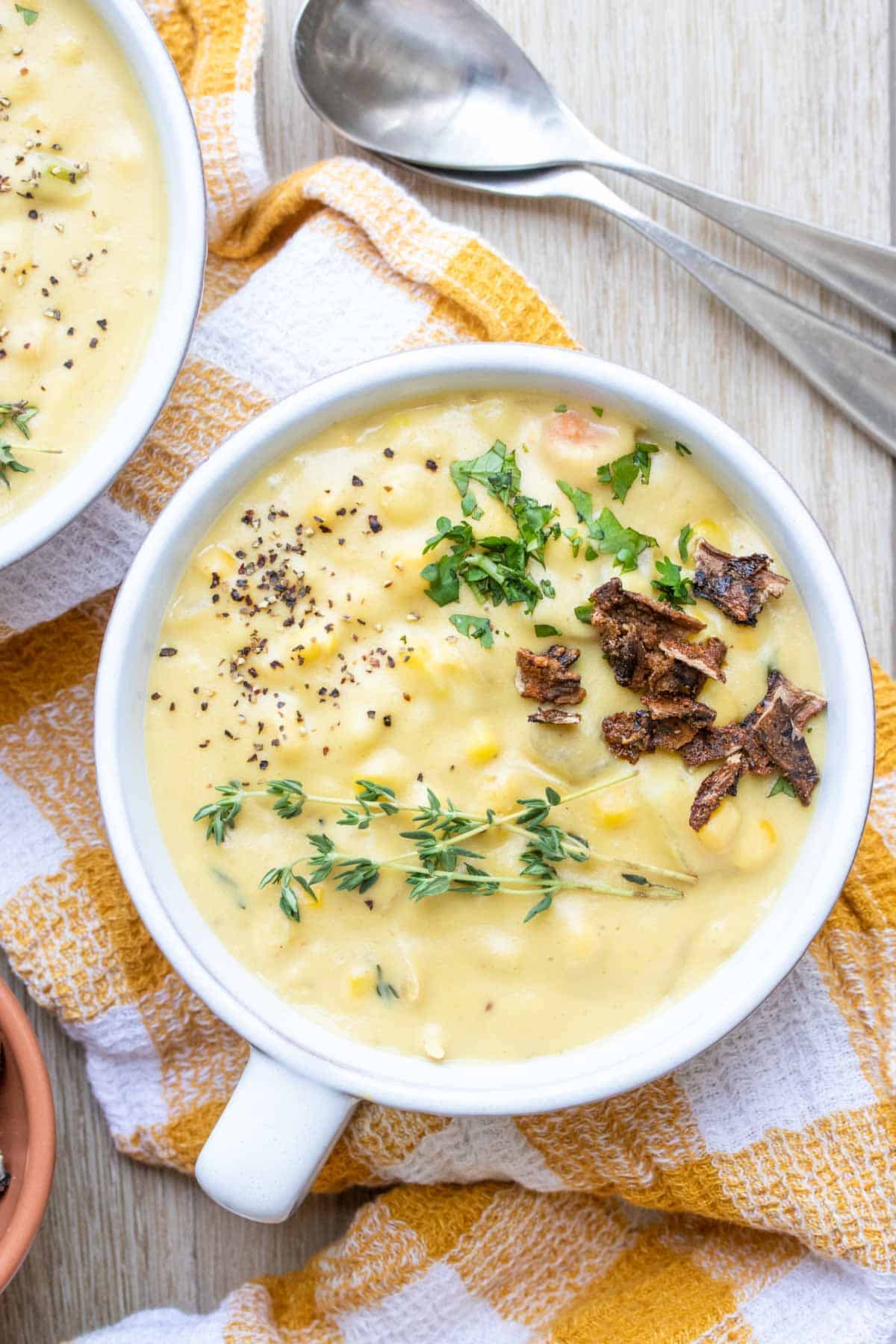 Enjoy this homemade plant based version of the classic canned soup on its own, or use in your favorite casserole recipes!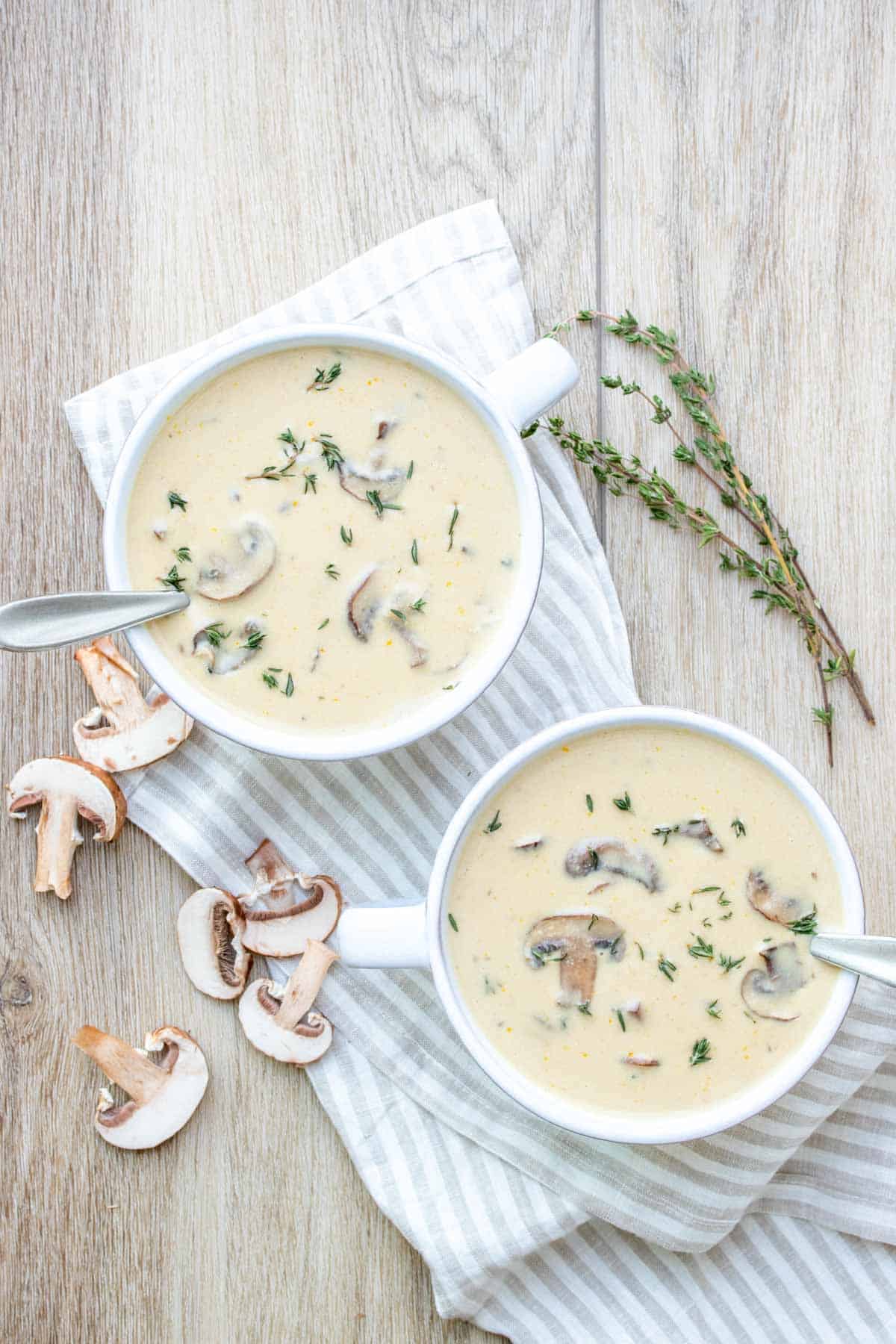 You seriously won't miss the chicken in this cozy classic. The comforting flavors are great for when you're feeling under the weather or anytime!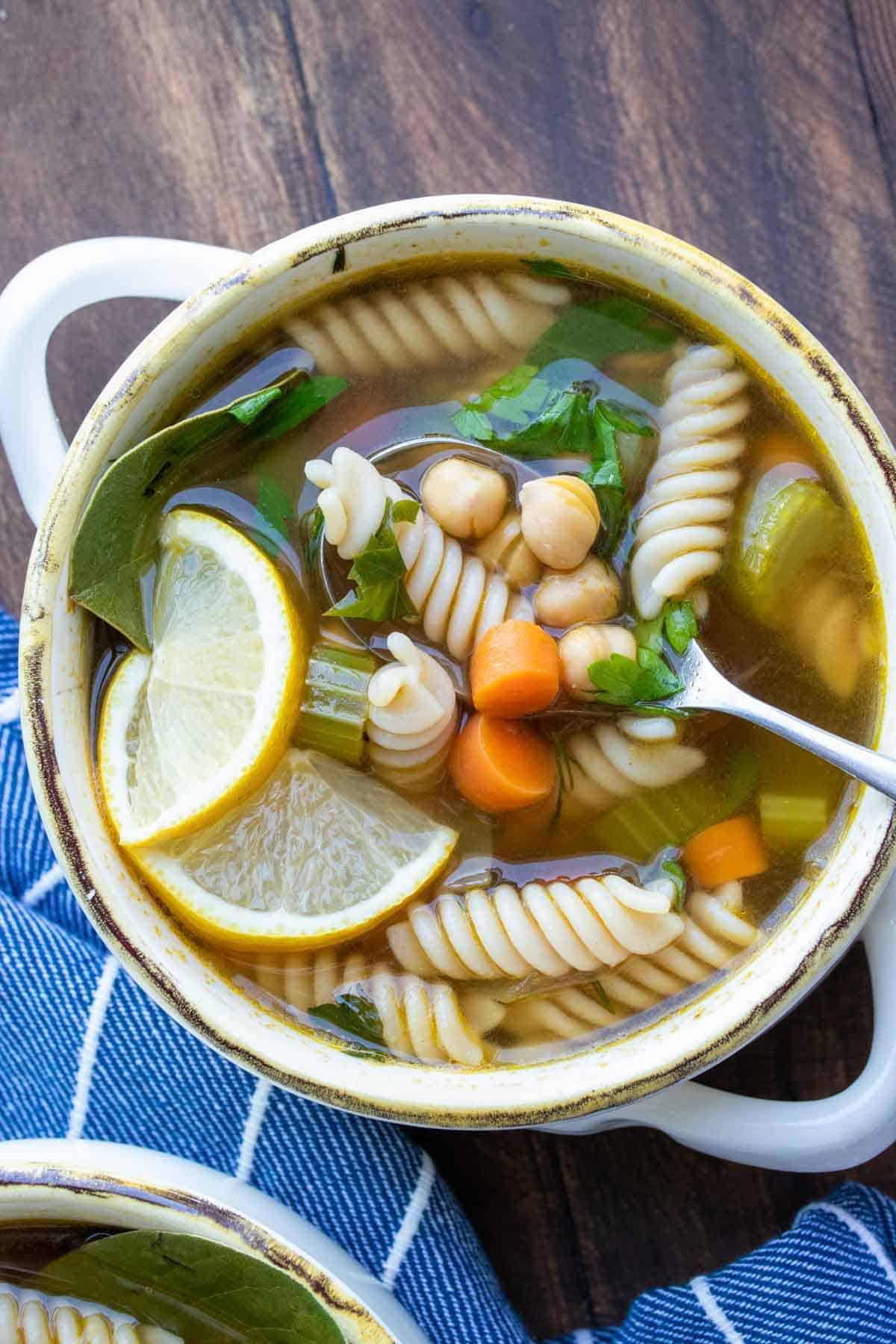 We all know how much I love tacos, so when all the best Mexican flavors are all in one hot bowl of soup I'm extra happy! Load it up with toppings for extra deliciousness.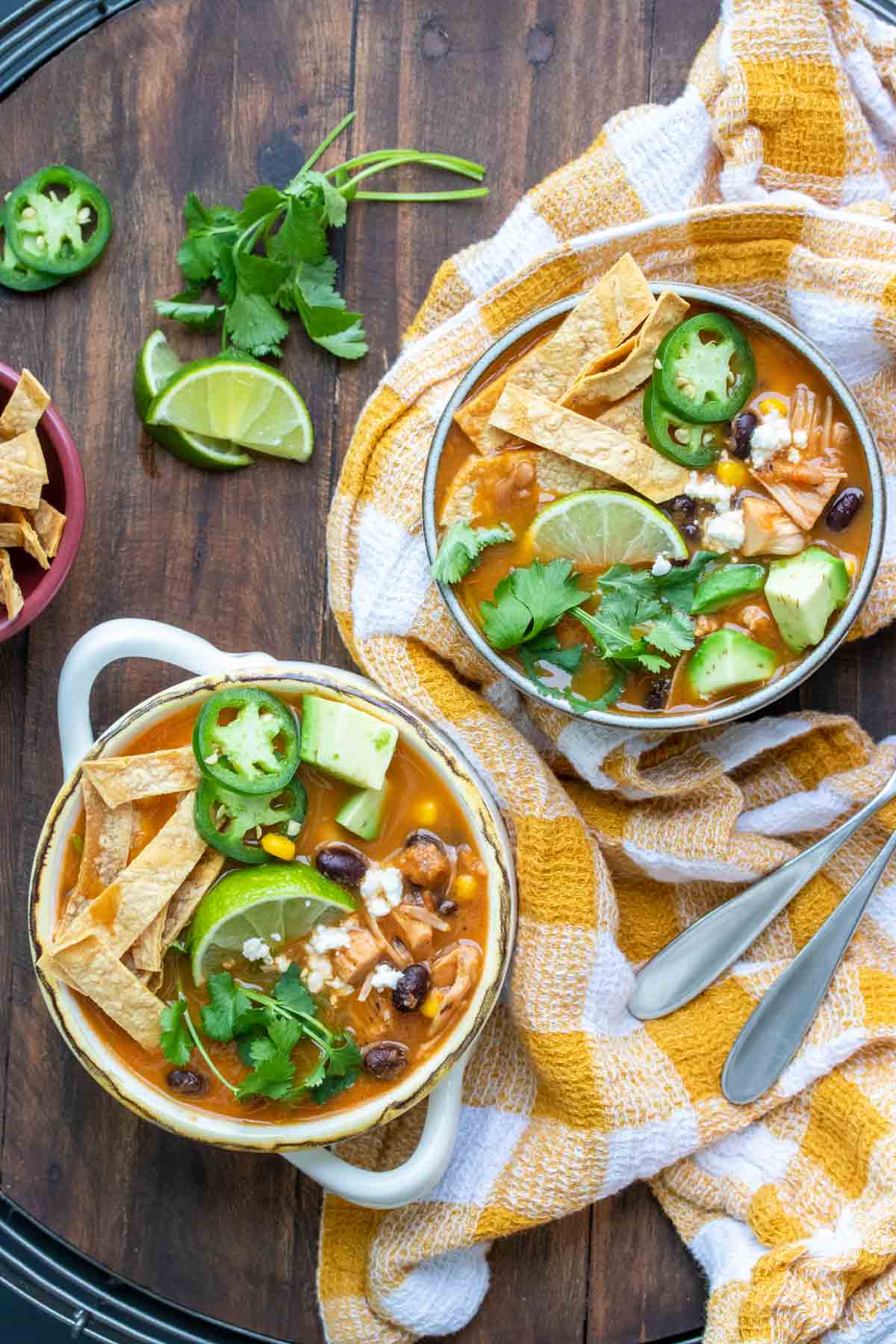 The best part of this creamy plant based soup is loading it up with toppings like a loaded baked potato! It's cozy, comforting, and filling without any blah feeling!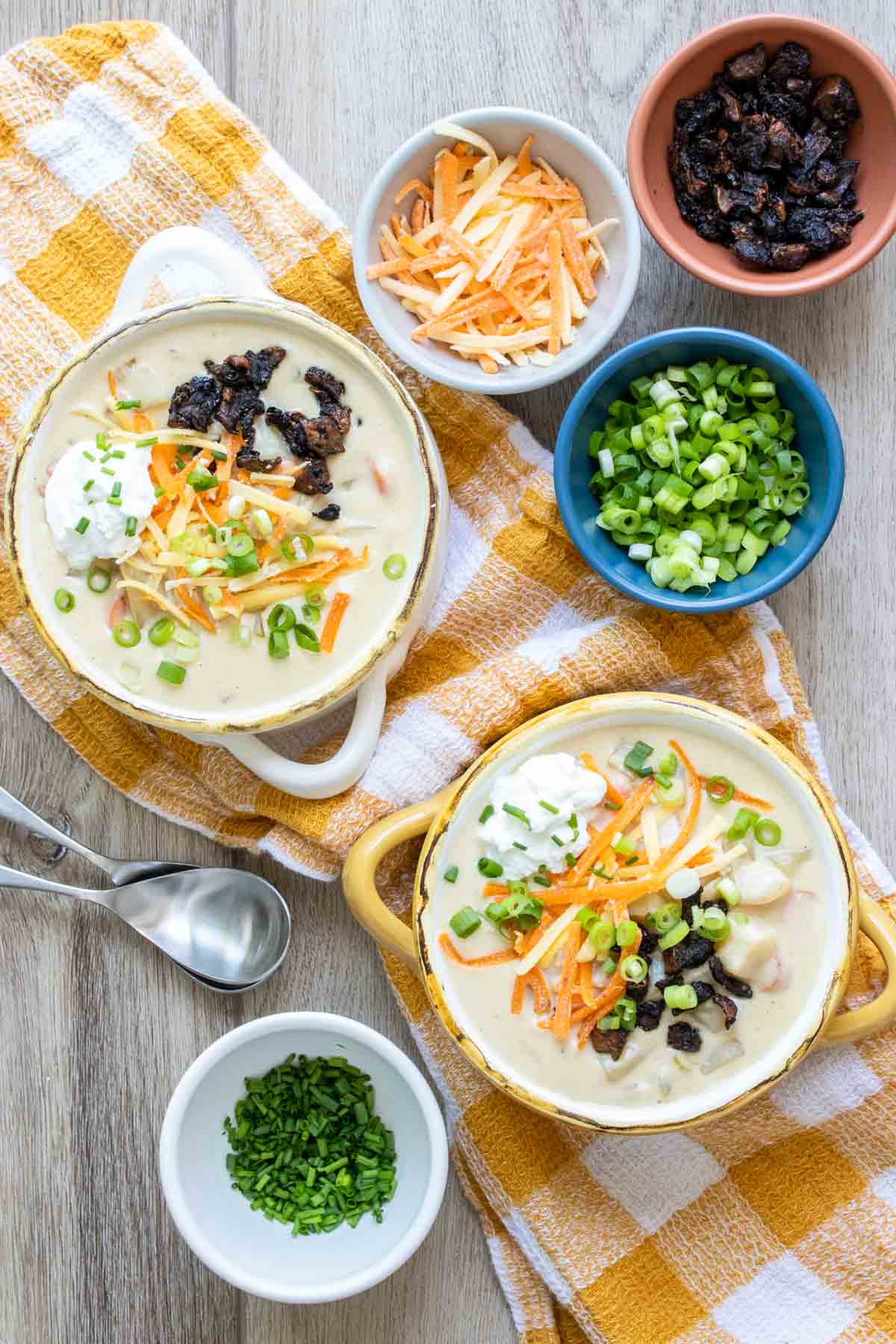 This is excellent all by itself, but it also makes a great side dish for tacos! Heck, even skip the spoon and eat it with tortilla chips!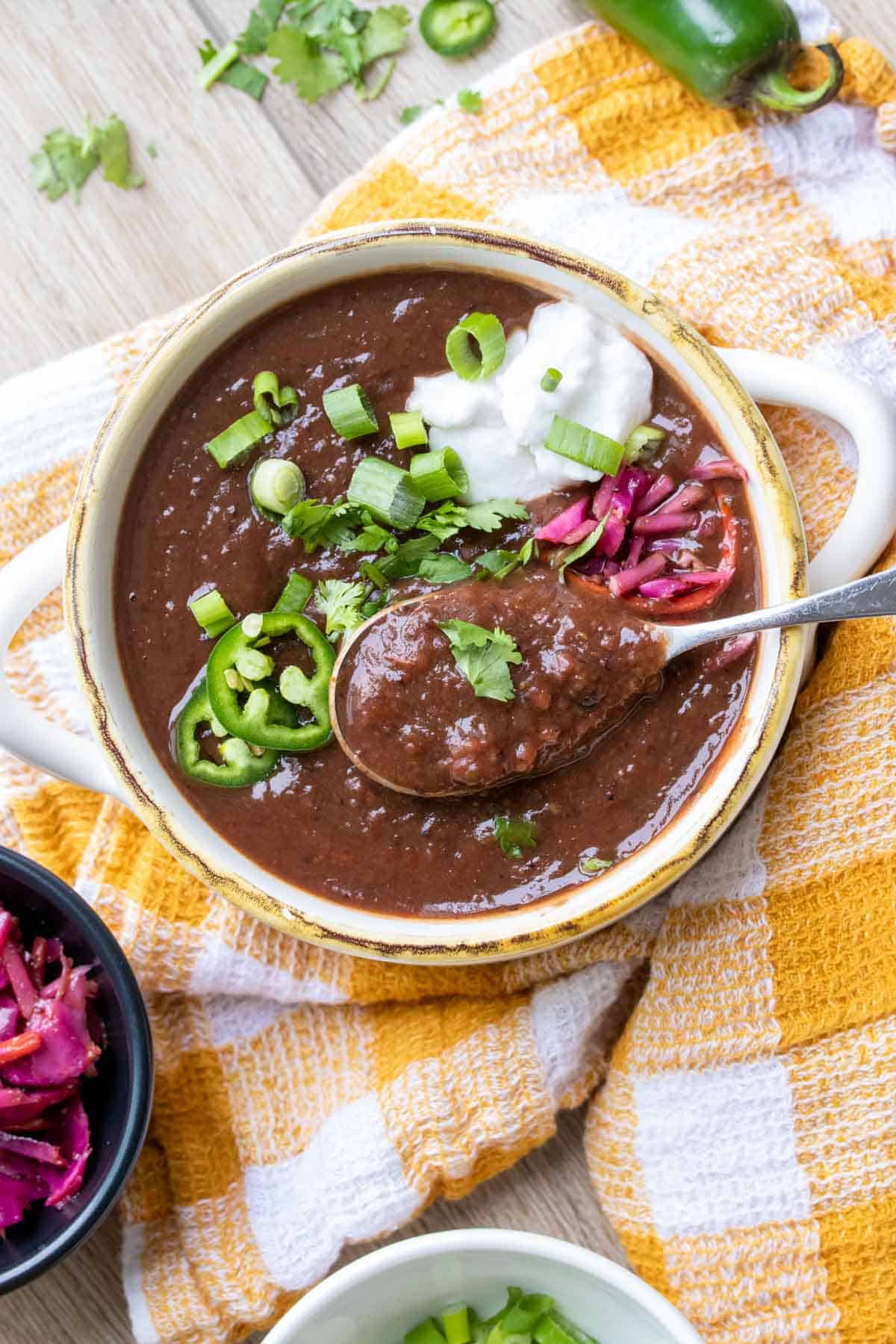 This classic Mexican comfort food gets a plant based makeover in this easy recipe. Prep extra because the leftovers are amazing!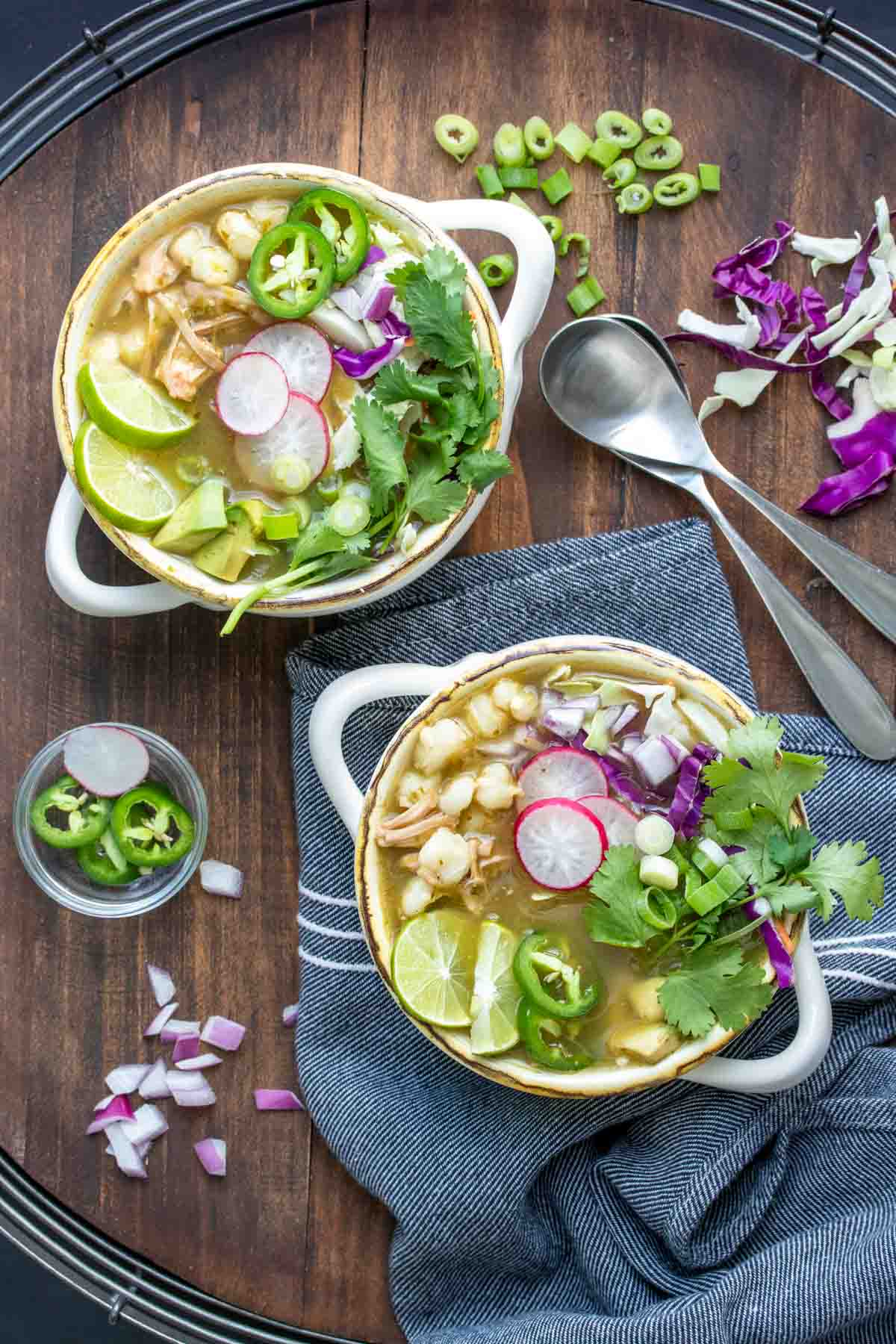 Creamy and dreamy, this vegan tomato soup is a staple in our house. Whether you enjoy it by itself or use it to dip gooey grilled cheese sandwiches, you can't go wrong!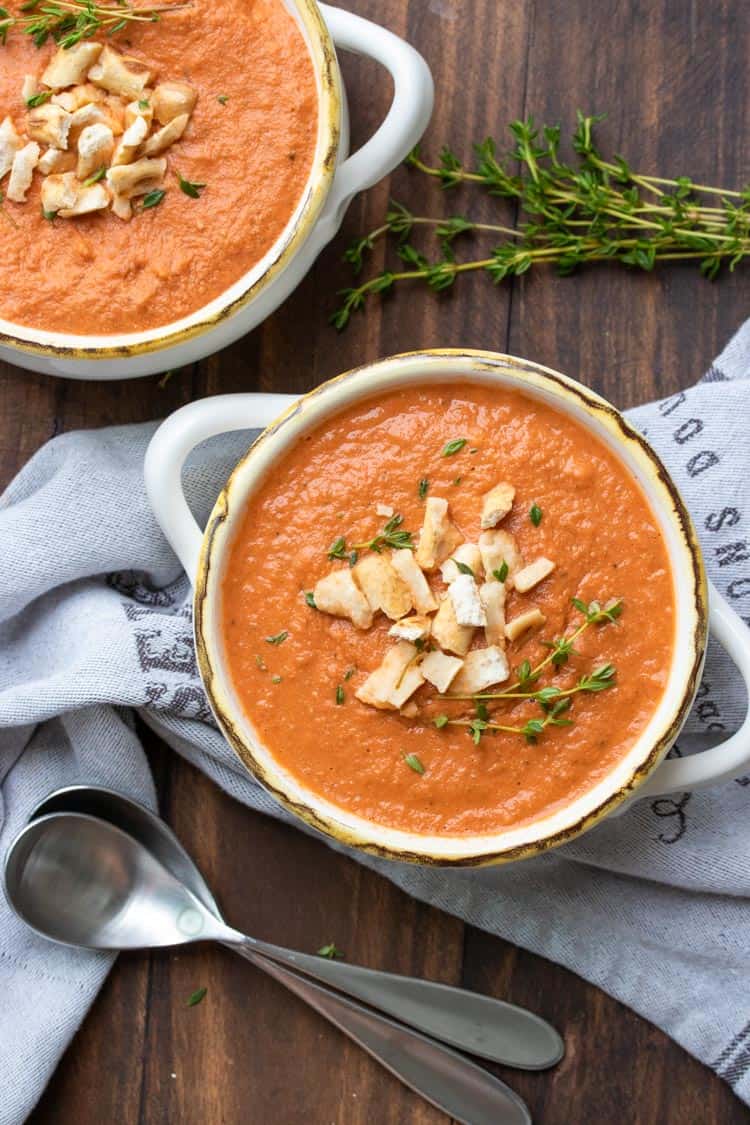 A filling, nutritious meal that my husband and kids love, AND it's made in one pot so easy cleanup? Count me in! This delicious soup is filled with pasta, beans, and veggies with tons of nutrients and protein!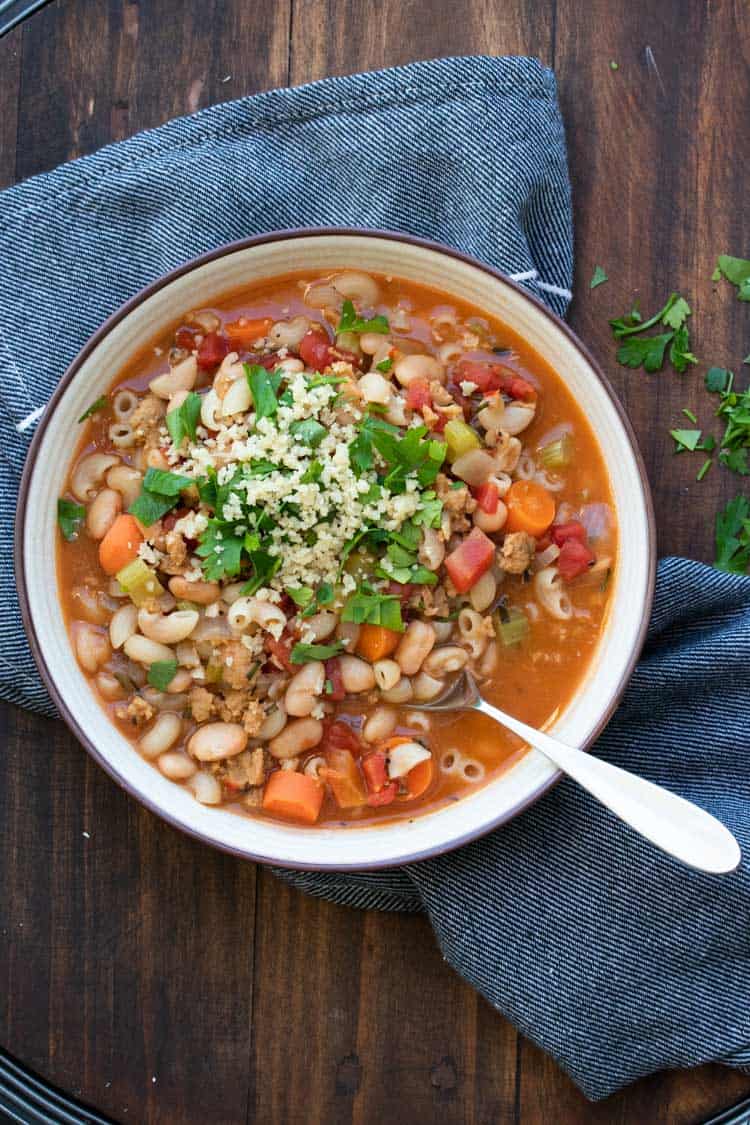 Miso Soup with Noodles and Veggies
Another versatile soup, this Miso soup can be made with a variety of ingredients! The best part of this wholesome soup? It's made in under 30 minutes!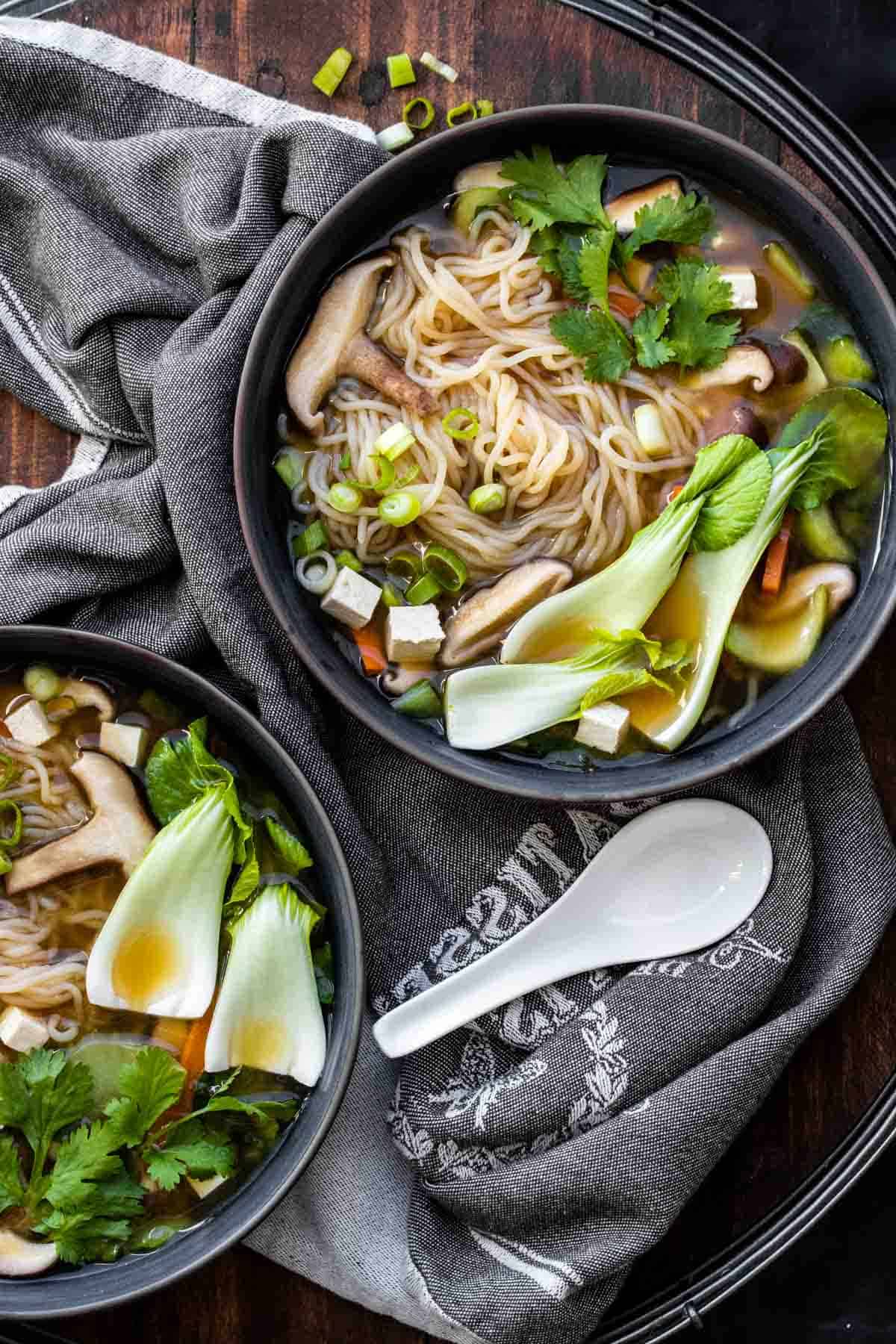 This minestrone soup is packed with veggies and is the perfect addition to your weekly dinners! Ready in under 30 minutes, low in cost, and you can use whatever veggies you have in the fridge so you're not wasting money throwing away spoiled produce.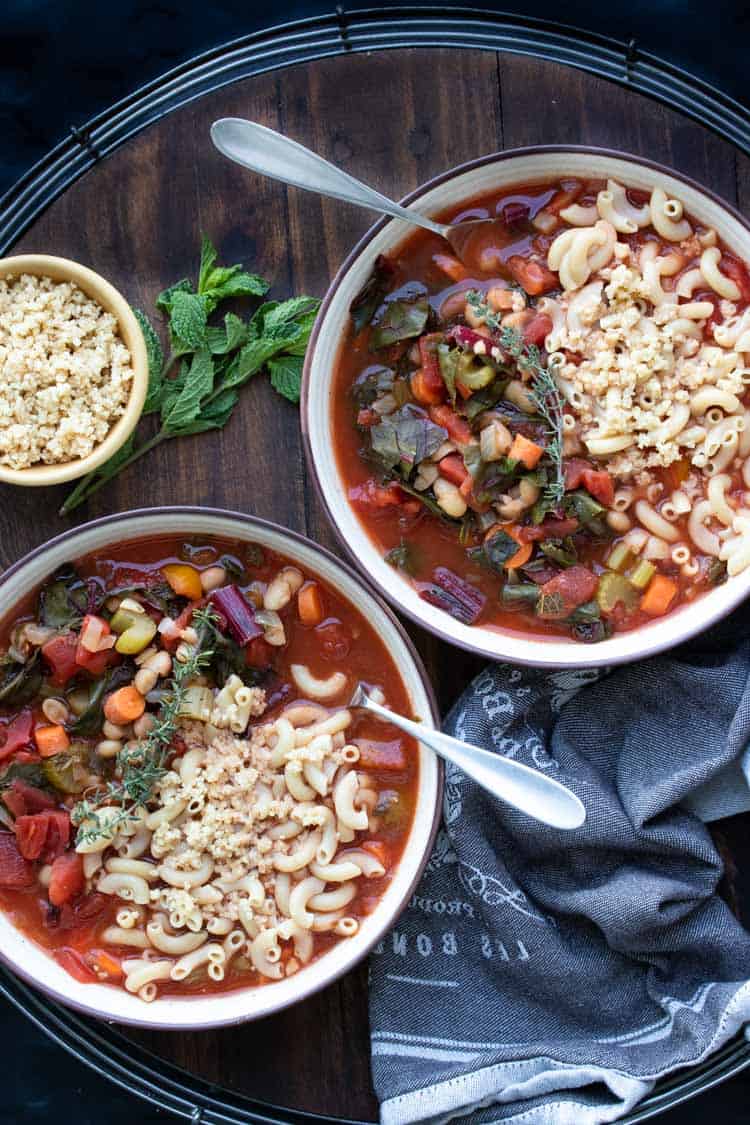 This vegan lentil stew is incredibly rich and creamy, perfect for cozying up with on a cold day. Plus, it's full of healthy ingredients and anti-inflammatory benefits!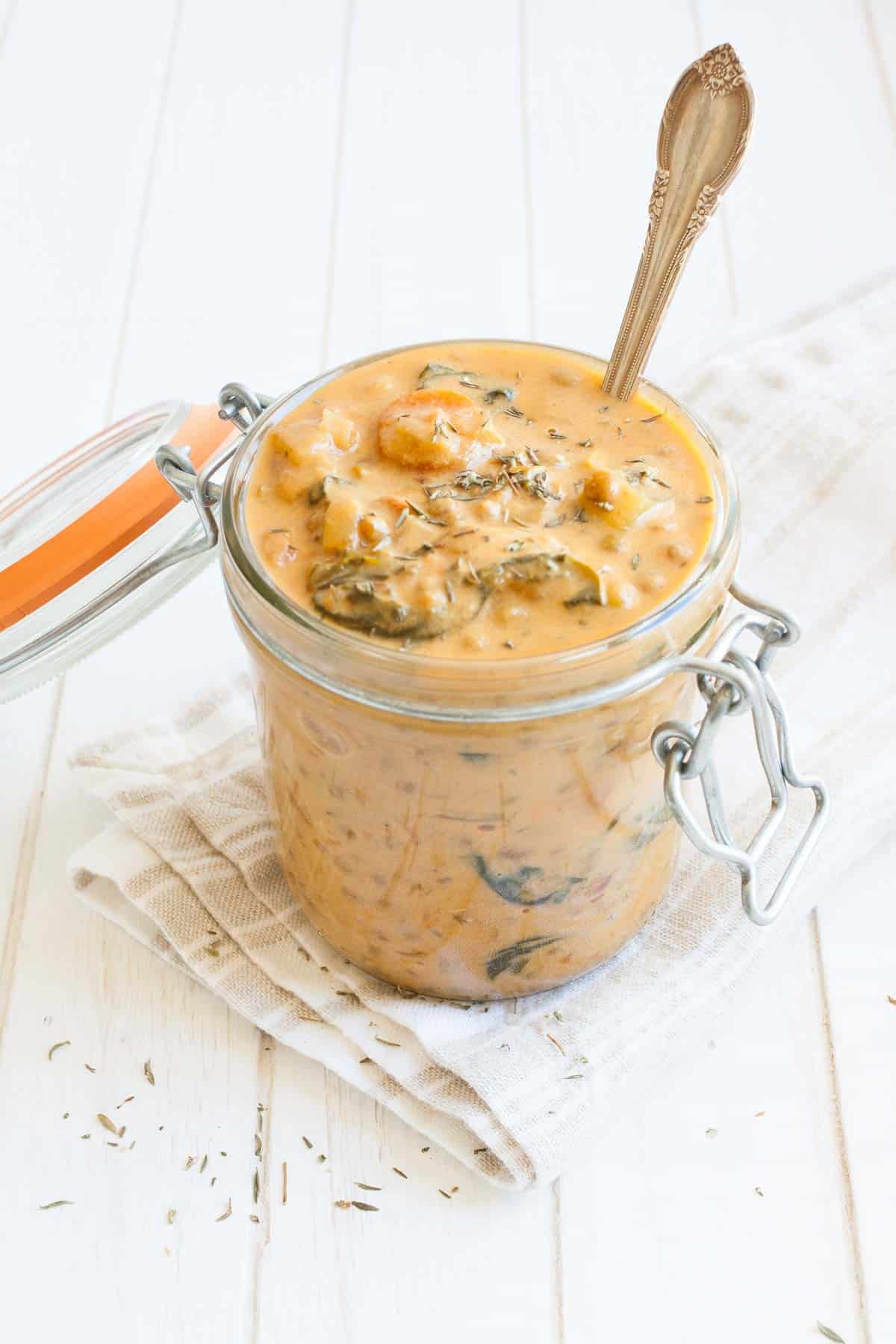 Instant Pot Smoky Kale and White Bean Soup
A meal with protein, greens, veggies and loads of flavor, what more could a busy person want? How about made in less than 30 minutes in your pressure cooker? I've got you covered with this mouthwatering soup!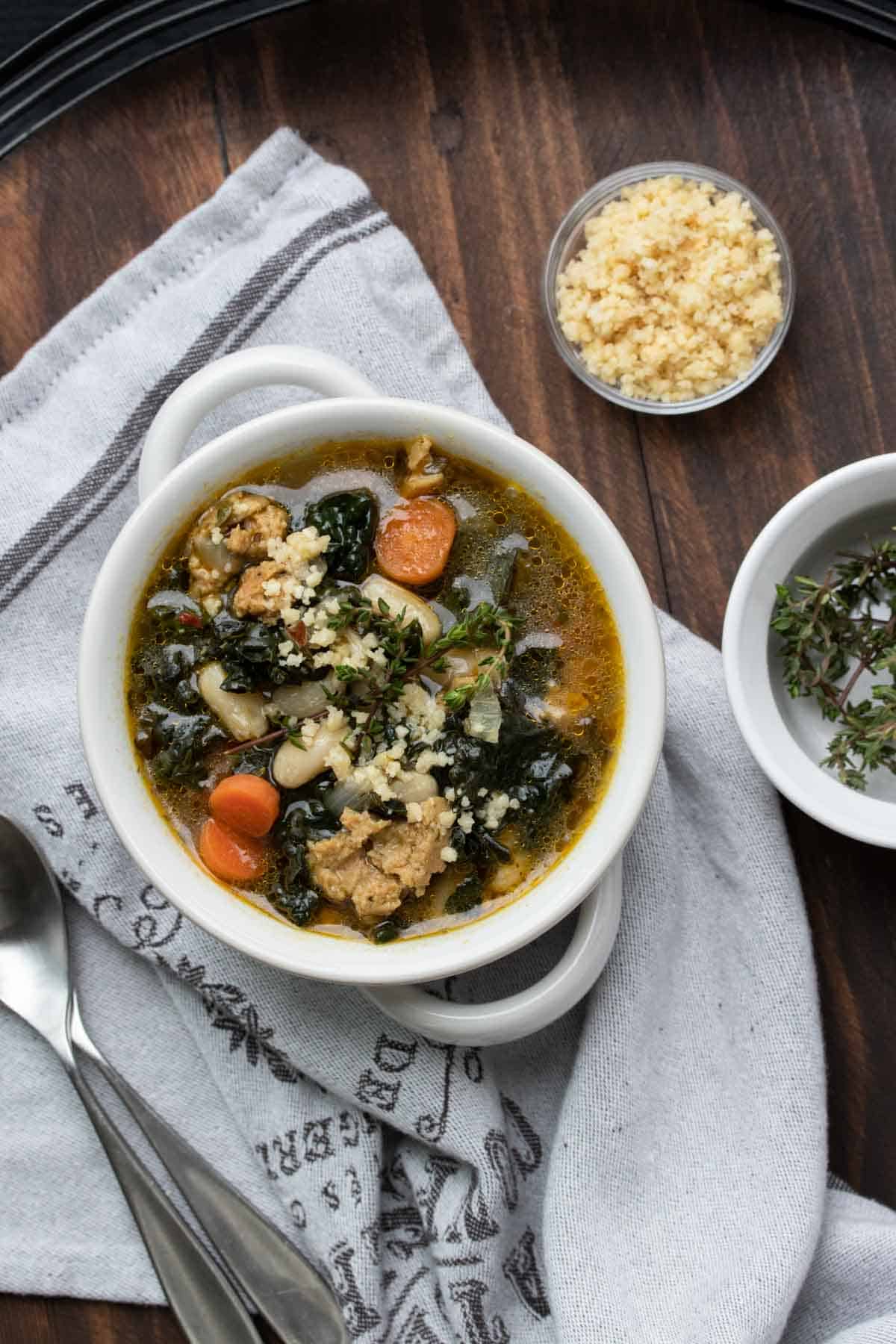 Vegan, healthy, incredible flavor, and ready in only 20 minutes. Seriously such an easy meal with hardly any effort at all! You'll definitely want to add this to your weekly menu rotation.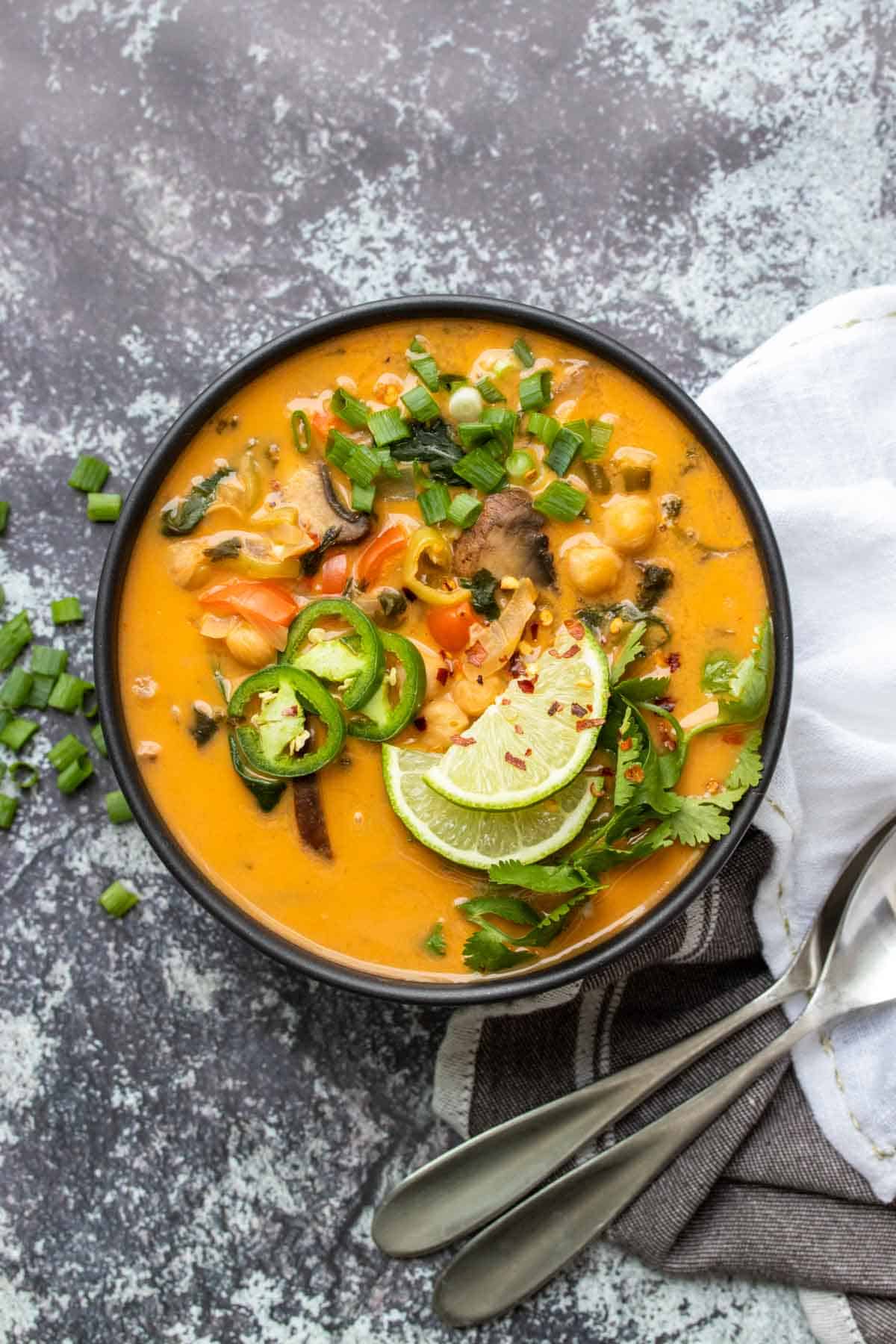 Thick and creamy, easy to make, and only uses 8 ingredients! Try topping this delicious soup with smoky garlic pumpkin seeds for an extra pop of flavor and crunch!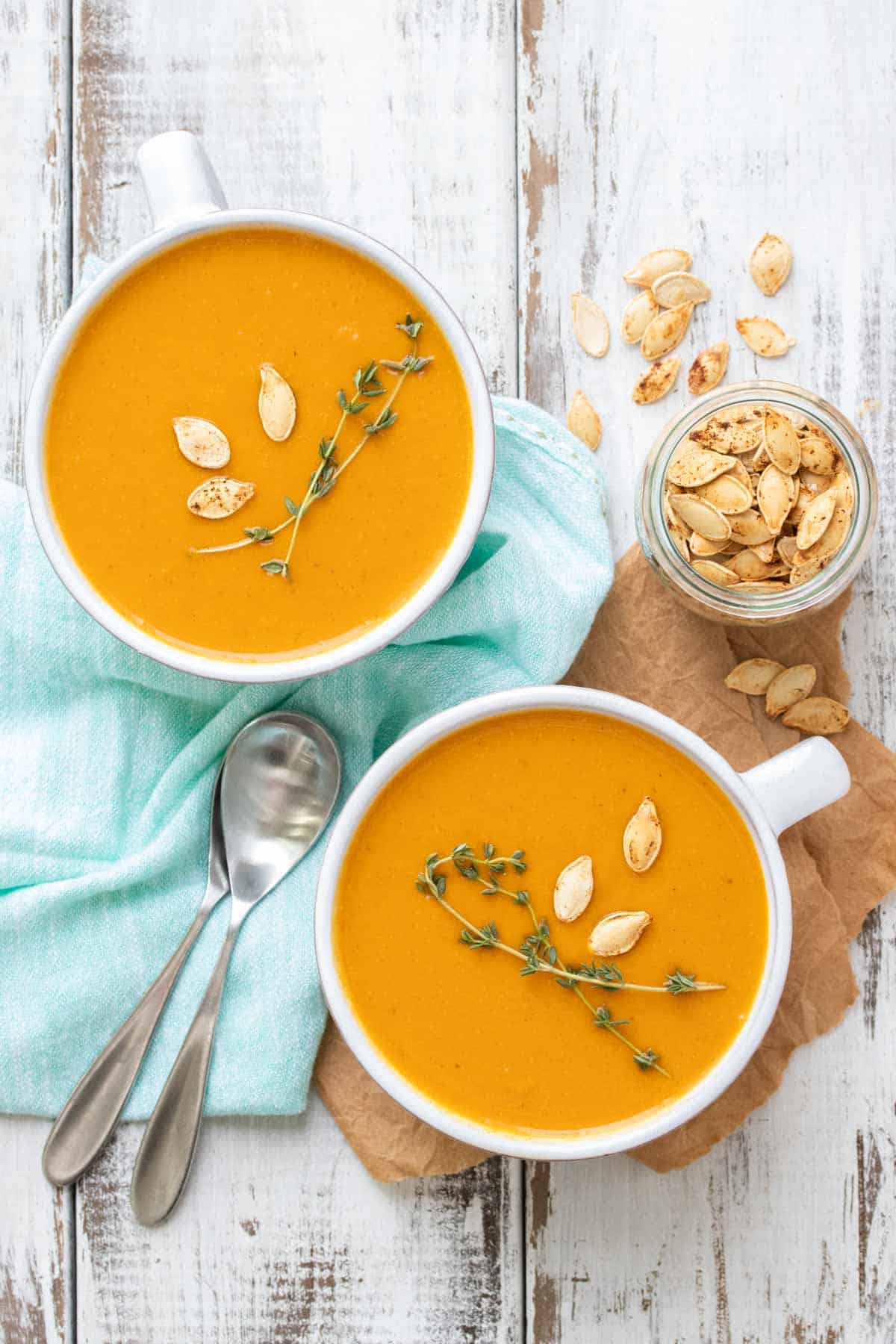 The Ultimate Creamy Winter Squash Soup
This is not your ordinary squash soup. The mix of flavors is seriously so unique and incredible! It brings comfort food and health food together into one satisfying meal.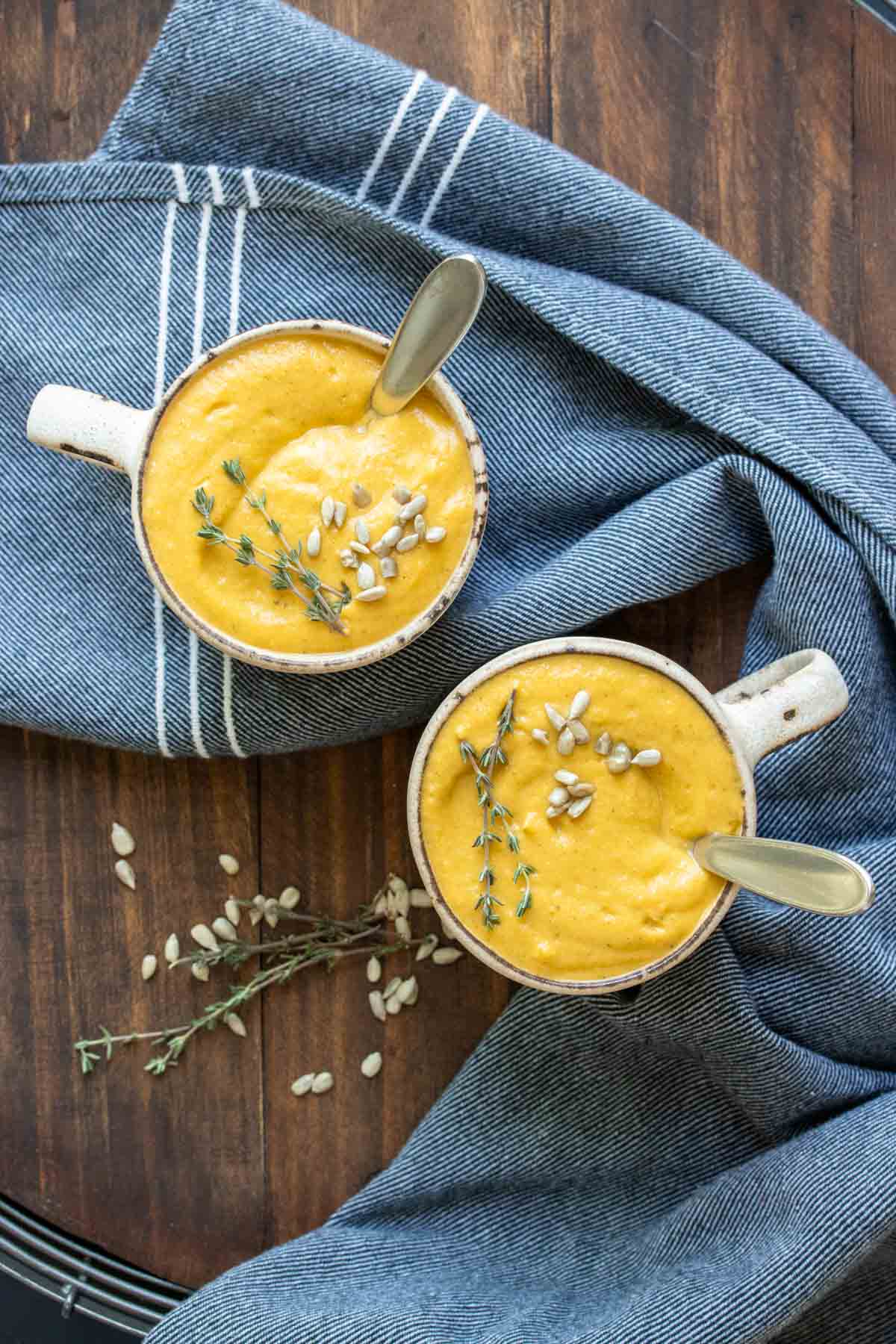 Mexican Tequila Lime Chickpea Soup
If you like tortilla soup, you're going to fall madly, deeply in love with this soup! The flavor is taken to the next level with tequila. It's easily made in just one pot for easy cleanup, and is packed with healthful ingredients.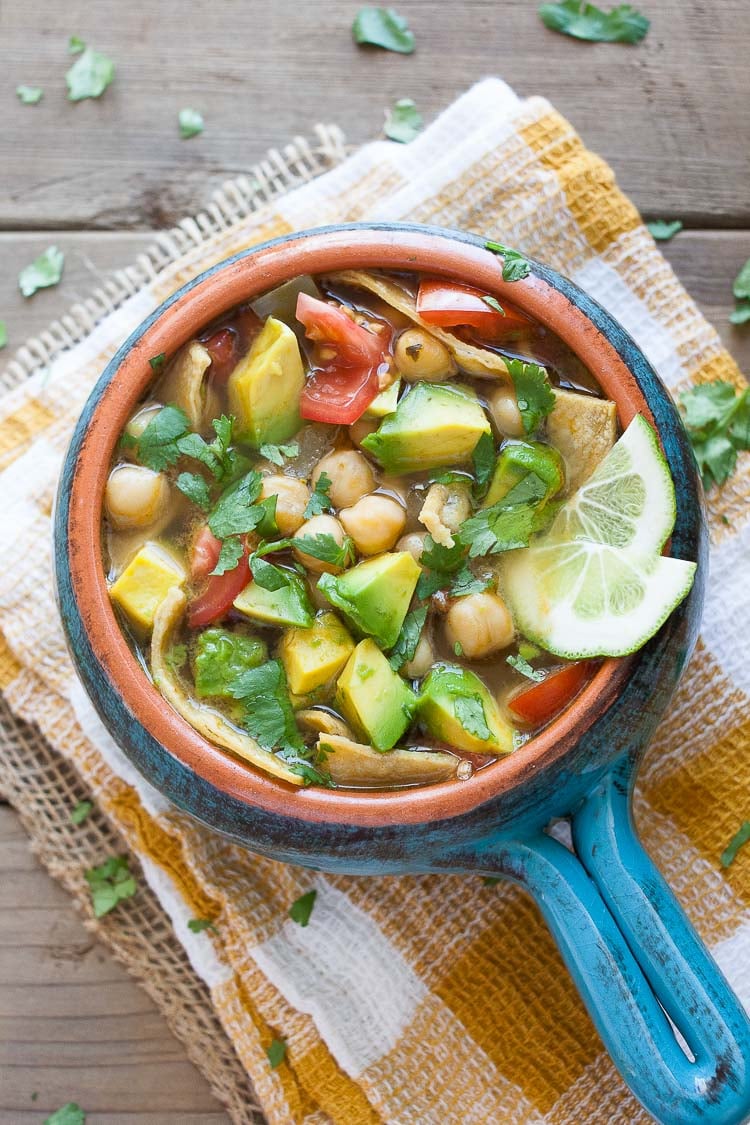 Greek Lentil Soup, or Fakes, is a favorite from my childhood, and now my kids love it as much as I do! It has simple yet incredible flavor, and is stacked full of protein, iron, and veggies!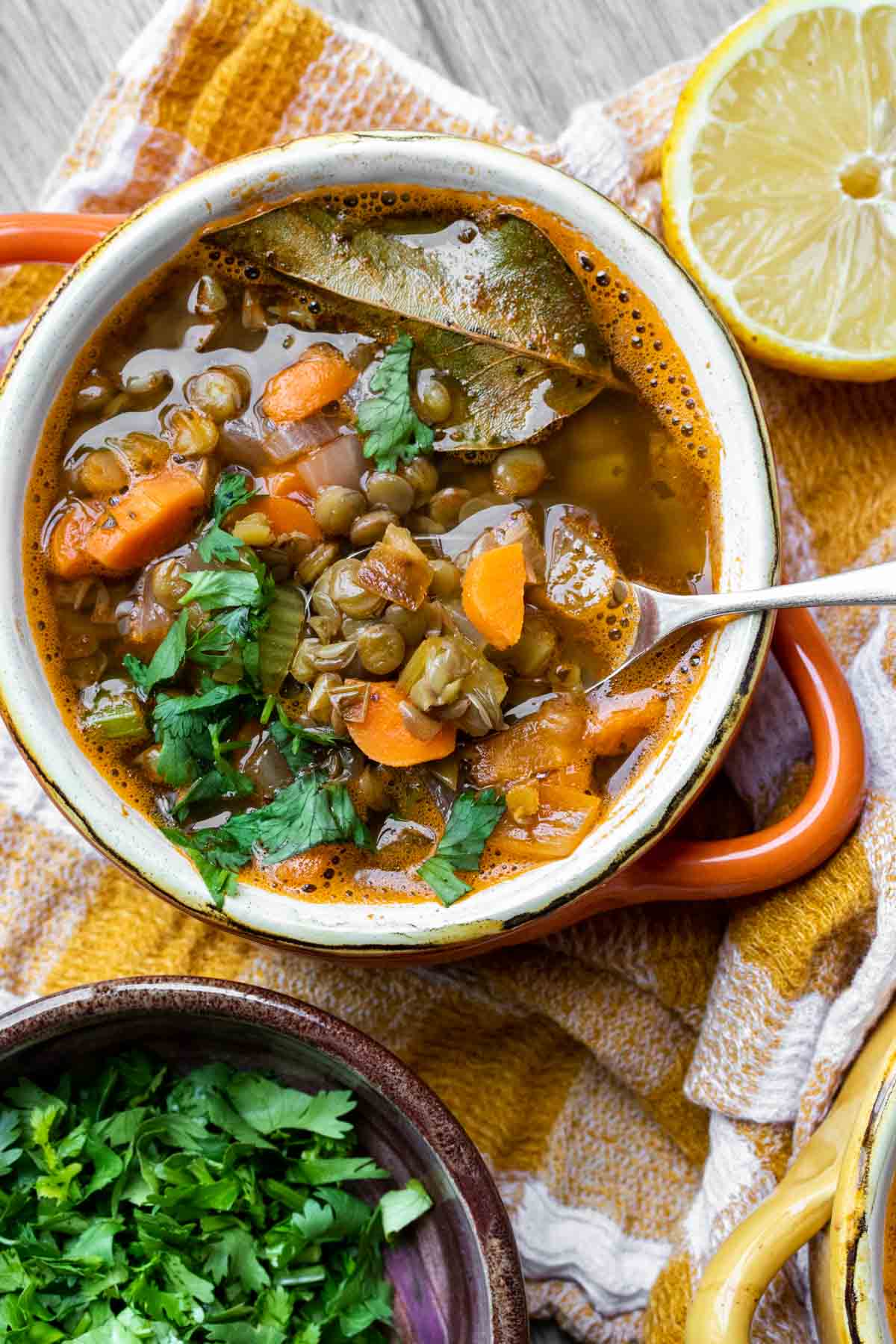 What to Serve with Soup
Soups are always great to pair with salads, sandwiches, or some yummy bread or rolls! Here are some of our plant based favorites:
Easy Ways to Veganize Soups
If you're trying to adjust your favorite recipes to be plant based, here are some easy ways to do so:
Many soups are made creamy with heavy cream or milk. Try subbing out for a dairy free milk.
Substitute chicken or beef broth for veggie broth.
You can thicken soups by blending in cooked potato.
Swap out cheese for vegan cheese alternatives.
Use jackfruit, chickpeas, tempeh, tofu, or your favorite meat substitute in place of poultry, pork, beef, or seafood.
More Soup Tips and Tricks
Soups are a great way to sneak in extra veggies! Adding spinach or kale is a popular way to get those extra greens.
You can blend any of these soups with an immersion blender to feed to your baby.
Kids still mastering the art of keeping clean while eating do best with thick soups. You can also drain extra broth out of chunky soups to make it less messy.
Let soups cool down before transferring them to storage containers.
Most soup can be sealed in airtight containers and refrigerated for 3 or more days, and frozen for up to 3 months.
Common Questions
Can you freeze vegan soup?
You can and definitely should! Having soups ready to go in the freezer is such a lifesaver on busy days. They're a complete and healthy meal. I like to pour the cooled soup in a freezer safe airtight container, but before sealing I add a layer of plastic wrap directly on the top of the soup to help prevent freezer burn. Most soups can be frozen for up to 3 months.
What soups are vegan?
All of the soups on this list are vegan, and essentially any soup can be made vegan. Swap out veggie broth for chicken or beef broth, use dairy free milk in place of cream, and load them up with veggies, beans, and lentils!