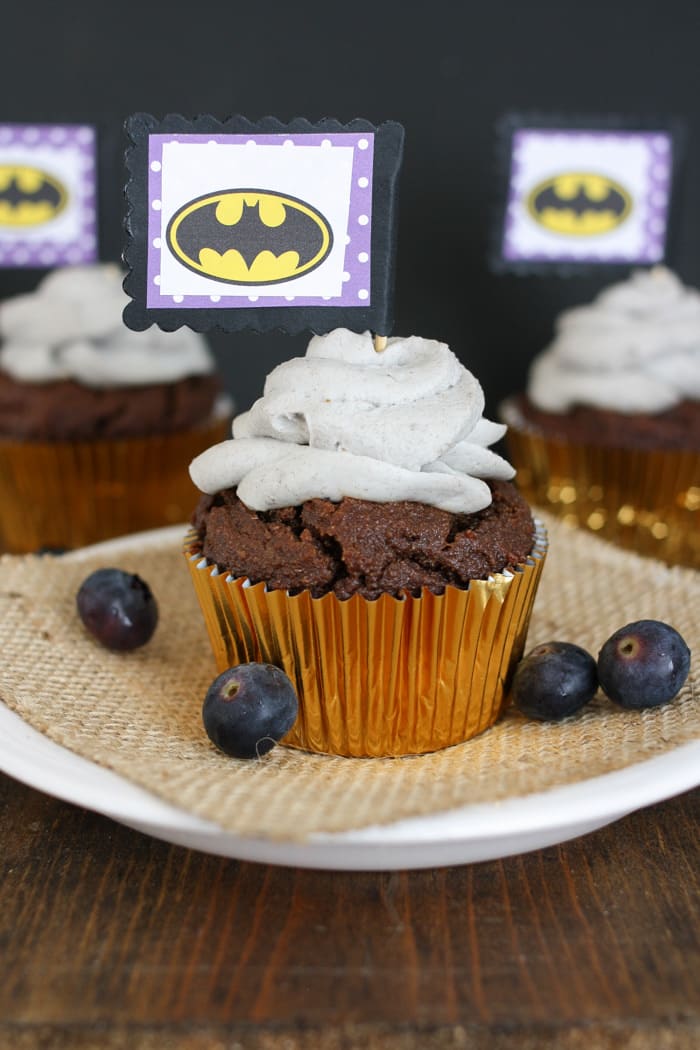 When I asked my soon-to-be three year old what he wanted the theme for his birthday party to be, he was very specific, "I want chocolate batman cupcakes wif just a wittle bit of puple." The kid knows what he wants, so mama needs to deliver! Because his party was a morning affair, I felt that I needed to create a cupcake that had some sort of healthy quality woven in. My date paste was the perfect solution to this problem. The last thing I wanted was 15 angry parents because their kids were hyped up on sugar and wouldn't go down for a nap…nor did I want mine to end up in that state. I'm eight months pregnant and after throwing a 3 year old birthday party, a nap was going to be a necessity! So off I went into the kitchen to please my son and figure out how to healthify his birthday treats…
The first order of business was to make sure that whatever I snuck in these cupcakes, no three year old could see it. I know my kids would eat anything…but they are weird. Most toddlers are extremely picky and any sight of something weird would have them throwing that cupcake before you even knew what was happening! On my side though was chocolate, so thank goodness he didn't request vanilla. I really wanted these to be cupcake like, moist and tender, not dense like a muffin. Since I already successfully created two other awesome soft and fluffy cupcakes, my Dark Chocolate Cupcakes with Salted Caramel Pretzel Frosting and my Pumpkin Molasses Cupcakes with Salted Caramel Frosting, I had an easy starting point. In fact, I decided to make life easy and start with the recipe for the dark chocolate ones. I loved the buttermilk I used to make them and the flavor was awesome, but I still needed to tweak them a bit so I could hide some sort of fruit or veggie inside. After some thinking, I decided to go with zucchini. Zucchini is a great mellow veggie and would add some moisture to the cupcake without taking over in flavor. Plus I could puree it enough so that the chocolate batter would disguise it's presence. Success indeed!! I altered some of the ingredients to account for the extra moisture and the cupcakes turned out amazing! Super moist and tender, soft and fluffy. The trial ones were devoured.
On to the frosting. My last two cupcakes both had a firmer type frosting based on coconut butter. Although I loved the result of both, this time I decided I wanted a light whipped and airy kind. Plus, my son wanted "Just a wittle bit of puple" in it. So I looked at my previous recipe and set off to try a few things. First trial was a failure…I used coconut butter like I had in my other recipes, and even though I reduced it by a ton, it wasn't as light and airy as I wanted. But I did need something to give the frosting structure, especially since I decided to color it with blueberry juice. After doing some thinking I realized that if I used really cold date paste, that was probably just enough to add the structure I needed. I was right!! And the best thing was that the frosting was made with only three ingredients, two of which are already in the cupcakes! Score! It turned out awesome, with the perfect consistency. The photos I took does not do the color of the frosting justice, it was a beautiful light purple, just the "wittle bit" my little guy wanted. You can easily make it darker by adding more blueberry juice. And how cool is it that these are naturally colored?! No nasty chemicals…
Speaking of cool, did you notice the adorable little Batman flags?? Yup, made them myself! Super easy and simple. I bought the black flags and purple polka dot paper at Micheals, then printed batman symbols for one side, and made a happy birthday sign for the other side. Cut everything out and glued it together…quick, easy and cheap way to give my little the Batman theme he wanted! Get in touch and I can email you my templates!
My little guy had THE best time at his party and was so excited for the Batman theme. Overall it was a huge success and all the parents said their kids had a great time. And everyone went home ready for naps, so success everywhere!
I always love comments on the blog if you try these, so make sure to let me know! You can also tag me on Instagram at veggiesdontbite #veggiesdontbite so I don't miss it! Hope you enjoy!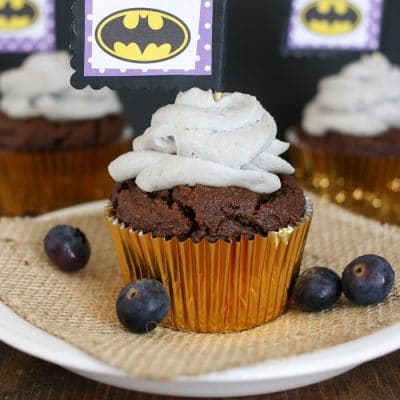 Dark Chocolate Zucchini Cupcakes with Whipped Frosting
Notes
Tender, moist and delicious cupcakes with hidden veggies. Perfect for a morning birthday party or anytime you want to sneak in some extra veggies! They will never know...not to mention that ALL natural colored light and airy whipped frosting. What?!
Ingredients:
Cupcakes:
Purple Whipped Frosting:
2 tablespoons very cold date paste
top cream layer of 1 can full fat coconut milk (stored in refrigerator for 2-3 days or freezer for 2-3 hours)
1-2 tablespoons juice from frozen blueberries (depending on how dark you want it)
note: I made many trials to get the consistency I wanted with these cupcakes, using a variety of flours that would make them nut free but still use a flour with some health benefits, along with being very soft, fluffy and moist. The measuring method I used was to spoon the flours into the measuring container then even it out with a knife. If you pack in the flour you may get a different result. Also, take note that the ingredients for the frosting, except the blueberry juice, are also in the cupcake recipe. Just measure out enough for both when measuring those ingredients. You can buy coconut butter or make it yourself by purely blending unsweetened, preferably not dehydrated, shredded or flaked coconut in a food processor or blender. It takes a while but will eventually turn into smooth coconut butter. There are many sources for directions online. The coconut milk I used was the Thai Kitchen brand. Although it has some guar gum in it, which isn't my favorite, it is high in fat and creamier than most other brands out there. Make sure the coconut milk and date paste are very cold for the whipped frosting. The very cold date paste helps maintain the structure of the frosting.
Instructions:
Preheat oven to 350. Mix together coconut milk and vinegar to allow it to settle into a buttermilk and set aside. Make date paste if you haven't, put 2 tablespoons in the freezer to get very cold for the frosting.
Combine flours, baking soda and salt in a bowl and set aside. Make sure you break up any clumps, using a whisk works well.
In a small bowl melt the dark chocolate with the coconut butter, making sure to melt slowly so you don't burn it, and mix well. If using the microwave, melt for 30 seconds, then in 10 second increments until fully melted. It took me about 45 seconds. Once melted, add it with the date paste into a large bowl and using a stand or hand mixer, whip until mixed well. Add in "buttermilk," zucchini and vanilla extract and whip again.
Using the paddle attachment on your stand mixer or a spoon, mix in dry ingredients putting in half first, then the rest. Make sure everything is combined well.
Place large spoonfuls of the batter into muffin tins lined with baking cups. Fill to just below the top of the cup. I use foil baking cups as they don't stick like paper does. I also smoothed the batter down on the top by using a moistened finger, this helps them rise evenly as they bake.
Bake at 350 for 21 minutes. Depending on your oven, your baking time may vary by a minute or two. Start checking them at 17 minutes and take out when the tops begin to get firm and have a spring to the touch. Let cool in the muffin tins for about 10 minutes. Once cool to the touch, remove and continue cooling on racks until completely cool, about an hour.
While cupcakes are baking, take about ½ cup frozen blueberries and defrost enough to be able to squeeze the juice out of them. You still want them cold, if they are warm it will affect the structure of the frosting. If you accidentally get them too warm, just put the juice in the freezer to get cold before putting it in the frosting. Make frosting by placing all ingredients into a large bowl and whipping well using stand or hand mixer. Keep whipping until light and fluffy. The frosting will come out best if both the coconut cream and date paste are very cold. A few hours in the freezer works best. You want it just before it freezes.
After cupcakes are cooled, put frosting in a plastic bag, cut off a bit of the corner and squeeze out to frost each cupcake. Enjoy! It's best to frost right before you eat them because the frosting will soften if it's too warm outside. If storing, store in the fridge to maintain the frosting.
Recipe by Veggies Don't Bite, visit our site for more great plant-based recipes.
Nutrition and metric information should be considered an estimate.