So many options when making a healthy Buddha bowl. Fill it with greens, roasted sweet potatoes, crispy chickpeas then drizzle on sauce for meal perfection!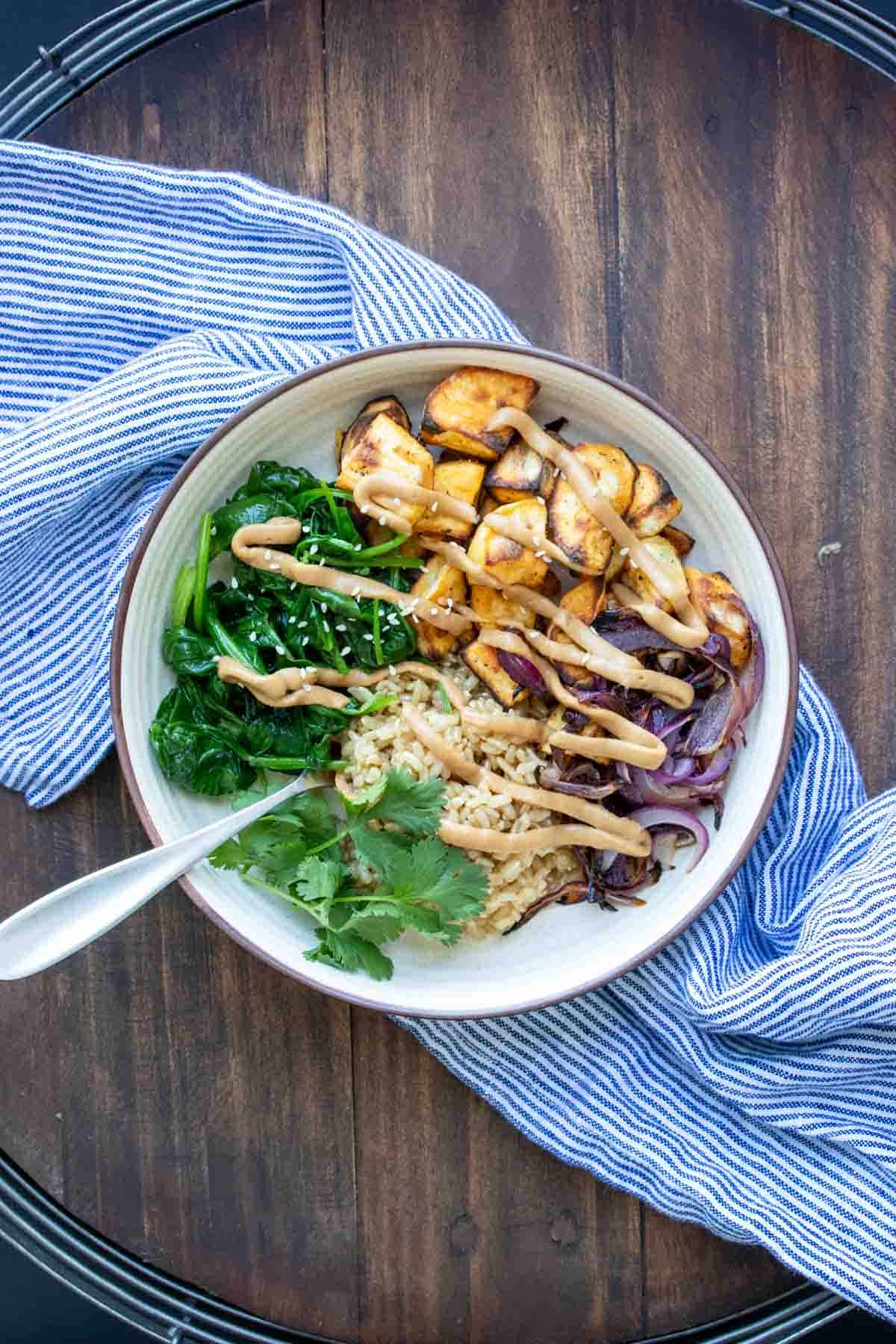 This is a sponsored conversation written by me on behalf of NOW Foods. The opinions and text are all mine.
Making component meals is one of my favorite ways to make dinner my whole family will eat. Buddha bowls and macro bowls are the perfect way to build your own bowl, assuring everyone will be happy!
Ingredients
These healthy wholesome bowls are a great way to feed your family. They can be made in a variety of ways, and filled with things you love. They are based on a few simple components:
Grains
Veggies and greens
Protein like beans and tofu
Toppings like dressings, nuts and seeds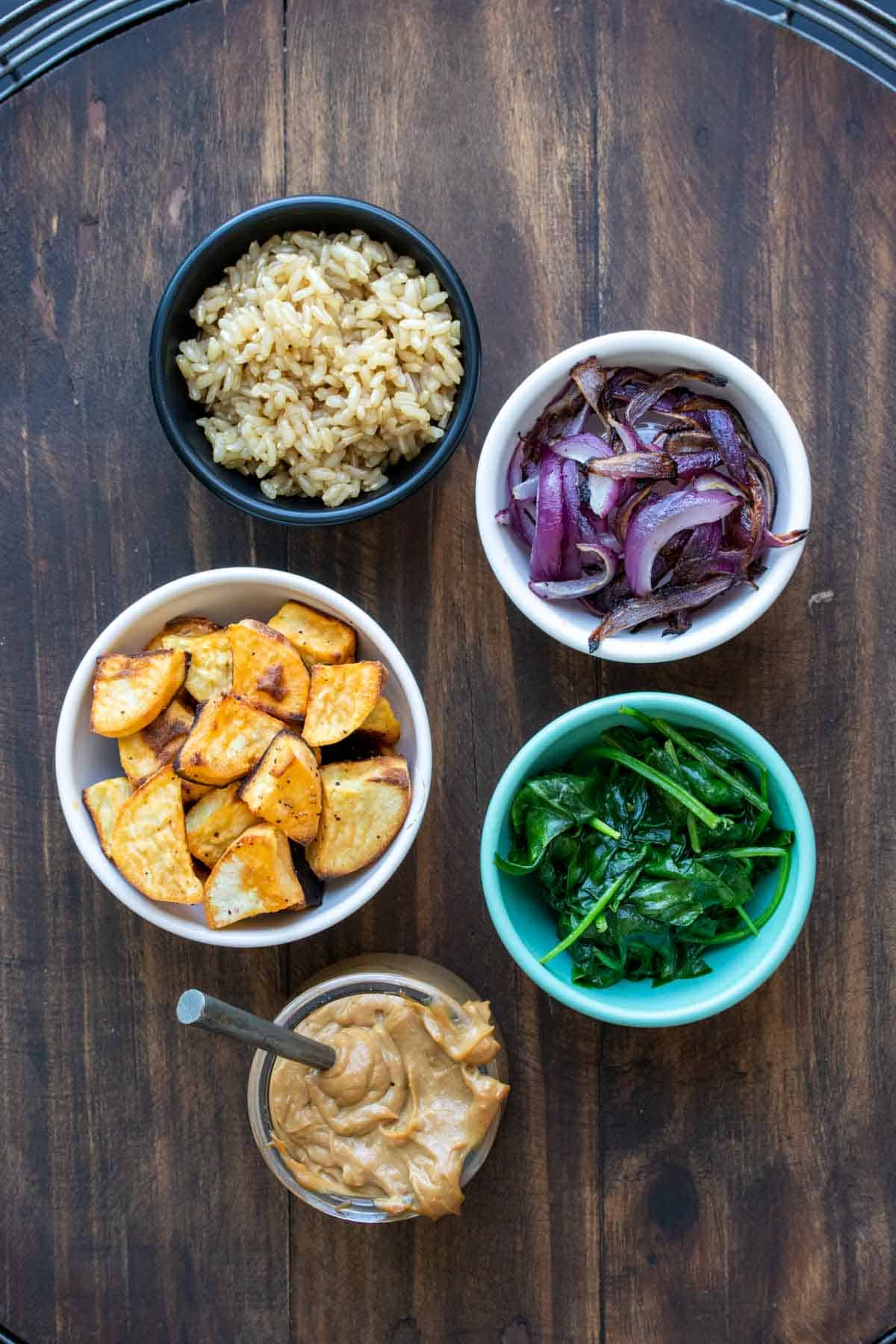 The grains
These are the base of a Buddha bowl. There are so many options when it comes to healthy whole grains. Here are some of our favorite:
Rice- we love brown, black and wild rice
Quinoa
Farro- this is not gluten-free so skip if you can't eat gluten
Barley
Buckwheat
Millet
Wheat berries- this is not gluten-free so skip if you can't eat gluten
Rye berries- this is not gluten-free so skip if you can't eat gluten
I like to make a big batch of grains to use throughout the week, as it can last a good 5-6 days. You can make it yourself, see my posts on how to cook rice and how to cook quinoa, or you can buy frozen or precooked at the store.
The veggies and greens
The thing I love about Buddha bowls is that you can do them very inexpensive by buying in bulk and using in season produce. When you shop for the season, the produce is cheaper as it's more easily available.
I love to include both some kind of sautéed green in my Buddha bowls, check out my perfect sautéed spinach, but also other roasted veggies. Like grains, I make my roasted veggies in bulk and use them throughout the week.
You can also roasted different combinations together so that you can change up the flavor but also not have to roast each type of veggie on it's own. Here are some veggies we love in our Buddha bowls:
Spinach
Chard
Kale
Cabbage
Sweet potato
Mushrooms
Zuchhini and squash
Eggplant
Onions
Garlic
Peppers
Cauliflower
Broccoli
Radishes
The protein
I try and make sure all of our meals include veggies along with the major nutrients we need, carbs, fat and protein. When it comes to protein, there are some plant-based options we love.
You can either add the protein plain, since a good sauce over the top is a must in my book, or you can add some flavor.
I love to make crispy chickpeas with spices and seasonings. Grab my free one page guide below for how to do this and ideas for flavors!
If you're making tempeh or tofu, marinating it overnight will help add some great flavor. You can also just bake in the oven with your sauce of choice. This crispy tofu recipe is one of our favorites. We also love making this Greek gyro recipe that uses tempeh and putting it in our Buddha bowls.
Sauces and toppings
This is my favorite part of a Buddha bowl! I am a sauce queen and literally cannot get enough. I create them weekly, and have so many options on my website.
But this new sauce has got to top the list. The base is made with this flavored cashew butter by Now Foods, the Nutty Infusions™ Ginger Wasabi nut butter from NOW®Infusions.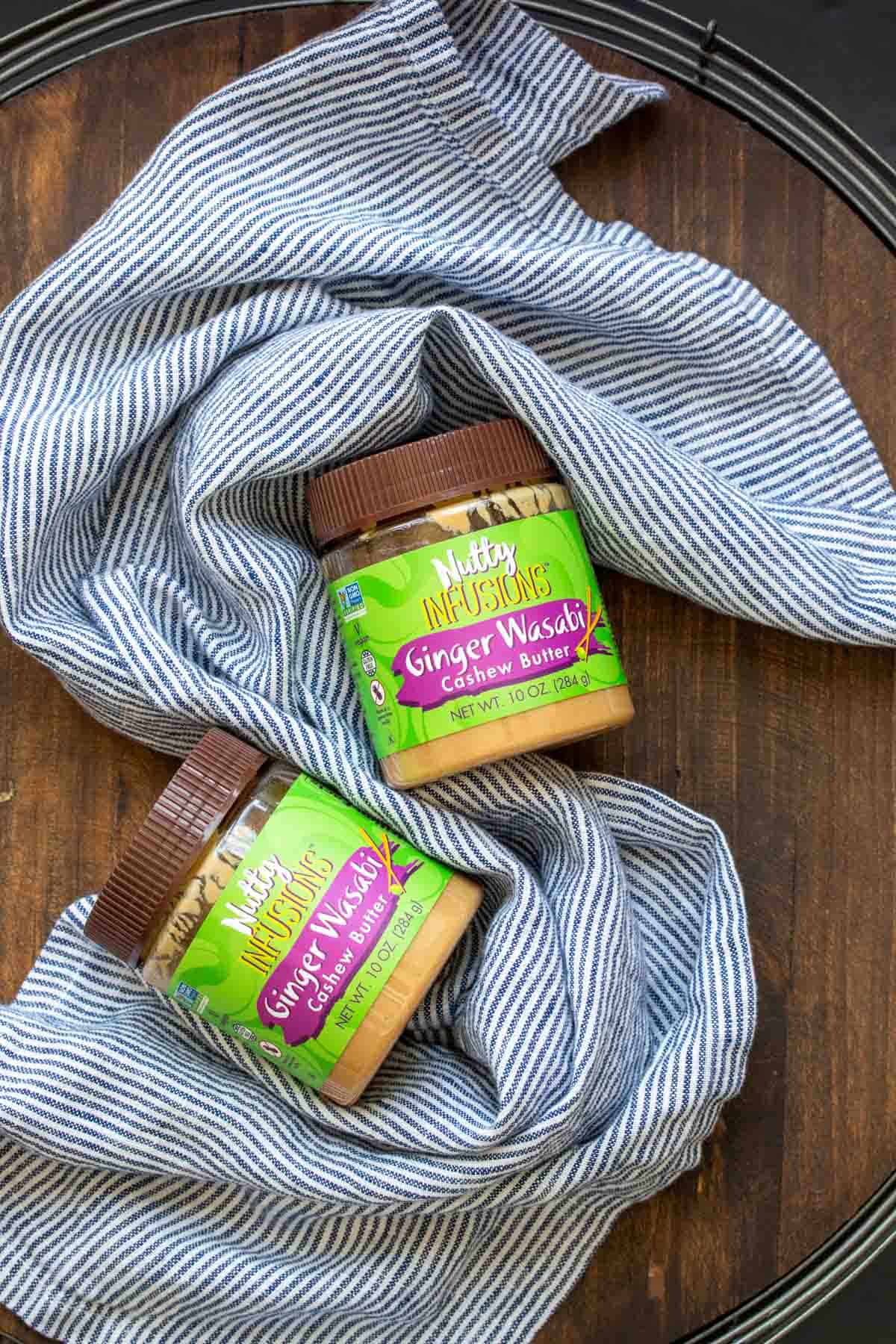 The cashew base is nice and neutral, and makes room for the spicy but not overwhelming infused flavor. It's easy to make by whisking all the ingredients together and a perfect sauce addition to the bowl. Plus it pairs well with so many veggie combos!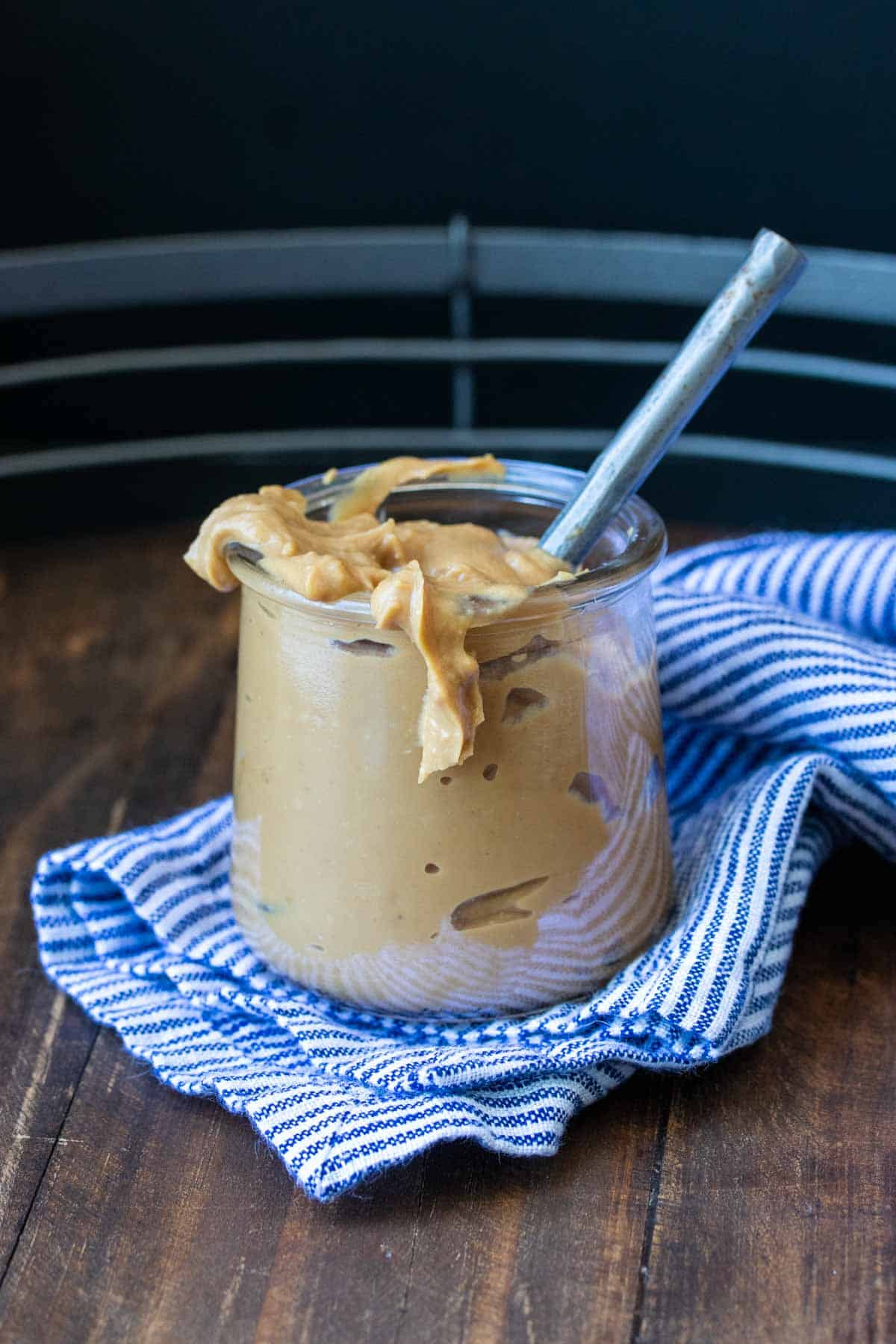 You can also toss the veggie in the sauce and roast them, use it to marinate tofu or tempeh before you bake it and even coat the beans in it to make crispy chickpeas.
Here are some other sauce and topping ideas:
Sunflower seeds
Pumpkin seeds
Sesame seeds
Toasted almonds
Pine nuts
Walnuts
Fresh herbs
Sprouts
How To Make a Buddha Bowl
Once you have decided on the ingredients you want to use, it's really easy to put the bowl together. I like to have my veggies and greens be about half of my bowl, with the other half split even between my grains and protein.
I also like a heavy dose of sauce. Especially if I am going simple with the veggies and protein.
Make your sauce of choice.
Roast your veggies.
Make your grains.
If adding protein, make your protein of choice.
Add the ingredients together in a bowl and enjoy!
Buddha bowl combinations
While you can mix and match just about anything, here are some flavor combos we have tried and loved:
A few other bowls I have on the site are:
Common Questions
What makes it a Buddha Bowl?
The name Buddha bowl come from the bowl being packed high with all the whole some ingredients looking like Buddha's belly.
How long do Buddha Bowls last in fridge?
I would suggest making the parts and storing them separately, then mixing them in bowls fresh when you are ready to eat. The ingredients are good in the fridge for about 5-7 days depending on what they are.
Are Buddha Bowls healthy?
Yes! The base of a Buddha bowl is grains, veggies and protein. All healthy parts of a well balanced meal!
Is a Buddha bowl a salad?
A salad is a little different as the base is usually a large amount of fresh greens, where a Buddha bowl is more an equal proportion of grains, veggies and protein.
How do you eat a Buddha Bowl?
Since it is served piled high in a bowl, you eat it with a fork like you would a salad.
What if I forget to soak the chickpeas?
You can always use the quick soak method if you forget. Learn how to quick soak in this post all about cooking dried chickpeas.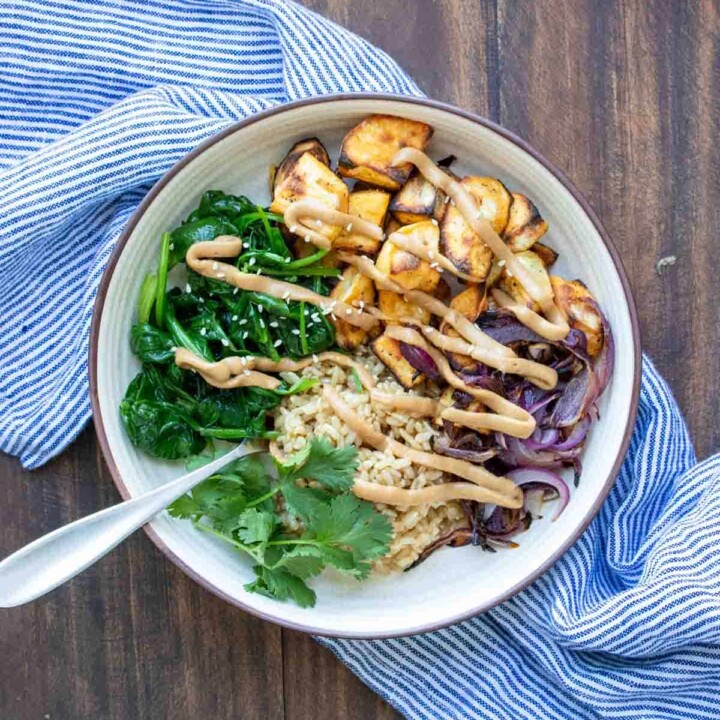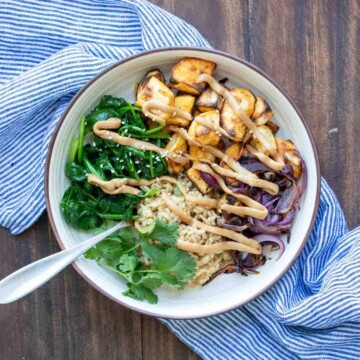 Healthy Buddha Bowl Recipe Ideas
So many options when making a healthy Buddha bowl. Fill it with greens, roasted sweet potatoes, crispy chickpeas then drizzle on sauce for meal perfection!
Ingredients
1 cup cooked brown rice , can sub with grain of choice
1 cup cut sweet potato
½ pound fresh spinach
½ cup sliced red onion
Drizzle of oil for roasting/sautéing , or broth if oil free
Pinch of sea salt , optional
Crispy chickpeas , optional for extra protein
6 tablespoons Creamy Ginger Cashew Sauce , see recipe
Creamy Ginger Cashew Sauce:
Instructions
If your rice isn't cooked yet, put it on the stove so it can cook while you prepare the other parts.

Preheat the oven to 450 F/ 230 C

Add the potato and red onion to a parchment lined baking sheet. Drizzle with oil or broth and pinch of salt, if using. You can also add chickpeas if using. I like to keep all thing separate on the baking sheet.

Bake for 30 minutes. Take out the onion at about 15 minutes if you like it on the less cooked side.

Meanwhile, sauté the spinach with the oil/broth until wilted. About 3-4 minutes.

Then make sauce by adding all ingredients into a small pot and whisking over low heat until mixed and thickened. About 2-3 minutes.

Add the rice to the bottom of a bowl. Top with veggies and chickpeas, if using. Drizzle with sauce and devour!
Notes
Sauce makes about ¾ cup. Save the rest to use as a dip or with another meal.
You can also use another nut butter but the flavor will change slightly.
Mix and match ingredients however you want.
Recipe by Veggies Don't Bite, visit our site for more great plant-based recipes.
Nutrition
Calories: 325kcalCarbohydrates: 54gProtein: 10gFat: 9gSaturated Fat: 2gPolyunsaturated Fat: 1gMonounsaturated Fat: 1gTrans Fat: 1gCholesterol: 1mgSodium: 433mgPotassium: 1080mgFiber: 7gSugar: 8gVitamin A: 20068IUVitamin C: 39mgCalcium: 164mgIron: 5mg
Nutrition and metric information should be considered an estimate.
Never miss a recipe!
Sign up here and get a FREE quick and easy meal guide!