Whether dinner needs a shake up, or you're heading to a party, this vegan cheese platter is filled with the perfect combination of dips and snacks!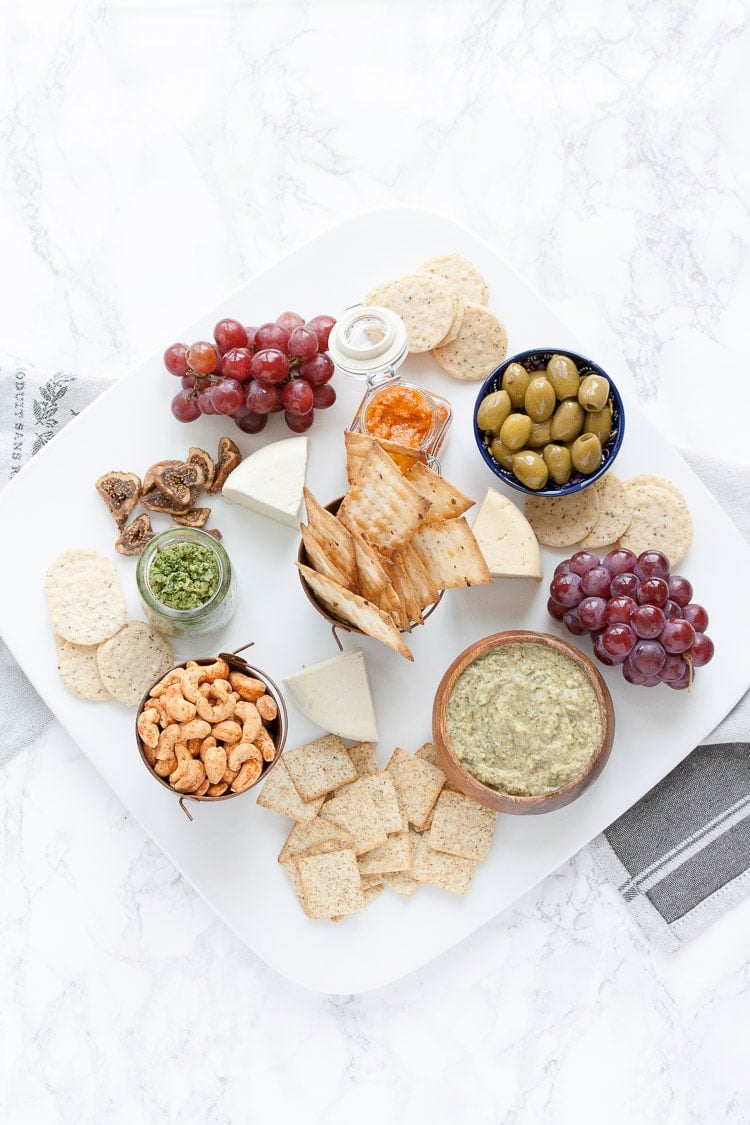 This post was sponsored by NOW Foods but the content and opinions expressed are fully my own.
Dinner doesn't always have to be a one recipe type of meal. Appetizers often show their face around here when it's time to shake things up.
The key is variety, a little of everything to keep everyone happy. How do you make that happen? I'm here to show you my ways, the perfect vegan cheese platter filled with a combination of dips and snacks that are spot on amazing.
Raise your hand if  sometimes many times you find yourself snacking away only to realize that you don't really want that dinner you spent 3 hours cooking. Yep, my hand is up there, waaaaay up there.
With 3 young kids, a husband who travels a lot, this blog, school activities, sports, etc...dinner can be a daunting task after a long day. Even for us food bloggers. I need to have a fall back option.
Enter appetizer platters, or as most often happens around here: cheese platters. And by cheese platters, I mean a plate full of cheese, dips, and other snacks that I can easily munch on as I go about my business.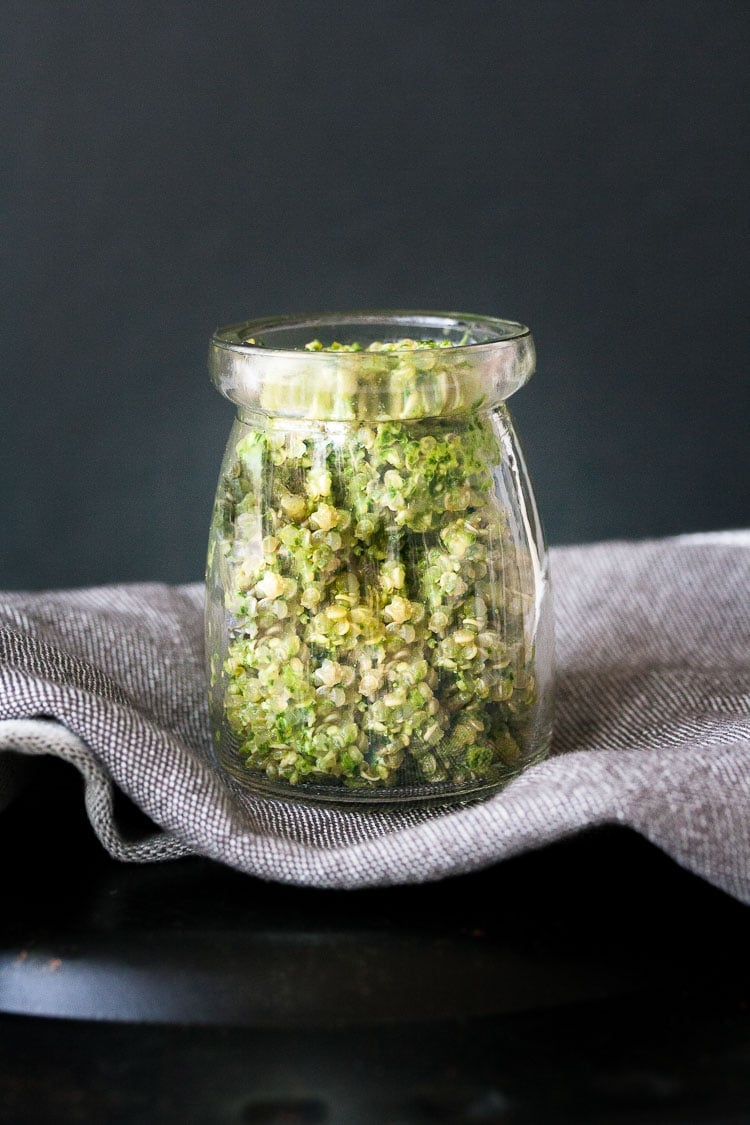 My recent favorite addition to this platter of dreams, is this pesto quinoa dip I discovered at good old Trader Joes. So of course, I decided to make it myself at home. Way less oily, way tastier made fresh and way gone in a matter of minutes!
How To Make This Thing Of Beauty
And the craziest part is that it is SO DARN EASY. When I say pesto quinoa, I literally mean pesto and quinoa. Right. All you do is find your favorite pesto and mix it with cooked quinoa in equal parts (or use more or less pesto if that's how you roll). It's super duper amazingly awesome because it is filled with protein, greens, and goes with just about anything!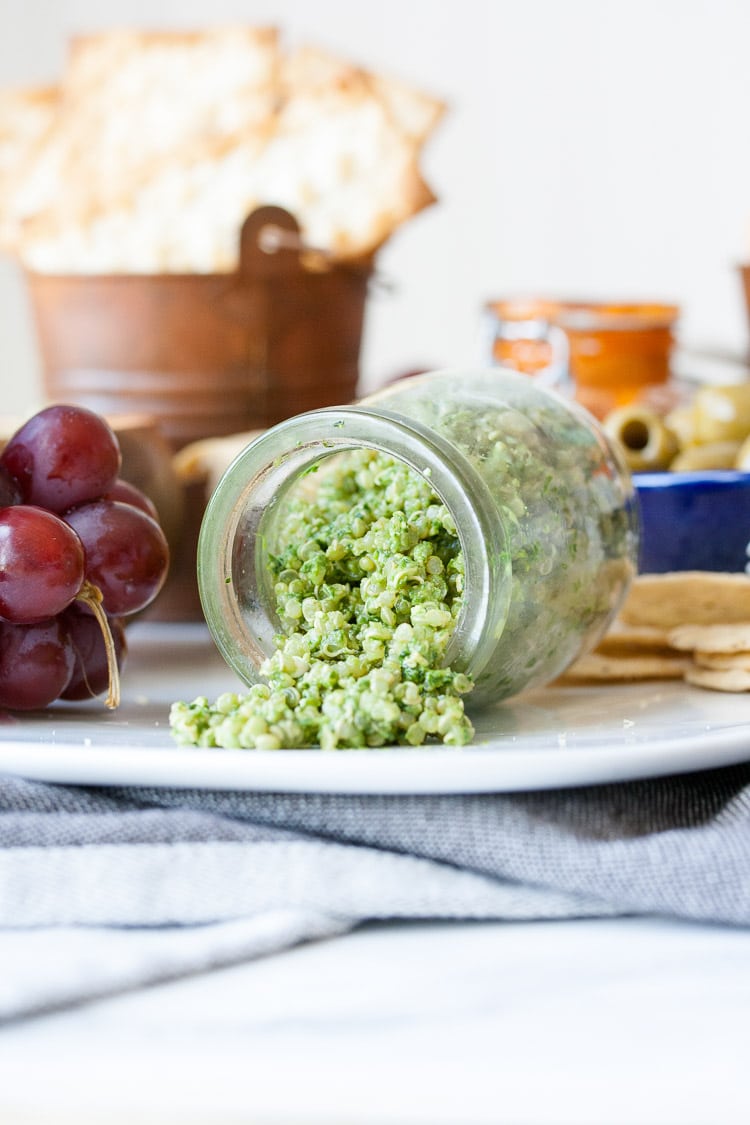 Favorite Pesto Recipes to use for the Pesto Quinoa Dip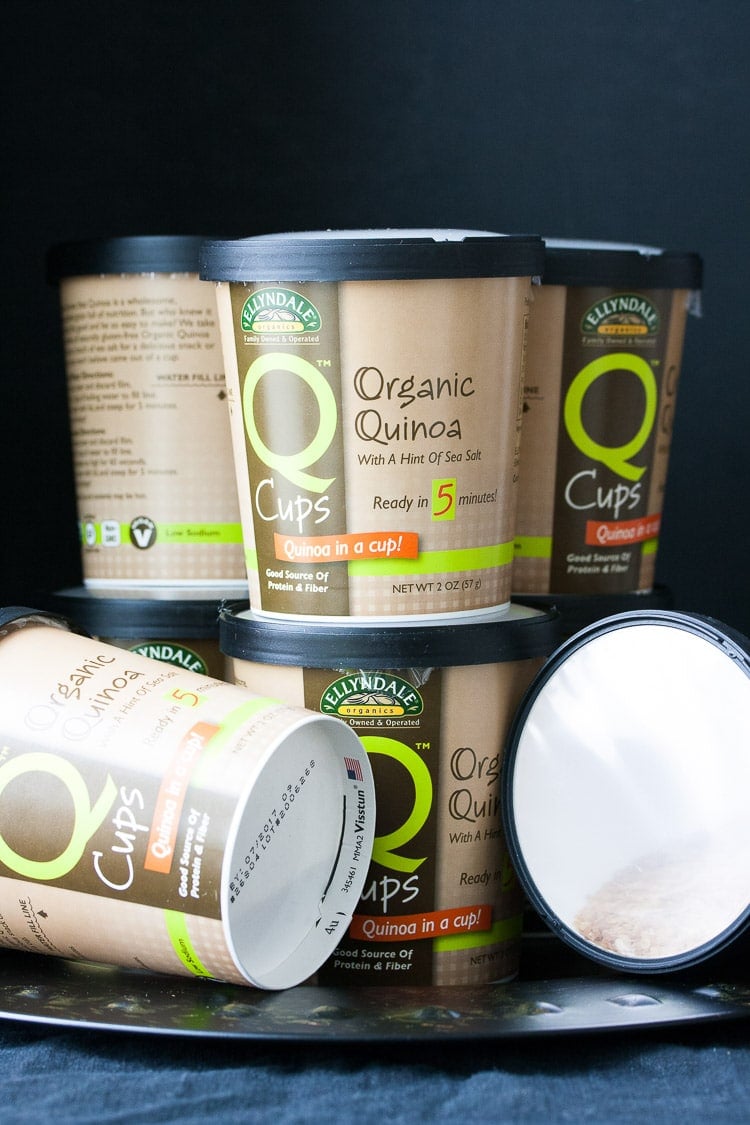 That is that with the pesto portion, so now on to the quinoa portion. And boy oh boy do I have an awesome surprise for you. I have recently discovered, and fallen in love with (sorry honey), the new Ellyndale® Q Cups™ by NOW Foods.
These little cups of heaven are filled with quinoa and are ready to eat in just 5 minutes. They are organic, low in sodium, certified gluten-free, non-GMO and vegan. You literally put in boiling water, allow it to sit for 5 minutes, then fluff with a fork!
BAM. Quinoa. Done. You can even put it in the microwave if you don't have the patience to boil water. I played around with these (aka got addicted so made at least 10 in a week) and also found that you can add less water to achieve the consistency you want.
I love super al dente, so I ended up adding less and less water until I got my perfect almost crunch. Once I got it, I couldn't stop making them!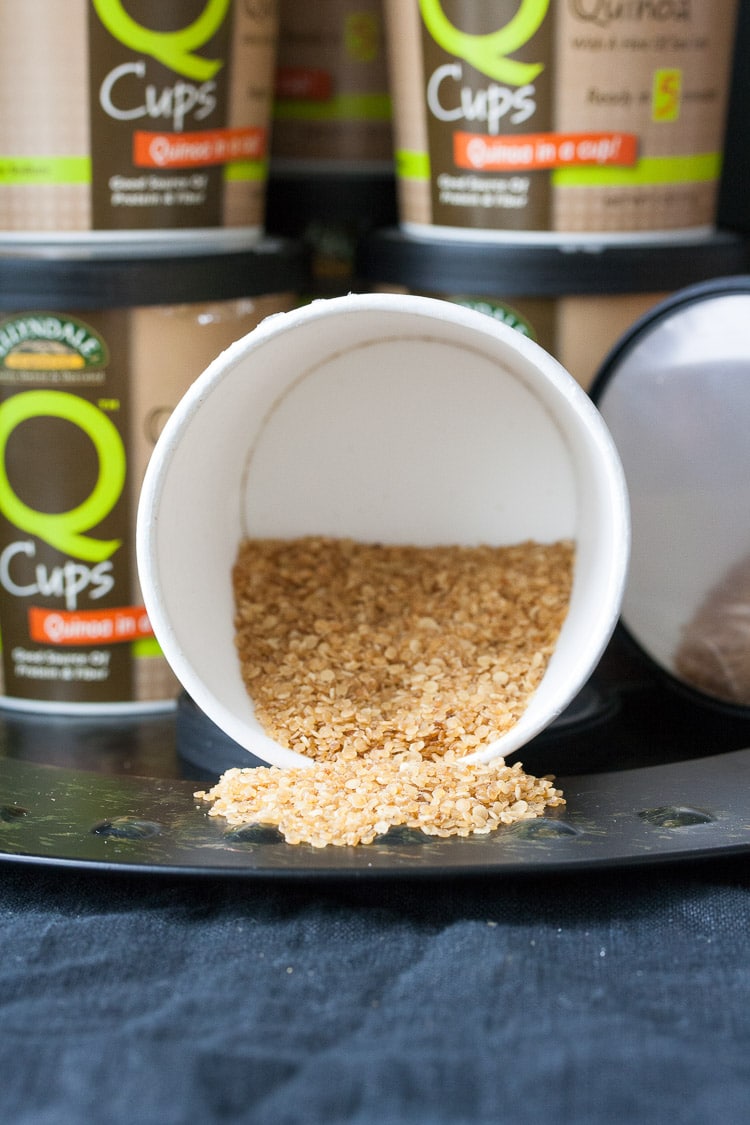 Look at that fluff!!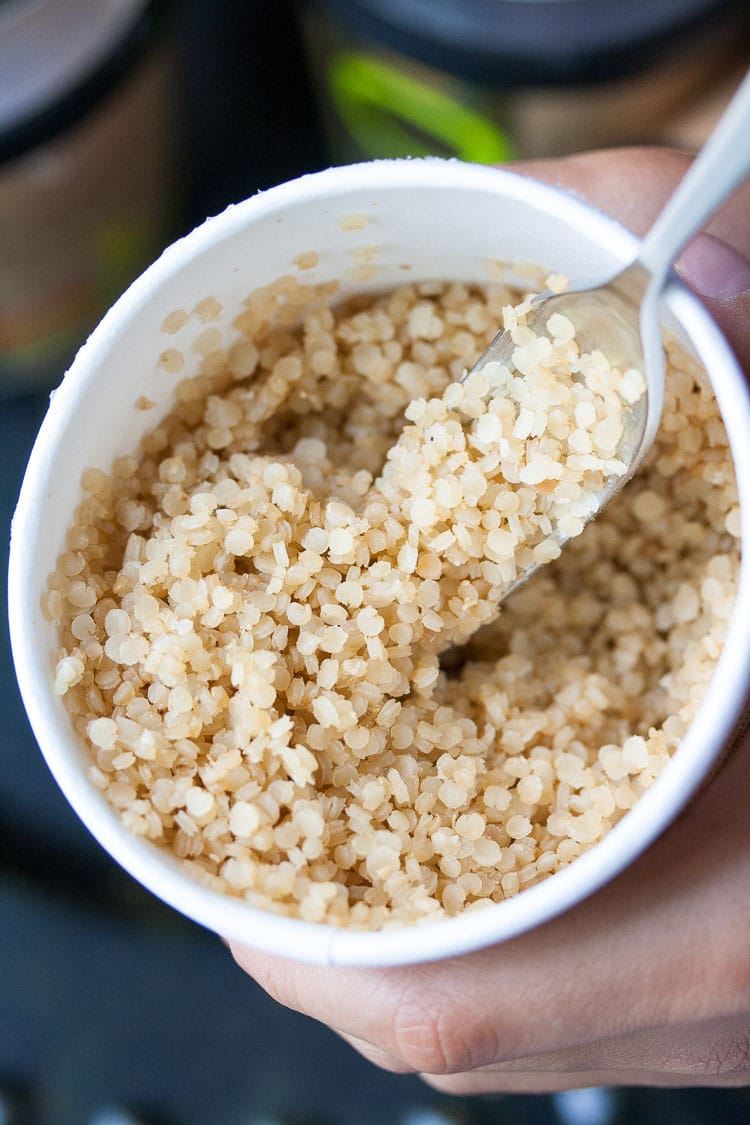 So this super quick and easy pesto quinoa dip is the perfect addition to your vegan cheese platter. Dips are like the glue of cheese platters, they hold them all together and make them complete.
You can never have too many dips! But along with those dips you need fun extras like nuts, fruit, maybe some olives and definitely crackers. ALL the crackers! And then of course you can't forget the cheese.
Vegan cheese is an interesting little product, because much of what I have tried is just gross. And since I am not into throwing away hundreds of dollars, I'm always hesitant to try them.
But one thing is for sure, when you make your own cheese, at least you can taste as you go so that you know you're on the right track. For this round, I decided to try my friend Claudia's vegan cheese kits.
These kits come with everything you need to make the cheese (minus the nuts and veggies if necessary) and they are really easy to do. So easy in fact that my 5 year practically made them on his own. We made the Brie, Feta and Cheddar! If you're looking for some cheese, definitely check them out.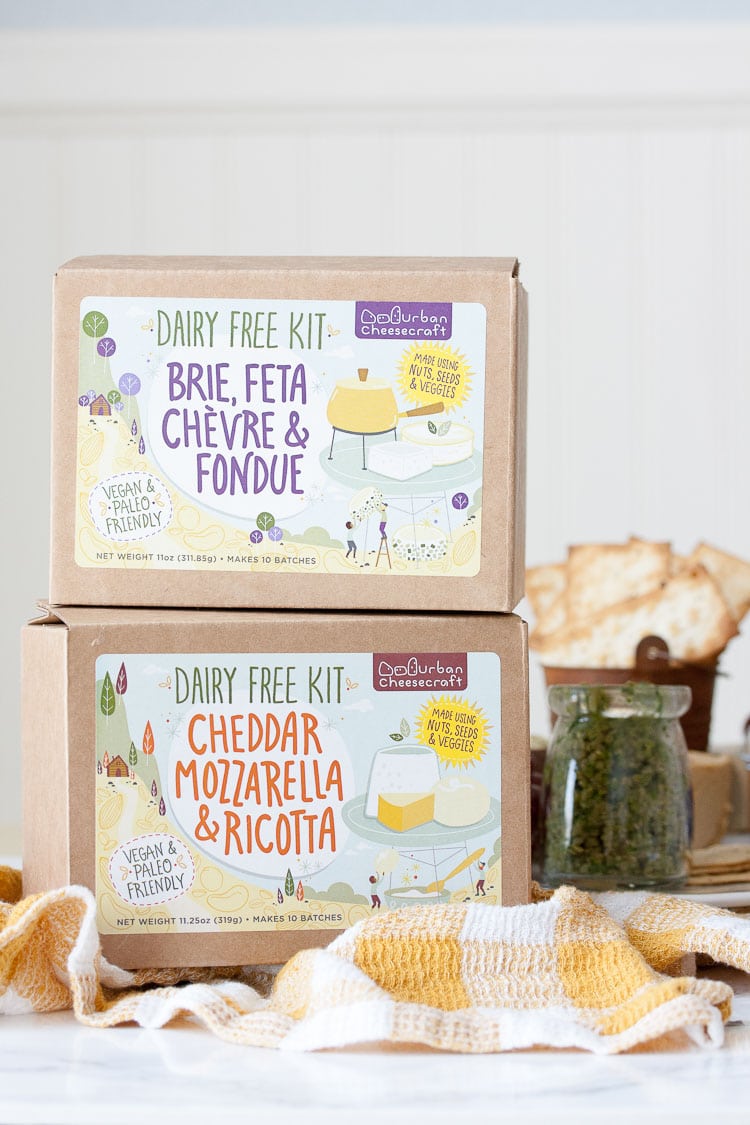 Hands up if you're ready to make the perfect vegan cheese and dip platter??
No excuses friends, you are one step closer to happiness. I mean, what can be easier that 5 minute quinoa cups, some pesto and fun extras all piled onto a platter ready for you to devour?
Not much. I even threw together a little video you can store as a reminder (PSA, I made this in about 20 minutes after which I had to pull myself away because if I allowed it, I could spend hours upon hours on making the perfect video, and instead I'd rather spend my time making the perfect cheese and dip platter then attacking it monster style with my little family):
Perfect cheese platter needs:
Good vegan cheese
Fun and tasty dips
Nuts and olives
Fruit, both fresh and dried
ALL the crackers!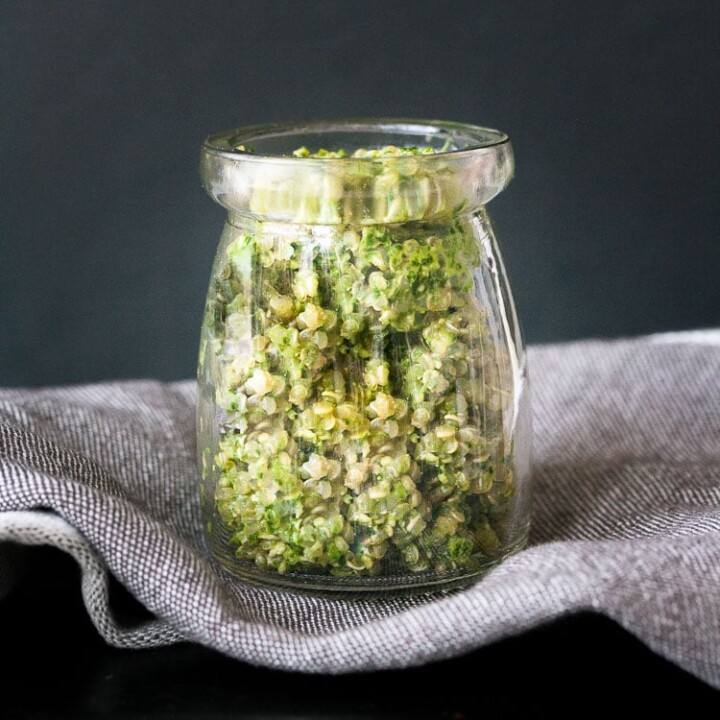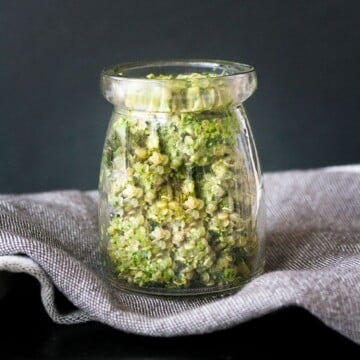 Pesto Quinoa Dip
An easy to throw together dip that is all encompassing. Protein, greens, and full of flavor makes this the perfect addition to any platter or even your own personal dip!
Ingredients
1 cup of your favorite pesto so many options on the blog
1 cup cooked quinoa (I use the quick and easy Ellyndale® Q Cups™ by NOW Foods)
Instructions
Mix the two together, add more or less pesto to get that perfect combo you prefer. Add to your favorite cheese and dip platter or just eat it on it's own!
Video
Recipe by Veggies Don't Bite, visit our site for more great plant-based recipes.
Nutrition
Calories: 1181kcalCarbohydrates: 59gProtein: 20gFat: 95gSaturated Fat: 16gCholesterol: 19mgSodium: 2331mgPotassium: 318mgFiber: 9gSugar: 9gVitamin A: 5000IUCalcium: 431mgIron: 4.2mg
Nutrition and metric information should be considered an estimate.
Never miss a recipe!
Sign up here and get a FREE quick and easy meal guide!